One of the easiest ways to stay in ketosis is to have some homemade keto frozen meals on-hand. These are some of my favorite ones to make to stay on track!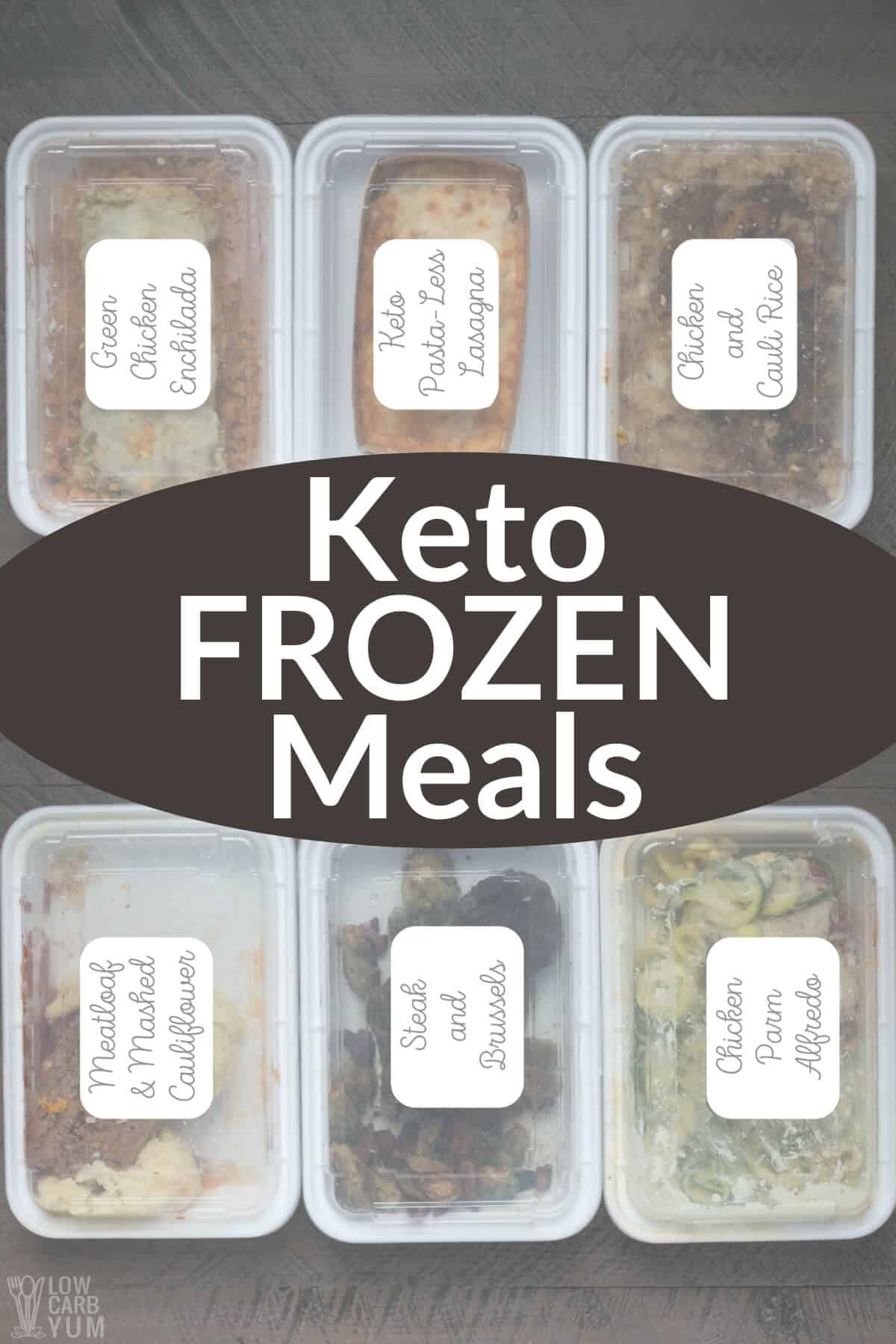 Article Index
There is a reason why frozen meals are so popular. It's just so convenient to heat up a meal without having to do any chopping or cooking. It helps to make a healthy choice for lunch or dinner!
When all you have to do is heat it up, it's even easier to stay within your macros each day.
Plus, when you make homemade keto-friendly dishes, they are a lot more appetizing, and you can control the spice levels. They are also a lot cheaper than having low carb meals delivered.
I think they taste so much better than any frozen meal you can get at grocery stores (like Trader Joe's).
I am so excited about sharing my 6 favorite keto frozen meals to help keep you in line with your keto diet and your net carbs.
All of the low-carb dishes are different, so you won't hit a rut where each meal tastes the same.
Plus, I will also share my best DIY frozen dinner tips and answer some of your most frequently asked questions.
Why you'll love it
You are going to love all of these keto frozen meals because they have tons of amazing flavors that don't deteriorate when you store them in the freezer. And, they still taste delicious even after you reheat them!
I'll also share a few different ways you can customize them so that they taste exactly how you want them to and not go outside of your daily net carbs.
Easy & tasty keto frozen meals
When it comes to the keto diet, it is so much better to cook your food at home. That decreases the chances that the food has preservatives in it and keeps the sodium levels in a healthy range too.
Even so, we all have those days when we are just too busy to cook! That is why it's so helpful to have these 'ready to go" keto meals stored away.
When you really want a home-cooked meal and only have enough time to microwave it, then these are just the thing for you!
Here are enough frozen dinner ideas to last you an entire week!
Meatloaf And Mashed Cauliflower
Nothing says comfort food quite like meatloaf and mashed potatoes - but to keep it low-carb, mash cauliflower instead. They're great for meal prepping keto frozen meals because they maintain flavor and texture even after you reheat them.
You can make this keto meatloaf in the Instant Pot. Using lean ground beef as the main ingredient, It comes out so tasty and with the perfect texture. It is the perfect addition to your low-carb meal.
Serve it with garlic cauliflower mash! It has mashed celery root that gives it an incredible flavor.
Steak And Brussels Sprouts
Steak is another entree that would make a great addition to your stock of keto frozen meals. Serve it along with some Brussels sprouts for a high protein, high fiber, and extremely nutritious meal.
It's so easy to cook steak in the air fryer. You can flavor it with your favorite seasonings and spices. Then, add some pan-fried Brussels sprouts with it. They have 3g net carbs per serving and taste incredible.
Serve it with your favorite salad for a really filling meal that includes some delicious veggies too!
Chicken Parmesan Alfredo
Low-carb pasta dishes with thick and creamy sauces are another freezer-friendly choice.
Cover some zucchini noodles and grilled chicken with homemade alfredo sauce. Store this in the freezer and keep it ready until you need something quick that is high fiber and low carb.
You can also add some broccoli to this dish too for a win-win.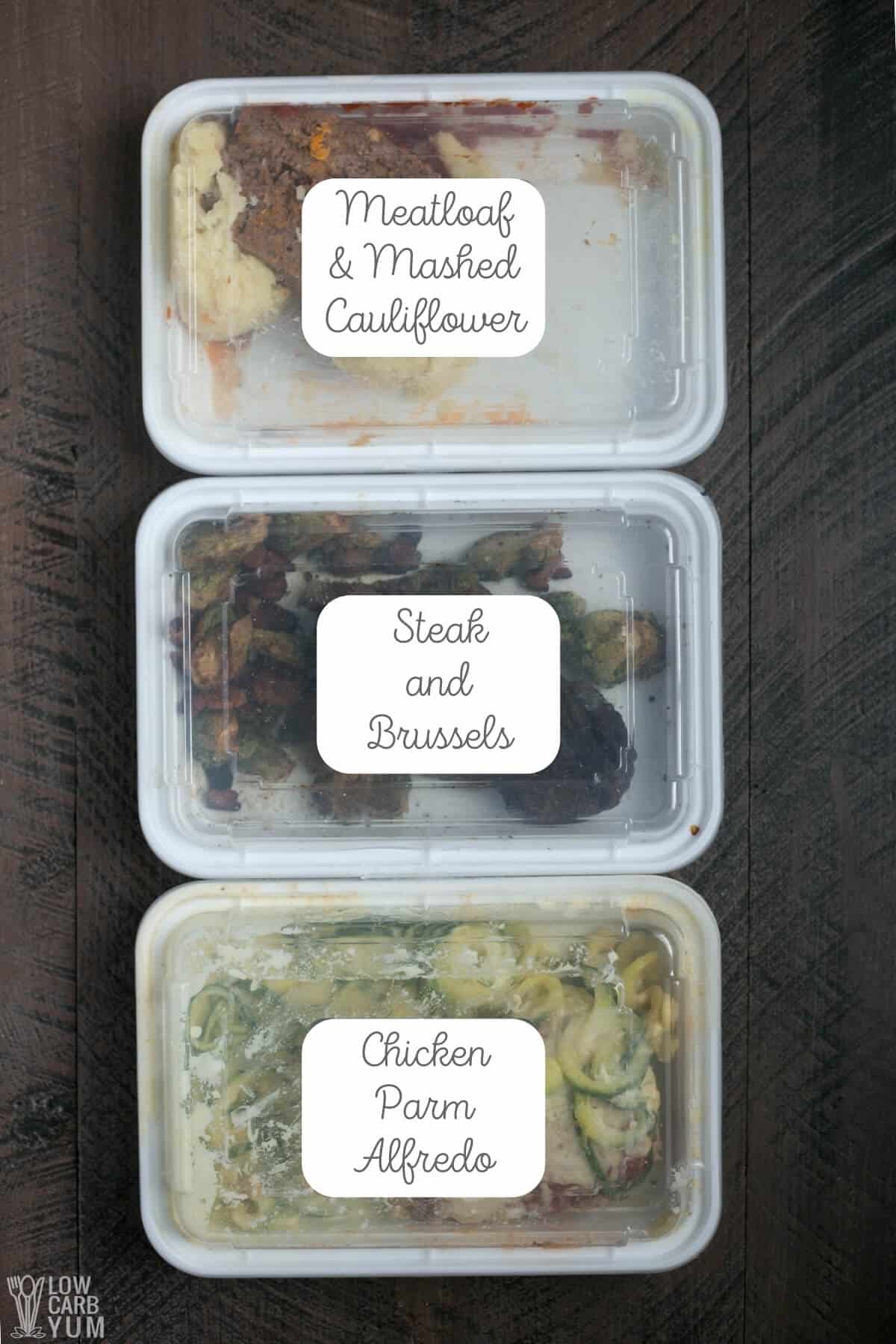 Green Chicken Enchilada
Instead of tacos on Tuesday, how about a green enchilada-inspired dish? Just make this slow-cooker salsa verde chicken and put it on top of a bed of cilantro lime cauliflower rice.
It's all the enchilada flavor without the carb-heavy tortilla!
One of the simplest keto frozen meals to put together, it tastes just as scrumptious when you heat it back up.
Just add fresh avocado, cilantro, a sprinkle of cheese, and lime wedges for an extra punch!
Keto Pasta-Less Lasagna
This is one of my favorite recipes to make - and the good news is that it stores really well in the freezer.
This is the best recipe for keto lasagna you will ever find!
The zesty tomato sauce and cheese topping make it taste like lasagna but with way fewer carbs. You can eat lasagna, and you won't even miss the pasta.
Chicken And Cauliflower Rice
Chicken and rice is another classic duo that reminds me of my childhood. Just replace white or brown rice with this simple garlic cauliflower rice recipe to stay within your macros.
I like to top the rice with my favorite crockpot chicken legs and thighs recipe as the chicken will reheat really well in the microwave.
This is going to be one of your favorite frozen recipes. As it warms up, the aroma will make you drool!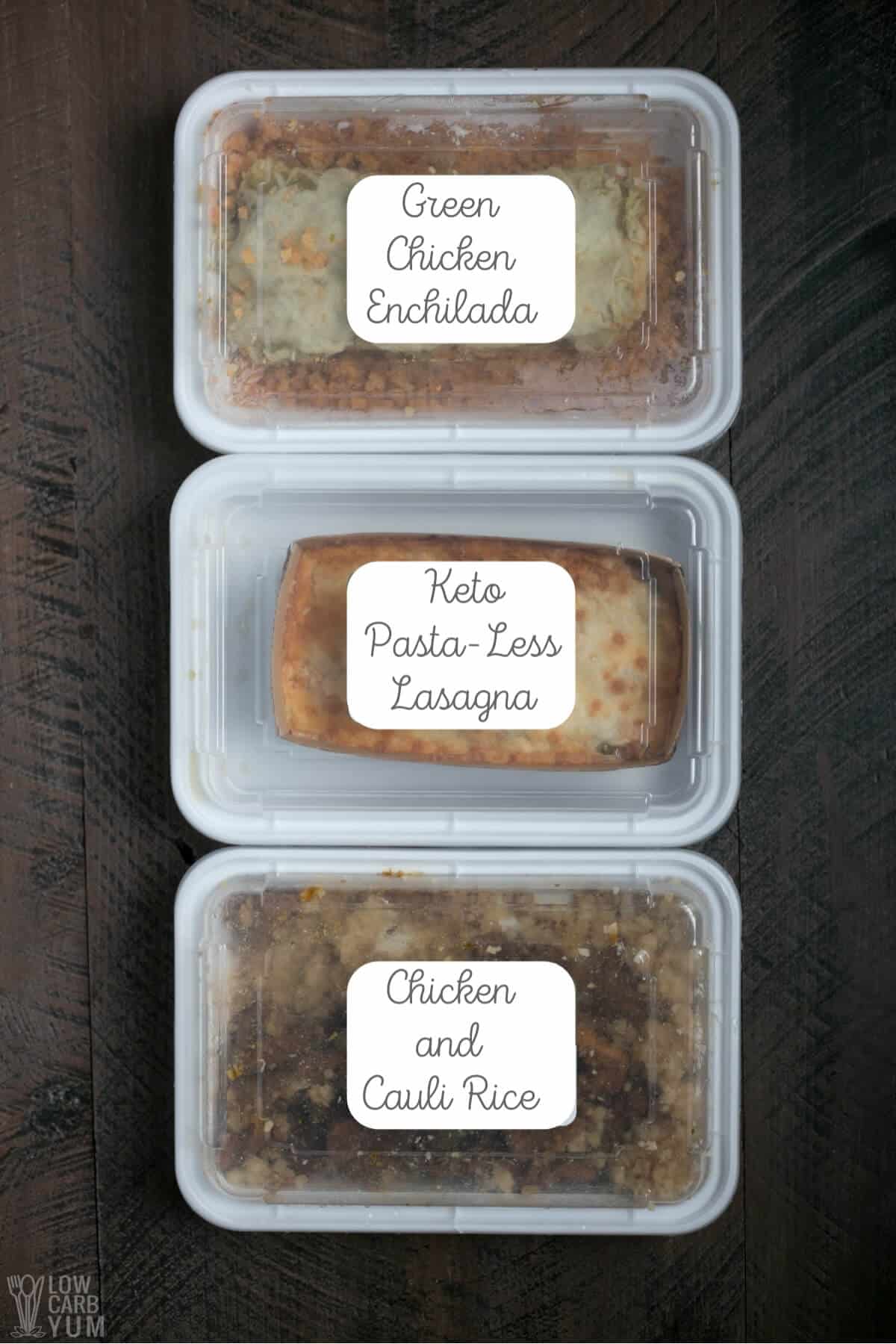 Tips
Make a big batch of keto frozen meals at a time. Cook up a big batch of crockpot shredded chicken and use it in multiple meals. This will save you lots of time and money in the end.
Label your meals. Write the name of the recipe and the use by date. All freezer meals should be eaten within 3 months. I would also add the total carbs per serving!
Customize the recipes. If you like spicy foods, then add some peppers and hot sauce to them. When you make them how you like them, you will be more likely to eat them.
Make it a group activity. Invite some friends over and enjoy making a bunch of freezer meals together. It's a lot more fun to do things together.
Prepare keto frozen meals for different times of day. Make some breakfast and lunch meals too. You never know how busy you might get!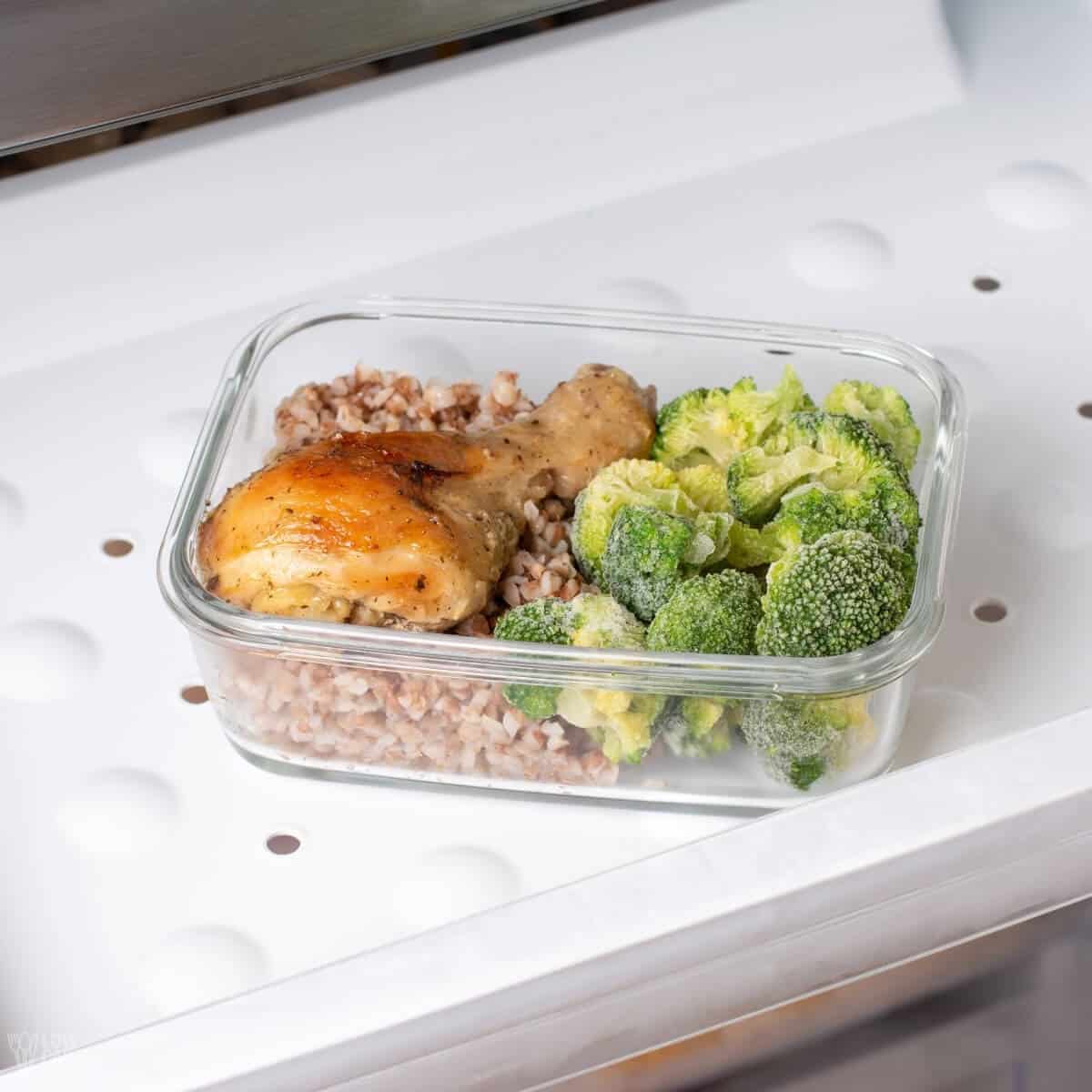 FAQs
Here are some of the most frequently asked questions about keto freezer meals. If you don't see your question in this list, please leave it in the comments.
What are the best containers for individual freezer meals?
The most important thing to look for is something that is completely airtight. First, make sure the lid is very snug. Then, ensure it is rated safe in freezing temperatures.

You can pick something that has dividers, but I just put my meals in one rectangular container altogether.
How do you reheat homemade freezer meals?
The best way to reheat homemade freezer meals is just to put them in the microwave. Of course, don't do that if your food is in an aluminum container!

If you use a glass or plastic container, you can literally grab it from the freezer and heat it on high for 3 minutes. Stir the food and heat it for another 2-4 minutes.
How long do homemade keto freezer meals last?
Most keto freezer meals stay fresh for at least three months. However, some meals can be kept for up to six months if stored properly.
What are the best types of keto foods to freeze?
Honestly, almost anything can be stored as a frozen dinner, but some things reheat better than others.

My favorite things to use for frozen dinners are cauliflower rice and meat or meat and vegetables. Things with a sauce will also freeze well.
More keto meal solutions
Love these freezer-friendly keto meal ideas? Here are a few more convenient meal solutions to help you on your low-carb journey!
Follow us on FACEBOOK, PINTEREST, and INSTAGRAM for even more tasty keto-friendly recipes!