Keto friendy riced cauliflower is quick and easy to prepare. No wonder it's a staple on low carb diets. Here's how to make cauliflower rice the easy way.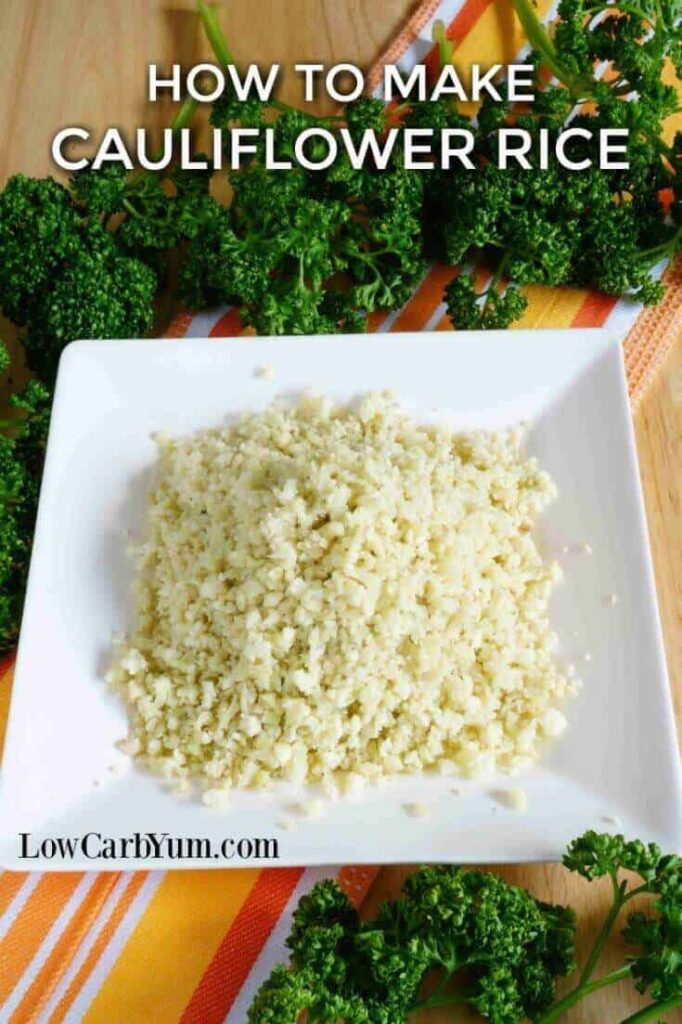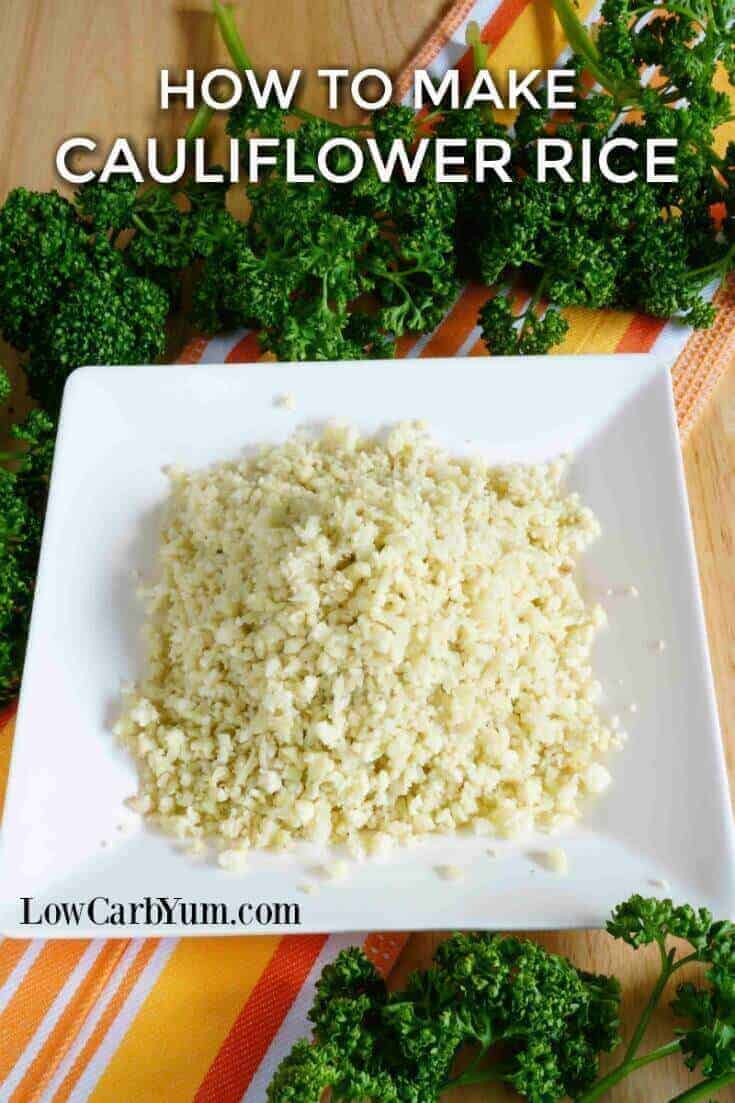 Cauliflower is one of those low carb vegetables that's super versatile. Low carbers have found ways to disguise things that are forbidden on the diet using it.
You'll find low carb pizza crust, a faux fried rice, and more made from riced cauliflower. And, cooked cauliflower that is processed well with butter, cream, garlic, and cheese makes a great substitute for mashed garlic potatoes.
I find a food processor is worth the price when it comes to ricing cauliflower. The appliance is also what I use to make my cauliflower mashed potatoes.
A lot of people don't know how to make cauliflower rice. But, it's super easy if you have a food processor. So, if you don't have one, I'd recommend buying one as it's the best way to shred cheese and zucchini too.
However, it's not essential to rice your own head of cauliflower. Most grocery stores these days also sell riced cauliflower in the produce section.
I use the grating blade on my food processor to make riced cauliflower. Once finely grated in the processor, I put it in a covered glass Pyrex casserole dish and microwave it for about 5 minutes.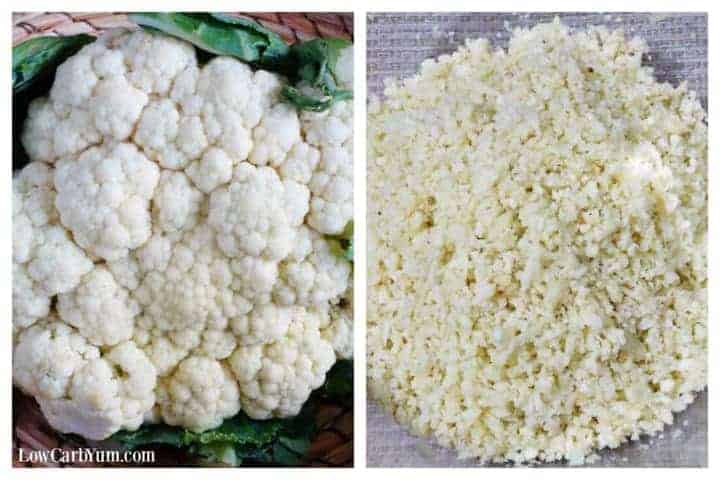 There's no need to add water to the dish as there's plenty in the fresh cauliflower that steams it in the microwave. It's literally just taking riced cauliflower, placing it in a covered microwavable dish, then cooking for a few minutes on high.
I find this healthy keto rice is a staple for the low carb diet and so easy to make. And, it' perfect for making cauliflower pork fried rice when your'e craving low carb Chinese food.
Now that you know how to make cauliflower rice, how will you serve it? There are so many things you can do with riced cauliflower, it's impossible to list them all!
I just discovered a recipe using cauliflower rice that is so good my 13-year-old daughter ate it without detecting that it contained a vegetable she would never eat.
My daughter is extremely picky and hates just about every vegetable known to man. But, she loves the quick riced cauliflower with cheese and bacon that I whip up in the microwave.
Even when she was a baby, she would spit out the mashed vegetables I tried to feed her. Skinned cut apples are one of the few fruits she eats.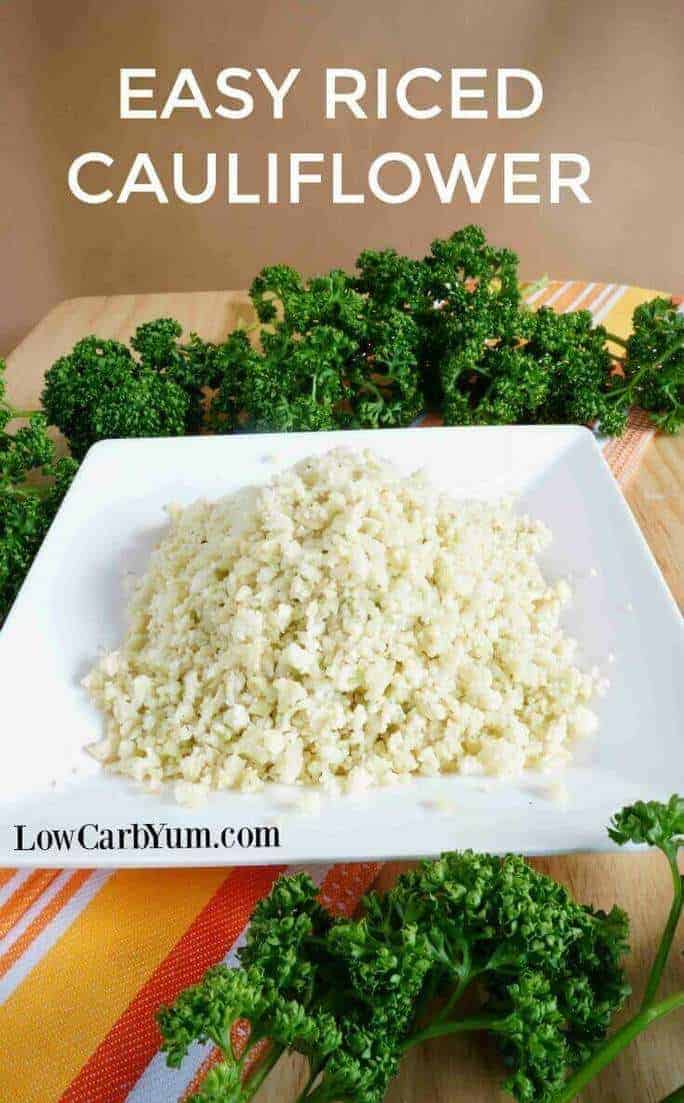 I've also been able to get her to eat blueberries and grapes. However, vegetables are something she rarely touches so I knew I found a great recipe when my daughter told me how delicious the cauliflower rice concoction smelled when it was cooking.
She also rushed to try a piece when it came out and told me that I should make it more often. That amazing recipe is the ever popular cauliflower pizza recipe with pepperoni and cheese!
For now, I will post the basic tried and true method on how to make cauliflower rice the easy way. If you don't have a grating blade, the cauliflower can be chopped fine by pulsing in the processor or just cut by hand or use a hand grater.
Or, just buy a bag of pre-riced cauliflower in the produce section. I've even seen it sold mixed with riced broccoli. That's a nice mix too if you are looking to change things up.
And, if you find yourself with too much riced cauliflower leftover, I've got a solution for that too. I put together a collection of easy and delicious recipes using riced cauliflower.
What's your favorite way to eat cauli rice? Do you eat it plain, fry it up, or use it as an ingredient in a favorite low carb recipe?
How to Make Cauliflower Rice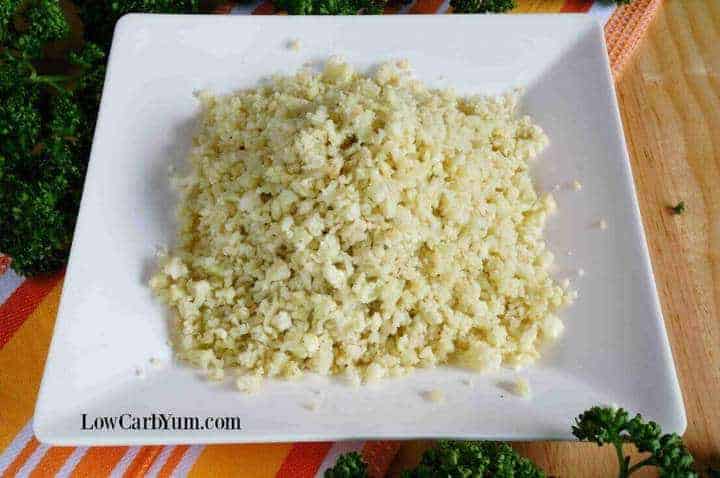 Quick Cauliflower Low Carb Rice
This low carb alternative to rice is quick and easy to prepare. No wonder cauliflower rice has become so popular with those watching their carbs.
Ingredients
1

head cauliflower

grated or finely chopped
Instructions
Place grated or finely chopped cauliflower in a covered glass microwave dish. Microwave about 5 minutes or until just tender.
Need Support?
Get our FREE Low Carb eBook or join the Low Carb Yum Facebook Group for help with recipes and weight loss support!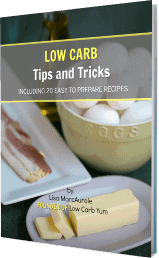 FREE eBook! LOW CARB TIPS and TRICKS
Subscribe now to get a copy of Low Carb Tips and Tricks which includes 20 easy recipes. Plus, get access to the weekly newsletter and special offers only for subscribers!

Notes
Each serving is about 1/2 cup. The best way to rice cauliflower is to use the grating blade on a
food processor
. If you don't have a grating blade, the cauliflower can be chopped fine by pulsing in the processor or just cut by hand or use a
hand grater
. A
hand chopper
works well too. If you'd rather not use a microwave to cook the cauliflower rice, it can be easily cooked on the stove top instead. Simply heat 1-2 tablespoons of oil in a large skillet over medium. Then add the riced cauliflower and gently stir until the cauliflower is tender. You can also use a cover to steam it instead of stir frying.
Nutrition
Nutrition Facts
Quick Cauliflower Low Carb Rice
Amount Per Serving (84 g)
Calories 21
Calories from Fat 1
% Daily Value*
Total Fat 0.1g 0%
Cholesterol 0mg 0%
Sodium 25mg 1%
Total Carbohydrates 4.5g 2%
Protein 1.7g 3%
* Percent Daily Values are based on a 2000 calorie diet.
Note on Nutritional Information
Nutritional information for the recipe is provided as a courtesy and is approximate only. We cannot guarantee the accuracy of the nutritional information given for any recipe on this site. Erythritol carbs are not included in carb counts as it has been shown not to impact blood sugar. Net carbs are the total carbs minus fiber.
About Lisa
Lisa has been creating low carb recipes for herself and sharing them with others since 2010. She loves to experiment in the kitchen and find new ways to create low sugar foods that taste like high carb favorites! Her recipes have been featured on popular magazine sites including Fitness, Shape, Country Living, Women's Health, and Men's Health. Lisa lives in Southeastern Connecticut. Connect with her and Low Carb Yum at:
© LowCarbYum.com
Unauthorized use and/or duplication of this material without express and written permission from this site's owner, Lisa MarcAurele, is strictly prohibited.
Excerpts, single photos, and links may be used, provided that full and clear credit is given to LowCarbYum.com with appropriate and specific link back to the original content.
Related Posts