Enjoy delicious keto Starbucks drinks at home at a fraction of the price (and carb count!). Discover low-carb Starbucks copycats for fan-favorite drinks like an iced white mocha and a caramel macchiato.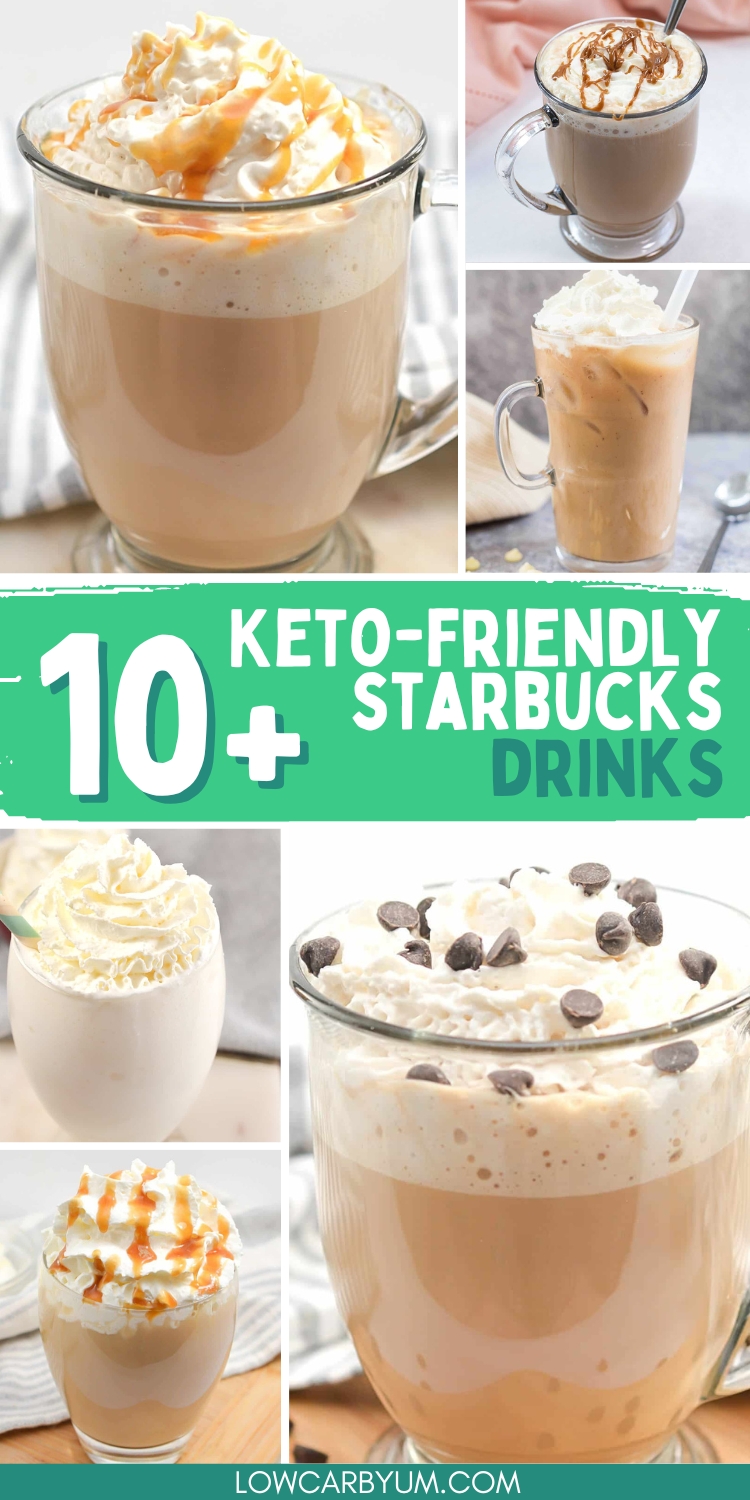 Sure, Starbucks makes a tasty latte, but not all of its menu options can be made keto-friendly. And sometimes, you just want a hot drink without the $7 price tag.
Enter – my collection of copycat keto Starbucks drinks!
I've made several low-carb versions of Starbucks classics that you can enjoy on a keto diet. Each drink is low-carb, free of added sugars, and totally delicious.
Plus, they're super customizable, so you can get super creative with the flavor combinations.
In this post, I'm rounding up my favorite Starbucks keto drinks to make from the comfort of your own home, plus a couple of bonus Starbucks treats to snack on.
And, if you want a drink on the go, check out Keto At Starbucks: BEST Drinks & Food To Order.
10+ Keto Starbucks drink recipes
These Starbucks recipes are sweet and satisfying, with holiday offerings and traditional flavors for year-round sipping!
Keto cookie butter latte
My keto cookie butter latte is sweet and dreamy, made with steamed milk (unsweetened almond milk), espresso shots, and cookie butter topping.
A scoop of unsweetened whipped cream takes this recipe over the edge!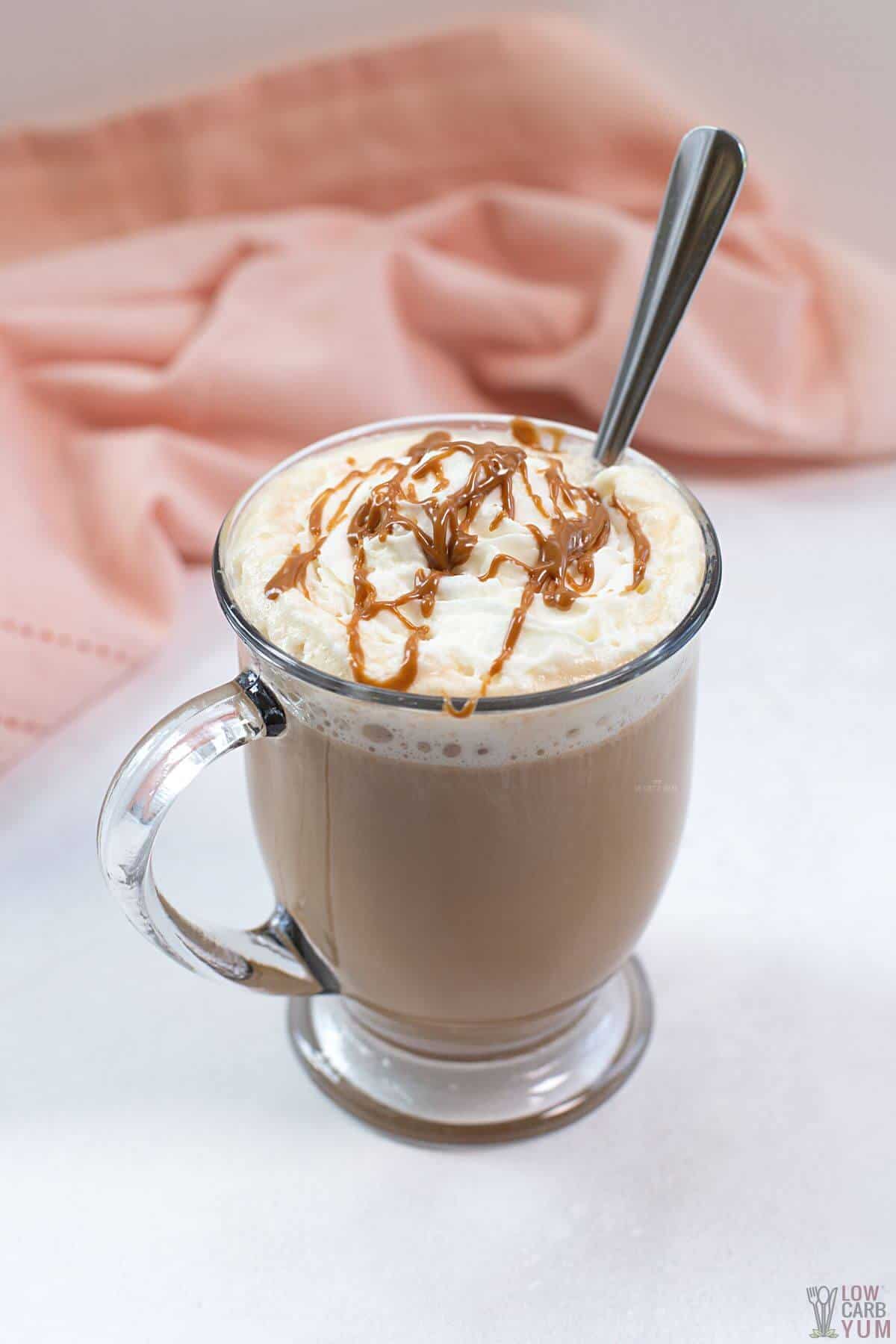 Keto caramel macchiato
My keto caramel macchiato turns a Starbucks essential menu item into a low-carb fantasy, complete with sugar-free caramel and vanilla syrup. A whipped cream topping is also essential!
I prefer making my hot drinks with almond milk because it's low-carb and provides a light and nutty flavor.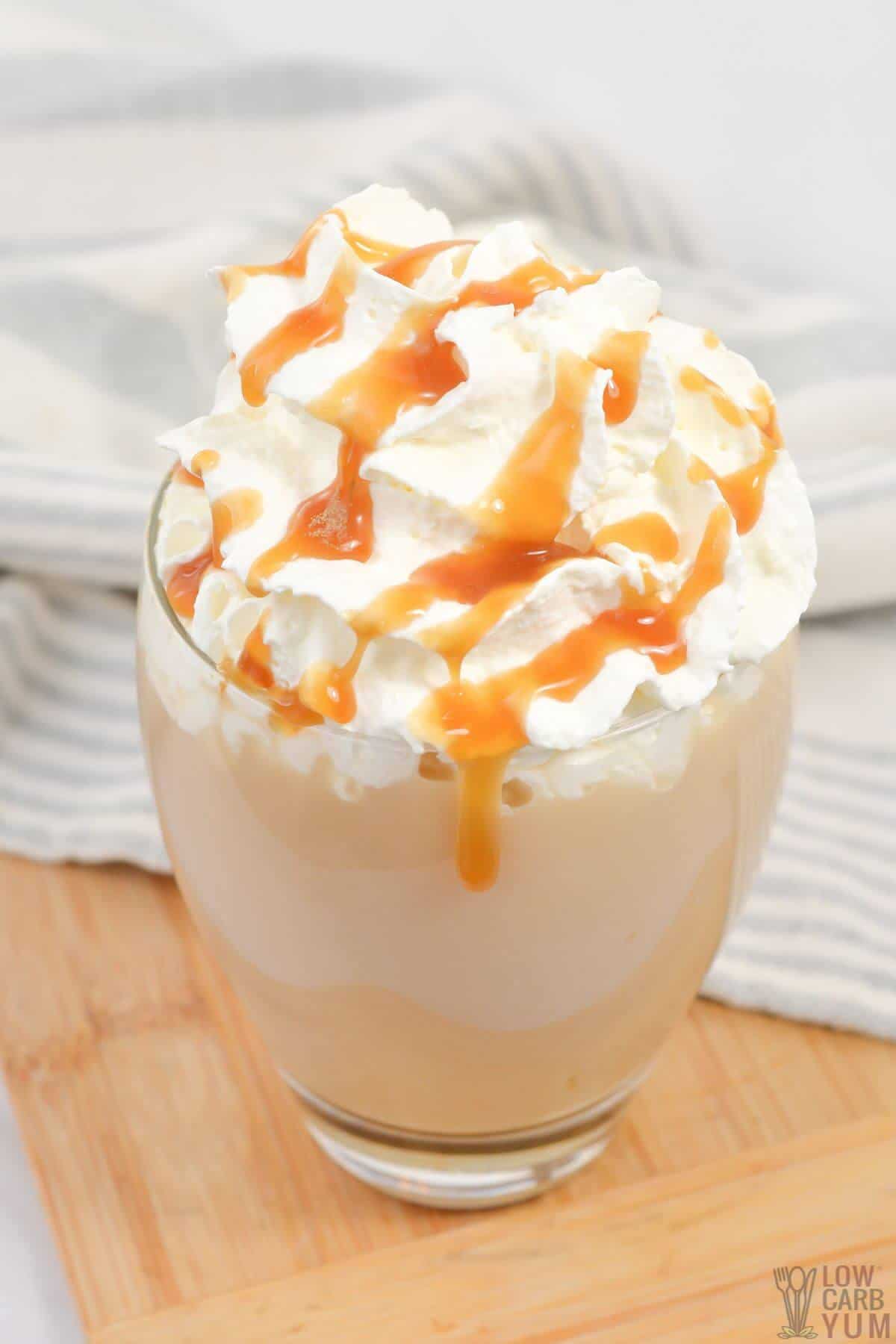 Vanilla keto frappuccino
This vanilla keto frappuccino is made with keto vanilla ice cream, a few pumps of sugar-free vanilla syrup, half heavy whipping cream, and half almond milk.
This drink is so tasty it doubles as an indulgent dessert.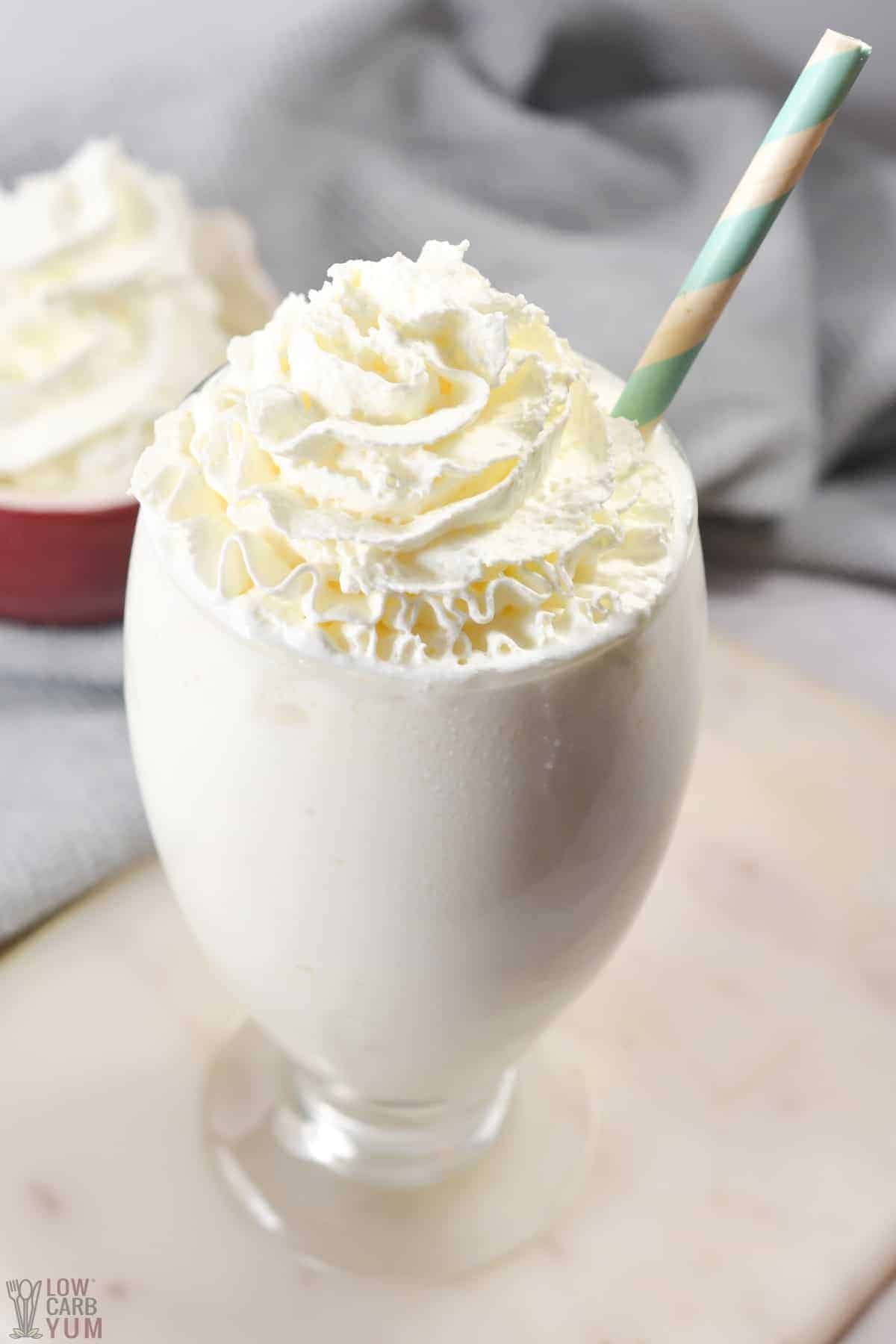 Iced white mocha
Calling all iced coffee lovers! My iced white mocha is the keto Starbucks drink for you.
This drink is made simply with espresso, almond milk, and sugar-free white chocolate baking chips.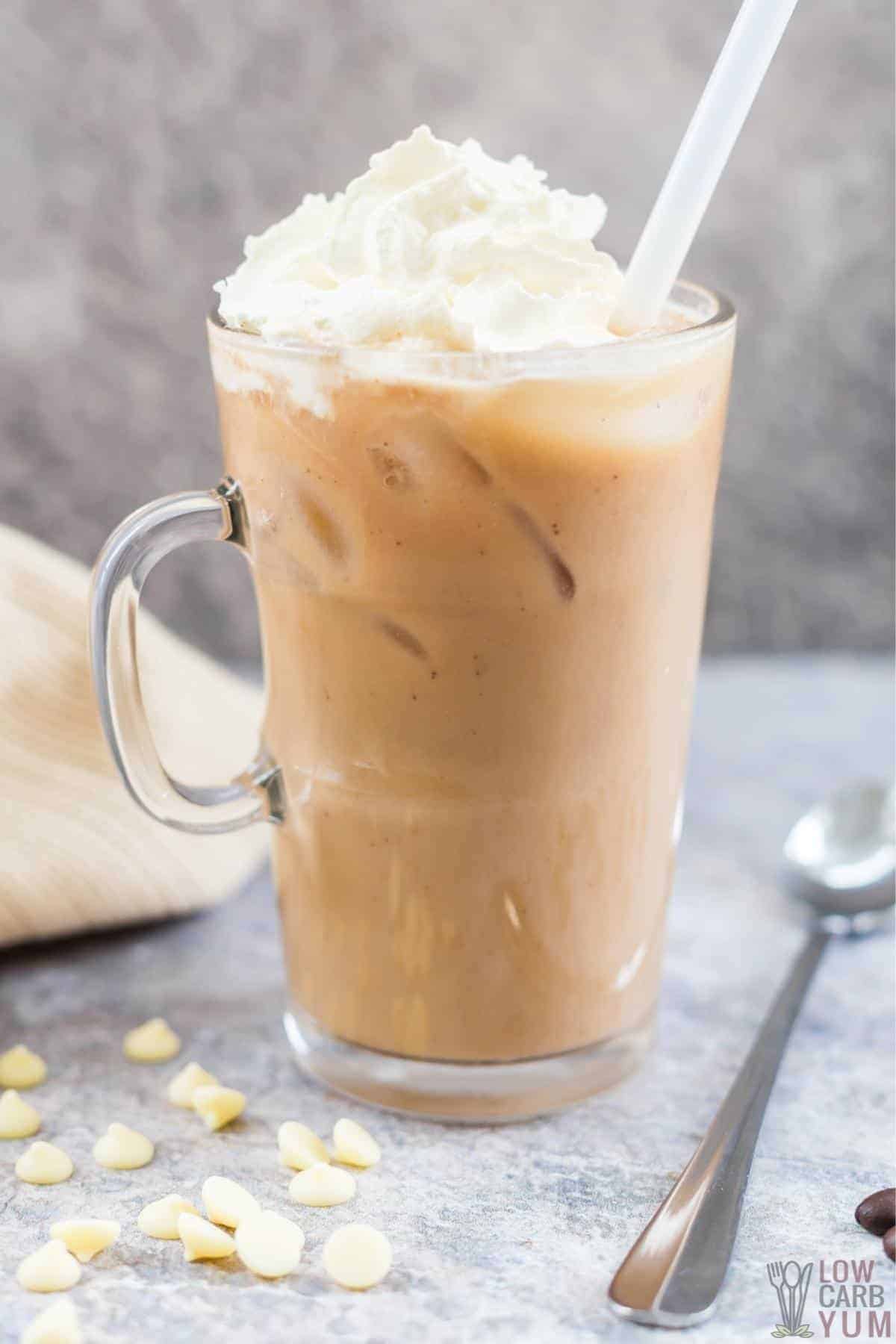 Keto pink drink
My keto pink drink is sweet, creamy, and fruity. It tastes just like the original, without the high sugar count.
Passionfruit tea, heavy whipping cream, and sliced strawberry come together for a bright pink delight! Sub for coconut milk for a vegan option.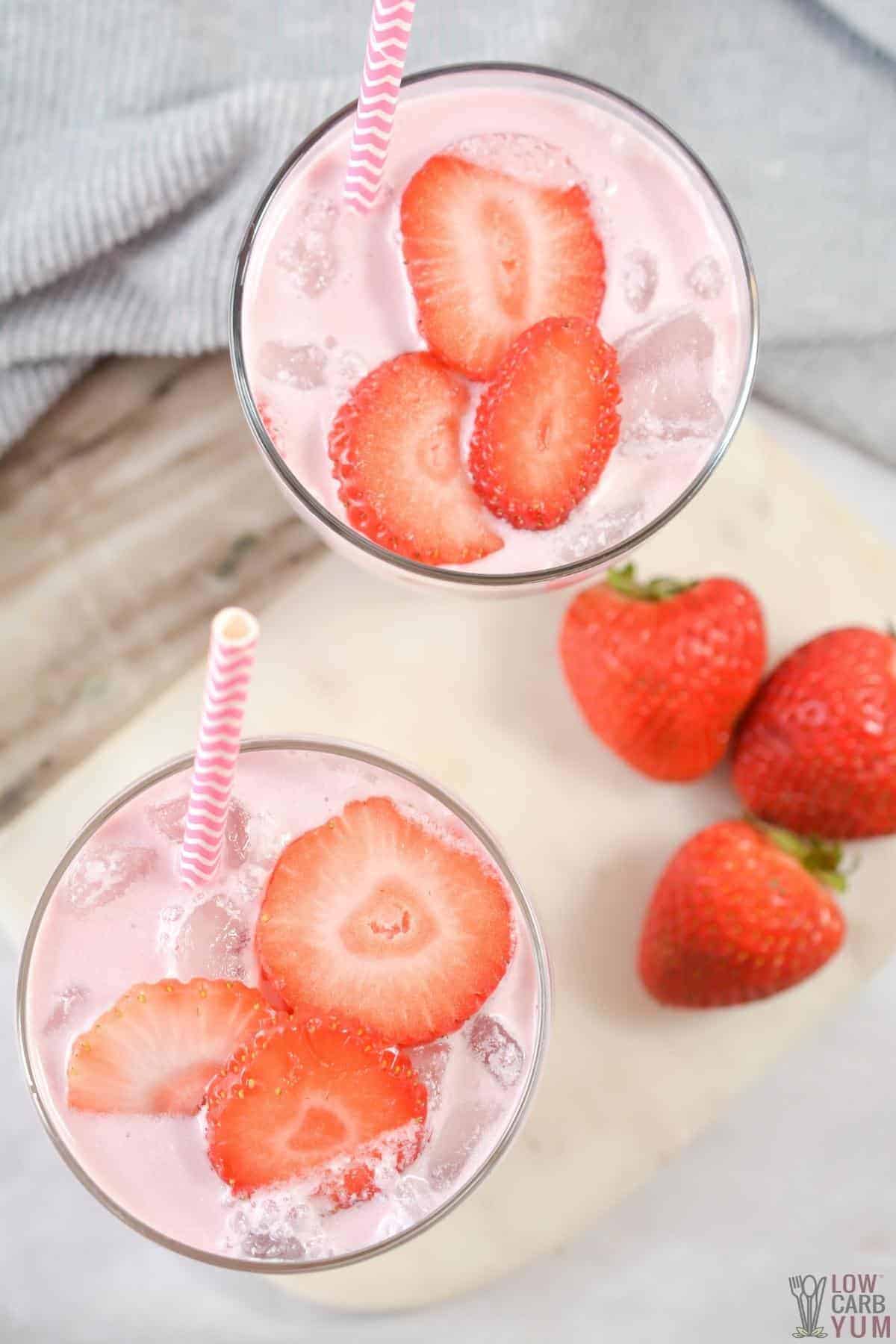 Sugar-free eggnog latte
This sugar-free eggnog latte is a seasonal favorite that you can enjoy any time of year, made with spicy additions including nutmeg and cinnamon.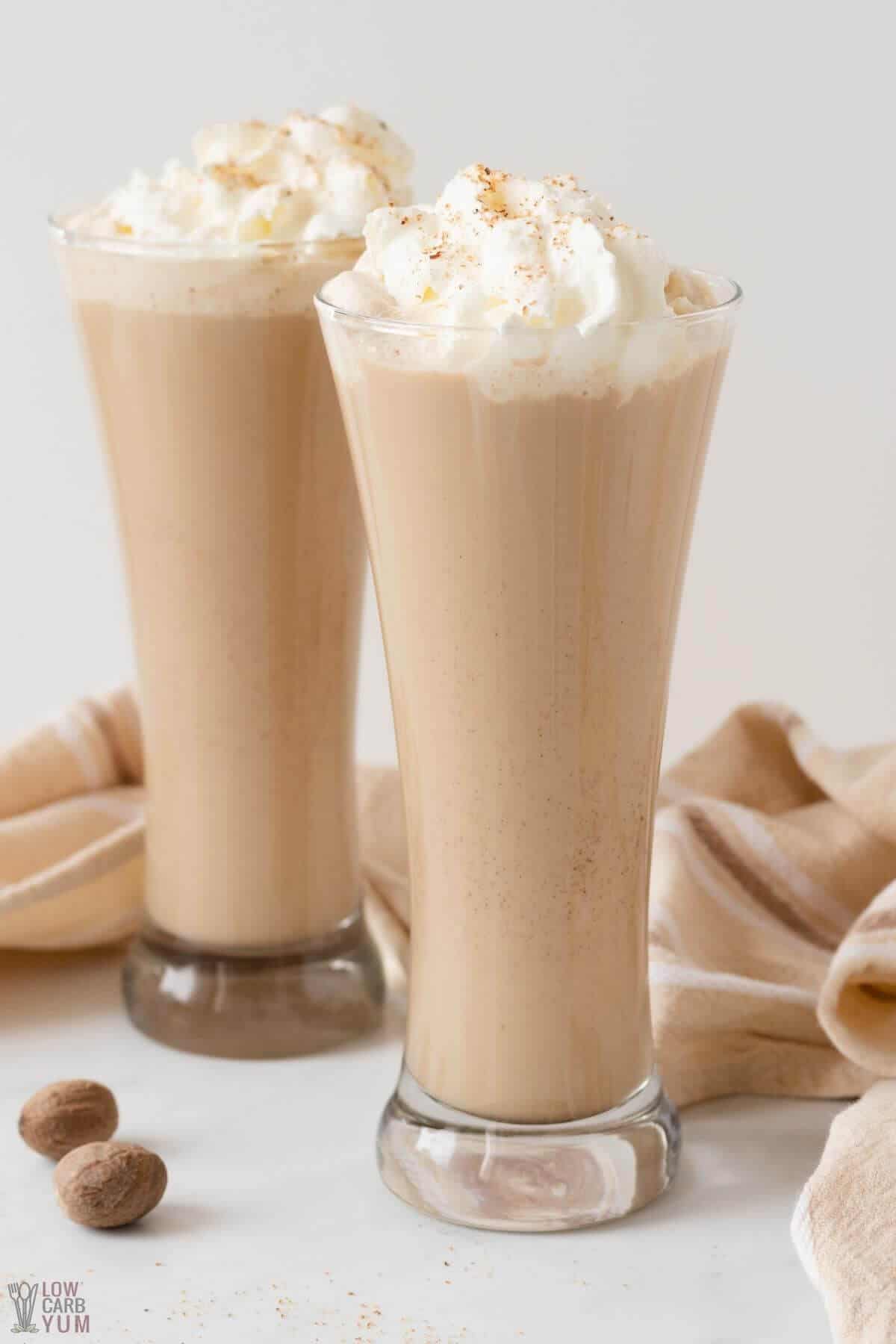 Sugar-free peppermint mocha latte
My sugar-free peppermint mocha latte gives you a dose of minty-bliss, made with sugar-free chocolate syrup and peppermint extract.
You can even make your own homemade syrup to add to this drink! Remember to top it with sugar-free whipped cream and chocolate chips for an extra tasty treat.
I also love this recipe because it's super customizable based on the flavor of your choice. Instead of peppermint and chocolate, sub with my sugar-free cinnamon dolce syrup for a keto cinnamon dolce latte.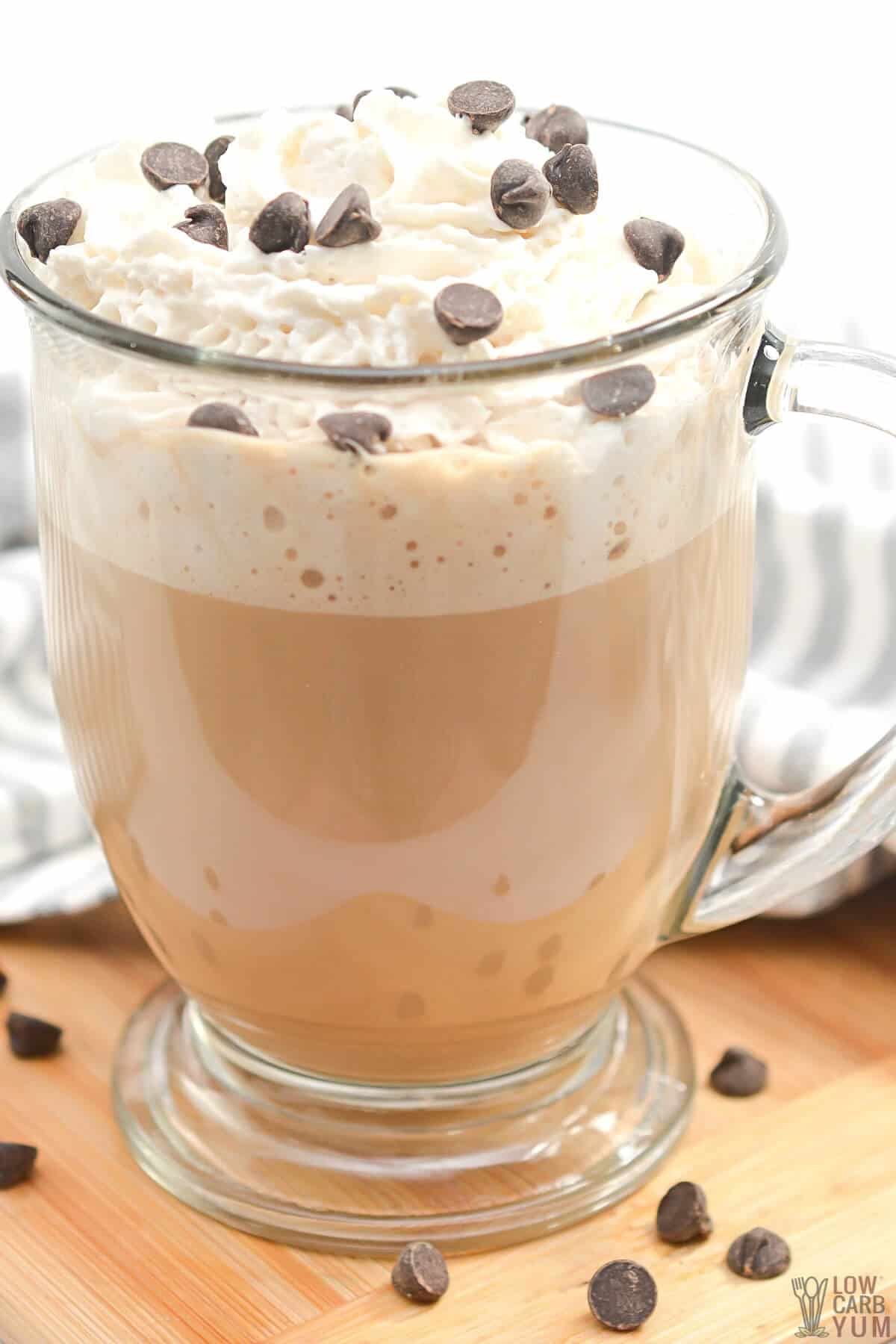 Keto Starbucks salted caramel mocha
This keto salted caramel mocha is made with strong coffee, sugar-free caramel, and chocolate syrups, and a pinch of grainy sea salt that brings it all together!
Customize it with fun additions like sugar-free white chocolate syrup, butterscotch syrup, or peanut butter syrup.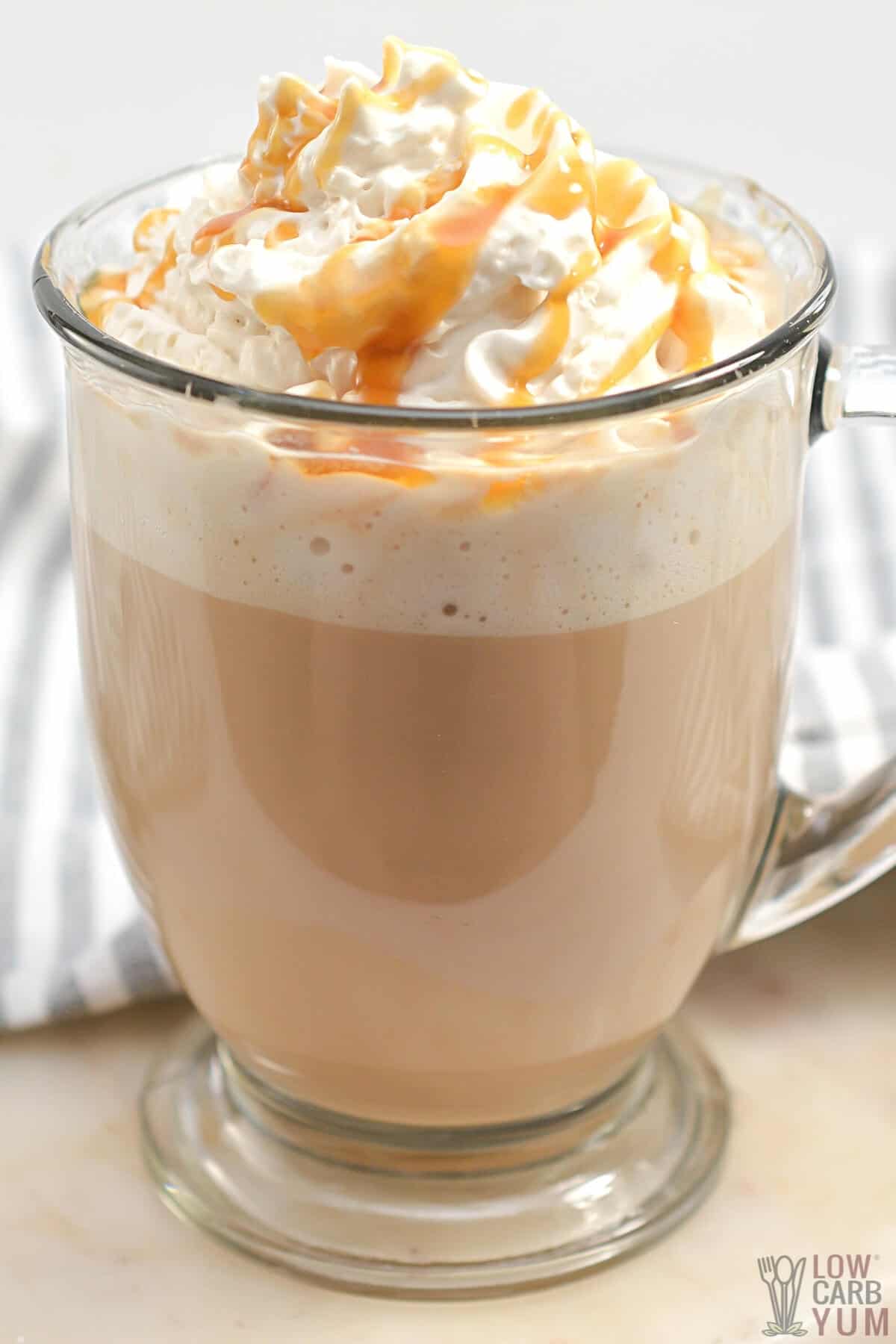 Starbucks caramel apple spice drink
My caramel apple spice drink is very sweet (in the best way!).
While the original Starbucks version is made with high-carb apple juice and sugary syrups, I use apple cider vinegar and a fabulous tea blend to keep things low-carb.
Cinnamon, cloves, allspice, nutmeg, and orange peels make a cozy and spicy combination. Top with whipped cream and a decorative cinnamon stick.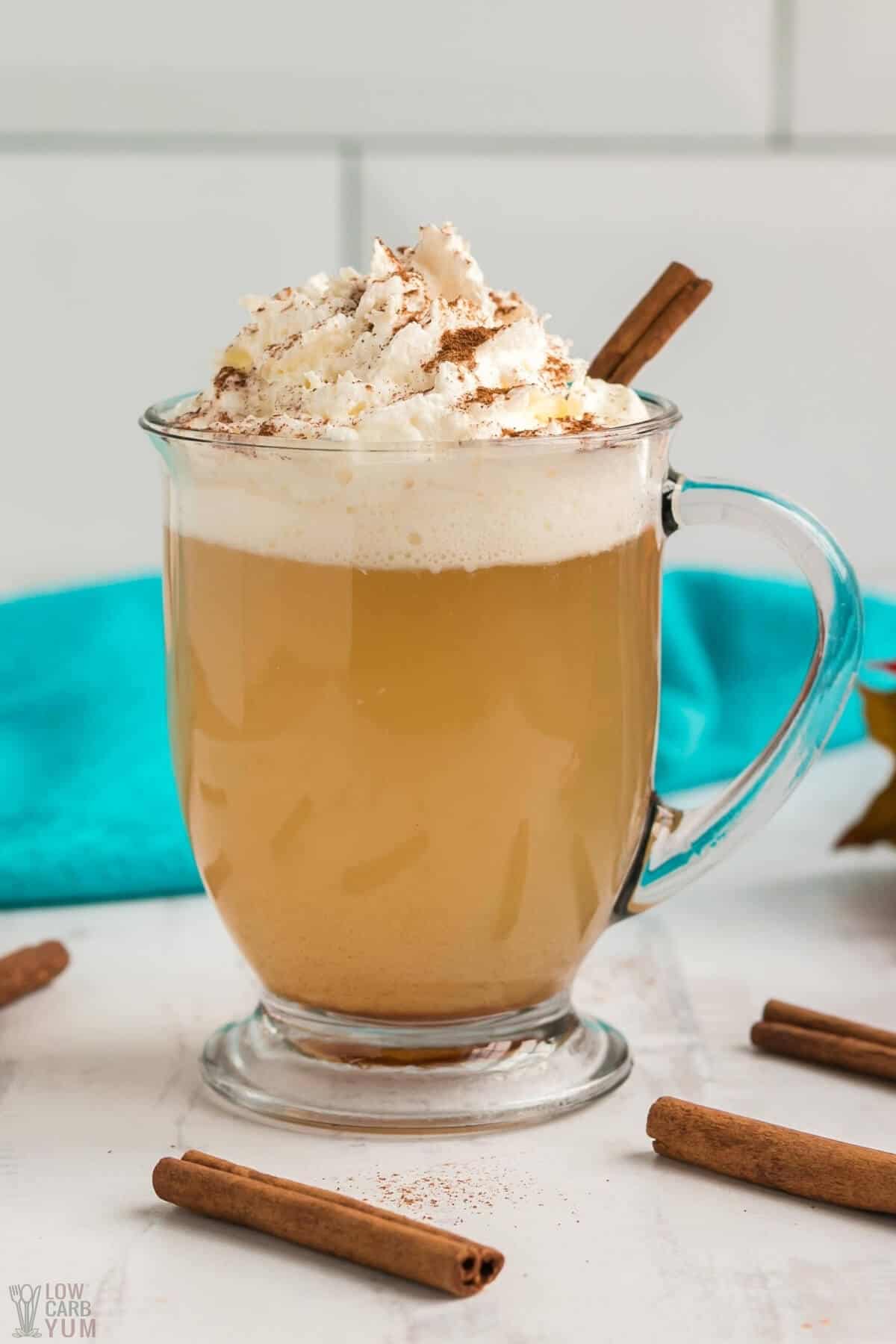 Keto pumpkin spice latte
My keto pumpkin spice latte is totally sugar-free, so when fall comes around, you won't miss out on this cult classic drink.
My secret to this autumnal staple? Pumpkin puree and pumpkin pie spice!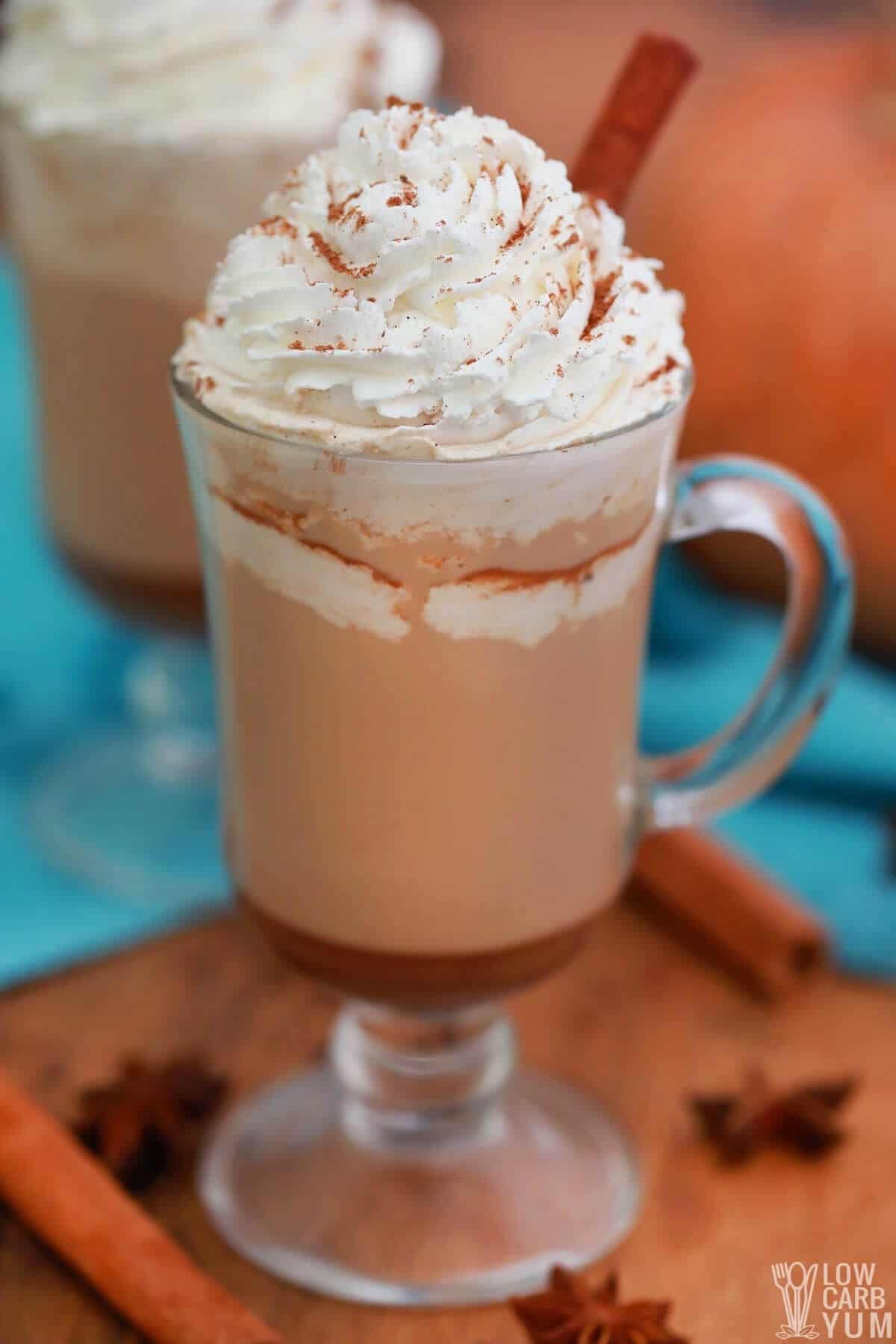 Bonus – Starbucks copycat snacks!
No Starbucks menu would be complete without a little something to nibble on. Try my Starbucks copycat keto breakfast sandwich or keto lemon loaf for the full experience.
Enjoy alongside any of these low-carb recipes or keep it simple with a classic cup of earl grey tea - the world is your oyster!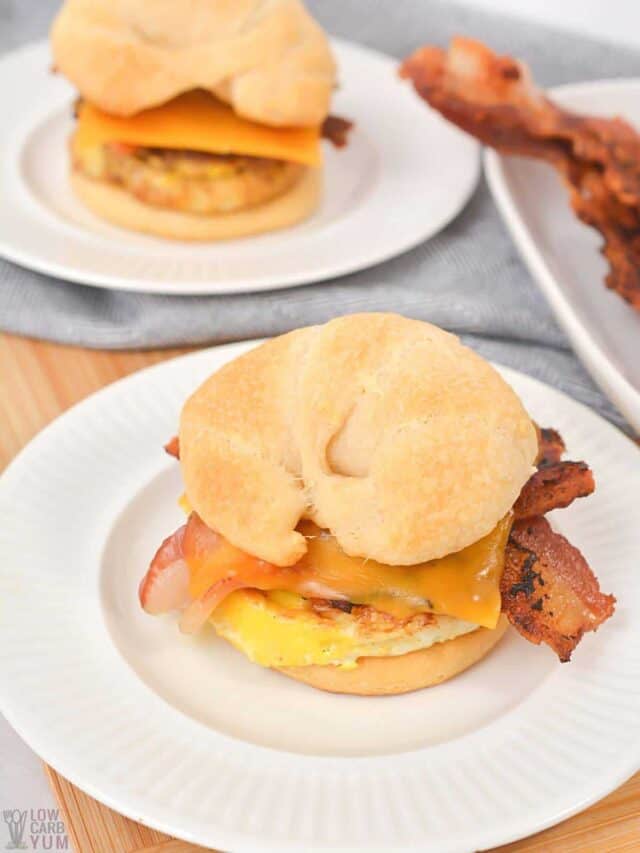 FAQs
Here are some questions people often ask about keto Starbucks drinks. If you don't see your question in this list, please leave it in the comments.
What Starbucks menu items should you avoid on a low-carb diet?
While there are plenty of keto-friendly Starbucks drinks, some items you'll need to steer clear of!

Avoid anything with sugary syrups, crunchy or sweet toppings, and high-carb milk (like dairy or oat).
What makes a homemade drink taste like Starbucks?
The secret to making your homemade drinks taste just like Starbucks is using Starbucks espresso beans and flavored syrups.

Luckily, you can purchase sugar-free syrups to keto-fy your drinks!
Choose the sugar-free syrup of your choice, from vanilla to cinnamon dolce.
What is the best keto Starbucks drink to order?
When it comes to keto drinks at Starbucks, there are actually several choices (with a few modifications!).

One of my favorites actually isn't on the Starbucks menu. Instead, it's on the secret menu, known as the "keto white drink."

To try it, order an unsweetened peach citrus white tea with no water and add 2 pumps of sugar-free vanilla syrup and a splash of heavy cream. The results are equal parts fruity, creamy, and yummy!
If you liked these recipes, try these!
If you're inspired by these Starbucks copycat drinks, I have tons of low-carb drinks for you to try. Start with any of these:
Follow us on FACEBOOK, PINTEREST, and INSTAGRAM for even more tasty keto-friendly recipes!