This cookie butter latte is the drink of the season! With my keto-friendly cookie butter latte recipe, you can enjoy this delicious drink any time. Take a sip of this sweet treat topped with ChocZero cookie butter and keto whipped cream.
Sponsored by ChocZero.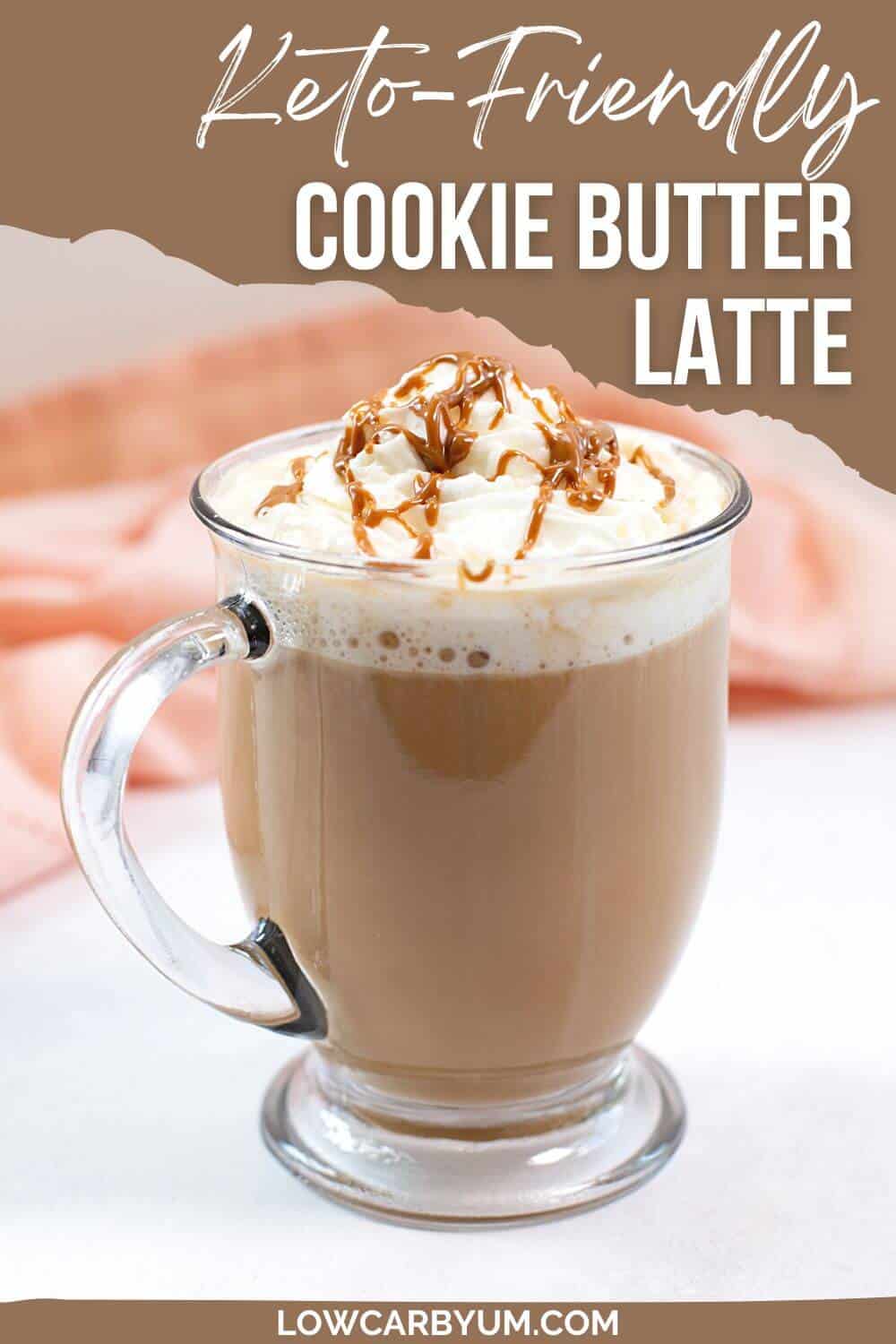 Why you'll love it
Have you heard of the Starbucks secret menu?
It includes off-menu Starbucks goods that have to be ordered a little more creatively. They're often created by Starbucks baristas and Starbucks lovers alike.
This delicious cookie butter latte, inspired by baked goods, is actually a Starbucks secret!
While it's not on the main menu, you can order this drink by asking for a chai latte with:
Oat milk
3 pumps of brown sugar syrup
2 pumps of chai
One shot of blonde espresso
Sounds delicious, right? But with all those high-sugar syrups, this drink is far from keto-friendly.
Don't fret! I have the perfect solution - a scrumptious keto cookie butter latte recipe, complete with ChocZero cookie butter.
This recipe is the perfect addition to a cold, dreary day. It's sweet, flavourful, and gives you a little caffeine boost.
If you want to try more Starbucks favorites, be sure to check out all my guide to eating and drinking keto at Starbucks.
Ingredients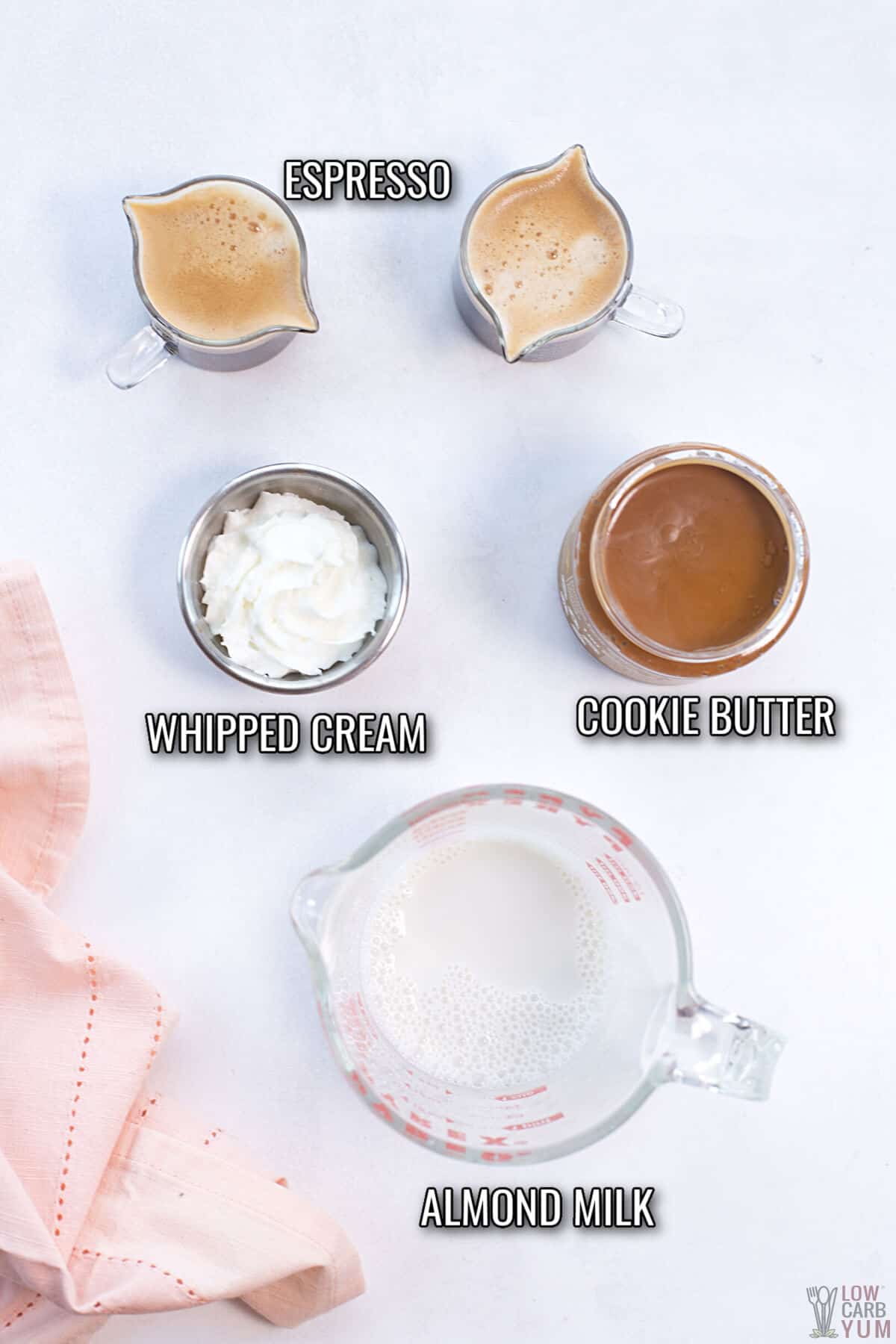 There are only four simple ingredients needed to create this cookie butter latte.
Espresso
This latte includes espresso coffee which adds amazing flavor and a great kick of caffeine!
Unsweetened almond milk
You can use any milk you'd like, but I chose unsweetened almond milk for my latte. It provides a nutty, inoffensive flavor to a latte that doesn't need much dolling up!
ChocZero cookie butter
This ChocZero cookie butter is seriously tasty; it has an amazing flavor that even rivals Trader Joe's cookie butter. And this one is keto!
If you've never tried cookie butter before, it tastes slightly nutty but also, like its namesake, cookies!
Traditional cookie butter is made from Bischoff cookies flavored with brown sugar and tons of delicious spices.
The ChocZero version includes flavors of shortbread, roasted hazelnuts, and cinnamon.
Keto whipped cream
My keto whipped cream recipe is made from heavy whipping cream, vanilla, sugar substitute, and just a pinch of cinnamon and nutmeg.
The results are pretty dreamy, if I do say so myself.
Find my keto whipped cream recipe here!
Tips
If you'd prefer a half-sweet cookie butter latte, only use ½ tablespoon cookie butter.
Save some cookie butter topping - it makes for a delicious drizzle on top!
Make sure your milk is hot enough that the cookie butter dissolves nicely.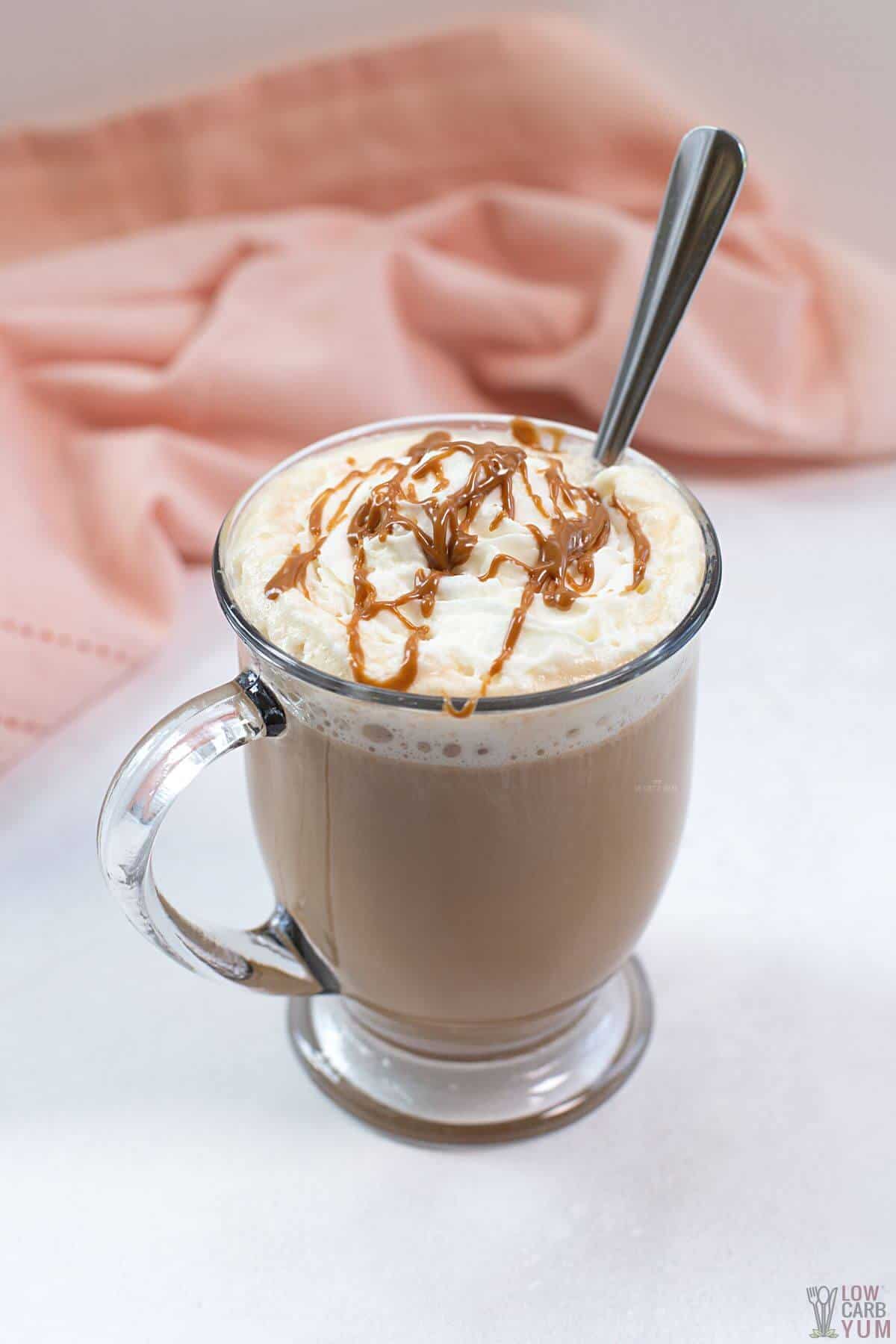 Instructions
This keto cookie butter latte recipe comes together in just a few easy steps! Here's a look at my process.
Brew the espresso
Brew two shots of espresso. If you don't have an espresso machine, you can make espresso on a stovetop, use a french press, or use an espresso substitute (brewed coffee works great!).
Heat your milk
Microwave six ounces of unsweetened almond milk in a microwave-safe mug. Heat the milk for around one minute or until it's hot and ready!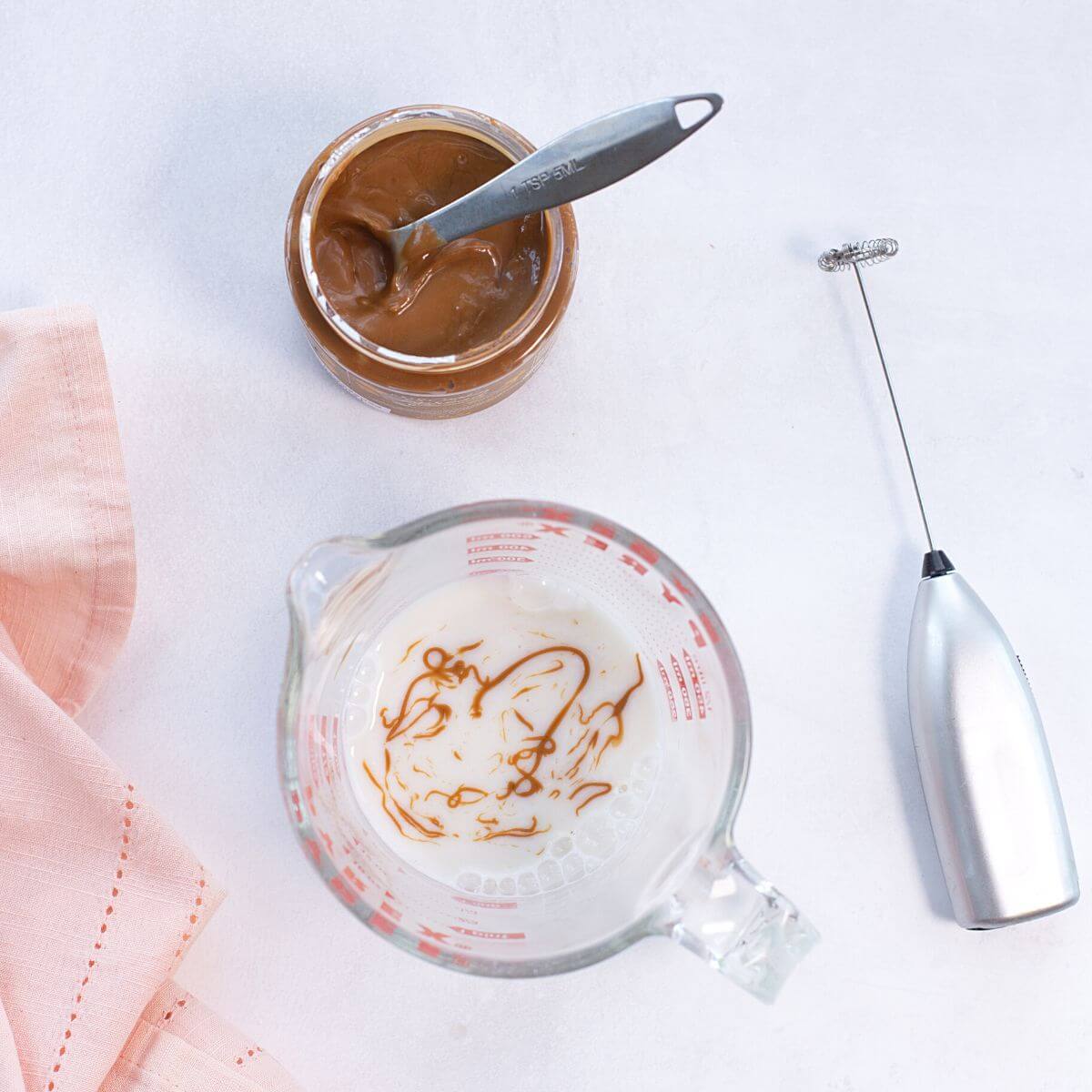 Infuse cookie butter
Once your milk is heated thoroughly, it's time to add your ChocZero cookie butter.
Add one tablespoon of ChocZero cookie butter to your steamed milk. Use a milk frother to infuse your milk with delicious cookie butter flavor.
Blend until the cookie butter has completely dissolved.
Combine mixtures
Add your brewed espresso to your infused milk, and use your milk frother once again to combine.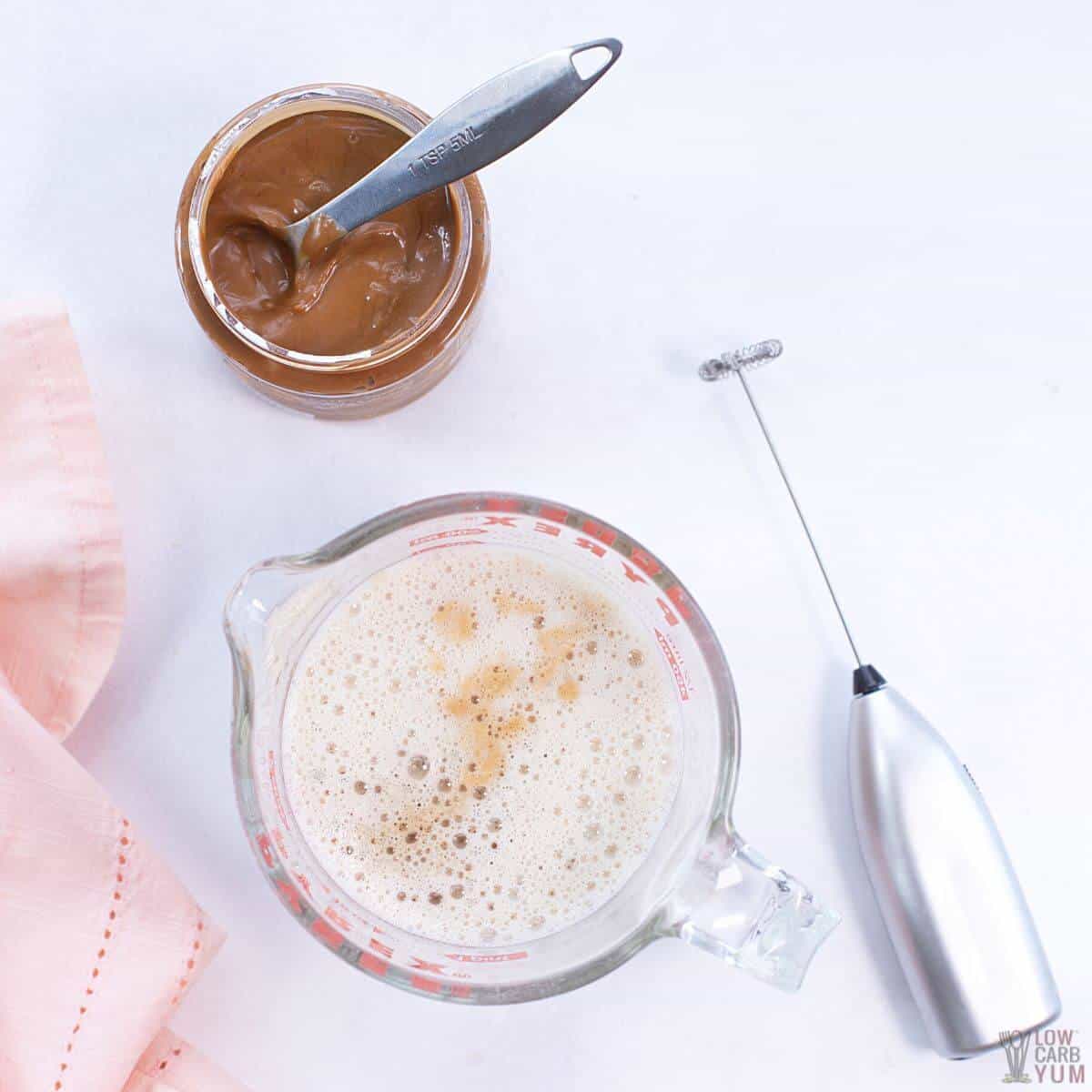 Add garnish
Pour your combination into a tall mug and get garnishing.
I recommend adding my homemade whipped cream and an extra drizzle of cookie butter on top for a super decadent hot drink.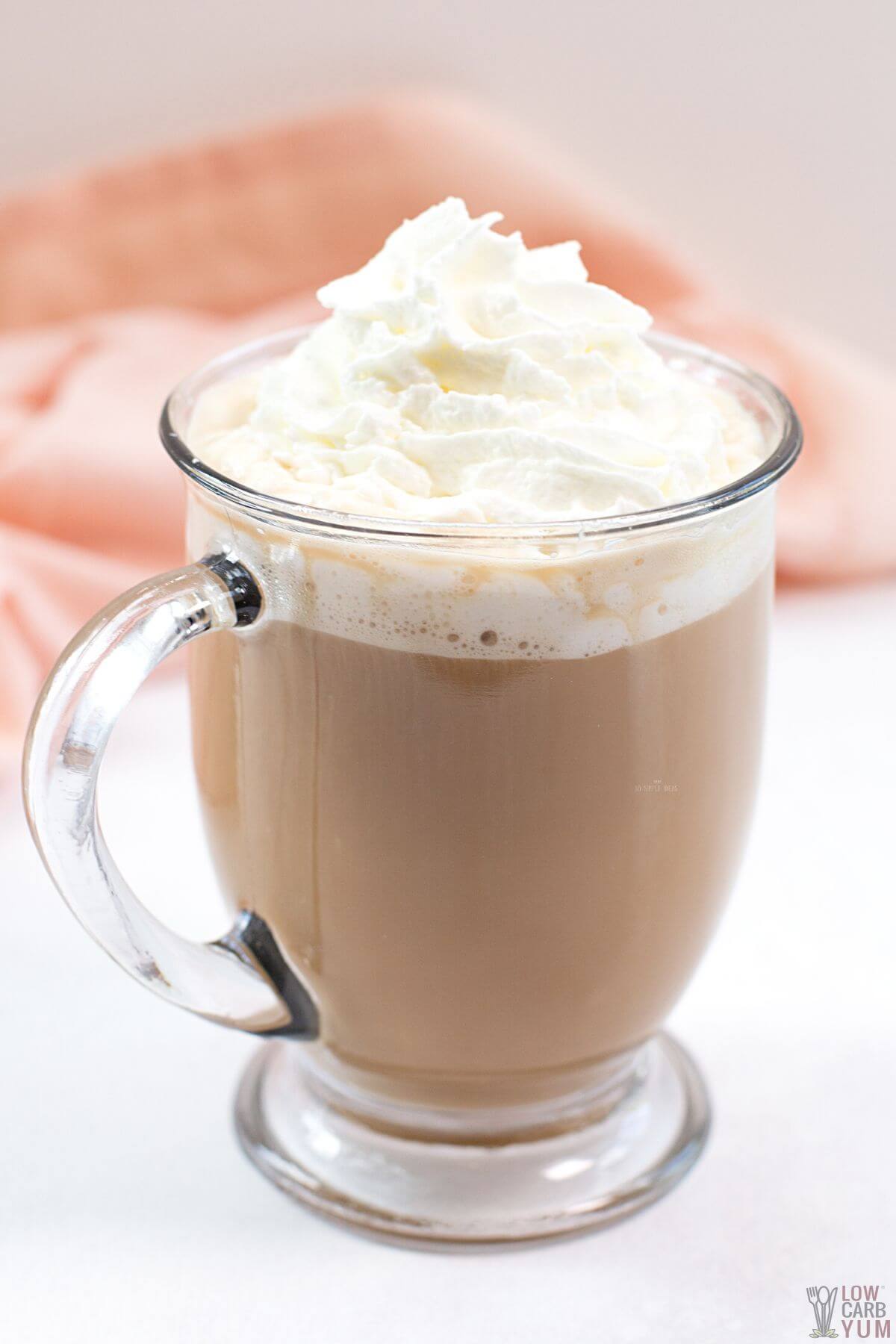 Serving suggestions
I typically drink this cookie butter latte in the morning because that's when I like to have my caffeine.
Pair it with a delish keto breakfast like the keto cinnamon rolls or coconut flour porridge for a sweet start to your day.
If you're more of a savory breakfast person, drink this cookie butter latte with a crustless egg quiche or radish keto hashbrowns.
Variations
If you want to switch up the classic recipe, try any of these fun ideas!
Make it iced – This recipe would taste fabulous as an iced latte. Pour over ice and enjoy!
Add a drizzle – Add a keto caramel drizzle for an extra bit of sweetness.
Try salt – Include a sprinkle of coarse sea salt in your latte! This will make the flavors pop in a big way.
Coconut whipped cream – If you don't opt for my homemade whipped cream recipe, coconut whip cream makes a delicious substitution! The added coconut flavor is super yummy.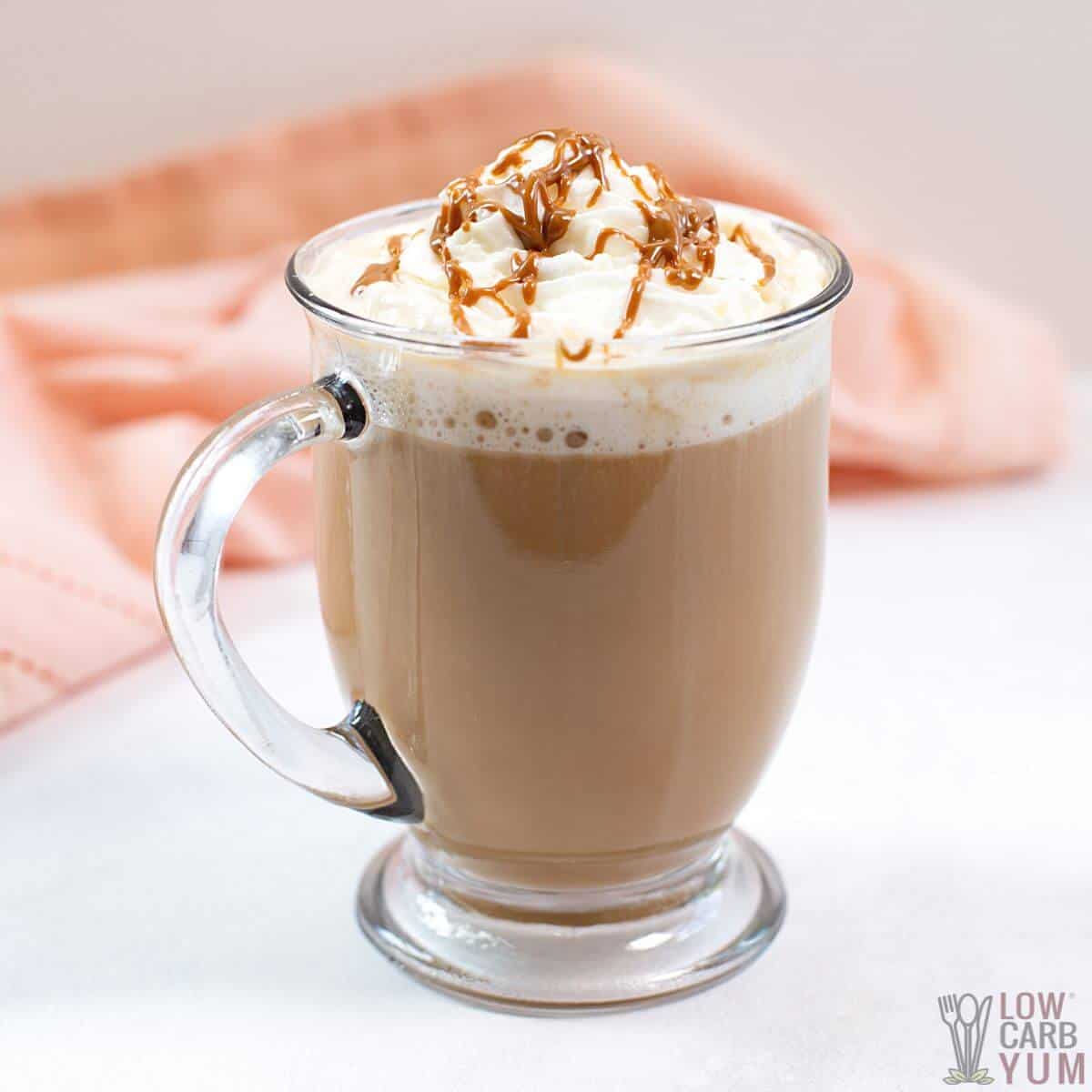 FAQs
Here are some common questions I get about this cookie butter latte recipe. If you don't see your question here, please leave it in the comments down below!
How do you make this without espresso?
If you don't have an espresso machine or don't like coffee, you can always substitute espresso with some hot chocolate or concentrated chai tea!
If you so like caffeine, brewed coffee is a great alternative.
Can I substitute the milk?
Absolutely! I like almond milk because it's keto-friendly and has a pretty mild flavor, but you can use your favorite milk or whatever you have on hand.
Keto-approved milk that you could use to substitute include:
-coconut milk
-cashew milk
-macadamia nut milk
-flax milk
-soy milk
-pea milk
How can I customize my latte?
Customization is only ever limited by your imagination; I have some suggested variations, but you can feel free to make this latte your own.
Try out different toppings, varying blends of espresso coffee, and more!
Related recipes
If you enjoyed learning how to make a cookie butter latte at home, here are some more keto Starbucks drinks to make next. All of these keto recipes are sugar-free and keto-friendly.
Follow us on FACEBOOK, PINTEREST, and INSTAGRAM for even more tasty keto-friendly recipes!