Ordering keto-friendly drinks at Starbucks might feel like quite the challenge between all of the sugars and carbs in many of their options. But, the good news is there are still some good sugar-free choices to pick from as long as you get a little creative with how you order. Here are a few suggestions to get a low-carb drink the next time you visit Starbucks!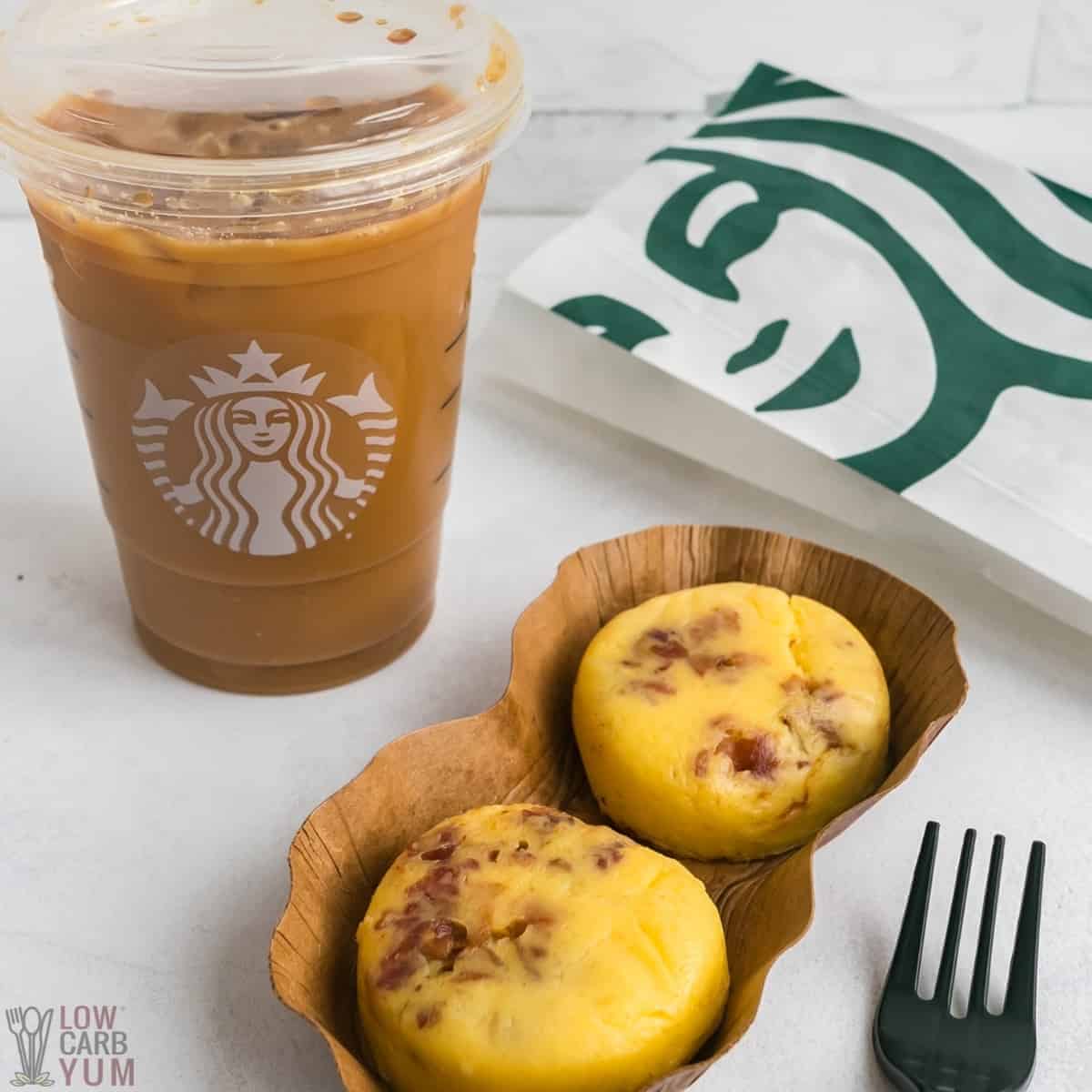 Article Index
Keto at Starbucks? Yes- it is possible to have one of the popular drinks on a ketogenic diet at this coffee shop! You can even grab a few food items too if you're hungry.
By ordering with a few variations, you'll be able to get a delicious drink similar to the regular ones with too much sugar. There are several ingredient swaps you can make to have a low-carb, sugar-free Starbucks drink. You can even enjoy a keto Frappuccino with a few adjustments!
Just follow this helpful guide to order a low-carb drink of your choice.
Coffee
If you're looking for the best coffee option on the Starbucks menu, you do have a few drinks to choose from other than black coffee and espresso. Just keep in mind that you can always adapt drinks to make them fit a keto lifestyle.
Unsweetened Iced Coffee: Order a grande iced coffee with no classic syrup. If you want, you can add a few pumps of sugar-free syrup in its place. Two pumps of sugar-free syrup have about 1g carb so don't add too much!
Cinnamon Dolce Latte: Order an americano and ask that half of it be filled with a mix of half heavy cream and half water, preferably steamed. Take along some homemade cinnamon dolce sugar-free syrup to stir in.
Mocha: Order an americano with half of it filled with heavy cream. Ask for no syrup or whipped cream. Then, add four to eight drops of chocolate monkfruit drops which you can easily carry in your pocket!
Cappuccino: Ask for a couple shots of espresso with steamed heavy cream. You can even make it flavored by adding in two pumps of sugar-free syrup.
Caffè Macchiato: Like the cappuccino, you'll need espresso shots and steamed heavy cream. However, after steaming the cream only the foam is added on top so this is a better option if you're watching. your calories.
Caffè Latte: This one is also similar to a cappuccino but instead of all heavy cream, ask for a 50/50 mix of heavy cream and water. This will lower the fat content and add more creaminess than a macchiato.
Tip: Try this Caramel Apple Spice Latte from Starbucks!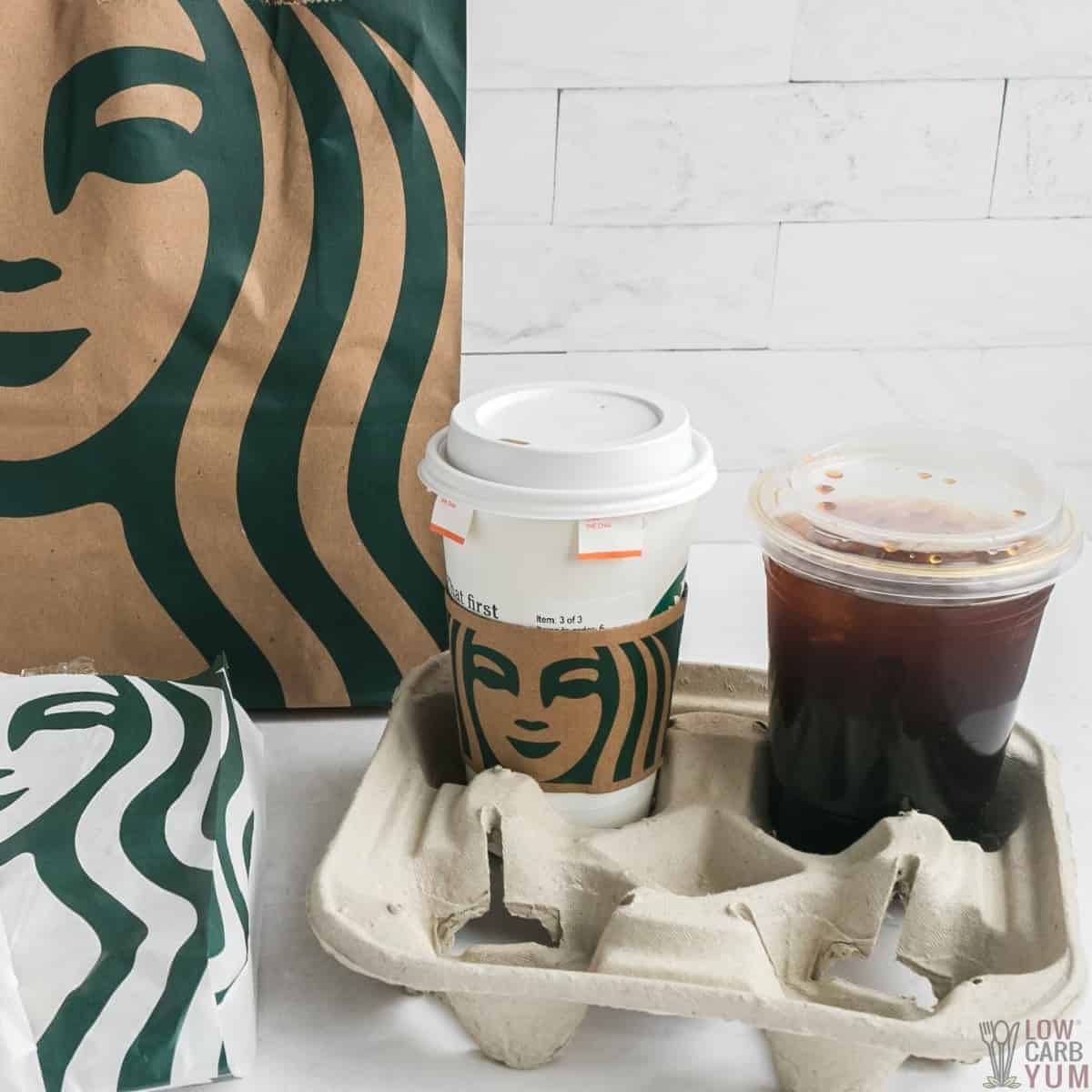 Tea
Not a big coffee drinker? That's okay! There are plenty of keto tea options you can try other than unsweetened tea.
London Fog Tea: Order an earl grey tea with heavy cream and a few pumps of sugar-free vanilla syrup.
Chai Tea Latte: Order a keto chai tea latte with heavy cream – make sure to request no chai tea syrup for the keto version. Instead, you can ask for extra tea bags for a stronger flavor. For sweetness and added flavor, just ask for vanilla sugar-free syrup in place of the chai flavored sugary syrup. (This is how I like to make chai masala tea)
Green Tea: Order any of the brewed green tea options that are made with tea bags. Stay away from the matcha tea which is made with a sweetened powder. You can add heavy cream with 2 to 4 pumps of vanilla sugar-free syrup for a sweet creamy drink.
Herbal Tea: If you want a decaffeinated beverage to warm you up, try an unsweetened hot herbal tea. The selection often changes so you'll be able to try new flavors depending on what's on the menu.
Iced Black Tea: For a simple cold drink, go with an unsweetened black tea iced. If you like your iced tea sweet, you can add in a sugar-free syrup or a sweetener of your own. A splash of heavy cream is also a nice option.
The Keto White Drink: Unfortunately, the fan-favorite white tea was discontinued in 2020... but maybe they will bring it back. It used to be a great choice if you don't care for green tea.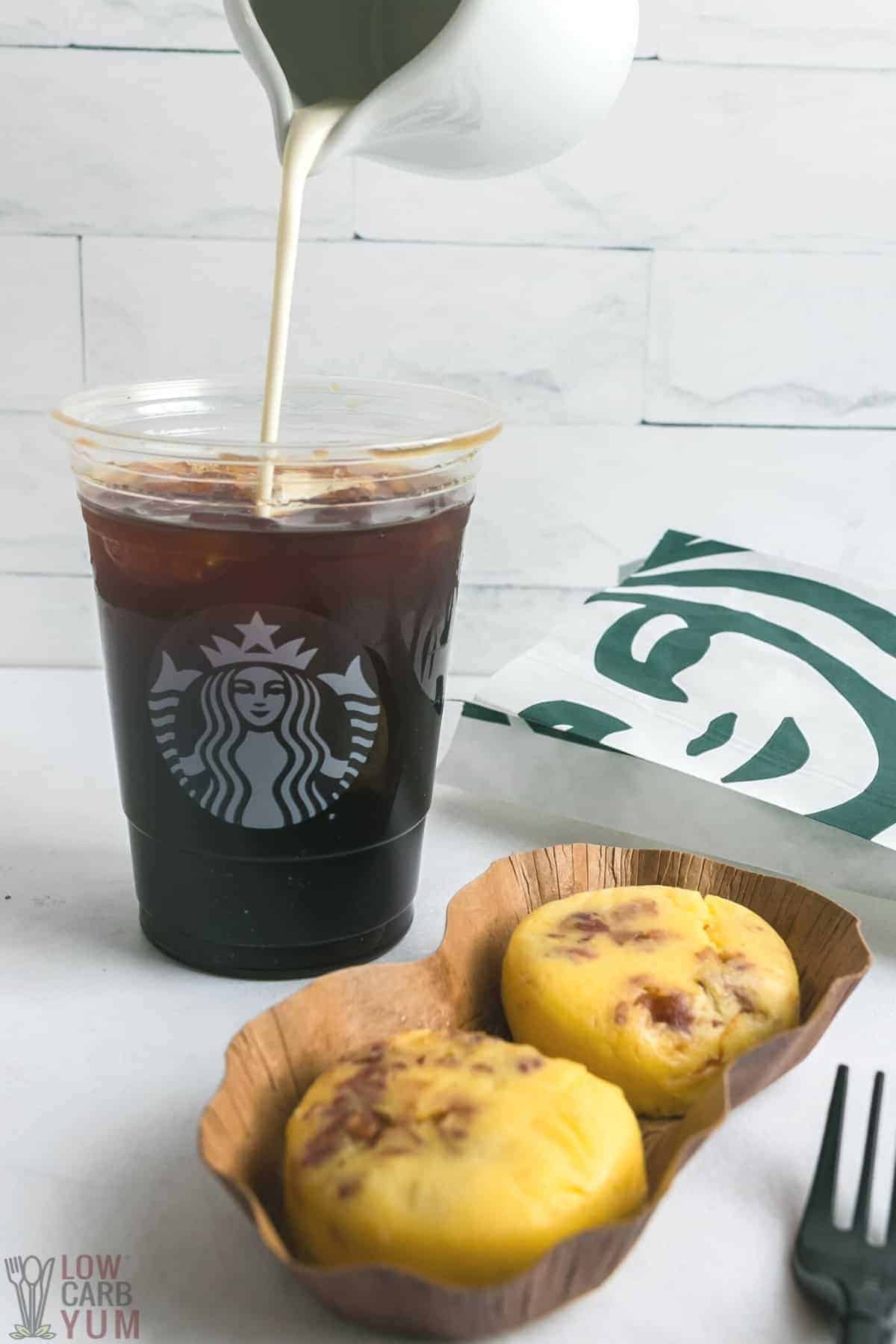 Foods
Starbucks isn't the easiest place to eat for keto dieters, but there are a few options that you might find if you are in a pinch.
Eggs and Cheese Protein Box: You can order an egg and cheese box, but just make sure only to eat those two items.
Moon Cheese: These little crispy pieces of cheese are one of the best keto Starbucks options.
Charcuterie Tray: This expensive little tray is a good option if you really need something to eat. There is a mix of meats and cheeses to choose from.
Egg Bites: Starbucks egg bites are not ideal for those on a keto diet because they add starch. However, they are still an acceptable option as net carbs are 11g or less. You may just need to watch your carbs for the rest of the day.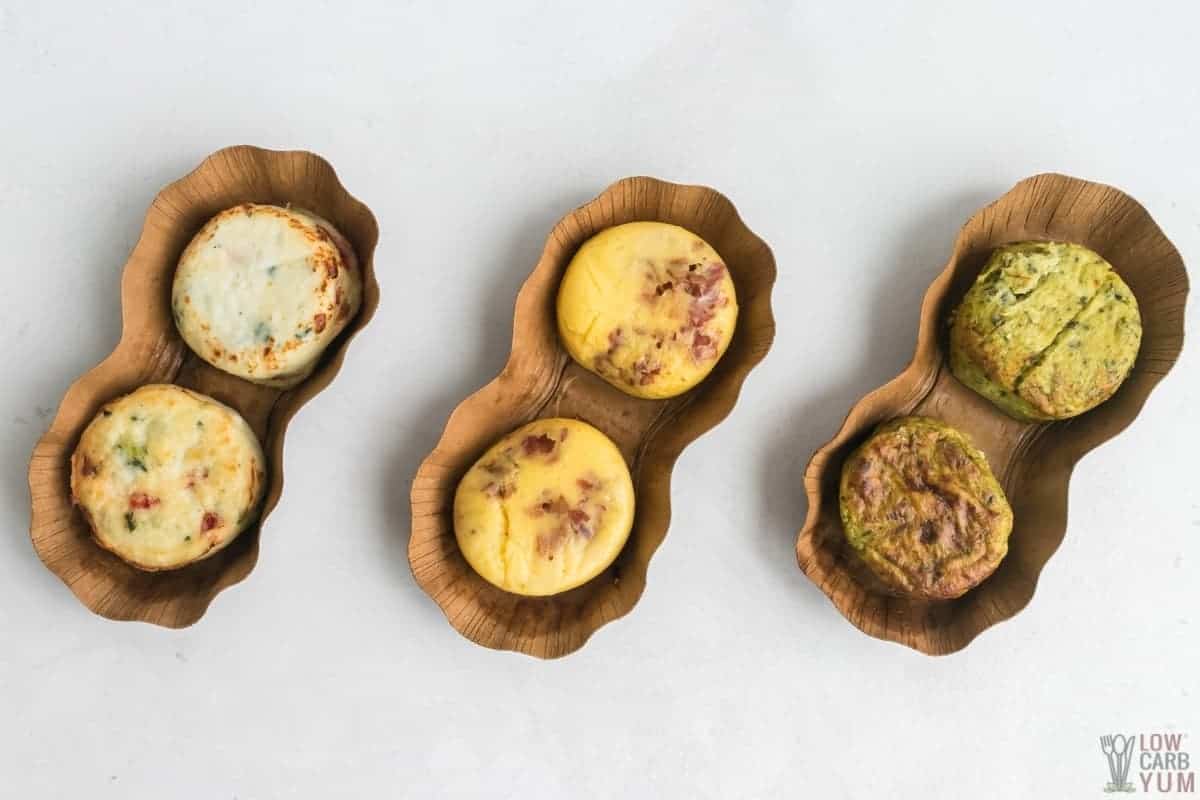 Ordering Tips
Because there are so few keto-friendly options at Starbucks, you will need to make several changes to the drinks that you order. Here are a few things to keep in mind when ordering keto drinks:
Skip The Whipped Cream
Though there are many delicious keto-friendly whipped creams out there, the whipped cream at Starbucks is not low in carbs. It actually has a lot of sugar!
So, make sure to ask for no whip on your drinks. Try adding a splash of heavy cream instead.
No Steamed Milk
Steamed milk is a very common ingredient in most Starbucks drinks, so make sure to ask that no steamed milk be added. Or, you could ask for steamed heavy cream instead.
Swap Syrup Options
Almost all Starbucks drinks contain some amount of syrup, so make sure to request that no syrup be added to your drink. Instead, you can ask that a sugar-free syrup be used – sugar-free vanilla is the most popular option.
Keep in mind that two pumps of sugar-free syrup will add a carb or two.
Sugar Substitutes
Since the classic syrup is not sugar-free, ask for stevia to sweeten your cup of coffee! Or have your own sweetener with you to sweeten to taste!
Almond Milk And Coconut Milk
The almond milk at Starbucks contains about 4g net carbs for an 8-ounce serving and the coconut milk has even more. Adding heavy whipping cream with hot water is a much better option.
Update 12/22: Starbucks now has unsweetened almond milk at many of its stores, so you can order that in place of regular almond milk.
Keto Frappuccino
Because the base of any Frappuccino is made up mostly of sugar, a classic frap will not work on a keto diet.
One way to still get a drink that tastes like it (without all of the carbs) is to order a double-blended iced coffee. Ask for heavy cream and 3-4 pumps of sugar-free vanilla syrup with no Frappuccino base.
The texture might be slightly different from a classic frap, but this drink is very similar to the real thing – minus all of the sugar!
FAQs
Here are a few questions I get frequently about doing keto at Starbucks...
Are Starbucks egg bites keto?
The Starbucks egg bites are safe to eat on a keto diet. You will just need to remember that they are a bit higher in carbs, so don't eat too many of them.
Are Starbucks creamers keto-friendly?
Unfortunately, there are no keto-friendly creamer options at Starbucks because they are made with milk and high in carbs.
The good thing is that you can achieve a similar result by adding heavy cream and sugar-free syrups to your drinks. This is a low-carb option that still gives your drink a sweet and creamy taste and consistency.
How do I order a keto pumpkin spice latte at Starbucks?
To order a low-carb pumpkin spice latte at Starbucks, order a tall americano. Then, add a pump of sugar-free vanilla syrup, a pump of sugar-free cinnamon syrup, some heavy cream, and a sprinkling of pumpkin spice topping.
Unfortunately, the pumpkin spice sauce has sugar. One pump adds about 30 calories and 8 grams of sugar. A better option would be to stir in your own keto-friendly syrup.
If you want to make this at home, follow my own recipe for pumpkin spice latte!
Is Starbucks sugar-free syrup keto?
Yes, the sugar-free syrup option is keto-friendly and tastes great in most drinks.
How do I order a keto pink drink at Starbucks?
Unfortunately, it's tough to make a low-carb version with the current menu if you want to be able to enjoy a keto pink drink. As an alternative, you could ask for a venti iced sugar free herbal tea with a fruity flavor.
Just skip any classic syrup. Go for 1-2 pumps of sugar-free vanilla syrup and some heavy cream stirred in.
It won't look or taste the same as a pink drink, but it's the best substitute if you crave a fruity low-carb option.
Is Starbucks cold foam keto?
The The cold foam is unfortunately not keto-friendly. This is because it is made almost entirely from whipped non-fat milk. You could see if the barista can make a substitute using heavy cream and sugar-free vanilla syrup.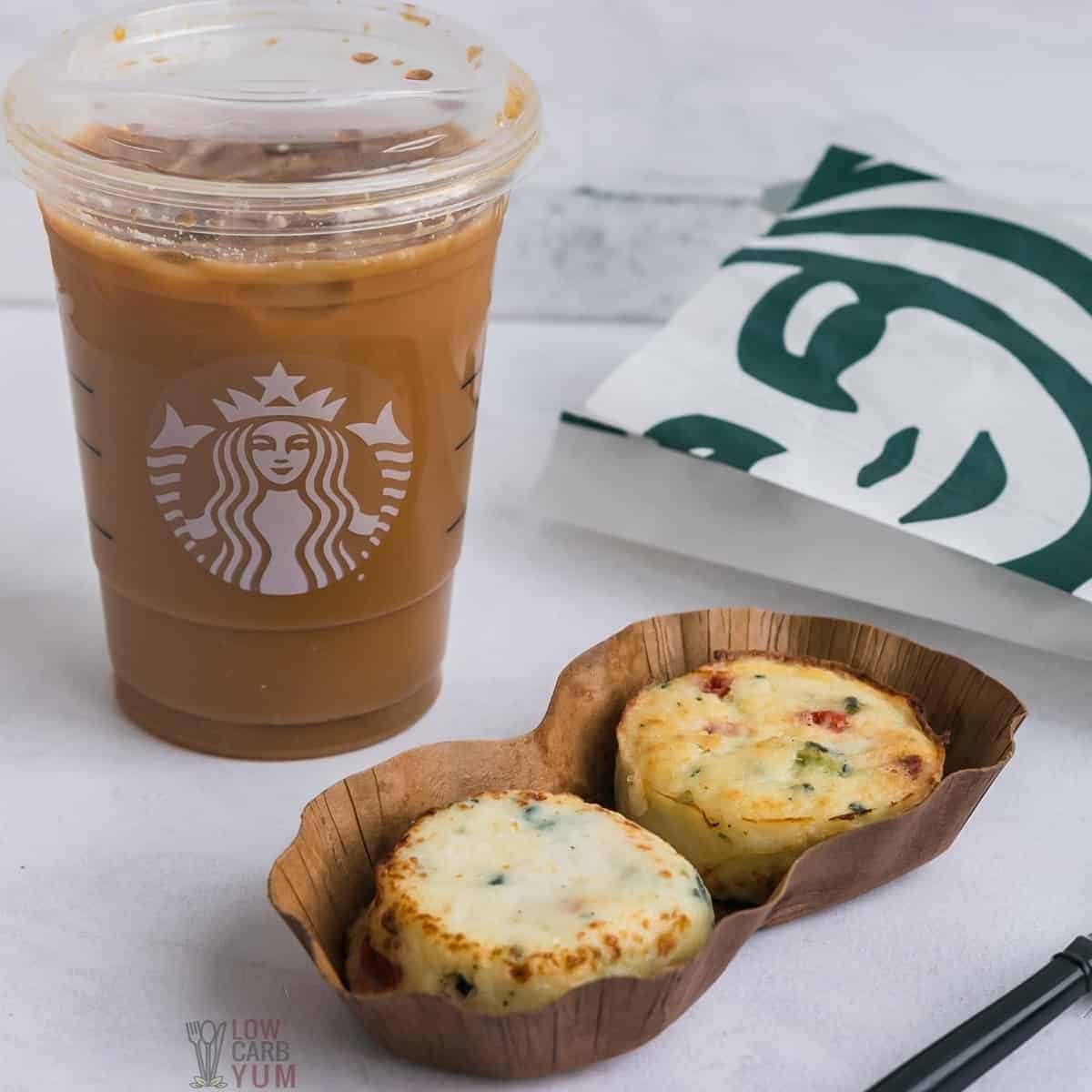 Related recipes
Now that you have a whole keto guide on what to order at Starbucks, take a look at some of these drink recipes you can make right at home:
Follow us on FACEBOOK, PINTEREST, and INSTAGRAM for even more tasty keto-friendly recipes!