This post may be sponsored or contain affiliate links, but all opinions are my own. I may earn money if purchases are made through links (at no additional cost to you) which helps support this site and keep the content free.
Monk fruit extract is a naturally derived sweetener that has zero calories and zero glycemic impact. It's an ideal sweetener for a low carb ketogenic diet.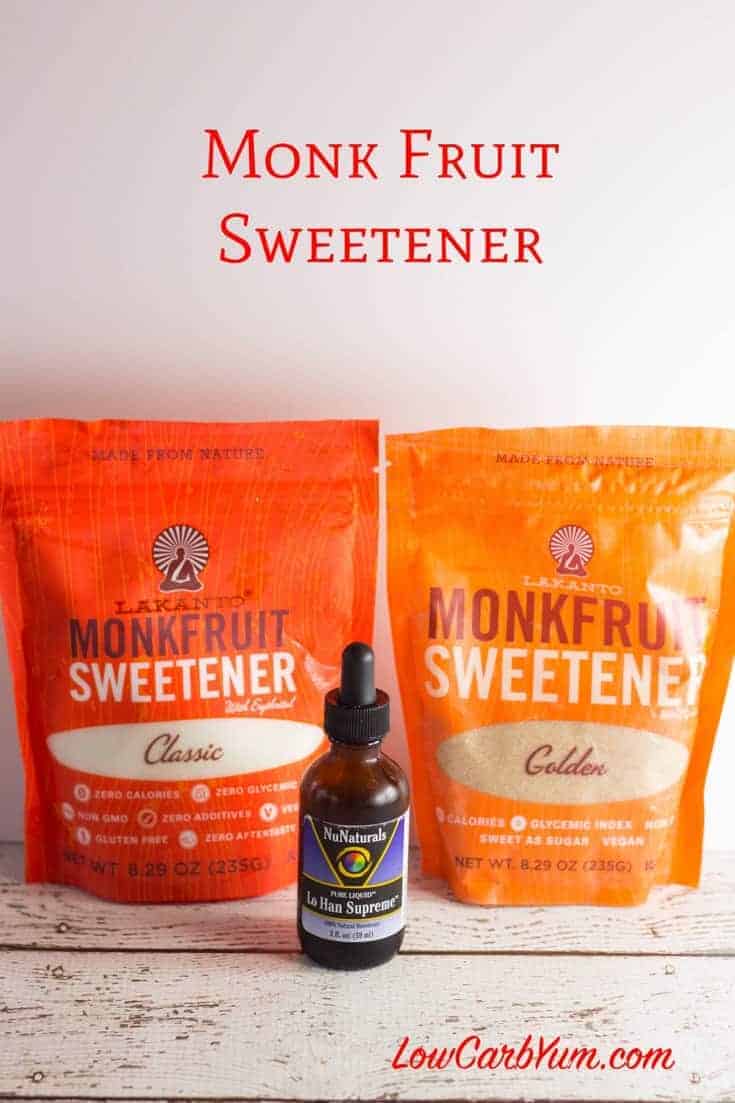 It took me a while to figure out that lo han guo and monk fruit are the same thing. I have a habit of reading the ingredient lists of all packaged foods I buy. Several years ago, I began to notice that some stevia sweetened items also contained lo han guo or monk fruit extract.
I've seen this ingredient used in Quest bars and Zevia soda, to name a few of the low carb products. So you may be wondering what lo han guo is and whether it's safe to use on a low carb ketogenic diet?
Lo han guo is a fruit that goes by many names. In English, it's often referred to as luo han guo, lo han kuo or a combination of the two. I've also seen it referred to as arhat fruit, Buddha fruit, monk fruit, or lengevity fruit. Very confusing!
FREE eBook!
​LOW CARB TIPS and TRICKS
Subscribe now to receive your free copy of Low Carb Tips and Tricks which includes 20 easy to prepare recipes. Plus, get access to the weekly newsletter and special offers only for subscribers!
The monk fruit is a gourd-like fruit that is similar in size to a lemon that grows primarily in Southern China and Northern Thailand. It's green in color with lighter green streaks, but turns brown when dried. The dried fruit is often found in Chinese herb shops.
The fruit is rarely eaten fresh due to storage issues as well as the objectionable flavors. Drying monk fruit not only preserves the fruit, but eliminates some of the undesirable flavors. However, the dried fruit tends to have a bitter flavor so it is often combined with sweeteners when used.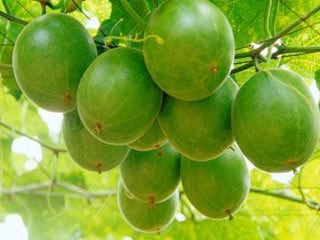 Monk fruit sweetener is similar to stevia in that it is about 250-300 times as sweet as sugar. However, monk fruit doesn't have the bitter aftertaste associated with many stevia sweeteners. Lo han guo has been used in China as a natural sweetener in soft drinks for years.
The fruit is prized for it's sweetness, but it has some less desirable flavors that interfere with the sweet taste. In 1995, Procter and Gamble patented a process that separates the sweet part of the fruit from the less desirable flavors.
The concentrated extract is very sweet but has zero calories and zero glycemic impact. This makes it a great natural sweetener for diabetics and those on a low carb keto diet!
Although monk fruit sweetener is natural in that it comes from a plant, it must go through a chemical process to obtain the concentrated extract and remove the undesired flavors of the fruit. It's this concentrated form that's used in powdered and liquid sweeteners.
I prefer using the Lakanto monk fruit powder which adds erythritol and the NuNaturals Pure Liquid Lo Han Supreme which is a concentrated liquid with added vegetable glycerine, alcohol and water. I avoid buying any monk fruit sweetener that contains additives like dextrose or maltodextrin which can impact blood sugar. I also avoid artificial ingredients like sucralose and any form of sugar like molasses.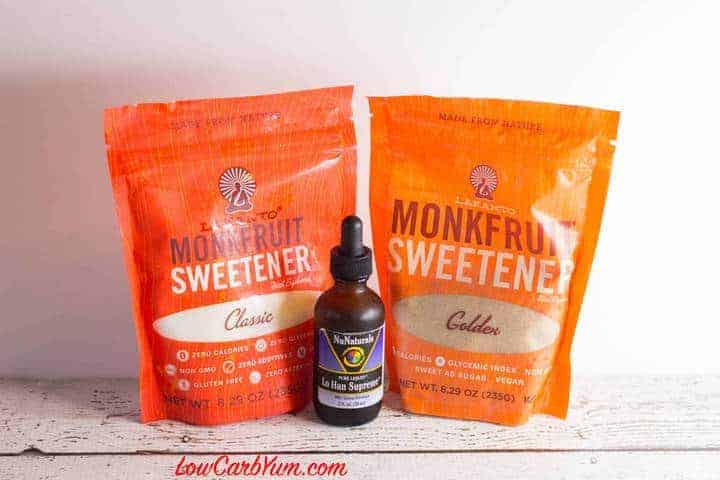 I have just started to experiment with monk fruit sweeteners. I've found that it enhances the sweetness of stevia. I've been using it along with erythritol and stevia to give low carb treats a more pleasant sweet taste.
As with all sweeteners, I believe they should be used in moderation as they do tend to cause weight loss stalls and continued sweet cravings. Sweeteners are great for an occasional treat while following a low carb keto diet, but they shouldn't be used regularly.
My need for sweets is much less than it was before I began following a low carb lifestyle, but it is nice to have an occasional treat now and then. Have you tried monk fruit sweetener?
Related Posts