All-natural monk fruit sweetener is the best low-carb sweetener! It has a clean sweet taste with zero calories and no glycemic impact.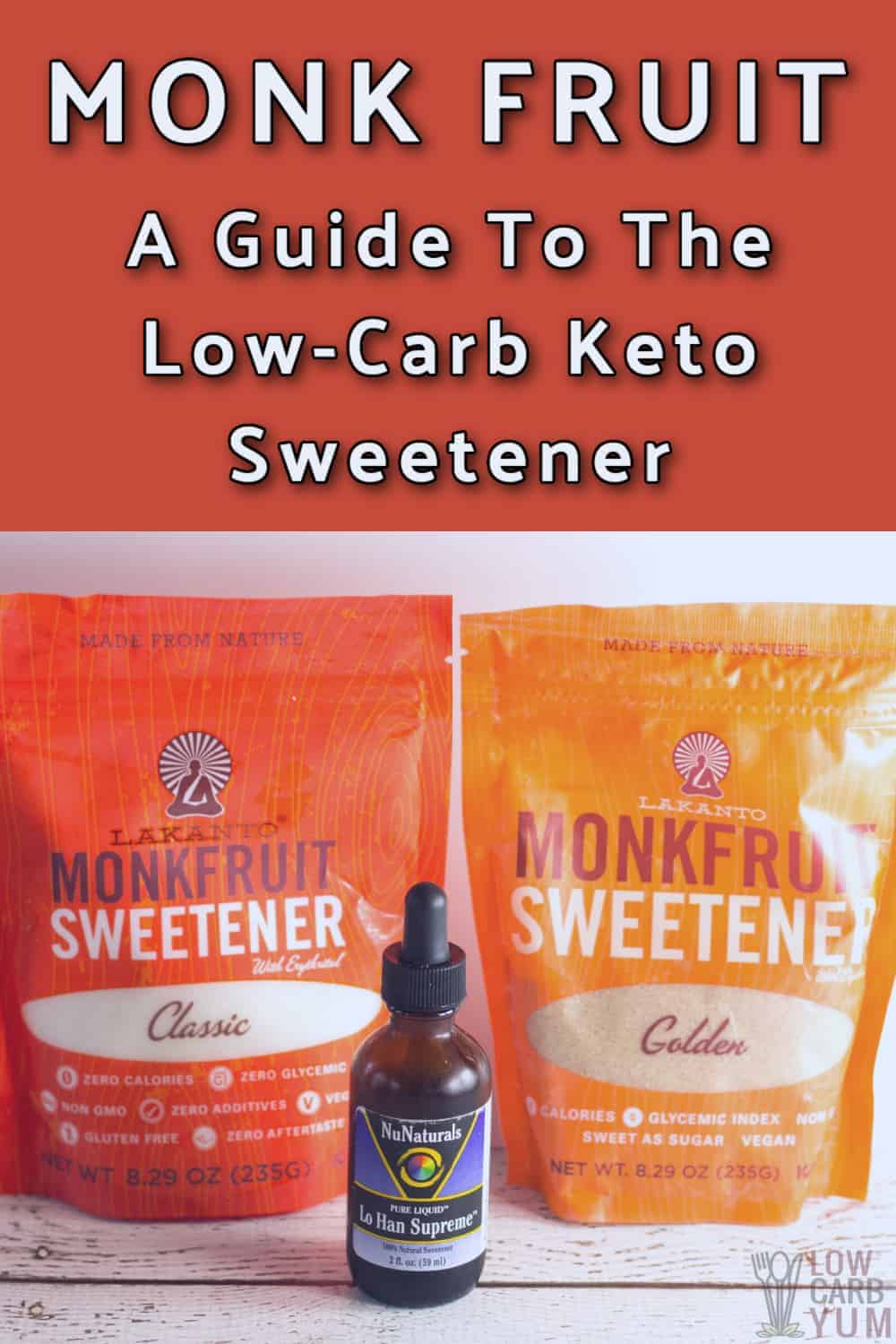 Article Index
When it comes to eating a low-carb diet, the sweetener you choose can make a big difference. You want to pick one without any aftertaste and one that adds a sweet flavor, too.
I recently put together a comprehensive guide on all of the low-carb sweeteners and substitutes that are best to consume while on the keto diet. So, I wanted to dig a little deeper into some of those sweetener options and decided to start with monk fruit.
Monk Fruit Sweetener: Here Is Everything You Need To Know!
I have to admit; Out of all of them, monk fruit extract sweetener is definitely in my top three favorite low-carb sweeteners. It's more natural, so it is easier on our bodies. Plus, it doesn't seem to have any funky aftertaste either.
Let's look even closer at this sugar-free sweetener!
What Is Monk Fruit?
Monk fruit is a small, round fruit that grows naturally in China. It's also known as Lo Han Guo.
Lo Han Guo is a fruit that goes by many names. It's often referred to as Luo Han Guo, Lo Han Kuo, or a combination of the two in English. I've also seen it as arhat fruit, Buddha fruit, monk fruit, or longevity fruit.
Very confusing!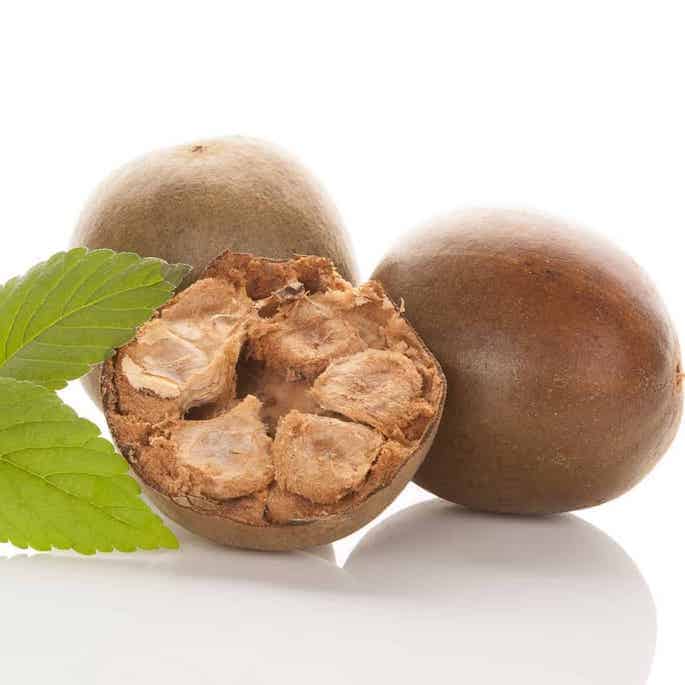 The extracted sweetener comes from a gourd-like fruit that is similar in size to a lemon. It grows primarily in Southern China and Northern Thailand. The fruit is green in color with light green streaks but turns brown when dried.
Monk fruit is often dried and used as an herb by the Chinese.
The fruit is rarely eaten fresh due to storage issues as well as the objectionable flavors. Drying monk fruit not only preserves the fruit but eliminates some of the undesirable flavors. However, the dried fruit tends to have a bitter flavor, so it is often combined with sweeteners when used.
How Is Monk Fruit Sweetener Made?
The sugar-free sweeteners are made from the juice of the monk fruit. To extract juice from the fruit, they have to remove the seeds and skin and crush them completely.
Best part? Monk fruit extract contains zero calories per serving!
I've seen monk fruit extract used in Quest bars and Zevia soda, to name a few low-carb products, and it's the only sweetener in low-carb ChocZero.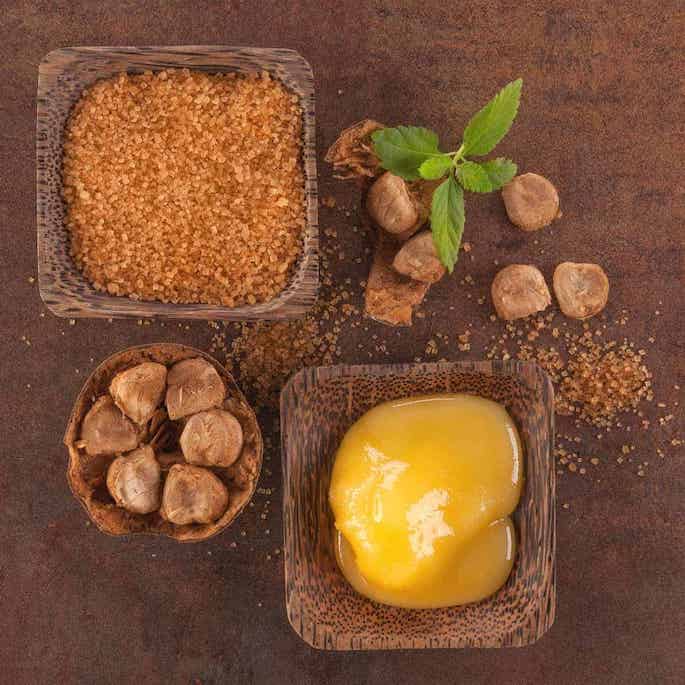 Monk Fruit Benefits
I started using monk fruit extract in 2015 because the taste is amazing. I've found that it's one of the best low-carb sweeteners available right now. It also enhances the sweetness of what I am eating or drinking without leaving any weird aftertaste in my mouth.
Sounds like a win to me!
Another benefit to using this sugar-free sweetener is that it tastes sweet without raising blood sugar. It's been shown to help reduce glucose levels, making this a perfect choice for people with diabetes.
The actual fruit has lots of anti-inflammatory benefits as well. Historically, people have used monk fruit to relieve issues with phlegm and sore throats!
Monk Fruit Sweetener Side Effects
As with all sweeteners, I believe they should be used in moderation as they do tend to cause weight loss stalls and continued sweet cravings. Also, consuming too much monk fruit (or any sugar substitute) can give you an upset stomach.
Is Monk Fruit Safe To Use On A Low-Carb Ketogenic Diet?
The concentrated monk fruit extract is very sweet but has zero calories and zero glycemic impact. This makes it a great natural sweetener for people with diabetes and those on a low-carb diet!
As of 2010, the Food and Drug Administration (FDA) added monk fruit sweetener to the Generally Recognized As Safe (GRAS) list. For this reason, it is a safe choice to use in low-carb or sugar-free dessert recipes.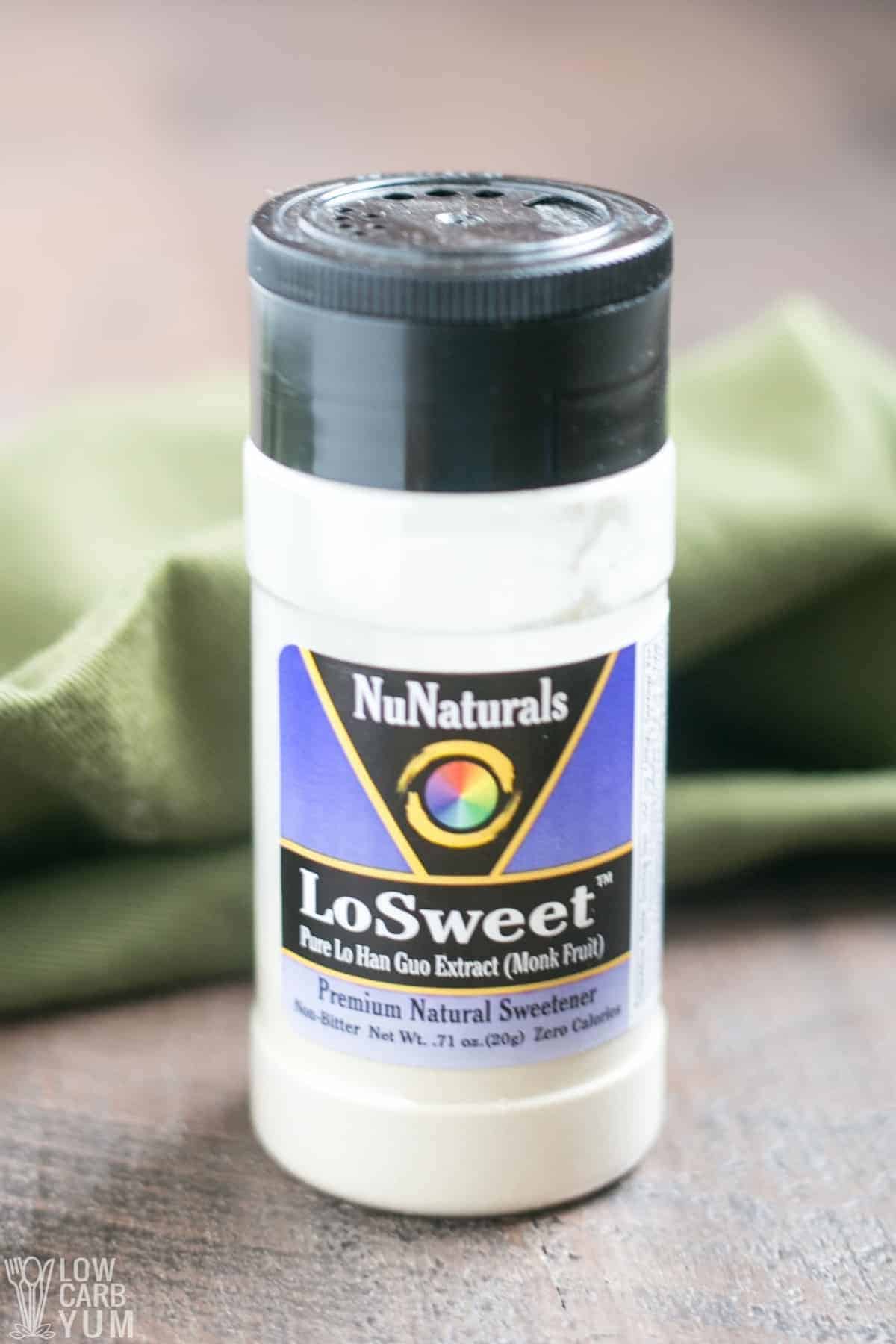 Monk Fruit Vs. Stevia
Monk fruit extract is similar to stevia in that it is about 250-300 times as sweet as sugar. However, monk fruit sweetener doesn't have the bitter aftertaste associated with many stevia sweeteners. In fact, Lo Han Guo has been used in China as a natural sweetener in soft drinks for years!
Another important thing to note is that monk fruit extract is on the FDA's GRAS (generally recognized as safe) list. Some types of stevia are not on that list.
Note: To be clear, this means high-purity stevia glycoside extracts are on the GRAS list, but stevia leaf and crude extracts are not.
Finally, monk fruit sweetener isn't nearly as processed as stevia. Stevia products sold in the United States are often mixed with other sugar-like ingredients such as dextrose (corn sugar), erythritol, and molasses. Their reasoning behind it is that blending it with other sugars helps stevia easier to cook and bake with.
The Best Brands Of Monk Fruit Sweeteners
There are lots of companies that make monk fruit sweeteners, so which ones are the best?
For those following a low-carb diet, you'll want to avoid any monk fruit sweetener that contains additives like dextrose or maltodextrin which can impact blood sugar. I also stay away from artificial ingredients like sucralose and any form of sugar like molasses.
Another one of my favorite monk fruit sweeteners is Purisure! It is made with only monk fruit extract - no other additives or ingredients. Even though it isn't USDA-certified organic, the monk fruit is grown without pesticides or herbicides.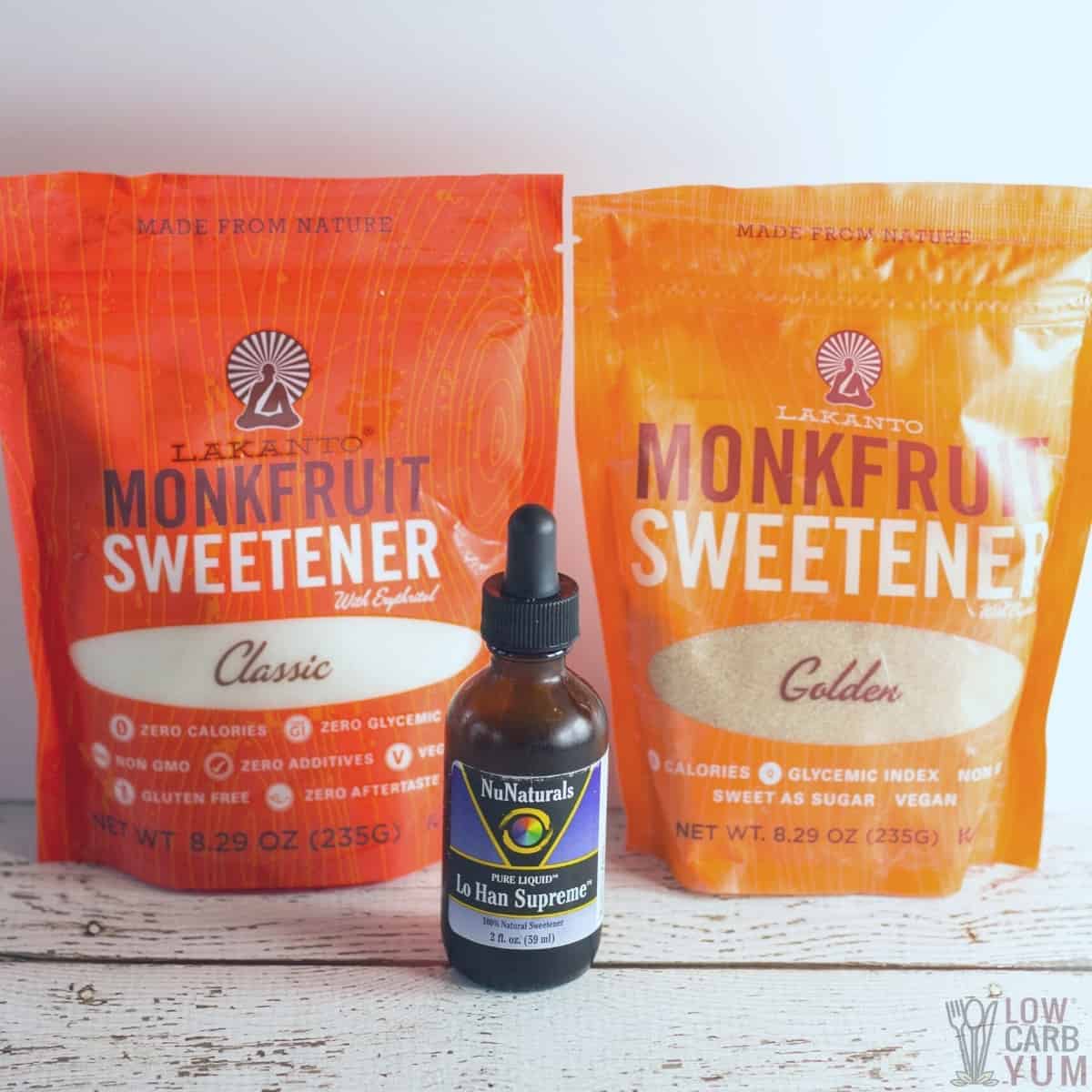 Sweeteners are great for an occasional treat while following a low-carb keto diet, but they shouldn't be used regularly. However, with zero carbs and zero calories, you need to give monk fruit a try.
If you are looking for a sugar-free sweetener, this is one of the best ones you can use!
Best Recipes That Use Monk Fruit Sweetener
The best recipes that use monk fruit sweeteners are low-carb desserts. Here are some of my favorite recipes:
If you want to learn more about this fantastic sweet fruit extract, check out this site which has tons more information.
Follow us on FACEBOOK, PINTEREST, and INSTAGRAM for even more tasty keto-friendly recipes!
First published on May 11, 2015. Updated April 1, 2021, with new images and additional sweetener information.