This post may be sponsored or contain affiliate links, but all opinions are my own. I may earn money if purchases are made through links (at no additional cost to you) which helps support this site and keep the content free.
This low carb no bake black forest cheesecake mousse is perfect for summer. Top with shaved chocolate or a fresh cherry. Can be made into a sugar free pie.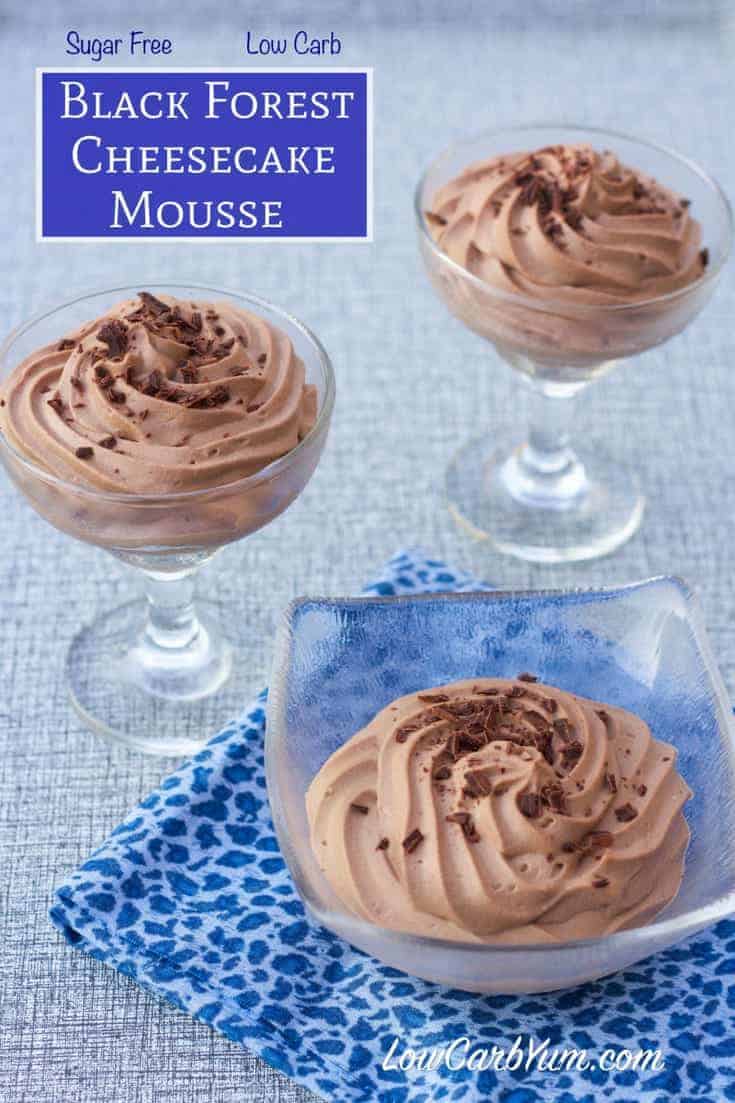 There is one thing I really dislike about hot Connecticut summers. It's the humidity. I enjoy hot weather, but the humidity makes it so much more uncomfortable.
We spent most of the day at an amusement park this past Saturday and I should have drank more water. The parks here do offer free beverages to the guests so they don't dehydrate, but I guess I didn't take enough.
At the end of the day, I felt sick, dizzy, and had a throbbing headache. At first I thought my horrible headache was from the noisy crowd of people, but when I started to feel weak and dizzy,
FREE eBook!
​LOW CARB TIPS and TRICKS
Subscribe now to receive your free copy of Low Carb Tips and Tricks which includes 20 easy to prepare recipes. Plus, get access to the weekly newsletter and special offers only for subscribers!
I started to look up signs of heat exhaustion and sure enough I was having most of the symptoms. Although the high temperature was about 88F, it felt like it was well into the 100's.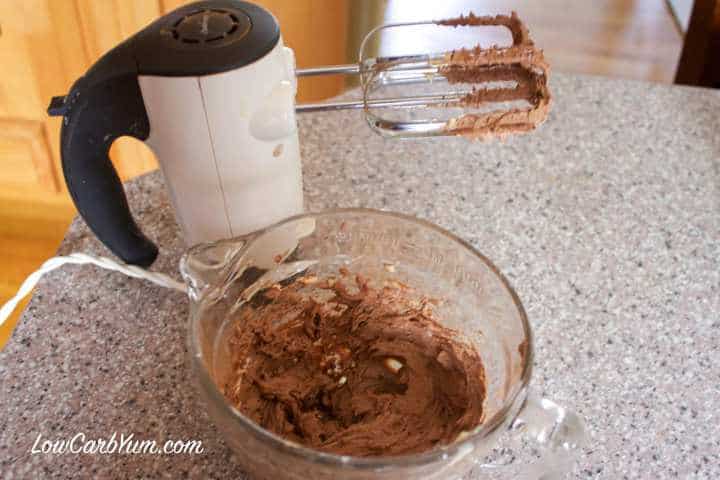 In the heat of summer, I prefer making quick and easy no bake desserts. It doesn't get much easier than low carb mousse.
I made some sugar free no bake black forest cheesecake mousse using cocoa and cherry extract. The extract I use has no added sugar and so it adds virtually no carbs. It does contain glycerin so it's not completely free of carbs, but the amount used is so small it's safe to say that it's pretty negligible for most people.
This mousse would make a delicious no bake black forest cheesecake pie, but I didn't want to fuss with making a crust. The crust would add a few more carbs as well. But, a sugar free no bake pie is always an option with low carb mousse.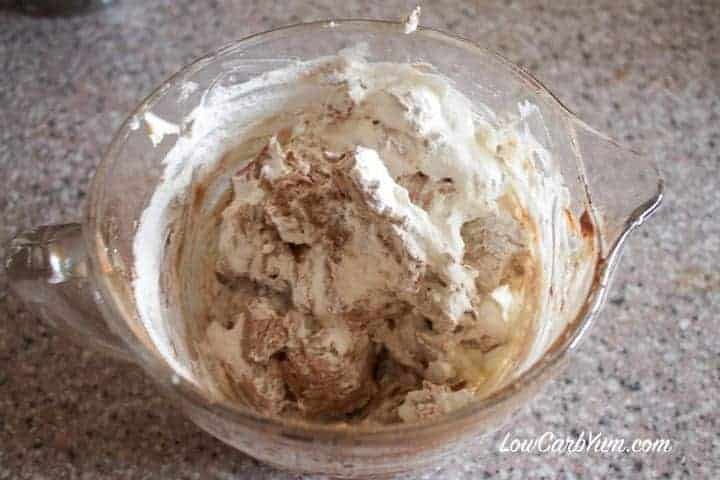 I haven't figured out a way to use just one mixer when making cheesecake mousse. I always have to mix up the cream cheese with one and have another one available for whipping the cream.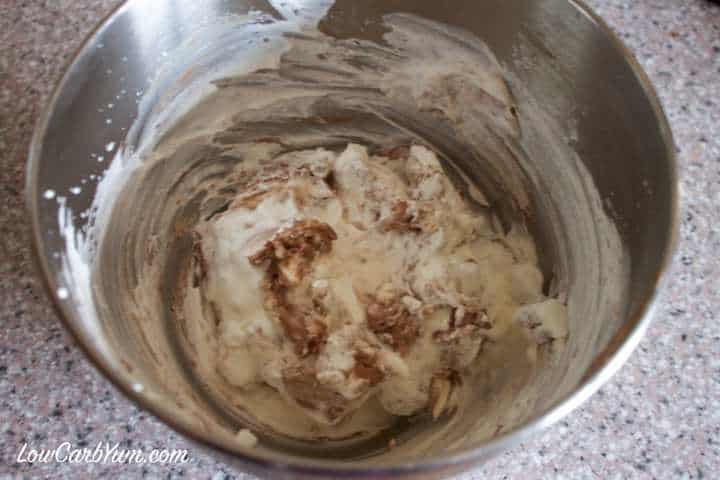 I like to use the KitchenAid stand mixer for whipping cream and the regular hand mixer for the cream cheese mixture. The heavy cream forms peaks much faster in the stand mixer. I also like to use the stand mixer for the final whipping as it's much more powerful than the hand mixer.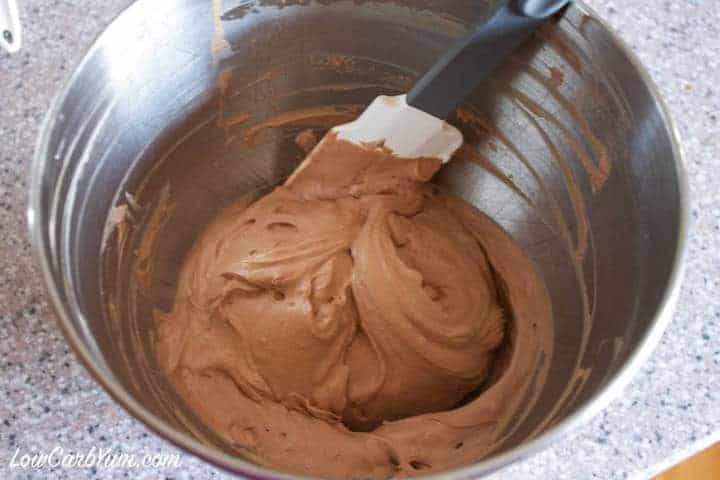 A no bake black forest cheesecake would typically be topped with cherries. I garnished with a few sprinkles of grated chocolate because I didn't have any fresh cherries.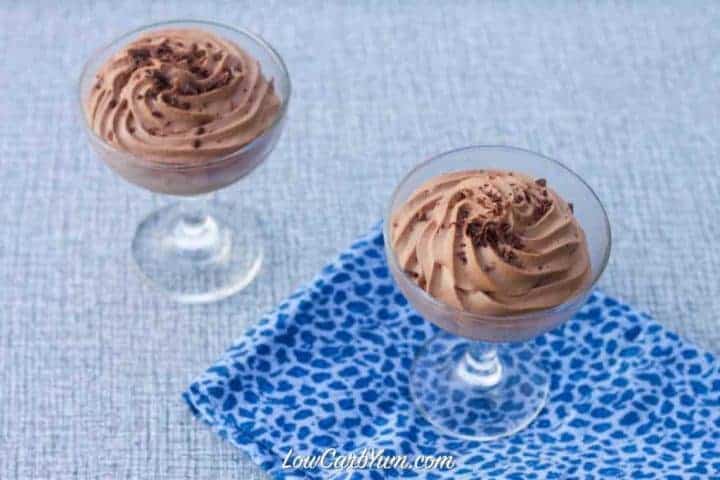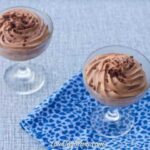 No Bake Black Forest Cheesecake Mousse
This low carb no bake black forest cheesecake mousse is perfect for summer. Top with shaved chocolate or a fresh cherry. Can be made into a sugar free pie.
Instructions
Beat cream cheese, cocoa, stevia, monk fruit, and cherry extract until smooth.

In separate bowl, beat heavy cream with mixer until stiff peaks form.

Fold half of the whipped cream into cream cheese, then fold in the rest of the whipped cream.

Beat with an electric mixer on high until light and fluffy.

Pipe into individual serving dishes and top each with a fresh cherry or grated chocolate, if desired.

Refrigerate for at least two hours.
Recipe Notes
Double recipe to use as a no bake pie filling

Makes 6 servings

Nutrition per serving: 3.3g net carb

Nutrition Facts

No Bake Black Forest Cheesecake Mousse

Amount Per Serving

Calories 278

Calories from Fat 244

% Daily Value*

Total Fat 27.1g 42%

Sodium 156mg 7%

Total Carbohydrates 4.5g 2%

Protein 4.2g 8%

* Percent Daily Values are based on a 2000 calorie diet.
Related Posts