This post may be sponsored or contain affiliate links. We may earn money from purchases made through links mentioned in this post, but all opinions are our own. We are a participant in the Amazon Services LLC Associates Program, an affiliate advertising program designed to provide a means for us to earn fees by linking to Amazon.com and affiliates sites.
A no carb bread is almost impossible to make. But, this low carb pork rind keto bread comes pretty close to being zero carb.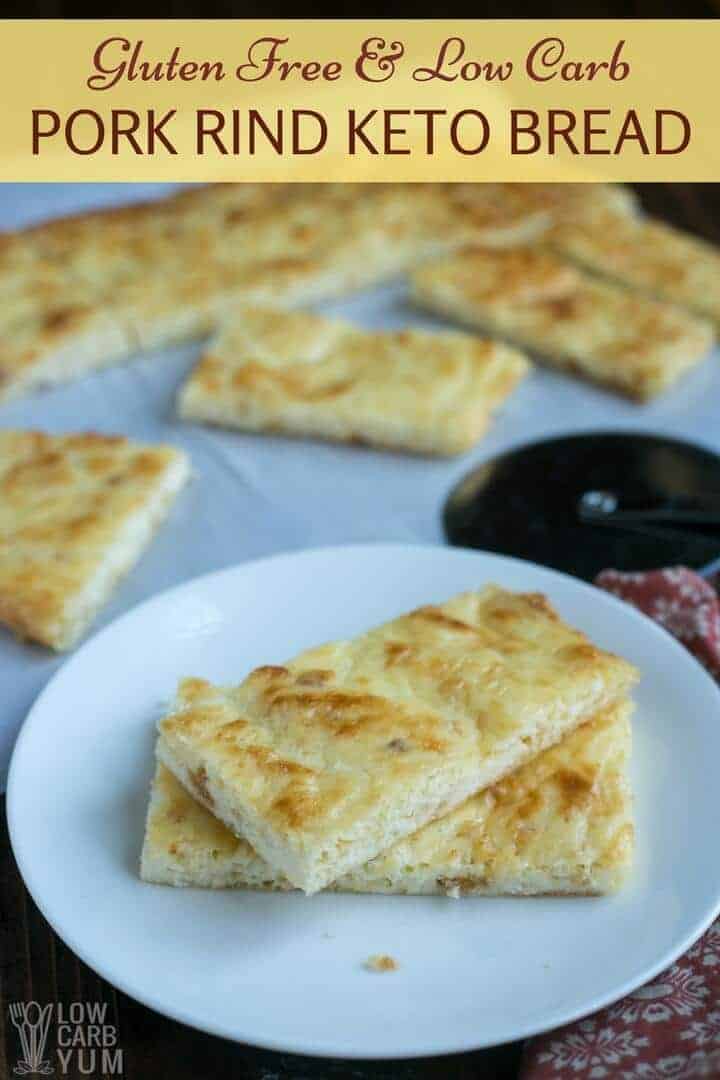 I was on a quest to find another low carb bread recipe that didn't taste like egg but would be super low in carbs. And, I was looking for something made with every day ingredients.
There's a ton of recipes out there like cloud bread and Soul bread which are very close to being the ideal no carb bread. But, one is a bit eggy and the other requires expensive whey protein.
After seeing a comment about pork rind bread on a Facebook post, I decided to give it a try. Unfortunately, I couldn't find a good recipe for it so I developed my own keto bread using crushed pork rinds.
The recipes I did see like this one were all flat breads so I made it that way as well. It may work in a loaf pan, but I haven't tested it that way yet.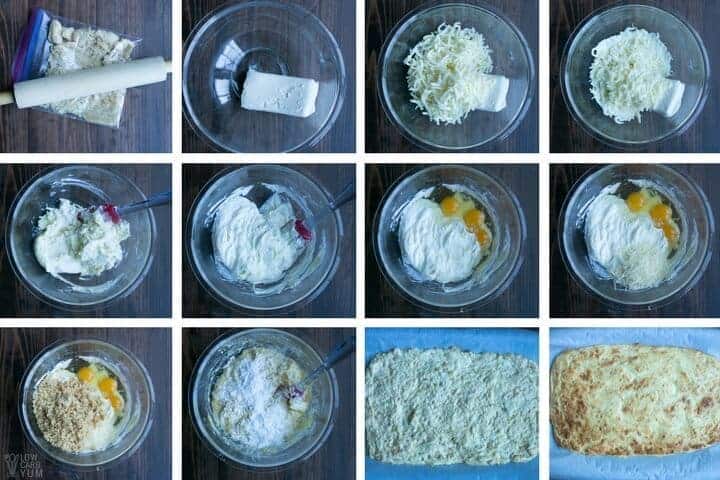 My first attempt was made with all mozzarella cheese and it was pretty dense and tasted like fried cheese. So, I added in a block of cream cheese to lighten things up.
The method used is very similar to a Fat Head dough. The mozzarella and cream cheese are melted together first and then the eggs and flour are added.
Although I was aiming for a nearly no carb bread, this pork rind keto bread does have about 2 grams of total carbs per slice. The carbs are from the cheese and eggs.
It's pretty much impossible to make a true zero carb bread. You can come close. But with recipes needing cheese and eggs, it's difficult to do.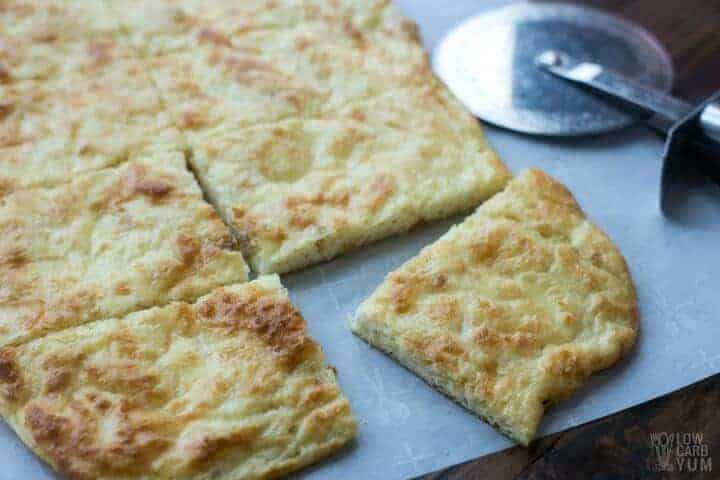 There is a small amount of sugar in the bread which comes from the lactose in the cheese. It could be reduced by cutting back on the cheese. However, flavor and texture wouldn't be as good.
Since this is my first attempt at a pork rind based keto bread, I'd like to experiment with the recipe a bit more. I can see this being used as a base for a low carb pizza crust and bagels.
One slice of this nearly no carb bread is super filling. I tried making a sandwich with two slices and could only eat a few bites. So for sandwiches, I recommend using only one slice cut in half.
You may be wondering if there's a strong pork taste. I didn't think so. And, if you use crushed rinds that have been stored in the freezer, it does eliminate most of the pork flavor.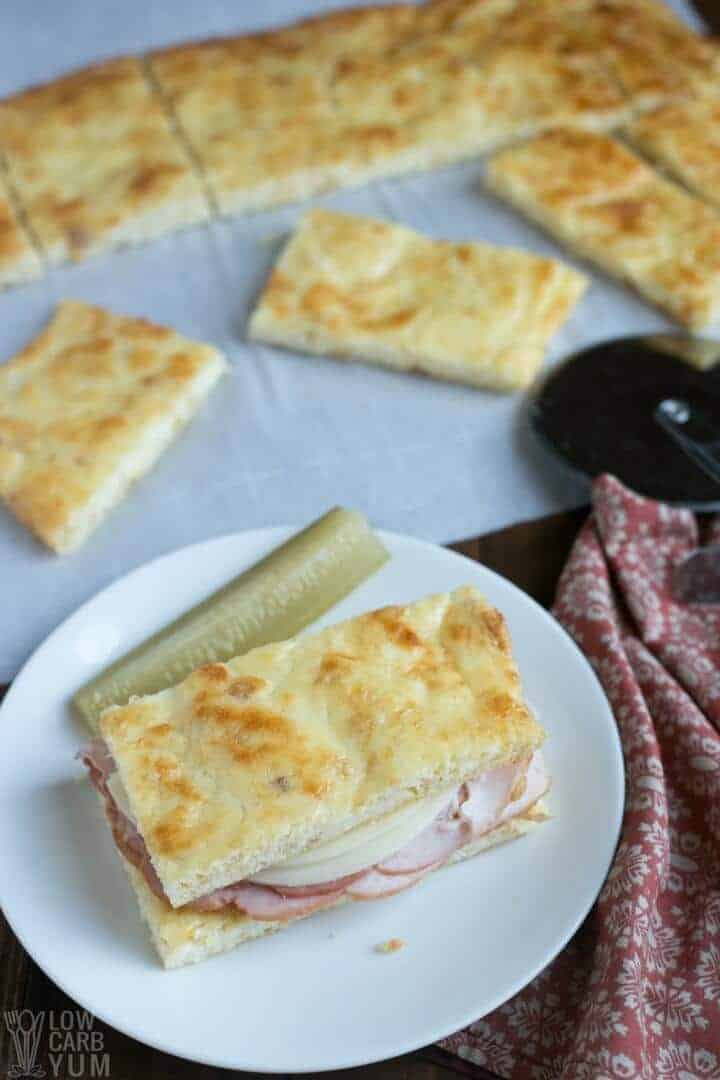 Although I didn't use any, you can add in some herbs and spices to enhance the flavor of the bread. And, those would help cover up any pork taste.
Since this is a flat keto bread, it's perfect for making a panini. Just keep the slices small or try to cut each into two thinner slices.
Have you tried using crushed pork rinds for making low carb bread? If so, how has it worked out for you?
How to make pork rind bread recipe video
Pork Rind Nearly No Carb Keto Bread Recipe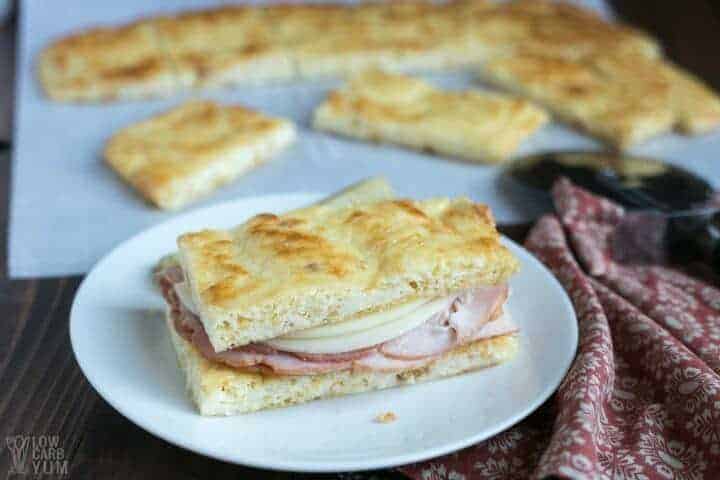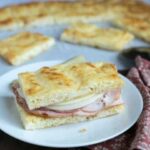 Nearly No Carb Keto Bread
A zero carb bread is almost impossible to make. But, this low carb pork rind bread comes pretty close to being zero carb.
Ingredients
8

ounces

cream cheese

2

cups

mozzarella cheese

grated (about 210 grams)

3

large

eggs

1/4

cup

parmesan cheese

grated (about 27 grams)

1

cup

pork rinds

crushed (about 46 grams)

1

tablespoon

baking powder
Optional:
herbs and spices

to taste
Instructions
Preheat oven to 375°F. Line baking sheet (I used a 12 x 17 jelly roll pan) with parchment paper.

Place cream cheese and mozzarella cheese in large microwaveable bowl.

Microwave cheese on high power for one minute, stir, then microwave for another minute and stir again. The cheese should be fully melted.

Add egg, parmesan, pork rinds, and baking powder. Stir until all ingredients have been incorporated.

Spread mixture onto parchment paper lined pan. Bake at 375°F for 15-20 or until lightly brown on top.

Allow pan to cool on rack for 15 minutes, then remove bread from pan and cool directly on rack.

Slice into 12 equal sized pieces. Can be eaten plain or used to make sandwiches.
Nutrition Facts
Nearly No Carb Keto Bread
Amount Per Serving (1 slice)
Calories 166
Calories from Fat 117
% Daily Value*
Total Fat 13g 20%
Cholesterol 86mg 29%
Sodium 294mg 12%
Potassium 158mg 5%
Total Carbohydrates 1g 0%
Protein 9g 18%
* Percent Daily Values are based on a 2000 calorie diet.
Related Posts