A low carb ketogenic diet doesn't have to eliminate bread. These egg fast friendly oopsie bread rolls have only 0.6g total carbs each. And, you'll love this keto cloud bread!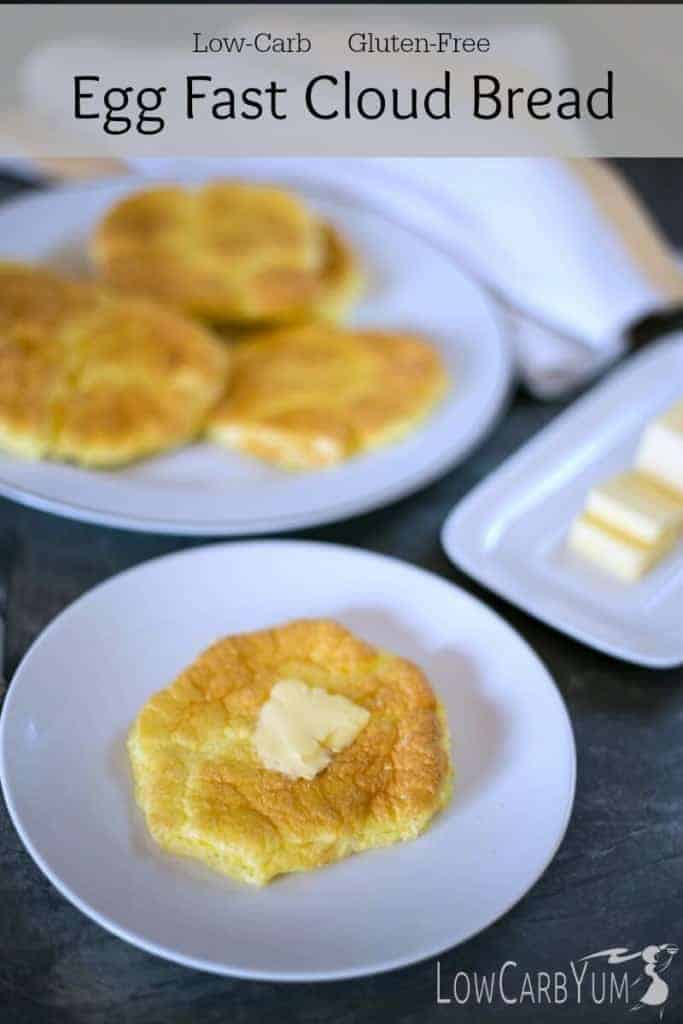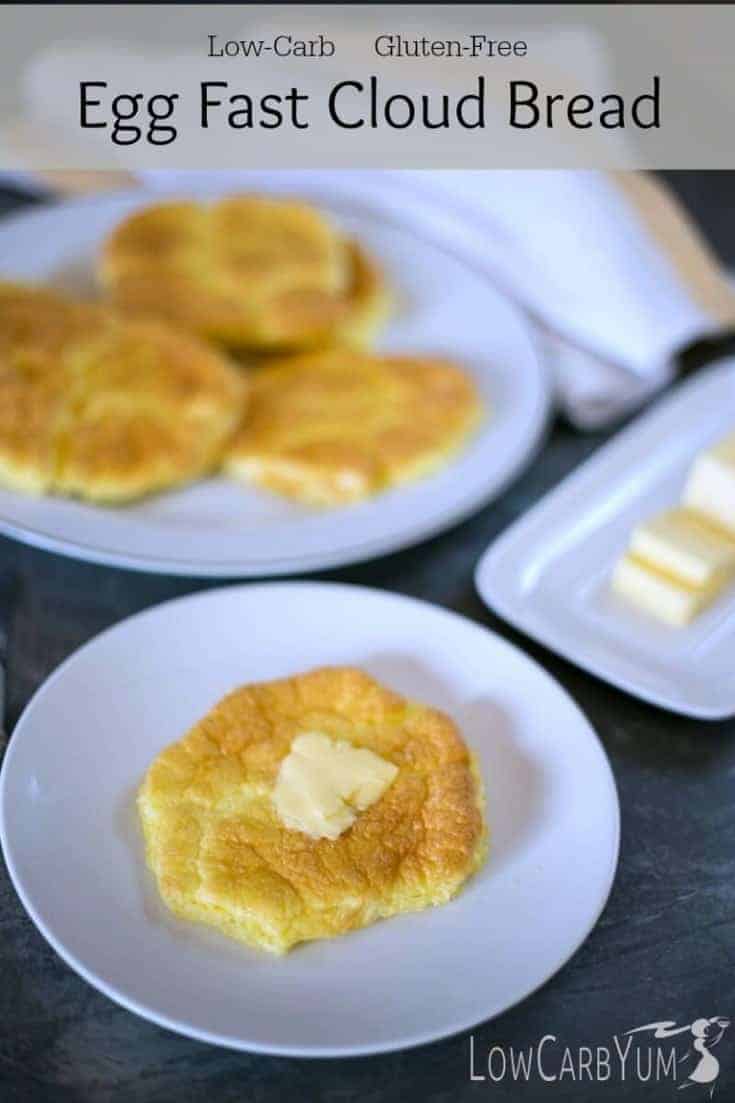 I'm egg fasting again. It seems to be a yearly thing for me as I did my first egg fast last year in April and I can see myself needed to do it again next year.
Living in the Northeast gets me very inactive during the winter months as I dislike indoor exercise.
I'd rather be outside moving around for a workout. It doesn't help that I have a desk job where I sit all day long.
So, I started my egg fast this week and have already lost about five pounds. Yeah!
I'll be continuing it through next week as well because once you go off the fast, you do gain some of the weight back.
Oopsie Bread Rolls and Keto Cloud Bread recipes are all over the internet. I found this recipe at Food.com, but it wasn't in the correct ratio for an egg fast.
So, I adjusted it slightly to fit the egg fast rules, but you'll need to spread on some butter for the needed fat.
You can toast this egg fast bread a little or even grill them in butter. Heck, I bet they'd even make a terrific grilled cheese sandwich.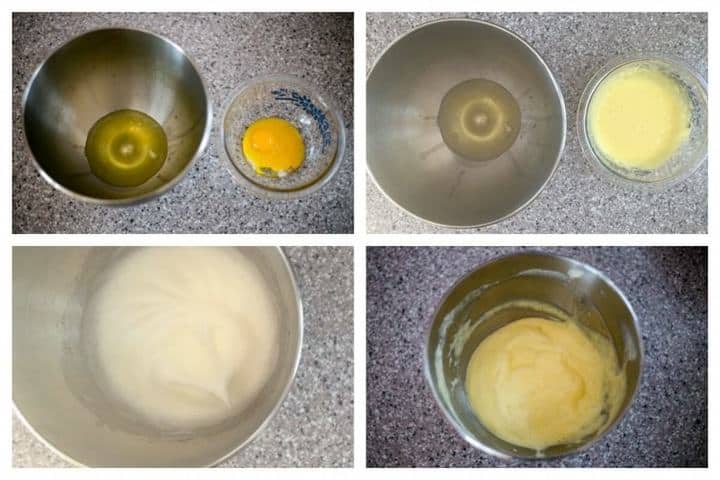 I'm not really sure who came up with the idea of the Keto Cloud Bread and Oopsie Bread Rolls.
I'm pretty sure they are based on the original Basic Diet Revolution Rolls recipe found in the 1972 version of the Dr. Atkins Diet Revolution book.
I do know that the name Oopsie Rolls came from Jamie at Your Lighter Side. Slight variations have been floating around the low carb community for a while.
The original Revolution Rolls were made with cottage cheese. Jamie made a mistake and added cream cheese which is why she named them Oopsie Rolls.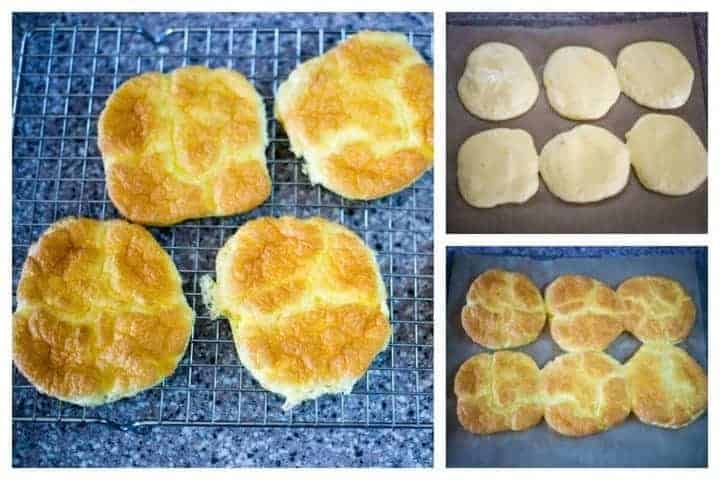 If you are doing an egg fast to lose weight, you'll certainly want to whip up a batch or two of this keto cloud bread.
It can help you get through the fast by having that morning toast or sandwich.
Since I'm doing an extended egg fast, I'm going to play around a little with them and see if I can come up with another recipe for them.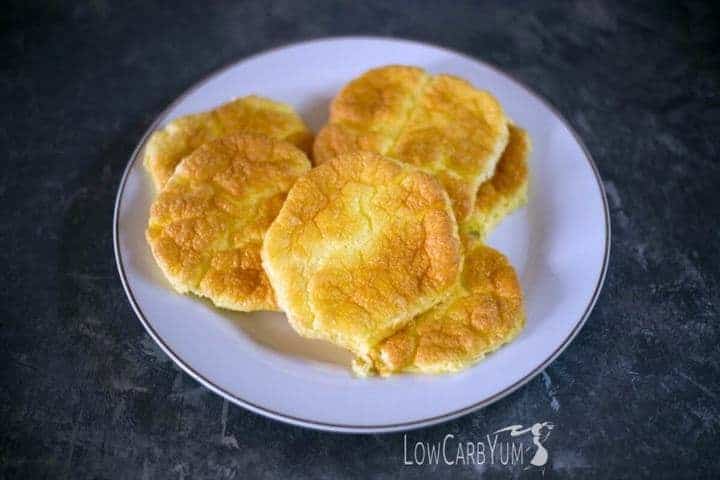 A lot of people may wonder why I'm egg fasting since I'm not overweight.
However, I am getting to the top of my normal weight range and need to bring it down where I feel best.
I always get the hint when my pants begin to get tight and that was beginning to happen.
It's best to address weight gain right away rather than go out and buy new pants!
Although I've known about Oopsie Bread Rolls and Keto Cloud Bread for a long time, this is the first time I've made them.
Having a bag of egg fast rolls is such a great sight to see when you get as busy as I do during the week.
I made a few batches over the weekend and put them in zipper bags to eat during the week.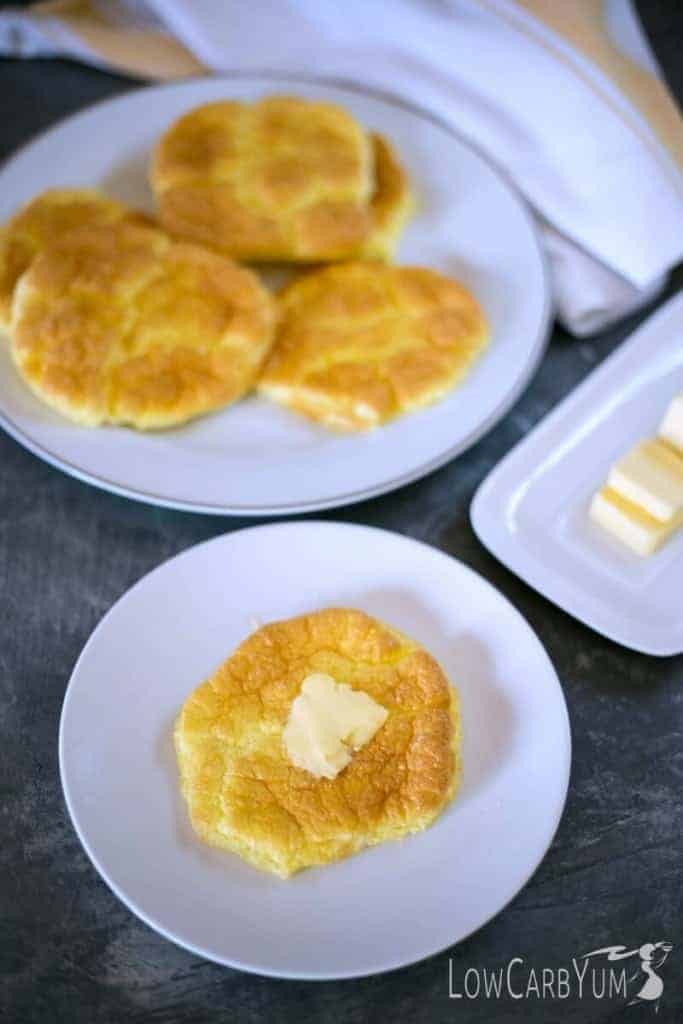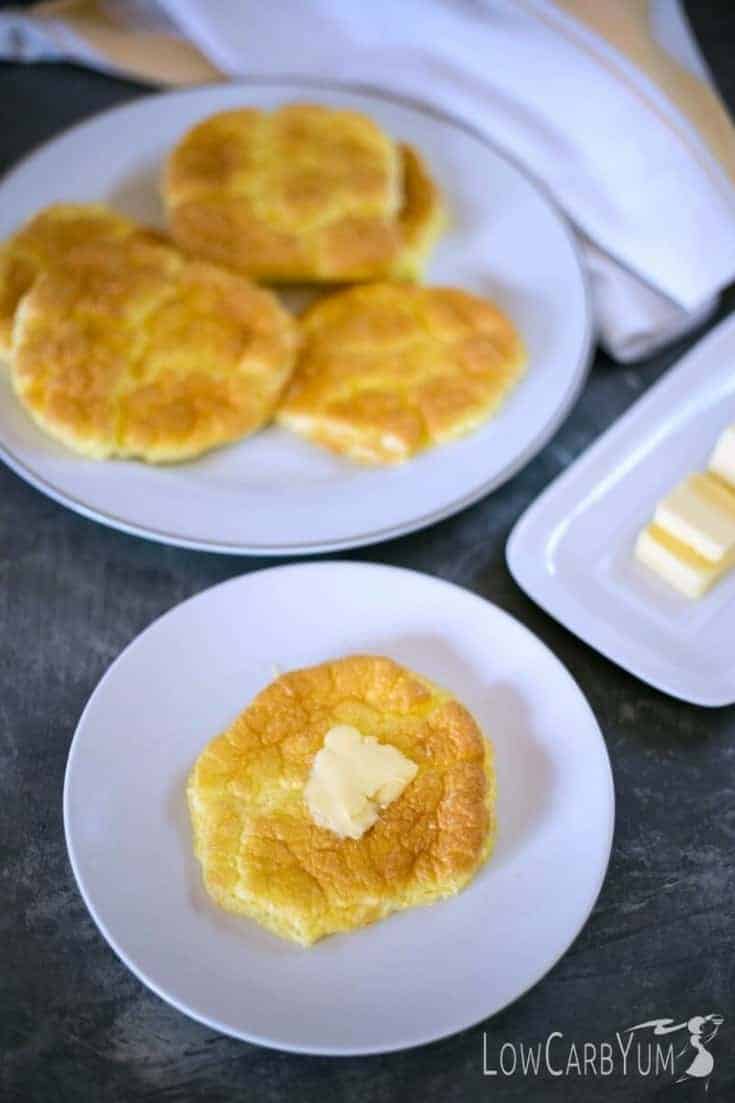 I did try to make a double batch to save time, but the rolls did not come out as well as a single batch.
I think having a larger amount of egg yolk mix flattens the egg whites.
To have the best bread consistency, you want to ensure the egg whites don't break down too much when folding in the yolk mix.
If you prefer a bread that isn't so flat, you can leave the batter mounds a little higher. I recommend playing around with the recipe.
It took me several tries to get the rolls just right for me. Now, they are a regular because they are so easy to make with only four ingredients.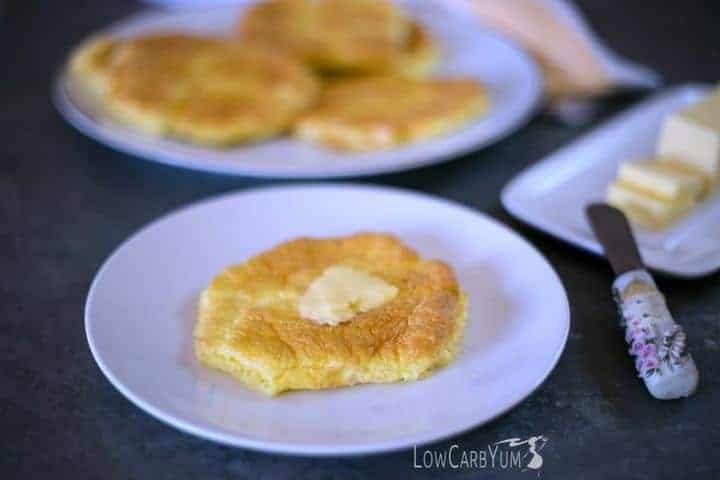 For an egg fast, each roll needs a half tablespoon of butter spread on it. This gives the required ratio of eggs and fat.
You can't add the fat into the batter because it would result in the batter spreading during baking.
I like to use these rolls as a side to my morning eggs. They are also perfect for sandwiches.
What do you think of cloud bread? Have you tried it?
Oopsie Bread Rolls Keto Cloud Bread Recipe
Oopsie Bread Rolls Keto Cloud Bread
A low carb ketogenic diet doesn't have to eliminate bread. These egg fast cloud bread oopsie rolls have only 0.6g total carbs each.
Ingredients
3

large eggs

3

ounces

cream cheese

softened

1

dash salt

1

pinch

cream of tartar

preferred but not required
Instructions
Preheat oven to 300°F. Line baking pan with parchment paper or silicone liner.

Separate the eggs into separate bowl.

Add the cream cheese and salt to the yolks. Blend well with an electric mixer.

Sprinkle cream of tartar on the egg whites if desired. Whip with a clean electric mixer until very stiff.

Using a spatula, gradually fold the egg yolk mixture into the white mixture. Try not to break down the egg white, you want it to stay fluffy.

Spoon 6 mounds of the mixture onto the prepared baking pan. Flatten each mound slightly.

Bake for about 25-30 minutes. Do not over bake or they can become crumbly.

Cool on the baking pan for 3-5 minutes, then transfer to a cooling rack.

To keep soft, store them in a big zipper bag. Storing in the refrigerator or freezer keeps them fresh longer.
Need Support?
Get our FREE Low Carb Tips eBook or join the Low Carb Yum Facebook Group for help with recipes and weight loss support!
Notes
You can find great tips for trouble free Oopsie Rolls
here
. And, there are tons of recipe variations on
Your Lighter Side
. The rolls are more bread like when the egg whites are beaten until very stiff. The cream of tartar is preferred to help keep them stiff. It's not recommended to double the batch as the heavier amount of yolks can flatten the egg whites easily. It's best to use only 6 eggs each time. To keep the proper egg fast ratio, you'll want to spread 1/2 tablespoon butter onto each roll.
Nutrition
Nutrition Facts
Oopsie Bread Rolls Keto Cloud Bread
Amount Per Serving (1 roll)
Calories 85
Calories from Fat 67
% Daily Value*
Total Fat 7.4g 11%
Cholesterol 109mg 36%
Sodium 104mg 4%
Total Carbohydrates 0.6g 0%
Protein 4.2g 8%
* Percent Daily Values are based on a 2000 calorie diet.
Note on Nutritional Information
Nutritional information for the recipe is provided as a courtesy and is approximate only. We cannot guarantee the accuracy of the nutritional information given for any recipe on this site. Erythritol carbs are not included in carb counts as it has been shown not to impact blood sugar. Net carbs are the total carbs minus fiber.
About Lisa
Lisa has been creating low carb recipes for herself and sharing them with others since 2010. She loves to experiment in the kitchen and find new ways to create low sugar foods that taste like high carb favorites! Her recipes have been featured on popular magazine sites including Fitness, Shape, Country Living, Women's Health, and Men's Health. Lisa lives in Southeastern Connecticut. Connect with her and Low Carb Yum at:
© LowCarbYum.com
Unauthorized use and/or duplication of this material without express and written permission from this site's owner, Lisa MarcAurele, is strictly prohibited.
Excerpts, single photos, and links may be used, provided that full and clear credit is given to LowCarbYum.com with appropriate and specific link back to the original content.
Related Posts