After my first week of cutting back low carb sweets, I have already lost almost two pounds. In addition to increasing my daily protein intake, I have also been cutting back on calories. Although I was sticking only to low carb foods, the calories in those foods were fairly high and that is why I believe my weight was stalled.
So, if you are are in a weight loss plateau on a low carb diet, I suggest making a cut to your daily calories. The amount of calories needed is related to your weight, height and age. There is an excellent calculator to determine your daily calorie intake available here.
Using this calculator with my own information, I can expect to lose about 0.7 pounds per week if I consume 1466 calories a day and do light exercise 1-3 times per week. Of course, I can lose additional weight eating more calories if I increase my exercise each week. I believe that eating a high protein low carb diet makes weight loss much easier, but calories do play an important role.
To help me get through a week of healthy low carb breakfasts, I made up an egg casserole with broccoli, bacon and cheese. One serving of the casserole is about 500 calories, but breakfast is something that I don't like to skimp on. In order to cut back calories the rest of the day, I have been drinking two low carb protein shakes each day.
One shake is used to curb hunger between meals and the other I use to replace either lunch or dinner. My second meal has been a light salad, with little or no dressing. With daily exercise of about 30 minutes on the treadmill, I figure I can eat about 1500 calories a day and continue to lose weight.
Broccoli Bacon Egg Casserole
Author:
Lisa | Low Carb Yum
Nutrition Information
Serving size:

214g

Calories:

557
Fat:

45.3g

Saturated fat:

22.6g

Carbohydrates:

4.7g

Sugar:

1.1g

Sodium:

1205mg

Protein:

32.6g

Cholesterol:

380mg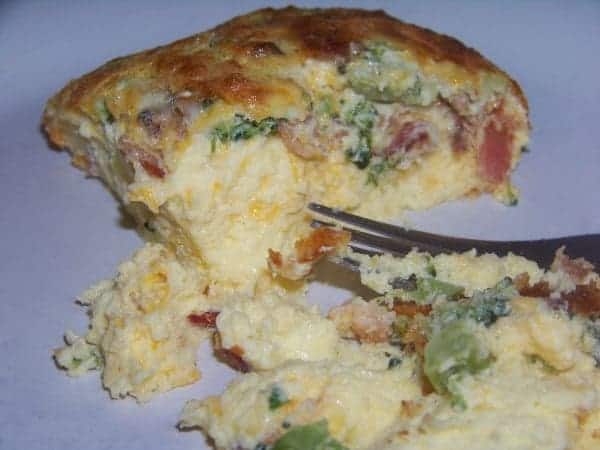 Eggs! They are a staple in a low carb diet. This broccoli bacon egg casserole provides enough for several meals with high protein to keep you full longer.
Ingredients
12 large eggs
16 ounces sour cream
12 ounces cheddar cheese, shredded
½ pound bacon, cooked and chopped
1 cup broccoli, cooked and chopped
½ teaspoon salt
dash pepper
Instructions
Preheat oven to 350 F.
Put eggs and sour cream in blender with salt and pepper. Blend well.
Put half the cheese into a 9X13 baking pan, followed by the bacon, the broccoli and then the rest of the cheese.
Pour the egg mixture over the whole thing.
Bake 45-55 minutes, until top is golden brown and toothpick inserted into the center comes out clean.
Notes
Makes 8 servings

Net carbs per serving: about 5g
Related Posts