Keto and intermittent fasting are the ultimate duo to fast-track your weight loss journey! Find out why dieters choose to combine these popular diets. Hint – this combo does way more than help you lose weight. Discover the various health benefits of combining a ketogenic diet with intermittent fasting.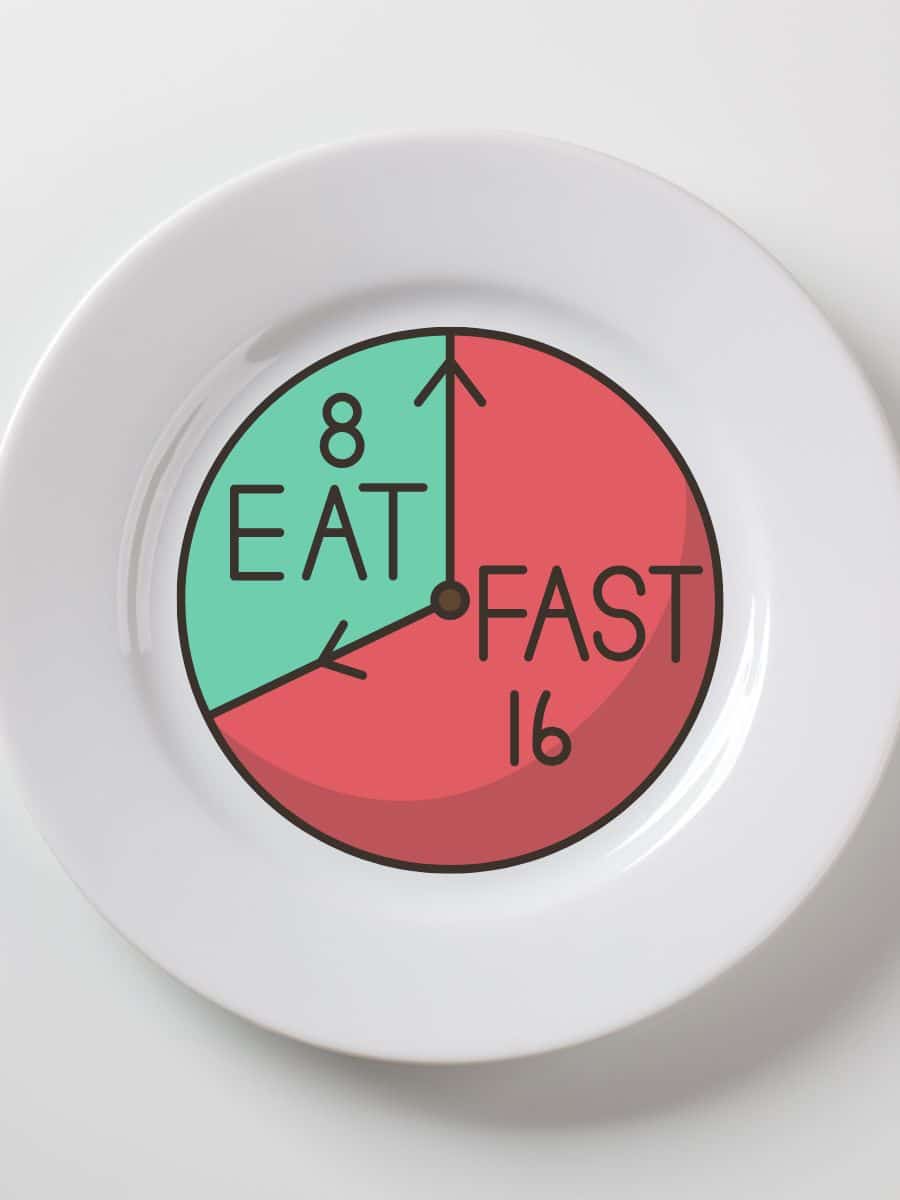 Are you a keto connoisseur? If so, you may want to consider adding a well-known secret to your lifestyle - intermittent fasting!
Keto is commonly combined with intermittent fasting because they have similar processes to obtain weight loss and other health goals.
If you're wondering whether or not you should integrate intermittent fasting into your keto journey, I'm here to help!
In this post, I'm going to share with you the ins and outs of these separate diets and explore just how effective they can be when used together.
We'll dive into the benefits of both diets to help you decide whether or not this is the right combination for your health needs.
I've also included some super helpful recipes to add to your ketogenic diet, whether or not you're ready to commit to intermittent fasting.
What is a keto diet?
The ketogenic diet is a low-carb, high-fat diet that many people use for weight loss.
The goal of this diet is to transition your body's fuel source from carbohydrates to healthy fats.
When you reduce your carbohydrate intake significantly, this can signal your body to start burning stored fat as an energy source.
Beyond weight loss, this diet has been used to treat epilepsy, improve brain function, improve blood sugar control, lower risks of heart disease, and improve insulin resistance.
Looking for more information on the keto diet? I have an entire post with everything you need to know about this low-carb diet: What is the Keto Diet?
What is intermittent fasting?
Intermittent fasting diets are often used to promote significant weight loss; they restrict users to a specific eating window and a fasting window.
During an eating window, dieters can participate in their normal food intake. But when it's time to fast, eating ceases until the next eating window.
Beyond the benefit of weight loss, followers of intermittent fasting have reported improved blood sugar control, reduced inflammation, and improved brain function.
5 kinds of intermittent fasting
There is more than one intermittent fasting diet – there are actually 5 main systems in which dieters seek intermittent fasting benefits!
1. Time-restricted eating
This is the most commonly followed intermittent fasting diet. Here, you'll continue your normal eating habits but within an eating window.
You're required to fast a minimum of 12 hours a day. Many choose 8-hour eating windows to fit in their meals.
While some dieters promote skipping meals (like skipping breakfast), I think it's important to avoid this step for the benefit of your overall health.
2. The Warrior Diet
This form of intermittent fasting includes a short eating window, with one meal a day, along with eating raw fruits and vegetables.
The final meal is large and consumed at the end of the day.
3. Eat Stop Eat
If you practice this system, you don't fast for most of the week. Instead, you participate in a 24-hour fast one or two times a week.
4. 5:2 diet
This intermittent fasting system has you eating normally for five days a week. Then, for two days, your calories are restricted.
It's common to restrict calories to 500-600 calories on these "off days."
5. Alternate-day fasting
If you practice alternate-day fasting, you don't have a specific eating window each day. Instead, you fast every other day, then eat your normal diet on the other days.
Health benefits of intermittent fasting on a ketogenic diet
Here at LCY, we're all about the health benefits! These diets have shown great results on their own, but together, they're a total power couple!
There are some common health benefits reported when combining intermittent fasting with a keto diet; combine these diets to safely unlock hidden health benefits and fast-track your keto journey.
1. Promote weight loss
One of many intermittent fasting benefits is that it can boost your metabolism; this will encourage your body to start burning fat cells and help you drop excess body fat.
Intermittent fasting can also reduce feelings of hunger, lowering your daily calorie intake and contributing to weight loss.
Studies show that intermittent fasting is even more effective for losing weight than a very low-calorie intake.
This is also much better for your overall health; diets with extremely low-calorie counts are likely deficient in several vital nutrients.
2. Fast-track ketosis
Fasting shifts your body's fuel source from carbs to fats. This is the goal of ketosis!
Glycogen stores (from carbohydrates) and insulin levels drop when fasting. The body then burns fat to fuel itself.
Both intermittent fasting and a keto diet promote this process.
If you're struggling to reach ketosis on a keto diet alone, however, introducing an intermittent fasting schedule could help.
Who should avoid combining keto and intermittent fasting?
While this combination is safe for most people, some should avoid combining a keto diet with intermittent fasting.
Pregnant women and breastfeeding women should avoid this combination.
Also, if you have a history of disordered eating, I do not recommend this method. It is highly restrictive and takes quite a lot of thought to adhere to the intermittent fasting schedule.
This can lead to an unhealthy and dangerous obsession for those struggling with eating disorders.
Additionally, if you have ongoing health conditions, including heart disease or diabetes, you should contact a healthcare professional before combining intermittent fasting with a keto diet.
Keto recipes
Need some recipe inspiration? I have lots of great low-carb recipes that you can try. Dig in!
1. Instant Pot sous vide keto egg bites
These Instant Pot sous vide keto egg bites make the perfect quick breakfast idea for a busy morning.
If you have a busy schedule (who doesn't?), it can be super tempting to skip breakfast altogether. But with these quick and easy keto egg bites, you can fuel your body for the busy day ahead.
With just a few simple ingredients, these egg bites are filled with healthy fats and tons of flavor.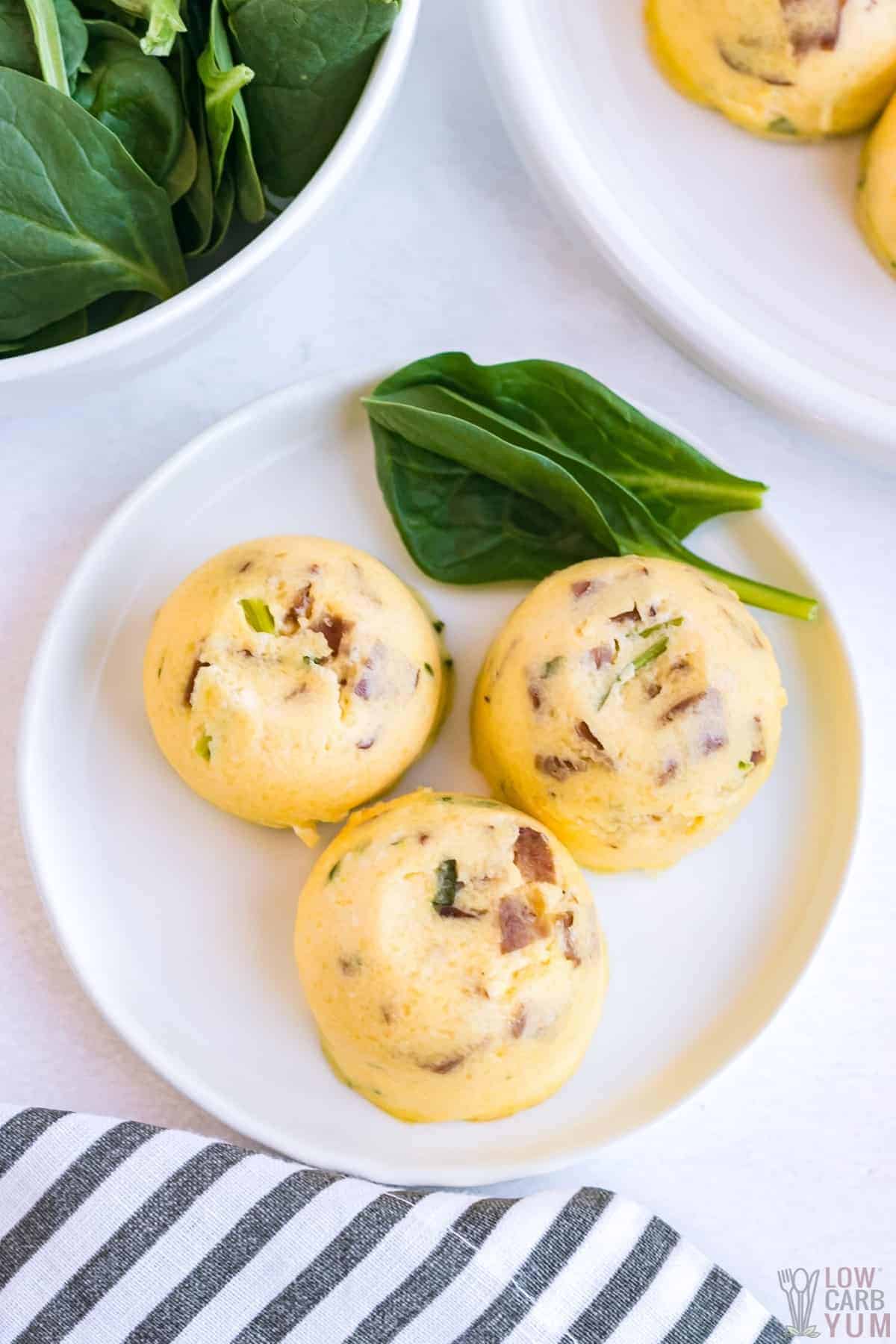 2. The best keto cinnamon rolls
These keto cinnamon rolls are the perfect pairing for your morning cup of coffee.
Using coconut flour as a substitute for all-purpose, these breakfast pastries are low-carb and keto-approved.
The melted cream cheese icing makes these keto cinnamon rolls a fan favorite. Enjoy them for a quick breakfast bite or any time of day.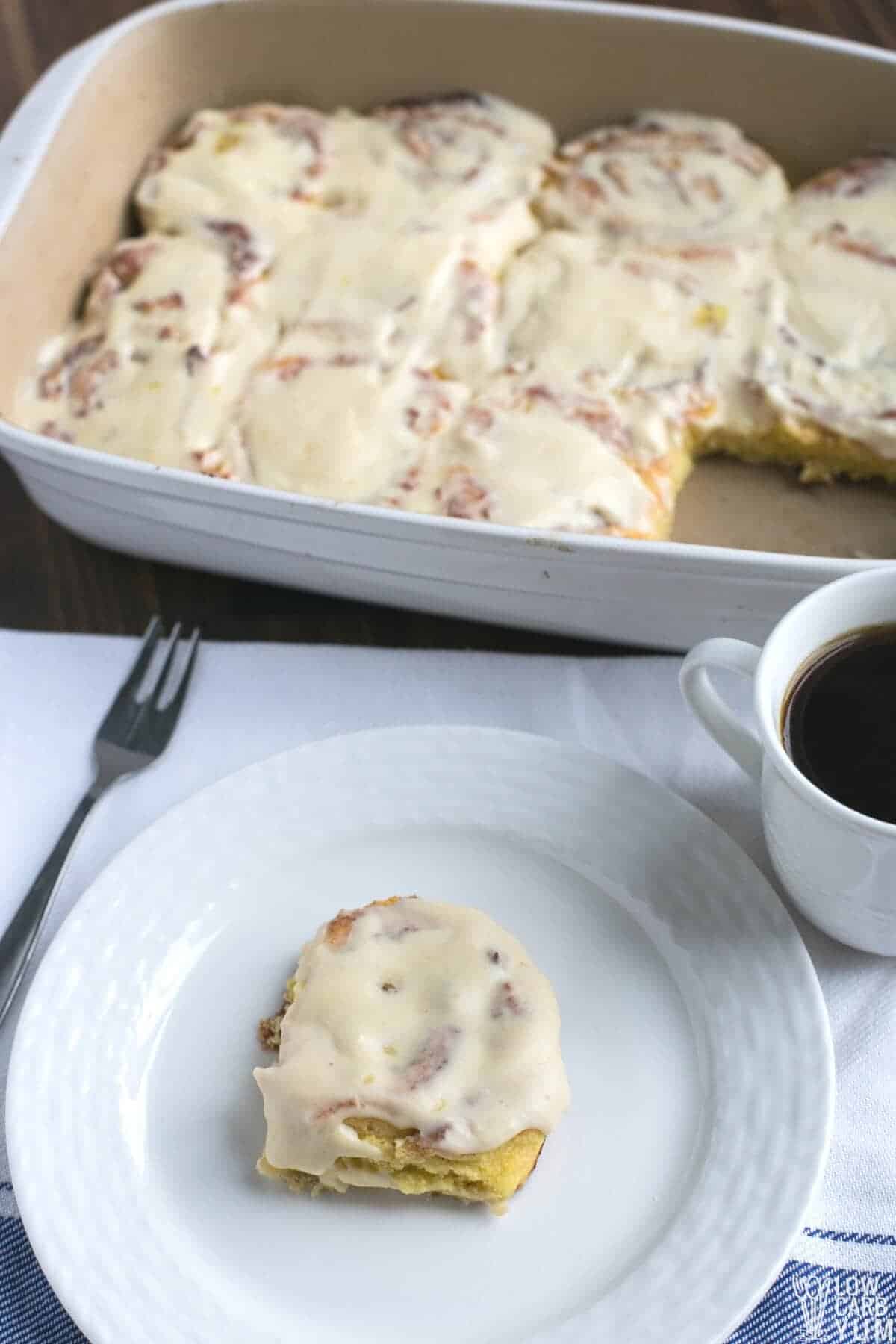 3. Keto soft pretzels with almond flour
Though I love a good soft pretzel, they're far from keto-friendly. However, my keto soft pretzels are the exception!
This recipe uses an almond flour base with tasty mozzarella cheese for a high-fat, low-carb snack.
Remake this classic mall snack into a keto-wonder with this fun recipe.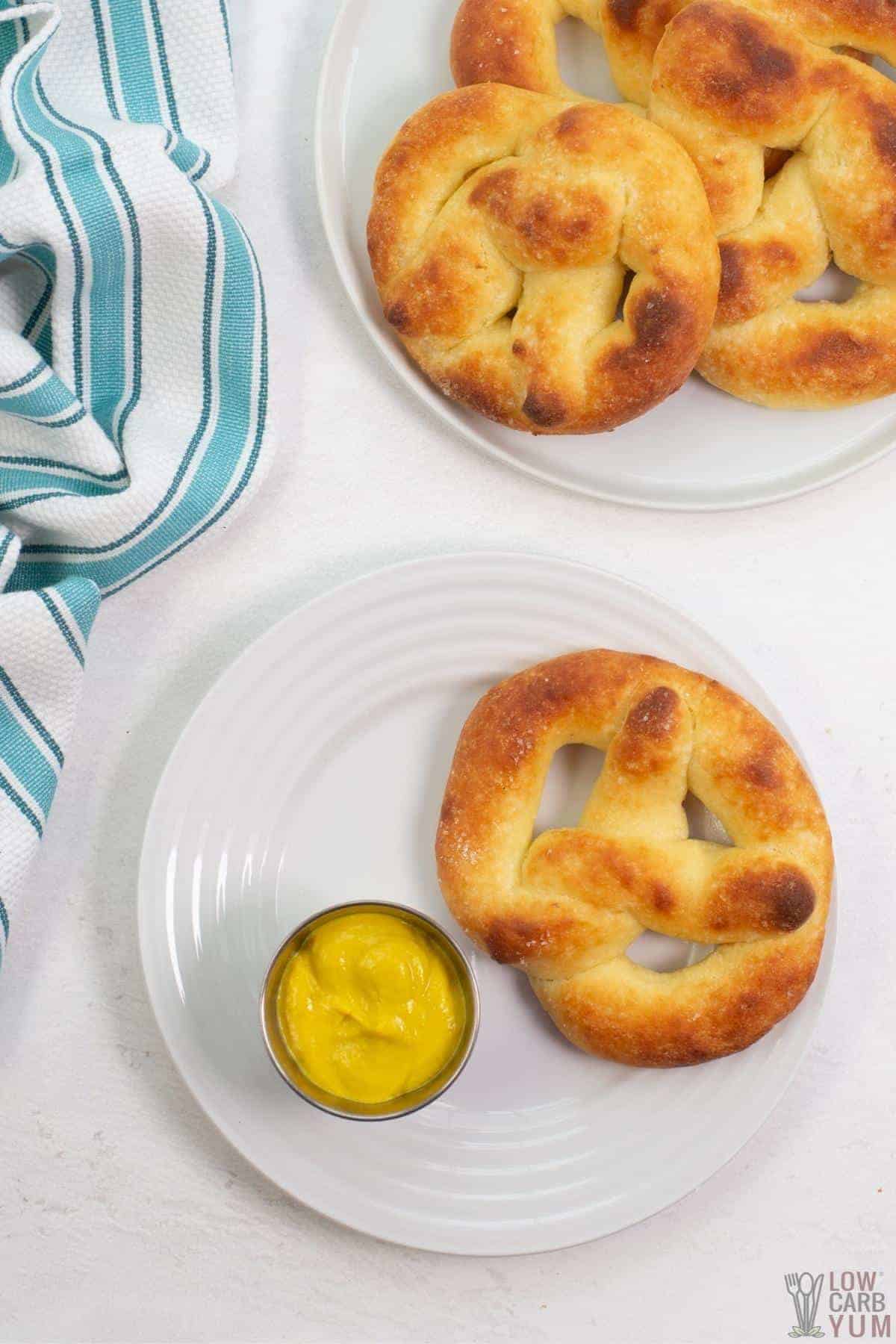 4. Low-carb rainbow pancakes
Add some gorgeous color to your mornings with my low-carb rainbow pancakes.
These pancakes use my tried and true coconut-flour pancake recipe but add a fun and colorful twist using food coloring.
Kids will love this naturally gluten-free breakfast idea! Bump them up even more with exciting toppings like coconut whipped cream, chocolate chips, and sugar-free gummy bears.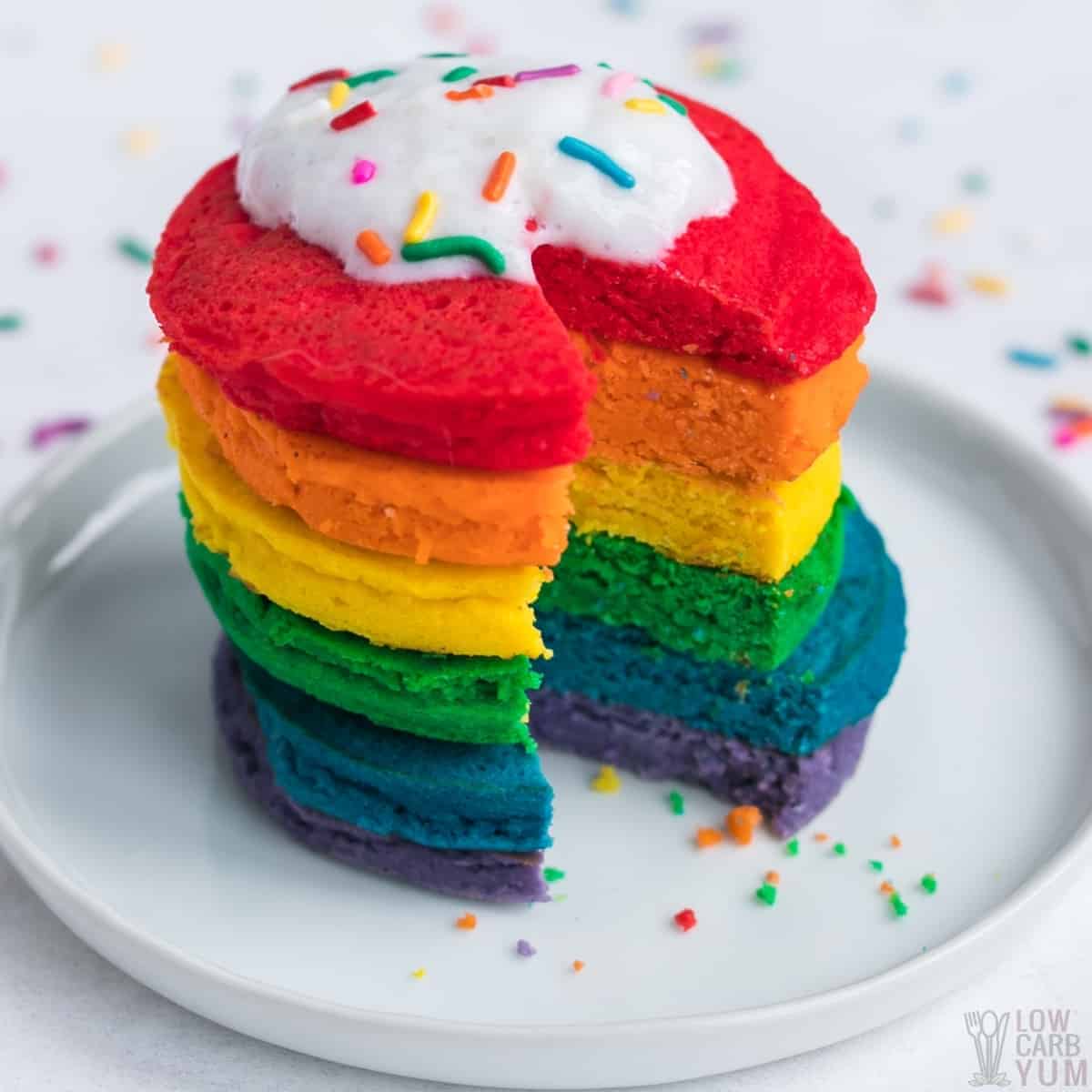 5. Buttery keto croissants
There is nothing better than the texture of a perfectly flaky croissant. It must be impossible to replicate this in a keto recipe, right?
Wrong! These buttery keto croissants are flaky and delicious with their genius flour combination.
These freezer-friendly treats are perfect for breakfast to add to your keto and intermittent fasting routine; they also make delicious sandwiches.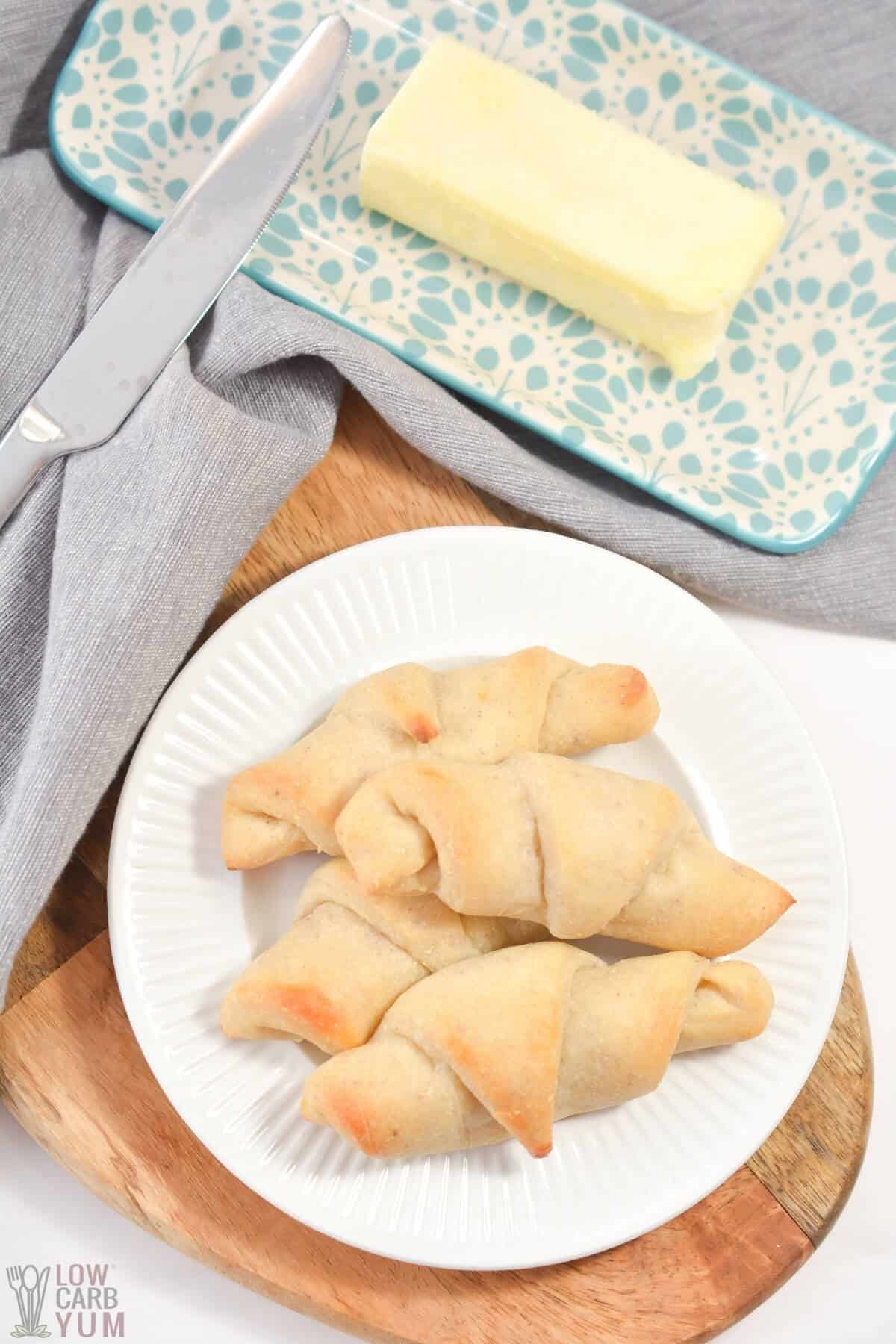 6. Stuffed eggplant rolls wrapped in bacon
These stuffed eggplant rolls are filled with ground meat, wrapped in bacon, and topped with tomatoes and cheese. This recipe is well-loved by all!
Vegetables make an amazing pasta substitute because they keep the meal low-carb while amping up the nutritional value.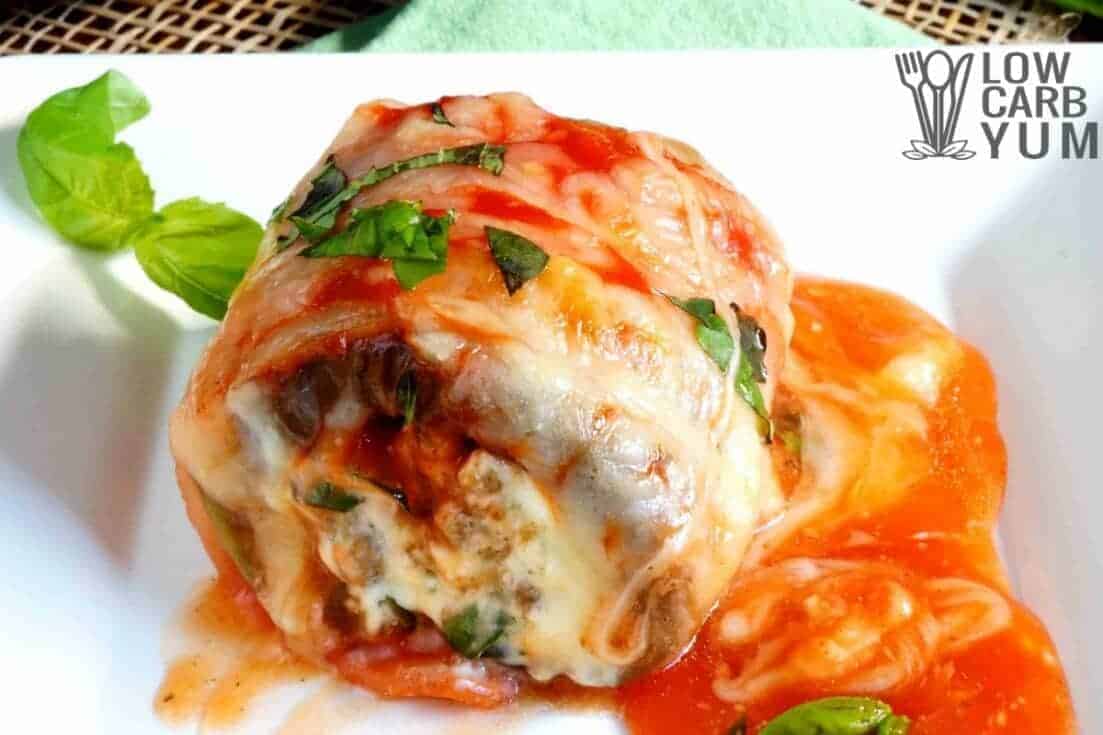 7. Easy Filipino chicken adobo
This popular Filipino chicken adobo dish features meat cooked in a tangy mix of cider vinegar, soy sauce, and garlic.
If you've never tried it before, this is your sign.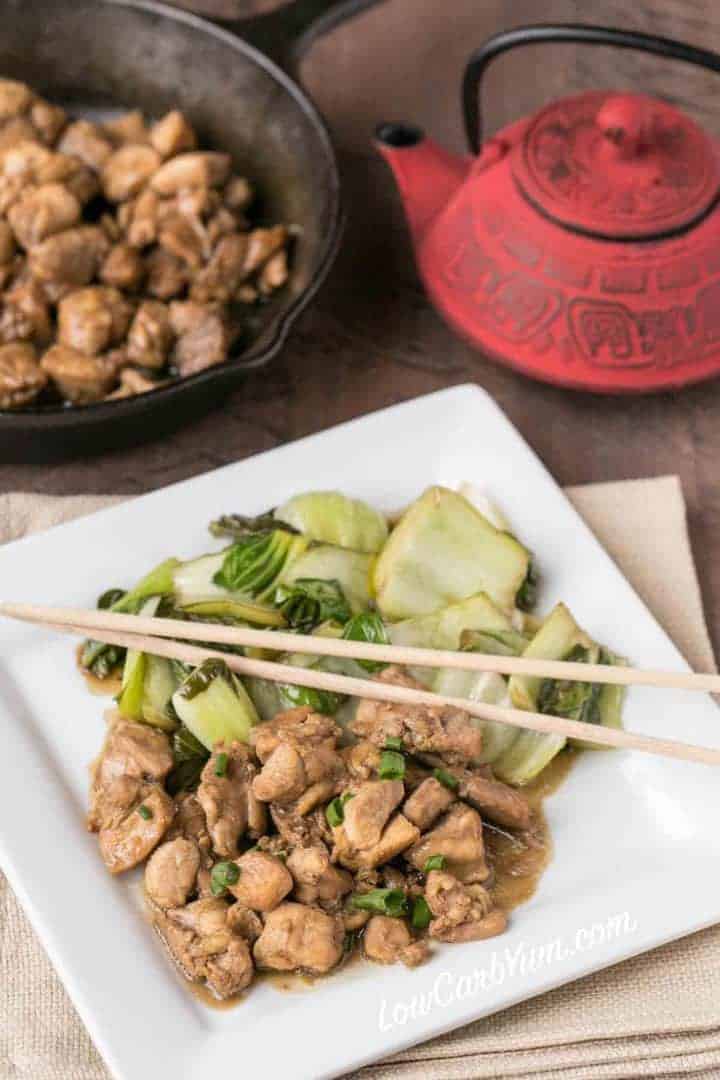 8. Low-carb keto cheddar biscuits
My keto cheddar biscuits are the perfect side for a seafood spread or dinner.
These flavorful biscuits are made with three kinds of cheese with an almond flour base. The results are perfectly chewy biscuits you'll grab again and again.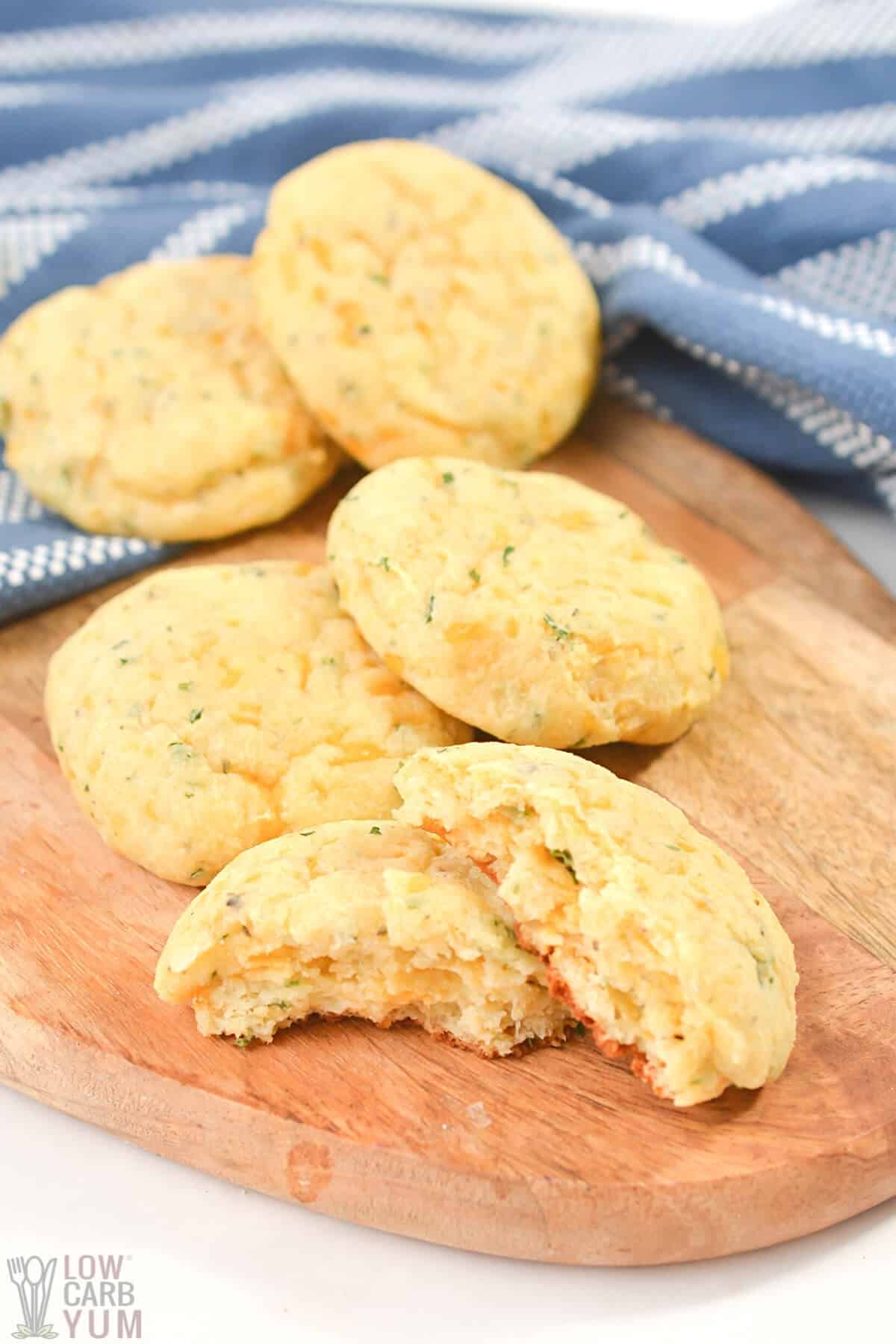 9. Strawberry jam muffins
These strawberry jam muffins are sweet, fluffy, and filled with real strawberry jam (yum!).
This fruity baked good is a great grab-and-go option for when you're short on time and need a quick bite.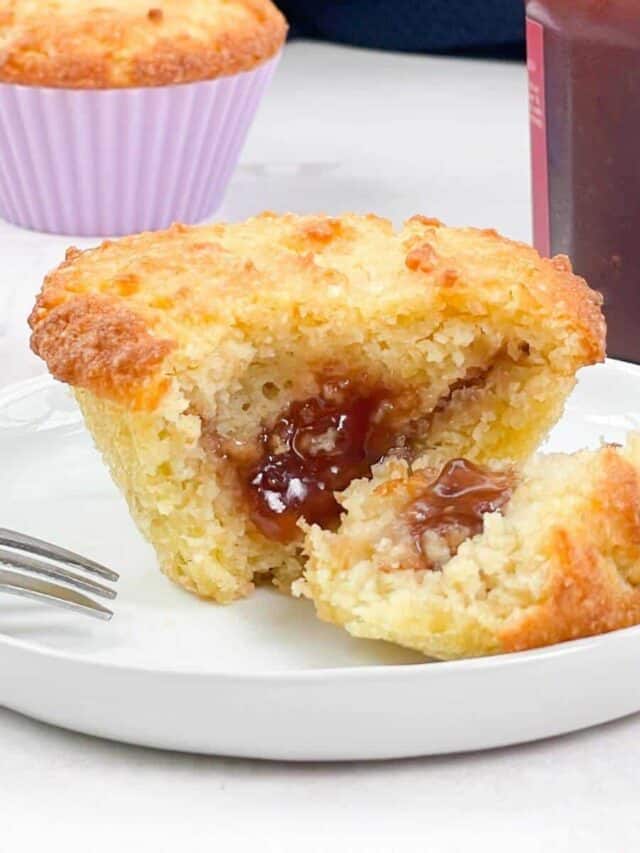 10. Keto peach cobbler
If you are looking to serve a low-carb dessert, you need to try this keto peach cobbler. This classic recipe is sweet, juicy, and great for a keto diet.
Made with fresh peaches, almond flour, and just a bit of cinnamon, this fan-favorite desert is better than ever.
Serve it with homemade vanilla ice cream, and get ready to fall in love!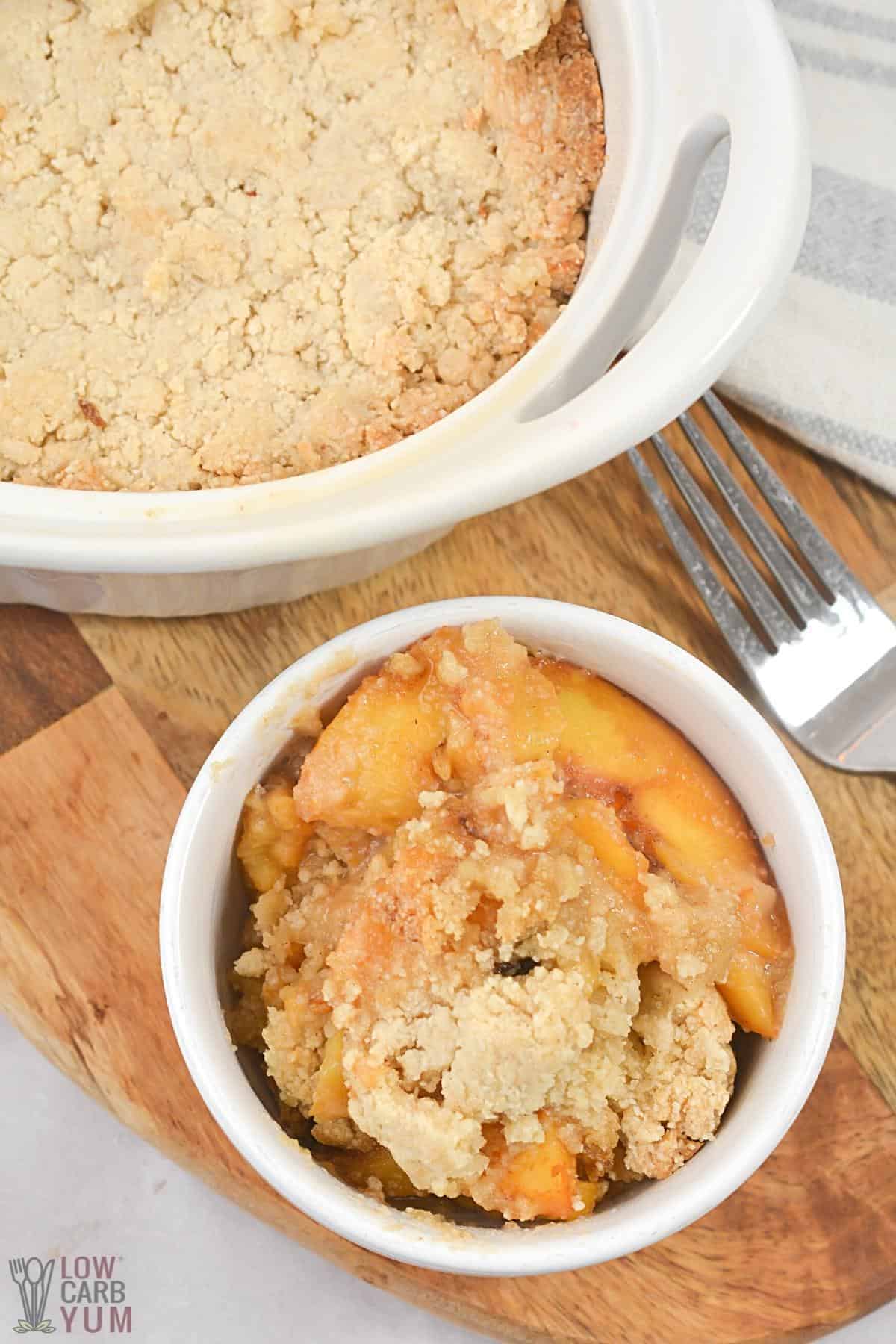 FAQs
These are some common questions I get about combining keto and intermittent fasting. If I don't answer your questions, please leave them for me in the comments below.
Will a 16-hour fast put me in ketosis?
In short, it could! Like the keto diet, fasting can trigger ketosis, forcing your body to begin using fat as fuel rather than glucose from carbohydrates. After just a 12-hour fast, your body can go into ketosis.
Can I do low-carb and intermittent fasting?
Yes, you can. These diets have similar goals and can contribute to an increase in weight loss when combined.
The main difference between these diets is the number of allotted carbs per day. On a keto diet, you traditionally eat around 50 grams of daily carbs. On a low-carb diet, however, you're able to eat 50-150 grams of carbs per day.
Intermittent fasting can benefit either diet if your goal is to lose weight.
How much weight can I lose in a month with keto and intermittent fasting?
Weight loss is incredibly specific to each individual. Depending on your size, metabolism, and overall health, weight loss will look different.
In general, many dieters report losing between 5 an 10 pounds in their first month of a keto diet with intermittent fasting. If you experience less weight loss in the first month of your keto diet, don't be discouraged. Progress takes time.
So should combine keto and intermittent fasting? Well, it's up to you!
If you'd like to jumpstart ketosis and help weight loss on a low-carb diet, you may want to include intermittent fasting in your regimen.
All this to say, intermittent fasting is not necessary when following a keto diet. The most important thing is that your diet works with you and your lifestyle so that you can stick to it and see amazing results.
Let me know if you're interested in practicing intermittent fasting in the comments down below.
Related content
If you're in search of more information on the keto diet, I have ample resources available to you. Take a look at any of these helpful posts.
Follow us on FACEBOOK, PINTEREST, and INSTAGRAM for even more tasty keto-friendly recipes!