Delicious cheesy cauliflower ham casserole. I used mostly almond milk because it is both low calorie and low carb. A bit of cream was added in for flavor.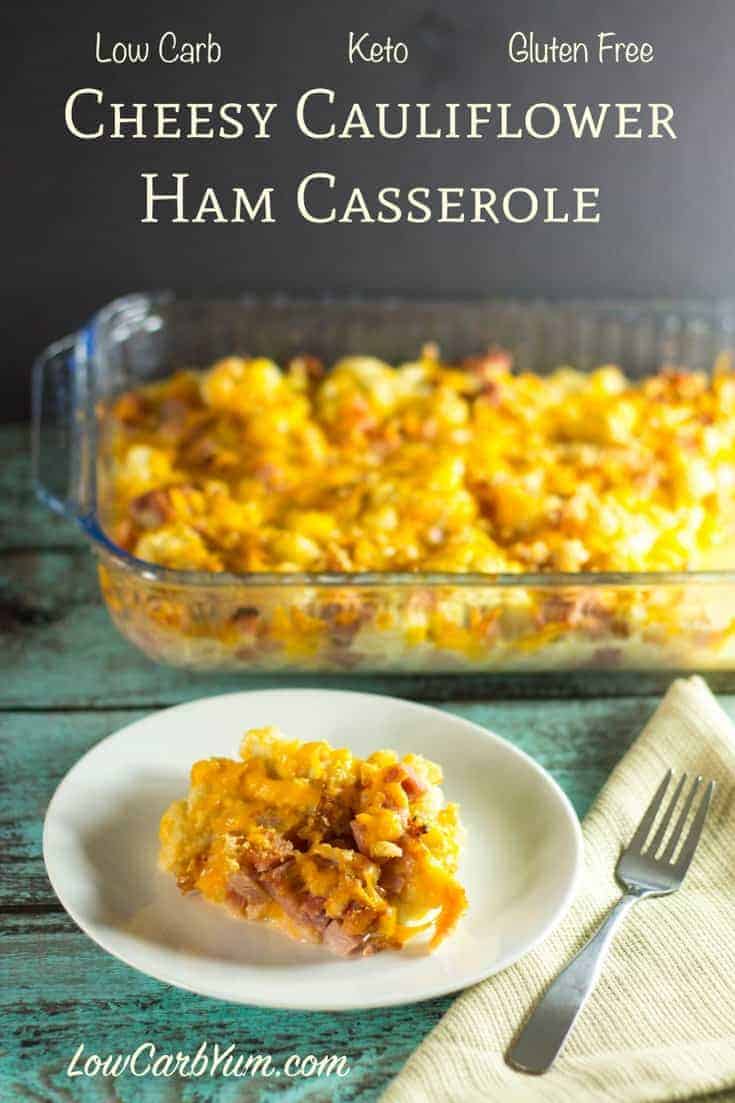 It has been some time since my last post. The main reason is that I just haven't been eating much lately. Since February of this year, I have lost about 16 pounds. This is the lightest I've been in about 16 years. Although I eat low carb, the weight really started to come off when I cut calories and started exercising. I also have been taking an EGCg Green Tea Extract made by NOW Foods.
Tonight, I thought I'd make a cheesy cauliflower ham casserole since casseroles are so easy to put together. I had some leftover ham in the refrigerator and thought it would go well mixed with cauliflower as a sort of faux potato. The ham was from a high fat butt portion with no added sugar and I chopped it in diced pieces.
I chose to use taco cheese because it has a nice spicy flavor, but regular cheddar cheese goes well too. It's best to shred the cheese yourself because pre-shredded cheese has added starch to keep the shredded cheese from clumping together. A little dried minced onion and garlic powder rounded out the taste.
FREE eBook!
​LOW CARB TIPS and TRICKS
Subscribe now to receive your free copy of Low Carb Tips and Tricks which includes 20 easy to prepare recipes. Plus, get access to the weekly newsletter and special offers only for subscribers!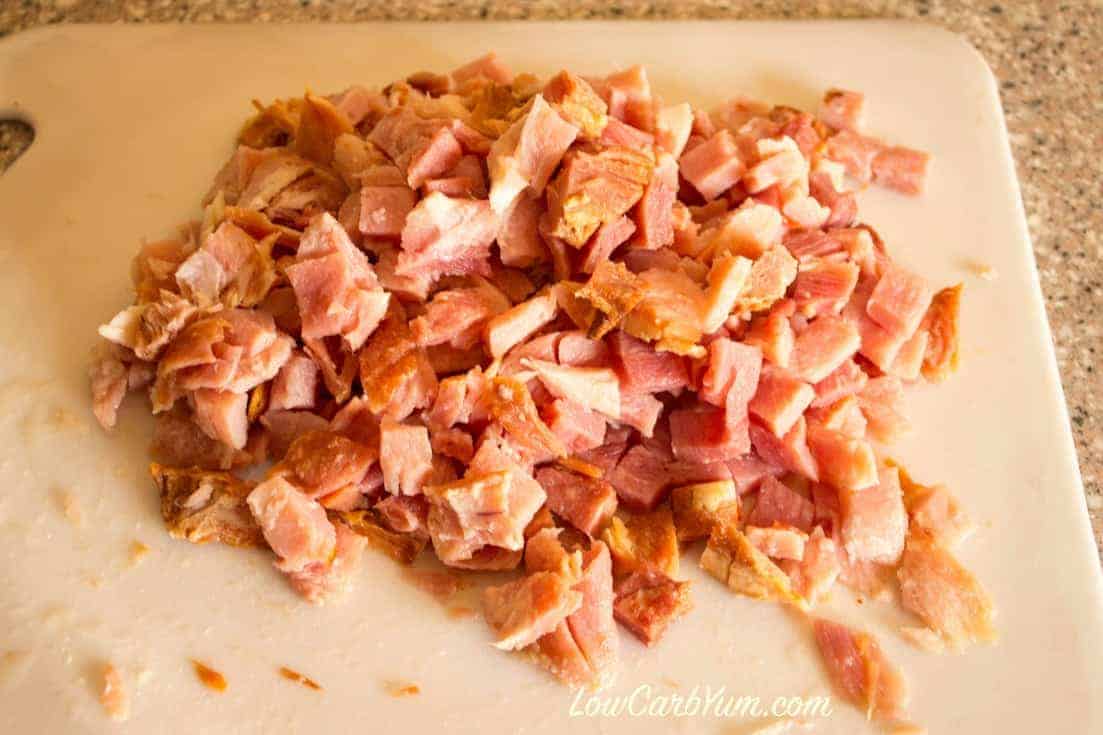 You can use either frozen cauliflower or fresh. It needs to be cooked for a bit to soften it up. I microwaved the florets for five minutes in the microwave first, then drained as much of the water out as I could.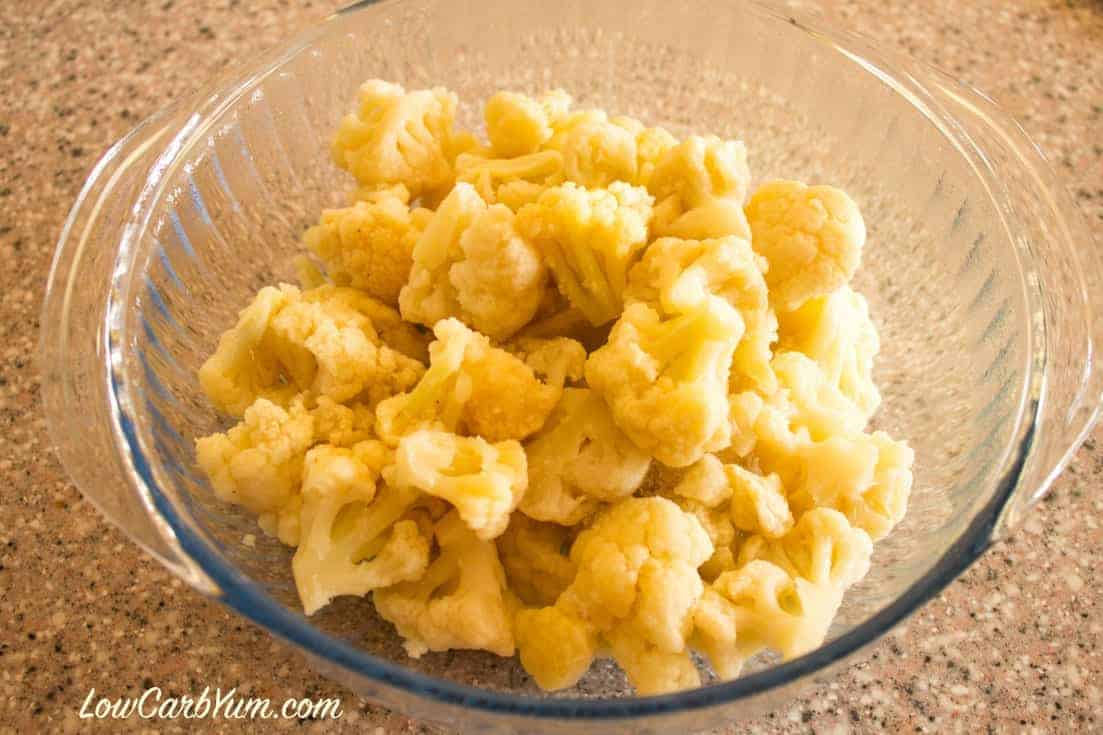 Then I added the cooked cauliflower and ham into a 9×13 baking dish. Any similar size casserole dish should work as long as there is a little room left to add the cheese.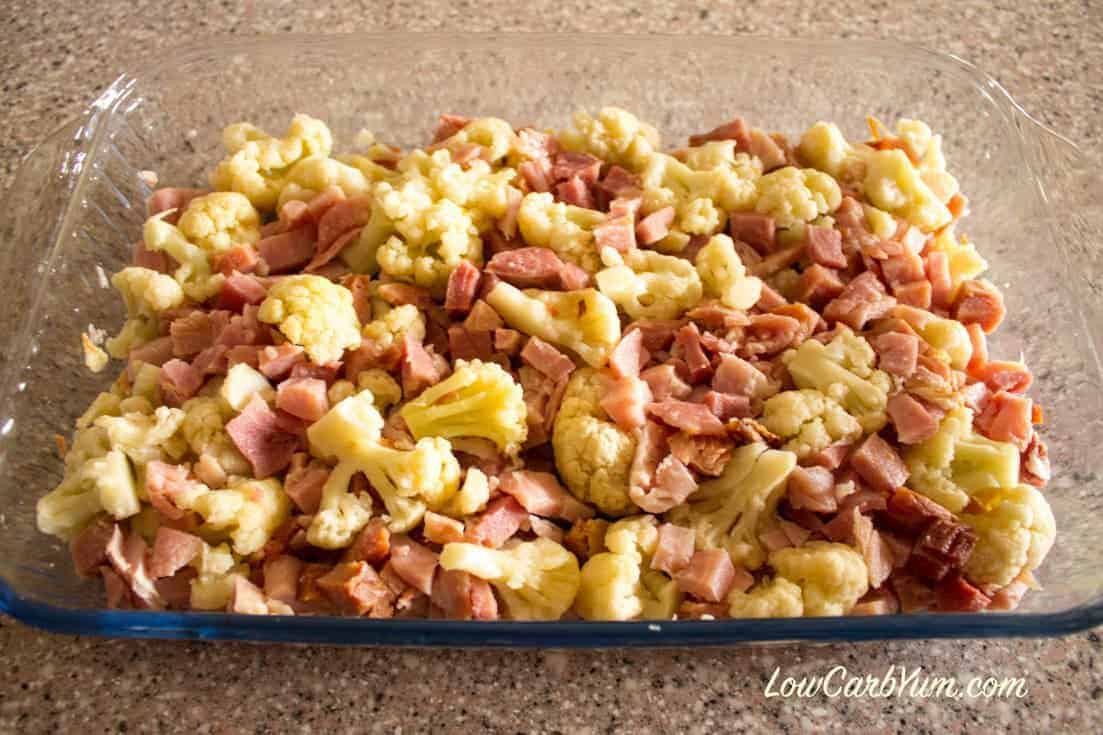 The cheese is added along with a mixture of egg, milk and cream. I just stirred this into the cauliflower and ham mixture inside the baking dish.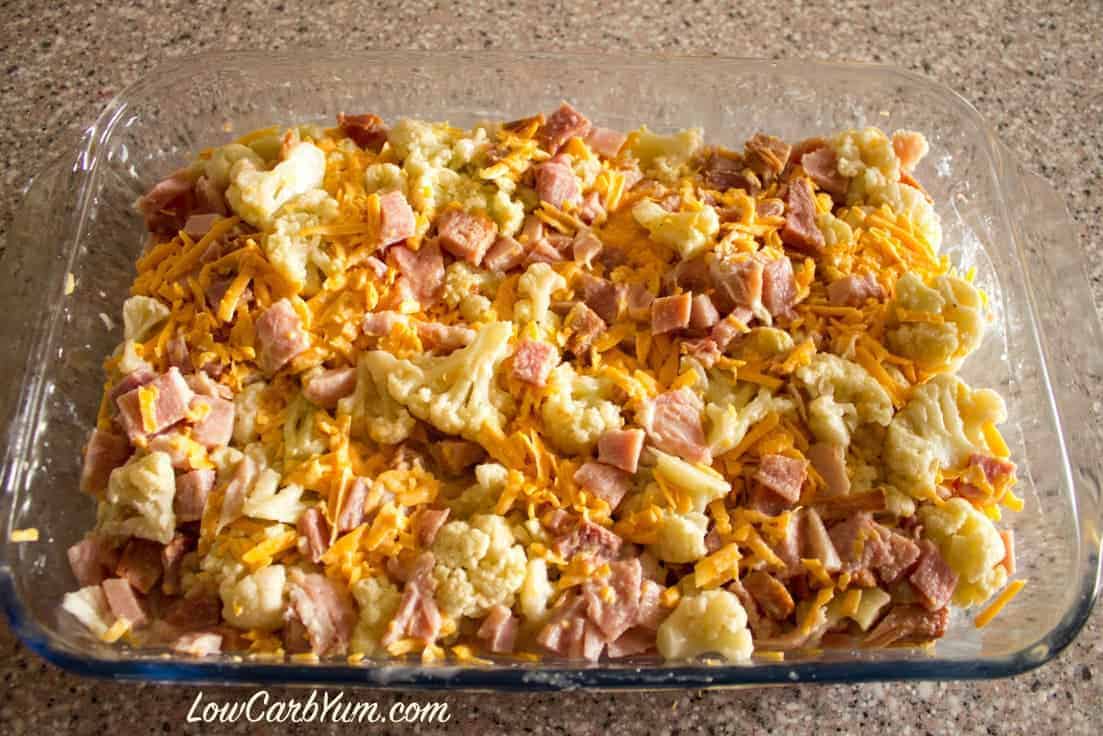 I saved a little bit of grated cheese to sprinkle on top. I also added some crushed pork rinds, but you can leave those out if you'd like.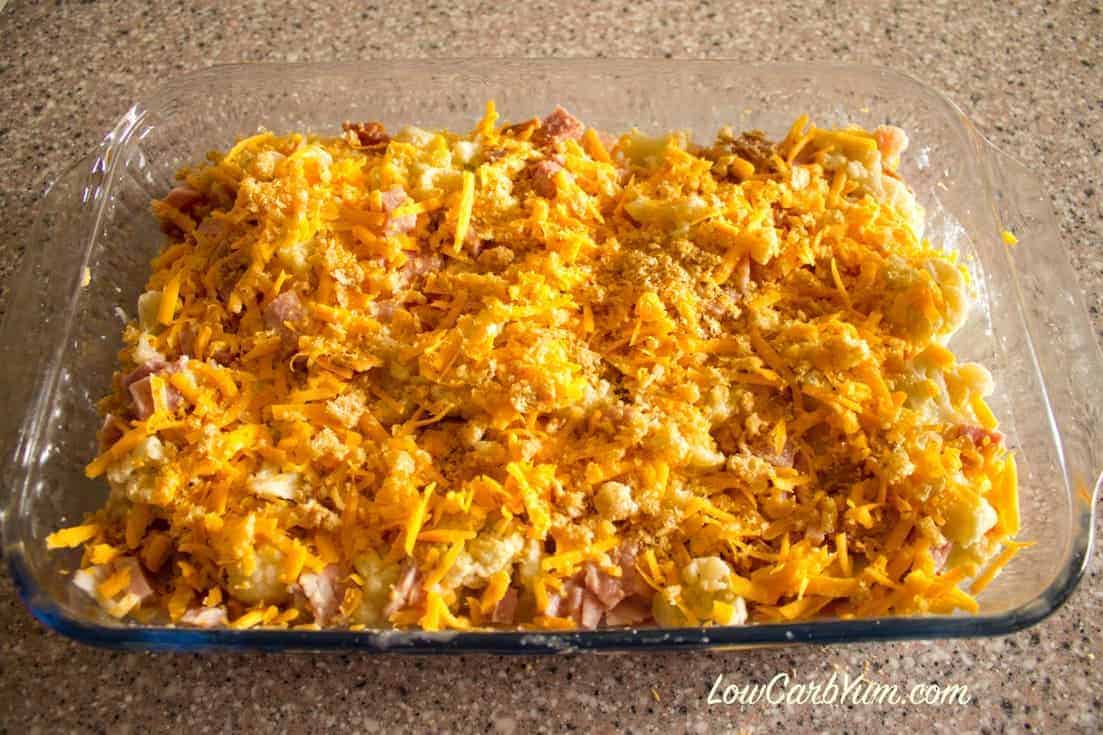 The cheese gets all melted and gooey within this low carb cheesy cauliflower ham casserole. This is the perfect way to use up any leftover ham from the holidays. Or, you could use deli ham if you don't have leftovers from a large baked ham.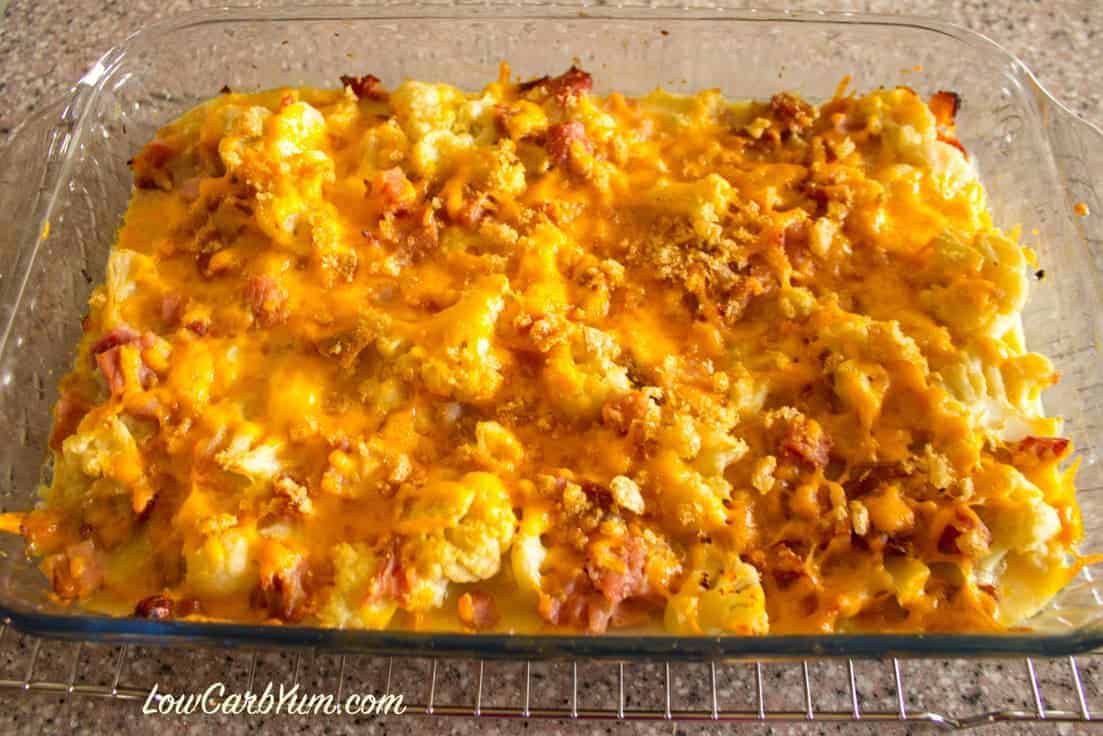 This dish is enough for 4-6 good sized servings. It's easy to double too if you have a larger family to fee. It's an easy meal to make for dinner on weeknights or busy weekends.
Low Carb Cheesy Cauliflower Ham Casserole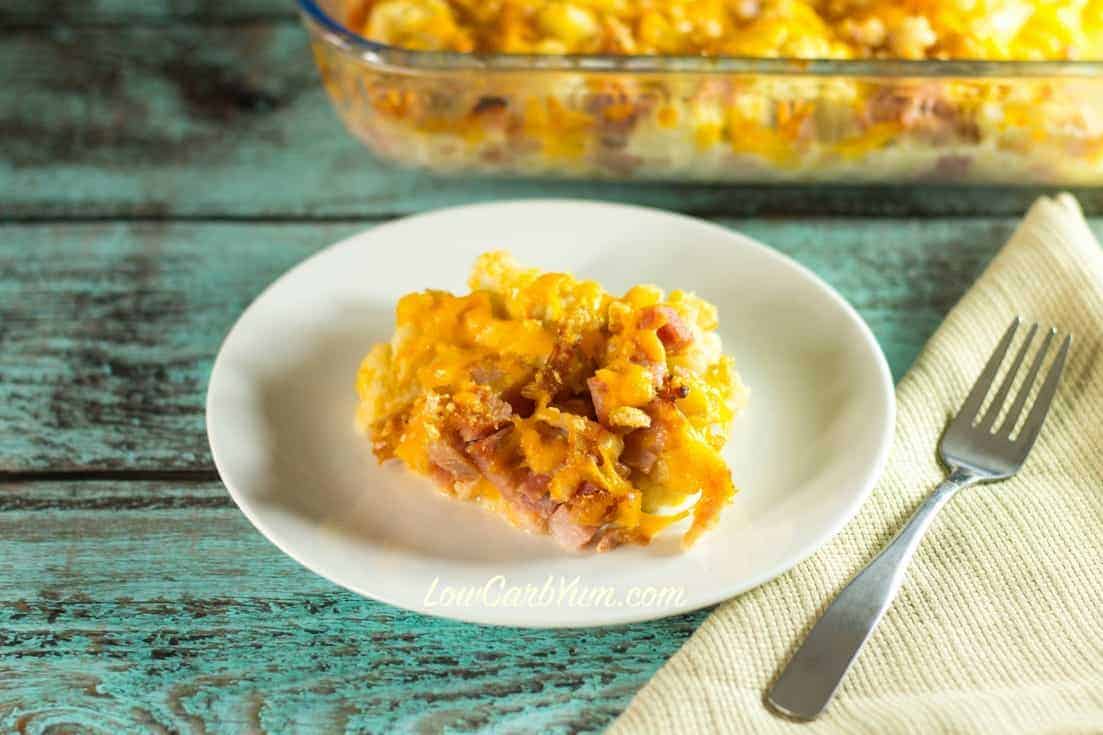 Cheesy Cauliflower Ham Casserole
Author:
Lisa | Low Carb Yum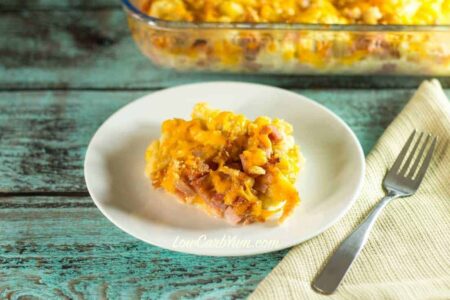 A delicious low carb cheesy cauliflower ham casserole that's perfect for using up leftover ham from the holidays.
Ingredients
1 pound ham
1 16 oz bag frozen cauliflower, or mix with broccoli
2 cups taco or cheddar cheese, shredded
1 egg
½ cup almond milk
¼ cup heavy cream
1 Tablespoon dried minced onion
1 teaspoon garlic powder
¼ cup crushed pork rinds, optional
Instructions
Preheat oven to 325F.
Microwave cauliflower 5 minutes.
Mix ham and cauliflower in 9x13 casserole dish.
Beat egg with milk, cream, dried onion and garlic powder.
Stir egg mixture into ham and cauliflower.
Reserve 1/2 cheese.
Mix remaining 1 1/2 cups cheese with other ingredients.
Top mixture with reserved cheese and crushed pork rinds, if desired.
Bake for 40 minutes.
Notes
Makes 4 servings

Net carbs per serving: 6g
Related Posts