Not sure what to do with all that riced cauliflower you made? These easy low-carb keto cauliflower rice recipes are sure to become family favorites!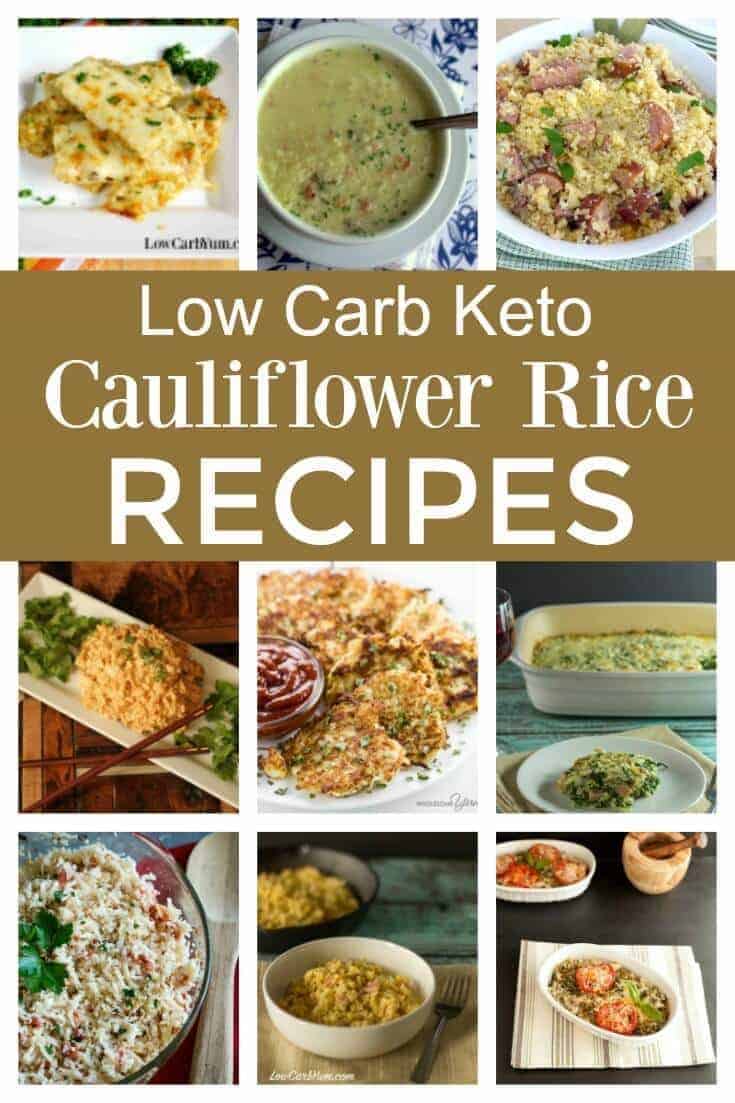 Article Index
Low-carb dieters have found that riced cauliflower can be made to taste a lot like rice. But, there are other great dishes you can make with this shredded vegetable.
Of course, you can whip some up in a jiffy and eat it plain if you know how to make cauliflower rice the easy way. In fact, that's probably my favorite way to eat it!
There are times when I make too much, so I'm always looking for easy low-carb cauliflower rice recipes to use up the leftovers. Mock-fried rice is probably my favorite way to use it up.
Do you have a favorite recipe low carb recipe using riced cauliflower? If not, check out the fantastic recipes my fellow low-carb bloggers and I have created below.
I even include a recipe card at the bottom of this post that explains how to make cauliflower rice with a food processor and fresh cauliflower.
Why you'll love them
There are so many different ways to cook cauliflower rice1
You will love this list because one keto cauliflower rice recipe isn't the same as another one. In fact, there is everything on this list, from Mexican dishes to Chinese fried cauliflower rice - and so many other ideas in between.
Cooking cauliflower rice is easier than you might think! Whether you want something with just a few ingredients or a recipe that's a bit more complex, there is something for you on this list.
You can make your own cauliflower rice or use frozen cauliflower rice - all of these recipes will taste amazing either way.
The best keto cauliflower rice recipes
Here you go! These are the best cauliflower rice keto recipes you will ever find! Click through to your favorite cauli-rice recipes and pin them to Pinterest so you can find them later.
This is an easy-to-make low-carb Mexican cauliflower rice recipe that can be made with only four common ingredients!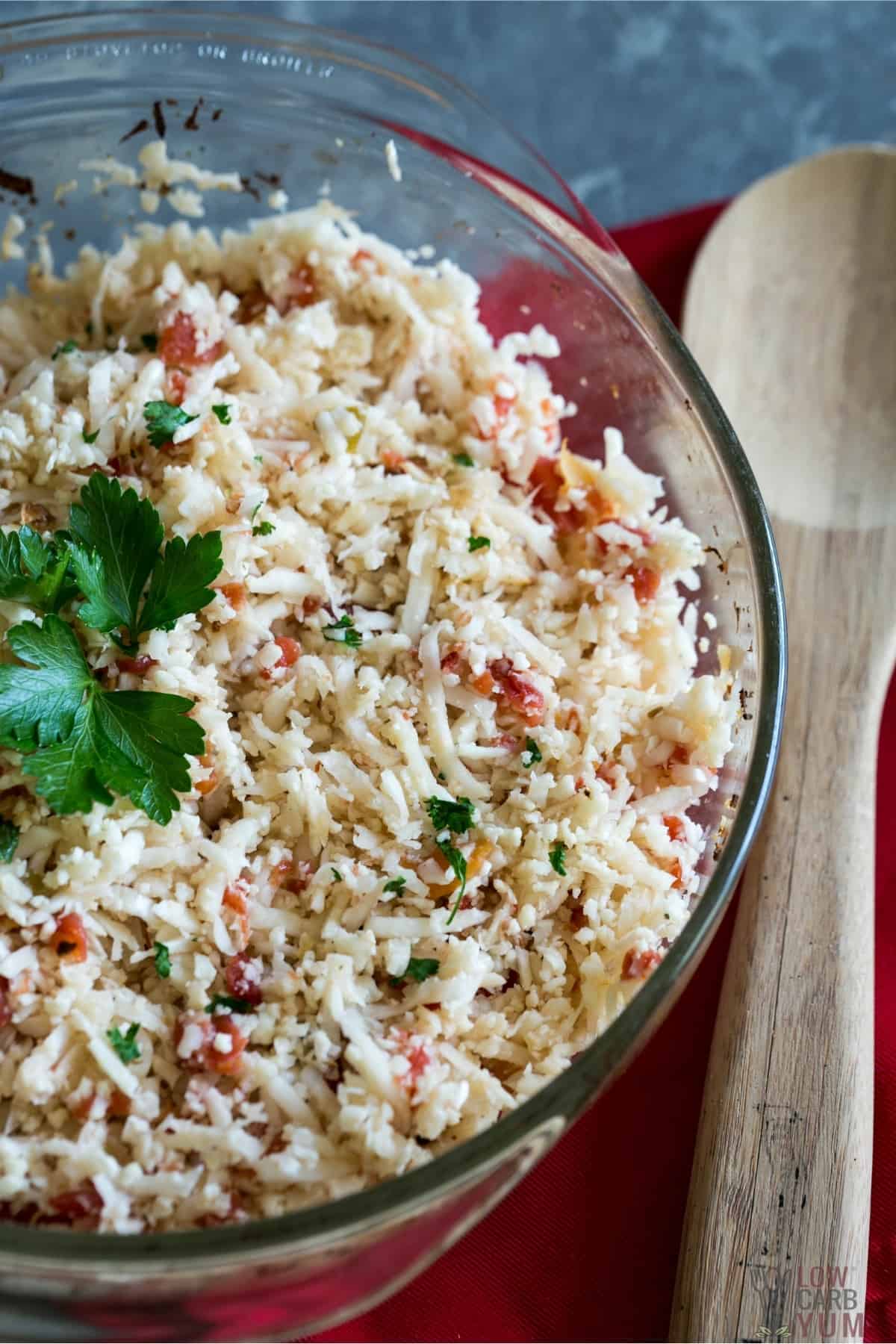 This cilantro lime cauliflower rice recipe only has 4g net carbs in each serving – and tastes just like you ordered it from a restaurant. Just like Chipotle!
No need to refrain from pizza on a diet. This healthy gluten-free cauliflower pizza crust is perfection. It tops the list of cauliflower rice recipes!
This is a flavorful Filipino Sinangag-style garlic cauliflower fried rice recipe. It's a great way to use up any leftover cauli-rice.
It has to be one of my favorite low-carb recipes ever because of the aroma that fills my kitchen from the large skillet.
This quiche tastes great for breakfast, lunch, or even at a fancy brunch. This is one of my favorite recipes because it is one the entire family loves. It's made with real cheddar cheese and spiced with salt and pepper.
Here's a paleo-friendly cauliflower rice risotto made with mushrooms and nutritional yeast for the cheesy flavor. It makes a great low-carb rice substitute.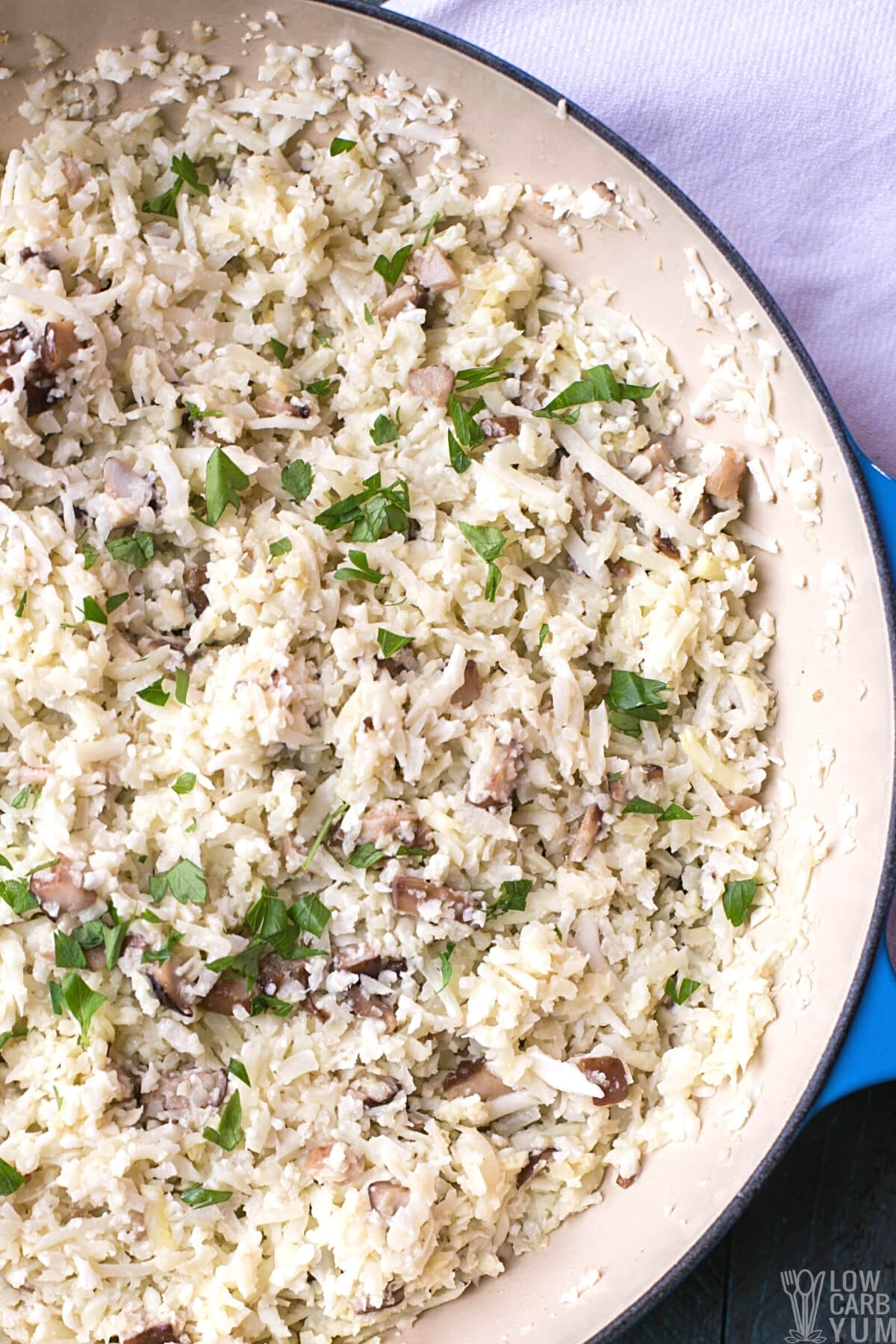 This creamy cauliflower soup is dairy-free and flavored with bacon while being low carb and low fat. It is the perfect light lunch or starter for a rich dinner. It is ideal for the keto diet because it is high in fiber and low in net carbs.
This lamb curry cauliflower rice recipe is absolutely delicious! What is better than throwing some ingredients in the slow cooker in the morning and then coming home to an amazing dinner waiting for you?
You can even prepare the cauliflower rice in the morning too.
The name etouffée refers to "smothering" the seafood with a heavy sauce, and that is exactly what this is. The entire family will love how absolutely yum this recipe turns out.
A Chinese-style cauliflower keto pork fried rice recipe that's much healthier than the traditional take-out. Enjoy it as a light meal or as a side dish to dinner.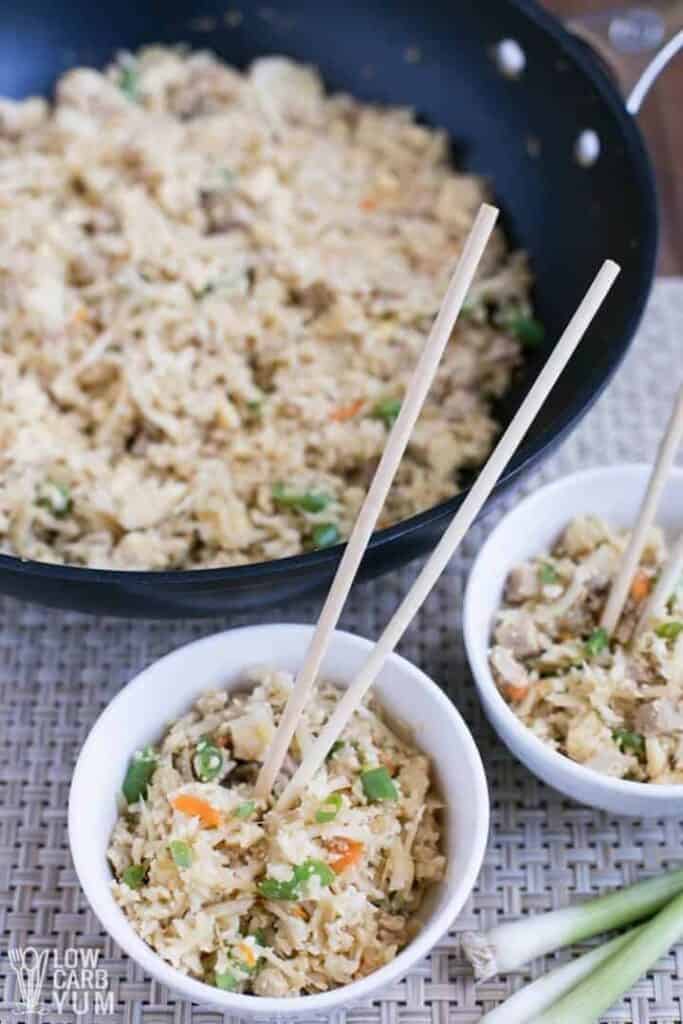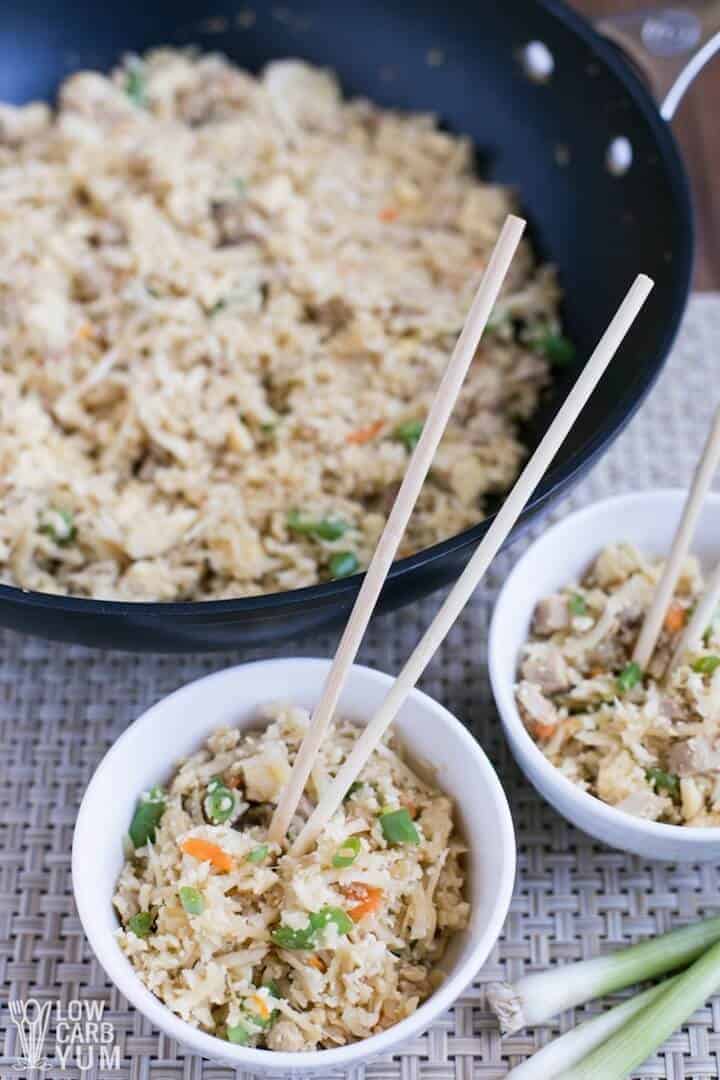 These cauliflower and cheese muffins are so versatile - side dish, lunch, or snack - they are even great the next day for a tasty low-carb bite! Made with cream cheese and cheddar cheese for an unforgettable taste.
These low-carb Cajun cauliflower mini dogs are a wonderfully simple and kid-friendly recipe that's also perfect for game-day. They are made with riced cauliflower in the dough for a healthy twist on the original.
This simple low-carb spinach, cauliflower rice, and ham casserole recipe is perfect for using leftover ham from the holidays. Easy and delicious!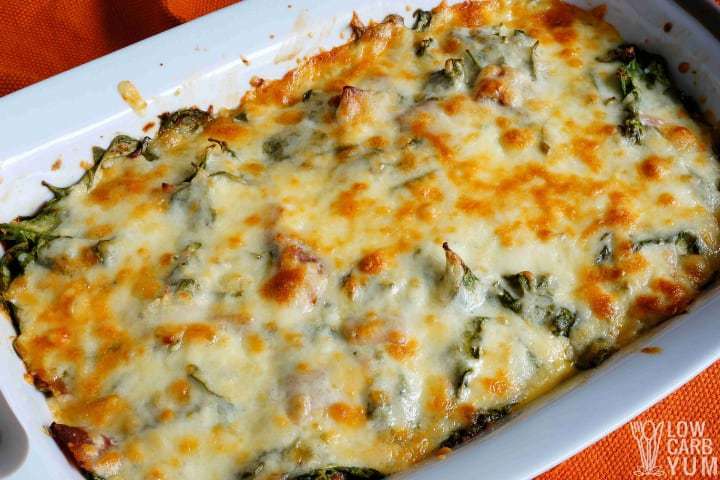 Loaded with sausage, cumin, paprika, and more, this flavor-packed sausage and cauliflower pilaf is a real crowd pleaser!
Who likes plain rice anyway? Try coconut cauliflower rice - it will knock your socks off. This will be one of your favorite gluten-free recipes that you will ever make.
This delicious roasted cauliflower rice is amazing as a side dish when you need something colorful and special.
Just like a pizza crust, it's easy to make a low-carb cheesy cauliflower breadsticks recipe instead of the usual carb-loaded breadsticks. Simply leave out the pizza sauce and enjoy!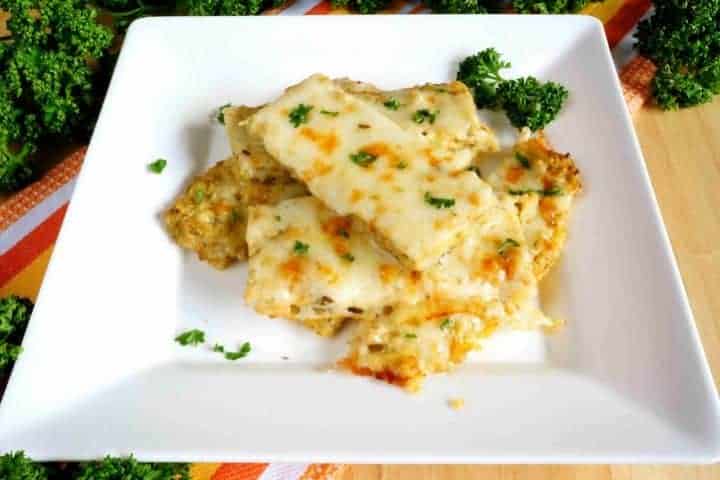 This is an amazingly flavorful dish. I made a few changes to make it "healthified." I used almond milk instead of fat-free half-and-half, no cornstarch, Swerve in place of sugar, one onion in place of 2, and cauliflower in place of white rice.
All in all, this peanut cauliflower rice recipe is delicious!
Chicken pesto cauliflower rice bake is an easy, all-in-one-pan dish to whip up for dinner. Low carb, gluten-free, and includes a yummy homemade pesto recipe (but you can use store-bought as well).
Only five simple ingredients and less than ten minutes are needed to whip up a delicious cheesy faux rice. It makes a perfect keto meal.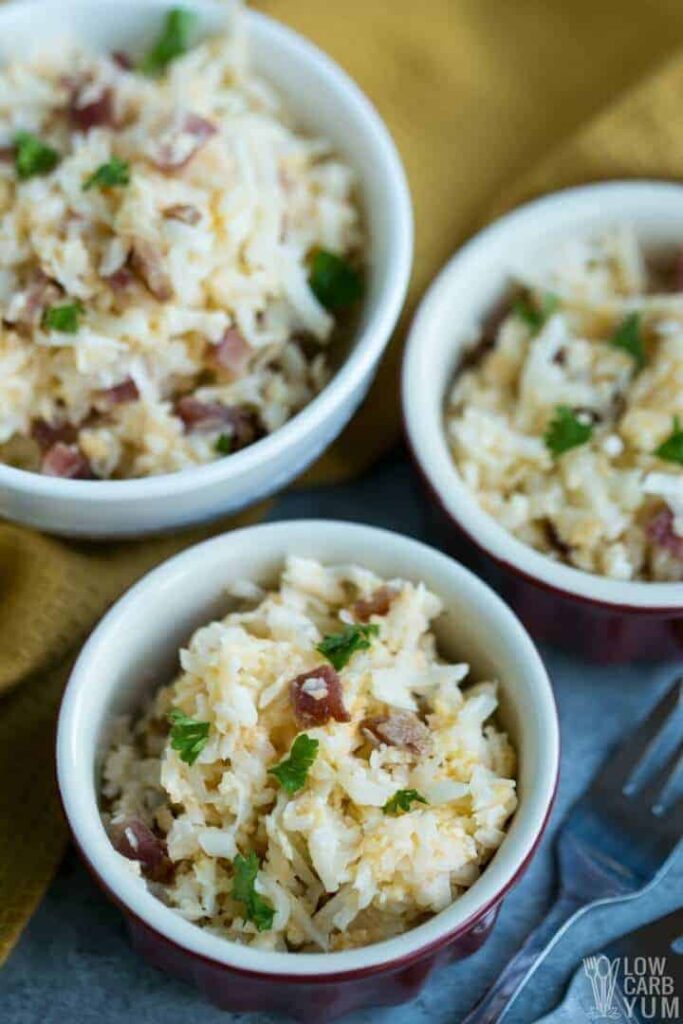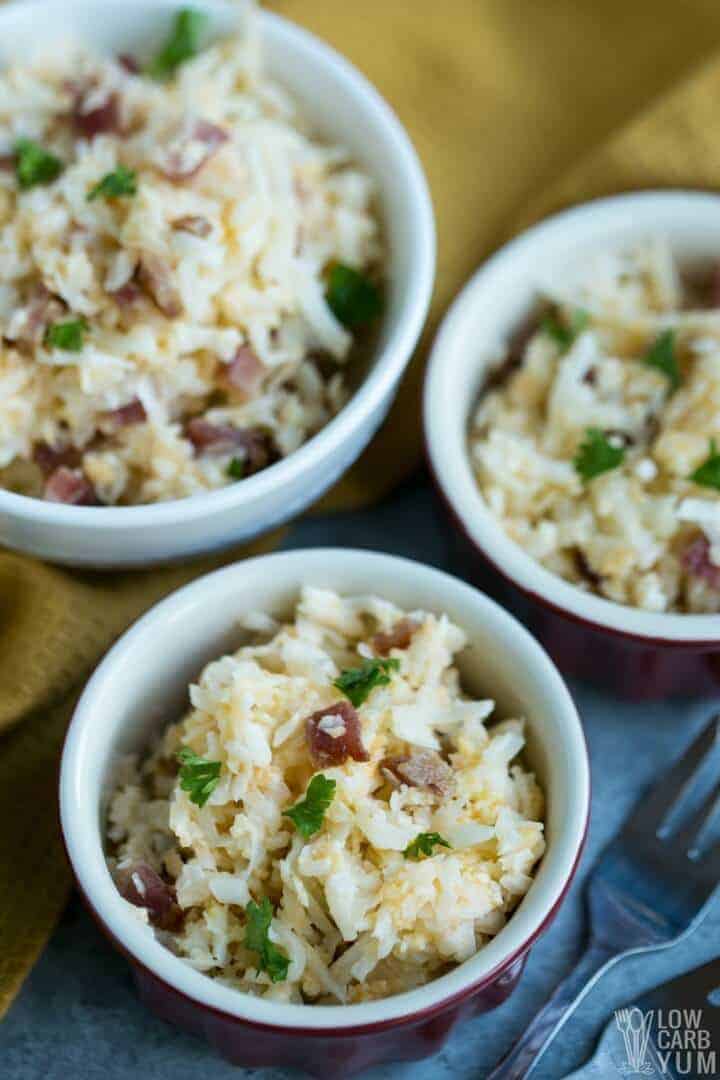 FAQs
Before getting to the printable recipe, I wanted to share some answers to questions people often ask regarding the recipe.
Is cauliflower rice good for weight loss?
Yes, it can be a fantastic way to support and encourage your weight loss journey. It is a high-fiber and low-carb substitute for rice, which will help you stay on track when you are on the keto diet.
How do you keep cauliflower rice from getting mushy?
Don't overheat cauliflower rice, or it will have a mushy consistency. Quickly cook cauliflower in olive oil, coconut oil, or melt butter. Then, add the cauliflower rice and let it cook for a short time.
How long can I keep cauliflower rice in the refrigerator?
Cauliflower rice will stay fresh in the refrigerator for up to 3-5 days. Store it in an airtight container and eat it as soon as possible for the best results.
Follow us on FACEBOOK, PINTEREST, and INSTAGRAM for even more tasty keto-friendly recipes!
First published January 25, 2017. Post updated on March 3, 2022, with clearer images and additional recipe tips.