Delicious, moist low carb red velvet cake that is absolutely a must try. Get the great taste of red velvet cake without all the carbs. Gluten free option!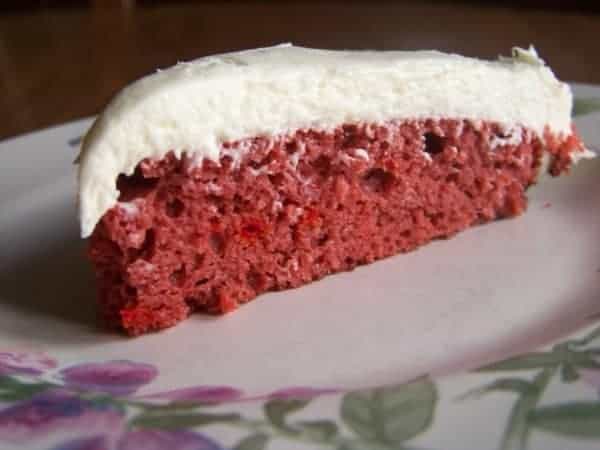 My birthday was a couple weeks ago and since I love ice cream cakes, my family got me a Cold Stone birthday cake which is a combination of red velvet cake and birthday cake ice cream. It was not low carb, but I've been in maintenance so long, I don't think twice about splurging to celebrate special occasions. I try not to overdo any high carb treats, but it can be difficult once you cheat.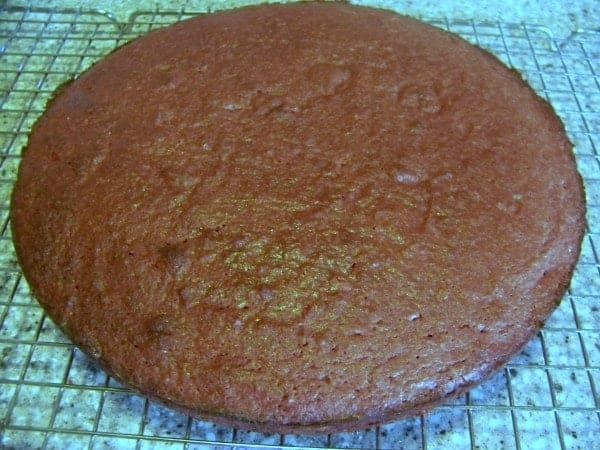 Unfortunately, I went a little overboard during my birthday week. To get back on track after a couple weeks of higher carb eating, I wanted to try baking a low carb red velvet cake. A lot of eggs are required when using all coconut flour, so I chose to use a blend of half Carbquik and half coconut flour. That way, I could reduce the amount of eggs by half. However, you may want to substitute almond flour or a low carb gluten free baking mix in place of the Carbquik. Neither almond flour or low carb baking mix will require the extra eggs that coconut flour requires.
FREE eBook!
​LOW CARB TIPS and TRICKS
Subscribe now to receive your free copy of Low Carb Tips and Tricks which includes 20 easy to prepare recipes. Plus, get access to the weekly newsletter and special offers only for subscribers!
The result was a cake that tasted very close to a regular high carb one. Next time, I may double the recipe to make a regular two layer cake. Chopped pecans would also be a nice addition to sprinkle on top. This time I kept it simple because I wasn't sure how it was going to come out. The holidays are the perfect time to make a low carb red velvet cake.
Low Carb Red Velvet Cake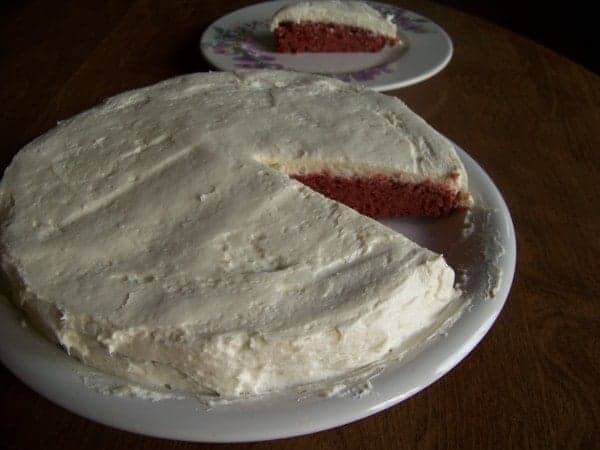 Low Carb Red Velvet Cake Recipe
Author:
Lisa | Low Carb Yum
Nutrition Information
Serving size:

1 slice

Calories:

194
Fat:

17.7g

Saturated fat:

9.9g

Carbohydrates:

4.5g

Sugar:

0.6g

Sodium:

330mg

Fiber:

2.0g

Protein:

4.9g

Cholesterol:

96mg
Prep time:
Cook time:
Total time: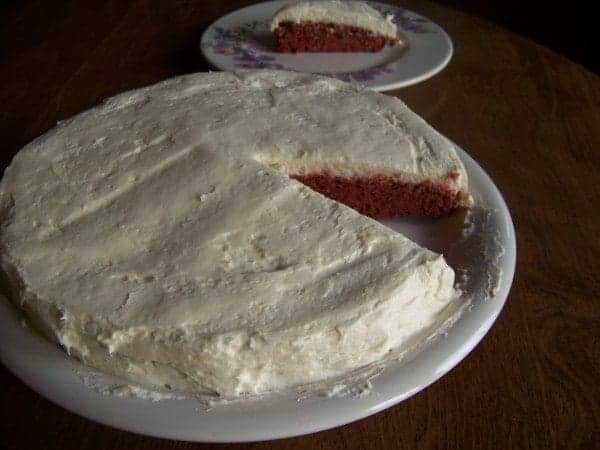 Delicious, moist red velvet cake that is absolutely a must try. Get the great taste of red velvet cake without all the carbs in regular red velvet.
Instructions
Grease 9-inch round cake pan with shortening and dust with cocoa.
Beat erythritol and stevia into butter until light and fluffy. Add eggs, one at a time. Mix in vanilla extract.
In separate bowl, combine dry ingredients (Carbquik, coconut flour, cocoa, baking powder, and salt).
Beat in half the dry mixture into wet mixture.
Then beat in half the yogurt, then the rest of the dry mixture, and then the rest of the yogurt.
Mix in red food coloring (I used about 1/4 teaspoon of gel).
Pour batter into prepared pan.
Bake at 350 degrees F for about 25-30 min.
Remove from pan and allow to cool.
To make frosting, beat together cream cheese and butter until well combined.
Beat in sweeteners until fluffy. Mix in vanilla extract.
Notes
Makes 1 single layer cake (12 slices)
Nutrition per slice is for if you used almond flour
30g erythritol
Related Posts