Disclaimer: This post has been sponsored by ALDI and written by me. All opinions are my own. A simple New York style low carb keto cheesecake that doesn't require any special ingredients. Eat it plain or dress it up with fresh berries.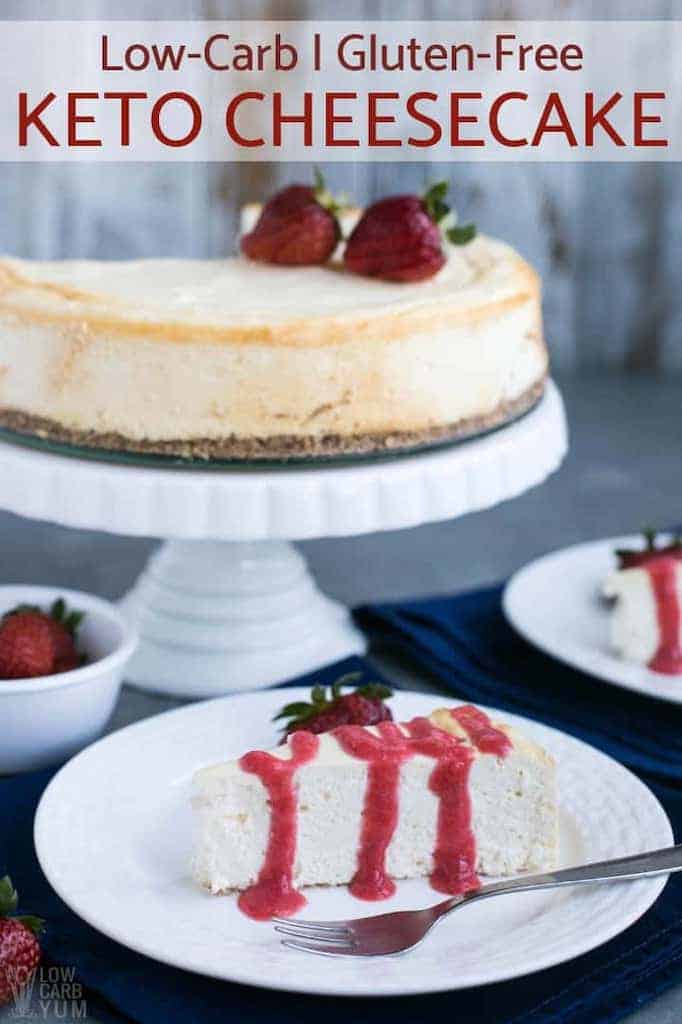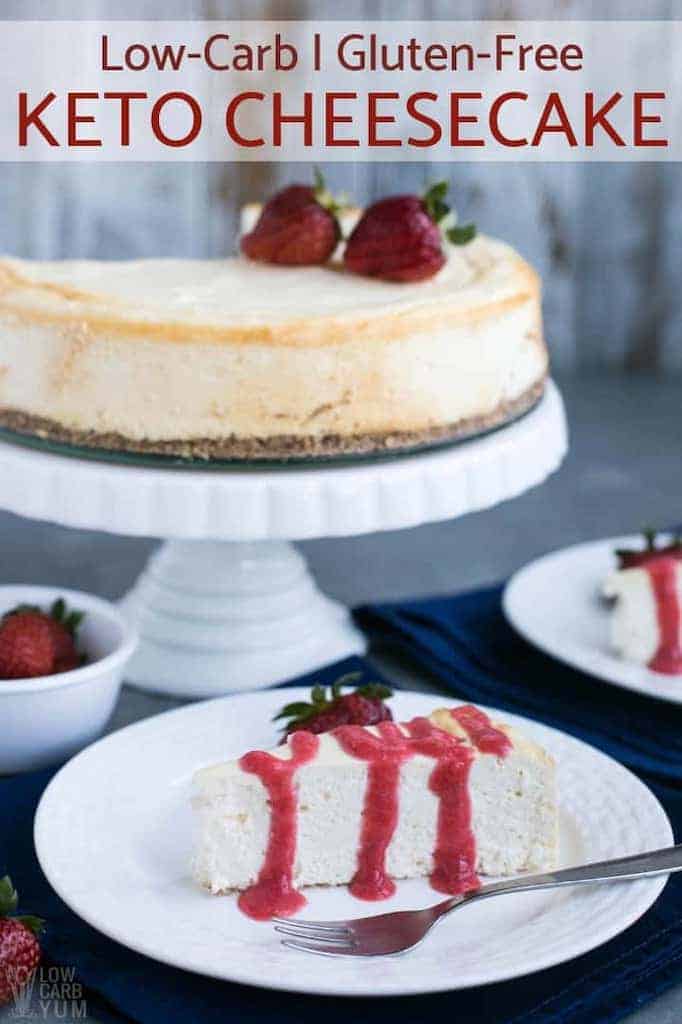 I get a lot of comments from those just getting started on low carb about the difficulty in finding ingredients. And, many find that prices are beyond their budget.
However, your food bill doesn't have to rise after moving to this way of eating. I find that I can cut costs in half without sacrificing quality just by shopping at my local ALDI.
Those new to this way of eating think you need to use specialty ingredients when making low carb desserts. But, that isn't the case.
I'm going to show you how to make my favorite New York Style keto cheesecake recipe using every day ingredients. The inspiration for the recipe comes from one I found at Low Carb Luxury over ten years ago.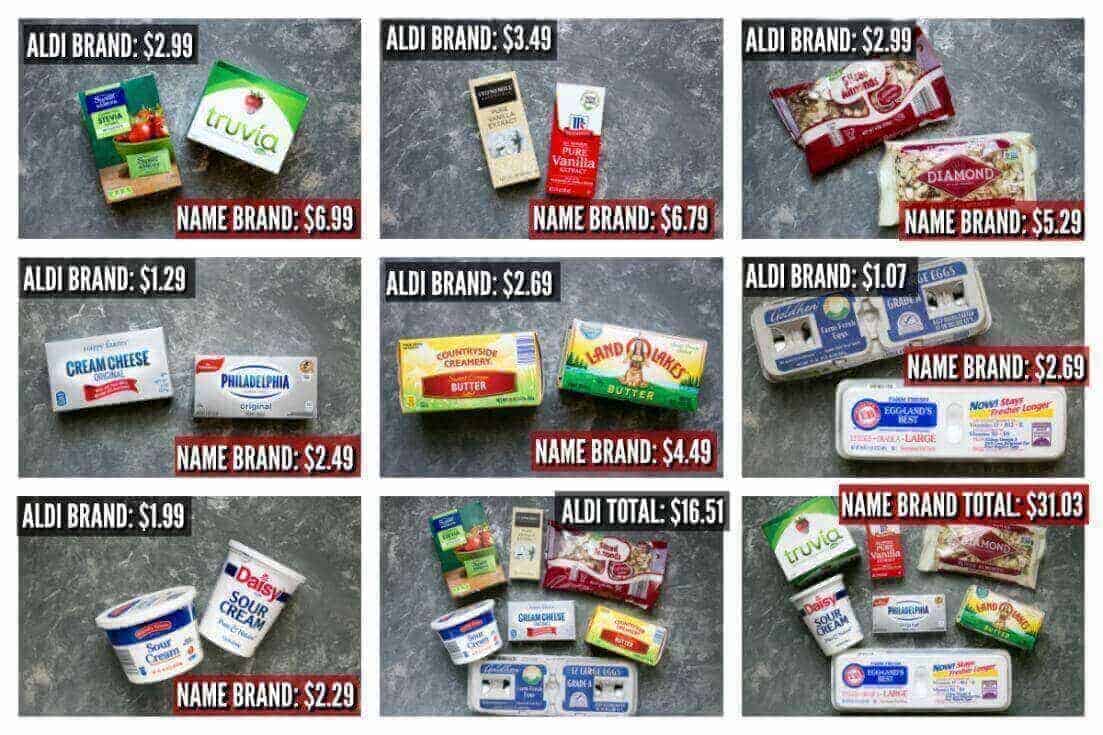 Making a low carb cheesecake recipe on a tight budget
Here's how much I saved by buying ALDI products instead of the name brand products at my local grocery store:
Stevia extract packet: $2.99 for ALDI Sweet Additions brand, $6.99 for national brand*
Vanilla extract: $3.49 for ALDI Stonemill brand, $6.79 for national brand*
Sliced almonds: $2.99 for ALDI Southern Grove brand, $5.29 for national brand*
Cream cheese: $1.29 for ALDI Happy Farms brand, $2.49 for national brand*
Salted butter: $2.69 for ALDI Countryside Creamery brand, $4.49 for national brand*
Large white eggs: $1.07 for ALDI Goldenhen brand, $2.69 for national brand*
Sour cream: $1.99 for ALDI Friendly Farms brand, $2.29 for national brand*
The total cost for ALDI products was $16.51 while the name brand ingredients cost me $31.03.* That's a saving of about 50% when you make the keto cheesecake recipe with ALDI brands versus national brand products!
And, ALDI makes sure their products are the highest-quality, so their shoppers can pay much less for far better. There's also food to fit any shopper's lifestyle, including low carb items that are keto friendly.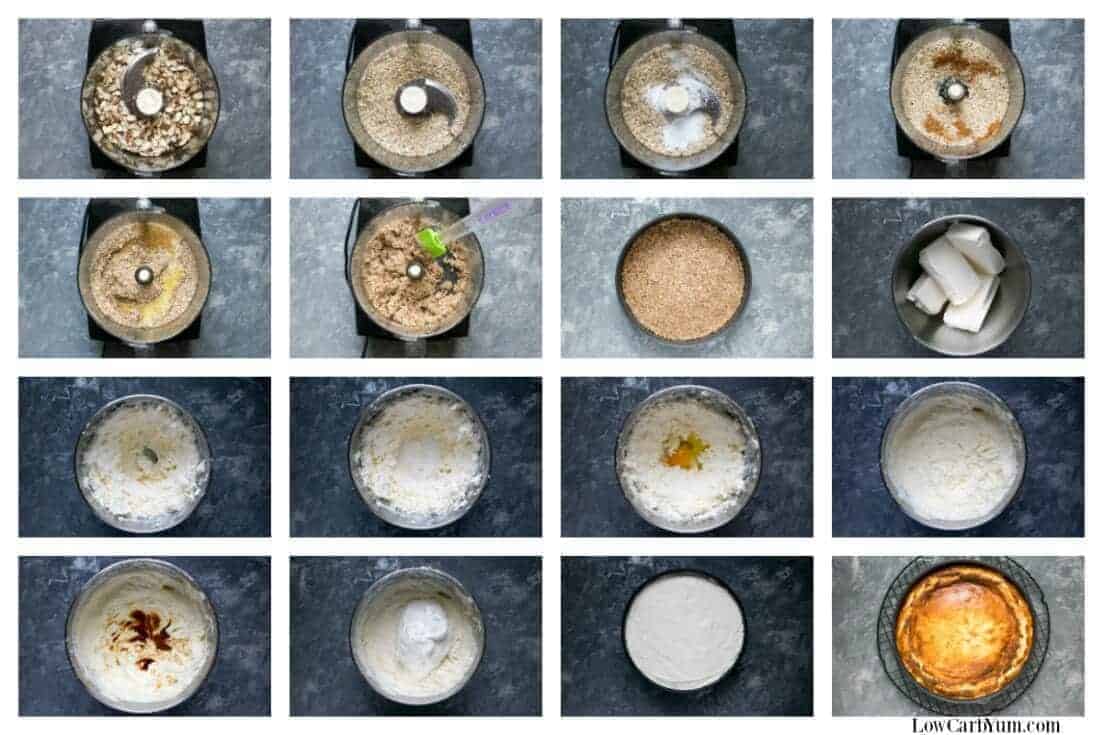 How to make a low carb cheesecake crust
Most low carb cheesecake recipes call for almond flour or meal to make the crust. But, you can just buy whole or sliced almonds instead and grind them up.
I used the entire six ounce package of Southern Grove sliced almonds in the crust. It's super easy to grind them in a food processor or coffee grinder to make your own almond meal.
To make the crust, I added some Sweet Additions stevia extract, cinnamon, and melted butter. Then, pressed the mixture into a springform pan.
Although Sweet Additions stevia extract does come in a large spoonable bag for baking, I prefer using the packets which use erythritol as the filler ingredient. The bulk sweetener contains another filler that isn't as low carb friendly as erythritol.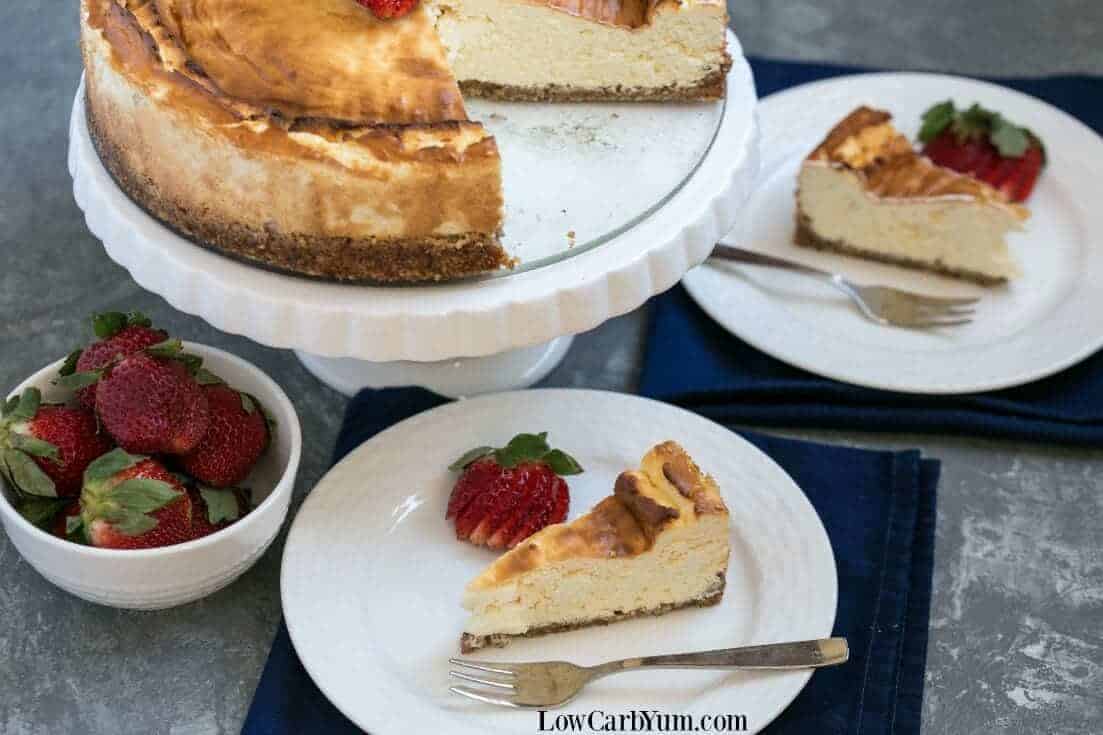 Completing the easy keto cheesecake
Making the filling for this yummy low carb keto cheesecake is almost as easy as the crust. You simply add each ingredient to the mixing bowl beating on low after each addition.
The cheesecake does need to bake for about an hour. And, after the top has browned, it should be left in the warm oven for another hour.
Then, the cheesecake is removed and allowed to cool to room temperature before refrigerating. It should be refrigerated for at least a day before serving.
The result is a subtly sweet cheesecake that should serve at least 16 people. It is a tall cake so a thin slice is very filling. And, you can freeze some of it for later!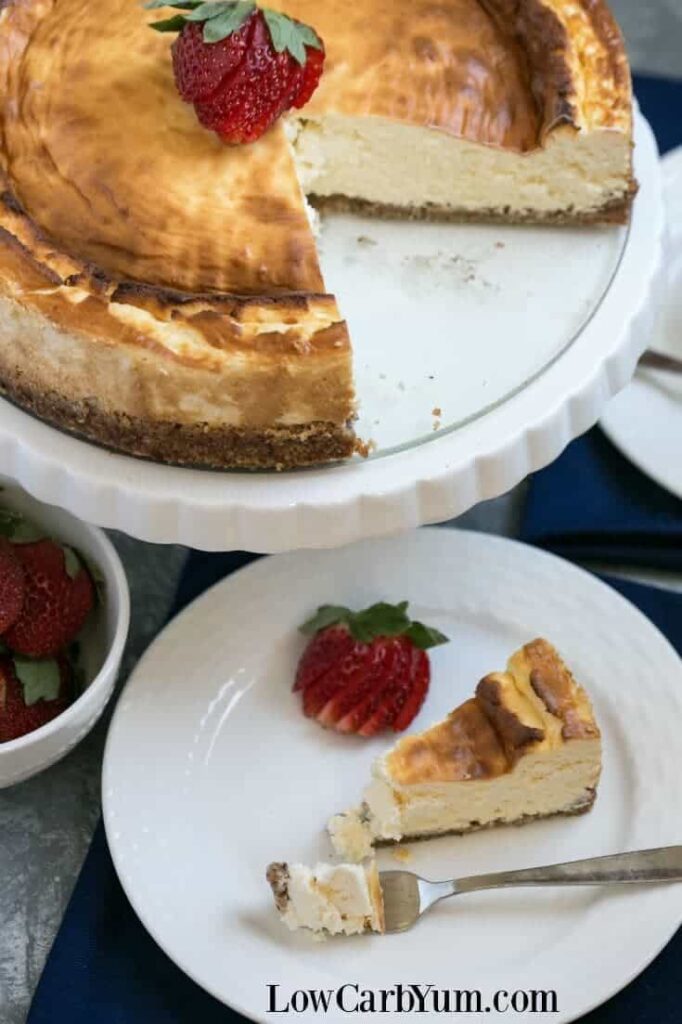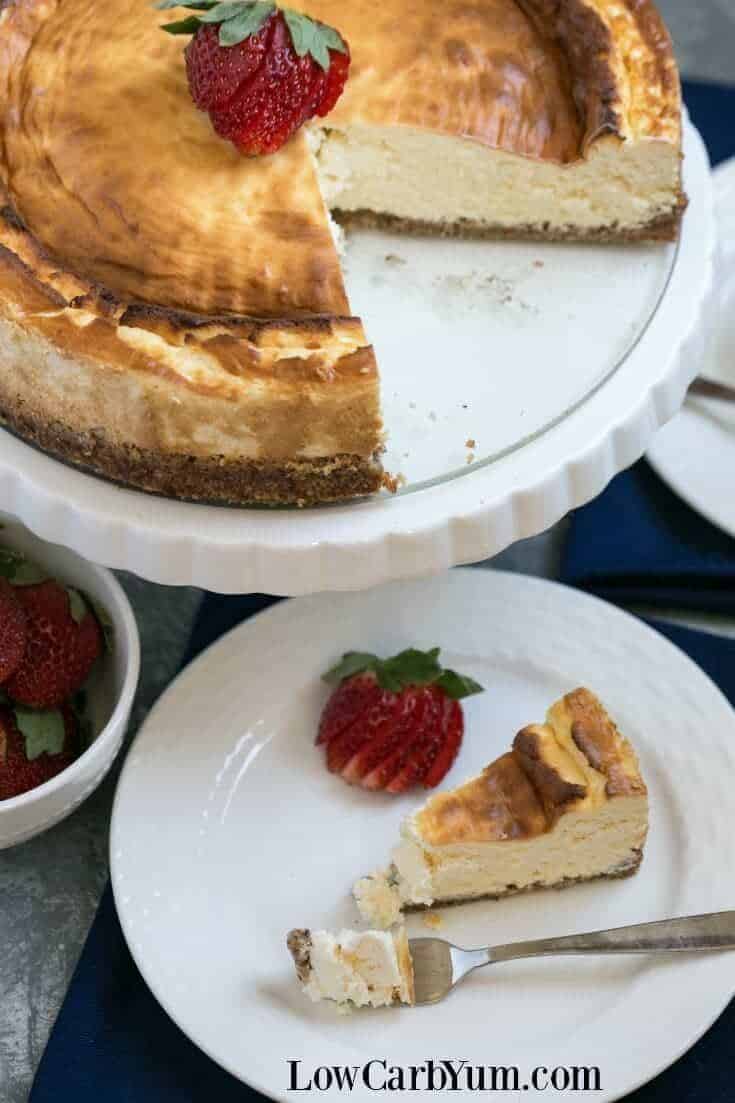 Why I buy low carb ingredients at ALDI
ALDI has quickly become my favorite grocery store for buying all my low carb staples. I love how quick and convenient it is to shop there.
With a back-to-basics philosophy, ALDI is able to keep costs down for shoppers because they know that sometimes less is more. ALDI stores are smaller than typical grocery stores because they stick to the essentials. With only four or five aisles, shopping is quick and easy.
Not only does ALDI have the best prices, but checkout is really fast because they don't bag groceries. I always bring my own reusable bags. And, it doesn't take long to bag things up myself at the customer counter near the exit.
Have you tried shopping at ALDI? I'd love to hear your experience! If not, why not give them a try and discover all the benefits including a big savings in your food budget.

Low Carb Keto Cheesecake Recipe – Gluten Free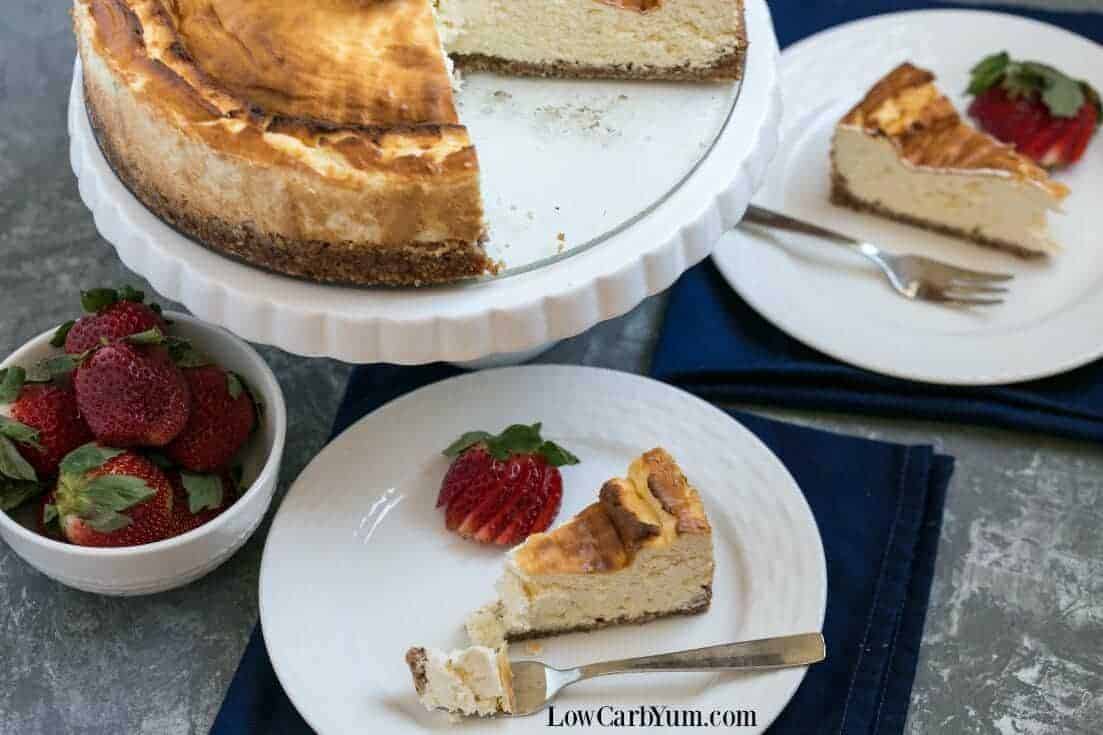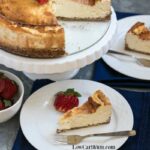 Keto Cheesecake
A simple New York style low carb cheesecake that doesn't require any special ingredients. Eat it plain or dress it up with fresh berries. 
Cook Time
1
hour
15
minutes
Total Time
1
hour
25
minutes
Ingredients
Crust:
6

ounces

Southern Grove sliced almonds

6

packets

packets stevia

use up to 9 for sweeter crust

1/2

teaspoon

ground cinnamon

optional

5

tablespoons

Country Side Creamery salted butter

melted
Filling:
32

ounces

Happy Farms cream cheese

softened (4 blocks)

24

packets

packets stevia

use up to 36 for sweeter filling

3

large

Goldenhen eggs

at room temperature

2

teaspoons

Stonemill vanilla extract

1

teaspoon

lemon extract

optional

16

ounces

Friendly Farms sour cream

at room temperature
Instructions
Crust:
Place sliced almonds in food processor and process with cutting blade until a finely ground.

Pulse in 6-9 stevia extract packets and cinnamon (if using).

Press into bottom of 9-inch springform pan. Set aside

Beat cream cheese on low speed until light and fluffy.

Add 24-36 stevia extract packets to desired sweetness. Beat on low to mix in.

Add each egg, one at a time, beating on low after each addition.

Mix in extracts, then beat in sour cream on low speed until incorporated.

Spread cream cheese mixture over crust.
Cooking:
Bake at 300°F for an hour. If top has browned, turn oven off. If not yet browned, cook until browned then turn off oven.

Leave cheesecake in oven with door ajar for an hour. Then, remove from oven and cool completely on a wire rack.

Chill at least 24 hours before serving.
Recipe Notes
Sweetener amounts used are minimum. Those just getting started on keto may want to up the amount to the max noted.
A one-for-one sugar replacement granular low carb sweetener can be used in place of the packets. Here's the conversions:
6 packets is 1/4 cup sugar equivalent
24 packets is 1 cup sugar equivalent
Tips to prevent the cheesecake from cracking from comments:
Make sure all the ingredients are room temperature.
Don't over mix! Over-mixing will cause the top to crack.
Bake for an hour. Then turn oven off and let it cool in the oven for 4-5 hours then remove and allow to finish cooling at room temperature.
Use a pan of water in the oven to make it steamy while preheating and remove the pan when putting the cheesecake in.
Nutrition Facts
Keto Cheesecake
Amount Per Serving (1 slice)
Calories 356
Calories from Fat 306
% Daily Value*
Total Fat 34g 52%
Cholesterol 121mg 40%
Sodium 249mg 10%
Potassium 206mg 6%
Total Carbohydrates 5g 2%
Protein 7g 14%
* Percent Daily Values are based on a 2000 calorie diet.

Related Posts