This post may be sponsored or contain affiliate links, but all opinions are my own. I may earn money if purchases are made through links (at no additional cost to you) which helps support this site and keep the content free.
This easy broccoli chicken tetrazzini casserole is a great way to use up leftover chicken or turkey. Poached chicken can also be used if no precooked meat is on hand.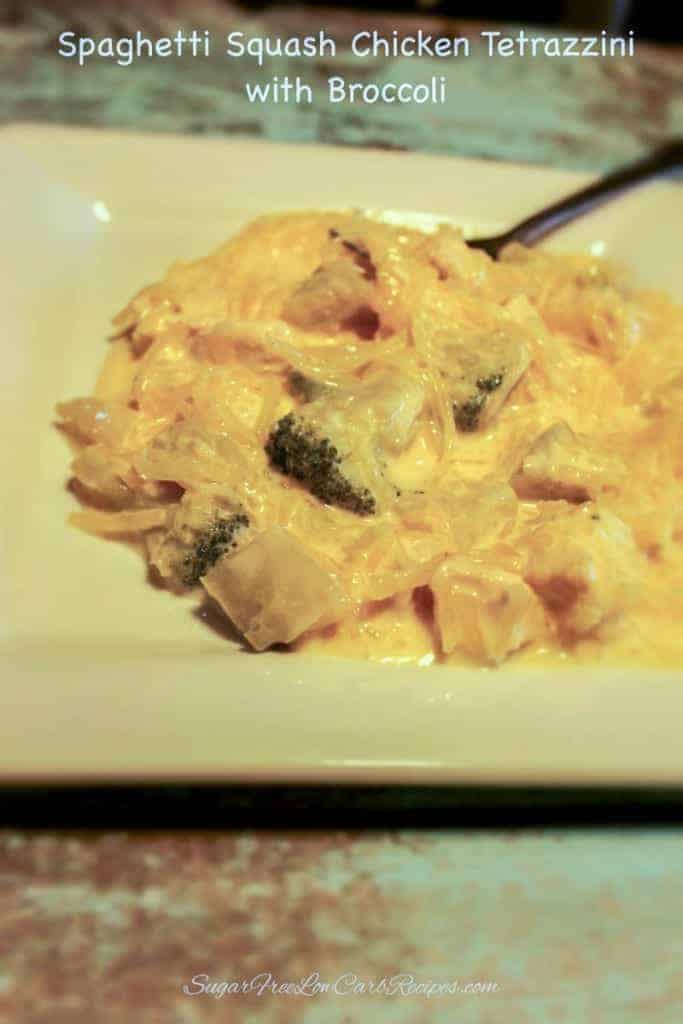 This recipe for low carb chicken tetrazzini casserole uses spaghetti squash instead of regular pasta. Like most of the other hard shelled winter squash, spaghetti squash is harvested in the early fall. We eat a lot of winter squash at this time of the year because it is so abundant and widely available fresh in the markets during the fall season.
Tetrazzini usually has mushrooms in it, but I left them out in this recipe. Mushrooms are low in carbs so they could added if desired.
I chose to add a bag of broccoli instead so I could make this a one dish meal since it contains both meat and vegetable. Tetrazzini is a great casserole recipe for using up leftover chicken or turkey because it requires a couple cups of diced cooked poultry.
I didn't have any leftover meat so I poached some chicken breasts to use. Like roasting, poaching keeps the meat juicy and doesn't sear the edges like pan frying. If you are looking for a recipe to use up some Thanksgiving turkey, this one is well suited for it.
The parmesan sprinkled on top of the tetrazzini casserole becomes a bit crusted and brown at the end of baking.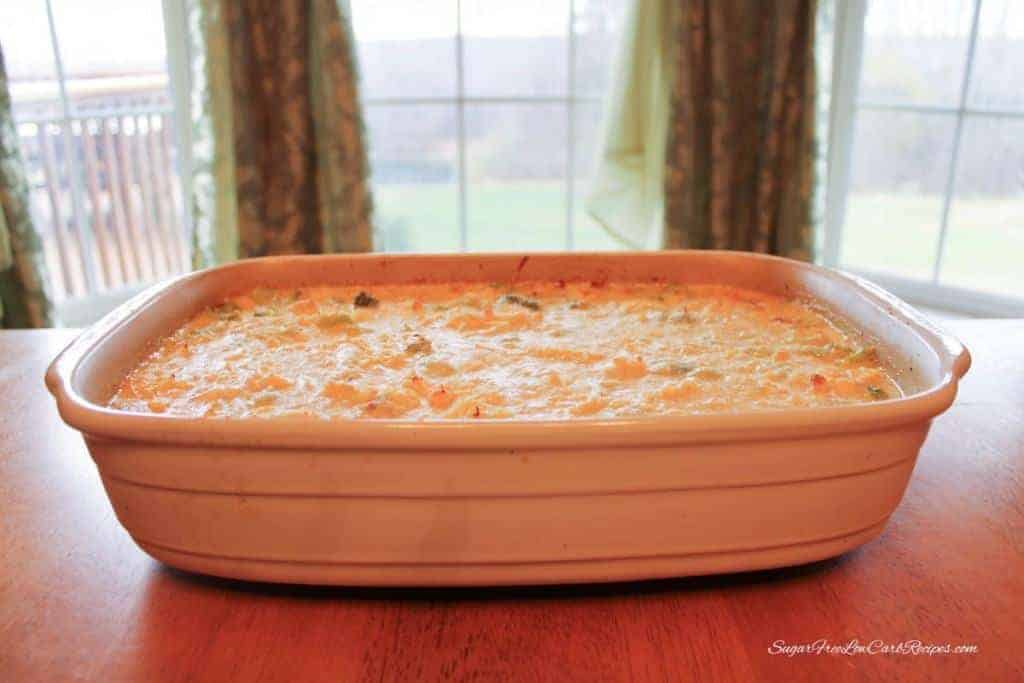 Additional grated parmesan can be sprinkled on top of each serving if desired. The creamy parmesan sauce goes well with the chicken and broccoli.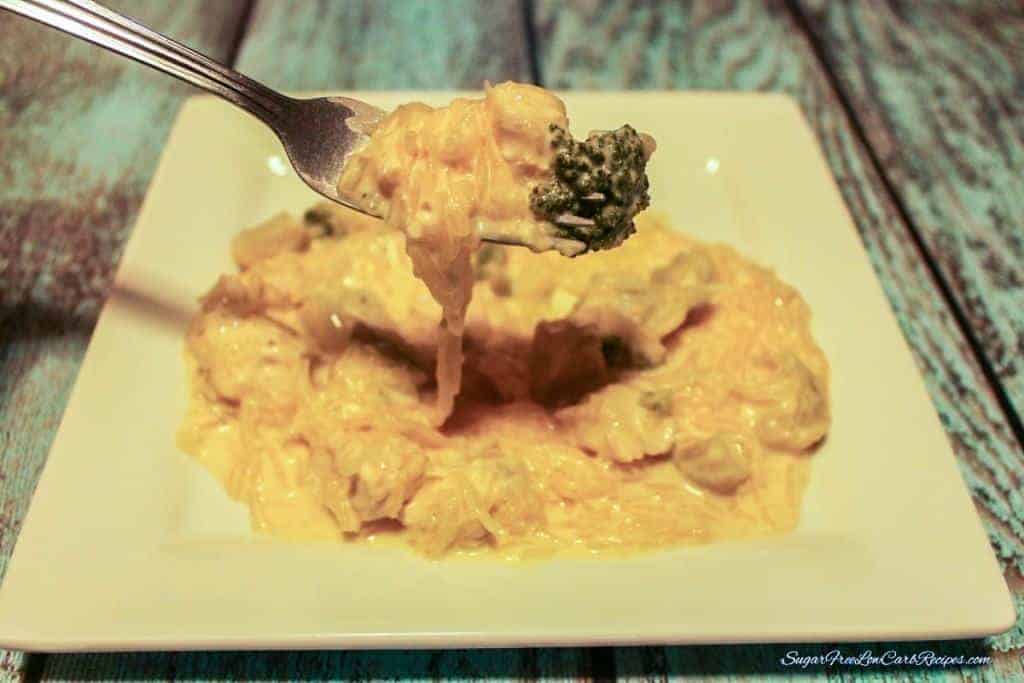 I may be making this super easy chicken tetrazzini casserole dish again after Thanksgiving to use up any leftover turkey meat.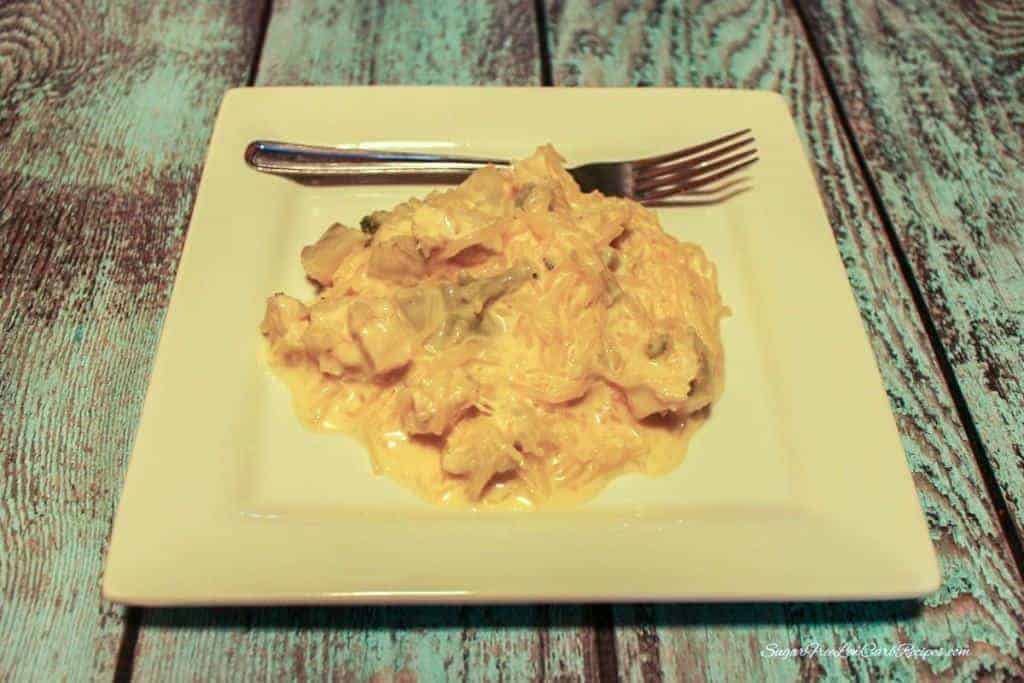 Easy Broccoli Chicken Tetrazzini
This easy broccoli chicken tetrazzini is a great way to use up leftover chicken or turkey. Poached chicken can also be used if no precooked meat is on hand.
Ingredients
7

cups

scooped flesh from baked spaghetti squash

2

pounds

boneless chicken breasts

or cubed precooked turkey or chicken

1/4

cup

butter

1

teaspoon

minced garlic

1

cup

heavy cream

2

tablespoons

dry cooking sherry

1

cup

chicken broth

1

teaspoon

xanthan gum

1/2

teaspoon

salt

1/4

teaspoon

pepper

10

oz

bag frozen broccoli

1/2

cup

grated parmesan cheese
Instructions
Prepare spaghetti squash and set aside 7 cups of the cooked flesh.

If using, poach chicken breasts in boiling water until no longer pink. Cut into cubes after slightly cooled.

In saucepan over low heat, melt butter and saute garlic. Stir in broth, whipping cream, sherry, xanthan gum, salt, and pepper. Heat to boiling, stirring frequently. Stir in spaghetti squash, broccoli, and chicken or turkey.

Pour mixture into ungreased casserole dish. Sprinkle with parmesan cheese. Bake uncovered at 350°F about 30 minutes.
Recipe Notes
Make 6 servings:

Per serving: 356.5 calories, 24.7g fat, 10.7g carbs, 4.3g fiber, 6.4g net carbs, 19.3g protein
Nutrition Facts
Easy Broccoli Chicken Tetrazzini
Amount Per Serving
Calories 356.5
Calories from Fat 222
% Daily Value*
Total Fat 24.7g 38%
Total Carbohydrates 10.7g 4%
Protein 19.3g 39%
* Percent Daily Values are based on a 2000 calorie diet.
Related Posts