It is known as a healthy sweetener, but is honey keto? Keep reading to find out some keto-friendly honey substitutes and more information about this natural sweetener!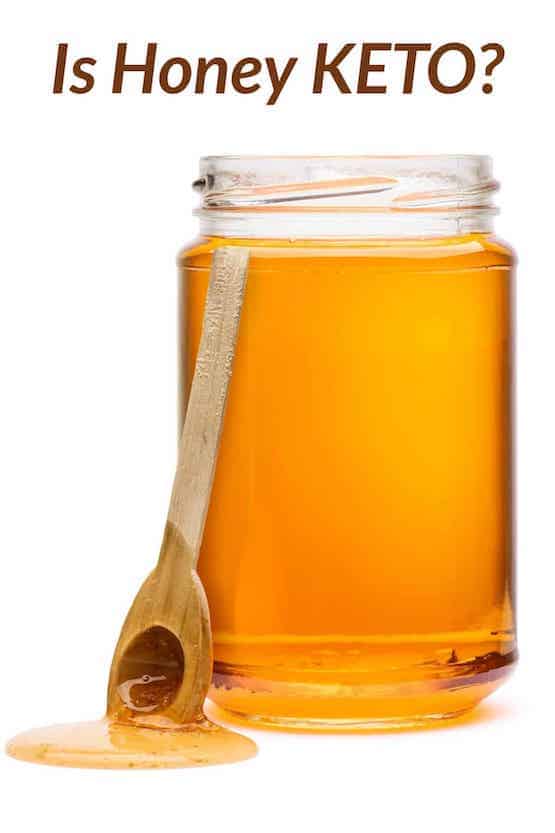 Honey adds a perfect sticky consistency to desserts. Since it is completely natural and made by bees, is it ok to use honey on a keto diet?
In this guide, I'll look really closely at how many carbs there are in honey. Then, I'll share my favorite honey substitutes that you can use as a replacement for honey.
I'll also share some of my favorite low-carb dessert recipes that use honey substitutes and answer some of your more frequently asked questions.
Is honey keto?
It might seem healthier than table sugar, but keto dieters should not consume honey.
There are 17 grams of carbs in 1 tablespoon of honey! Compare that to table sugar that has 15 grams of carbs in a tablespoon.
Eating honey has a different effect on your blood sugar than high fructose corn syrup or cane sugar. It seems healthy because it won't raise blood sugar levels quickly, but it is still not a good idea to eat honey on the ketogenic diet.
Best honey substitutes on keto
Since honey on keto is not a good idea, let's look at the best-tasting artificial sweeteners and natural sweeteners that will lower your carb intake and taste as good as honey.
These are my favorite ones, and I use all of them in different recipes!
1. Liquid stevia
Liquid stevia is one of my favorite low-carb sweeteners because it has the same flavor as honey.
Converting recipes from honey to using stevia can be kinda tricky. It isn't an easy 1:1 ratio. In fact, liquid stevia is so sweet that you need a fraction of the amount.
I suggest only using ¼ teaspoon of liquid stevia for each tablespoon of honey, which is about 6-9 drops.
This sugar-free sweetener is a lot sweeter than honey!
2. Allulose
Allulose is a rare sugar found naturally in certain plants. This sugar-free sweetener has a fraction of the calories of granulated sugar.
It has no impact on blood glucose or insulin levels which makes it a fantastic option on the keto diet.
Use 1 ⅓ of a cup of allulose to substitute ¾ of a cup of honey since it isn't exactly as sweet as honey. You can even buy a honey flavored allulose syrup.
3. Monk fruit sweetener
The next one is a natural sweetener derived from a plant called monk fruit that grows in China.
It is sweeter than honey, so you can get away with using less. In fact, mix ¾ cup of monk fruit sweetener with ¼ cup of water to replace 1 cup of honey.
4. Erythritol
Another one of the most popular types of artificial sweeteners is erythritol, which is a naturally-occurring sugar alcohol made from corn using enzymes and fermentation.
This can easily replace traditional table sugar and honey in almost any recipe you make!
It isn't as sweet as honey, so you will have to use more of it. So I'd use 1 ½ cups of erythritol for every cup of honey.
5. Nature's Hollow sugar-free honey substitute
Another really popular honey substitute on the keto diet is the Nature's Hollow. It is sweetened with xylitol and includes a honey flavoring so that the consistency and flavor are a 1:1 replacement for honey.
Lots of people enjoy how easy this option is to use; others prefer to avoid xylitol.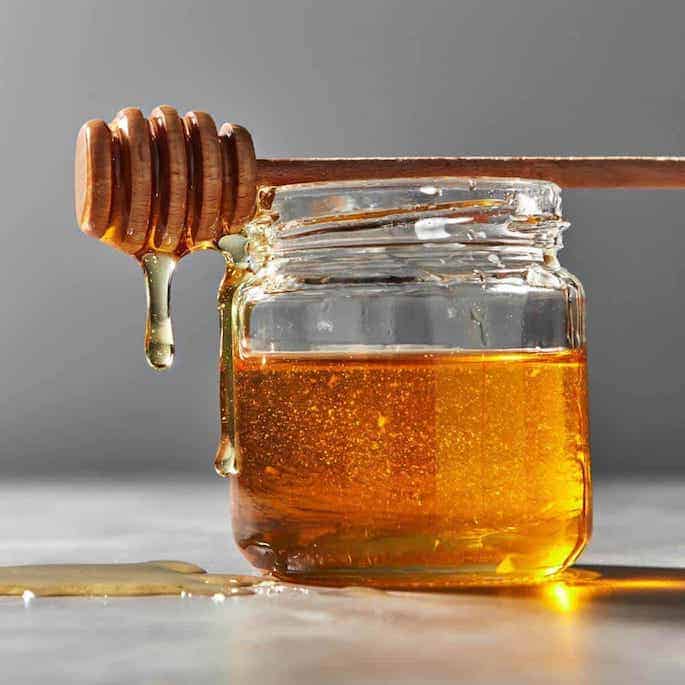 Keto honey tips
Pay attention to texture. Some recipes need a liquid sweetener in order to create a glaze or to avoid a gritty consistency.
Taste recipes as you make them. Some types of sweeteners are not as sweet as honey, so taste them as you go and add more if you want it to taste sweeter.
Follow the recipes. I try to give accurate measurements that will make the recipes turn out the best, so when you are in doubt, follow the recipes on this blog exactly.
FAQS
Here are some questions people often ask about honey and the ketogenic diet. If you don't see your question in this list, please leave it in the comments.
Is raw honey ok on the keto diet?
This goes back to the original question, "is honey keto?" The answer is the same. No, raw honey is not a good idea on the keto diet because there are still way too many carbs in it. It is better to choose one of the substitutes in this post instead.
Is maple syrup ok on the keto diet?
No, maple syrup might be a healthier alternative to white sugar, but the extra carbs in maple syrup make it a bad idea on keto. So if you are on a low-carb diet, I suggest using erythritol or monk fruit sweetener instead.

Or, try making this keto maple syrup!
Is coconut sugar keto-friendly?
Coconut sugar has the same sweet taste as local honey, but it is not a good idea if you are counting macros. One teaspoon has 4 grams of carbs. If you can be careful with your macros, you might be able to use it, but it's just easier to avoid it.
Is honey healthy?
Honey is a natural sweetener derived from honeycombs. There are a lot of health benefits associated with consuming honey instead of other sweeteners, but those benefits don't help when you want to stay in ketosis.
Will honey kick me out of ketosis?
Yes, honey has so many carbs in one tablespoon that it could kick you out of ketosis! You should not eat honey on the keto diet.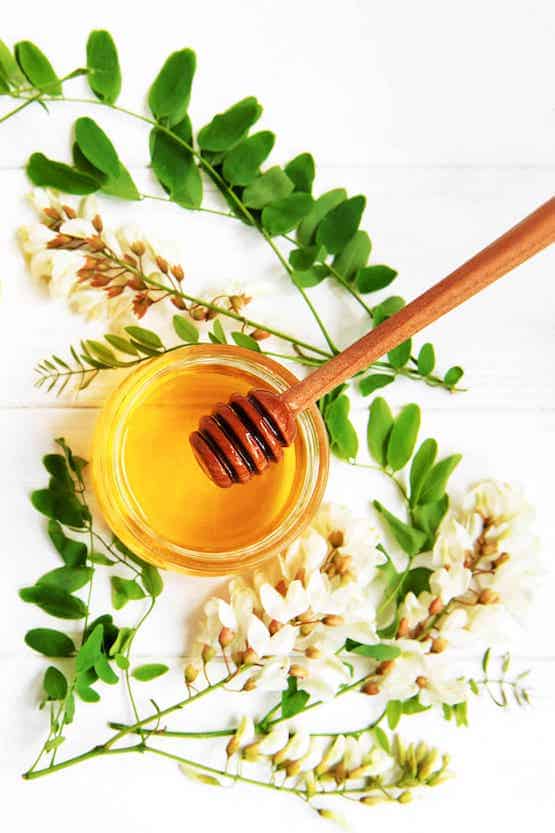 Related recipes
If you are craving some low-carb sweets, then I have some keto dessert recipes you should try next. All of them use a honey substitute and have a delightful flavor.
Follow us on FACEBOOK, PINTEREST, and INSTAGRAM for even more tasty keto-friendly recipes!