Broccoli is a vegetable after my own heart; it's versatile to cook with, has various health benefits, and is downright delicious when prepared right. But is broccoli keto-friendly? Read on to find out if you can enjoy this nutrient-dense veggie on your keto diet.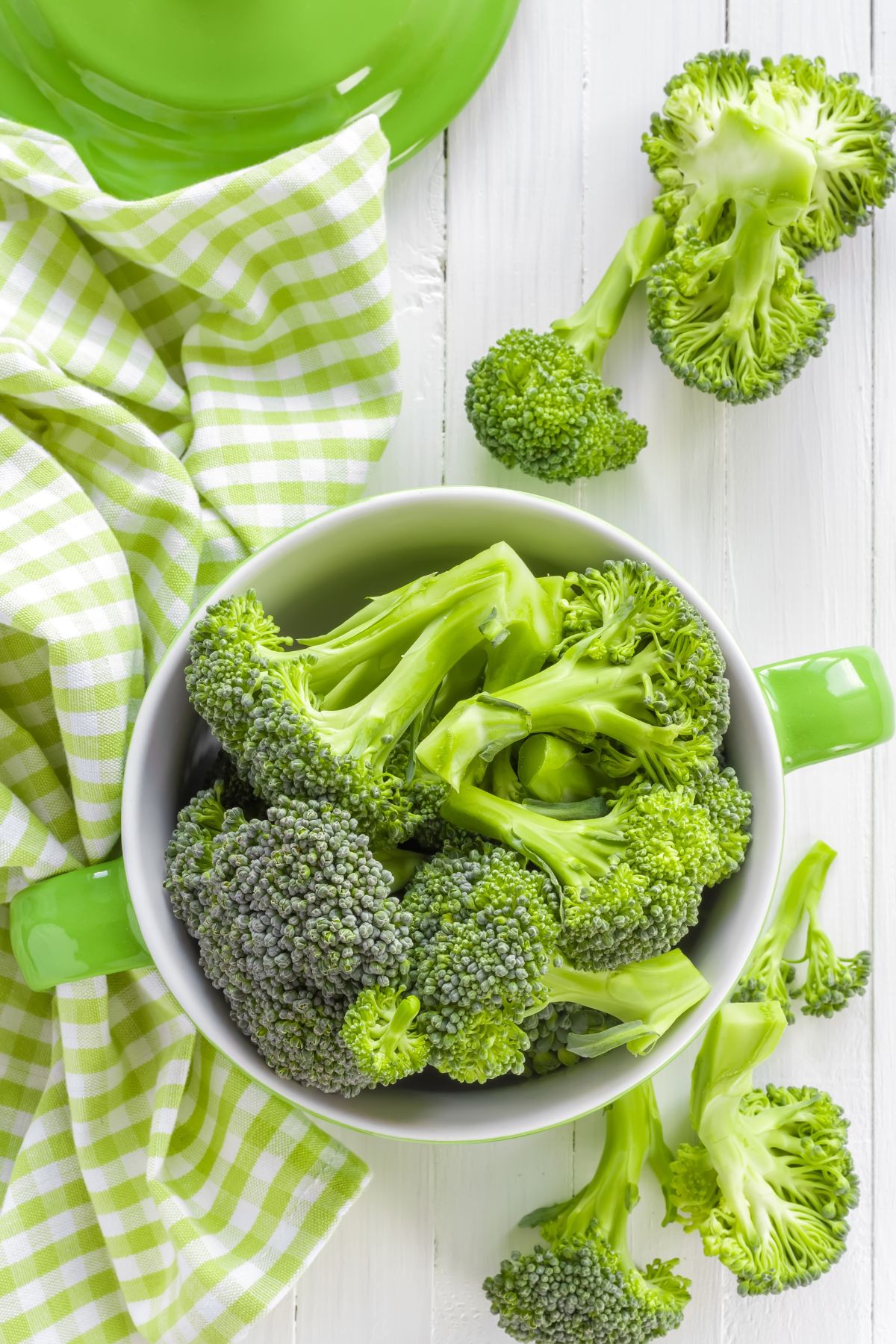 When following a ketogenic diet, you have to be a little extra picky with your food choices – it isn't as simple as avoiding processed, unhealthy foods.
Sometimes, something as healthy as a vegetable can break your ketosis!
Low-carb diets are designed to help you lose weight through a meal plan with low-carb foods and lots of healthy fats. But some vegetables just don't fit the criteria.
We know that dark greens, like broccoli, are superstars in the nutrient arena. But does broccoli have a low enough carb count to be suitable for a keto diet? Today, we're going to find out!
In this post, I'll share nutrition information, health benefits, and keto vegetable recipes to help you with your low-carb diet.
Note: Check out the best keto vegetables for more low-carb veggie ideas. For even more food groups, the keto food list is perfect for anyone starting the keto diet.
Is broccoli keto-friendly?
It's your lucky day – broccoli is keto-friendly!
With just 3.6g of net carbs per 1 cup of broccoli, this versatile vegetable can be enjoyed on any ketogenic diet.
Steam a head of broccoli for a tasty side dish, add it to a stirfry or eat it raw with some keto dill ranch. With this vegetable, the possibilities are unlimited!
Broccoli nutrition facts
Broccoli is an extremely nutritious vegetable with various health benefits; its macronutrients make it suitable and beneficial for a ketogenic diet.
One cup of raw broccoli contains:
Protein: 2.5g
Carbs: 6g
Net carbs: 3.6g
Fiber: 2.4g
Broccoli also contains significant amounts of vitamin C, vitamin K, folate, potassium, and iron which are all vital nutrients to include in your diet!
Other reported health benefits include lower cholesterol levels, improved eye health, and cancer prevention.
Broccoli keto recipes
Ready to include some delicious broccoli recipes in your meal prep? Because I'm such a fan, I have plenty of keto broccoli recipes available for you to try.
Here are a few of my favorites:
Slow Cooker Beef and Broccoli
My slow cooker beef and broccoli recipe is super quick to make; add the ingredients to your crockpot, and your prep work is complete!
This makes a wonderful weekday meal with tender beef and flavorful broccoli.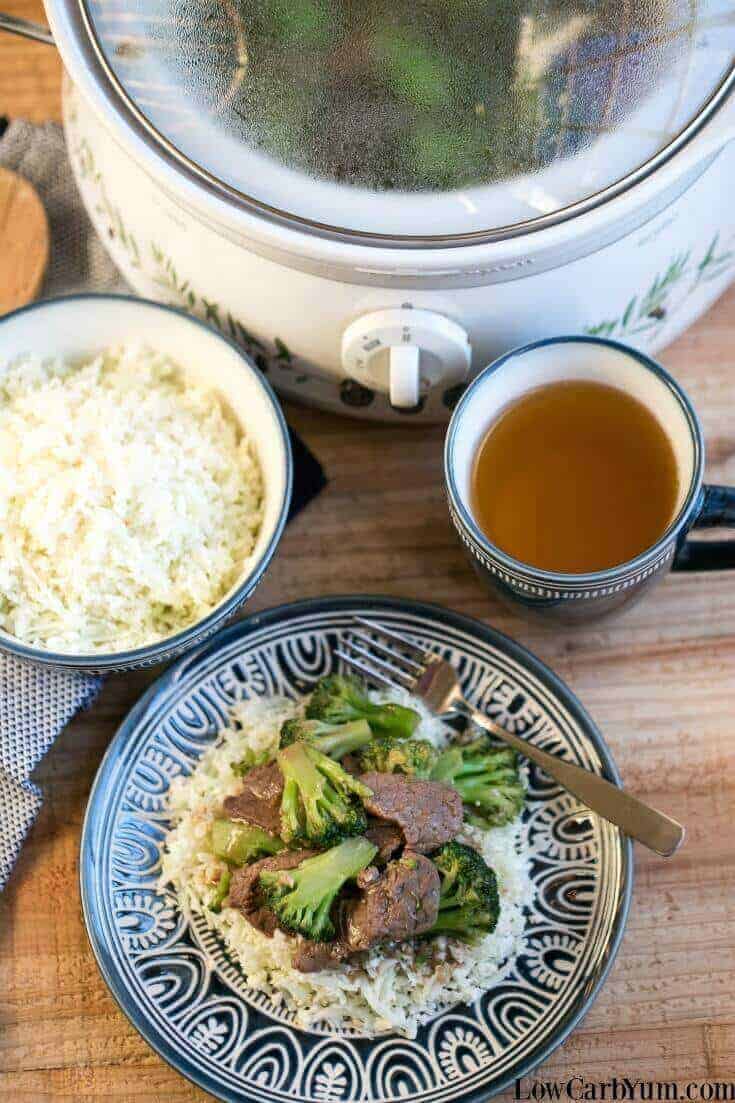 Keto Broccoli Salad Recipe With Bacon And Cheddar
My broccoli salad with bacon and cheddar isn't your everyday salad. This one is packed with cheddar cheese, bacon bits, and a sweet and tangy dressing.
Broccoli florets give it great nutritional value in addition to these high-fat ingredients.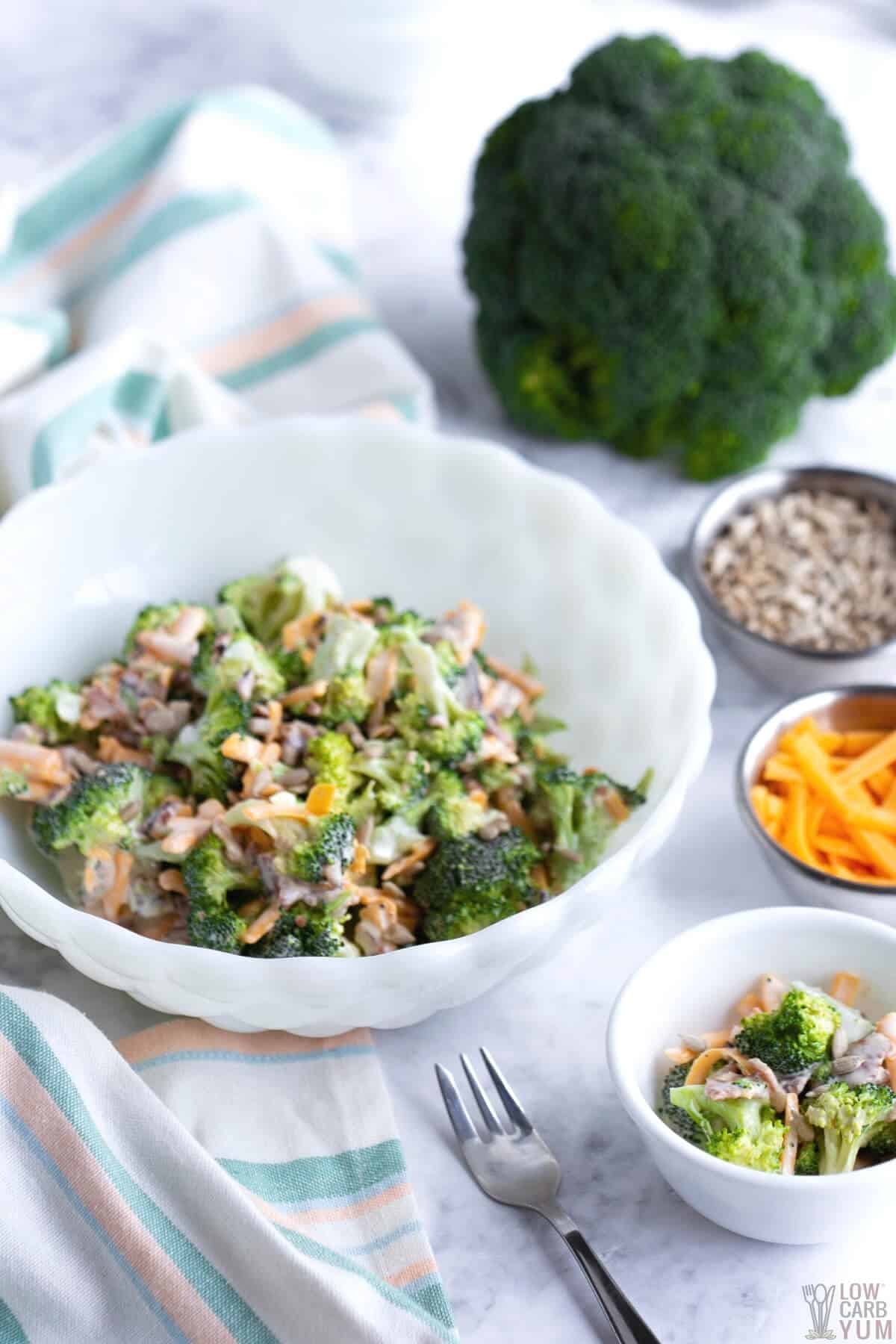 Cheesy Broccoli Cauliflower Soup With Sausage
This cheesy cauliflower, broccoli, and sausage soup is warm, comforting, and pretty darn indulgent on a cold winter's day.
It's filled with vegetables, creamy broth, bacon, sausage, and cheese for a combination that can't be beaten.
You can even swap out the meat for some Mexican soy chorizo for a meat-free Monday meal!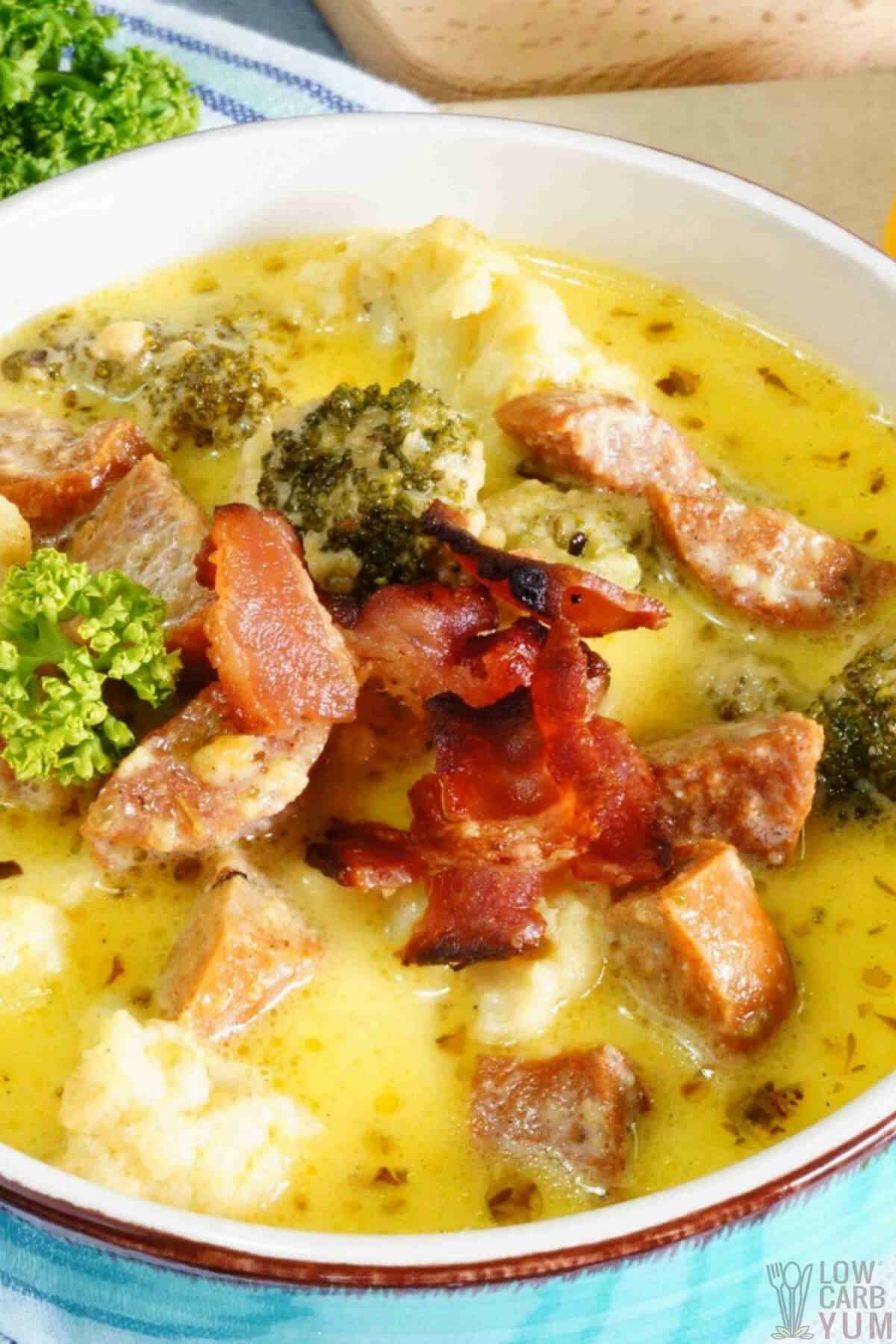 Dehydrated Cauliflower Rice and Broccoli Rice
This cauliflower and broccoli rice dish combines two keto super-veggies for a clever rice substitution.
I enjoy dehydrated rice because it's easy to store in the pantry and takes just 15 minutes to cook!
Try it alongside a tasty main dish like my pulled pork stuffed peppers.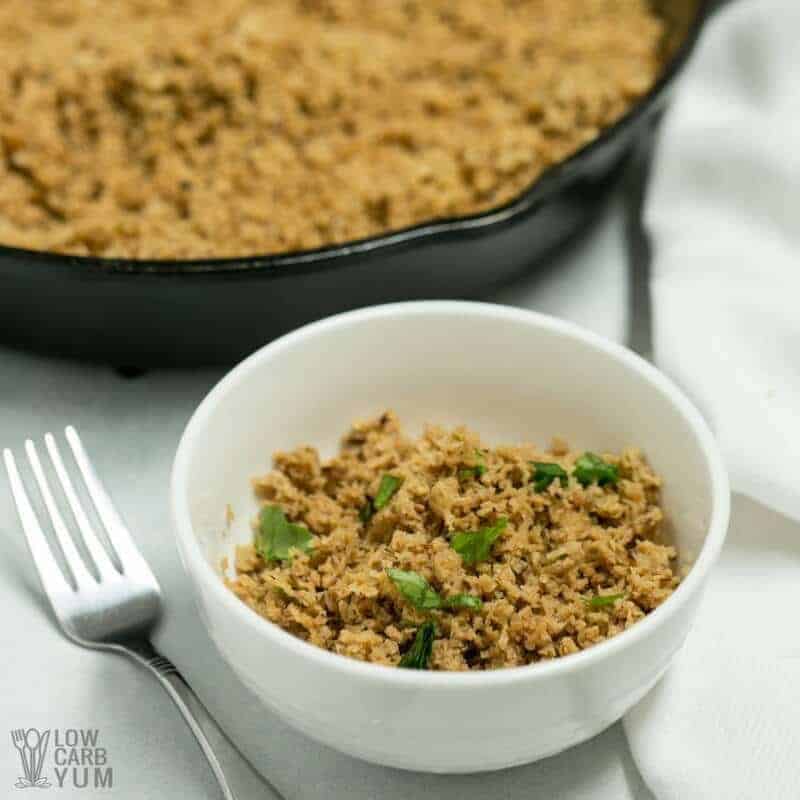 Ham and Broccoli Quiche with Cheese
This cheesy ham and broccoli quiche brings a keto twist to a classic dish.
The crust is made from almond flour, parmesan cheese, eggs, and a couple of extra ingredients for a naturally gluten-free alternative.
Although, the true star of this quiche is the filling! It's made with heavy cream, broccoli, eggs, ham, and a tasty cheese blend that'll have you begging for seconds!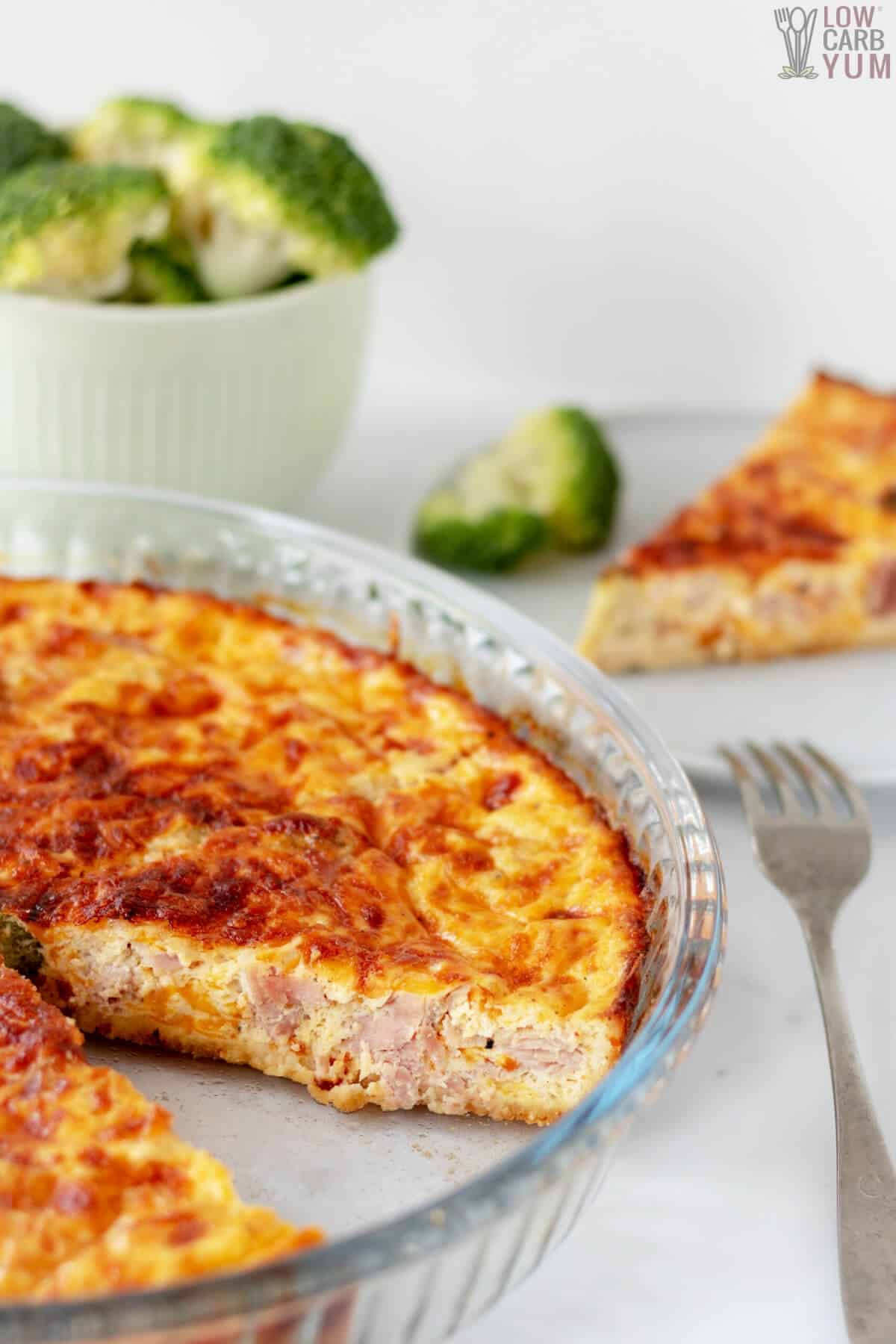 Cheesy Broccoli Spaghetti Squash Casserole
If you're interested in a keto-friendly casserole that the whole family will love, you need to try my broccoli spaghetti squash casserole.
It combines sharp cheddar, sour cream, spaghetti squash, and frozen broccoli for a fan-favorite dinner option.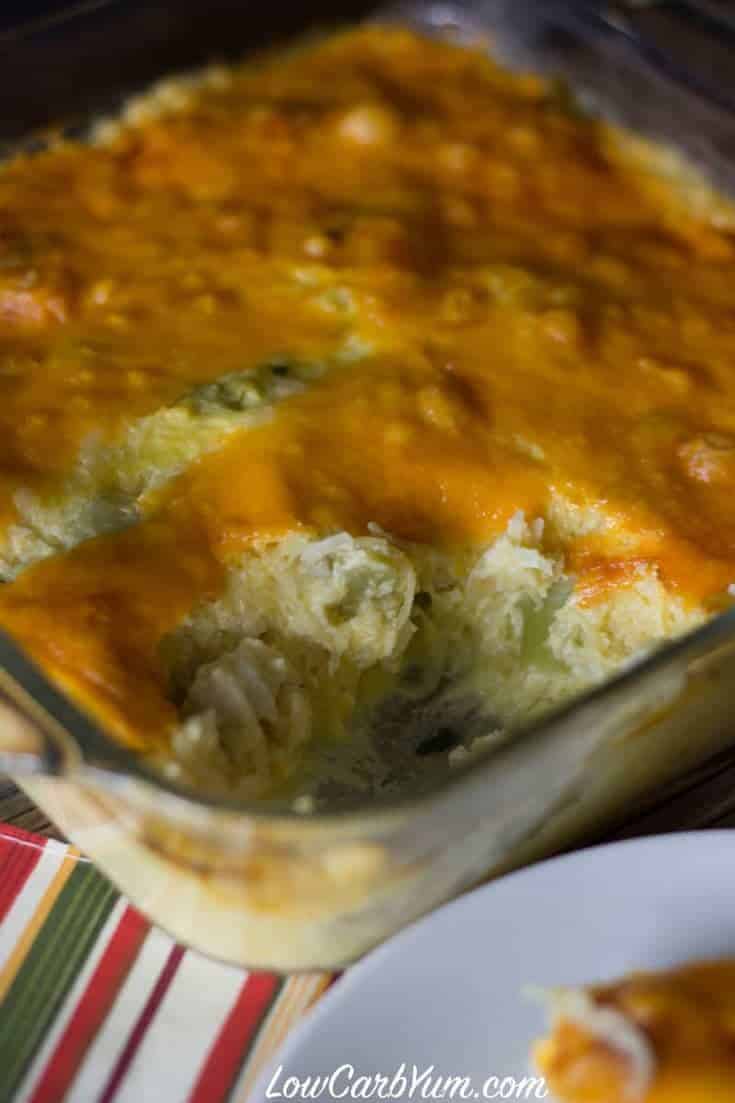 FAQs
Here are some questions people often ask about eating broccoli on the keto diet. If you don't see your question in this list, please leave it in the comments.
What veggies are not keto?
While all vegetables are nutritious, they're not all suitable for a ketogenic diet. Certain vegetables contain high carb counts, starches, and sugars that are not compatible with a keto diet.
Some veggies to avoid while on a ketogenic diet include:
Sweet potatoes
Corn
Potatoes
Carrots
Peas
How many net carbs are in broccoli?
Net carbs refer to the total carbs minus the dietary fiber.
There are just 3.6 net carbs per 1 cup of broccoli. Thank you, veggie gods!
What are cruciferous vegetables?
Cruciferous vegetables refer to the Brassica vegetable group. They are both rich in nutrients and also happen to be keto-friendly!
Cruciferous vegetables include:
Broccoli
Cauliflower
Brussels sprouts
Arugula
Kale
Turnips
Cabbage
Bok choy
Radish
How much broccoli can I eat on a keto diet?
Because it is so low in net carbs, you can eat broccoli in every meal if you fancy it!
Most low-carb diets ask that you eat less than 50g of carbs per day; this means fitting its 3.6g net carbs per serving is super easy.
Try adding more broccoli to your diet for extra nutrients without the extra carbs.
Is cauliflower or broccoli better for keto?
Cauliflower is nutritionally pretty similar to broccoli, with about 3.2 net carbs per cup. Because of this, I wouldn't say either are better than the other; they both make wonderful, nutritious additions to any ketogenic diet.
Related recipes
Now that we've answered "is broccoli keto?", you may want to check out some other keto-approved veggies.
Peek at these related posts:
Follow us on FACEBOOK, PINTEREST, and INSTAGRAM for even more tasty keto-friendly recipes!