Navigating a restaurant menu can be stressful when trying to follow a strict diet. I've taken the stress out of the equation with my very own Chili's keto menu! Use this information to guide your order and help you eat keto at Chili's.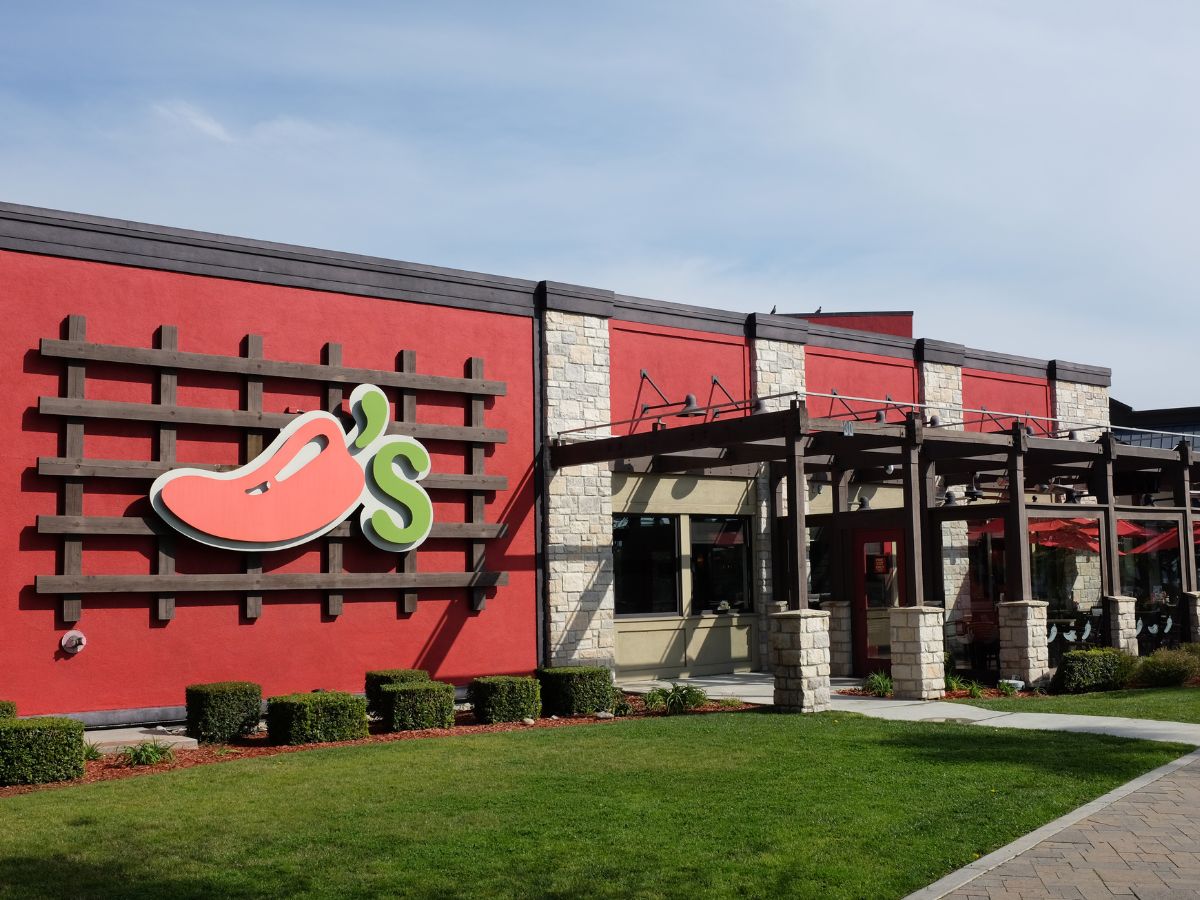 Chili's has an extensive menu that is both the keto dieter's friend and worst nightmare.
On one hand, it has tons of amazing options for you to try and enjoy. On the other, it's hard to navigate and choose the best low-carb options for your needs.
Luckily, I've done the work for you!
Read on to find the best things to eat at Chili's on keto with ordering tips, nutritional information, and items to avoid.
Looking for more keto fast food restaurants? I have a bunch of keto tips for eating on the go, including how to eat fast food at Wendy's, Wingstop, Starbucks, and Dunkin' Donuts.
Best keto options at Chili's
Keep your macros in check, even while eating out, with these low-carb options at Chili's.
While I break down the best (and worst) options below, if you want more information, check out their full menu here.
Chili's keto main dishes
At Chili's, you won't be scraping by on sides. Several main dishes are keto-friendly (with a couple of tweaks, of course).
1. Big-mouth burgers
There are several keto-friendly burgers available at Chili's. Simply ask to remove the bun and double-check that your sauce is low in carbs (I'll let you know below if it needs to be swapped!).
Ditch the carb-laden fries and up the ante with a tasty side dish like a side house salad, steamed broccoli, or asparagus.
Alex's Sante Fe burger - 6g net carbs, 44 g protein, 54g fat
Boss Burger (remove BBQ sauce) - 8g net carbs, 85g protein, 95g fat
Just Bacon Burger - 5g net carbs, 48g protein, 63g fat
Mushroom Swiss Burger - 5g net carbs, 45g protein, 62g fat
Oldtimer Burger with Cheese - 4g net carbs, 44g protein, 47g fat
2. Classic ribeye
For the classic ribeye, skip the mashed potatoes and ask for steamed broccoli only. You can even ask for extra broccoli or a side house salad for a low-carb substitute.
Classic Ribeye - 0g net carbs, 67g protein, 40g fat
3. Classic sirloin
You can enjoy a classic sirloin with garlic butter and steamed broccoli. Don't forget to ask for no mashed potatoes!
Classic Sirloin - 0g net carbs, 38g protein, 13g fat
Sirloin with Grilled Avocado - 8g net carbs, 38g protein, 16g fat
4. Salads
When ordering your salad, ask to remove the croutons and opt for a low-carb keto dressing.
Tracking your macros? Don't forget to account for any additions like dressings or avocado slices.
Caesar Salad (with dressing) - 6g net carbs, 3g protein, 14g fat
House Salad (without dressing) - 7g net carbs, 3g protein, 3g fat
5. Grilled fajitas
When ordering these grilled fajitas, ask to remove flour tortillas to keep things low-carb. Add guacamole, salsa, pico de gallo, and sour cream for extra flavor.
Grilled Steak Fajitas - 2g net carbs, 27g protein, 9g fat
Chicken Fajitas - 1g net carbs, 28g protein, 3.5g fat
Shrimp Fajitas - 1g net carbs, 11g protein, 2g fat
6. Sandwiches
When ordering Chili's sandwiches, ask to remove the bun. Luckily, the sauces are typically a-ok!
These sandwiches are topped with yummy low-carb veggies and cilantro pesto mayo.
California Turkey Club - 6g net carbs, 23g protein, 31g fat
Bacon Avocado Grilled Chicken Sandwich - 8g net carbs, 43g protein, 32g fat
7. Smokehouse combos
With a Chili's smokehouse combo, you get the choice of two types of smoked meats with every order. And, if the net carbs seem a bit high for your needs, ask to have the BBQ sauce removed.
Jalapeno Cheddar Smoked Sausage - 3g net carbs, 21g protein, 31g fat
Smoked Brisket - 5g net carbs, 16g protein, 22g fat
Ribs Original BBQ - 10g net carbs, 49g protein, 53g fat
Cheesy Bacon Barbeque Chicken - 12g net carbs, 16g protein, 22g fat
Chili's keto sides and appetizers
There are very few low-carb appetizers at Chili's, so you need to get a little creative in your ordering.
Choose between these options for a keto side or app:
Bone-In Buffalo Wings - 3g net carbs, 72g protein, 65g fat
Seared Shrimp - 1g net carbs, 11g protein, 2g fat
Grilled Chicken Dippers - 2g net carbs, 28g protein, 20g fat
Side Salad & Ranch Dressing - 7g net carbs, 4g protein, 21g fat
Side Celery & Ranch Dressing - 2g net carbs, 1g protein, 18g fat
Chilli's keto extras
Customize your Chili's meal with the low-carb toppings of your choice.
These keto extras make great additions to your plate, particularly when you're removing filling elements like buns, tortillas, and high-carb sides.
1. Cheese
I love adding extra cheese to my meals because it adds some fat content and additional flavor. At Chili's, you can choose to add:
American cheese
Cheddar cheese
Pepper jack cheese
Swiss cheese
2. Fruit & veggies
A little boost of nutrition never hurts anyone! Choose from these fruits (yes, avocado is a fruit!) and veggie add-ons to add some satiating power to your meal. Try:
Avocado slices
Garlic dill pickles
Pickles
Roasted asparagus
Sauteed mushrooms
Double steamed broccoli
3. Extra protein
When in doubt, protein is sure to fill you up! Add an extra patty to your burger or additional protein to your meal. Low-carb protein additions include:
Applewood smoked bacon
Classic beef patty
Chili's keto sauces and dressings
Choose between these low-carb sauces for your salads, bunless sandwiches, and more!
Ancho chile ranch
Avocado ranch
Blue cheese dressing
Caesar dressing
Cilantro pesto mayo
Fresh guacamole
Garlic aioli
Ranch dressing
Salsa
Santa Fe dressing
Sour cream
Wing sauce
Chili's keto drinks
A low-carb drink is the necessary finishing touch to any meal out!
These are some suitable keto drinks at Chili's:
Low-carb beer
Bloody Mary
A glass of wine (red or white)
Sugar-free soda
Coffee
Water
Items to avoid at Chili's
When perusing the Chili's menu, I recommend you avoid these items at all costs! They're all high in carbs and could affect your ketosis.
Boneless wings
Chili
Crispy chicken
Desserts
French fries
High-carb dressings

Honey lime vinaigrette dressing
House BBQ sauce

High-carb salads

Sante Fe Chicken Salad
Southwest Chicken Caesar Salad
Quesadilla Explosion Salad

Mashed potatoes
Mexican rice
Nachos
Soups
Sugary drinks
Tortilla strips
How to order keto at Chili's
Okay, so we know the do's and don'ts of eating keto at Chili's. But how do you actually go about ordering?
Use these guiding tips to help you create a delicious, low-carb meal.
1. Think protein
Protein makes the perfect low-carb base for any meal.
Begin with your protein of choice and build up from there!
2. Use add-ons
Add-ons are our best friend when following a ketogenic diet; they help us manage our macros to get us where we need to be.
Besides additional macronutrients, they also help our meals feel more complete, especially when we're removing high-carb components from dishes.
Add extra cheese, protein, or vegetable sides to your main dish.
3. Remove the bread
The most efficient path to a low-carb meal is to remove anything resembling bread. This goes for buns, wraps, tortillas, and more.
4. Choose a low-carb sauce
Sauces often contain sneaky added sugars that contribute to a high carb count.
Make sure you choose from my list of keto-approved sauces to add flavor to your meal.
5. Hydrate wisely
Sugary drinks are a no-go on the ketogenic diet. Opt for water, sugar-free soda, or a low-carb alcoholic beverage.
FAQs
Here are a few answers to the most frequently asked questions about eating keto at Chili's. If you don't see your question in this list, please leave it for me in the comments.
Are Chili's boneless wings keto?
The Chili's boneless wings are a total tease! Their sauce options are all high in sugars and, therefore, high in carbs. Instead, try their bone-in buffalo wings for a keto option.
Is Chili's Margarita Grilled Chicken keto-friendly?
Though this dish is technically on the "Guiltless Grill" section of the menu, that doesn't mean that it is suitable for a keto diet.

Because this dish is served with high-carb foods like black beans, rice, and tortilla strips, it contains 58g net carbs. Instead, I'd recommend the chicken fajitas with a couple of low-carb side dishes.
Are Chili's chips keto-friendly?
Chili's tortilla chips are definitely not keto-approved. One order includes 105g net carbs; this is way over the recommended daily carb intake on a keto diet.
Is Chili's salsa keto-friendly?
Chili's salsa contains just 5g net carbs and can easily fit into your daily carb count. It makes a great addition to low-carb fajitas, along with avocado slices and sour cream.
If You Like This Post, Check These Out!
If reading all about eating keto at Chili's has you craving casual, American fare, here are some low-carb recipes you can make at home! All of them will effectively replace anything you can order at the chain.
Follow us on FACEBOOK, PINTEREST, and INSTAGRAM for even more tasty keto-friendly recipes!
First Published: January 25, 2023... Last Updated: September 18, 2023, with additional recipe information.