Hosting pizza night? I got you covered. Here are the best food and drinks you can order when you are eating keto at Blaze Pizza. From sides to the pizza itself, it's possible to eat low-carb - even at a pizza chain!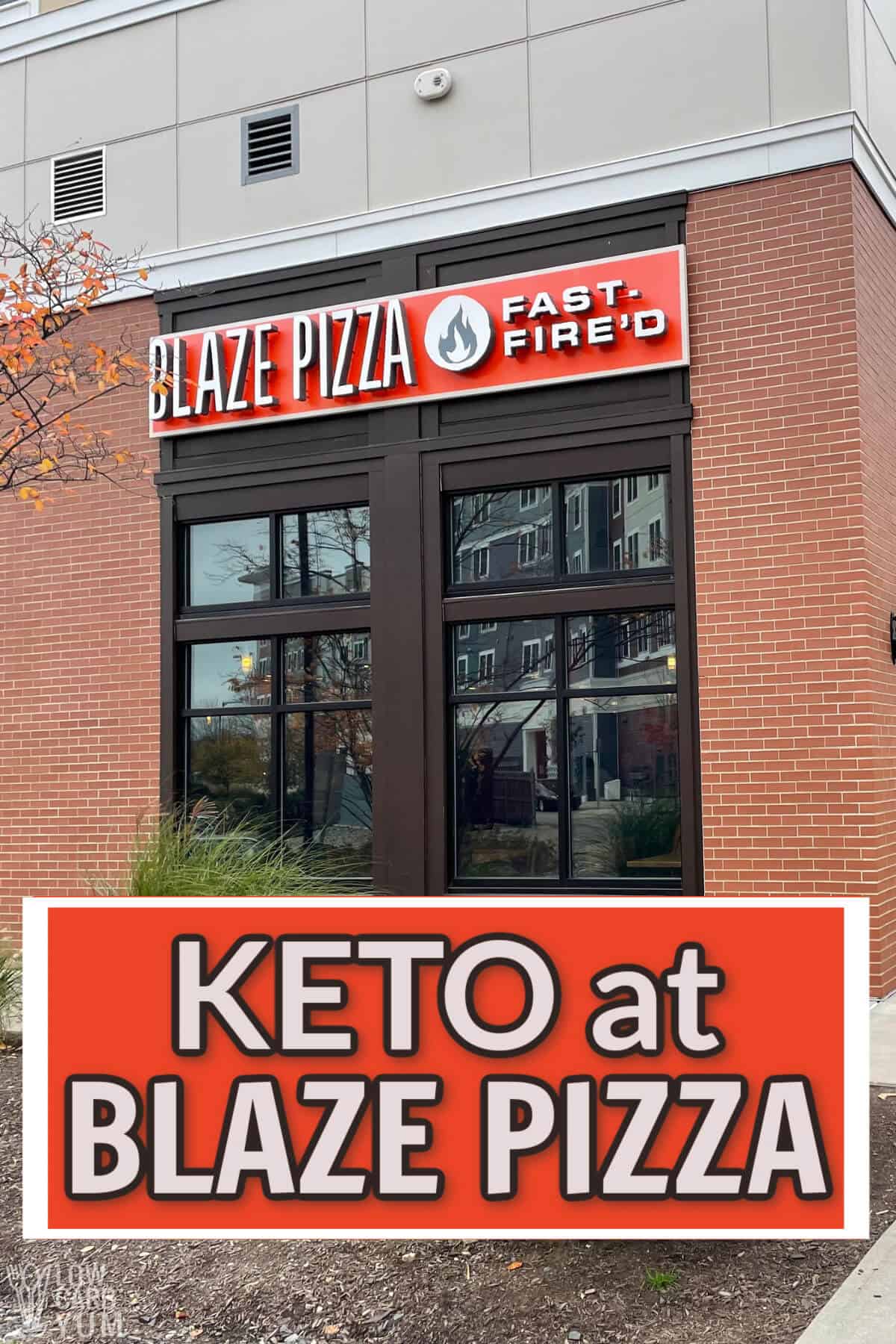 Article Index
When you are in the mood for some amazing brick oven customized pizza, you can't get better than Blaze Pizza! They have in-house specialty pizzas, fresh salads, and a 'build your own pizza' option too.
What sets them apart from other pizza joints is that they make everything right in front of you. You have the option to pick out your must-have toppings (at no extra cost and as many as you want). Then, you can add finishing touches after it comes out of the oven.
They are a wonderful option for anyone on a low-carb diet because they have a super-popular keto crust! They also have vegan pizza and gluten-free crusts made out of cauliflower.
If you have ever wondered what the Blaze Pizza keto crust tastes like, I'll break it down for you in this post. Here's how to order lunch or dinner at there to stay on track with your ketogenic diet.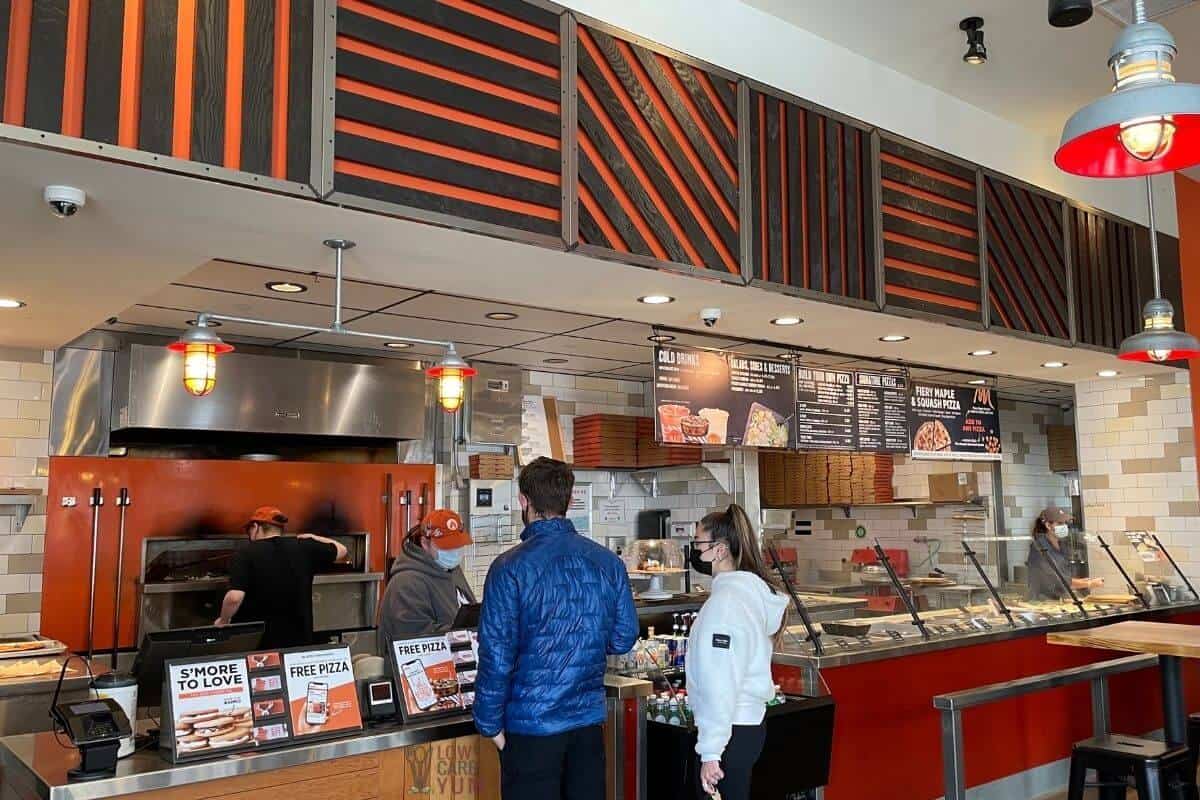 Lunch and dinner
Blaze Pizza specializes in quick brick oven pizza that you build yourself from the crust up. With all the options they offer, there are a bunch of different types of pizza you can create.
Now, with that said, not every topping or sauce is going to be keto-friendly. Here is a menu breakdown of the low-carb friendly items you can order there.
Note: You can use Blaze Pizza's mobile app to place your order!
Blaze Pizza keto crust
Besides their original dough, the keto crust is the most amazing thing to happen at Blaze Pizza. This pizza keto crust only has 1g net carbs in each serving! That's pretty astounding.
Unfortunately, the cauliflower crust is not a keto pizza crust. It has 14g net carbs in each 11-inch pizza. You might be able to eat one slice, but when you are on the keto diet, each gram counts.
It's best to just order the keto crust and make yourself a high protein pizza!
️ Toppings
When it comes to all of the toppings, you have to be mindful of what you out on your keto pizza.
Vegetables
Any of the vegetables are going to be low in carbs. I personally love to add spinach, black olives, red onions, green bell peppers and mushrooms to my keto pizza.
Gotta load up on the veggies and it makes it extra filling!
The only veggies that I would keep an eye on are the cherry tomatoes, especially if you are planning to add tomato sauce as the base on the keto crust.
Fruit
I know fruit sounds a bit weird but Blaze Pizza also offers pineapple!
It's okay to add pineapple to your keto-friendly pizza, as long as you don't add too many. Pineapple is really high in carbs and natural sugar. It also depends how strict you are on your low carb diet.
Cheese
Have fun adding any type of cheese that you want!
This is one of the more options that are high in fat and low in carbs.
At Blaze Pizza, they have a variety of different types:
Feta
Goat
Parmesan
Ricotta
Low moisture mozzarella cheese
Shredded vegan cheese
Protein
And, last but not meats, meats! Here is the nutritional breakdown of the meats you can add to your low fat high protein pizza.
Applewood bacon: 0g net carbs
Grilled chicken: 0g net carbs
Italian meatballs: 1g net carbs
Italian sausage: 0g net carbs
Pepperoni: 0g net carbs
Salame: 0g net carbs
Smoked ham: 0g net carbs
Spicy vegan chorizo: 0g net carbs
Finishes
After your pizza comes out of the brick oven, you can ask them to add some finishes on top. Here are the finishing toppingsthey offer, along with how many carbs they have.
Arugula: 0g net carbs
Balsamic glaze: 1g net carbs
BBQ drizzle: 1g net carbs
Buffalo sauce: 0g net carbs
Chipotle ranch drizzle: 0g net carbs
Frank's red hot: 0g net carbs
Pesto: 0g net carbs
Olive oil: 0g net carbs
Ranch: 0g net carbs
Sauces
Did you know you don't have to add red sauce to your keto crust? You have options!
There are four different types of sauce you can use on your pizza.
Here's the nutrition information for them.
Classic red sauce: 1g net carbs
Spicy red sauce: 1g net carbs
White cream sauce: 0g net carbs
Garlic pesto sauce: 0g net carbs
Salads
Like other fast food restaurants, they also offer simple salads with different types of dressing. Their salad options vary by season and location, so it is nearly impossible for me to create a list of the kinds they offer.
When you order a salad, ask for the dressing on the side and ask for no croutons.
Some types of salad might come with fresh fruit or quinoa or other types of seasonal produce. Just make sure that you order a type of salad that is made with low-carb ingredients!
Drinks
The best thing to drink will always be water. If you want something else, these are the low-carb drink options at Blaze Pizza.
Diet lemonade
Unsweetened iced tea
Coke zero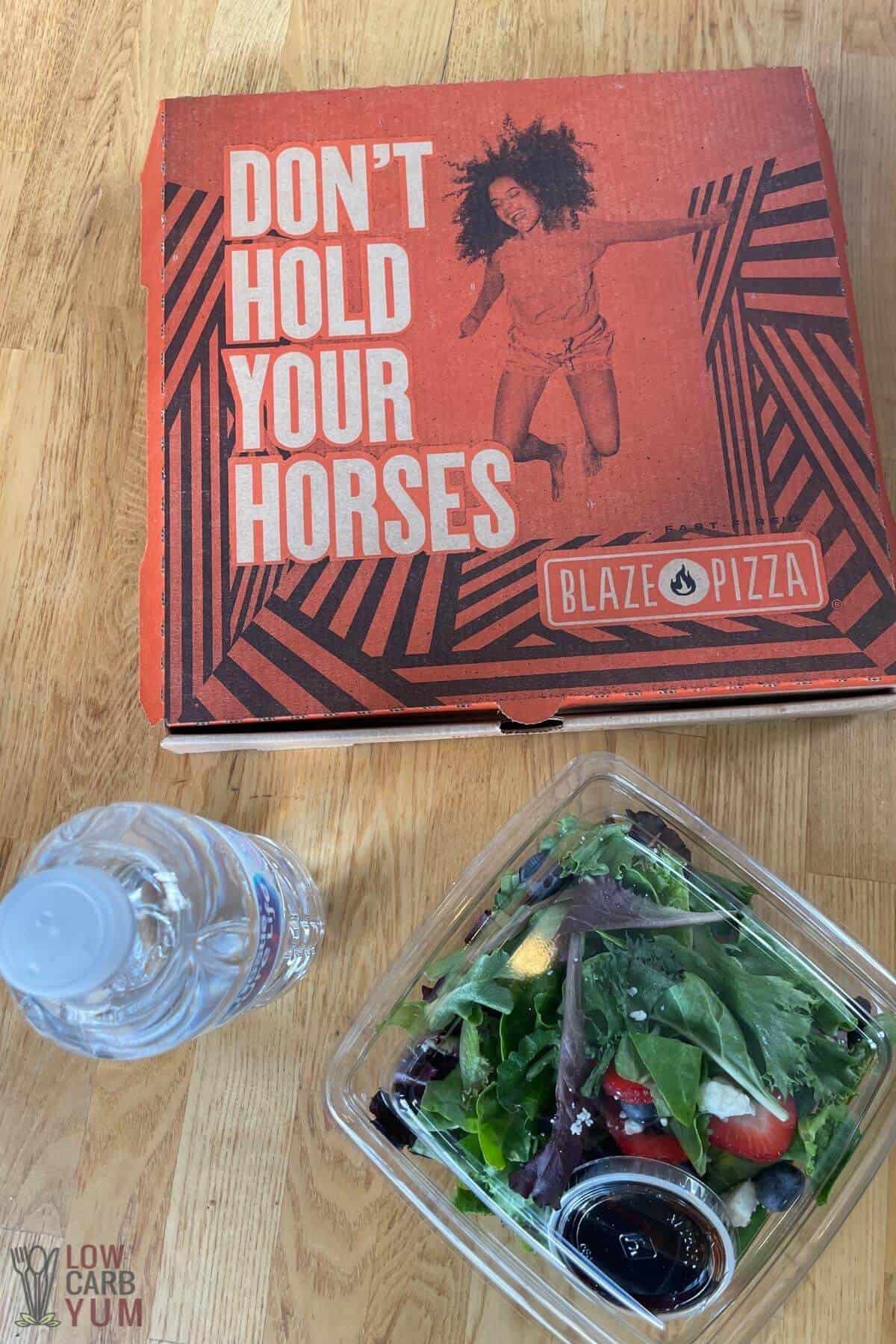 Ordering tips
Here are my best tips for how to order from Blaze Pizza when you are on the keto diet.
1. Build your own pizza.
Don't rely on their specialty pizzas - it's best to build your own! This is mainly because when you make your own, you can control how many carbs you are consuming.
Start with the keto crust, then add your favorite toppings. You can even make it a vegetarian pizza and use vegan cheese if you want.
That's the beauty of the BYO keto pizza.
2. Do not order dessert.
Unfortunately, they do not have any keto-friendly desserts. Just avoid them, and you'll be good.
3. Do not order dough knots.
Their dough knots aren't made with the keto crust, so steer clear of them. They have way too many carbs to be keto-friendly.
4. Avoid alcohol.
Even though it's okay to drink a little bit of alcohol on the keto diet, they only sell beer and wine. Beer has way too many carbs, and wine has sugar in it.
So, it's best just to skip them entirely.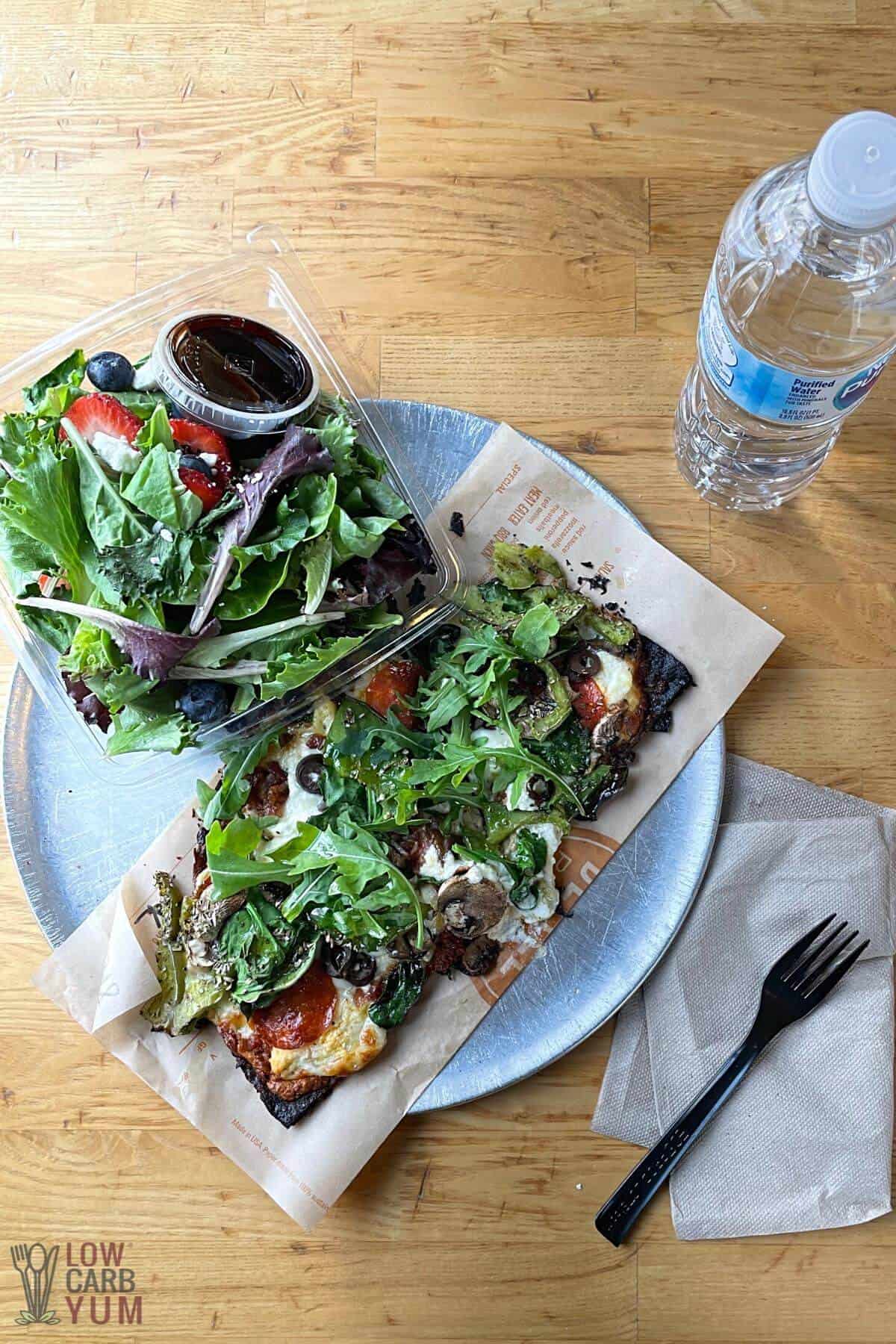 FAQs
Here are a few answers to the most frequently asked questions about ordering keto food at Blaze Pizza! If you don't see your question in this list, please leave it in the comments.
Is Blaze Pizza keto friendly?
Yes, Blaze Pizza has plenty of keto-friendly choices that will fill you up and give you a sufficient and complete meal. I love that they also have an online nutrition calculator. This tells you exactly how many carbs you are eating when you put together your meal.
Is Blaze Pizza cauliflower crust low-carb?
No, do not let the name fool you. The cauliflower crust might be gluten-free, but it is certainly not low enough in carbs to be keto-friendly. One 11-inch pizza made from cauliflower crust has 14g net carbs.
What's in the keto crust at Blaze Pizza?
The keto crust is made from cauliflower rice, mozzarella cheese, casein protein, flaxseed, eggs, whey protein, yeast, spices, and cultured brown rice. Each slice of crust has just 1g net carb!
Is the Blaze Pizza red sauce keto?
Yes! The red sauce is made without added sugar so it's keto-friendly. The spicy red sauce just adds in some hot pepper so it's a good choice too.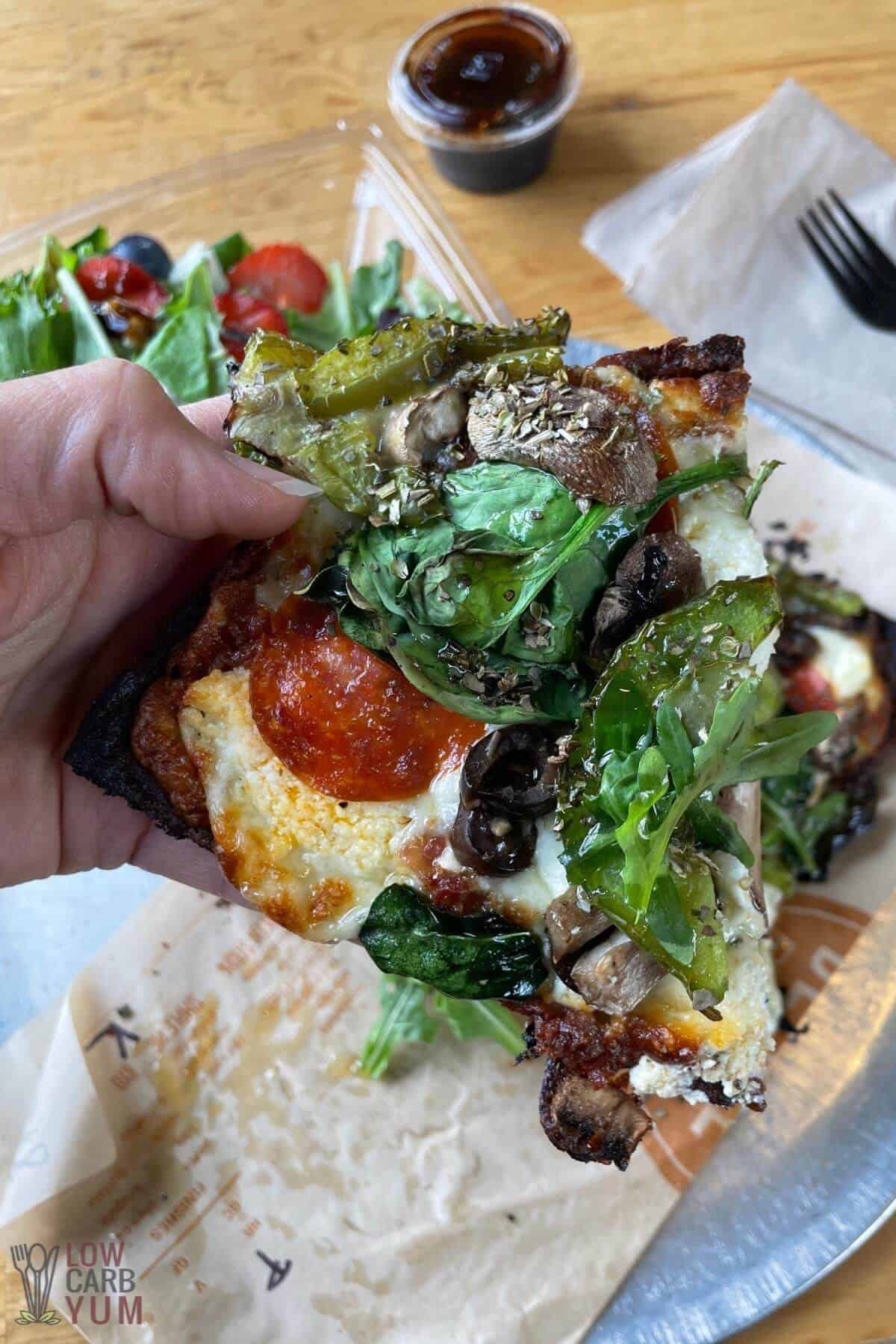 Related recipes
If this post on eating at Blaze Pizza has your mouth watering, why not try some of these low-carb pizza recipes at home? They are all quick and delicious and taste just like you ordered them at a restaurant!
Want another idea for grabbing fast food on the road? Take a look at my guide for getting keto at Panera Bread.
Follow us on FACEBOOK, PINTEREST, and INSTAGRAM for even more tasty keto-friendly recipes!