Make a healthier pizza with fresh zucchini and tomatoes. No need to make a special low carb and gluten free crust with these zucchini pizza boats!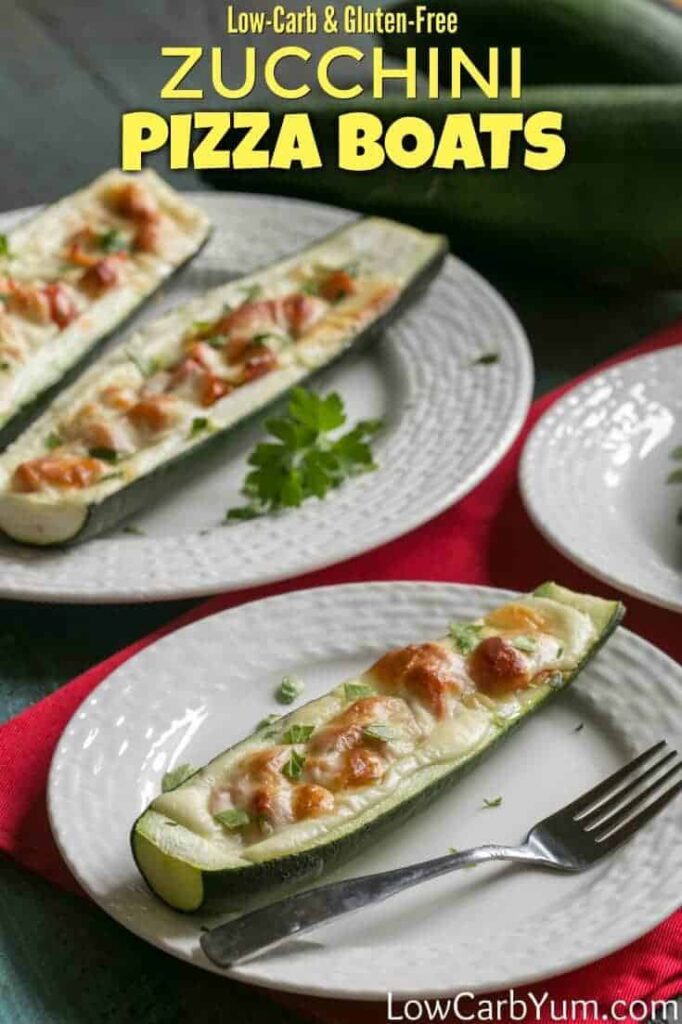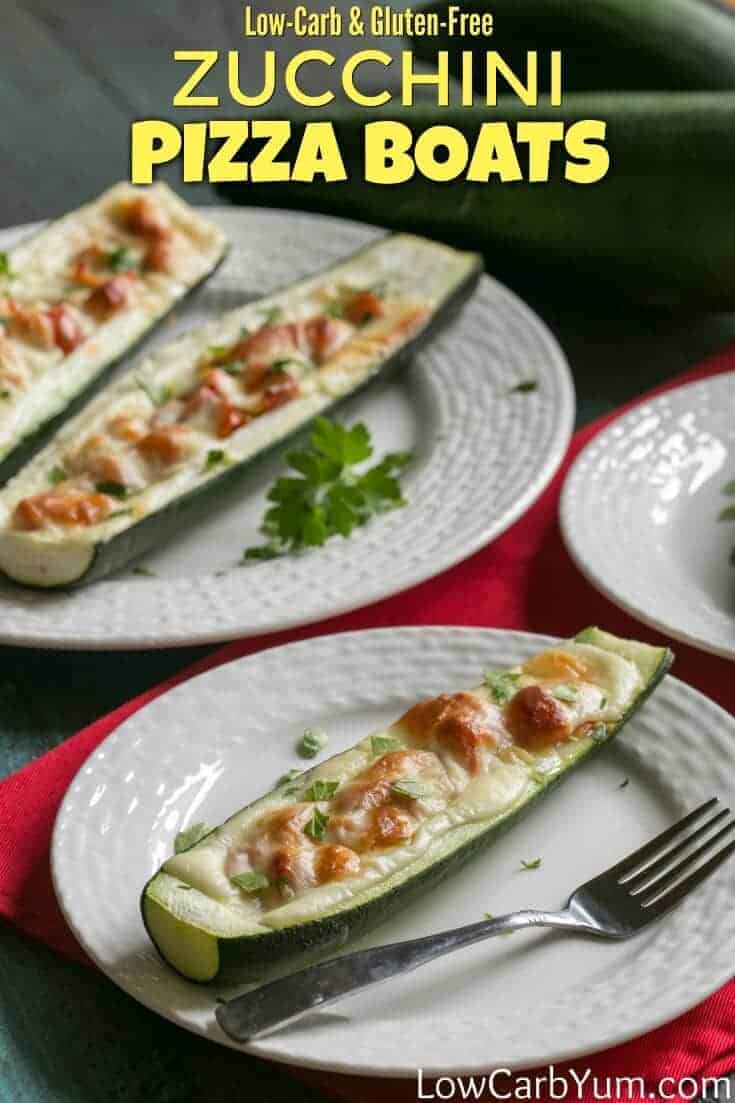 With all the fresh vegetables coming out of the garden and our freezer stock of venison, my grocery runs have been quick and easy. I'm only getting the essentials like cream and eggs when I hit the food market.
Our tomatoes have finally started ripening. The regular size ones aren't fully ripened, but we've had the mini size ones turning red for about a week.
We've been getting yellow squash and zucchini for a couple weeks now. I wanted to use make a dish with the fresh zucchini and tomatoes. So, I came up with these yummy zucchini pizza boats!
I was looking for something super easy to make for lunch on a rainy Saturday. The zucchini pizza boats did not disappoint. It took less than 5 minutes to prepare and less than 30 minutes to bake.
The rain really cooled things down, so having the oven on provided some welcomed heat. If you'd rather, this dish could be cooked on the grill as well. When covered, the grill is pretty much an oven. You just need to watch the temperature gauge and make any adjustments needed.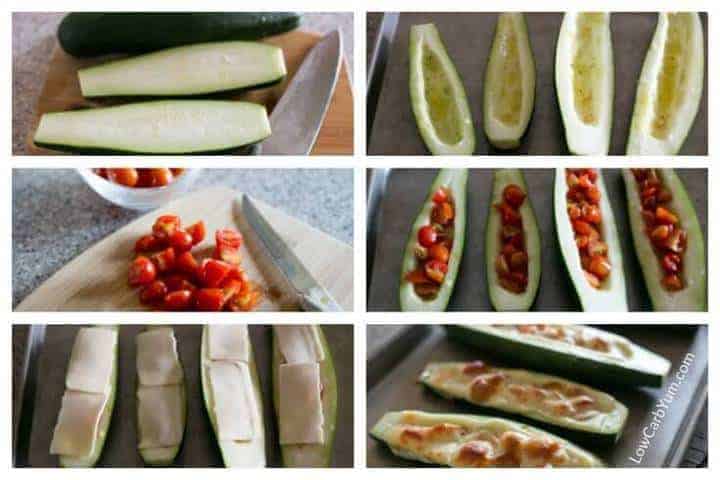 You can use small to medium zucchini for this recipe. Our garden zucchini tend to get medium to large size as we don't always catch them right away. I used two zucchini cut lengthwise and seeds removed. The filling was chopped fresh tomatoes and with a little garlic olive oil brushed on first. Then, I just topped each off with sliced mozzarella. Super easy!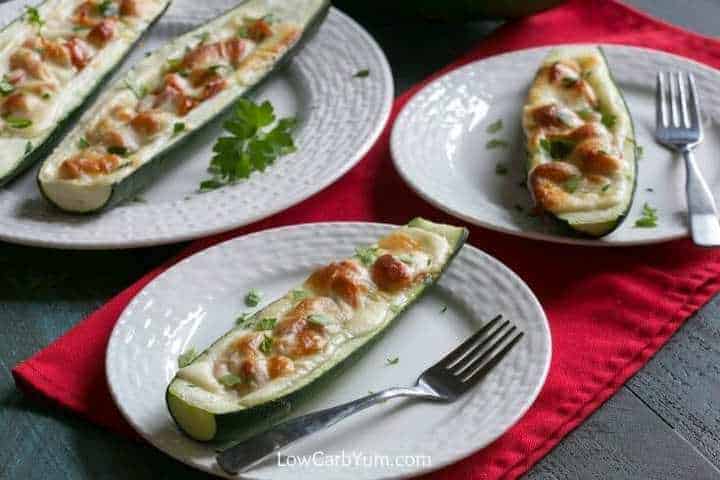 The inspiration for this recipe came from this one that I found in a Google search. It used pasta sauce in the zucchini pizza boats. But, I prefer using fresh tomatoes, especially when they are growing in the backyard.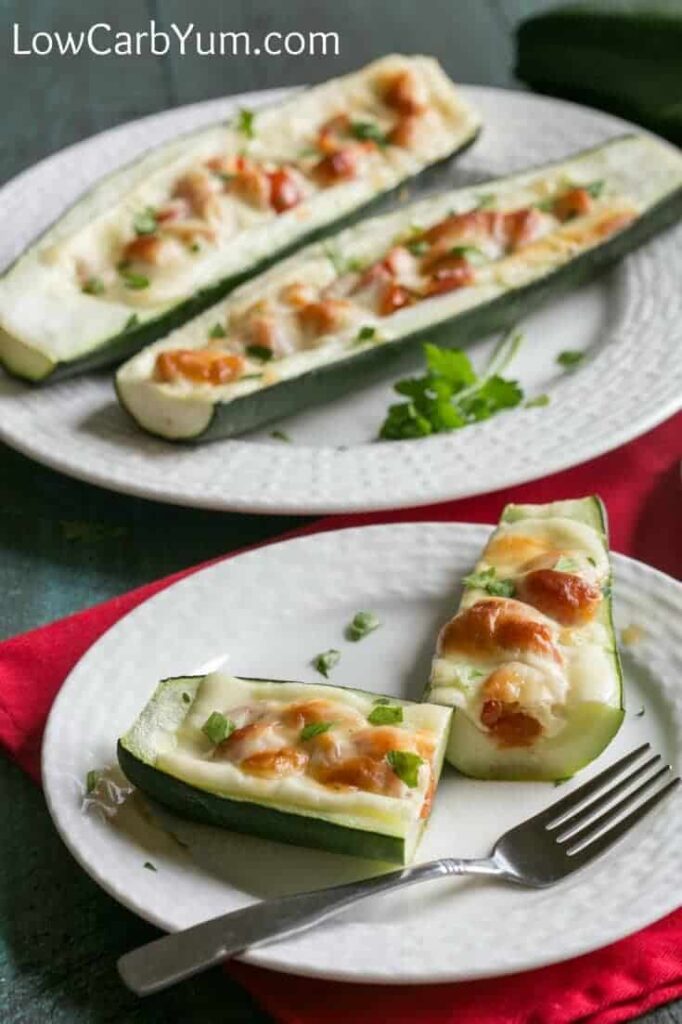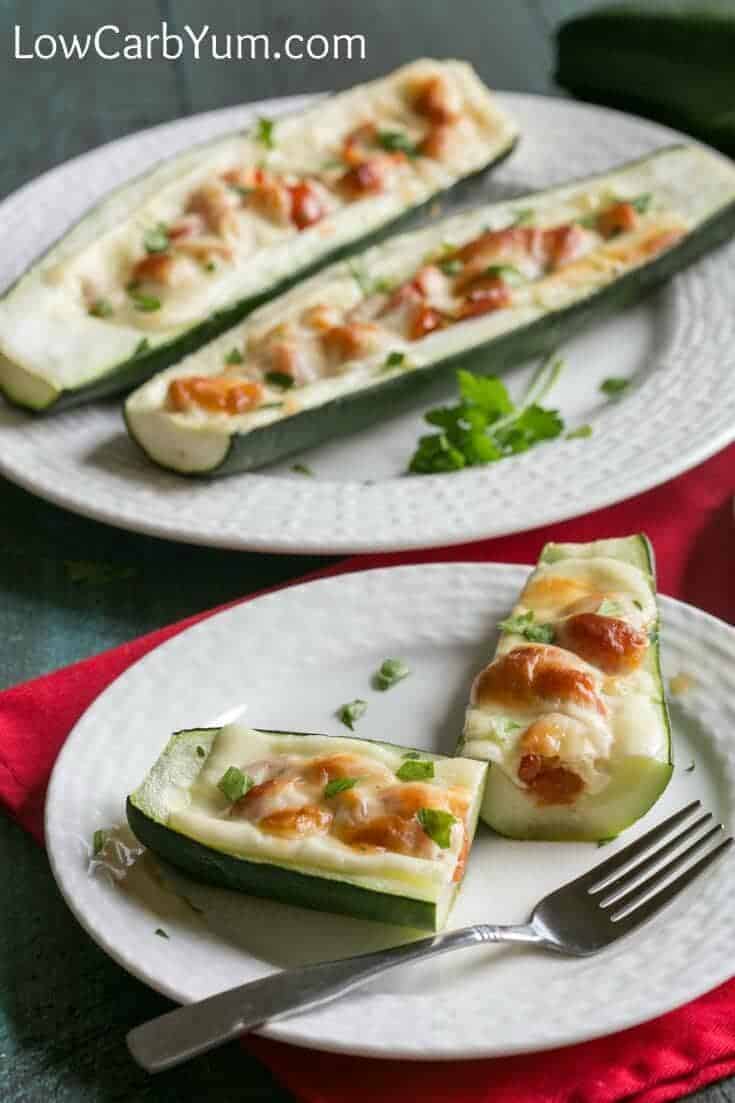 You can easily add your favorite pizza toppings in with the tomatoes or add them on top of the cheese. This is a pretty basic recipe with lots of room for customization.
I used mozzarella cheese slices because that what I had in the refrigerator. You can use shredded cheese instead, but I typically prefer slices or slabs because they don't have the added carbs from using an anti-caking powder to keep the pieces from sticking to each other.
If I had some Parmesan cheese, I would have added it in with the tomatoes. Unfortunately, I was out. I'll add it in next time. Some chopped up pepperoni would also be a great addition.
These zucchini pizza boats sliced up pretty well. I bet they would make great party appetizers if you sliced them up into smaller bite sized pieces.
I may add some chopped up fresh basil to the tomatoes next time. It would be better to spice up the tomatoes a little more. I kept it basic with just salt and pepper, but a bit more seasoning is always welcome.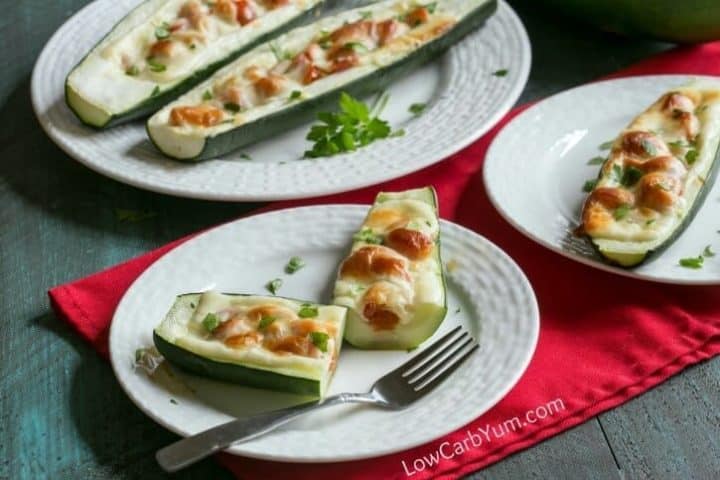 I'm happy to have another summer recipe in my collection for using up the garden zucchini and tomatoes. What's your favorite zucchini tomato recipe for summer?

Low Carb Gluten Free Zucchini Pizza Boats Recipe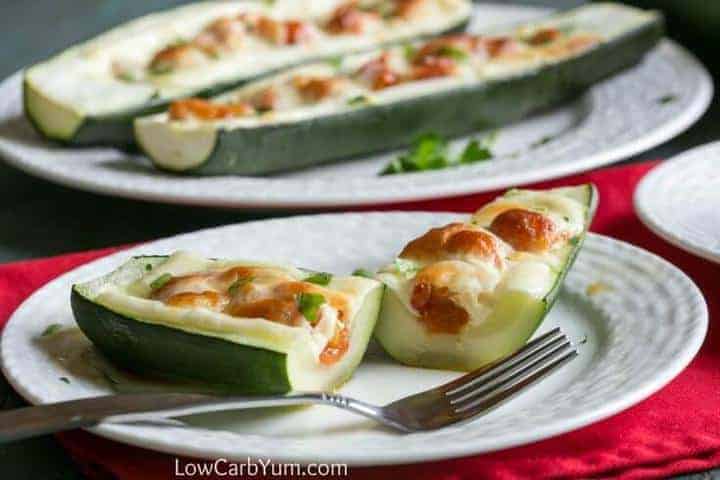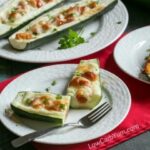 Zucchini Pizza Boats - Gluten Free
Make a healthier pizza with fresh zucchini and tomatoes. No need to make a special low carb and gluten free crust with these zucchini pizza boats!
Ingredients
1

tablespoon

olive oil

2

cloves

garlic

minced

sea salt

pepper

2

medium zucchini

1

cup

diced tomatoes

4

slices

mozzarella cheese

about 20.6 grams
Instructions
In small bowl, mix olive oil, garlic, salt & pepper. Set aside

Cut off zucchini ends, then cut zucchini lengthwise and remove seeds.

Brush olive oil mixture onto cut side of zucchini.

Fill zucchini halves with diced tomatoes. Sprinkle with additional salt and pepper if desired.

Top each zucchini half with mozzarella slice.

Bake at 350°F for 25-30 minutes or until cheese has browned.
Nutrition Facts
Zucchini Pizza Boats - Gluten Free
Amount Per Serving (154 g)
Calories 71
Calories from Fat 42
% Daily Value*
Total Fat 4.7g 7%
Cholesterol 3mg 1%
Sodium 161mg 7%
Total Carbohydrates 5.7g 2%
Protein 3.2g 6%
* Percent Daily Values are based on a 2000 calorie diet.

Related Posts