Are you looking for a convenient way to get your keto meal on the go? Try eating keto at Chipotle! From pre-made bowl options, protein choices, low-carb sides, and tasty sauces — in no time at all, you can make your own perfect keto meal at Chipotle. So let's jump right in and discover how quick and simple eating out can be when you follow our guide!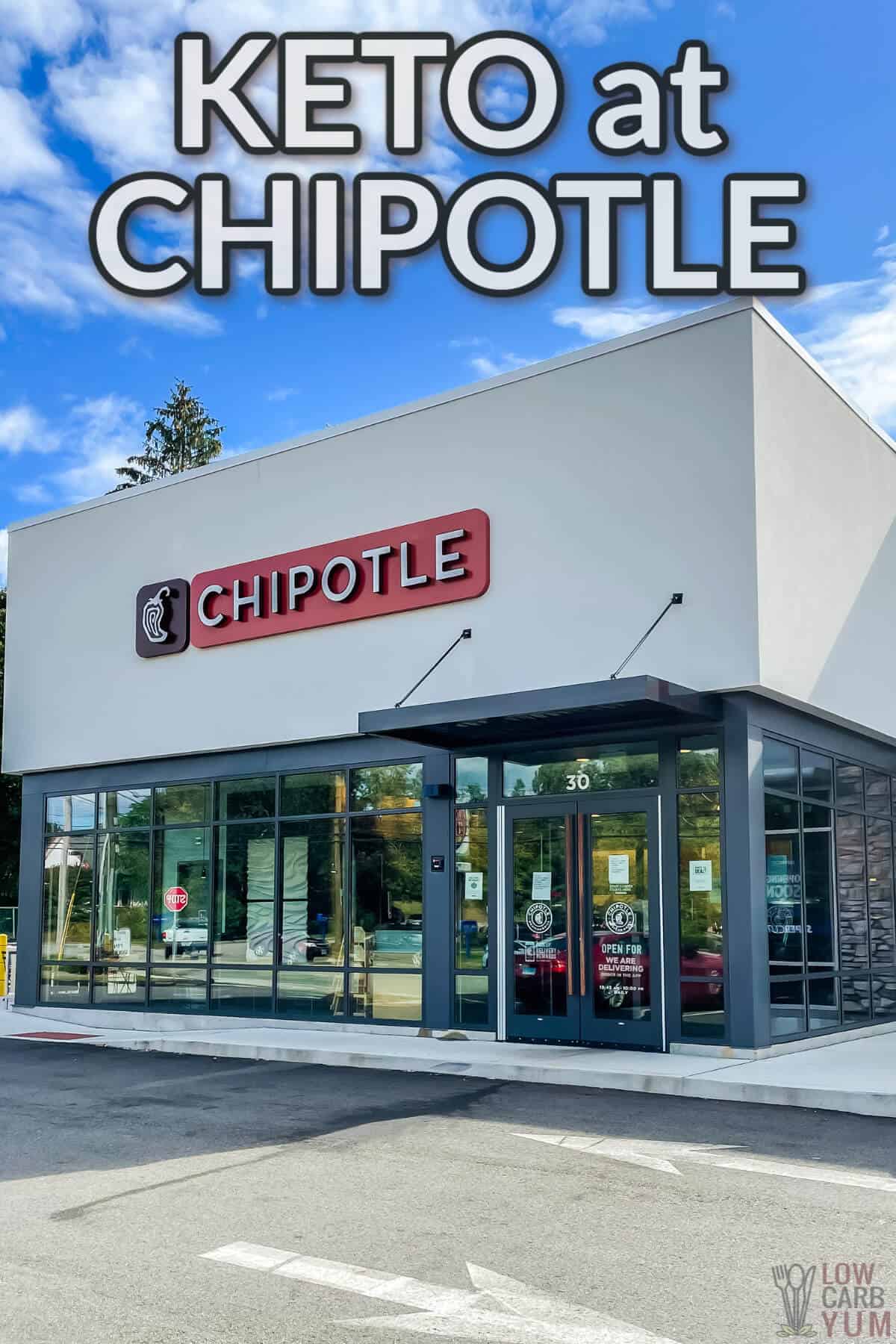 Article Index
Chipotle is very popular with people on the keto diet because it is so easy to customize your order. As a customer, you control every single thing they put on your food.
Plus, Chipotle keeps improving its food and offering even more low-carb choices from what I can tell.
Everything is made fresh, built right in front of you, and it's super-fast. Even though I always advocate for eating at home and cooking your own food, Chipotle is a wonderful choice if you have to eat out.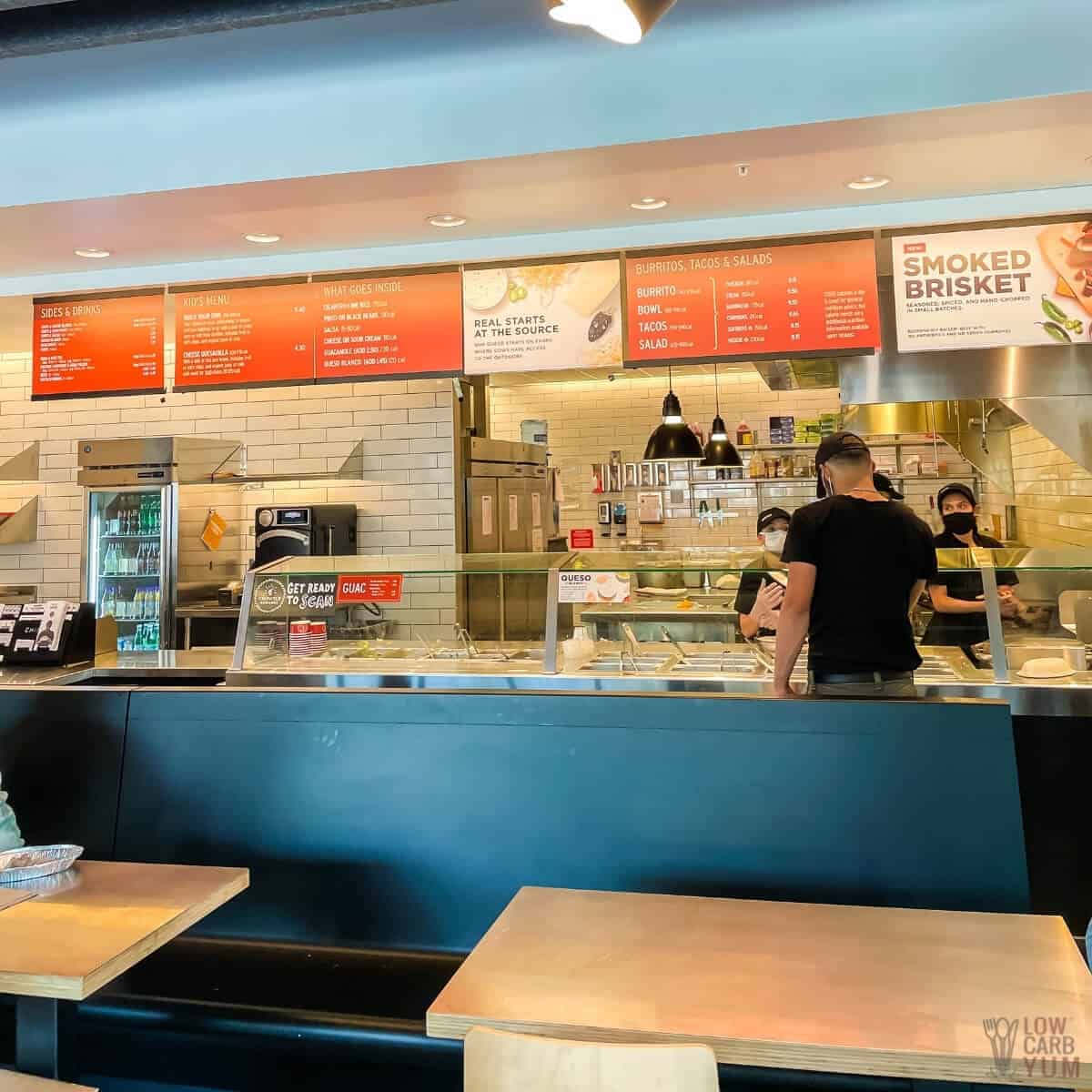 Keto Chipotle lunch and dinner
When you look at all the ways you can mix up the ingredients at Chipotle, there are literally hundreds of different lunch and dinner options. I'm going to make choosing a lot easier by listing out the low-carb foods at Chipotle, so it's much easier to eat keto here!
I'll split these options up by category to make it simple to build a meal.
Chipotle meat
Sofritas (6g net carbs)
Barbacoa (1g net carbs)
Chicken (0g net carbs)
Carnitas (0g net carbs)
Steak (0g net carbs)
Rice
There are currently no keto-friendly options as of June 2023.
Cauliflower rice is the only keto-friendly option. One serving of cauliflower rice at Chipotle has 4g net carbs! Hopefully, it comes back soon!
Toppings
Fajita Vegetables (4g net carbs)
Cheese (1g net carbs)
Guacamole (4g net carbs)
Romaine Lettuce (0g net carbs)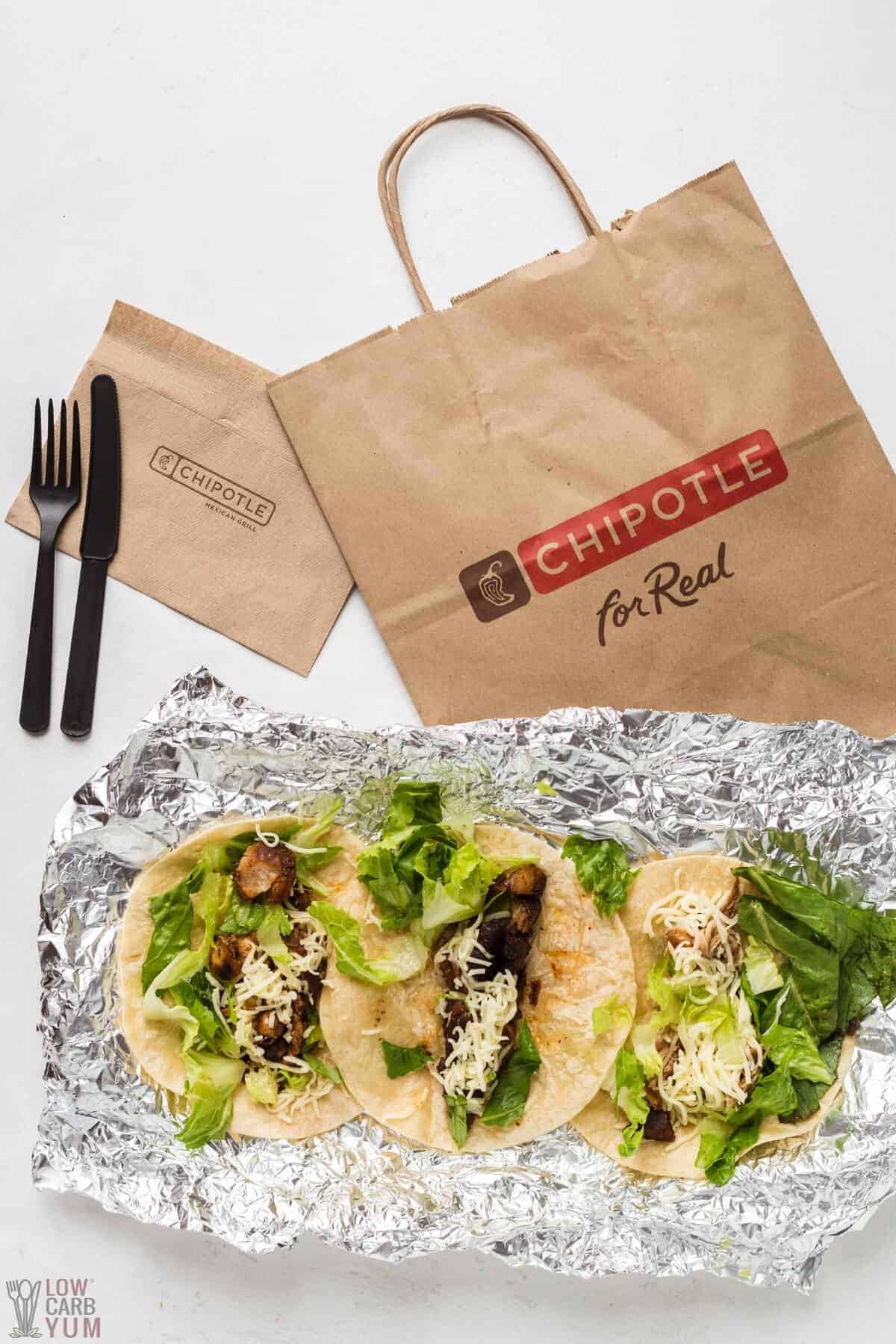 Salsas And Sauces
The queso and salsa are very popular at Chipotle. Here are the sauces that you can enjoy on a low-carb diet like me!
Fresh Tomato Salsa (0g net carbs)
Tomatillo-Green Chili Salsa (4g net carbs)
Tomatillo-Red Chili Salsa (3g net carbs)
Sour Cream (2g net carbs)
Drinks
The best thing to drink at Chiptole will always be water if you're on a low-carb diet. However, if you want something else, here are the low-carb drink options at Chipotle.
Diet Lemonade
Unsweetened Iced Tea
Coke Zero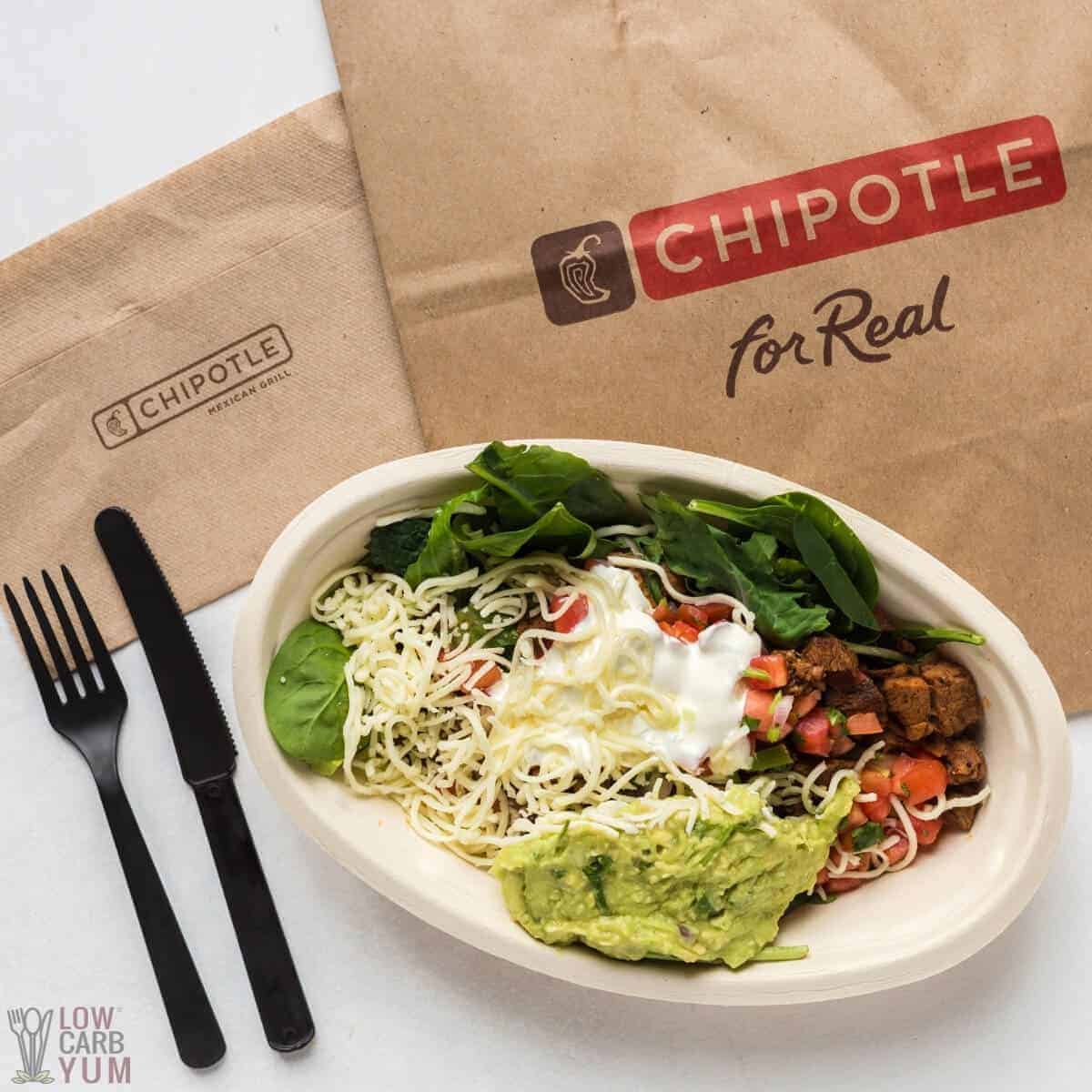 Tips for eating keto at Chipotle
It is so easy to eat keto at Chipotle! The fact that you can customize everything puts you in complete control of your meal. When you know ahead of time how many carbs are in each of the ingredients, you can make better choices.
Here are some really simple rules to follow to stay on track:
1. Build a burrito bowl
Since any type of bread is not a good idea on keto, always opt to build a burrito bowl. It will still fill you up, especially when you pile it high with your favorite veggies.
2. Pay attention to serving sizes
Even though you fill up a burrito bowl with low-carb ingredients, the carbs can still add up. This is because serving sizes matter.
Note: Don't forget to count your macros with our calculator!
For example, sour cream has 5g net carbs, and guacamole has 2g net carbs. That alone - without the salsa and meat - is 7g net carbs.
Tip: Add up the carbs before you eat and then decide whether to eat it all or save half of it for later.
3. Mix and match the meat
Fill up your bowl with low-carb protein that fills you up! Ask for "half chicken and half steak." It's the same price as one type of meat.
If you are feeling really hungry (and have the macros to spare), then ask for double the meat.
4. Order the keto salad bowl
Chipotle actually has a meal on their menu called the keto salad bowl - and no, it isn't a "secret" menu. It's on the real menu, and it is easy to change and make your own, or just order it as-is.
There are only 6g net carbs in the entire bowl. Here are the entire nutrition facts:
585 calories
42g fat
31g protein
14g carbs
8g fiber
This is what you get in the keto salad bowl:
Carnitas
Romaine Lettuce
Cheese
Guacamole
Tomatillo Red-Chile Salsa
You can also customize this bowl too. For example, the tomatillo red chile salsa has 3g net carbs, so it's common to leave that off. The keto salad bowl is one of the things I order most at Chipotle when I go there.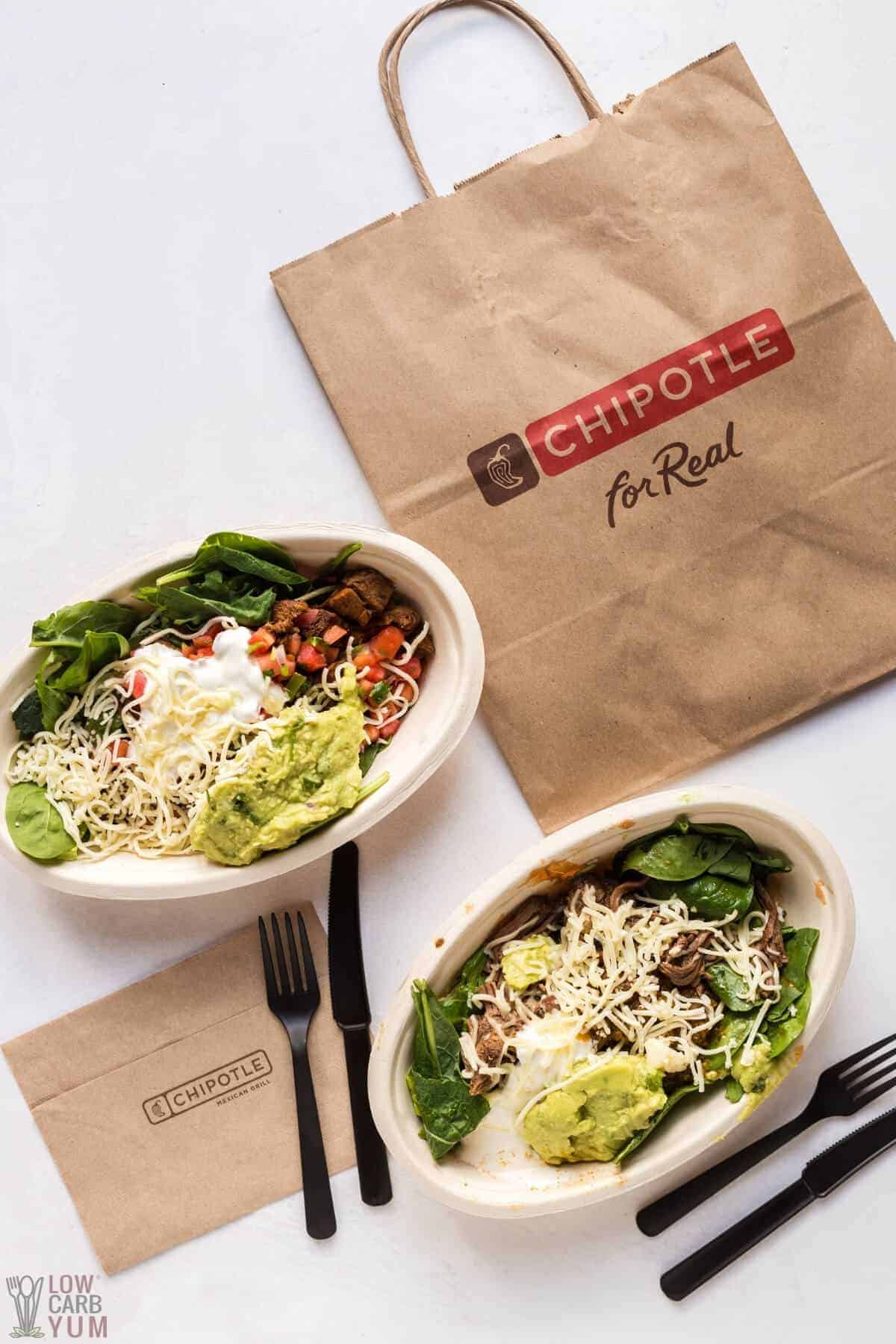 FAQs
Here are a few answers to the most frequently asked questions about ordering keto food at Chipotle! If you don't see your question in this list, please leave it in the comments.
Is Chipotle keto friendly?
Yes, Chipotle tries really hard to offer keto-friendly choices that will fill you up and give you a sufficient and complete meal. I love that they also have an online nutrition calculator. This tells you exactly how many carbs you are eating when you put together your meal.
Is Chipotle queso keto?
I did not include the queso in the toppings list above because you need to decide for yourself whether it is keto-friendly.

Even though each serving has 4g net carbs with 8g of fat, it contains tapioca starch to thicken it. If you are okay with the tapioca starch, then go ahead and enjoy it!
Which protein at Chipotle has the most carbs?
The sofritas have the most net carbs. It isn't technically meat, which is why they have so many more carbs than the steak, chicken, or pork.

Sofritas are organic shredded tofu and are a wonderful option if you are a vegetarian on the keto diet.
If You Like This Post, Check These Out!
If this post on eating at Chipotle has your mouth watering, why not try some of these Mexican-style recipes at home? They are all quick and delicious and taste just like you ordered them at a restaurant!
★ FOLLOW ME ON FACEBOOK, PINTEREST, AND INSTAGRAM FOR MORE EASY KETO RECIPES.