Sonic is known for being America's drive-in, with tasty burgers and fries. But did you know it's possible to eat keto at Sonic? Here's how!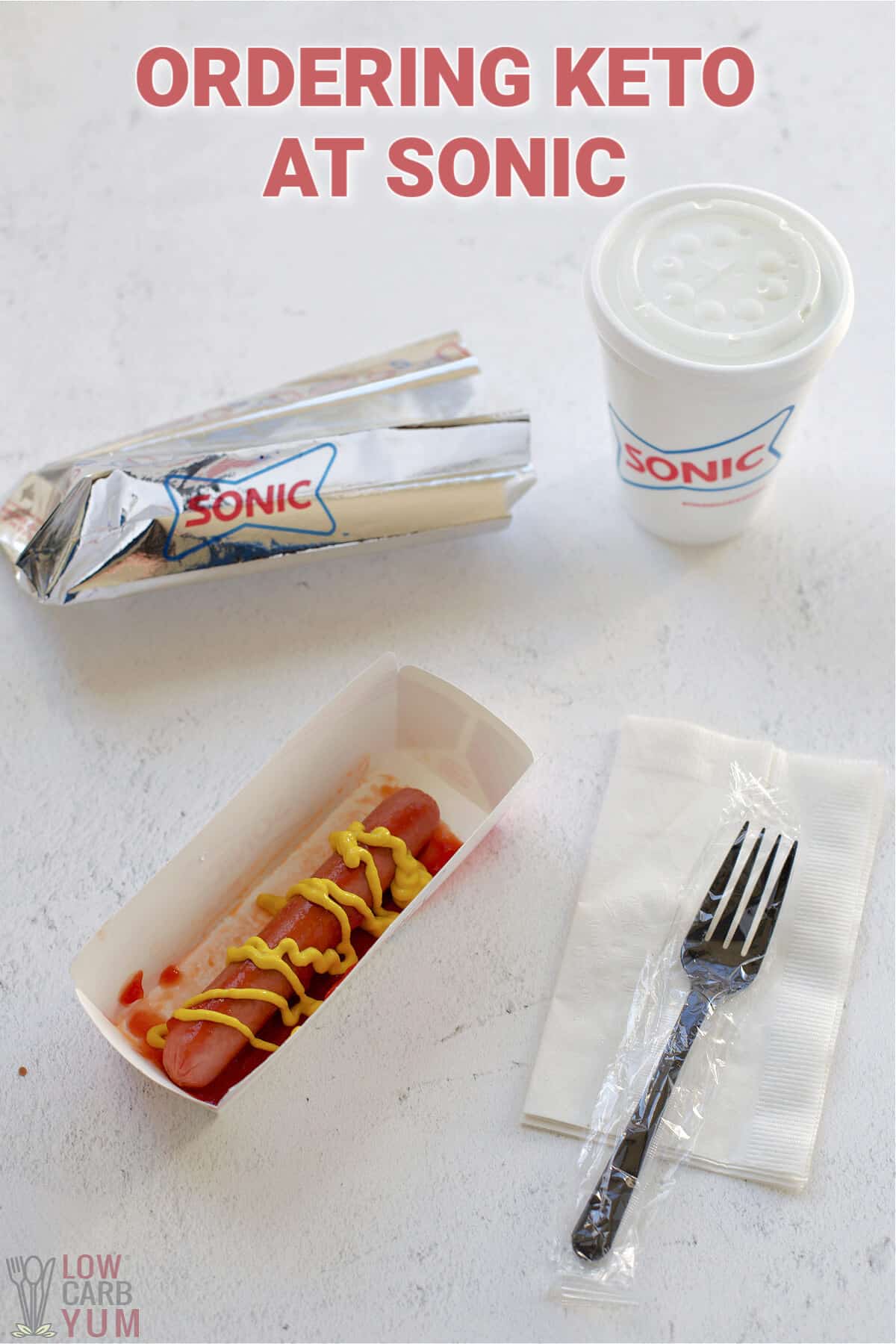 Article Index
Whether you are out cruising and craving a cold drink or you need a quick lunch, Sonic Drive-In is one of the best places to go.
They are most well-known for greasy tater tots and burgers that taste SO good, but they're not exactly good for your health.
It might seem impossible to stick to your keto diet at such a popular fast food restaurant, but there are a few low-carb options available. You just have to be creative!
Follow this guide for all things keto at Sonic to help you order items that will keep you within your macros.
Best food options
If you are looking for a Sonic nutrition guide, this printable nutrition guide is a PDF from their website. Unfortunately, it isn't user-friendly at all. The font is really small, and you have to do the math to figure out the net carbs.
That's why I created this guide for keto diet options at Sonic that you can refer to instead!
The easiest way to navigate eating low carb at Sonic is to stick to ordering keto drinks and meat. So, let's look at both categories a little closer.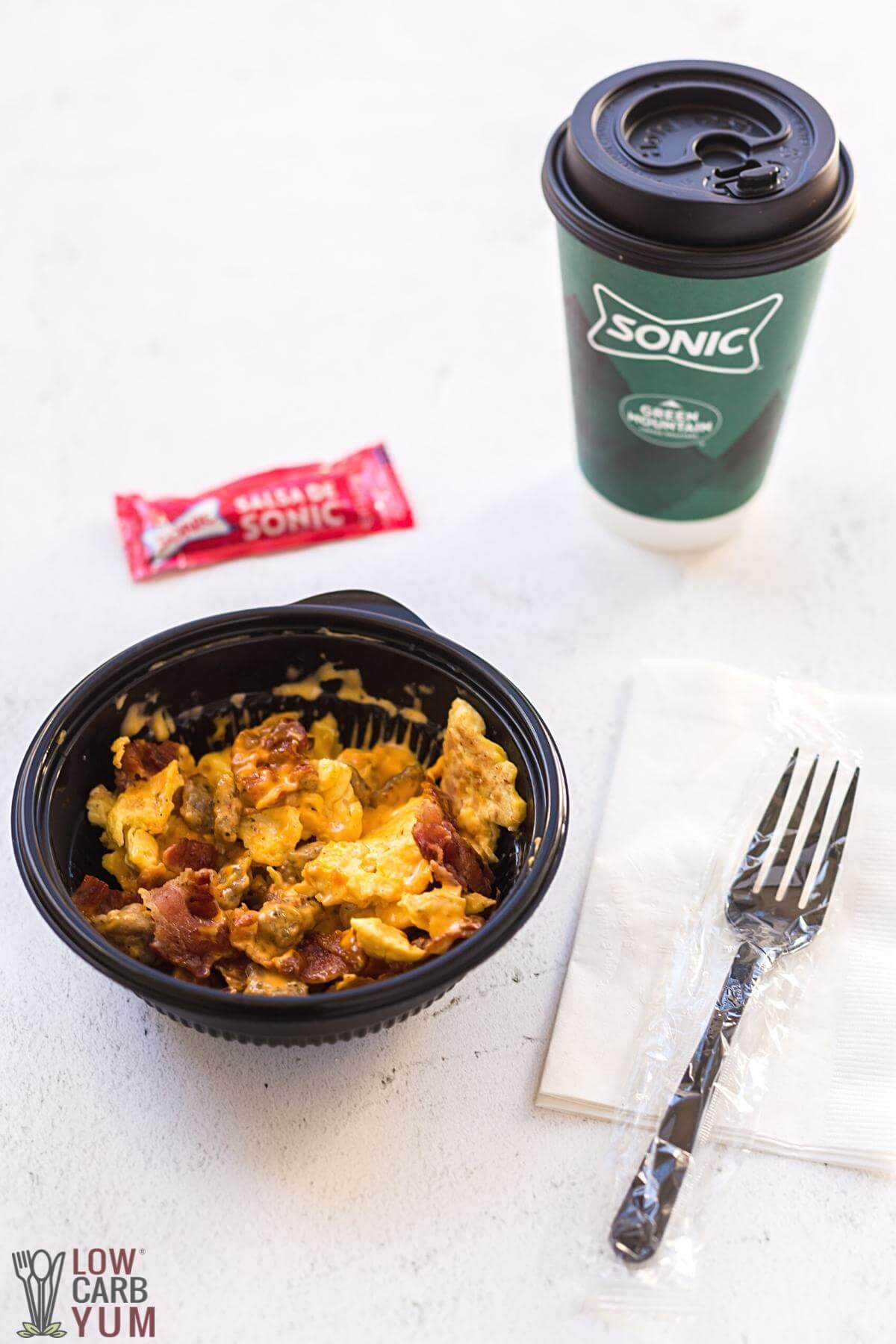 Keto drinks
Sonic is known for its happy hour! Here are the different sugar-free drinks you can order at Sonic.
Diet Cherry Limeade (3g)
Diet Coke (0g)
Coke Zero Sugar (0g)
Diet Dr. Pepper (0g)
Water (0g)
Unsweetened Iced Tea: (0g)
Coffee With Cream: (1g)
Tip: Are you a huge fan of Sonic's diet cherry limeade? Now you can make it at home with my copycat recipe!
Keto foods
It is possible to eat a low-carb meal at Sonic. You can order both breakfast and lunch options with low net carbs:
Supersonic Breakfast Burrito: no tortilla (5g)
Breakfast Toaster: no bread and no tots (5g)
Sonic Breakfast Bowl: (4g)
Classic Grilled Chicken Sandwich: no bread (4g)
Grilled Chicken Wrap: no bread (4g)
Sonic Burger: no bun, no sauce (7g)
Sonic Cheeseburger: no bun (8g)
Plain Hot Dog: no bun
All-American Dog: no bun, ketchup and relish
Hot Dog With Chili: no bun, (6g)
Sonic Chili: (9g)
How to order
There are a few simple rules to remember when you are trying to eat keto at Sonic.
Following these rules will help you find the most keto-friendly options at Sonic without stressing out even a little bit.
Here are some really simple rules to follow to stay on track:
1. Avoid the french fries and tots.
Unfortunately, all those tasty sides have too many carbs to be keto-friendly. Just like you naturally avoid potatoes on a low-carb diet, avoid anything breaded at Sonic.
This also includes those mozzarella sticks. They haven't made a keto-friendly version of them yet.
Basically, avoid all the sides to stay keto at Sonic. They don't have many low-carb options in the snack or sides portion of the menu.
2. Decline crispy sandwiches.
Any type of crispy sandwich means that it was breaded. Since breading has way too many carbs to keep you within your macros, you should always choose grilled meats if you can. That means don't order a bunless crispy chicken sandwich from Sonic Drive-In.
The safest option will always be:
Burger patties
Grilled chicken
Scrambled eggs
Ordering a Supersonic Bacon Double Cheeseburger without the bun is another popular choice!
Also, don't skip out on the chili cheese coney - just tell them no bun.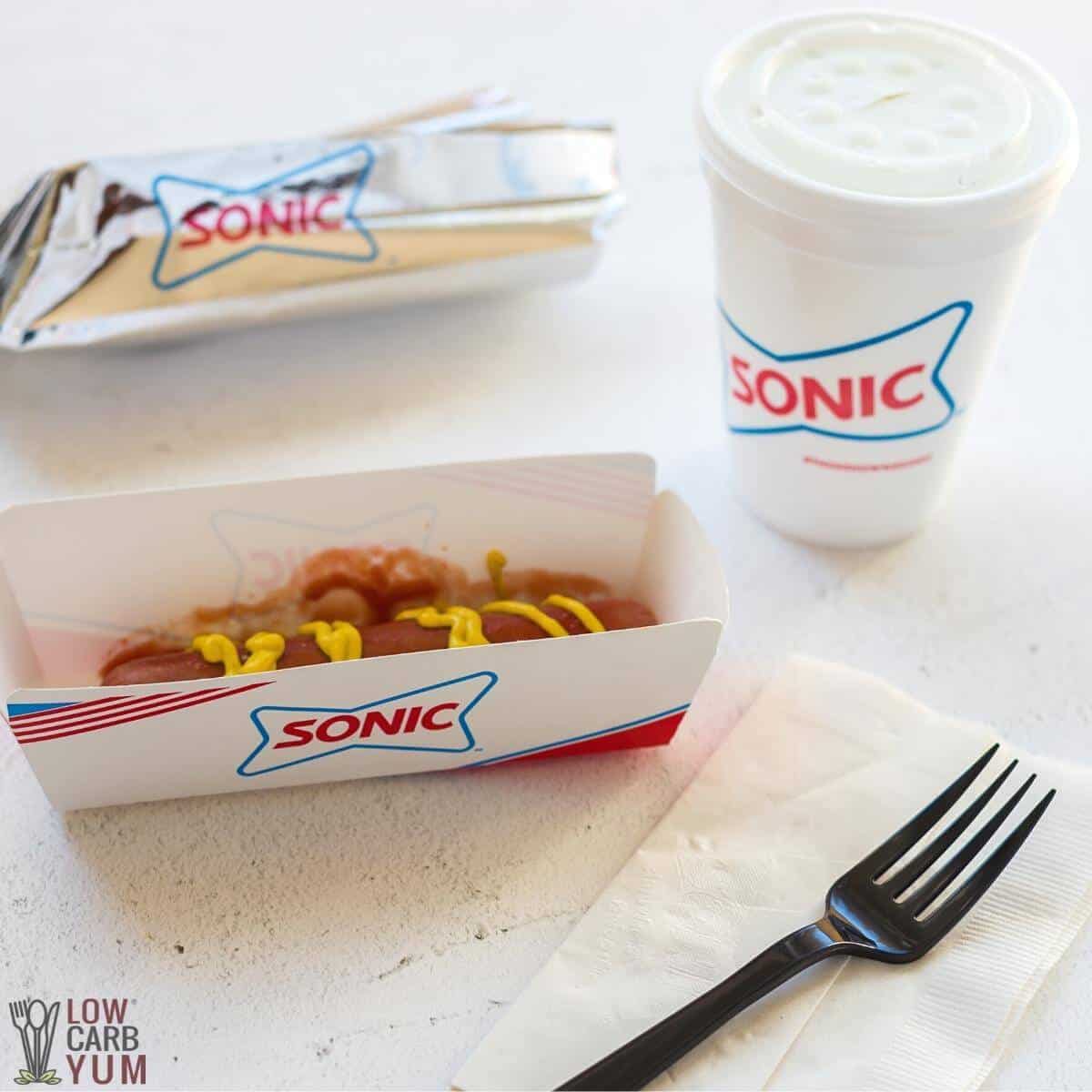 3. Order sugar-free drinks.
Play it safe and just order diet or sugar-free drinks. This includes things like diet sodas and unsweetened tea or coffee.
When you order your drink, remember to tell them not to add any sweetener to your tea or coffee. (Some employees might add sugar to it without thinking.)
It's a lot safer to add the sugar substitute yourself. That way, you can control how sweet it is and whether it is real sugar or low-carb sweetener.
Tip: Check out my keto-friendly sweetener guide this guide to find the best options!
4. Choose low-carb add-ons.
There are a lot of different things you can add to your bunless burger or grilled chicken. Here are the low-carb options you can request at Sonic:
Avocado
Crispy Bacon
American Cheese
Grilled Onions
Green Chiles
Jalapenos
Mustard
Ranch Dressing
Light Mayo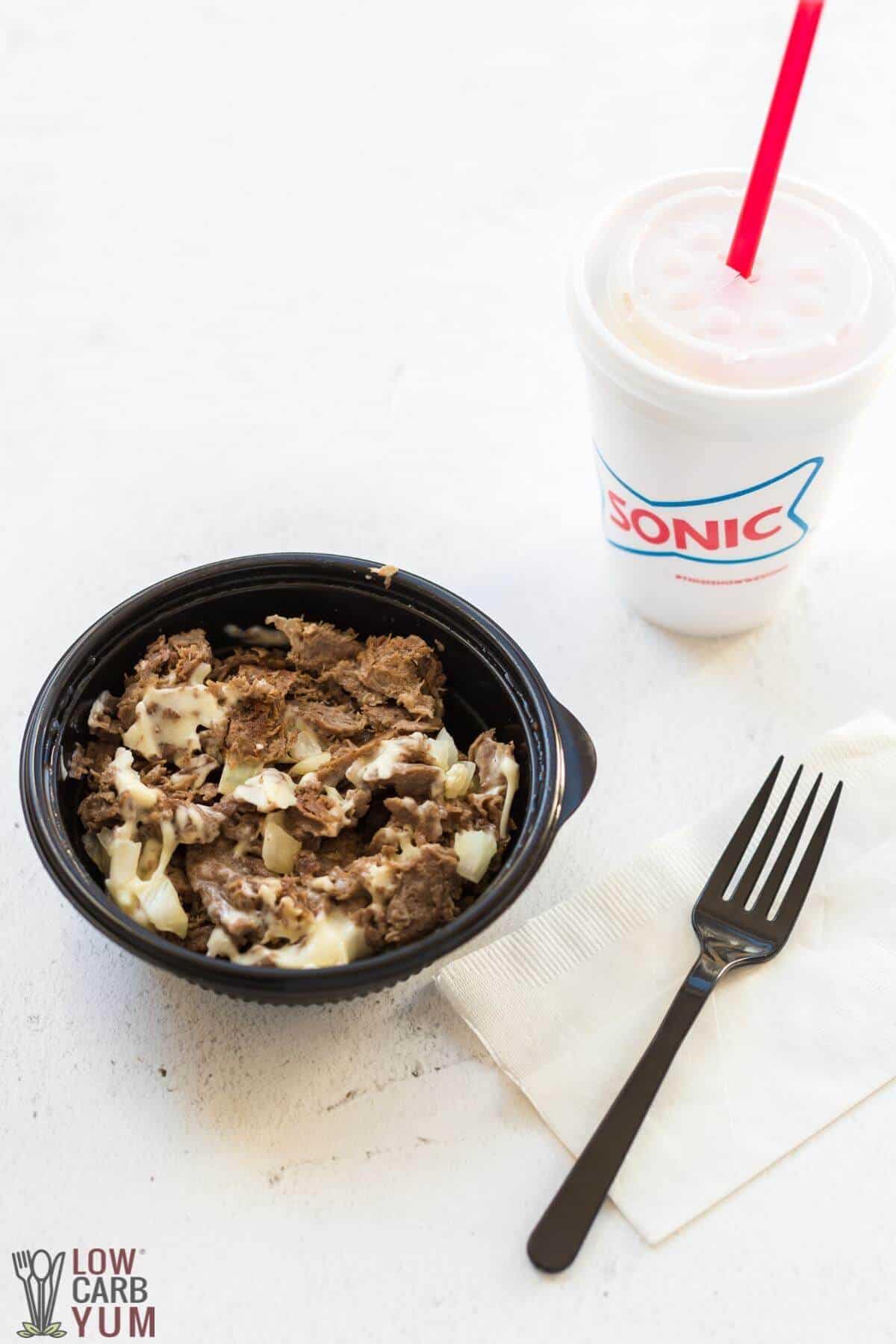 FAQs
Here are a few answers to the most frequently asked questions about ordering keto food at Sonic! If you don't see your question in this list, please leave it in the comments.
Are Sonic onion rings keto?
No, the onion rings at Sonic are not keto-friendly. They are breaded with all-purpose flour, which has too many carbs to keep you within your macros.
What can I order at Sonic for keto?
Just remember to order unsweetened drinks and meats without the bread when you are eating at Sonic. Bunless burgers or sandwiches are a safe bet. If you see a salad on the menu, order it without any dressing.
What drink at Sonic is keto?
Honestly, they don't have very many keto-friendly options. All of their slushes and shakes are packed with sugar. The best option is to order unsweetened tea or water.

You can also order a diet Cherry limeade - it only has 3g net carbs. Plus, there are just 1.9 grams net carbs in a diet strawberry limeade, so that is another fantastic option.
Is Sonic chili keto-friendly?
Yes, the Sonic chili is keto-friendly, but you have to watch how much of it you eat. There are 9 grams of net carbs in one bowl of chili. If you eat half of it and add cheese and jalapenos, you can enjoy this on the keto diet.
If You Like This Post, Check These Out!
Hungry? If reading all about Sonic has you craving burgers and onion rings, here are some low-carb recipes you can make at home! All of them will effectively replace anything you can order at Sonic Drive-In.
Keto Onion Rings are perfectly crispy and only have 4 grams net carbs in each serving.
Bacon Egg Muffins are a portable breakfast that fills you up and has bold spices that start your day out right.
Air Fryer Hamburgers are so easy to make and don't make a mess in your kitchen - plus, they are fantastically low in carbs!
Keto Salted Caramel Mocha only has 2g net carbs in each glass and tastes like a decadent treat.
Low Carb Chicken Nuggets are crispy and bite-sized, and they taste delicious when you dip them into your favorite sugar-free sauce.
Did you know you can also order keto at Panera Bread too?
★ FOLLOW ME ON FACEBOOK, PINTEREST, AND INSTAGRAM FOR MORE EASY KETO RECIPES.
First Published: February 21, 2022... Last Updated: September 18, 2023, with additional recipe information.