Fast food restaurants are a great on-the-go meal option because they're quick, inexpensive, and have tons of locations. It can be hard, however, to know what to order to stick to your low-carb diet. Luckily, I have all you need to know about how to order keto at Wendy's!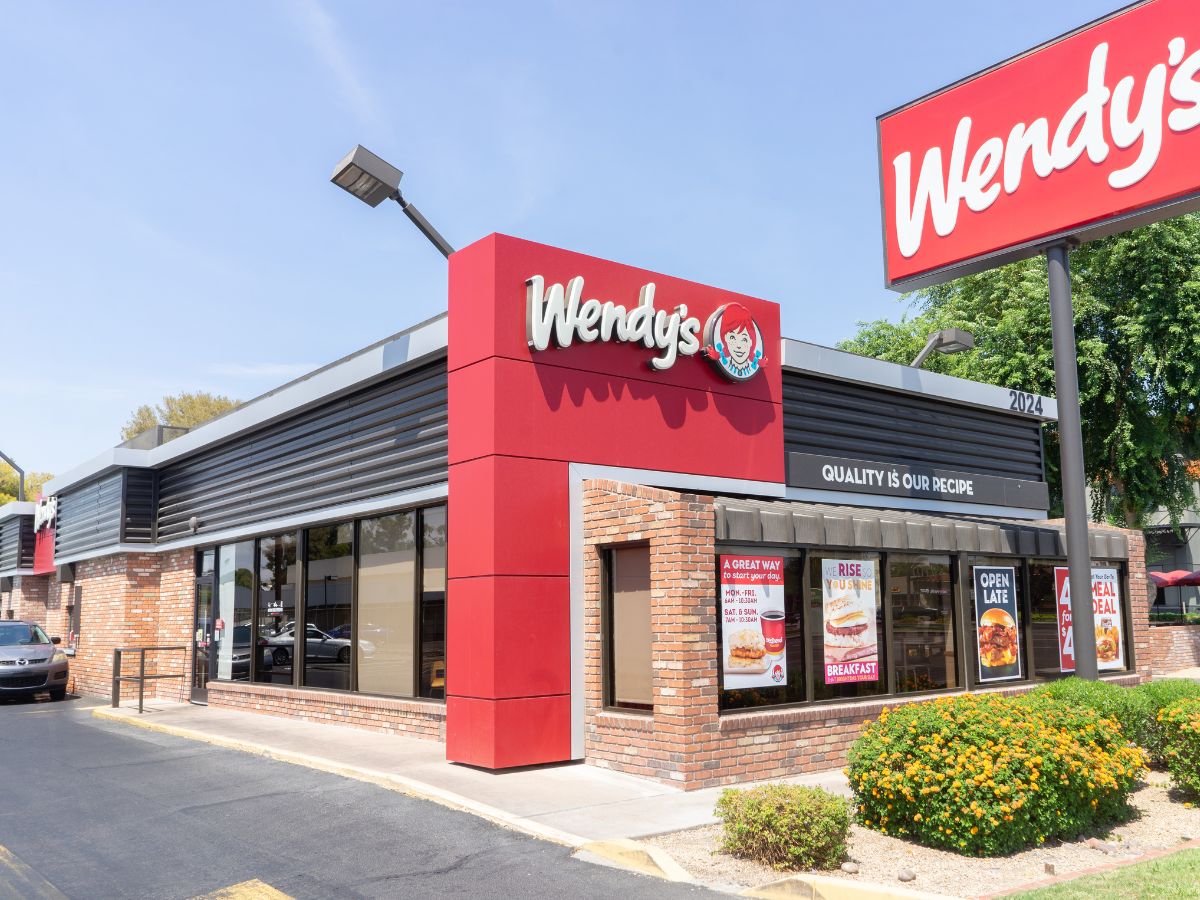 Eating fast food is inevitable! We all live busy lives, and once in a while, it's okay to enjoy some fast food. And with these tips on how to eat keto at Wendy's, you'll be able to order confidently!
While Wendy's isn't exactly a keto-haven, they do have quite a few options to enjoy. With a couple of simple modifications, you can find options to eat at any time of the day.
Read on to discover Wendy's low-carb options that fit the keto bill!
Looking for more keto fast food restaurants? I have plenty of keto tips for eating on the go, including how to eat fast food at Burger King, Starbucks, and Dunkin' Donuts.
Breakfast
If you're looking for a quick and easy breakfast on the road, Wendy's has choices for you!
Note: Simply ask to remove any bread, biscuit, or croissant from a breakfast sandwich, and you will be well within your daily carb allowance.
Keto-friendly breakfast options include:
Classic Bacon Egg and Cheese Sandwich (2g net carbs)
Sausage Egg and Cheese Sandwich (3g net carbs)
Breakfast Baconator (6g net carbs)
Side of Bacon (1g net carbs)
Side of Sausage (2g net carbs)
Lunch and dinner
Need a meal later in the day? Wendy's has quite a few options for you to munch on for lunch, dinner, or a snack.
Note: The same rules apply here - veto the bread from your meal to order keto-style! You can either order these burgers without the bun (protein-style) or with a lettuce wrap.
Beef options
Beef options to eat keto at Wendy's include:
Baconator (6g net carbs)
Son of Baconator (3g net carbs)
Double Stack (2g net carbs)
Jr. Bacon Cheeseburger (2g net carbs)
Jr. Cheeseburger Deluxe (3g net carbs)
Dave's Single (5g net carbs)
Dave's Double (6g net carbs)
Dave's Triple (7g net carbs)
Chicken options
Chicken options to eat keto at Wendy's include:
4 Piece Spicy Chicken Nuggets (8g net carbs)
Grilled Chicken Sandwich (0g net carbs)
Grilled Asiago Ranch Club (2g net carbs)
Grilled Bacon Jalapeno Chicken Sandwich (3g net carbs)
Salad options
Order these salads with grilled chicken for a low-carb, keto-friendly meal.
Salad options to eat keto at Wendy's include:
Parmesan Caesar Chicken Salad (3g net carbs)
Southwest Avocado Chicken Salad (6g net carbs)
Bonus keto tip: When given the option, always order grilled chicken over bread chicken. Breaded chicken will add additional carbs that you don't want to your diet.
Dressings and sauces
There are a few salad dressings and sauces that you can order that are appropriate for the ketogenic diet.
Add these sauces to your burgers and salads, or use them as dips!
Creamy Ranch Sauce (2g net carbs)
Southwest Dressing (1g net carbs)
Caesar Dressing (1g net carbs)
Drinks
If you're ordering a meal from Wendy's, you'll want a drink to enjoy alongside it.
While a lot of the drink options at Wendy's are packed full of sugar with way too many carbs, there are some low-carb alternatives. All of these listed drinks have 0-2 net carbs.
Keto-friendly drinks at Wendy's include:
Cold Brew Iced Coffee
Fresh Brewed Coffee
Fresh Brewed Decaf Coffee
Unsweetened Iced Tea
Diet Coke
Sugar-Free Lemonade
Bottled Water
Tips on how to order keto at Wendy's
Ok, so you know the basics of the keto menu at Wendy's. So now, how do you order to ensure you're following your ketogenic diet to a T?
Use these ordering tips to help keep your meal low-carb at Wendy's.
1. Avoid bread
Bread is generally avoided on a keto diet because it's a high-carb food. And while there are ways to eat bread on a keto diet, fast-food restaurants probably don't have low-carb bread options.
Avoid breaded menu items. And when an otherwise keto-friendly meal has bread, substitute it for a lettuce wrap or ask for it protein-style!
2. Desserts are a no-go
Though slightly heartbreaking, there are no keto-approved dessert options at Wendy's (bummer!).
All of the dessert menu items are filled with sugar and have really high-carb counts.
3. Make substitutions
Don't be afraid to ask for a few substitutions to make your meal right for you.
Switch up the bun, ask for sauce on the side, or request a custom sandwich (it can't hurt to try!).
4. Skip the sides
The sides on Wendy's menu aren't well suited for a keto diet. French fries, chili, and honey butter biscuits all contain too many net carbs.
If you think you'll still be hungry without the added french fries, add an additional entree to your order.
FAQs
These are a few commonly asked questions I get about ordering from Wendy's on a keto diet. If you don't see your question answered, please leave it for me in the comments down below.
Is anything from Wendy's keto?
There are several keto options at Wendy's! While very few of the menu items are low-carb on their own, with a couple of substitutions, they fit very well into a balanced, ketogenic diet.
Can you get a lettuce-wrapped burger at Wendy's?
You can ask for any Wendy's burger to be lettuce wrapped.
Can you eat Wendy's nuggets on keto?
You bet you can!
While they're the highest carb item on this list, the 4-piece spicy chicken nuggets only have 8g net carbs which can easily fit into your daily carb allowance.
Is Wendy's chili keto-friendly?
It's not! (Cue the violins.) Unfortunately, the beans in Wendy's chili make it a non-keto-friendly food.
Related recipes
Are you craving fast food now? I have plenty of keto-friendly recipes to choose from that will satisfy your cravings, all from the comfort of your home!
Follow us on FACEBOOK, PINTEREST, and INSTAGRAM for even more tasty keto-friendly recipes!