Carb lovers need to know – is it possible to eat bread on a keto diet? I have good news; it's definitely in the realm of possibility! With a few important rules, you can have bread on a keto diet and still lose weight.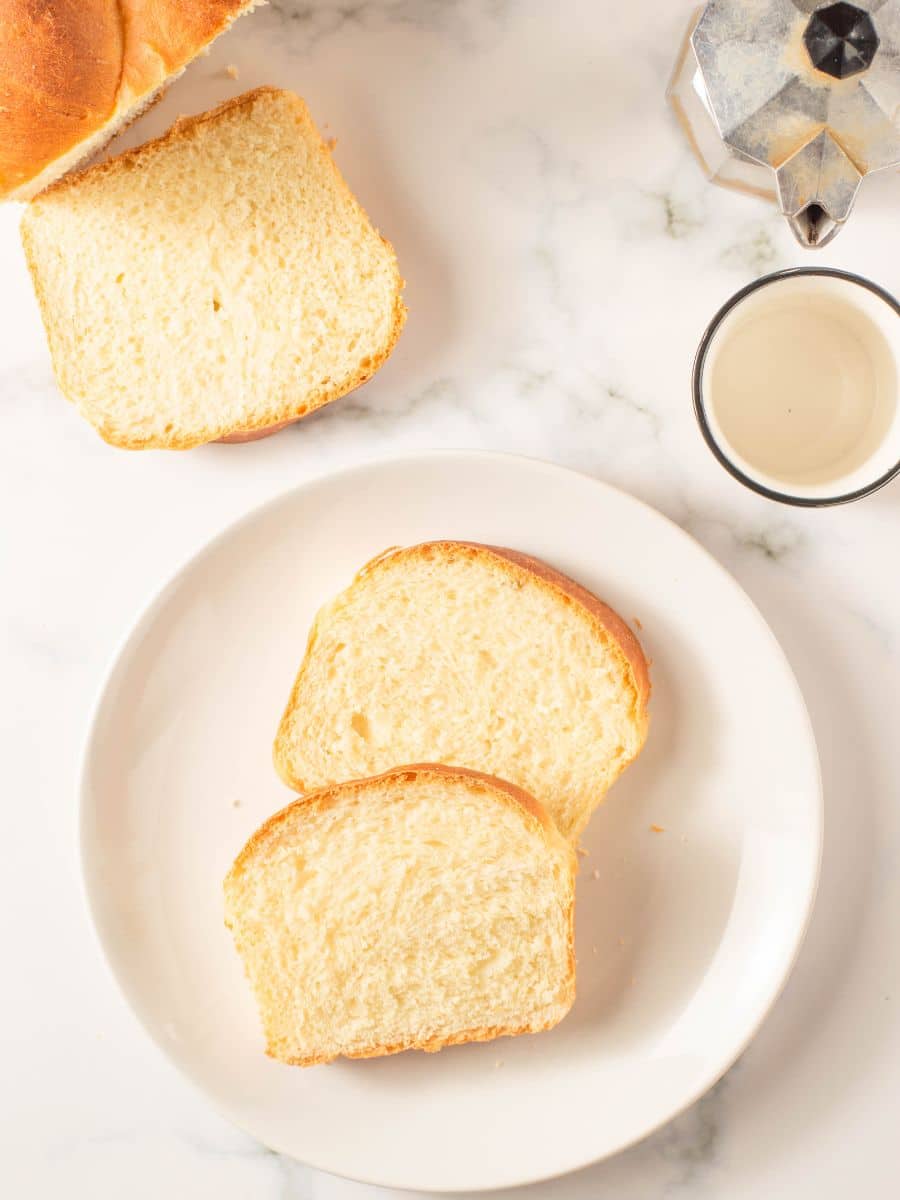 As loyal keto-followers know, a ketogenic diet is, by definition, a low-carb diet.
The goal is simple; change your body's fuel source from carbohydrates to stored fat cells. To accomplish this, keto dieters are encouraged to limit their daily carb intake to less than 50g.
With this said, bread is usually a big no-no when it comes to keto. Bread is inherently a high-carb food making it unsuitable for a ketogenic diet.
So are carb lovers doomed? Is there a way to eat bread on a keto diet without wrecking your progress?
Where there's a will, there's a way!
You can consume bread on a keto diet in moderation and still reach ketosis. But you need to be careful to choose keto-friendly options. Only specific kinds of bread are considered "keto bread."
What is keto bread?
Keto bread refers to low-carb bread that you can incorporate into your daily meals. This bread is different from the traditional wheat bread options you see most often in grocery stores.
When bread is advertised as keto bread, it's made from low-carb flour types and ingredients, making it easy to fit within your daily carb allowance.
Where to buy keto bread
The keto diet has boomed in popularity over the past few years, and this trend is still on the rise! This is great news for keto dieters because more and more supermarkets are carrying keto options.
You can find keto bread at most major grocery stores, including:
Bonus – You don't need to leave the house to get keto bread! You can order keto bread from Amazon or Thrive Market to have it delivered right to your door.
Check out my posts for keto tips on Thrive Market and Amazon here.
5 store-bought keto bread options
Although homemade bread is delicious, sometimes it's just not an option. We all live busy lives, and homemade keto bread takes some time that you may not have.
If you want quick, convenient low-carb bread options, there are so many on the market. Here are some of the best store-bought keto bread that you can also order online.
1. Nature's Oven keto-friendly bread
If you're looking for keto-friendly white sandwich bread, Nature's Oven has an option for you! Its base is made from vital wheat gluten and oat fiber.
This sliced bread option has 12g of carbs and 40 calories per slice. It also has an equal 12g of fiber to help your digestion on a ketogenic diet (zero net carbs!).
Though it's higher in carbs than other keto options, it's a widely available brand that you can pick up in a pinch.
With 0g of sugar and no artificial sweeteners, this bread is keto-approved.
Buy a loaf of Nature's Oven keto-friendly bread here!
2. Thin Slim Foods keto bread
You can find a variety of keto-friendly bread options from Thin Slim Foods.
Their selection is super extensive, including rye, cinnamon, and everything bread. They also have keto:
Hot dog buns
Hamburger buns
Rolls
Breadcrumbs
Though their products have varying carb counts, they advertise zero net carbs (an equal ratio between carbs and fiber).
The classic sandwich bread is wheat-based and has 45 calories and 7g of carbs per slice.
You can grab Thin Slim Foods keto bread here!
3. Carbonaut seeded bread
This is a great option for people following a low-carb diet who have a multitude of dietary restrictions. Carbonaut features not only keto-friendly products but also vegan and gluten-free ones.
The original bread recipe is made from wheat protein, flax meal, and psyllium husk. Their gluten-free variety substitutes wheat for rice bran.
They have sliced bread options in plain, seeded, and cinnamon raisin; buns, bagels, and pizza crusts are also available.
The original recipe has 9g of carbs and 80 calories (two net carbs per slice).
You can get this vegan keto bread from Carbonaut here!
4. Kiss My Keto bread
The Kiss My Keto brand is 100% keto. All loaves are wheat bread with additional flax meal. Try their bread varieties in seeded wheat, golden wheat, dark wheat, and cinnamon raisin.
Each slice has 5-6g of carbs and 60-70 calories.
They also sell fun keto snacks and supplements.
Find Kiss My Keto bread here!
5. Unbun bread
Unbun keto bread has a great mix of almond flour, ground flax, psyllium seed husk, and coconut flour to create an amazing texture. It has 6g of carbs and 90 calories per slice.
Find other Unbun bread options like bagels, baguettes, pizza crusts, tortillas, and more!
Grab this Unbun bread here!
Looking for more keto bread? I have a whole post on the Best Keto Bread to Buy in stores.
8 low-carb flours for making keto bread
Store-bought bread options are often made from grains like wheat flour and rye. Homemade keto bread is made from some more creative and sometimes unusual flour options.
If you want to make your keto bread from home, here are the best flour alternatives to help get you started:
Coconut flour
This finely filtered coconut flour will give the bread a slight coconut flavor. It has 9g of carbs per 2 tablespoon serving.
Try this super tasty coconut flour bread recipe here.
Almond flour
If you want a tasty, chewy texture to your baked goods, I highly recommend using almond flour.
This option has 3g of carbs per 2 tablespoon serving.
You can find my almond flour bread recipe here!
Psyllium husk powder
This flour substitute is rich in fiber and low in carbs.
It has 8g carbs per 1 tablespoon serving.
Take a look at the best low-carb psyllium bread recipes and my ultimate guide to baking with psyllium husk powder here.
Oat fiber
There are 4g carbs per 1 tablespoon serving of oat fiber. Different from oat flour, this ingredient is excellent for keto baking.
Learn more with my ultimate guide to baking with oat fiber here.
Lupin flour
This high-protein flour is made from lupin beans.
Lupin flour has 11g of carbs per ¼ cup. It's great for baking bread on the keto diet when combined with almond flour or coconut flour.
Pork rind dust
This one may seem a little unusual, but it works!
Pork rind dust doesn't contain any carbs! This makes it an unlikely but useful ingredient to bake keto bread.
Don't believe me? You can find my recipe for pork rind bread with nearly ZERO carbs per slice here.
Flaxseed meal
At 4g of carbs per 2 tablespoon serving, flaxseed meal is an excellent keto baking ingredient.
Bonus tip – It's also a great binder when mixed with equal parts water if you're short on eggs.
Check out my flax meal bread recipe here (you can also use it to make muffins!).
Chia flour
Chia seeds are ground up to produce this fiber-rich flour. It has 5g of carbs per 2 tablespoon serving.
Add it to coconut flour or almond flour to improve the texture of your baked bread.
10 amazing keto bread recipes
Are you over store-bought keto bread? If you want good low-carb bread you can make from home, I've got you covered!
Make any of these recipes to introduce keto bread back into your diet.
1. Flourless almond butter bread
My flourless almond butter bread has a light and fluffy texture with only five ingredients!
Combine eggs, almond butter, and a few extras for a grain-free bread option.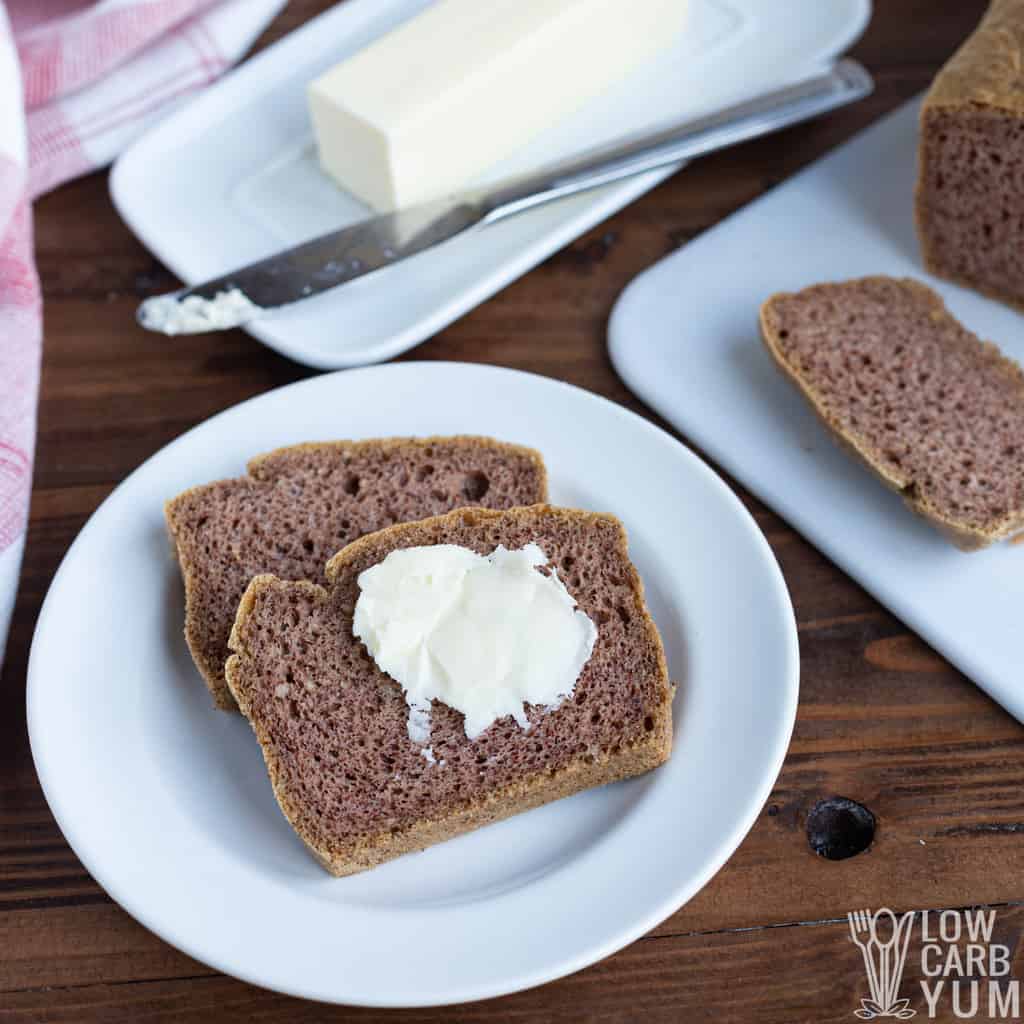 2. Keto dinner rolls
These keto dinner rolls are the perfect addition to any dinner table.
Serve them as a side, use them for sandwiches, or eat them on their own – they're just that good.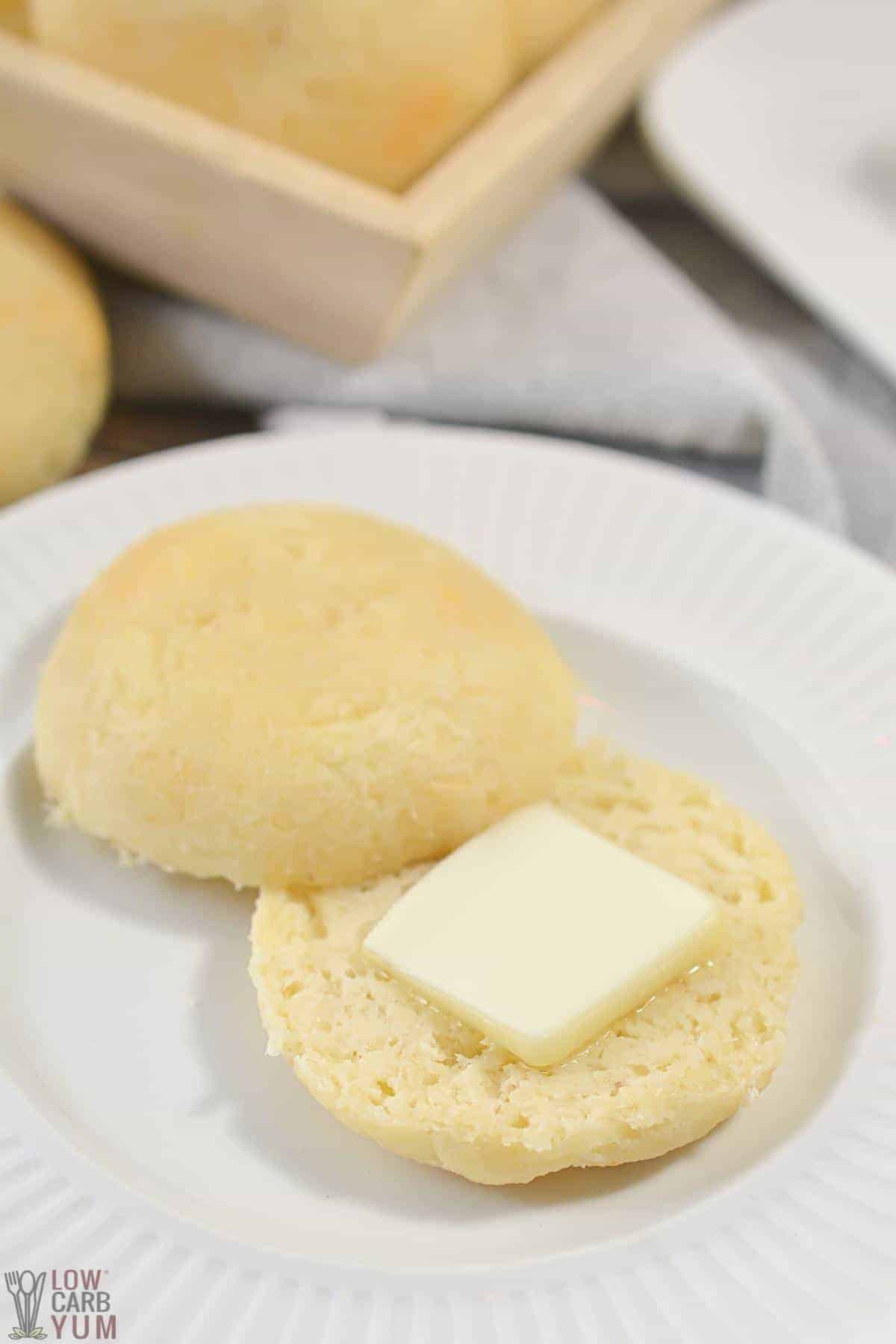 3. Southern keto cornbread dressing
You need to try my southern keto cornbread dressing.
It's gluten-free, sugar-free, and amazingly low-carb without sacrificing any flavor!
Flavored with yummy chicken broth and ground sage, this is a seasonal dish you'll want to eat year after year.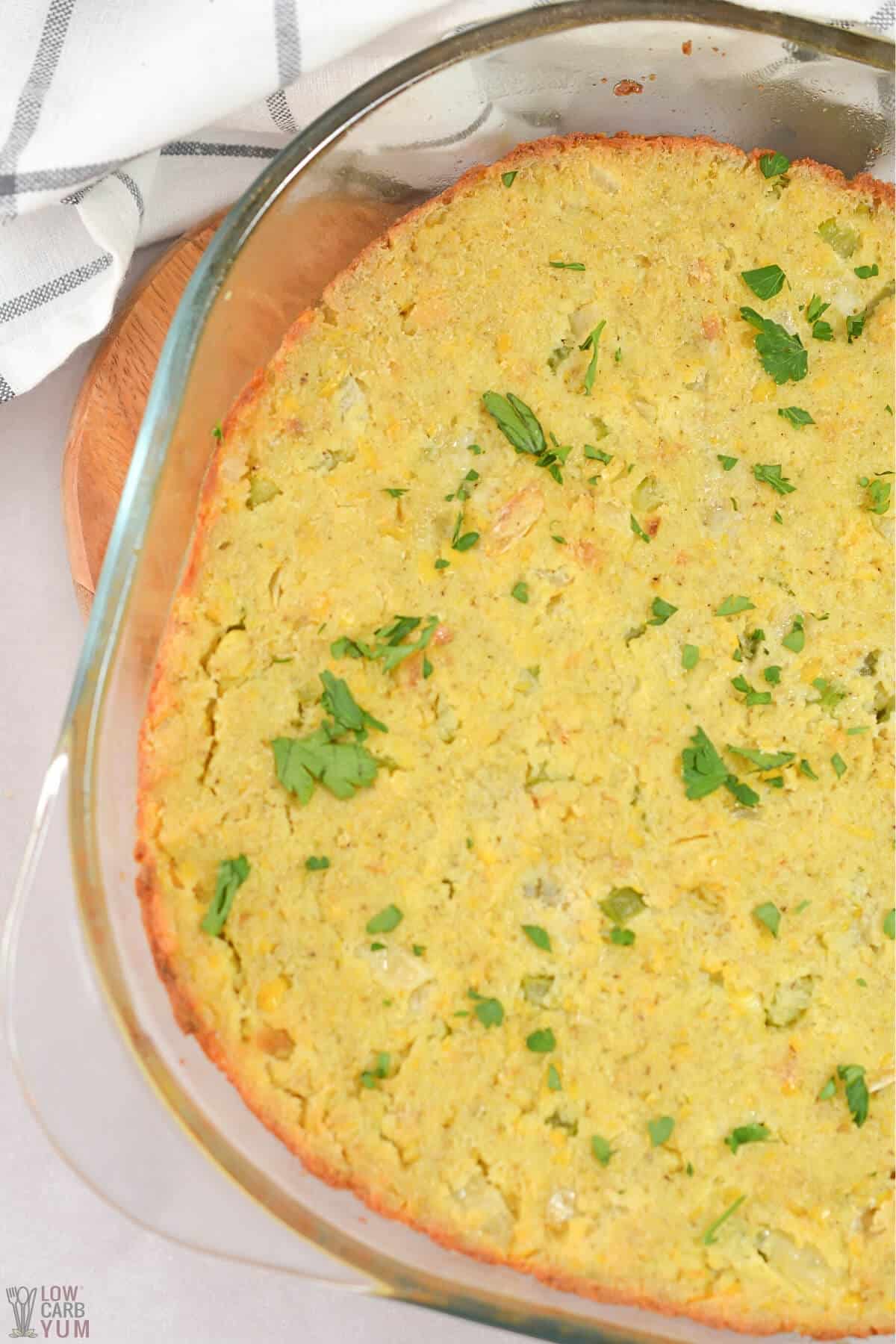 4. Buttery keto croissants
These buttery keto croissants are just as flaky and delicious as the real thing.
I love eating these for a quick breakfast idea when time is failing me.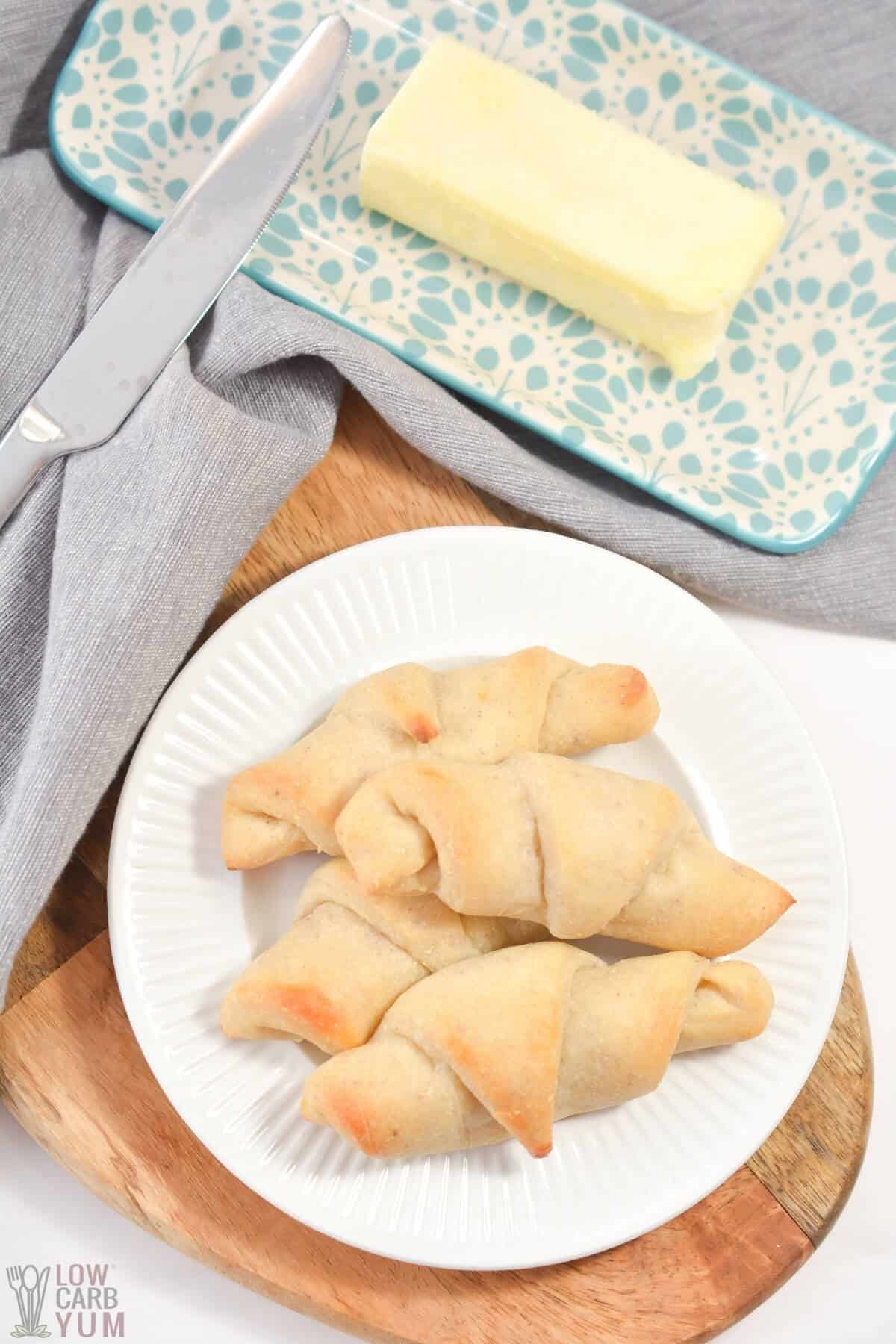 5. Keto naan bread
Amp up Indian night with this keto naan bread!
This is the perfect vehicle to soak up all the delicious spices and flavors of your Indian dishes.
Made with mozzarella cheese and almond flour, it's low-carb and gluten-free - the ideal bread for a keto diet.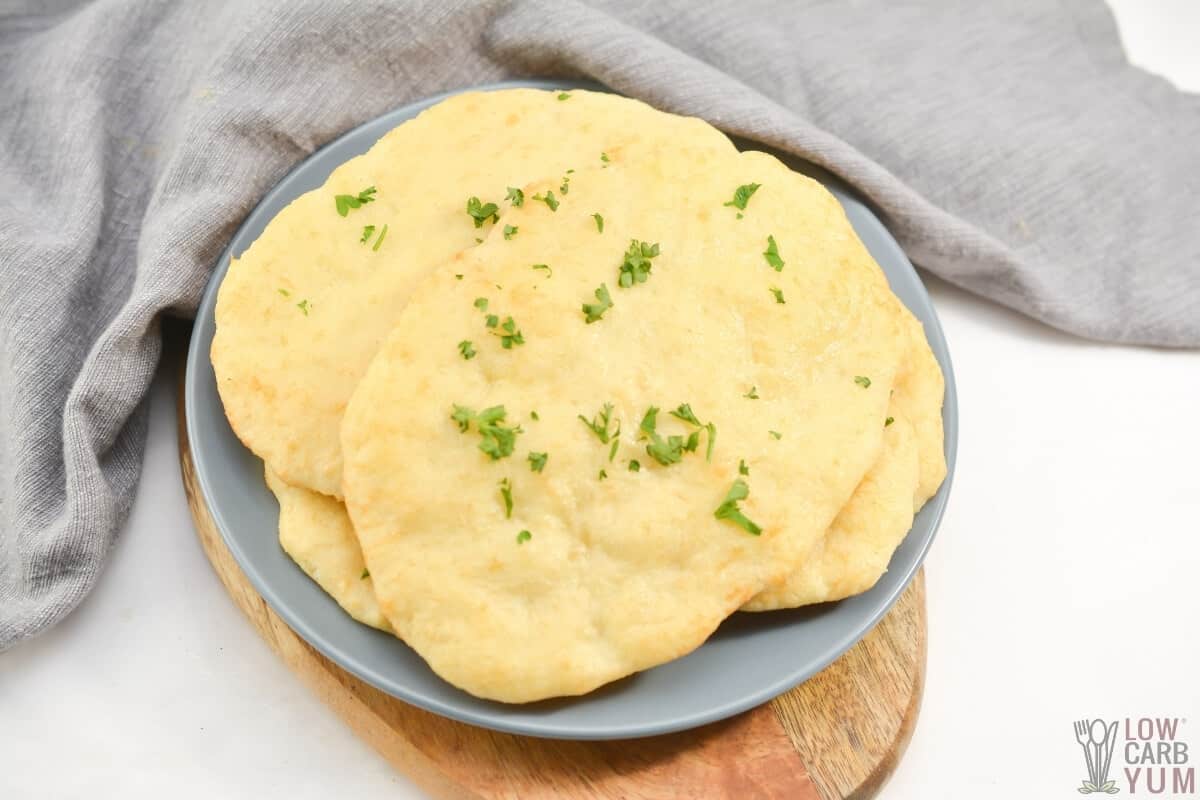 6. Keto bagels with coconut flour
These keto bagels are made with ultra-versatile coconut flour.
Dress up these keto bagels any way you fancy – use them for a fantastic breakfast sandwich or make a quick avocado toast.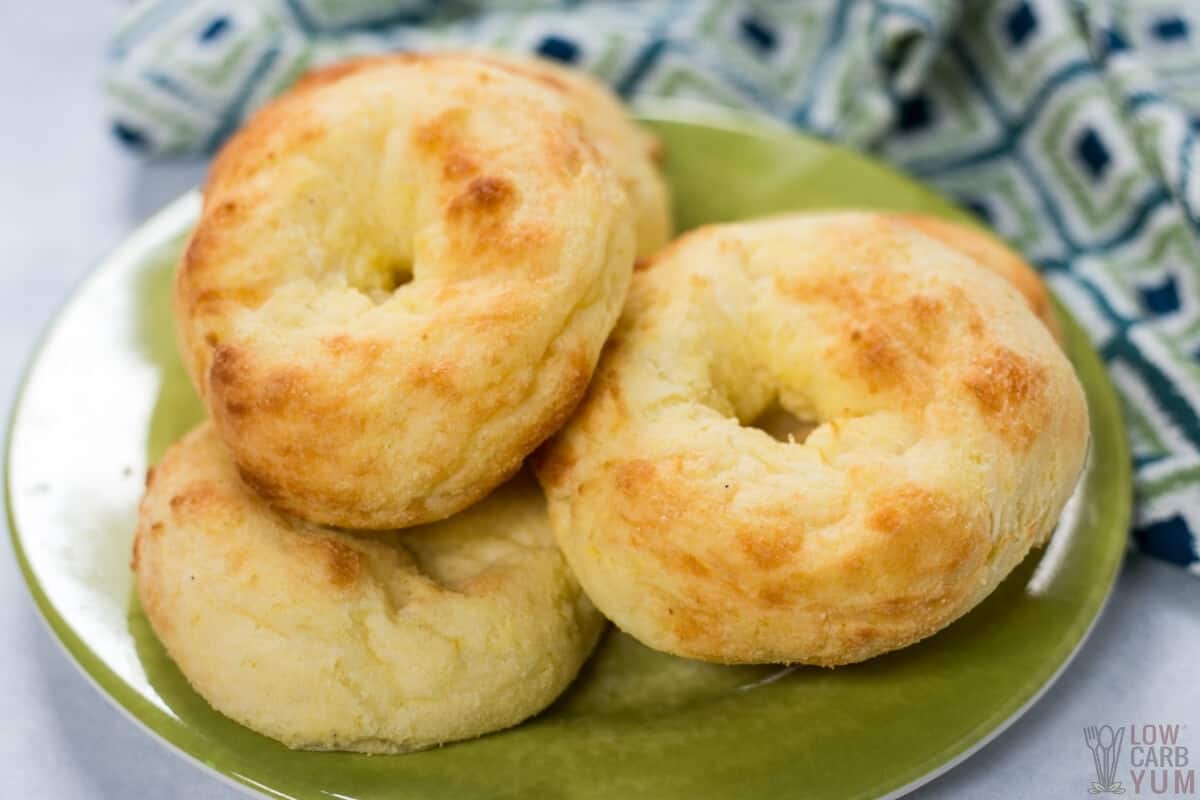 7. Chocolate zucchini bread
This chocolate zucchini bread is veggie-packed, keto-friendly, and totally tasty.
Next time you're craving a little bit of chocolate, this keto bread should be your first stop!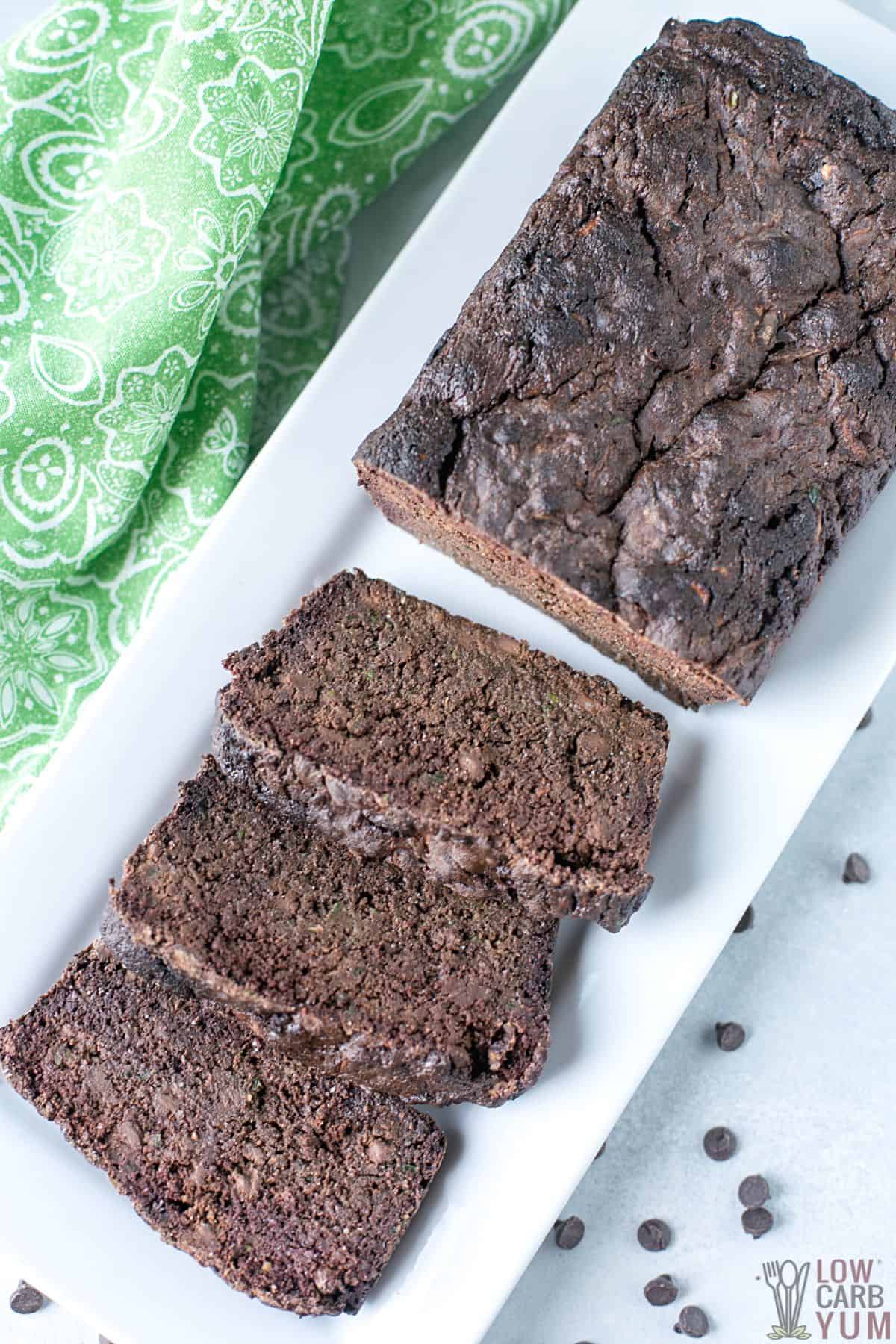 8. Almond flour tortilla
These almond flour tortillas have so much meal potential.
Use them to make keto BLTs, quesadillas, and more!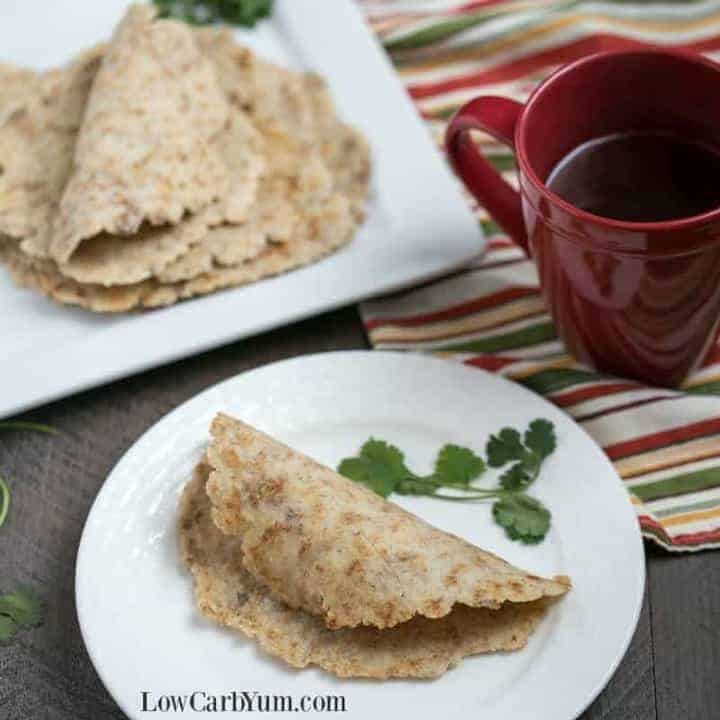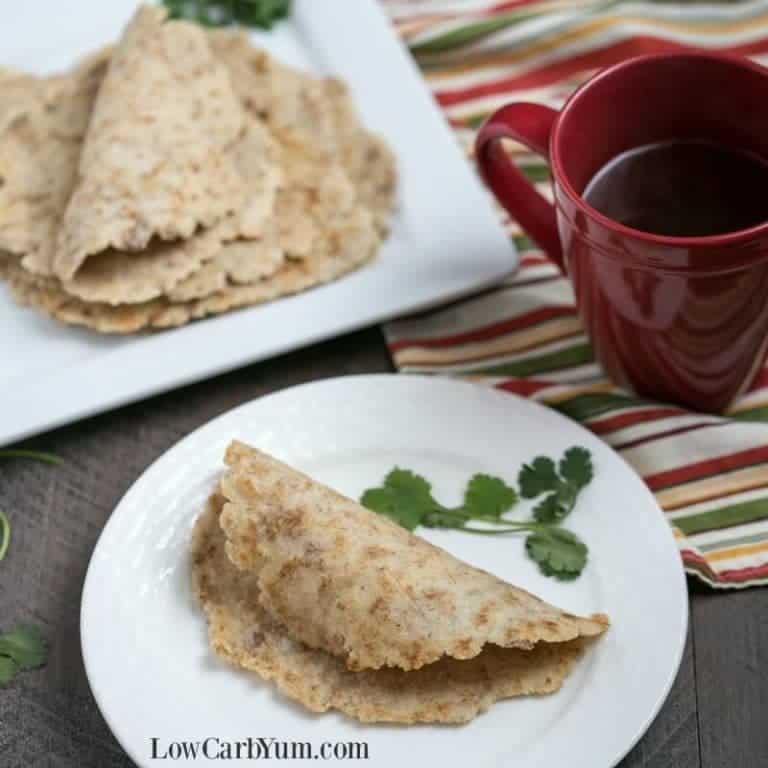 9. Keto pumpkin bread with cream cheese filling
If you make one bread on the keto diet, please choose this cream cheese-filled pumpkin bread.
This sweet spice bread is so decadent with its creamy filling. Share it with friends, and be ready to give out the recipe!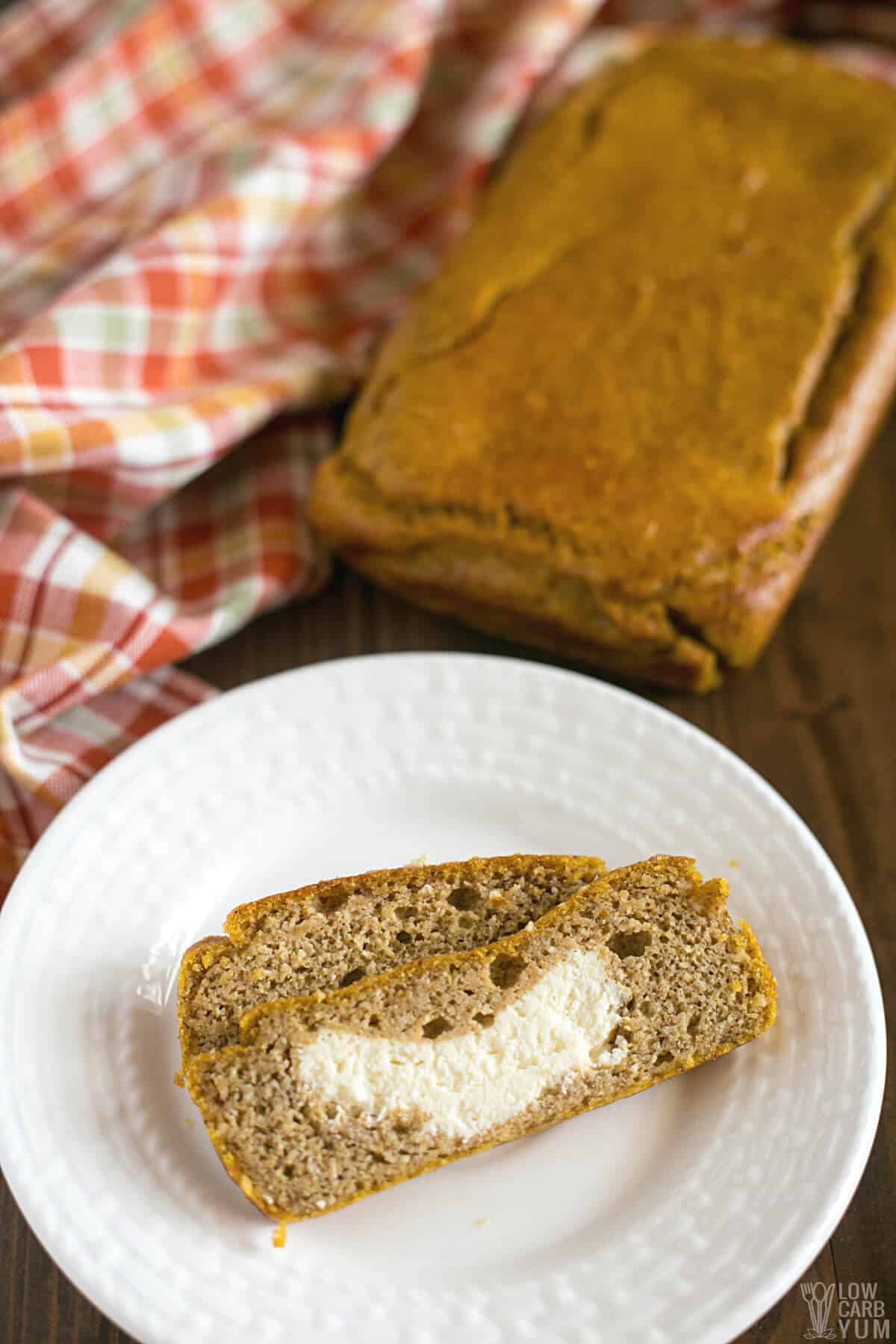 10. Keto cloud bread
If you want a super quick and easy keto bread option, I recommend my keto cloud bread.
This recipe only requires four ingredients and has less than 1g of carbs per serving.
And not only is it simple to make, but it also tastes delicious.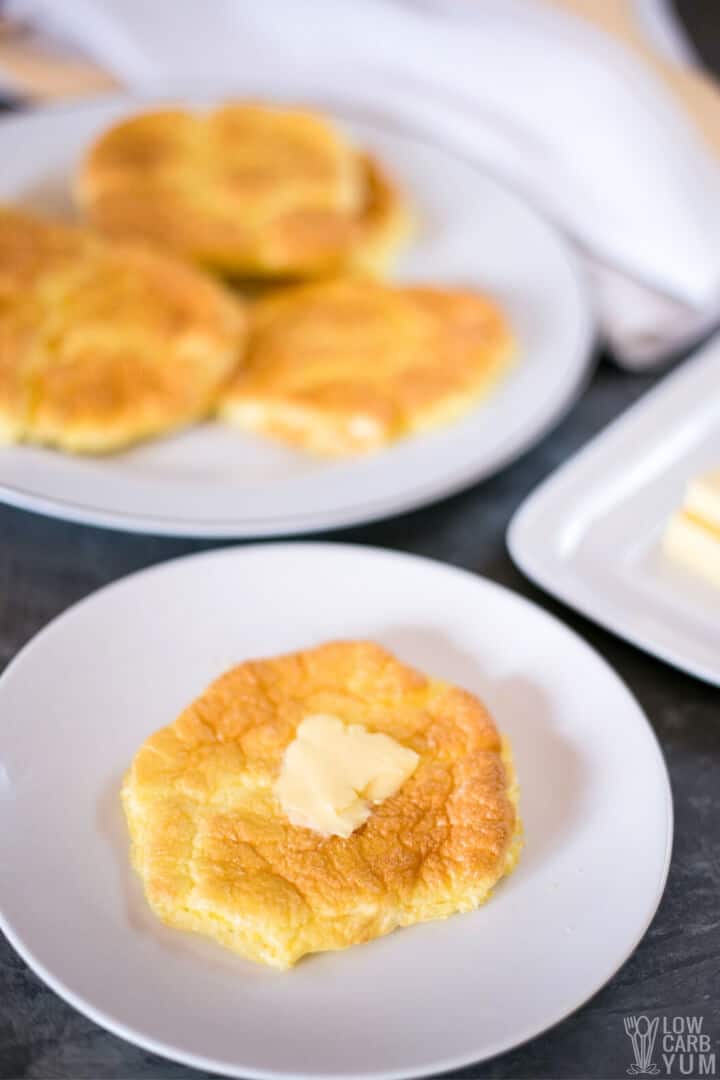 FAQs
Here are some frequently asked questions I get about eating bread on a keto diet. If I don't answer your question here, please leave it for me in the comments down below.
How many slices of keto bread can I eat per day?
This depends on what the rest of your diet looks like and how many carbohydrates are in your keto bread of choice. When you're on a keto diet, your goal is to limit your carb intake to 50g a day.
Check the nutritional information on your low-carb bread to determine how many slices you can fit within your daily carbohydrate limit.
Is sourdough keto-friendly?

Though sourdough is delicious, it's definitely not a keto-friendly bread choice. It's made with all-purpose flour and is a high-carb bread.
Is keto bread good for losing weight?
Keto bread often has a lower calorie count than traditional bread sources. For this reason, choosing keto bread as a bread alternative could contribute to some weight loss.
In addition, if you are following a strict keto diet and reaching ketosis, you should also be expecting significant weight loss.
Bread on a keto diet: Conclusion
If you haven't been eating bread on your ketogenic diet, here's your chance! I hope you find these recipes, shopping tips, and information helpful when trying to integrate keto bread into your meal plan.
Don't avoid bread just for the principle – keto bread lets you enjoy so much more delicious food without the extra carbohydrates.
Try a low-carb bread recipe today!
More Keto Diet Information
Looking for more keto bread recipes for your low-carb diet? I have so many great options for you to try. This is just a small sampling, but you can get my entire collection of keto bread recipes here.
Follow us on FACEBOOK, PINTEREST, and INSTAGRAM for even more tasty keto-friendly recipes!