Dunkin' Donuts is well known for its coffee drinks and breakfast foods. It is possible to eat keto at Dunkin' Donuts - here is how!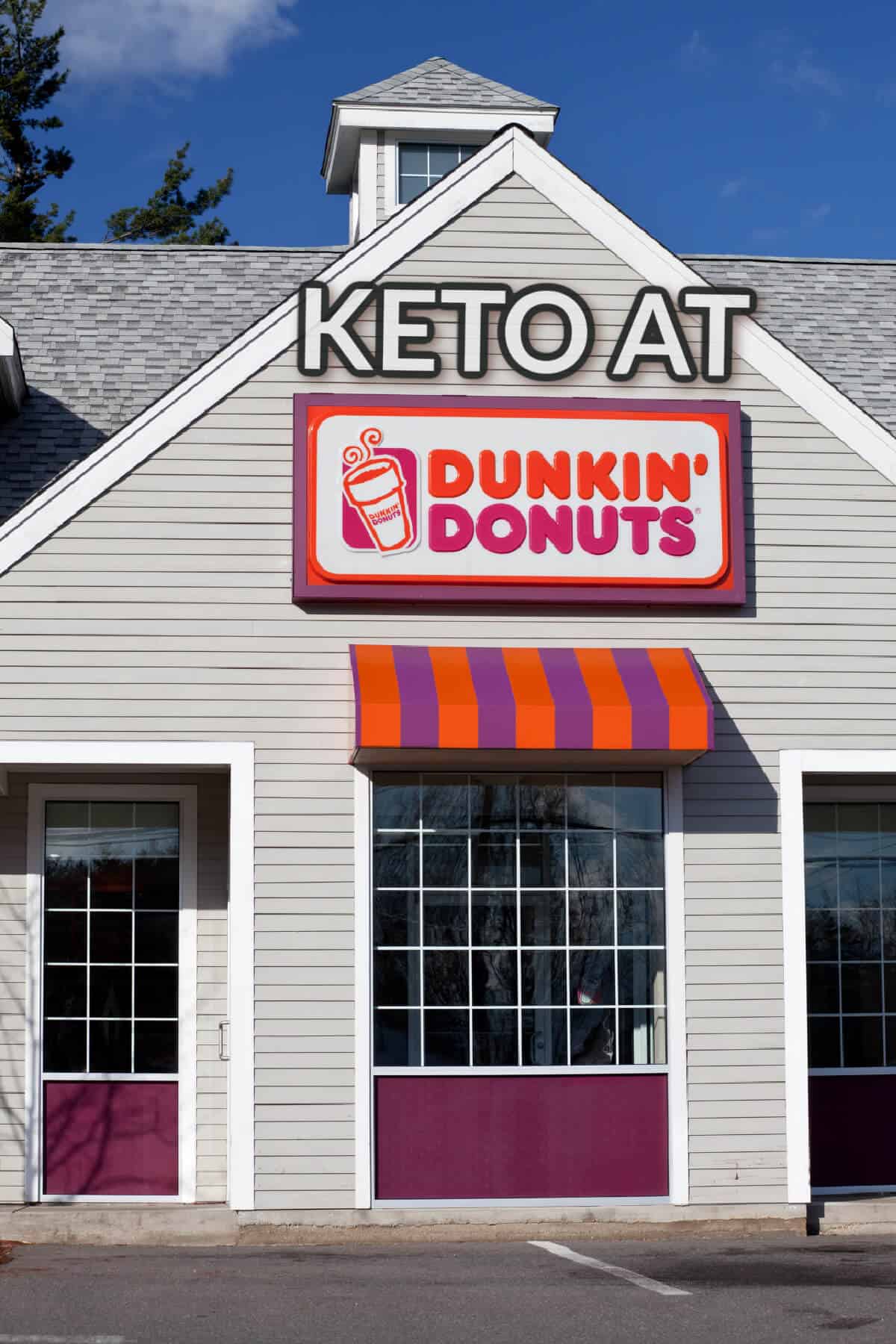 Article Index
Even though their real name is just Dunkin', most people still call it Dunkin' Donuts. If you think you can't eat at a place with donuts in the name, think again!
You might not be able to enjoy all the baked donuts, but there are tons of other things you can order while you are there.
The reason Dunkin' is so convenient is that when you are on the road, you are more than likely to pass by a Dunkin' store. With more than 11,000 locations around the world, chances are you will be nearby a Dunkin' when you are craving coffee.
Don't just look at Dunkin' as off-limits when you are on keto. Follow this guide and order things that will keep you within your macros.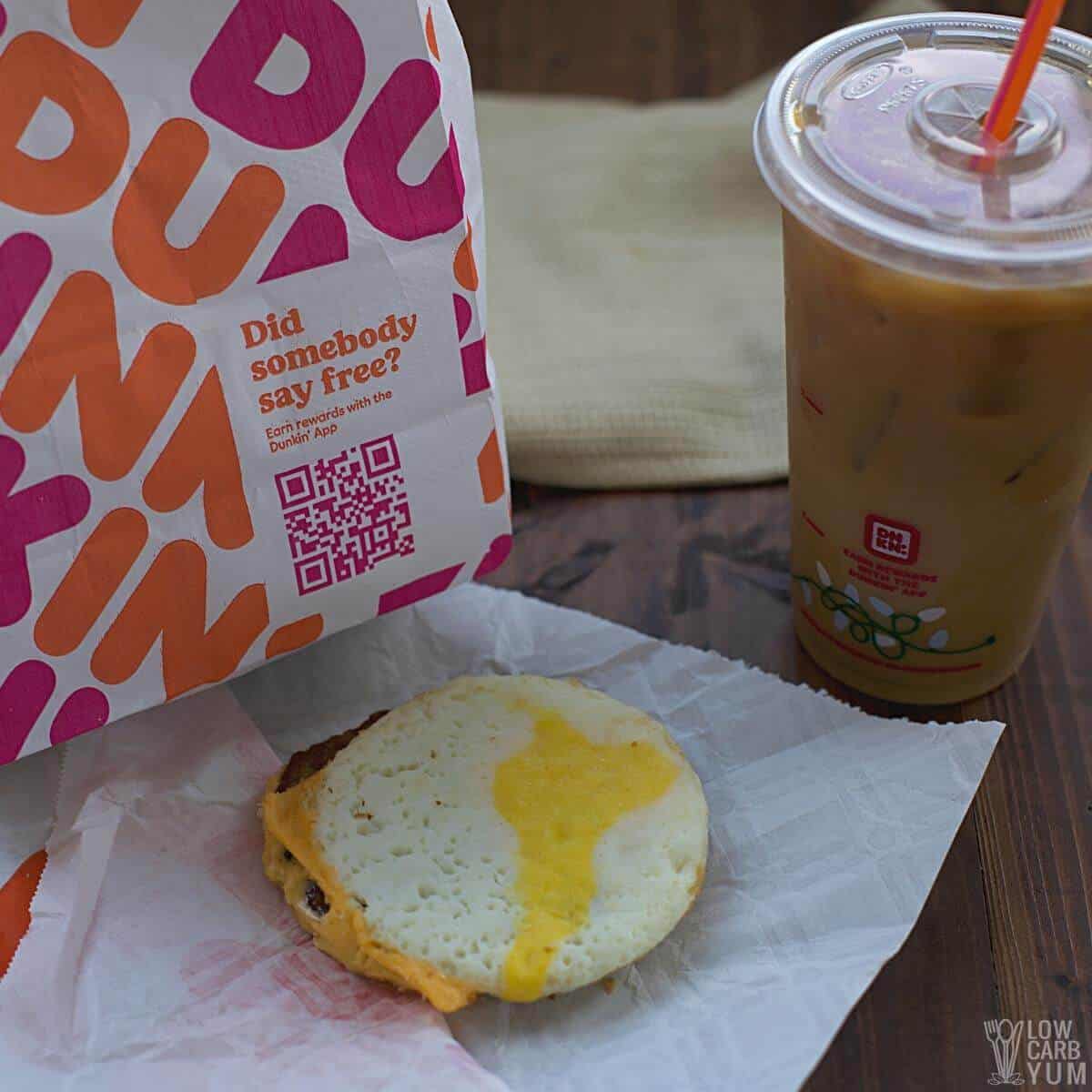 Best Options
The Dunkin' website has a printable nutrition guide, but it is kinda confusing. That's why I created this guide for keto diet options at Dunkin' Donuts.
There are basically two types of things you can order there - low-carb drinks or breakfast sandwiches without bread. Even though your choices are limited, there are still options that will fit your allowed carb count.
Let's look at both categories a little closer.
Keto Drinks
If you're a coffee drinker, try one of these keto coffee options with net carbs shown:
Espresso Shot (1g)
Classic Medium Americano (2g)
Regular Hot Coffee (0g)
Cold Brew Coffee: (1g)
Coffee With Cream: (1g)
Coconut Milk Macchiato: (3g)
Coconut Milk Latte: (3g)
Large Iced Coffee with Coconutmilk (1g)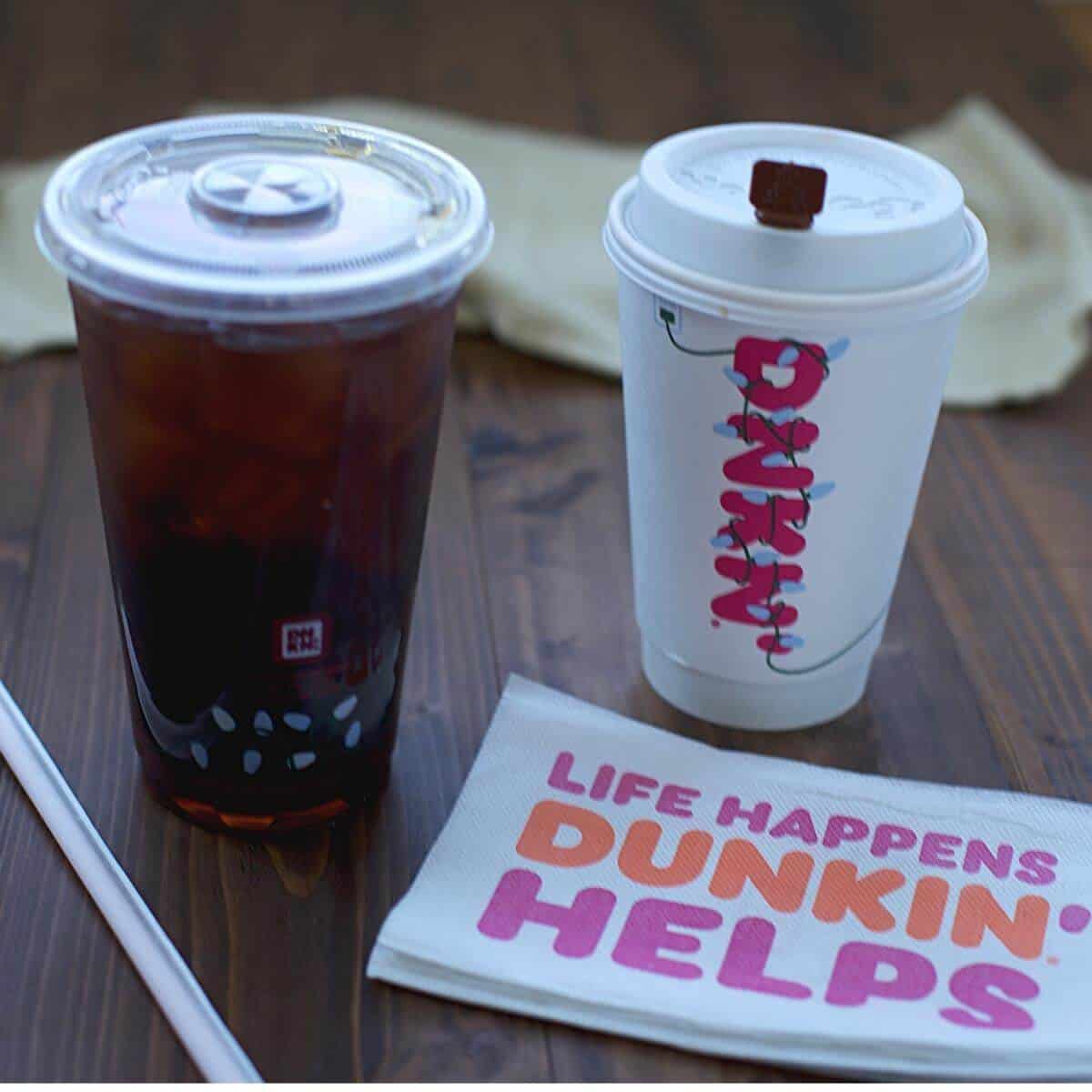 There are keto-friendly tea options too! Here are just a few of my favorites with 0g net carbs each:
Hot Tea
Iced Green Tea Unsweetened
Iced Tea Unsweetened
Herbal Infusion Hot Tea
Keto Foods
These are some breakfast choices with low net carbs:
Sausage Egg and Cheese: no bread (2g)
Bacon Egg and Cheese: no bread (2g)
Ham Egg and Cheese: no bread (2g)
Turkey Sausage Egg White and Cheese: no bread (6g)
Egg and Cheese: no bread (2g)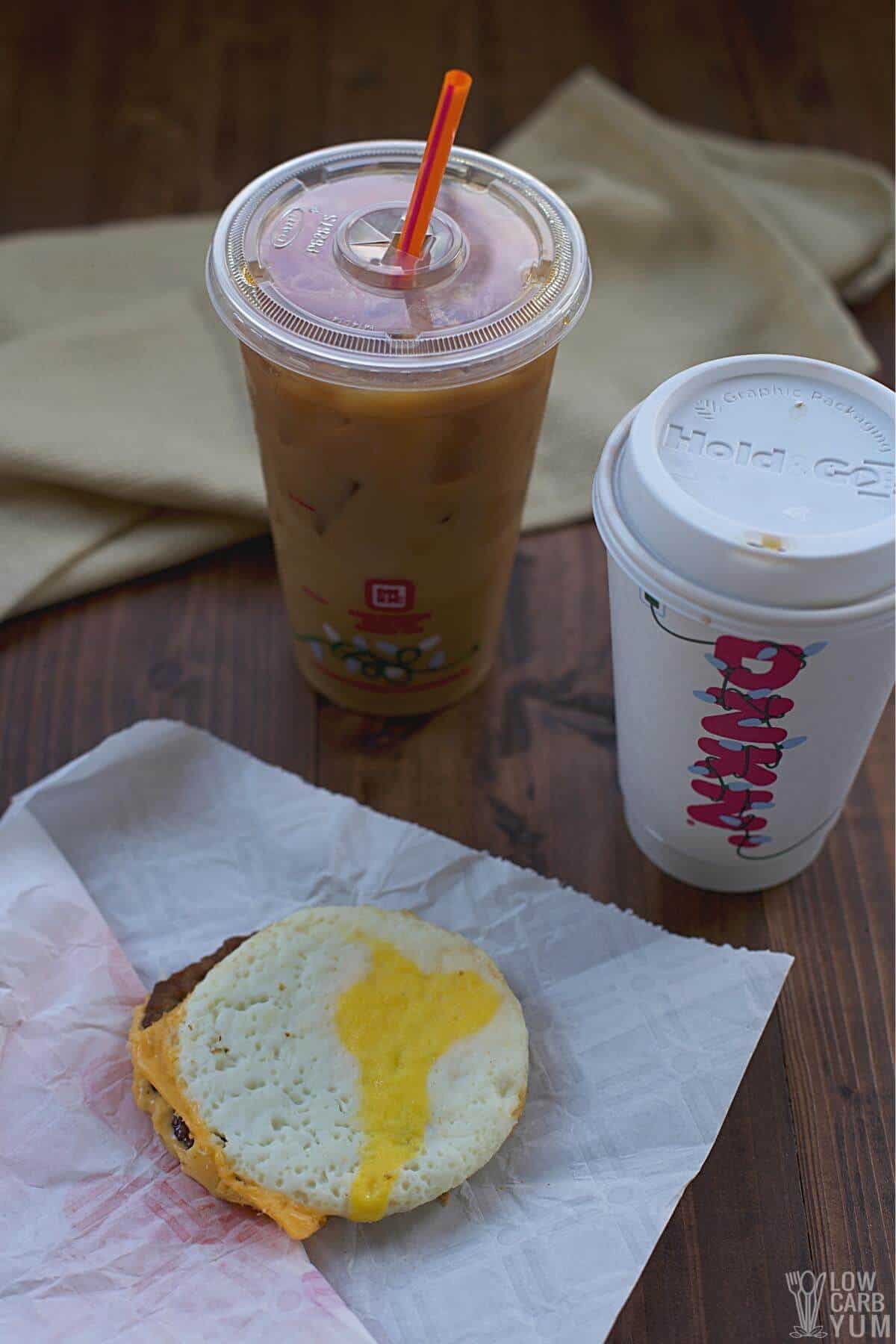 How To Order
It can be as simple as, "Don't order any donuts, bread, or added sugar at Dunkin'," but there are ways to still order a sweet drink on a low-carb diet.
Following these rules will help you find the most keto-friendly options at Dunkin' without any stress or effort.
Here are some really simple rules to follow to stay on track:
1. Avoid the donuts
This is obvious, but I had to mention the donuts in a post about Dunkin'. No, Dunkin' does not make any donuts for a keto diet. If they are out there, this is a huge opportunity, and hopefully, someday, they'll add it to their list!
For now, just order anything else except the donuts.
2. Decline flavor swirls and refreshers
Flavor swirls are basically pure sugar. Don't add them to your coffee, latte, or tea.
Refreshers are also packed with sugar - they are not the same as iced tea. Don't order any kind of refresher because it will make you go over your macros.
3. Order sugar free drinks
Dunkin' has sugar-free sweeteners that you can add to your drinks, so use them. Or you can always bring your own sweetener.
When you order your drink, remember to tell them not to add any sweetener to your tea or coffee. (Some employees might add sugar to it without thinking.)
It's a lot safer to add the sugar substitute yourself. That way, you can control how sweet it is and whether it is real sugar or low-carb sweetener.
4. Add flavor shots
Sugar-free flavor shots are alternative to sugar syrups and are available at all Dunkin' Donuts locations. They sweeten coffee or tea with delicious flavors and are different from flavor swirls.
The following flavor shots are some of the most popular types you can choose from include:
French Vanilla
Toasted Almond
Caramel
Hazelnut
Blueberry
Coconut
Raspberry
Request a flavor shot of your choice added to your unsweetened iced tea or plain black coffee. It really improves the taste!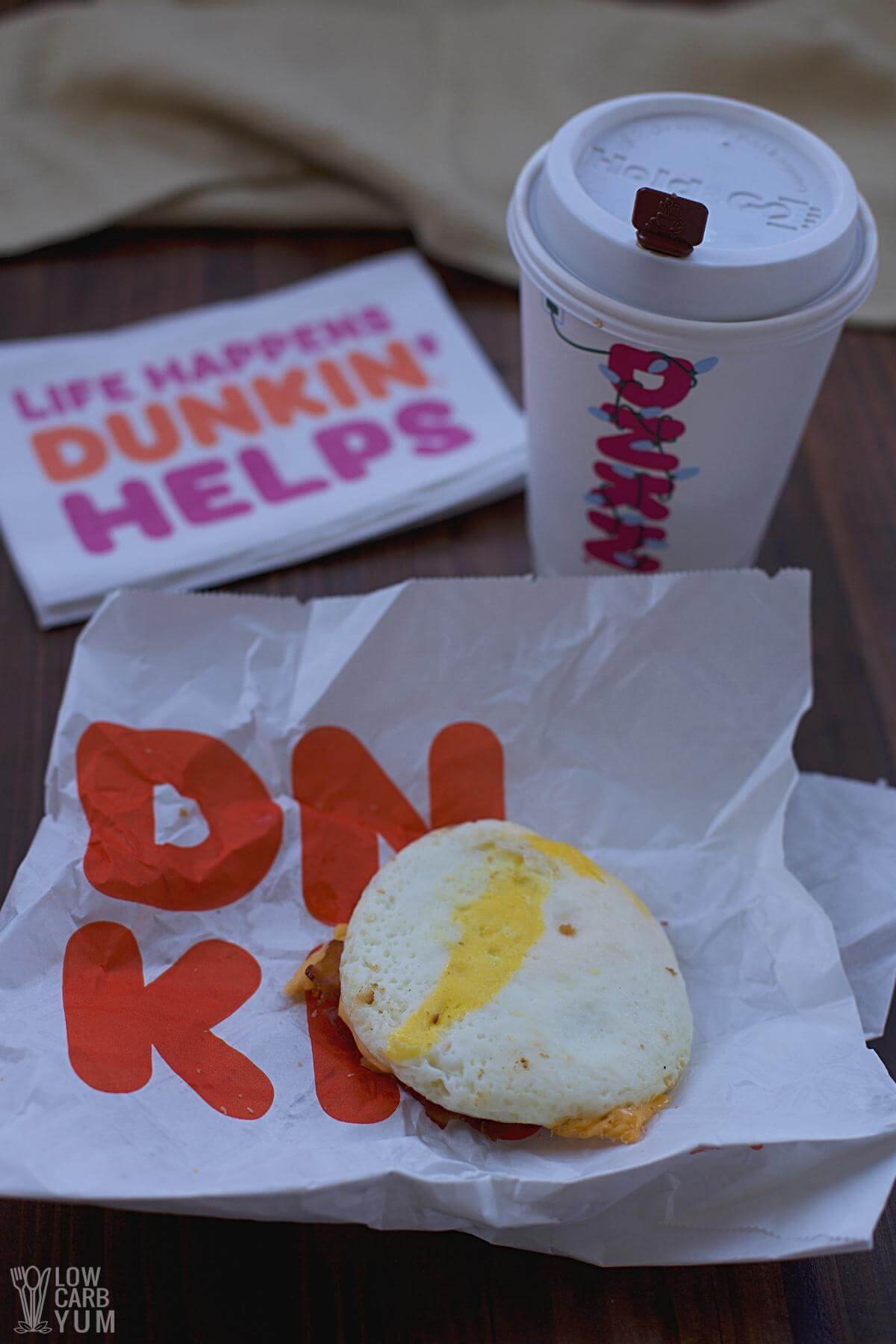 FAQs
Here are a few answers to the most frequently asked questions about ordering keto food at Dunkin'! If you don't see your question in this list, please leave it in the comments.
Does cold brew coffee have more caffeine than hot coffee?
In general, there is actually more caffeine in hot coffee than cold brew. Even though cold brew uses more coffee beans, more caffeine is extracted when it is brewed with hot water. So if you are really dragging and need a pick-me-up without the sugar, you might want to order a hot coffee.
What can I order at Dunkin' Donuts for keto?
Order unsweetened coffee, a latte, or tea, and any kind of meat or eggs without the bread. If you stick to this rule, you will always find something low-carb. To order keto at Dunkin' you just have to avoid all the sugar.
Is Dunkin' Snackin' Bacon keto-friendly?
Even though bacon itself is usually a low-carb snack, snacking bacon is not keto-friendly. Each serving of Dunkin' Snackin' Bacon has 10 grams of carbs. Instead of ordering this, I suggest making your own sugar-free baked bacon at home.
Does Dunkin' have sugar-free caramel?
Yes, you can order a sugar-free caramel latte! Just ask for a hot latte with almond milk and a flavor shot of sugar-free caramel. This adds lots of flavor to your drink without the sugar and carbs.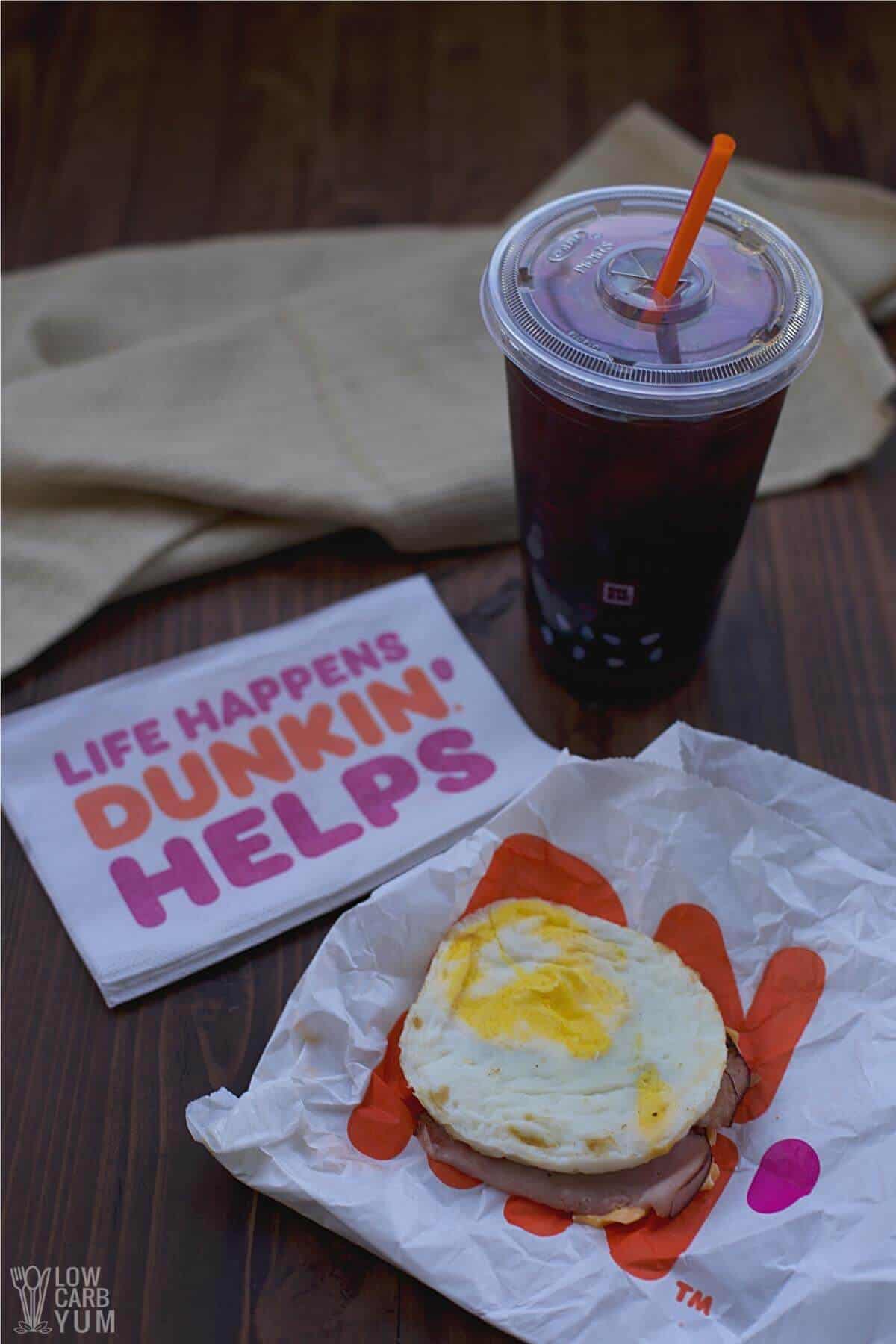 Related Recipes
If reading all about Dunkin' has you craving donuts and coffee, here are some low-carb recipes you can make at home. All of them will effectively replace anything you can order at Dunkin'.
Did you know you can also order keto at Panera Bread too?
★ FOLLOW ME ON FACEBOOK, PINTEREST, AND INSTAGRAM FOR MORE EASY KETO RECIPES.