These Wingstop keto-approved foods are all positively mouth-watering. I have the best wing flavors, as well as drink options and side dishes for you to enjoy – all on a keto diet! Learn how to order keto with confidence at Wingstop.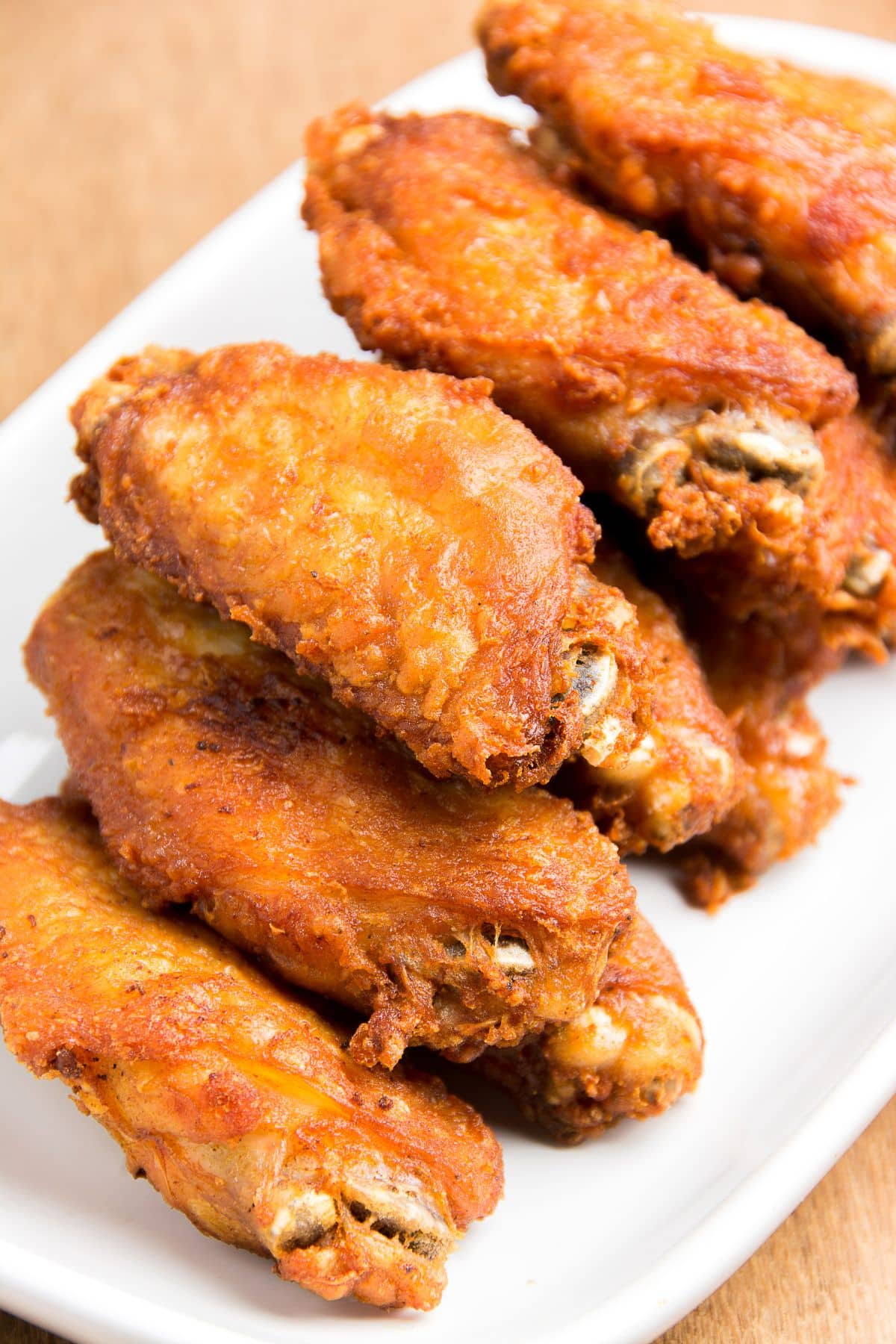 Wingstop is practically wing heaven; they serve delicious wings in several sauce varieties, many of which are suitable for a ketogenic diet.
If you're searching for a keto-friendly meal, Wingstop has you covered.
Still, following keto can be difficult to navigate a restaurant's nutritional information. That's why I've done the work for you!
In this post, I'll share all the fantastic low-carb options that Wingstop has to offer. I also list menu items to avoid, ordering tips, and a couple of common traps you can fall into when ordering.
Read on to discover how you can order at Wingstop while on a low-carb diet!
Best keto food options at Wingstop
Wingstop is known for its wings, and that's what we're going to be focusing on in this post.
I think the best keto-friendly restaurants are low-carb without requiring too many substitutions; this makes it easier both for the restaurant and you!
For a fast-food restaurant, Wingstop keeps it pretty simple, offering chicken and several sides and drink options to make your meal a combo.
You can eat most of the wings at Wingstop on a keto diet without a second thought! Still, there are some menu items that you need to watch out for.
Note: If you're interested in the full nutrition information for any of these menu items, you can find it on the Wingstop website.
How to order keto chicken wings at Wingstop
To order keto at Wingstop, choose classic wings over boneless wings, tenders, or chicken sandwiches; these are all breaded and high in carbs.
The other main way you can ensure that your wings are keto-approved is to make low-sugar sauce choices.
Jumbo wings and sauces
Nutritional information is based on two wings with your choice of sauce. Wingstop keto-friendly wing options include:
Atomic jumbo wings (2g net carbs)
Cajun jumbo wings (0g net carbs)
Garlic parmesan jumbo wings (2g net carbs)
Lemon pepper jumbo wings (0g net carbs)
Louisiana rub jumbo wings (0g net carbs)
Mild jumbo wings (0g net carbs)
Original hot jumbo wings (0g net carbs)
Plain jumbo wings (0g net carbs)
Sauces to avoid
Some Wingstop sauces contain higher amounts of carbohydrates. Try to avoid these chosen sauces on a keto diet.
While these carb counts don't seem TOO high, remember that this nutritional information is only for two wings; you'll likely eat more!
Sauces to avoid include:
Hawaiian (6g net carbs)
Hickory smoked barbeque (8g net carbs)
Mango habanero (8g net carbs)
Spicy Korean Q (6g net carbs)
Keto side dishes
If you're looking to round off your meal at Wingstop, you're pretty limited by their keto-friendly options. Their side dishes contain high-carb ingredients like potatoes that will blow your daily carb count!
Still, there is some hope! Wingstop keto extras include:
Veggie sticks, AKA celery and carrot sticks (5g net carbs)
Blue cheese dipping sauce (3g net carbs)
Ranch dipping sauce (2g net carbs)
Keto drinks
Wash your chicken wings down with a low-carb drink. Keto drink options at Wingstop include:
Diet Coke (1-2g net carbs)
Lipton unsweetened tea (0g net carbs)
Gold Peak unsweetened tea (1-2 net carbs)
Ordering tips for Wingstop
Ordering a keto meal at Wingstop is pretty straightforward. Just keep in mind a few key details while ordering.
1. Avoid boneless wings
Make sure when you order to ask for classic Wingstop jumbo wings.
The boneless wings are all breaded and have between 12 and 18 net carbs per 2 wings!
2. Skip the sandwich
The crispy chicken sandwich is tempting, but there isn't a way to modify this meal option to make it low-carb.
The chicken patty is, unfortunately, breaded. Even if you remove the bun, it still has a super high carb count.
Skip the sandwich and indulge in what Wingstop is best known for – the wings!
3. Choose veggie sticks
The side dishes at Wingstop focus heavily on carbohydrates (I'm looking at you, french fries!).
All of the Wingstop fries, as well as the cajun fried corn, are not keto-approved.
If you're ordering a combo meal, choose a side of celery veggie sticks and carrot sticks! You can even add ranch or blue cheese dipping sauces.
4. Eat dessert at home
While none of the dessert options at Wingstop at keto-friendly, don't deprive yourself of something sweet!
I have a ton of keto diet-approved dessert recipes you can make at home.
5. Beware of sugary drinks
Most of the drink options at Wingstop are packed full of sugar; this means they're likely not suitable for a keto diet.
If you're thirsty, choose one of their unsweetened tea options, diet coke, or good old-fashioned water.
FAQs
Here are a few answers to the most frequently asked questions about ordering keto at Wingstop! If you don't see your question in this list, please leave it in the comments.
Can I eat Wingstop on a keto diet?
You can absolutely eat Wingstop on a keto diet. While their food may not be the most nutritionally beneficial, it's okay to add to your diet once in a blue moon.
Is Wingstop ranch dressing keto-friendly?
The ranch is one of your best options if you're looking for a keto-friendly dressing at Wingstop. Their ranch dressing contains 2g net carbs per serving, making it a great dip choice for your veggie sticks.
How many carbs are in Wingstop wings?
The Wingstop nutritional guide lists their plain jumbo wing as having 0 net carbs. Still, note that the sauces or rubs you add to your wings will change the carb count.
Are Wingstop wings breaded?
It depends on which wings you order! The classic Wingstop jumbo wings are NOT breaded; in other words, they're a great keto option with 0 net carbs! Breaded wings at Wingstop include boneless wings and boneless tenders; avoid all of the breaded options on a ketogenic diet.

Note: the non-breaded wings at Wingstop are not considered safe for those with Celiac disease. All wings are fried in the same fryers, meaning there is cross-contamination.
Related recipes
If reading about Wingstop has you craving chicken wings and sandwiches, here are some low-carb recipes you can make at home! All of them will effectively replace anything you can order at Wingstop.
Follow us on FACEBOOK, PINTEREST, and INSTAGRAM for even more tasty keto-friendly recipes!