Convenience is a necessity for finding a diet that you can stick with! Luckily, you can easily find a keto meal in a pinch at your favorite fast food restaurants when you know how to order. Discover how to eat keto at Arby's with the best low-carb menu items, ordering tips, and more.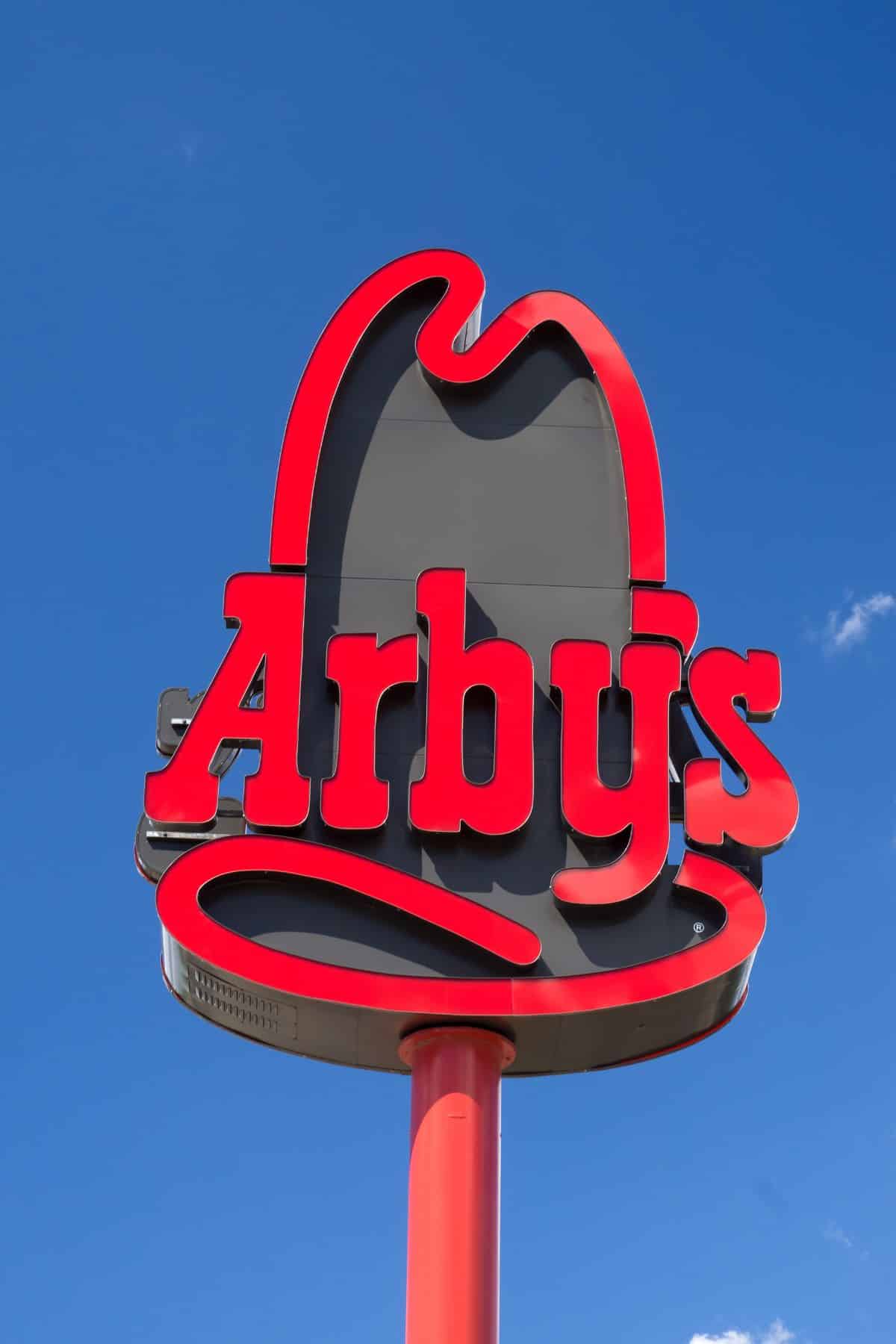 Let's face it, the occasional fast-food trip is inevitable!
Whether you're juggling a busy schedule, need a meal on the road, or can't find the energy to cook, you'll likely find yourself needing a quick meal once in a while.
The good news is that with a keto diet, you can absolutely enjoy fast-food without affecting your progress—you just need to know how to order.
In this post, I'll teach you how to eat keto at one of my favorite fast food stops, Arby's.
Below, I'll include low-carb substitutions, ordering tips, and nutritional information to help inform your order and simplify the process.
Looking for more keto fast food restaurants? I have a bunch of keto tips for eating on the go, including how to eat fast food at Wendy's, Wingstop, Starbucks, and Dunkin' Donuts.
Best keto options at Arby's
At first glance, you may think that the Arby's menu is made up of high-carb meals with very few options for keto dieters. However, there are actually tons of low-carb options if you know where to look!
These are the best keto options for you to eat at Arby's.
Note: If you want more information, you can check out Arby's nutrition and allergen guides here. Arby's does not list their nutrition facts by ingredient, so these net carbs are approximate.
Arby's keto main meals
It's surprisingly easy to eat keto at Arby's because of their wide variety of high-fat protein options and willingness to let you customize your meal.
All of these menu items are low-carb with just a couple of easy tweaks.
1. Sandwiches
When ordering an Arby's sandwich, make sure to ask for no bun and swap your sauce out for a keto-friendly option. Try any of these mains for a low-carb meal:
Fire-roasted Philly roast beef sandwich - 4g net carbs, 27g protein, 34g fat
Classic roast beef sandwich - 1g net carbs, 16g protein, 10g fat
Double roast beef sandwich - 2g net carbs, 31g protein, 20g fat
Half-pound roast beef sandwich - 2g net carbs, 41g protein, 26g fat
Beef n cheddar sandwich - 3g net carbs, 16g protein, 12g fat
Grand turkey club sandwich - 3g net carbs, 26g protein, 20g fat
French dip n swiss sandwich - 2g net carbs, 27g protein, 19g fat
Loaded Italian sandwich - 7g net carbs, 25g protein, 38g fat
2. Sliders
The same goes for Arby's sliders; ask for them without the bun or the sauce. Mix and match slider options like:
Jalapeno roast beef slider - 1g net carbs, 9g protein, 7g fat
Roast beef n cheese slider - 1g net carbs, 9g protein, 9g fat
Roasted turkey slider - 1g net carbs, 10g protein, 3.5g fat
Ham n cheese slider - 2g net carbs, 9g protein, 6g fat
Pizza slider - 1g net carbs, 9g protein, 13.5g fat
3. Wraps
Arby's has some delicious wrap options that you can enjoy on the keto diet with a couple of modifications. Try an Arby's low-carb wrap by asking for no wrap (or pita bread) and swapping your sauce for a keto-approved choice. Wrap options include:
Chicken club wrap - 4g net carbs, 35g protein, 17g fat
Roast turkey ranch & bacon wrap - 4g net carbs, 31g protein, 14g fat
Jalapeno bacon chicken wrap - 6g net carbs, 32g protein, 16g fat
Roast turkey and swiss wrap - 3g net carbs, 25g protein, 19g fat
Roast beef gyro - 4g net carbs, 16g protein, 10g fat
4. Additional Arby's keto meals
For additional keto meal options, try the:
Brisket bacon flatbread (no bread, remove sauce) - 2g net carbs
Roast turkey farmhouse salad - 6g net carbs
Side salad (remove sauce) - 3g net carbs
Arby's keto sauces
There's a reason fast food is so flavorful—it's often packed full of hidden sugars!
Sauces are one of the biggest culprits of sneaky added sugars, so it's important to know their macros before you order.
You can use any of these sauces as a keto-friendly addition to your meal:
Arby's sauce - 3g net carbs, 0g protein, 0g fat
Balsamic vinaigrette dressing - 5g net carbs, 0g protein, 12g fat
Buffalo dipping sauce - 2g net carbs, 0g protein, 1g fat
Buttermilk ranch dressing - 2g net carbs, 0g protein, 22g fat
Cheddar cheese sauce - 2g net carbs, 0g protein, 2g fat
Horsey sauce - 3g net carbs, 0g protein, 5g fat
Light Italian dressing - 2g net carbs, 0g protein, 1g fat
If you happen to be taking your lunch or dinner to eat at home, this keto ketchup pairs perfectly with their food. It just takes minutes to whip up!
Arby's keto drinks
When it comes to fast food, keto-friendly drink options are in short supply. This is true for Arby's as well.
This being said, you can definitely enjoy a beverage along with your keto meal. Keto beverage options include:
Black coffee
Bottled water
Diet soda
Iced tea (unsweetened or with one of these keto sweeteners added)
Arby's menu items to avoid
There are certain menu items at Arby's that can't be made low-carb, no matter how many substitutions you make.
While some items are obvious, others have sneaky extra carbs and high sugar counts.
Foods to avoid include:
Baked potatoes
Crispy chicken (all items)
Desserts (all)
French fries (all)
Mozzarella sticks
Milkshakes
Onion rings
Sweetened drinks
Reuben sandwich
Sauces to avoid include:
French au jus sauce
Honey mustard sauce
Ketchup
Red ranch sauce
Roasted garlic aioli
Tangy BBQ sauce
Tzatziki sauce
How to order keto at Arby's
Ok, so we know which Arby's menu items are keto-approved. So how do you order?
Follow these quick tips to perfect your Arby's order!
1. Skip the sides
Arby's side dishes are breaded, fried, and high in carbohydrates. I suggest you skip the sides and opt for an additional protein to fill you up.
If you really want a side dish, try a side salad without dressing for extra nutritional value and satiating power!
2. Remove the bun
This tip is non-negotiable.
Remove the bread, bun, wrap, or pita on your main to lower its net carbs.
3. Swap your sauce
While I do recommend removing the original sauce from your main, this doesn't mean you need to suffer through a dry sandwich!
Swap your sauce for a low-carb choice (like the buttermilk ranch dressing or a ranch dipping sauce) for extra flavor.
4. Opt for water
The low-carb beverage choices are limited at Arby's. And, while they do carry sugar-free options, they aren't the healthiest choice to be enjoying regularly.
When in doubt, water suits every meal. If you plan ahead, you can make sure to grab some cucumber and mint-infused water or flavored water of your choice from home.
5. Add extras
Create an original Arby's keto bowl by adding fun, low-carb extras to your main. Begin with a protein base (for example, a roast beef sandwich without the bun) and add your choice of ingredients for a custom bowl.
Low-carb extras at Arby's include:
Shredded cheddar cheese
Smoked gouda cheese
Swiss cheese
Banana peppers
Jalapeno peppers
Red onion
Tomato
Lettuce
Pepper bacon
FAQs
Here are a few answers to the most frequently asked questions about eating keto at Arby's. If you don't see your question in this list, please leave it for me in the comments.
Does Arby's lettuce wrap?
Arby's does not include a lettuce wrap on its menu. With this being said, don't be afraid to ask! Most restaurants will be willing to lettuce wrap; it's a common request from keto dieters, celiacs, and carb-conscious folks alike.

If your location won't lettuce wrap your sandwich, you can get your bun-less meal in a bowl for easy eating.
Is Arby's sauce keto-friendly
The traditional Arby's sauce is considered keto-friendly. It is low in both sugars and carbohydrates, with 3g net carbs per serving.
How many net carbs are in Arby's roast beef?
If you order Arby's classic roast beef sandwich without the bun, it includes just 1g net carbs.

Make this low-carb protein into a meal by adding flavorful extras like lettuce, pepper bacon, and cheddar cheese sauce.
How many carbs are in an Arby's beef and cheddar without the bun?
The Arby's beef n cheddar sandwich contains 3g net carbs when you get it without the sauce or bun; this makes it a delicious low-carb meal option.

Ask for it in a bowl with smoked gouda cheese and pepper bacon for extra fat content and flavor.
Related recipes
If reading all about eating keto at Arby's have you craving fast food, here are some low-carb recipes you can make at home! All of them will effectively replace anything you can order at the chain.
Follow us on FACEBOOK, PINTEREST, and INSTAGRAM for even more tasty keto-friendly recipes!