This post may be sponsored or contain affiliate links. We may earn money from purchases made through links mentioned in this post, but all opinions are our own. We are a participant in the Amazon Services LLC Associates Program, an affiliate advertising program designed to provide a means for us to earn fees by linking to Amazon.com and affiliates sites.
Tired of wings drenched it hot sauce? This recipe for spicy dry rub chicken wings uses a seasoned blend of ground dried peppers instead.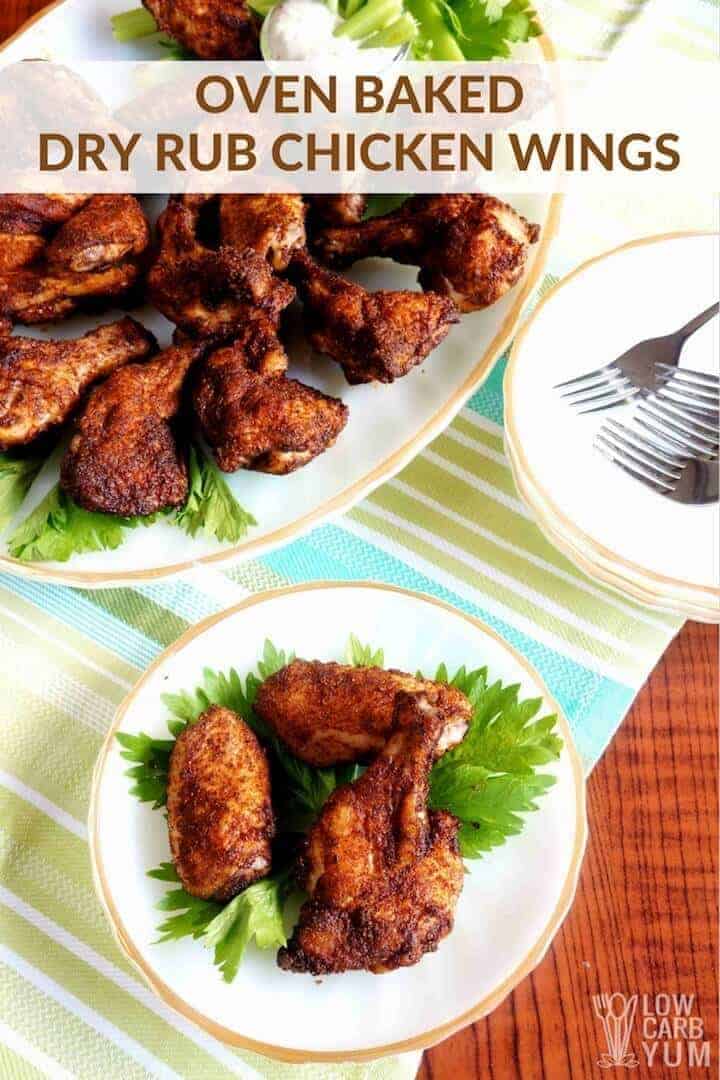 I really like hot Buffalo wings and dry chicken wing rubs as long as there is no traditional breading, they are super low in carbs. I prefer to bake wings rather than fry them as I try to stay away from deep fried foods.
It's really easy to cook chicken wings in the oven. For this recipe, I wanted to try a dry rub spice on the wings instead of the regular hot sauce.
I experimented with a couple different blends and decided on this moderately hot version even though I am a fan of the hotter spice mix. My initial batch of dry rub chicken wings was pretty hot and spicy so I toned down the cayenne pepper so the other members of my family would eat them.
I don't like disjointing chicken wings so I buy them already separated into the wingette and drumette pieces if available. Otherwise, you have to twist each joint area and then cut through with a sharp knife to separate the whole wing into three smaller pieces.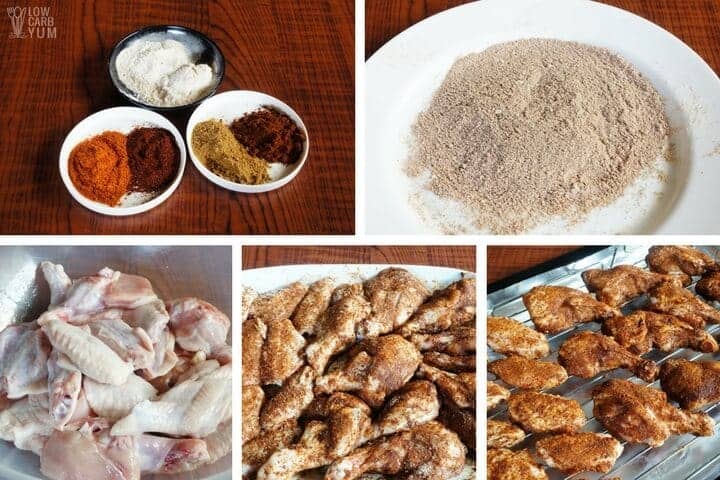 The tip of the chicken wing is usually discarded, leaving the drumette and wingette for these dry rub chicken wings. Although some folks do eat them, the wing tip is best saved for making chicken stock.
As with my baked coconut flour chicken tenders, I use a regular baking rack to lift the chicken pieces off the pan. This allows them to crisp up in the oven.
I've found that putting the pieces directly on the pan can cause sticking as well as some softness. I also turn the broiler on for the last ten minutes of baking which helps to crisp the outside of each piece.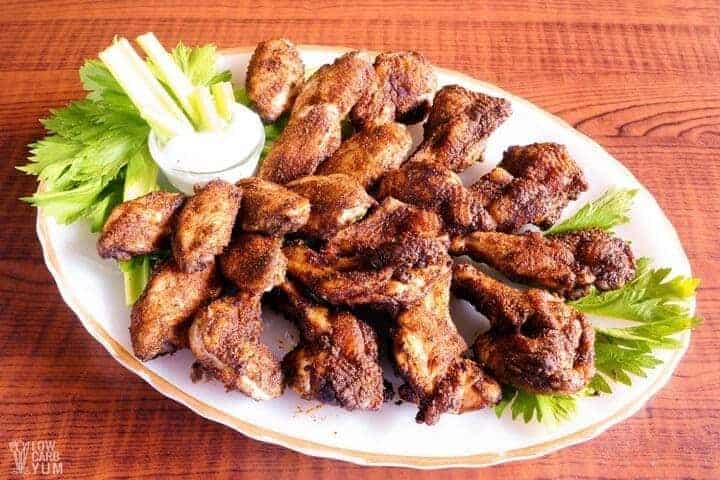 I used spices that I normally have in the pantry to make the recipe simple. You may want to add ground Chipotle pepper powder, but since I didn't have that, I used chili powder instead.
I thought it might give the wings a Mexican flavor, but it didn't. The smoked paprika adds a little sweet pepper taste and the cayenne provides the heat.
For a milder spice, use less cayenne or use more if you like it hotter. Feel free to adjust the spicy chicken wings blend to suit your own taste.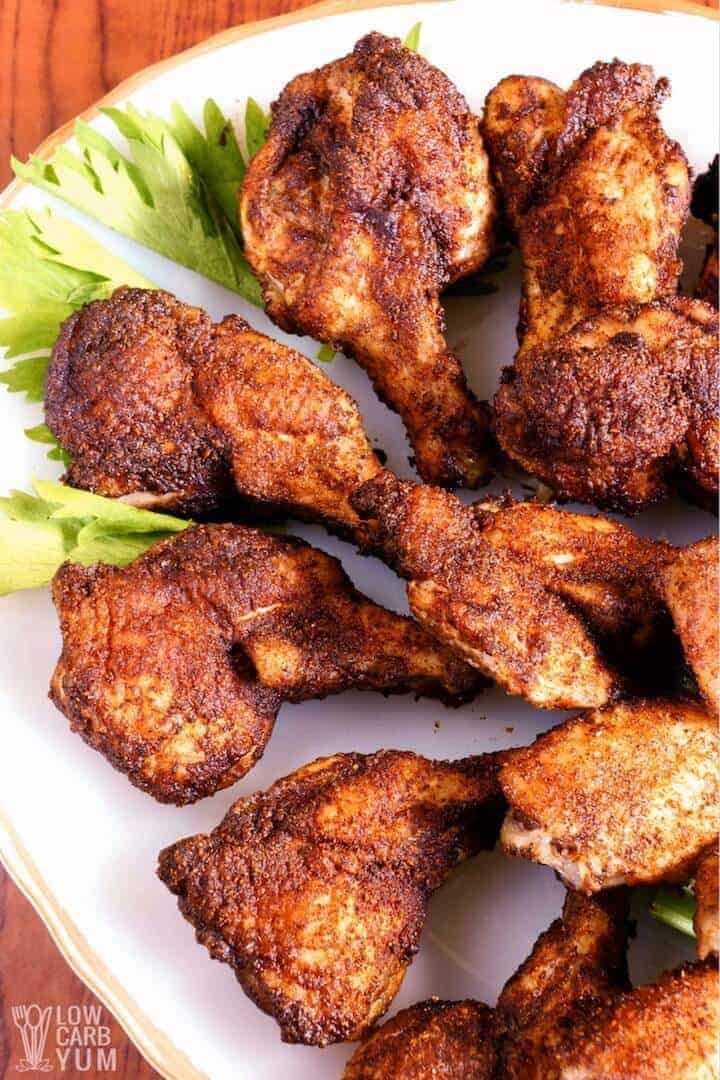 Not only are these wings easy and delicious, they are also Whole30 and paleo friendly. My family loves them and I love how quick they are to prepare.
Just take a look at the recipe video…
Oven Baked Spicy Chicken Wings Recipe Video
Spicy Dry Rub Chicken Wings – Oven Baked Recipe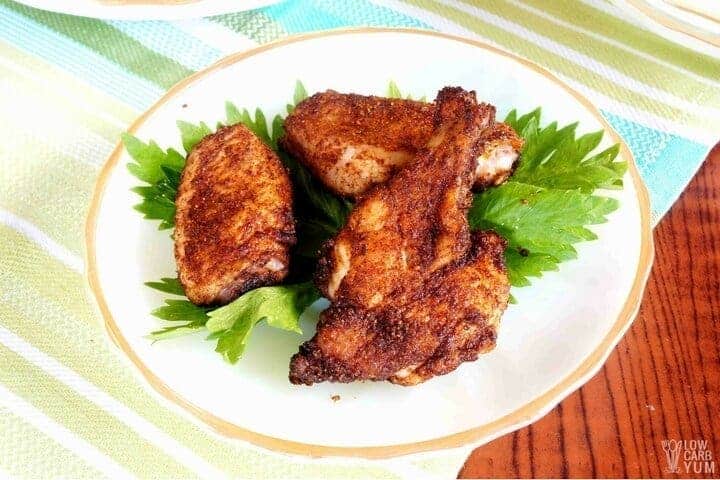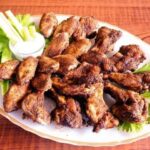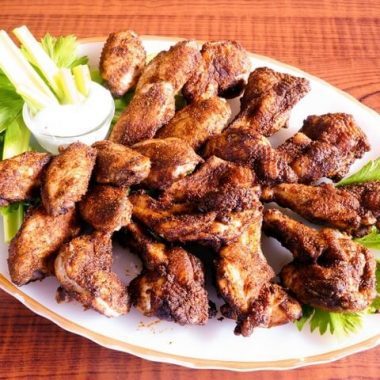 Spicy Dry Rub Chicken Wings – Oven Baked
Tired of wings drenched it hot sauce? This recipe for dry rub hot wings uses a seasoned blend of dry ground peppers which can be made as hot as you like.
Ingredients
2

pounds

chicken wings

about 20 wingettes & drumettes

1

tablespoon

olive oil

1

tablespoon

chili powder

1

tablespoon

sweet smoked paprika

1 1/2

teaspoons

ground cumin

1

teaspoon

ground cayenne pepper

more for hotter wings

1 1/2

teaspoons

garlic powder

1 1/2

teaspoons

onion powder

1 1/2

teaspoons

kosher salt

1 1/2

teaspoons

black pepper
Instructions
Dry wing pieces with paper towels to remove excess liquid.

Place wings in a large bowl and rub olive oil evenly into each piece.

Combine all seasonings in a bowl.

Sprinkle half of the season mix onto the chicken wings and rub in. Flip wings and sprinkle remaining half onto wings and rub in.

Place rack over shallow baking pan with sides (line pan with foil for easy cleanup). Place seasoned wings on rack.

Bake at 350 degrees °F for 20 minutes, flip each wing, then bake for an additional 10 minutes.

Turn oven broiler on low and broil for another 10 minutes.

Remove from oven. Serve with celery and blue cheese dressing if desired.
Recipe Notes
Makes 5 servings

Nutrition per serving: 444 calories, 32.2g fat, 857.2mg sodium, 3.4g carbs, 1.4g fiber, 2g net carbs, 34g protein
Nutrition Facts
Spicy Dry Rub Chicken Wings – Oven Baked
Amount Per Serving (4 g)
Calories 444
Calories from Fat 290
% Daily Value*
Total Fat 32.2g 50%
Sodium 857mg 36%
Total Carbohydrates 3.4g 1%
Protein 34g 68%
* Percent Daily Values are based on a 2000 calorie diet.
Related Posts