Looking for keto snacks to buy to make the keto diet a little easier? Here is a list of some delicious low-carb snack options as well as places to find a variety of keto-friendly treats.
Jump to:
The keto diet can feel quite restrictive sometimes, which is why it is so nice to be able to indulge in some keto snacks.
And luckily for us, there are plenty of options to buy at the store!
Healthy and Delicious Keto Snacks To Buy
Finding keto snacks to buy is a great option when you need convenience and are constantly on the go. It's also a time saver and can make a keto diet much more realistic for most!
Buying ready-to-eat snacks on the keto diet makes it easier to maintain a low-carb way of eating. It can significantly decrease the amount of time you have to spend in the kitchen and generally make life easier!
Here are some great low-carb snack ideas to help you along in your keto lifestyle.
1. Seaweed Snacks
There are all kinds of delicious seaweed snacks that you can buy, but most will be 0 net carbs per serving. As far as snacks go, this is a very low-carb option for anyone who loves a salty snack. They are pretty fishy too, which is perfect for any seafood lover!
I like to buy a jumbo packet at Costco or online at ThriveMarket.
2. Chomps Jerky Sticks
These delicious beef sticks are one of the best savory keto snacks to buy when you need a quick boost. They have plenty of protein and are a great option for hiking, road trips, or for a long day at work.
They have multiple flavors, but my two favorites are the Original Beef and the Italian Style Beef Stick.
Chomps is also Paleo and Whole30 friendly!
You can buy these direct online or at Whole Foods, Trader Joe's, Amazon, and ThriveMarket.
3. Whisps Cheese Snacks
Whisps cheese snacks are a tasty, low-carb option for anyone looking for a keto-friendly snack. They are easy to eat on the go and taste amazing without unnecessary carbs.
Plus, whisps are one of the most convenient options on this list!
Tip: If you can't buy these, try my copycat recipe for parmesan whisps and bake a big batch.
4. Baby Bell Cheese Wheels
Another keto snack that is free of net carbs is Baby Bell Cheese Wheels. These cheesy snacks are a perfect midday pick-me-up to keep you going. I love to snack on these when I am really needing something with some sustenance to it!
5. Lakanto
Lakanto is a great online website to buy from if you are looking for keto snacks to buy. They are known for their sugar-free sweeteners, but they also sell keto snack options!
These keto crunchy chocolate chip cookies are delicious! They are made with sugar-free substitutes and are gluten-free and vegan.
This is the perfect place to get some sweet, low-carb snacks!
6. HighKey
HighKey is another keto business that offers a wide selection of snacks that are low in carbs and made without sugar.
They mostly sell a wide range of cookies, but you can also buy caramel clusters and biscuits for a quick snack option.
This is a great place for the keto dieter with a sweet tooth! I highly recommend buying the Snack Size Bundle to get a wide variety of snacks.
7. FatSnax
Fat Snax is an online shop that caters to those on a low-carb diet and is a great place to find keto snacks to buy if you have munchies.
They offer a wide selection of cookie flavors that are only 1 to 2 net carbs, as well as crackers. You can even buy a variety of snack flavors if you are tired of generic snacks!
8. Genius Gourmet
Genius Gourmet is a great place to shop for all kinds of keto-friendly goodies. Their wide variety of completely keto snacks makes it easy to shop for and buy whatever sounds good to you!
They have all kinds of options from shakes to bars to chips, making this the perfect one-stop shop for sweet and savory treats.
9. Nuts.com
Nuts.com has an amazing selection of healthy keto snacks like bulk nuts and seeds. However, they also offer other options like sugar-free chocolate snacks and snack mixes.
You will need to keep an eye on the net carbs since this is not an exclusively keto website. Many options are keto-friendly, but you will have to count the carbs before buying their snacks.
10. PerfectKeto
Perfect Keto is designed to make eating a keto diet that much easier and more achievable. They make it easy to shop for low-carb snack options without having to count net carbs left and right.
They have all kinds of products, from bars to cookies to nut butters, giving you plenty of sweet options to curb any of those resilient sugar cravings.
I love the cinnamon roll keto bar! But the salted caramel and chocolate chip cookie dough flavors are favorites too!
11. Kiss My Keto
Kiss My Keto is a high-fat, low-carb website that supplies keto snacks to buy. They offer exciting options like:
Gummy bears
Snack bars
Cookies
Chocolate
Brownies
Granola
This is a great place to get all of the goodies if you are craving a variety of keto-friendly snacks!
12. Nunbelievable
Nunbelievable is a website dedicated to making amazing cookies! They are not a keto website, but they do offer a section of keto-friendly cookies to choose from.
Some of the flavors they offer are:
Snickerdoodle
Double chocolate chip
Chocolate chip
Pecan sandy
13. Orga Foods
Orga Foods is a company that sells seed crisps. These crispy crackers are made up of seeds and are unbelievably delicious!
They have a wide range of flavors to choose from, and most are very low in carbs. You will want to check the net carbs before buying, but either way, these crackers are a great keto option.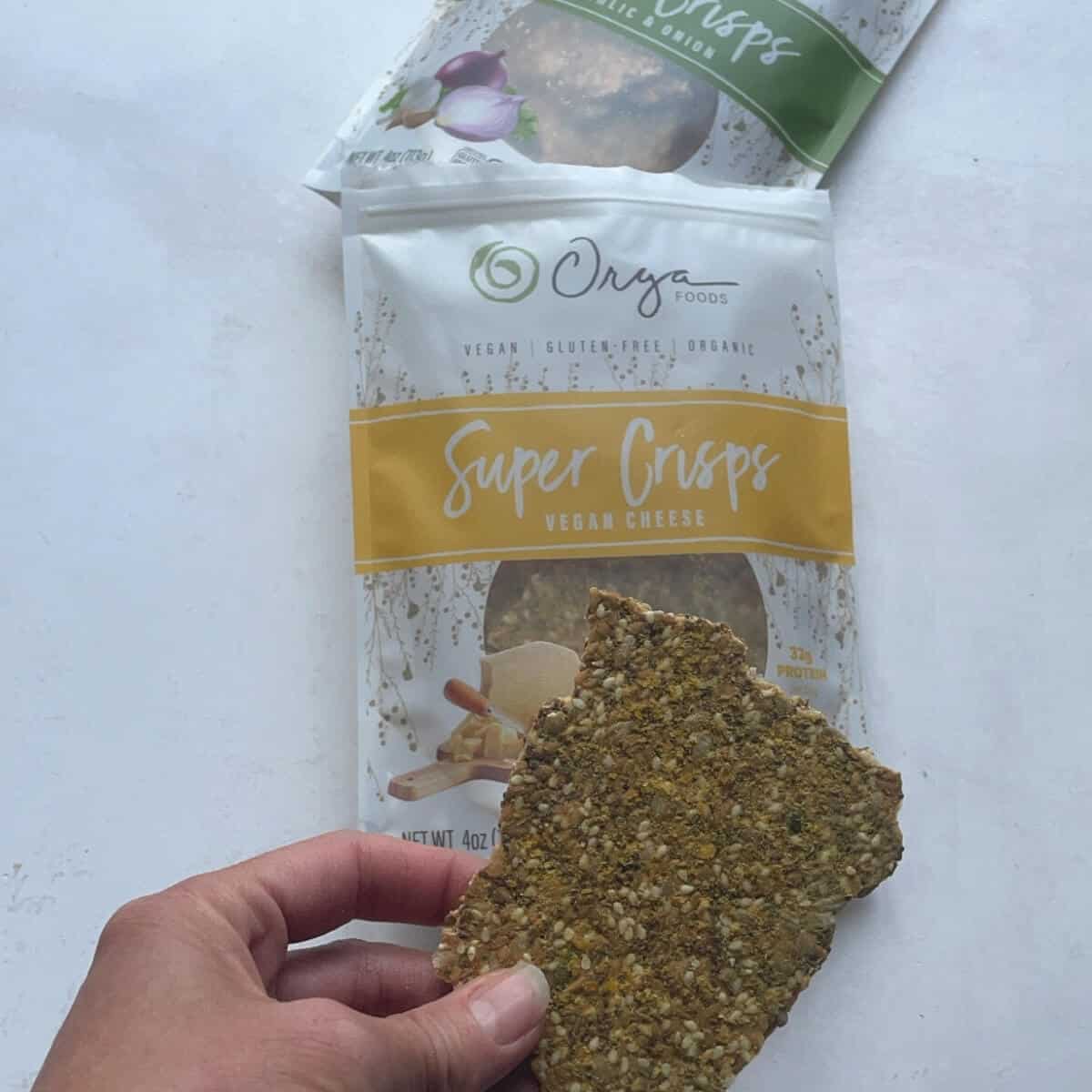 14. GoodSam Foods
GoodSam is a new company that's been growing. They sell the first-ever keto chocolate candy coated nuts. The candy is made with organic chocolate and sweetened with allulose plus isomalt.
The company also makes chocolate bars and chocolate chips which are perfect for snacking on too.
Where can I buy keto snacks online?
If you are interested in even more keto snack options, here are my 2 favorite spots where I can always kind some sort of low-carb snack.
Both of these make shopping for keto snacks super easy and accessible!
Amazon
Amazon is a great place to find just about anything, including keto snacks to buy. You can find a huge selection of brands that offer low-carb snacks.
They also offer the convenience of being able to buy all kinds of keto foods in one place instead of hopping from one site to another. It's also a great place to pick up GoodSam macadamia nuts.
Thrive Market
ThriveMarket is an online market that you have to have a subscription to in order to use. They are a great option for all kinds of diets and offer many kinds of healthy options.
They have a wide section specifically geared towards the keto diet, making it easy to shop for keto snacks!
Like Amazon, Thrive Market is a great place to buy an assortment of low-carb snacks in one place.
Check out my honest review and learn everything there is to know about Thrive Market!
If you loved this guide on the best keto snacks to buy, make sure to drop a comment down below on what your favorite store-bought snack is!
★ FOLLOW ME ON FACEBOOK, PINTEREST, AND INSTAGRAM FOR MORE EASY KETO RECIPES.