This post may be sponsored or contain affiliate links, but all opinions are our own. We are a participant in the Amazon Services LLC Associates Program, an affiliate advertising program designed to provide a means for us to earn fees by linking to Amazon.com and affiliates sites.
Want a crunchy low carb snack that takes only a few minutes to make? You can bake up a batch of easy Parmesan crisps in less than ten minutes!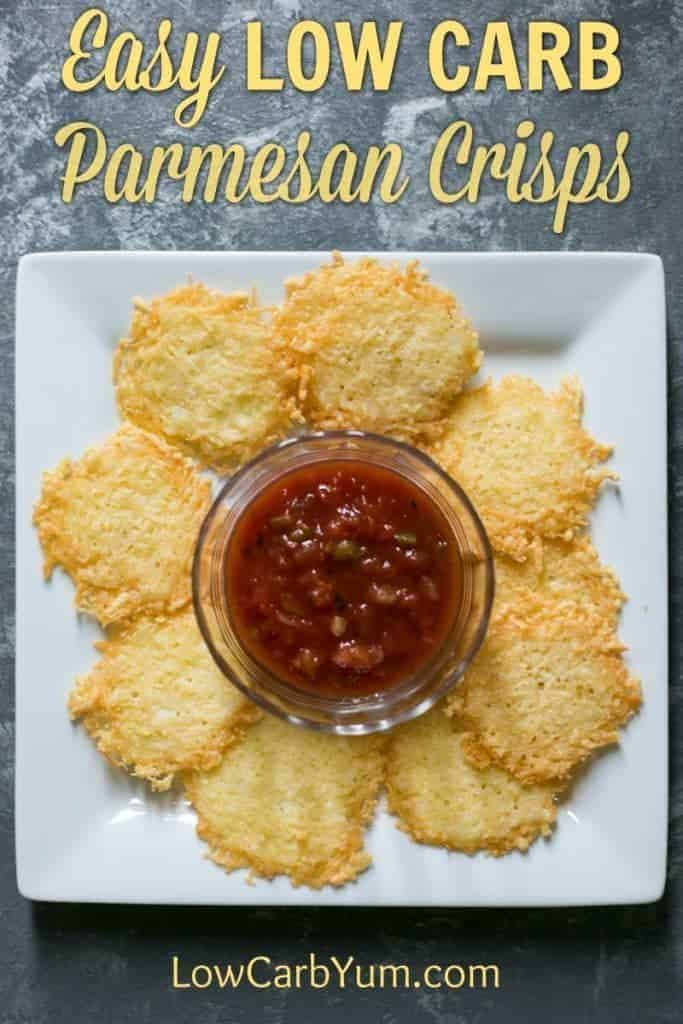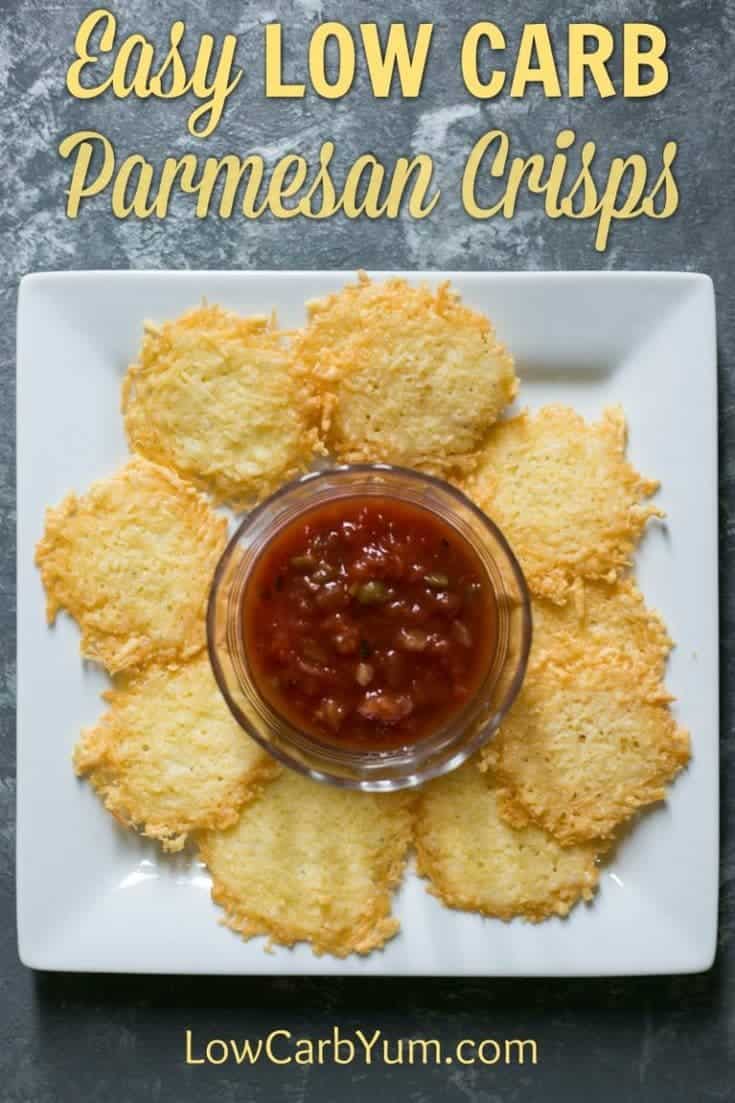 Would you believe I've never made cheese chips before? Well, it's true. Even though I've been a low carb eater for years, I have never baked cheese into crispy snacks before. Surprising, huh?
One of the things I really love to snack on are Parmesan crisps. I've received them a few times in my Keto Krate. I also pick them up on occasion at a local grocery store.
Well, I was really craving something crunchy last weekend. So, I decided to try and bake some easy Parmesan crisps. If you're ever craving some quick low carb snacks, check out some of my past posts.
I always have a jar of shredded Parmesan cheese in the fridge. Parmesan cheese is not something that you'd normally consider a snack food. But, it turns into tasty treat when baked into chips.
These easy Parmesan crisps are so simple to make that I wasn't going to post the recipe. But, then I thought there might be others out there who still haven't tried them. So, if that's you, go ahead and give these cheesy chips a try!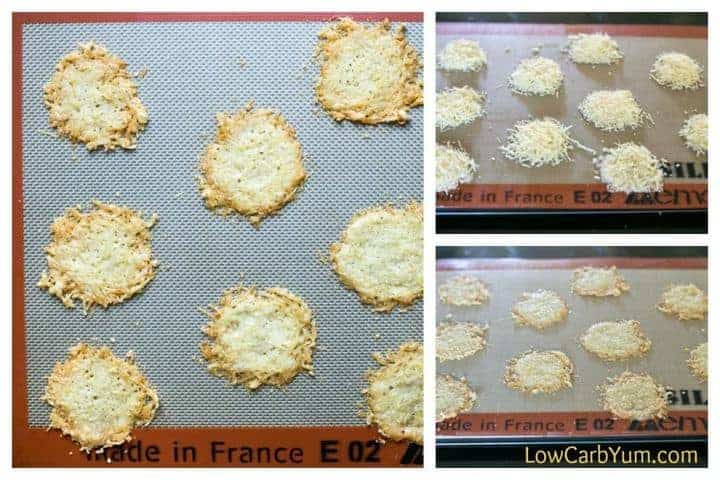 It's so quick to make these ridiculously easy Parmesan chips. You just have to place 1 tablespoon mounds of the cheese onto a prepared baking pan and bake until crisp.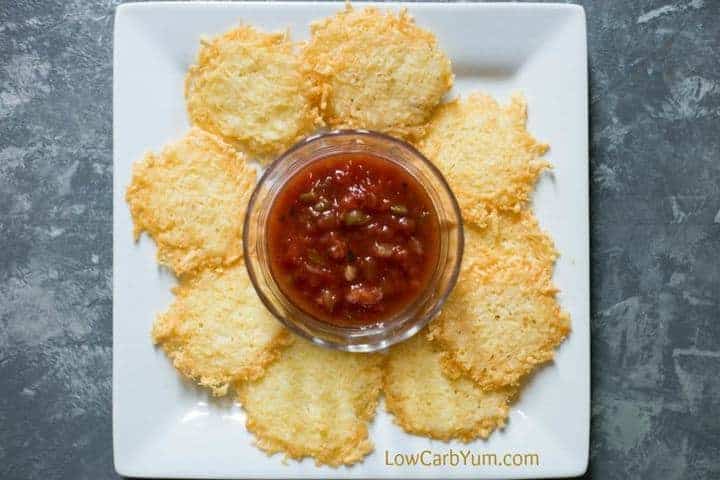 I've seen some people bake them at an oven temperature as low as 300°F. I wanted them to crisp up fast so I baked them at 400°F. I don't think there's really a set temperature you need to bake the cheese at. So, you should experiment a little and see what does best for you.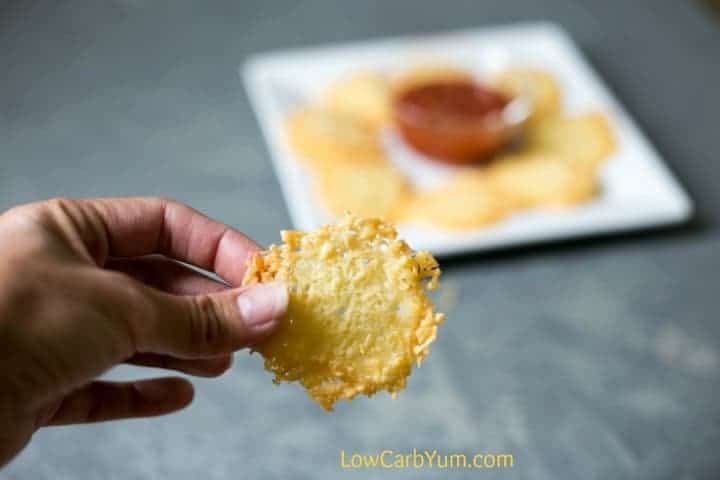 The next time you have a craving for something crunchy, why not bake up a batch of easy Parmesan crisps? You'll be so happy you did! Just be sure to keep shredded Parmesan on hand.
Recipe for Easy Parmesan Crisps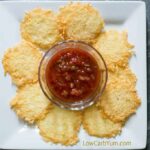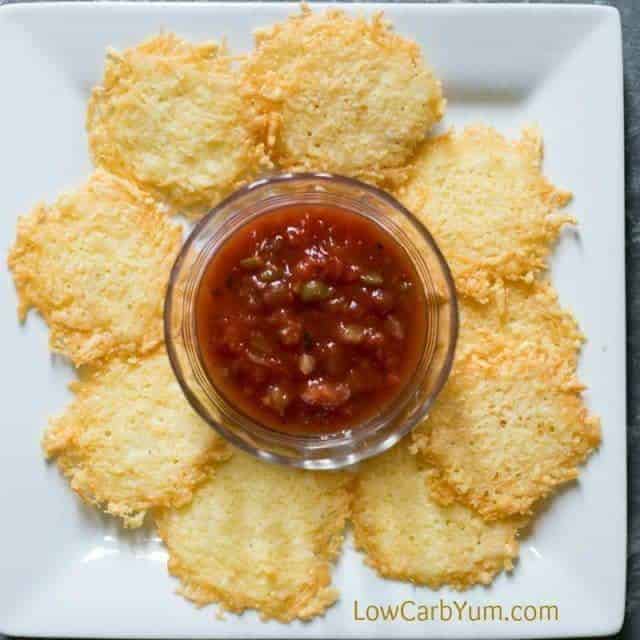 Easy Parmesan Crisps
Want a crunchy low carb snack that takes only a few minutes to make? You can bake up a batch of easy Parmesan crisps in less than ten minutes!
Ingredients
12

tablespoons

Parmesan cheese

shredded
Instructions
Preheat oven to 400°F

Place each tablespoon of cheese on parchment paper or silicone lined baking sheet about 1 to 2 inches apart.

Bake about 3-5 minutes. Edges should be browned, but not burned.

Remove from oven and allow to cool on rack. Store in airtight container.
Recipe Notes
You may bake the chips at 300°F for about 8 minutes or 350°F for about 6 minutes.
Nutrition Facts
Easy Parmesan Crisps
Amount Per Serving (20 g)
Calories 64
Calories from Fat 39
% Daily Value*
Total Fat 4.3g 7%
Cholesterol 14mg 5%
Sodium 186mg 8%
Total Carbohydrates 0.7g 0%
Protein 6.4g 13%
* Percent Daily Values are based on a 2000 calorie diet.
Related Posts