This post may be sponsored or contain affiliate links. We may earn money from purchases made through links mentioned in this post, but all opinions are our own. We are a participant in the Amazon Services LLC Associates Program, an affiliate advertising program designed to provide a means for us to earn fees by linking to Amazon.com and affiliates sites.
This low carb tomato cucumber vinegar salad is an easy way to serve popular summer garden crops. The simple dressing combines cider vinegar and stevia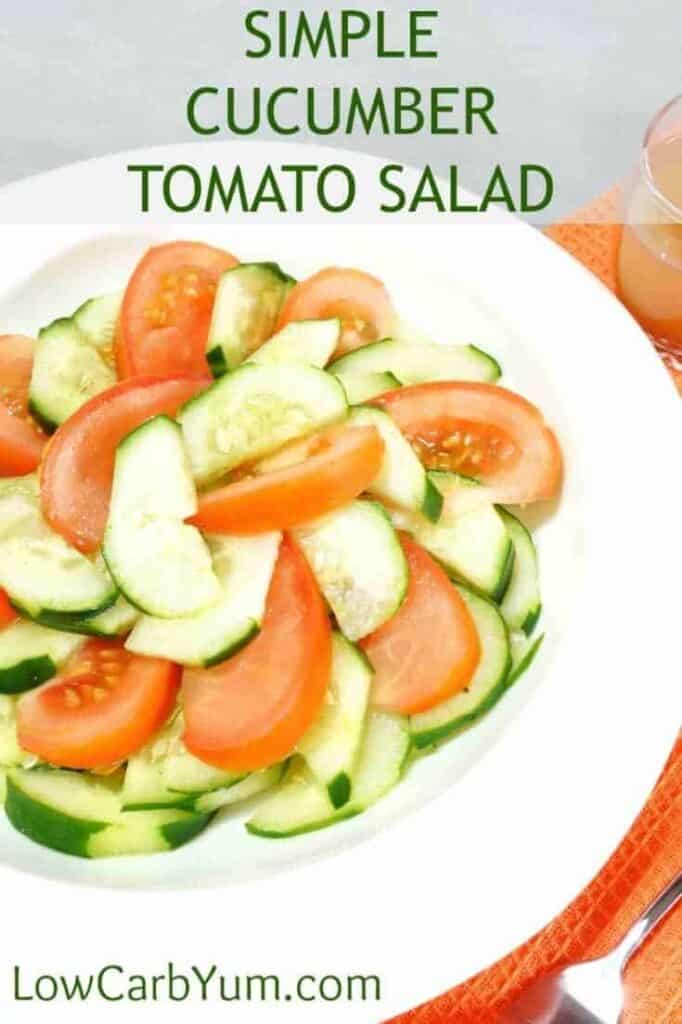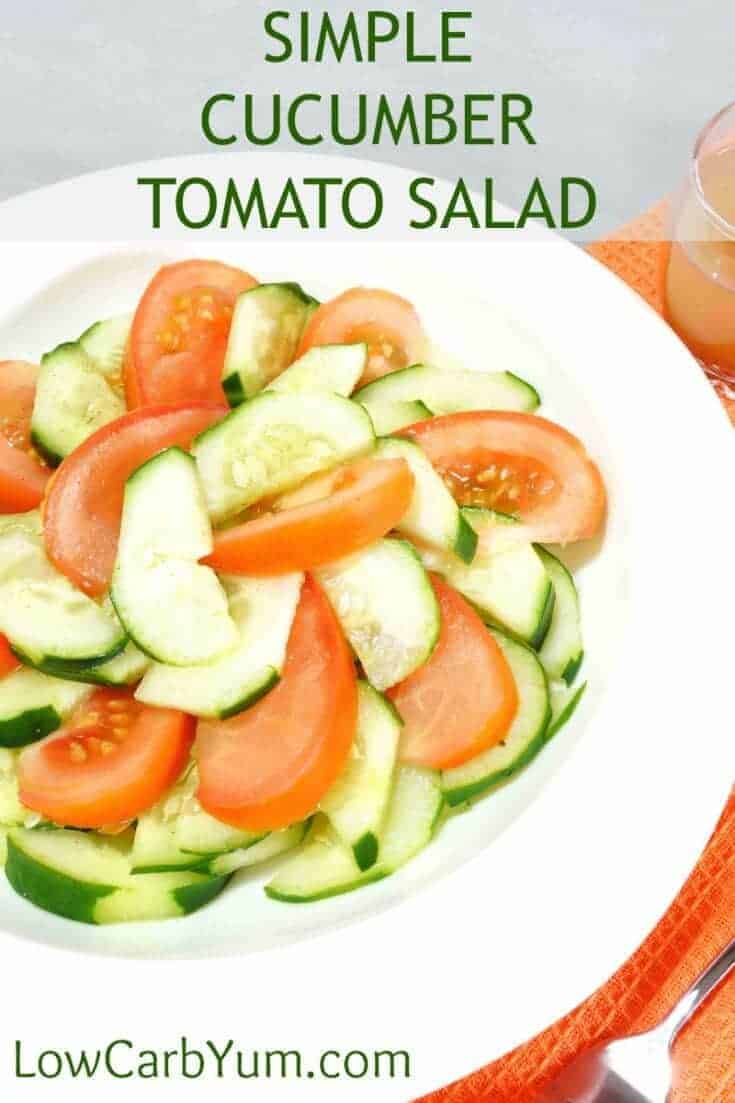 The end of the summer always brings in an abundance of garden vegetables. We had lots of cucumbers and tomatoes this year. So, I was eating at least one low carb salad a day over the last few weeks.
This is a simple tomato cucumber vinegar salad that I make to use up some of the late summer vegetables. I scoop the vegetables out with a slotted spoon leaving the vinegar mix behind. As we pick more cucumbers and tomatoes out of the garden, I just cut them up and dump them in.
For me, this dish is like a never ending salad. The vinegar preserves the vegetables so they will last longer in the refrigerator. If you like onions, go ahead and dump some in, but it will increase the carb count.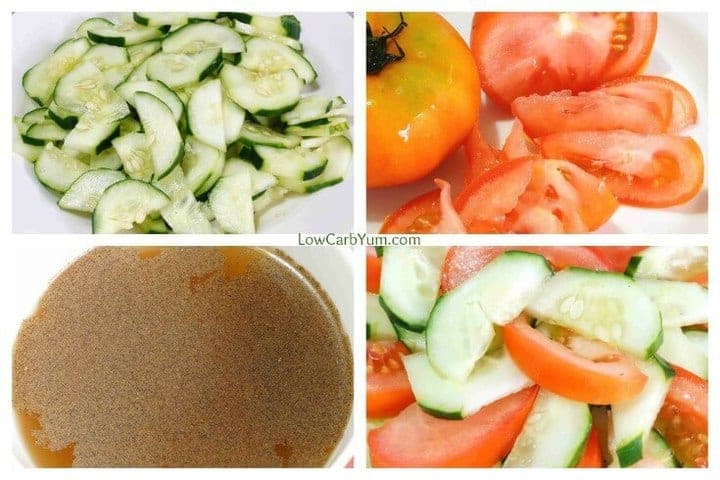 As the container of tomato cucumber vinegar salad starts getting low, I just add in the fresh produce from the garden as it's picked. That way, I always have a side ready to go with my grilled meats. It's my lazy way to get through summer with minimal food preparation.
We always get tons of tomatoes. My plan was to can them for later, but I never seem to have the time for canning. Instead, I just skin the tomatoes, vacuum seal them, and store in the freezer to use later.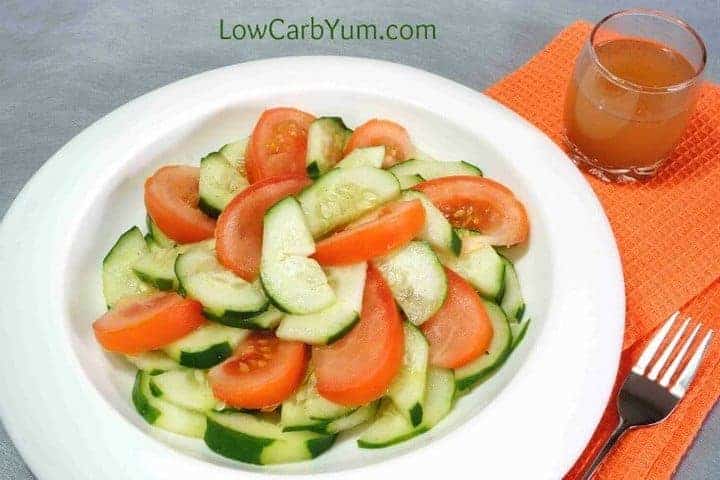 The dressing for this tomato cucumber vinegar salad is very light. There's no oil in it. Just vinegar and water. Although fat is needed for a proper low carb diet, it hardens in the fridge so I'd rather leave it out in the dressing.
We may cut back on the tomatoes next year. I end up giving so many away. If I didn't work so much, I'd have time for all that canning.
As for the cucumber, my husband and son love to eat them as snacks. I don't think you can ever have enough cucumbers. They make a low card sub for chips. I like to dunk them in a homemade ranch dip.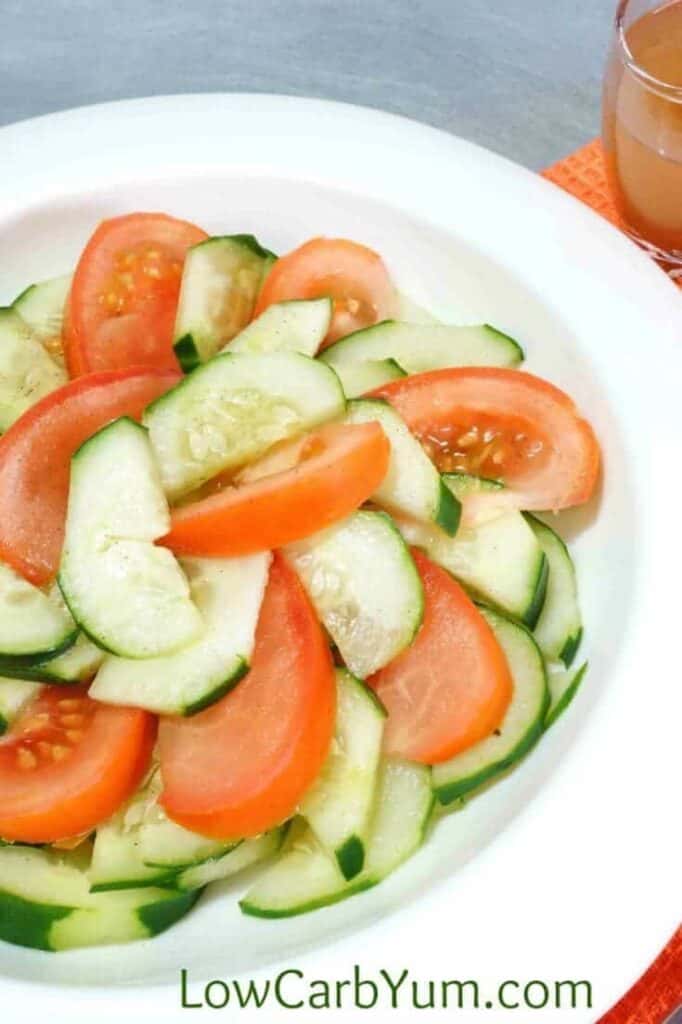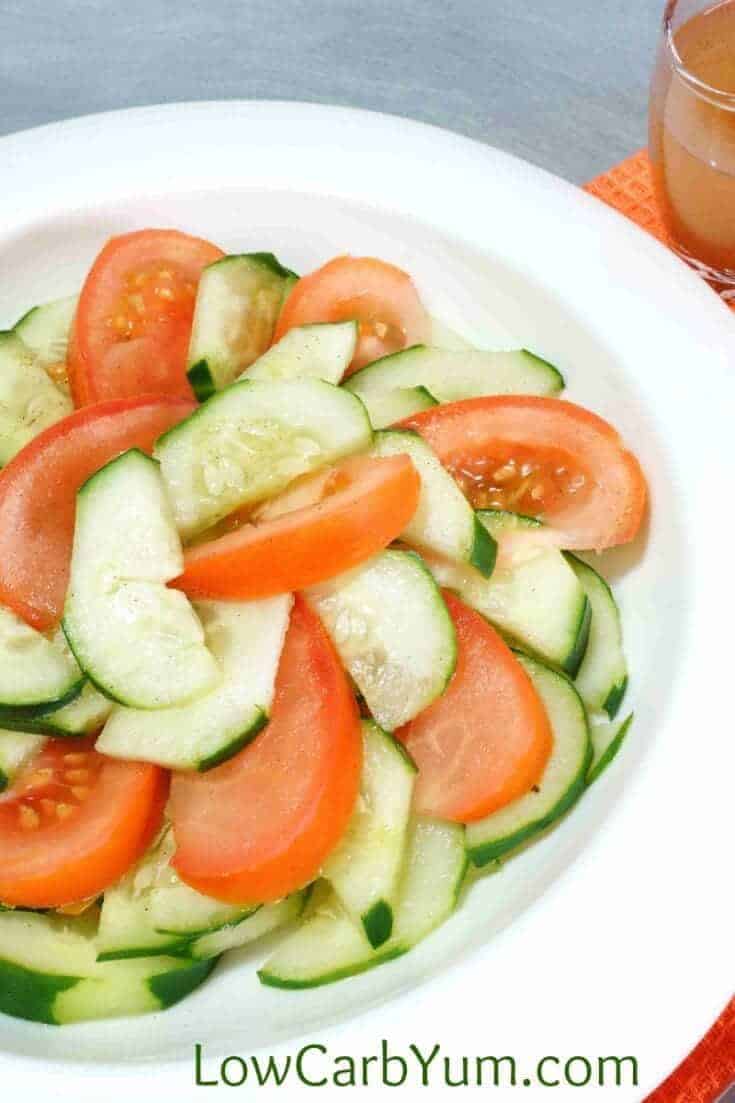 I also like to make cucumber salads over the summer. I've got my favorite one is here which has a vinaigrette dressing. I also like this creamy one and Japanese style one.
You really can't go wrong with a light cucumber tomato salad. It's a perfect dish to take to a summer potluck or bring along for a picnic.
What's your favorite way to use up all the garden cucumbers and tomatoes?
Low Carb Tomato Cucumber Vinegar Salad Recipe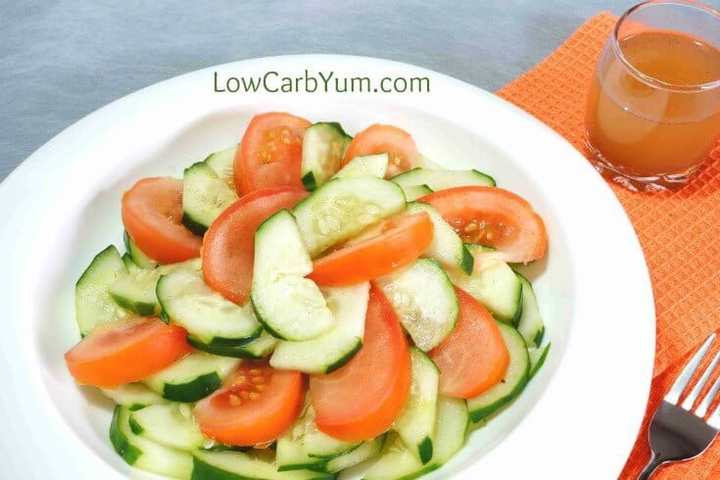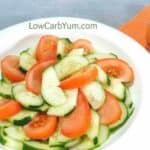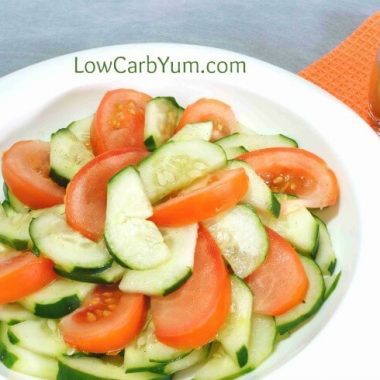 Tomato Cucumber Vinegar Salad - Low Carb
This simple cucumber tomato salad is an easy way to serve popular summer garden crops. The dressing combines cider vinegar with a bit of water and stevia.
Ingredients
2

medium tomatoes

, cut in wedges

2

large cucumber

, sliced

2

cups

water

1

cup

cider vinegar

3

packets stevia or other sugar substitute

2

teaspoons

salt

1/2

teaspoon

pepper
Instructions
In large bowl, combine the tomatoes and cucumbers.

In a small bowl, combine remaining ingredients.

Pour vinegar mixture over cucumber and tomatoes. Toss to coat.

Refrigerate for several hours until chilled.
Nutrition Facts
Tomato Cucumber Vinegar Salad - Low Carb
Amount Per Serving
Calories 14
% Daily Value*
Sodium 742mg 31%
Potassium 74mg 2%
Total Carbohydrates 2g 1%
* Percent Daily Values are based on a 2000 calorie diet.
Related Posts