Are you still searching for the perfect low carb pancakes? Check out this collection of keto pancake recipes and you'll be sure to find a winner!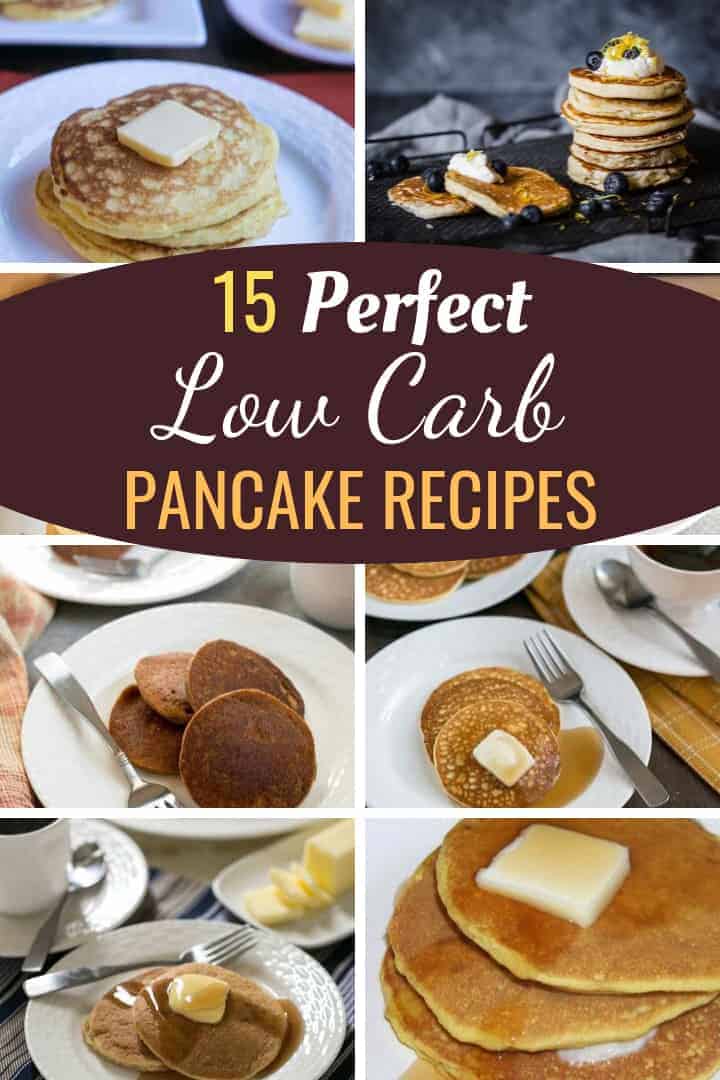 One of the first posts on this blog was a recipe for almond meal pancakes. It's because I just love a warm keto breakfast. And, I love them even more in the cooler weather of fall and winter.
Can keto pancakes be made ahead?
Absolutely! When I have time on the weekend, I like to make a big batch of low carb pancakes. Then I'll freeze half of them in single serving containers. The rest are eaten at work for breakfast.
How to serve pancakes
I used to top my pancakes with Walden Farms Zero Calorie Pancake Syrup. But, I prefer them with just butter now because I've moved away from using the sucralose artificial sweetener. Although Lakanto makes a fantastic keto friendly maple flavored syrup sweetened with monk fruit.
Another great option is to top pancakes with low carb berries. You can even make a strawberry sauce or a sugar free blueberry syrup to top them off with!
15 Recipes for Low Carb Pancakes
I decided to put together a collection of my own pancake recipes and a few from others. All of these delicious pancake recipes are also gluten free. So, take a look around and find one that you like. You're sure to find a new favorite morning breakfast treat!
1. Coconut Flour Pancakes
If you want a pancake that's light and fluffy, try these simple coconut flour pancakes. Even the kids will enjoy them!
2. Buttermilk Low Carb Pancakes
Here's an easy way to get buttermilk pancakes that are keto friendly. They taste so good, your family may not notice the missing carbs and gluten.
3. Almond Flour Pancakes
If you want an easy paleo pancake recipe, these almond flour bases ones are sure to please. They have a slightly nutty flavor too.
4. Egg Fast Pancakes
Pancakes can even be enjoyed while egg fasting! So give these flourless pancakes a try on your next fast.
5. Peanut Butter Low Carb Pancakes
Peanut lovers are sure to enjoy this easy peanut flour recipe. It's a nice change of taste.
6. Keto Pumpkin Pancakes
You definitely want to serve up these pumpkin pancakes in the fall. It's a delicious way to enjoy the seasonal flavor for breakfast.
7. Zucchini Pancakes
These zucchini fritter pancakes are great for any meal of the day. Serve them for breakfast or as a side dish to lunch or dinner. They can even be enjoyed as an appetizer.
8. Cream Cheese Keto Pancakes
Most flourless cream cheese pancakes are quite flat, but this version makes a couple changes to make them fluffier.
9. Low Carb Lemon Ricotta Pancakes
For a filling breakfast, try these lemon flavored ricotta pancakes. They are light and fluffing and very satisfying!
10. Paleo Pancakes
These paleo pancakes have options for both low-carb and dairy-free. With the same fluffy texture as regular pancakes, you may not notice the difference!
11. Spinach Feta Pancakes
Spinach and feta are a wonderful flavor combination in these savory pancakes. They make a hearty vegetarian breakfast.
12. Puff Pancake Dutch Baby
If you've never had a puff pancake or Dutch baby, you need to grab your cast iron skillet and get baking! It's crispy on the outside and tastes great topped with berries.
13. Low Carb Cinnamon Roll Pancakes
With a few simple keto friendly ingredients and a few minutes, you'll have heavenly smelling cinnamon roll pancakes ready to enjoy!
14. Flourless Pumpkin Spice Pancakes
Start your day with a tasty flourless pancake with the perfect blend of flavors for a cool fall morning. It's a recipe that whips up quickly and is packed with protein and fiber.
15. Bananas Foster Pancakes
You'll love these fluffy banana low carb pancakes topped with a caramelized banana flavored rum sauce. It's the perfect way to start any day!
Bonus Recipes