Not sure what to do with holiday meal leftovers? You can repurpose the meat with these yummy low-carb ham recipes for a leftover ham that are sure to please.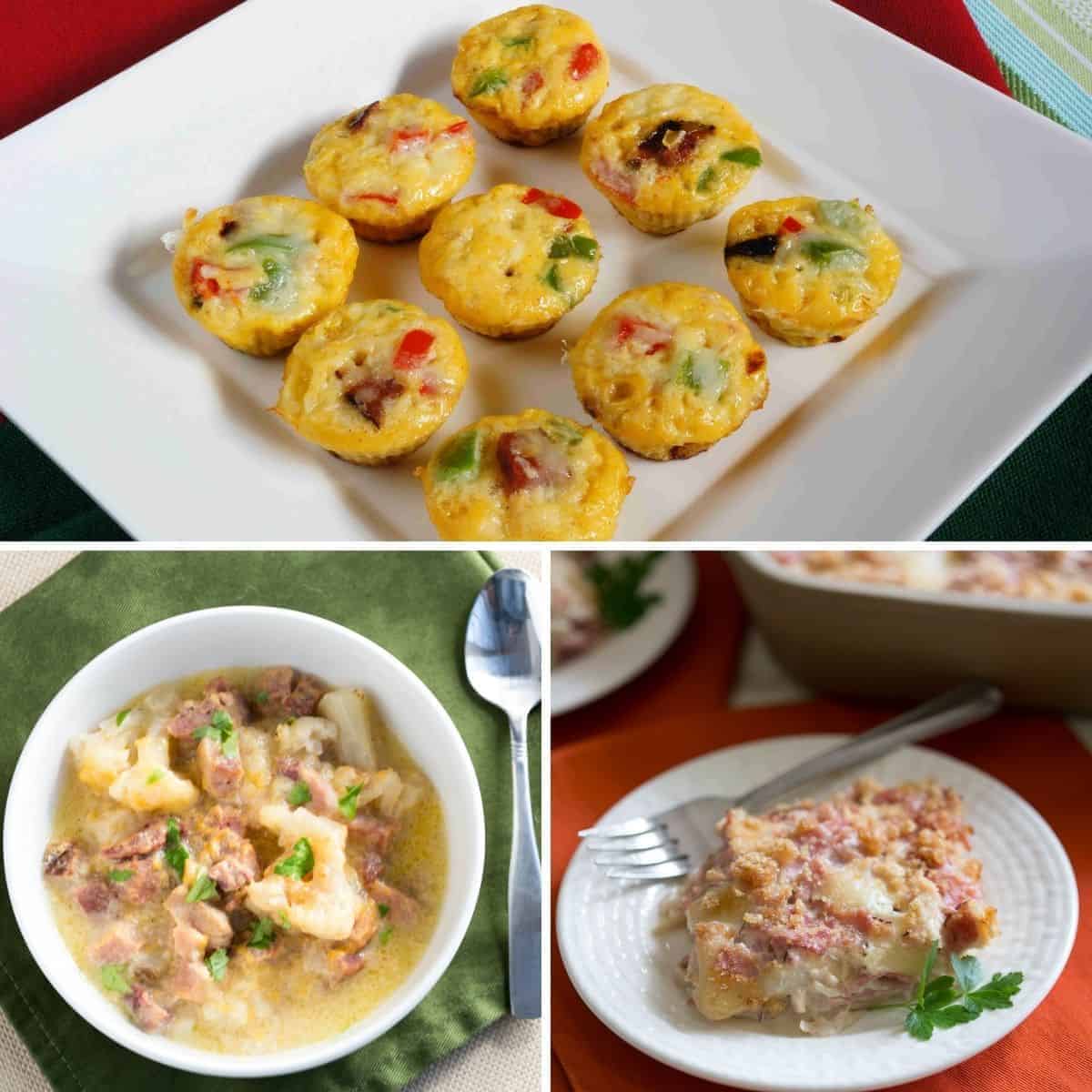 Article Index
As long as it isn't glazed in sugar, ham is a fantastic type of meat to eat on the low-carb diet. It has a salty and naturally sweet flavor with an unmistakable texture.
There is a way to make keto glazed ham! It has the same sticky-sweet taste and yet only 4 grams net carbs in each serving.
What do you do with all the leftover ham over the following days and weeks? You make these low-carb recipes.
Why you'll love it
Since there's always an abundance of meat remaining, I thought it would be nice to have all my low-carb recipes for leftover ham in one spot.
As I was going through the archives, I was surprised by how many ham recipes I have posted over the years.
With 22 fantastic recipes from my collection and a few others I love, you will find one that you and your family will enjoy the week after Easter to repurpose the ham.
My personal favorite is the chicken cordon bleu casserole!
️ 22 Low-carb ham recipes
You will not get bored with these delicious keto ham recipes. Whether you want to use it in a soup, with spinach, or to feed your whole family, there is going to be something for you on this list.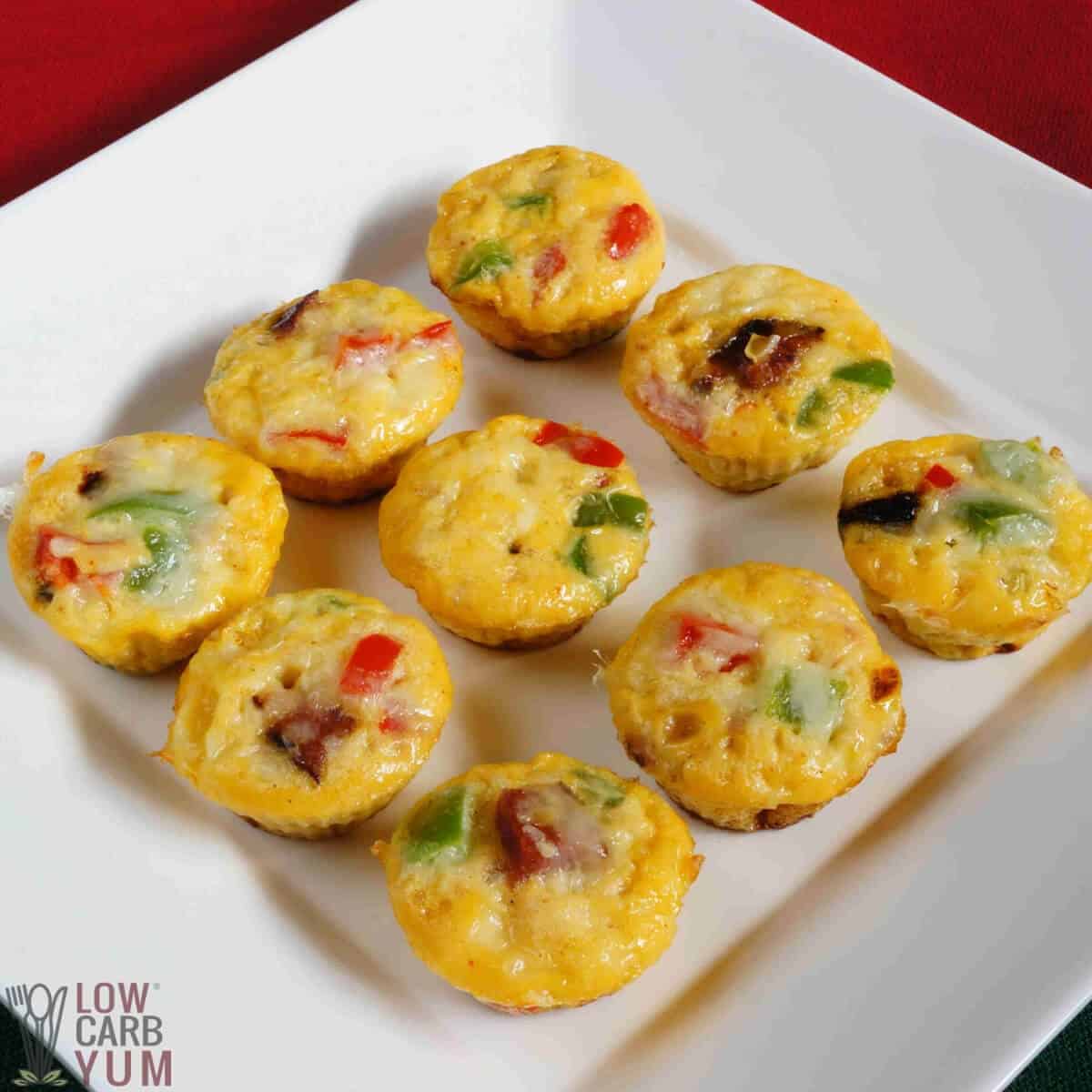 1. Frittata Mini Muffins
This easy keto muffins recipe is made with bold cheddar cheese. Frittata mini muffins are perfect for lunch or as a breakfast that you can take with you on the go.
2. Ham And Cauliflower Rice Casserole
This ham and cauliflower rice casserole are so scrumptious that you won't even be able to tell it uses leftovers. In fact, leftover ham casserole is one of the best ways to reuse your meat.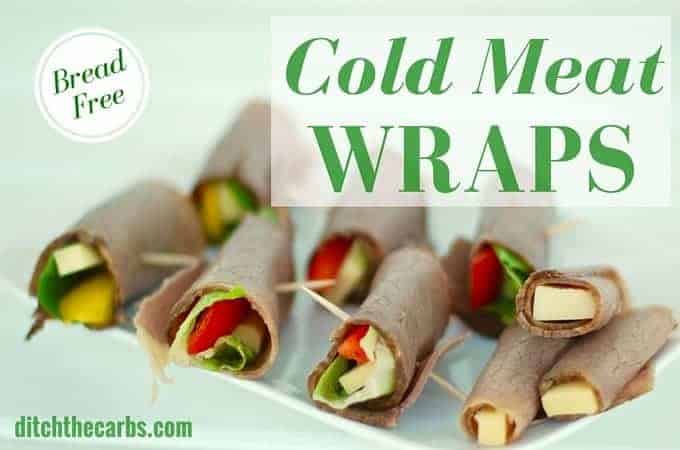 3. Meat Rolls
Photo Credit: Ditch The Carbs
These meat rolls are one of the best keto leftover ham recipes you can make. You can eat these roll-ups as a snack or for lunch.
4. Breakfast Casserole With Ham and Cheese
Breakfast casserole with ham and cheese is a low-carb, make-ahead recipe that can help make your mornings fuss-free and delicious. Great for Easter brunch!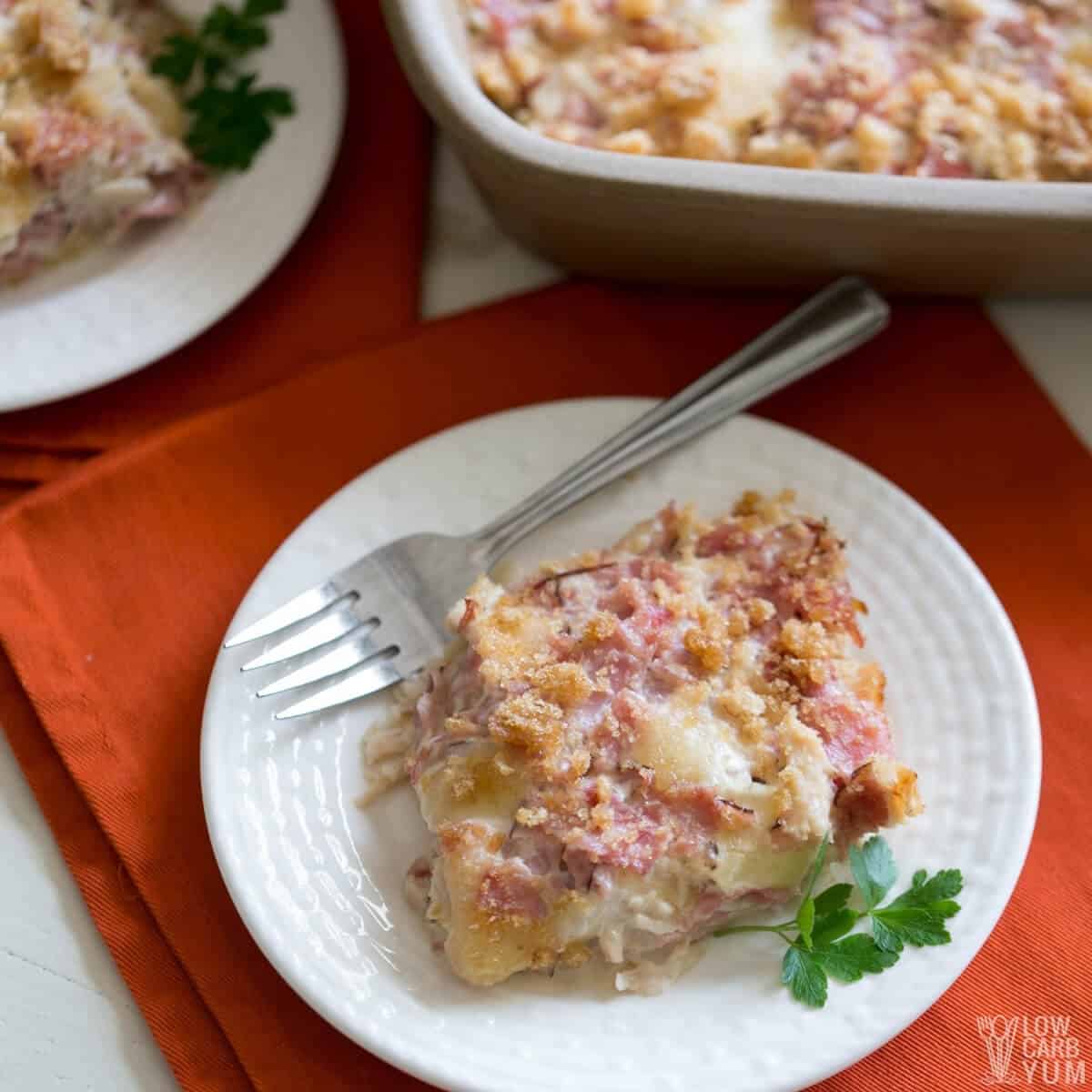 5. Chicken Cordon Bleu Casserole
Another dinner idea is a chicken cordon bleu casserole that is quick and easy. This ham casserole is one of my favorite ways to use ham and cheese and has all the classic cordon bleu flavors.
6. Ham And Broccoli Quiche With Cheese
A perfect brunch recipe, ham and broccoli quiche is cheesy and filling. It is another favorite healthy leftover ham recipe because you can enjoy it for breakfast, brunch, or even lunch.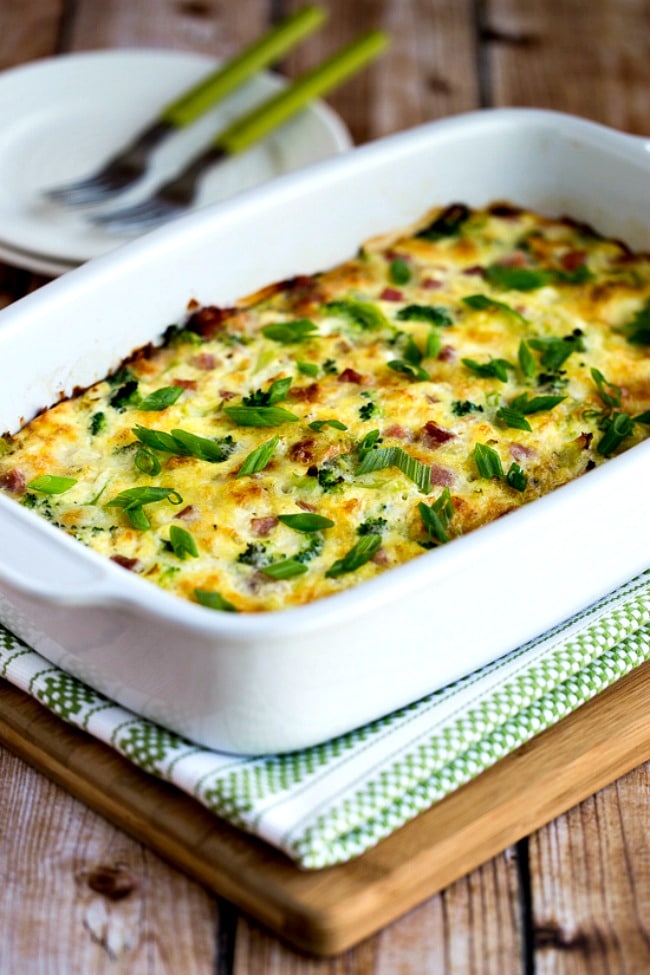 7. Broccoli Mozzarella Casserole
Photo Credit: Kalyn's Kitchen
Another family favorite is broccoli mozzarella casserole. Everyone loves this new way to combine ham and broccoli. It's one of the easiest keto recipes that use frozen broccoli.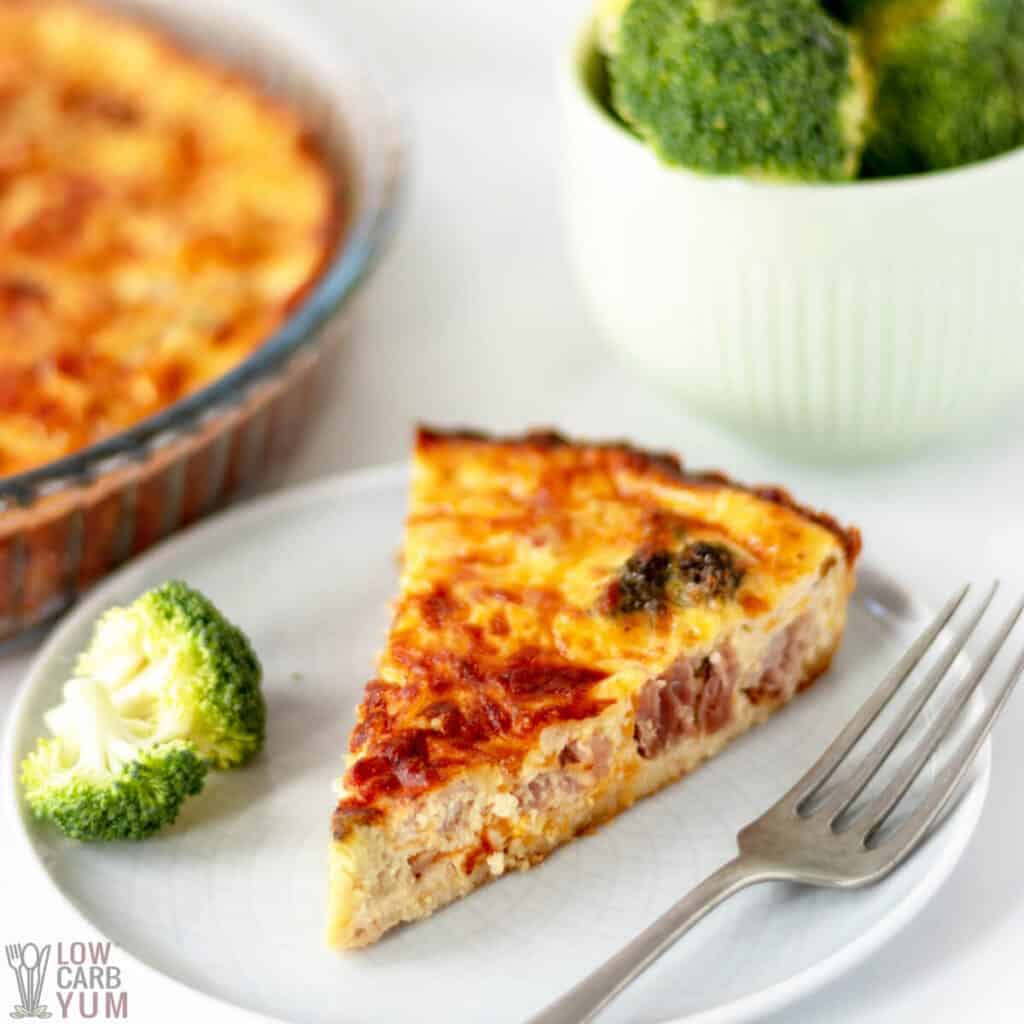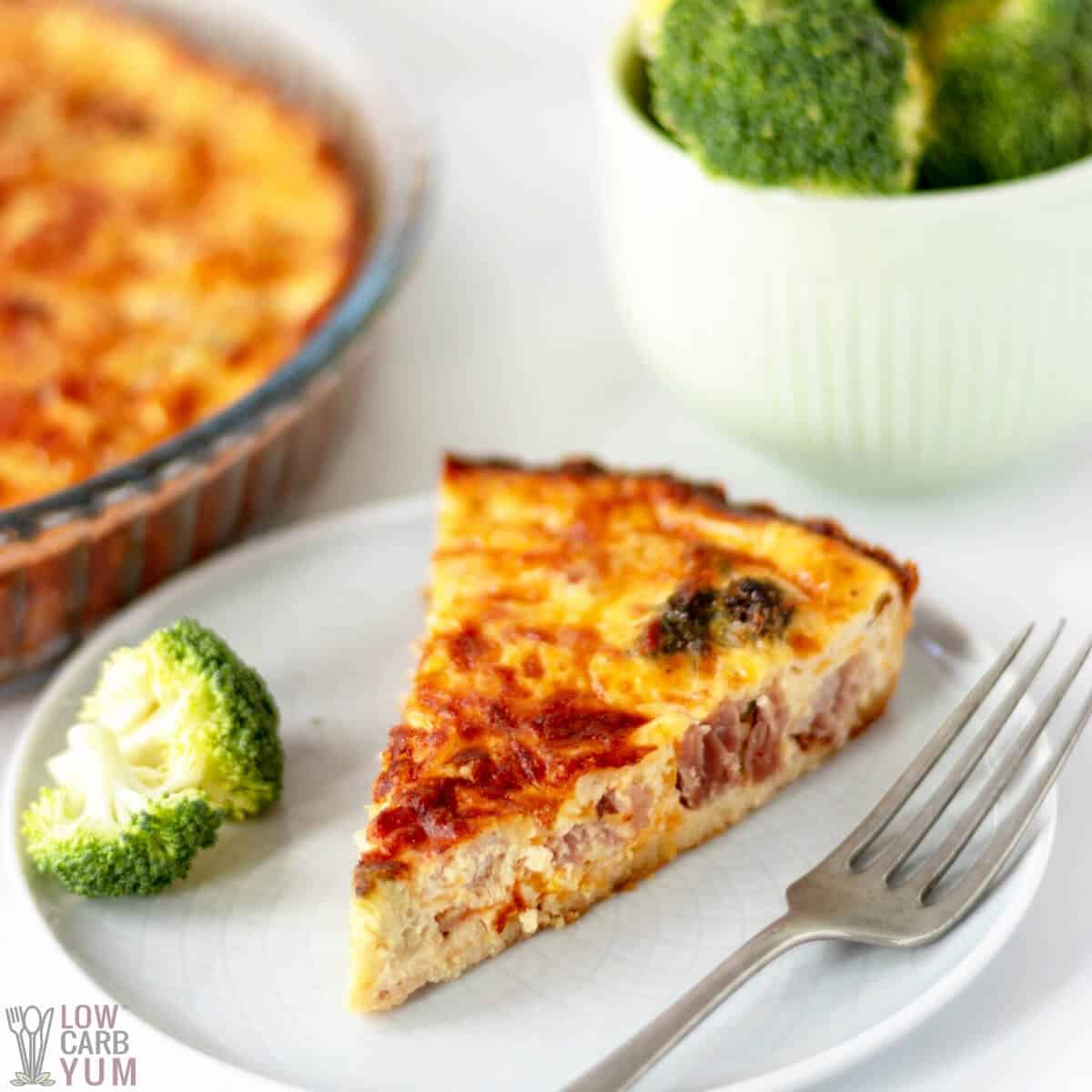 8. Ham And Cheese Strata
Reuse ham for holiday brunch with this simple ham and cheese strata recipe. All you need is a few ingredients and a baking dish, and you can bake this recipe.
9. Keto Jambalaya
This keto jambalaya recipe has juicy shrimp, sausage, chopped veggies, and cauliflower rice - all covered in a spicy sauce! In place of the sausage, swap it out for some of the leftover ham.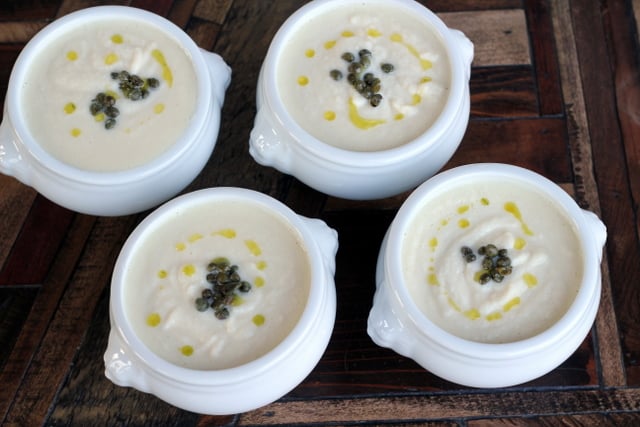 10. Ham And Potato Soup
Photo Credit: Maria Mind Body Health
Don't let the name fool you, there aren't potatoes in this ham and "potato" soup. It is a cozy and comforting meal that tastes perfect for lunch.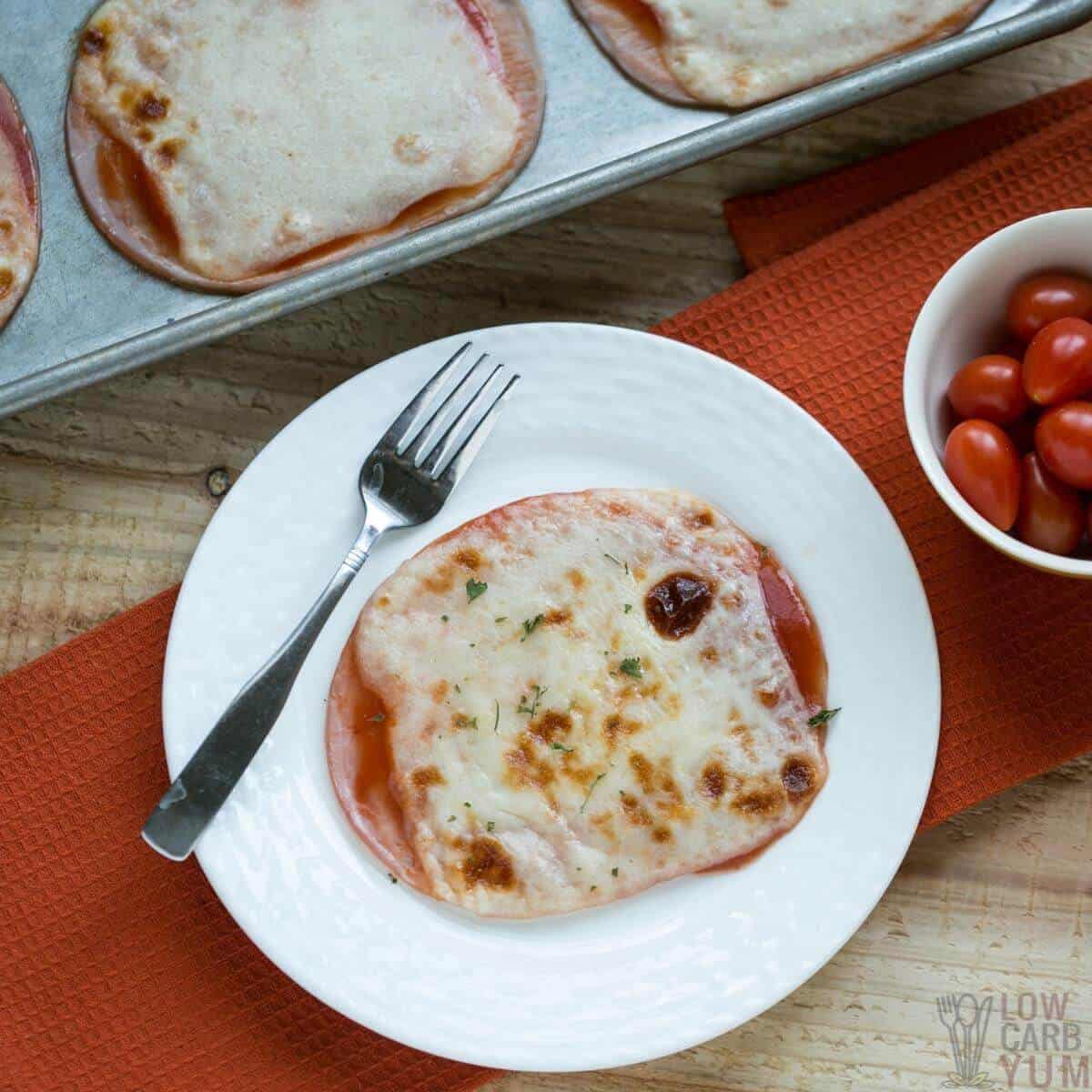 11. Crustless Pizza
A crustless pizza is super-fast to make and totally remakes that ham leftover that is sitting in the refrigerator. It is so simple that even kids can make it by themselves.
12. Ham and Cheese "Macaroni" Salad
Using shirataki noodles makes this ham and cheese macaroni salad less than 1 gram carb per serving. This recipe is great for an afternoon barbeque or Easter brunch!
13. Cheesy Cauliflower And Ham Casserole
Nutritious and filling, cheesy cauliflower and ham casserole is a family favorite. Save yourself time and use frozen cauliflower. Now all you have to do is mix the ingredients and bake them.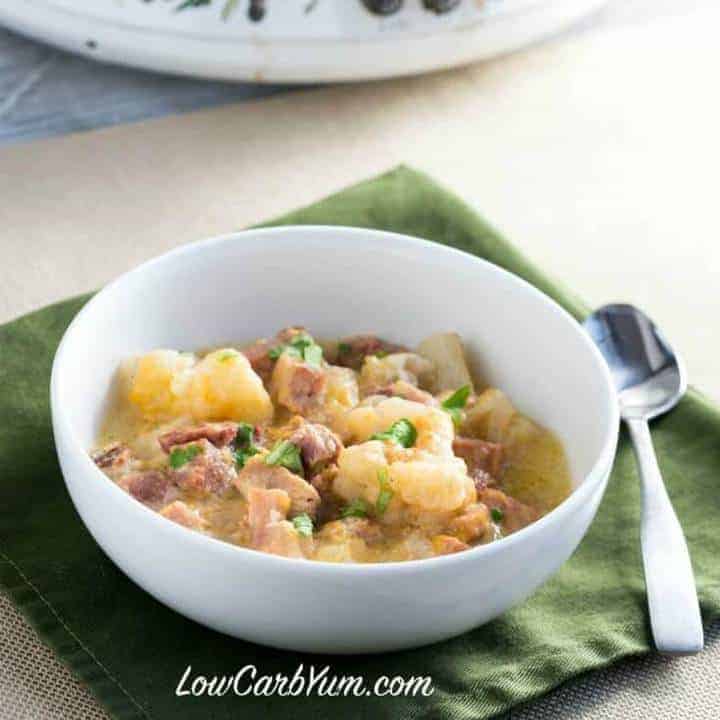 14. Crock-Pot Cauliflower Stew
Save food prep time and make this cauliflower stew in your slow cooker. In addition to the hearty cauliflower florets, this soup has cheddar cheese and heavy cream in it.
15. Ham And Cauliflower Casserole
Photo Credit: Kalyn's Kitchen
This ham and cauliflower casserole has a cheesy and tangy dressing with Greek yogurt as the secret ingredient. Not only does it brighten how it tastes, but Greek yogurt is also higher in protein too.
16. Hearty Green Bean Soup
Photo Credit: Low Carb Maven
Combine ham and green beans in this keto-friendly soup. Just chop up some keto ham and mix it together with the incredible combination of spices.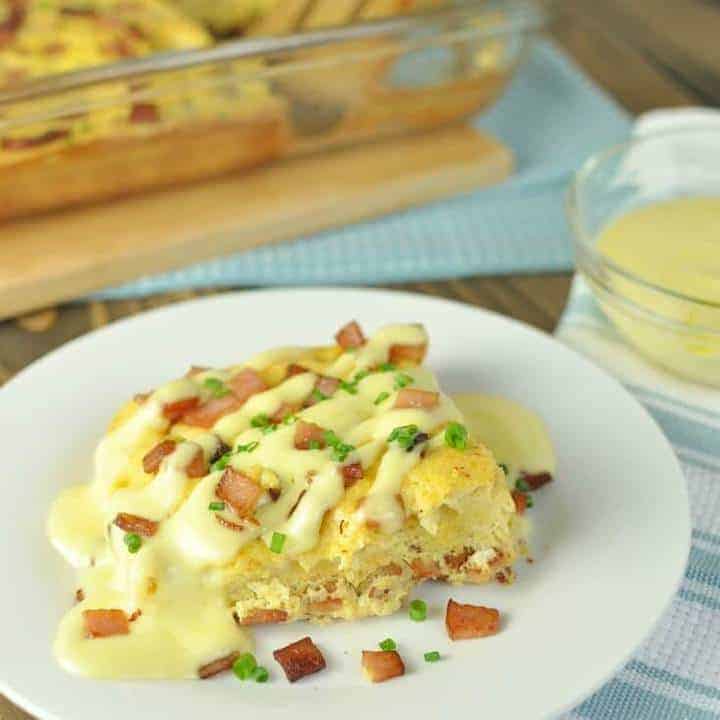 17. Fluffy Scrambled Eggs and Ham
Who doesn't love scrambled eggs and ham for breakfast? You can chop them up into bite-sized pieces and mix them into the egg batter OR just slice it up and give it a quick sear. Either way, it's delicious!
18. Low Carb Ham and Cheese Crepes
Photo credit: Low Carb Maven
If you are missing those deliciously thin french crepes, you are in for a treat! Thinly slices ham with gooey swiss cheese in a crepe- perfect for breakfast, lunch, or dinner!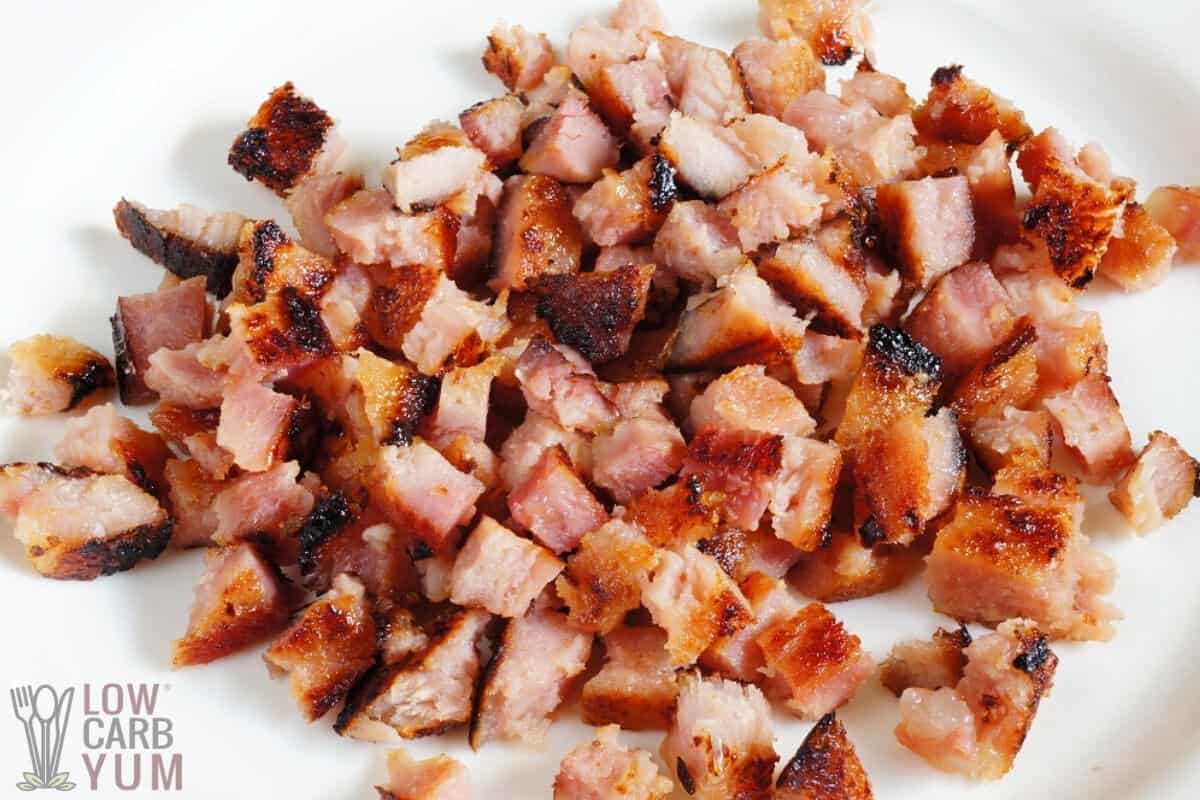 19. Asparagus Cobb Salad
Photo Credit: Maria Mind Body Health
Reimagine Cobb salad with a spring-time vegetable. Asparagus Cobb salad has an incredible, tangy dressing drizzled on top.
20. Instant Pot Ham and Cabbage Soup
Photo Credit: Kalyn's Kitchen
Tender pieces of cabbage with bite-sized leftover ham...this low-carb Instant Pot ham and cabbage soup is such a winner!
21. Pizza Chaffles
If you love pizza, then you will really like these pizza chaffles! Top them with your diced ham and enjoy a childhood favorite.
22. Ham And Cheddar Chicken
Photo Credit: Joy Filled Eats
Grab a skillet and fry up this cheesy ham and chicken recipe. The entire recipe only uses one dish, so it's really easy to clean up!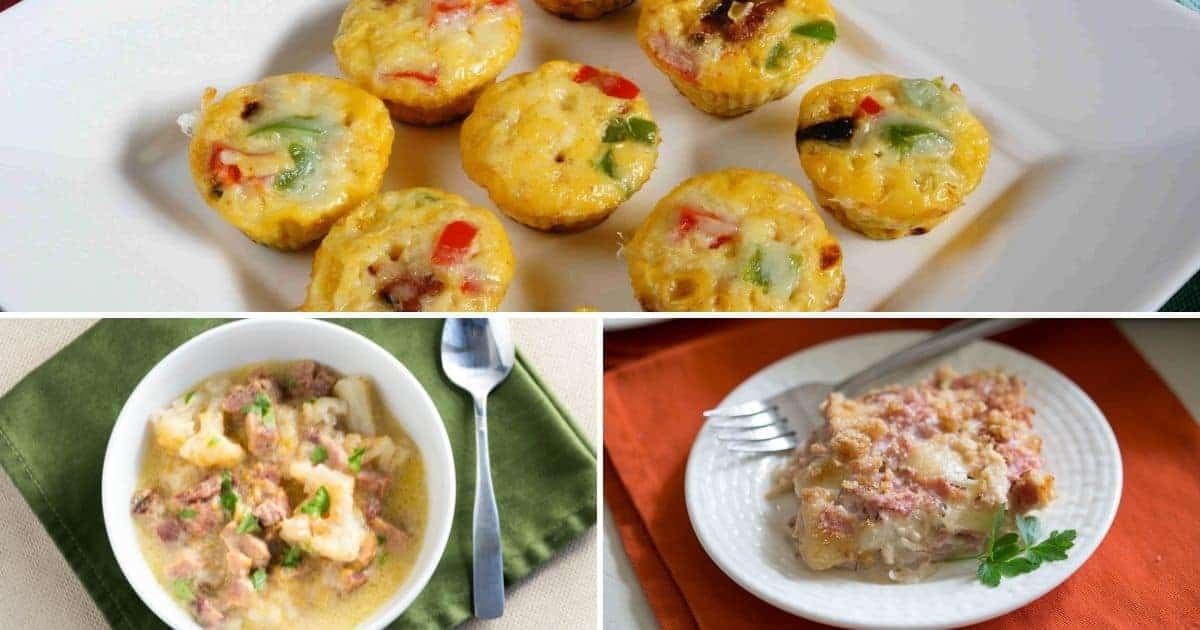 FAQs
Here are some questions people often ask about reusing leftover ham in other low-carb ham recipes.
How long does leftover ham last in the refrigerator?
Leftover ham only lasts about 4 days in the refrigerator. Keep it in an airtight container to make it last as long as possible. If you don't know if you will use it right away, I suggest freezing it.
Is ham low-carb?
Without any glaze on it, ham is naturally low-carb. It's the sugary glaze that adds carbs to it. There are only 2.1 grams net carbs in 1 cup of diced ham.
Can you freeze ham?
Yes, you can freeze ham to make it last longer. It will stay fresh in the freezer for up to 6 months.
To make it easier to use, I suggest storing it in a freezer bag. Just remove the bone and store it in the bag in slices or diced up. When you are ready to reuse it, let it thaw in the refrigerator overnight.
Follow us on FACEBOOK, PINTEREST, and INSTAGRAM for even more tasty keto-friendly recipes!