This cabbage coleslaw omits carrots to keep the carbs at a minimum. The creamy low carb dressing is sweetened with stevia.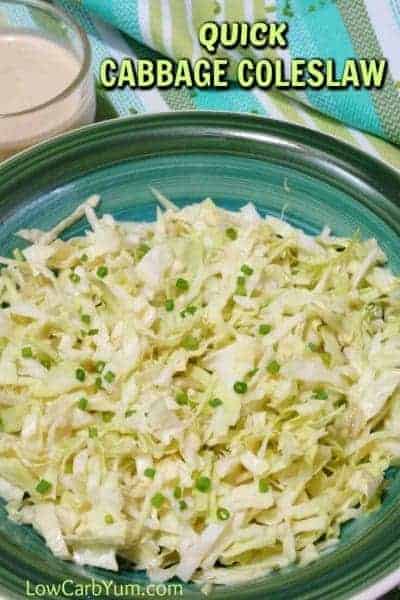 It's the middle of July and I was looking for a quick and easy summer salad to enjoy. So, I picked up a bag of pre-shredded cabbage during my last grocery store trip.
To save time, I used the bagged cabbage that already shredded. You can always pick up a head of cabbage and do that yourself. It is cheaper to buy the whole head.
I prefer making this quick and easy low carb cabbage coleslaw without carrots. As most of us know, carrots contain quite a bit of natural sugar. Leaving them out lowers the carb count.
FREE eBook!
​LOW CARB TIPS and TRICKS
Subscribe now to receive your free copy of Low Carb Tips and Tricks which includes 20 easy to prepare recipes. Plus, get access to the weekly newsletter and special offers only for subscribers!
To save even more carbs, I used a stevia product that has zero carbs. Unfortunately, most coleslaw dressings add sugar. But, making your own at home ensures you leave that out.
Most of the carbs in this cabbage coleslaw are from the cabbage. However, these are the healthier variety since a lot is from fiber. Be sure to use a zero carb mayonnaise without any added sugar. My favorite is avocado oil based mayo. It's super easy to make it at home.
I like to make a big batch of this salad on the weekend. That way, I can eat it throughout the week. It's a great little side item with lunch or dinner.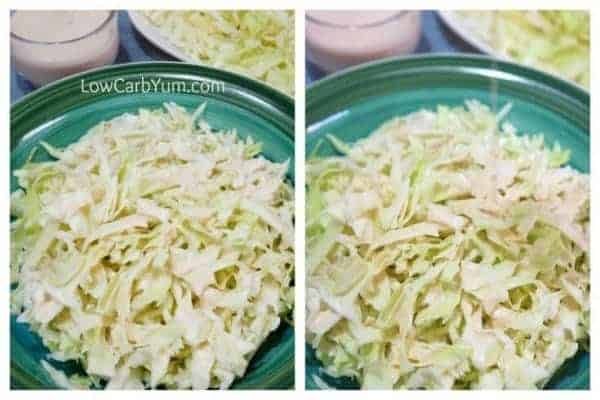 Cabbage coleslaw is also a perfect low carb salad to take along for an outdoor party or picnic. It goes great with hamburgers and hot dogs (without the bun, of course).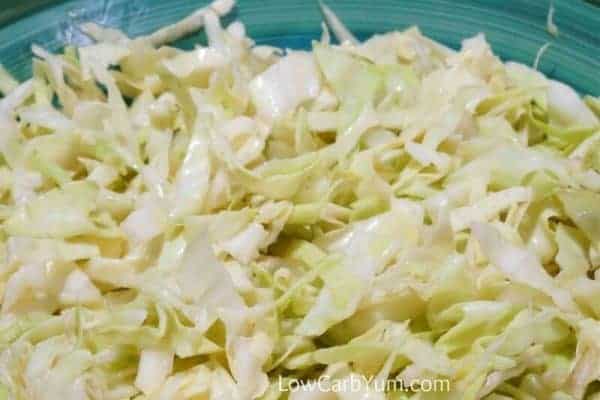 If you like the more traditional coleslaw, you can certainly add in a few grated carrots. It won't add too many carbs as long as you use them sparingly.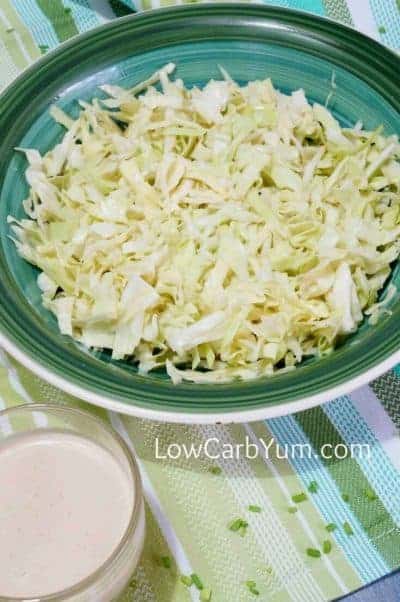 A lot of people forget about cabbage as a delicious low carb vegetable. It seems that cauliflower always gets the attention.
Not sure what else to do with cabbage? You can check out this collection of low carb cabbage recipes at All Natural Ideas.
I really enjoy making crack slaw as well with cabbage. It's basically just shredded cabbage fried with bacon and hamburger.
Another great thing to do with cabbage is to grill it like steaks. You can find my grilled cabbage steaks recipe here.
Although cauliflower seems like the top low carb vegetable due to it's versatility, don't forget cabbage. I've seen many people use it like noodles in lasagna and in skillet dishes. And, it's a stable ingredient in egg roll bowl recipes.
What's your favorite way to eat cabbage?
Quick Cabbage Coleslaw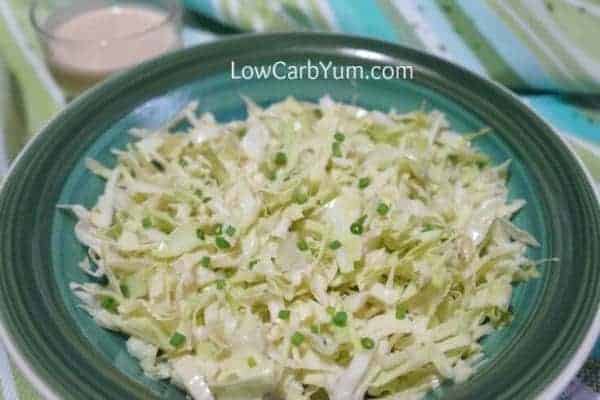 Quick Low Carb Cabbage Coleslaw
Author:
Lisa | Low Carb Yum
Nutrition Information
Serving size:

75g

Calories:

52
Fat:

3.3g

Saturated fat:

0.5g

Carbohydrates:

5.1g

Sugar:

2.2g

Sodium:

79mg

Fiber:

1.2g

Protein:

0.7g

Cholesterol:

3mg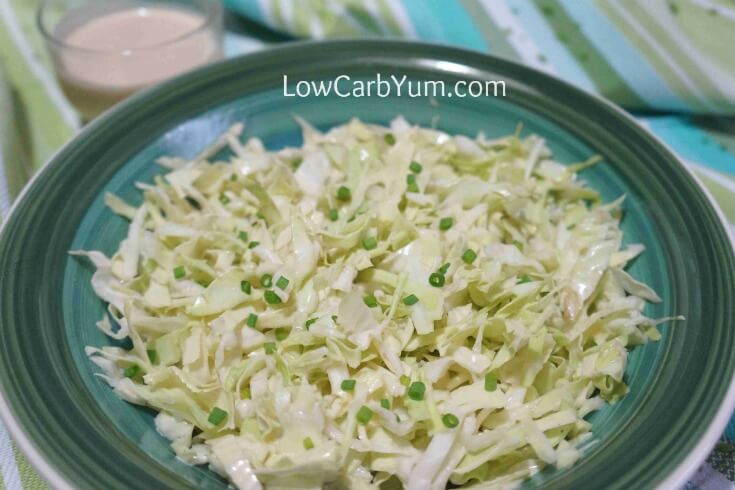 This coleslaw omits carrots to keep the carbs at a minimum. The creamy low carb dressing is sweetened with stevia.
Ingredients
4 cups cabbage, finely shredded
1/4 cup mayonnaise (preferably avocado oil mayo)
1/4 cup cider vinegar
1/2 teaspoon SweetLeaf stevia drops or 2 tablespoons other sugar equivalent sweetener
1 teaspoon ground celery seed
Instructions
Mix cider vinegar with stevia (or other low carb sweetener) packets.
Whisk in mayonnaise and celery seed until smooth dressing forms.
Pour dressing over shredded cabbage. Toss to coat cabbage with dressing.
Notes
Servings: 6

Carbs per serving: 3 g
Related Posts