Preorder my 5-Ingredient Keto Cookbook featuring over 120 simple recipes and get over 45 bonus recipes to use NOW!
Additional Info
Net Carbs:
4
g
|
% Carbs:
4.8
%
|
% Protein:
9.5
%
|
% Fat:
85.7
%
Think it's impossible to make a healthy, Italian lemon ricotta cheesecake? This keto friendly recipe will blow your mind but won't blow up your belly!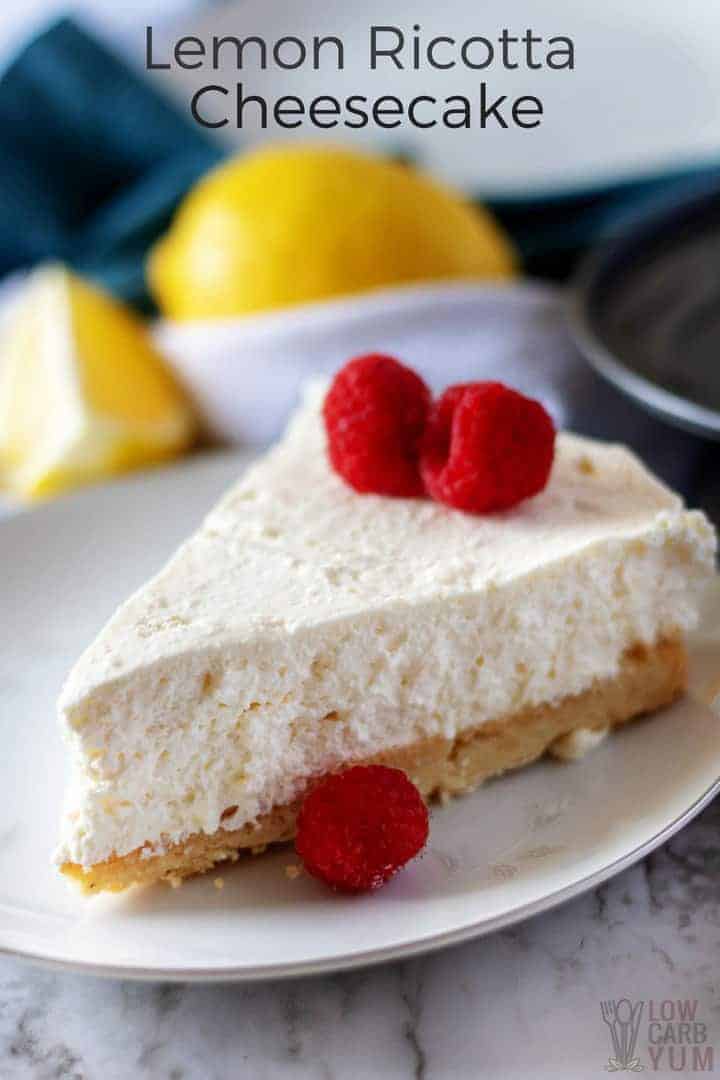 This post may contain affiliate links. As an Amazon Associate I earn from qualifying purchases. See Disclosure
Sinfully-rich tasting desserts aren't bad for your health because they contain tons of fat. On the contrary, it's the carbs that go straight to your gut (or love handles).
When you eat natural fats like butter, which I include a lot of in this recipe, a few things happen….
The first benefit of natural fats is that they prevent cravings. Especially for snacky, high-sugar foods.
Almost everybody knows that too much sugar is not good for health. But relatively few people can precisely explain why.
It's not just cavities that sugar takes the blame for, it's weight gain. And here's how….
In a simple sense, sugar that you eat becomes glycogen, or blood sugar. When your body doesn't burn up all that sugar, say, from running 10 miles, your liver stores the glycogen as body fat for future use.
But if you eat a regular high-carb serving of lemon ricotta cheesecake every day and don't work out like a competitive athlete, you're going to keep adding spare energy reserves.
In other words, you're gonna keep packing on the pounds.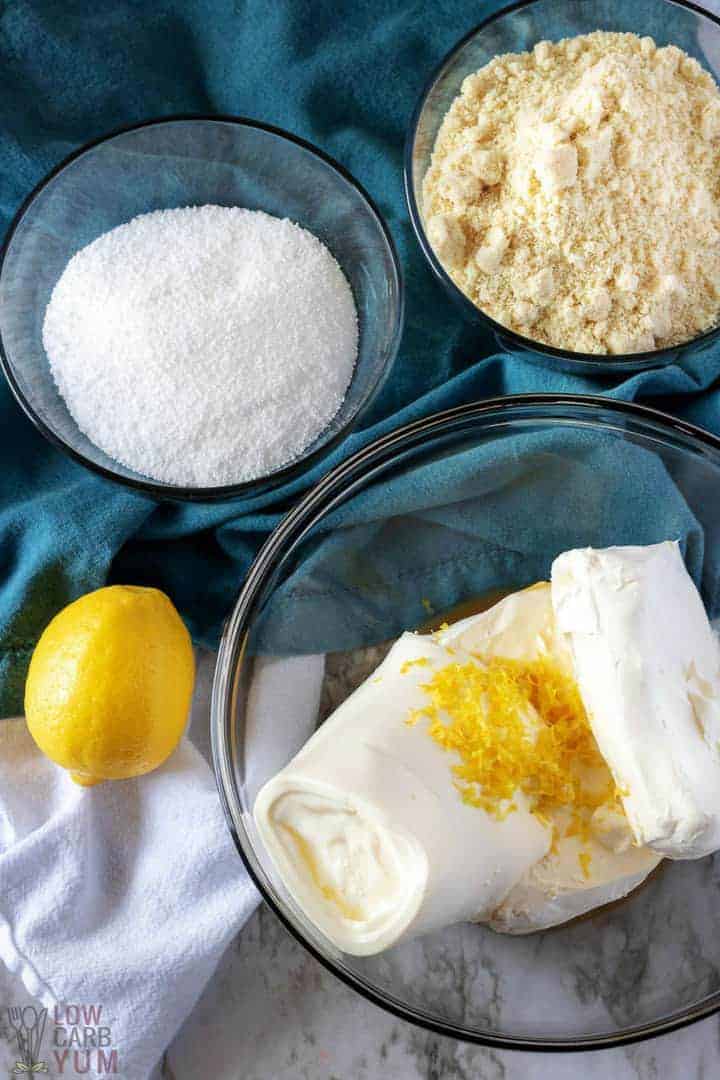 Calories In vs. Calories Out?
Moreover, even if you do workout a lot, it's not as simple as calories in versus calories expended. However, even people who cut calories still have trouble losing weight.
That's because when you eat sugar, the hormone, insulin, gets released. A little insulin is great for escorting sugar into the cells. But over time, insulin, causes your body to gain fat.
If you've been eating low carb for a long time, my apologies … you're probably already well aware of these simple human physiology and nutrition concepts.
However, I feel like I owe it to the newcomers on this low carb recipe blog to hammer over the head the concept that eating fat doesn't make you fat! It's the sugar.
Now, compare a regular slice of lemon ricotta cheesecake to my recipe. My recipe contains only 5 grams of carbs per slice. (There's 1 gram of fiber so net carbs is only 4 grams.)
A regular slice of this cheesecake usually has 30 to 35 grams of net carbs. And over 20 grams of those net carbs are glucose; you might as well inject that sugar straight into your veins.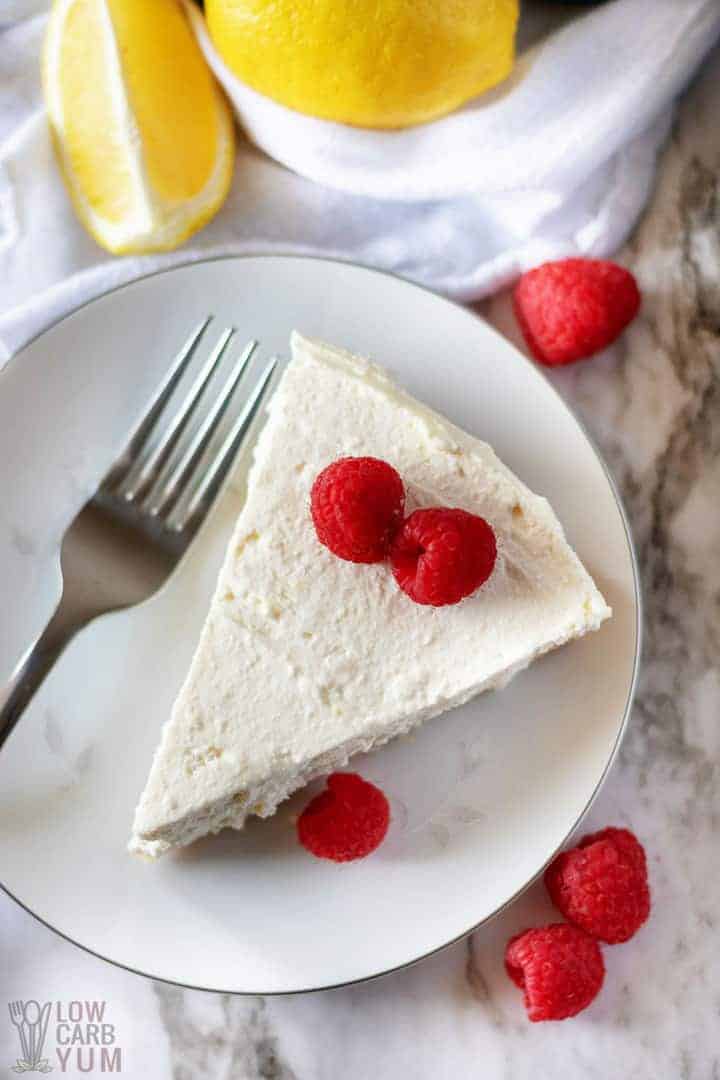 Lemon Ricotta Italian Cheesecake: Why All That Butter?
Despite reading my above rant about how it's not natural fat that makes you gain weight, perhaps you're still a tad fat-phobic.
And maybe you're wondering why this lemon ricotta Italian cheesecake contains six tablespoons of butter.
"Isn't all that butter bad? That's what my friend's cardiologist said."
Well, I don't profess to know as much as a cardiologist. But cardiologists and medical doctors in general unfortunately receive very little training in nutrition.
Saturated fat for decades was blamed for heart disease. And many doctors and mainstream medical institutions still vilify it.
But the truth is, there's no evidence that saturated fat causes heart disease. In fact, it might even be good for you.
Butter, particularly from grass-fed cows, contains essential fatty acids. The grass contains the omega-3s. And when we eat grass-fed (but not corn-fed) butter, we benefit from the nutrients in the grass.
In addition, look at the nutrition facts at the bottom of the Italian lemon ricotta cheesecake recipe instructions.
You'll notice that just one slice contains almost 20% of your daily value vitamin A.
Vitamin A is actually more potent than beta-carotene for carrots. So although it's a common belief that eating carrots is good for your vision, grass-fed butter might be even better.
Grass-fed butter also contains vitamin E. Like vitamin A, E is an antioxidant that benefits the eyes. It's also good for your brain and heart.
Both vitamins A and E are fat-soluble, which means all you need is a little fat for your body to absorb it.
My version of lemon ricotta cheesecake also will provide you with almost 13% of your daily value of calcium. And because of the cheese and almond flour, you also get a decent amount of protein.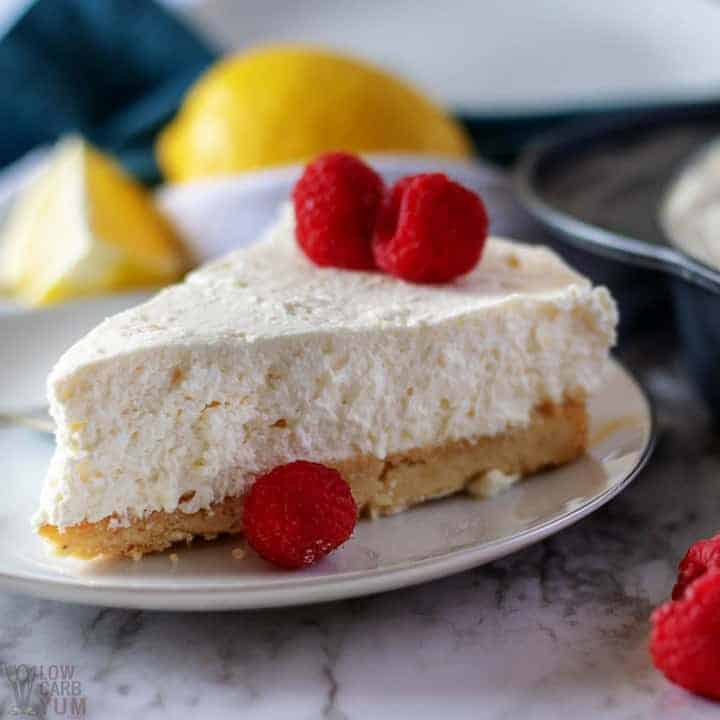 Lemon Ricotta Cheesecake: Low Carb & Delicious
A regular slice of this dessert contains over 40% carbs.
For anybody trying to lose weight, even if you slash your calories by 500 a day, if 40% of your diet consists of carbs, you're not going to have much luck losing those last stubborn 15 pounds.
In truth, I realize that an Italian grandma who is used to making a lemon ricotta cheesecake might wince upon biting into a slice with low-carb sweetener. However, we do have to make some sacrifices if we want to indulge from time to time.
Eating new sweeteners might take some getting used to. But I guarantee you will love this slice of low carb heaven. And, it may even taste better with a little vegan lemon curd on top.
P.S. Check out more of my delicious low carb cheesecake recipes like my no bake peanut butter cheesecake! You may also like my keto muffins with cream cheese.
★ FOLLOW ME ON FACEBOOK, PINTEREST AND INSTAGRAM FOR MORE EASY KETO RECIPES.
Italian Lemon Ricotta Cheesecake
Think it's impossible to make a healthy, low carb lemon cheesecake that tastes just like "nonna" makes it? This keto friendly dessert will blow your mind but won't blow up your belly!
Ingredients
Filling
16

ounces

cream cheese

softened

15

ounces

ricotta cheese

1

tbsp

vanilla extract

2

tsp

fresh lemon zest

1/2

tsp

lemon extract

1 1/2

cups

heavy cream
Instructions
Crust
Preheat your oven to 350°F.

Melt the butter in a microwave safe bowl.

Combine the melted butter, almond flour, sea salt, and sweetener in a medium mixing bowl.

Spray a 9in. glass pie pan with non-stick cooking spray and gently press the crust into the pan. Bake it for 12-15 minutes then remove it from the oven and set on a rack to cool.
Filling
In a large mixing bowl or stand mixer combine the cream cheese, ricotta cheese, sweetener, the lemon and vanilla extracts, and the lemon zest.

Blend everything together on medium speed until the filling is creamy and smooth.

In another medium mixing bowl, use a hand mixer to whip the heavy cream until stiff peaks form.

Fold the whipped cream into the cream cheese mixture. Be gentle but be sure to completely mix all the ingredients.

Pour the filling into the cooled crust and refrigerate the pie for at least 4 hours before serving.
Notes
Try using a chilled mixing bowl when whipping the heavy cream, it will speed up the process.
If needed, strain the filling before putting it into the cooled crust.
Make sure to let the cheesecake chill for at least 4 hours so it can set before serving.
Low Carb Sweeteners | Keto Sweetener Conversion Chart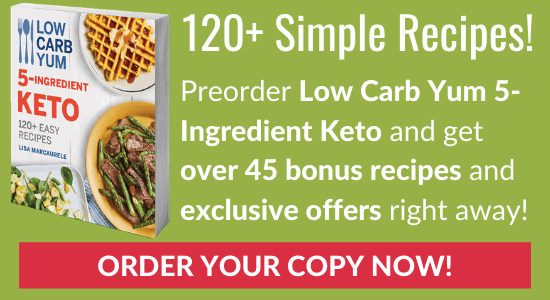 Nutrition
Serving:
1
slice
|
Calories:
339
kcal
|
Carbohydrates:
5
g
|
Protein:
8
g
|
Fat:
32
g
|
Saturated Fat:
16
g
|
Cholesterol:
86
mg
|
Sodium:
158
mg
|
Potassium:
83
mg
|
Fiber:
1
g
|
Sugar:
1
g
|
Vitamin A:
960
IU
|
Vitamin C:
0.5
mg
|
Calcium:
128
mg
|
Iron:
0.7
mg
Additional Info
Net Carbs:
4
g
|
% Carbs:
4.8
%
|
% Protein:
9.5
%
|
% Fat:
85.7
%

Get Recipes Delivered Weekly
Join my email list and you'll receive a free meal plan with 20 keto recipes. Plus, you can opt-in for special offers only for subscribers!
Note on Nutritional Information
Nutritional information for the recipe is provided as a courtesy and is approximate only. We cannot guarantee the accuracy of the nutritional information given for any recipe on this site. Erythritol carbs are not included in carb counts as it has been shown not to impact blood sugar. Net carbs are the total carbs minus fiber.
© LowCarbYum.com
Unauthorized use of this material without written permission from Lisa MarcAurele is strictly prohibited unless for personal offline purposes.
Single photos may be used, provided that full credit is given to LowCarbYum.com along with a link back to the original content.