Making delicious, low-carb baked goods doesn't have to be difficult. This is especially true with options like hazelnut flour!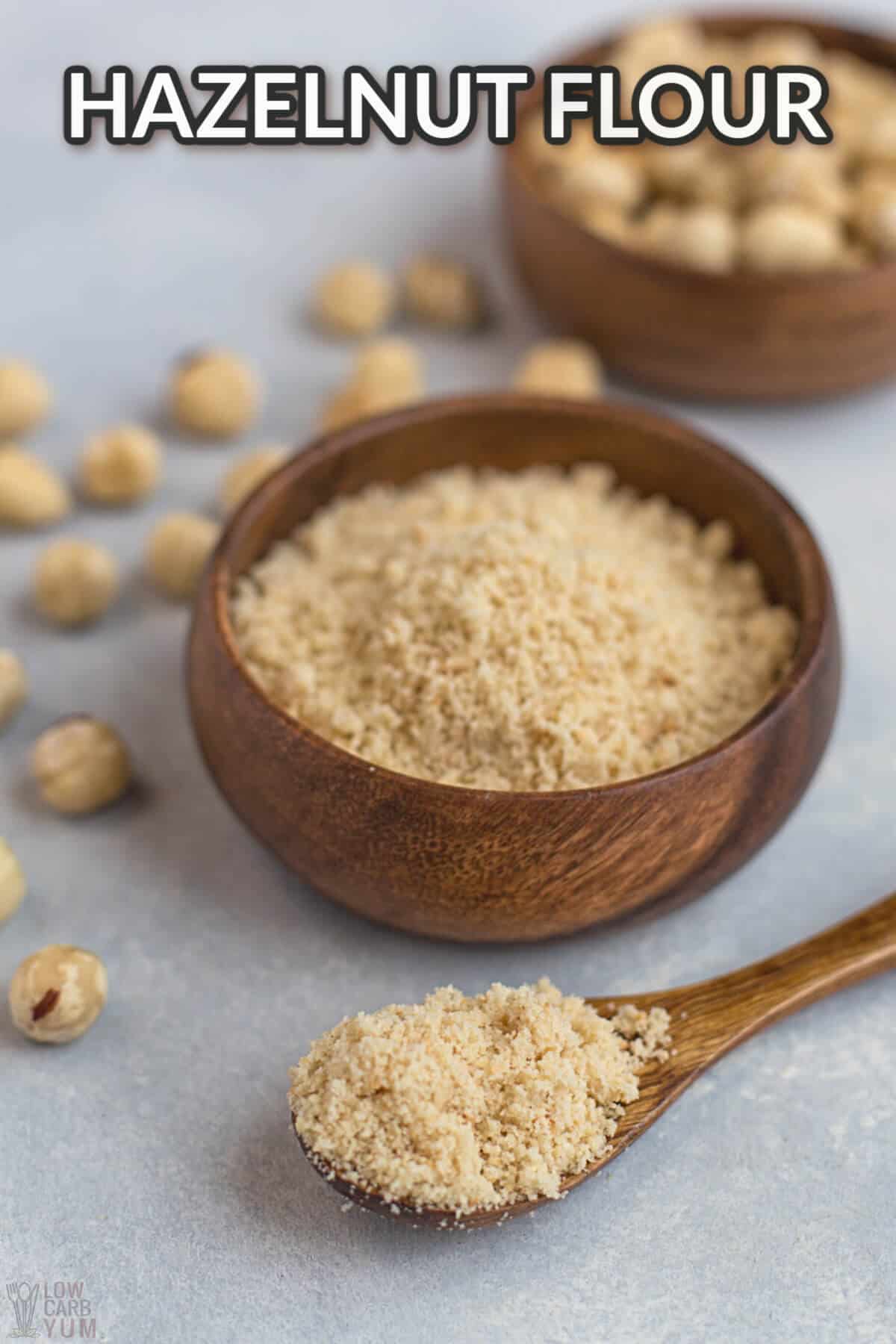 Article Index
If you need to avoid regular flour for dietary or health reasons, flour made from hazelnuts is a great option for you. It is yet another excellent keto-friendly flour that is perfect for baking.
Not only can you make hazelnut flour at home, but it can also be found pretty easily online or in health food stores. Try out this alternative to make low-carb treats you can truly enjoy!
Can You Substitute Hazelnut Flour For All-Purpose Flour?
Hazelnut flour can be used in the place of most types of flour, including all-purpose. However, you will need to keep in mind that this flour is very different from normal flour.
It is best to blend it with another flour to get the best results. Otherwise, it will turn out very dense, hard, or crumbly.
You can substitute as high as 50% of this flour in most recipes with good results. If you want to use all hazelnut flour in a recipe instead of a blend, it is best to use a recipe formulated for this specific flour alternative.
How Healthy Is Hazelnut Flour?
This flour substitute is a healthy alternative for those on a low-carb diet but is also an amazing option for anyone since it packs a powerful nutritional punch.
Because it is made from nuts, this flour has a good amount of healthy monounsaturated fats. It also has plenty of protein, vitamins, and minerals and contains antioxidants that can help to prevent heart disease as well.
Overall, the qualities in hazelnut flour are far more beneficial to your health than wheat-based flour.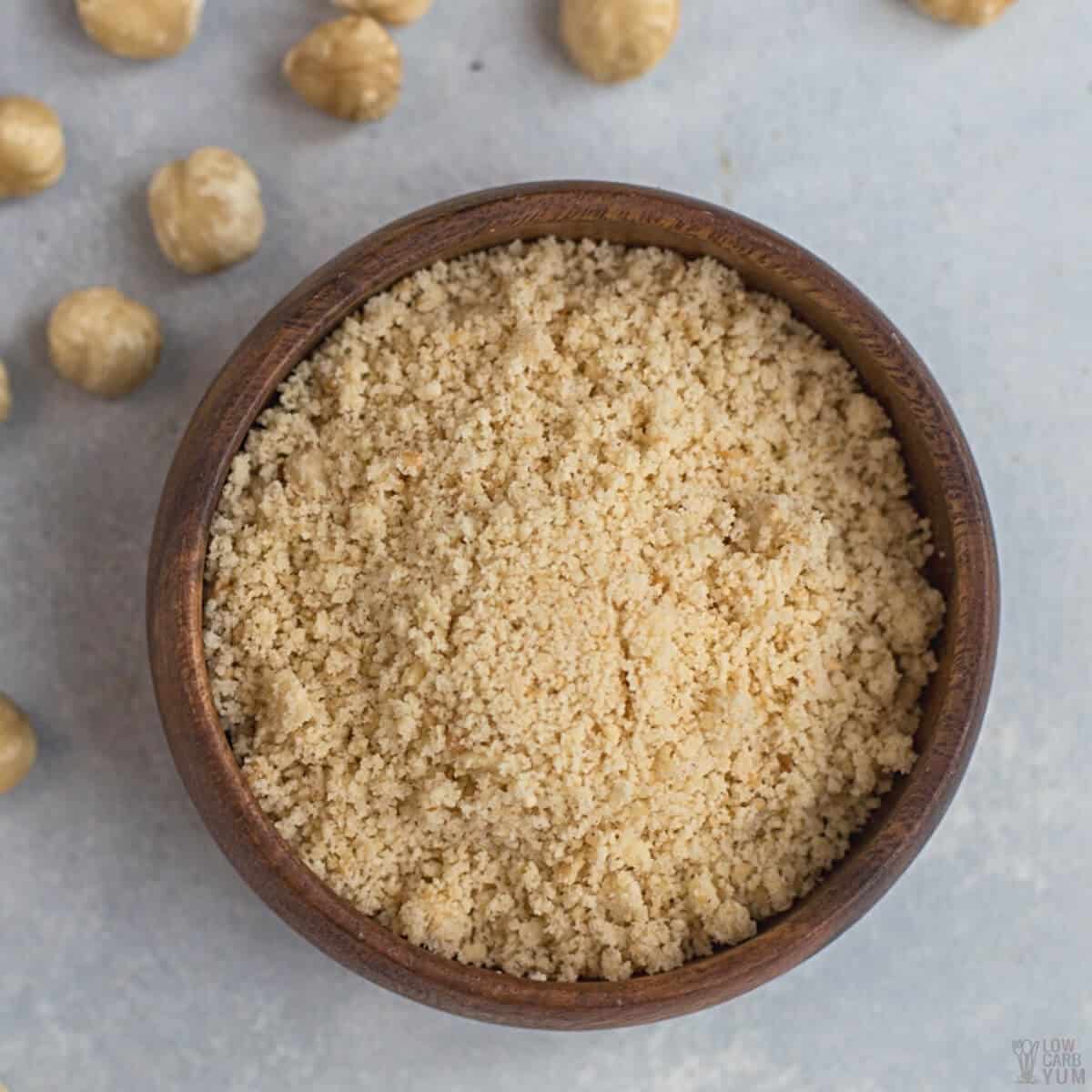 Nutritional Information
Here are some fun nutritional facts about this keto-friendly flour alternative. This information applies to one cup of hazelnut flour.
7% DV Carbohydrates
44% DV Dietary Fiber
17 Grams Of Protein
724 Calories
As these percentages represent one cup of this flour alternative, you should take into account that you aren't eating all of this at once. One cup of flour in a baking recipe will come to several portions, so this information does not apply to just one serving.
Is Hazelnut Flour Okay For A Ketogenic Diet?
Because this nut flour is low in carbohydrates, it is considered to be a keto-friendly flour. This makes baking delicious keto baked goods even easier, as we have yet another great flour alternative!
Hazelnut flour is also a good way to impart extra flavor into certain foods since hazelnuts are so deliciously nutty. It really is a special baking ingredient to try in your favorite recipes.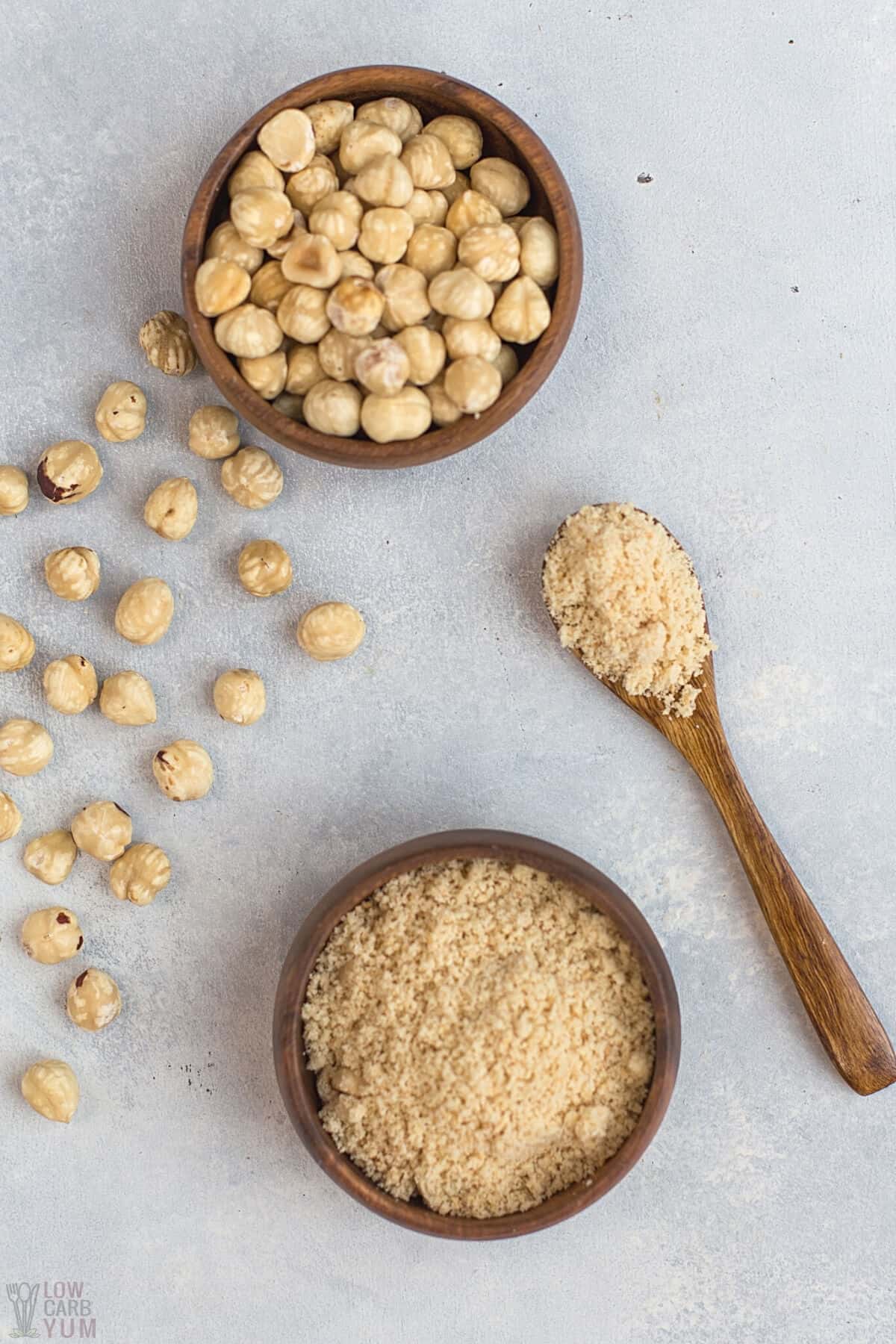 What Is Hazelnut Flour Made Of?
This nut flour is made up of exactly what you would suspect - hazelnuts. It is made through a process of finely grinding down the nuts to create powdery flour.
Because it is made from nuts, it is full of good protein and healthy fats. It is naturally gluten-free, and almost anyone can enjoy it as long as they do not have a nut allergy.
Hazelnut flour is perfect for a keto diet, as well as many others!
Baking With Hazelnut Flour
To bake with this nut flour, you will need to keep in mind that this is not a complete replacement for all-purpose flour. Nut flours are much heavier and aren't as fine, even if they look like regular flour.
Because of these issues, hazelnut flour can weigh baked goods down. The best way to counteract this is to mix your flours together instead of using just one. You can mix hazelnut and almond flour together or hazelnut and peanut flour. Doing this will give you a better chance at getting a light and fluffy dessert.
Also, keep in mind that this flour has a slightly nutty flavor. It isn't overwhelmingly strong, but it does come through in baked goods. It tastes amazing paired with chocolate or coconut, but it might not be as good paired with something like lemon!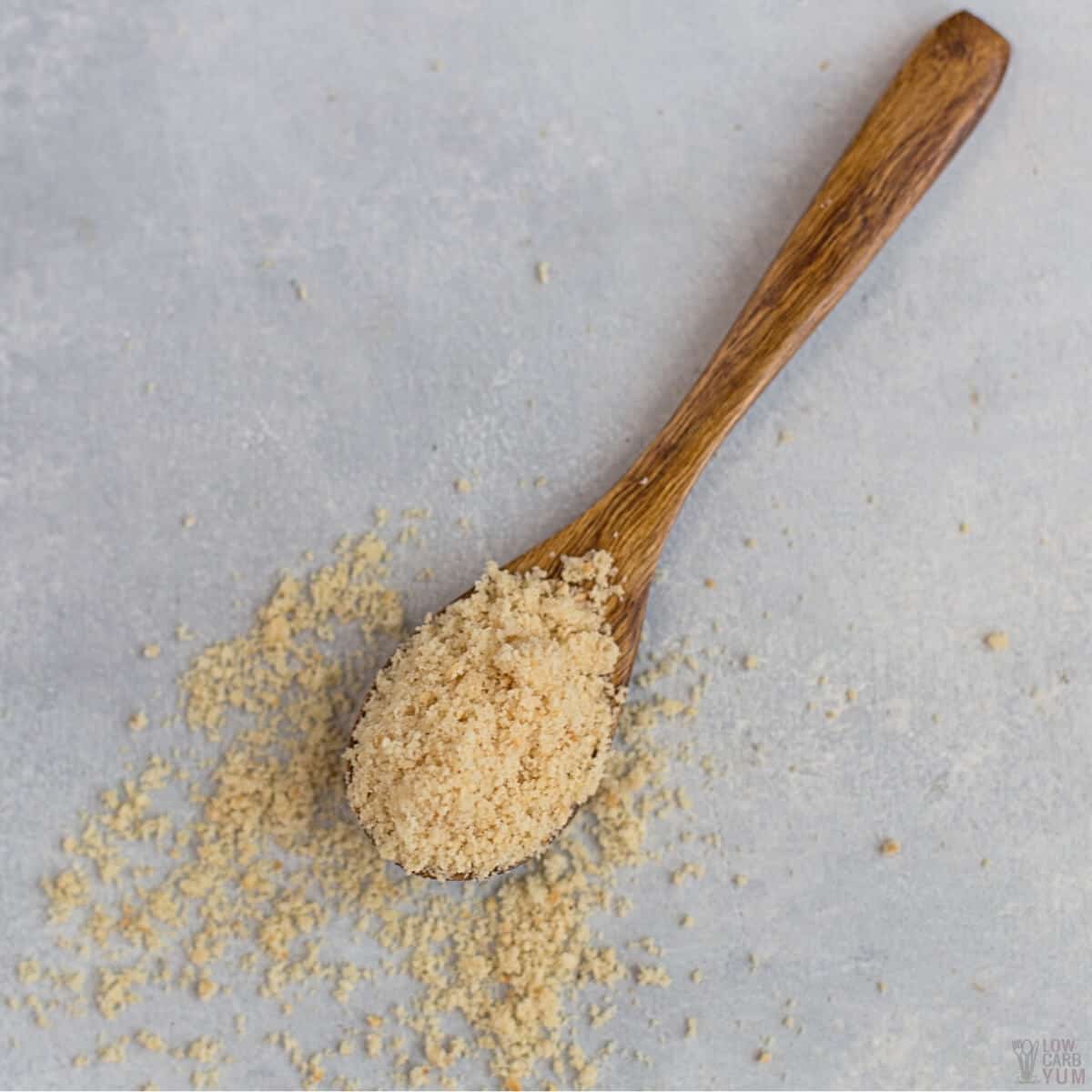 Pro Tips When Using Hazelnut Flour
To make your own hazelnut flour, you might want to add a small amount of granular keto sweetener to the nuts. This will keep them from becoming hazelnut butter during the grinding process. Pulsing small amounts in a coffee grinder works too.
Make sure to refrigerate your flour to keep it fresh for as long as possible. Because it is made from nuts, the fats can quickly start to go bad.
Because this flour is slightly heavier than normal all-purpose flour, you will want to increase the amount of leavener. Add a little more baking soda, baking powder, or yeast to your recipe to help it rise correctly.
If you are just starting to use this flour substitute and are unsure about what recipes it would taste good in, try it in a recipe with chocolate. Chocolate and hazelnut always taste great together. (Think Nutella!)
Don't bake this flour at very high temperatures - it browns quickly and can burn if cooked too fast. Try to keep the temperatures lower when using it in baked goods.
What Does Hazelnut Flour Taste Like?
This flour substitute has a distinct hazelnut flavor that isn't so strong that it overpowers food, but it does shine through in baked goods. It is nutty and has a sweet, almost buttery taste that goes well in sweet and even some savory dishes.
If you are a fan of nutty flavors and are looking for a low-carb, healthy alternative, this flour would be a great substitute for your recipes.
Where Can You Find Hazelnut Flour?
This flour alternative can be found online very easily. In fact, the best prices will most likely be online. However, you can also find it in most health food stores as well as the health food section in some grocery stores.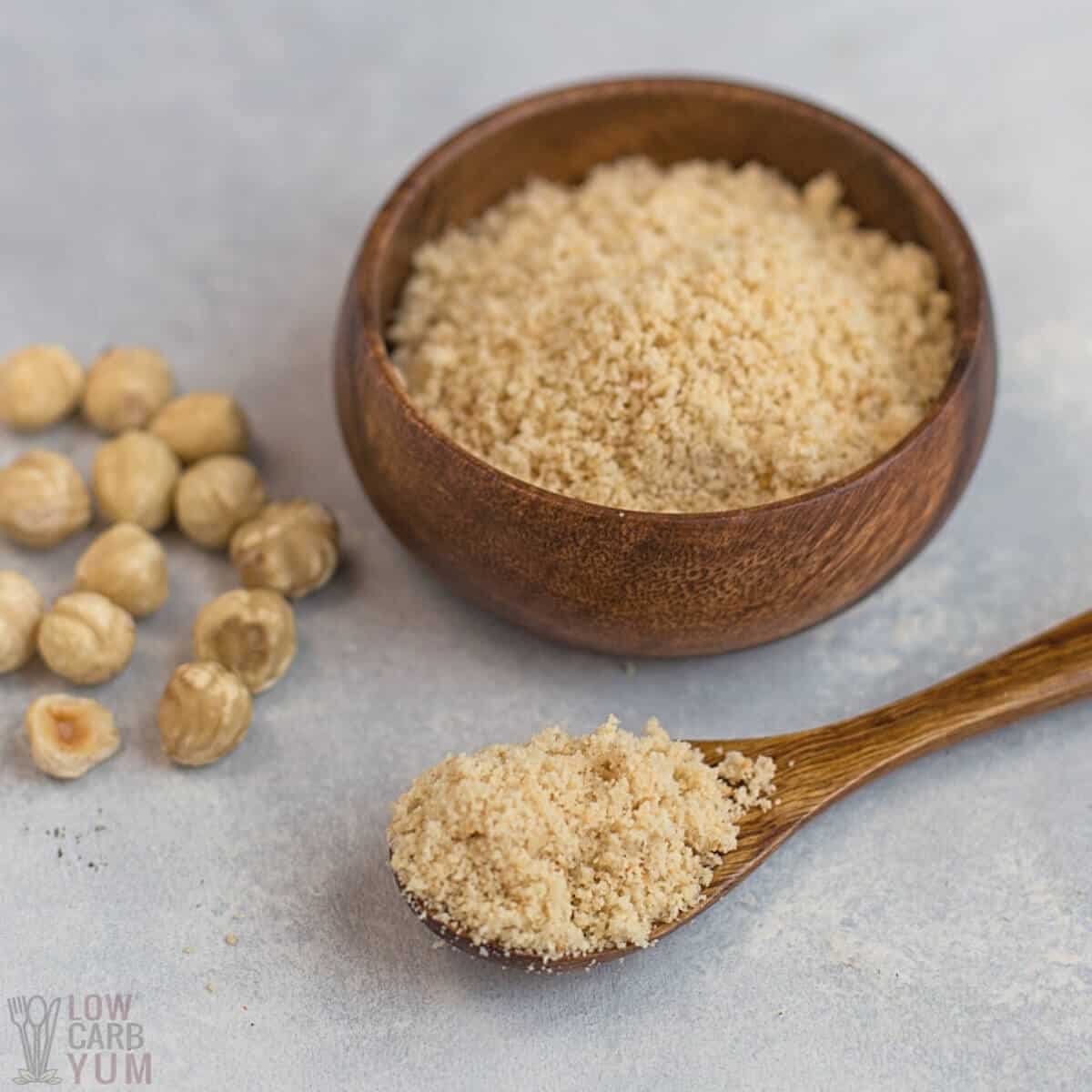 More Keto Recipes To Try
Want to start using this special flour in your baked goods? Here are some recipes where you could use hazelnut flour.
Follow us on FACEBOOK, PINTEREST, and INSTAGRAM for even more tasty keto-friendly recipes!