This simple low carb bacon cheddar broccoli salad is great for a summer picnic or potluck. The tangy creamy dressing is sweetened with all natural stevia.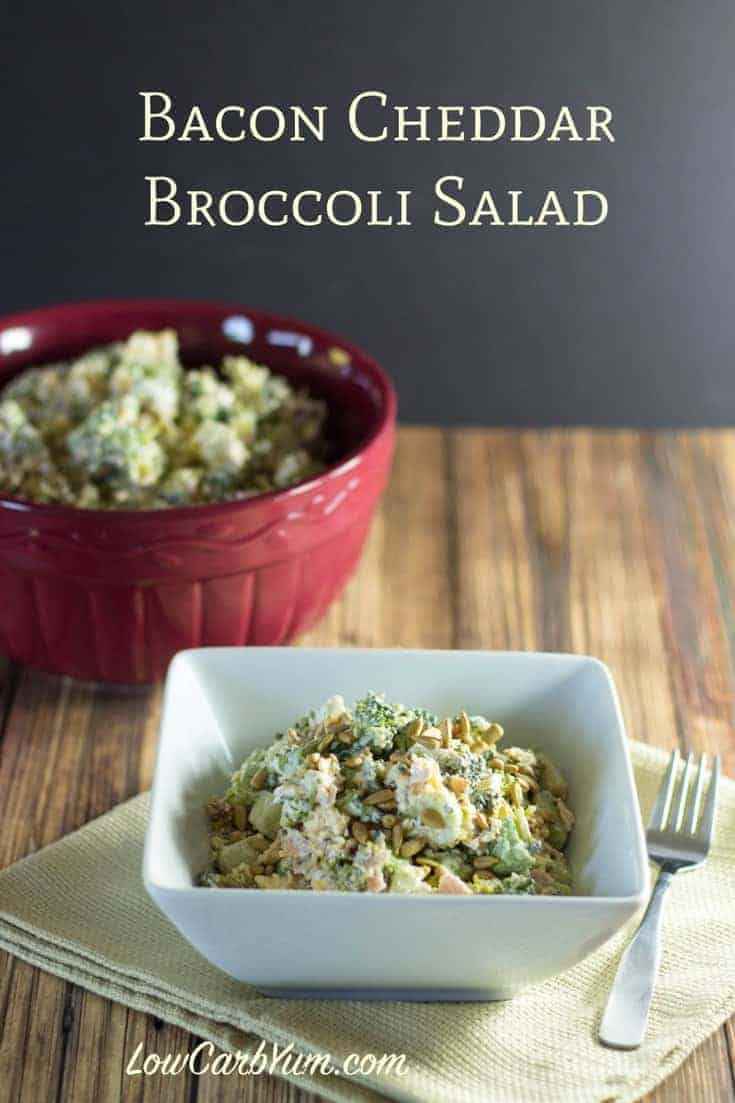 I've always enjoyed broccoli salad so I came up with this low carb bacon cheddar broccoli salad recipe. Some broccoli salad recipes include chopped onions and sunflower seeds so you can include those if you like.
I've also seen it made with ham instead of bacon. I like to add cheese, but you can leave that out.
You don't necessarily have to steam the broccoli first, but I find it easier to eat if softened a bit. This has been a very popular salad for summer parties and picnics.
FREE eBook!
​LOW CARB TIPS and TRICKS
Subscribe now to receive your free copy of Low Carb Tips and Tricks which includes 20 easy to prepare recipes. Plus, get access to the weekly newsletter and special offers only for subscribers!
I find it's a great dish to bring to potlucks. Like most salads, it's also a super easy to prepare.
It does take a little time to chop up the broccoli, but you can buy it already chopped if you want to save time.
It's best to use a homemade mayonnaise that uses healthy oil. If you do use a prepared mayonnaise, Whole Foods carries a mayonnaise made with avocado oil that I like to use if I don't have the time to make mayonnaise.
However, it really doesn't take much time at all to make your own mayonnaise. You don't even have to cook the egg yolks first.
You can just with it up in a container with a stick blender to super fast preparation.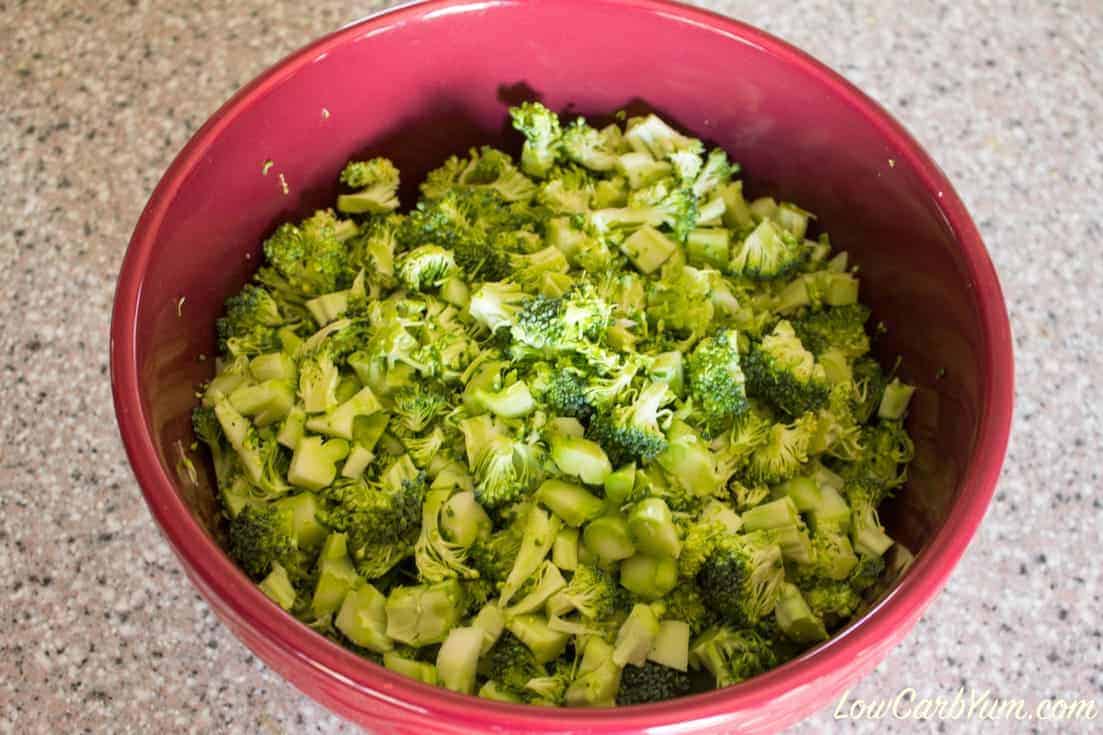 The dressing in this simple salad is sweet and tangy. I like to use a stevia sweetener and the SweetLeaf brand packets are the ones I typically use.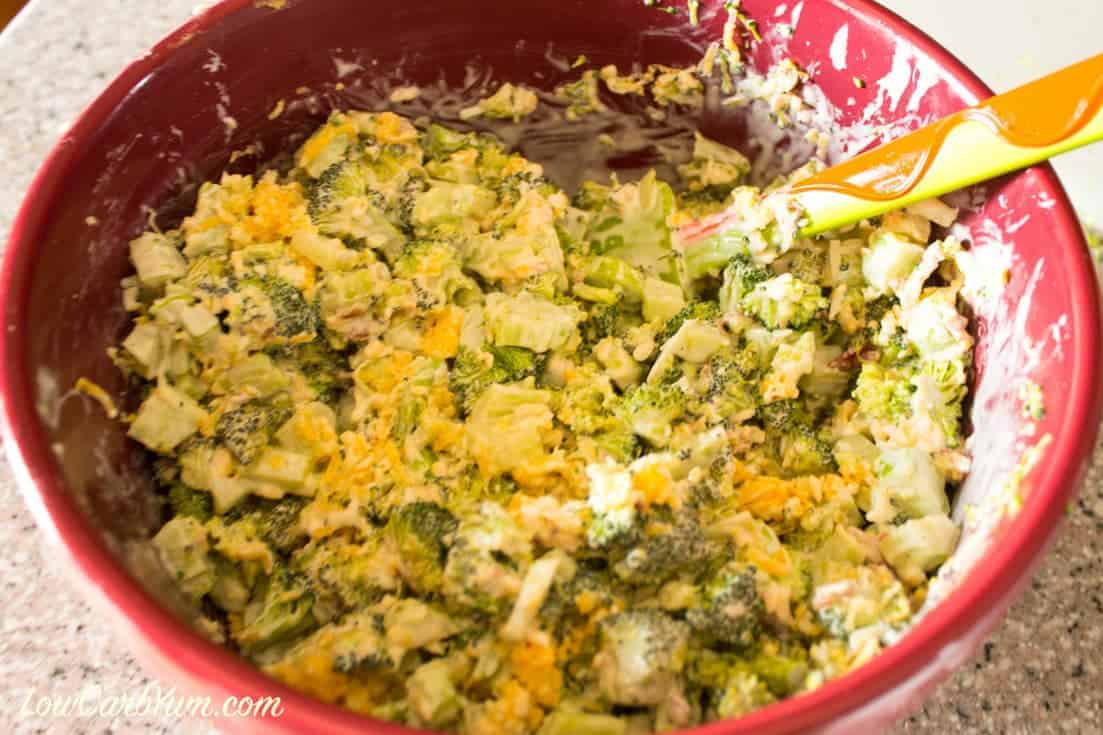 You want to cook the bacon strips in the oven for about 20-25 minutes at 400 degrees F until they are nice and crisp. I don't even bother to preheat the oven first, either. It's a lot cleaner to bake bacon rather than fry!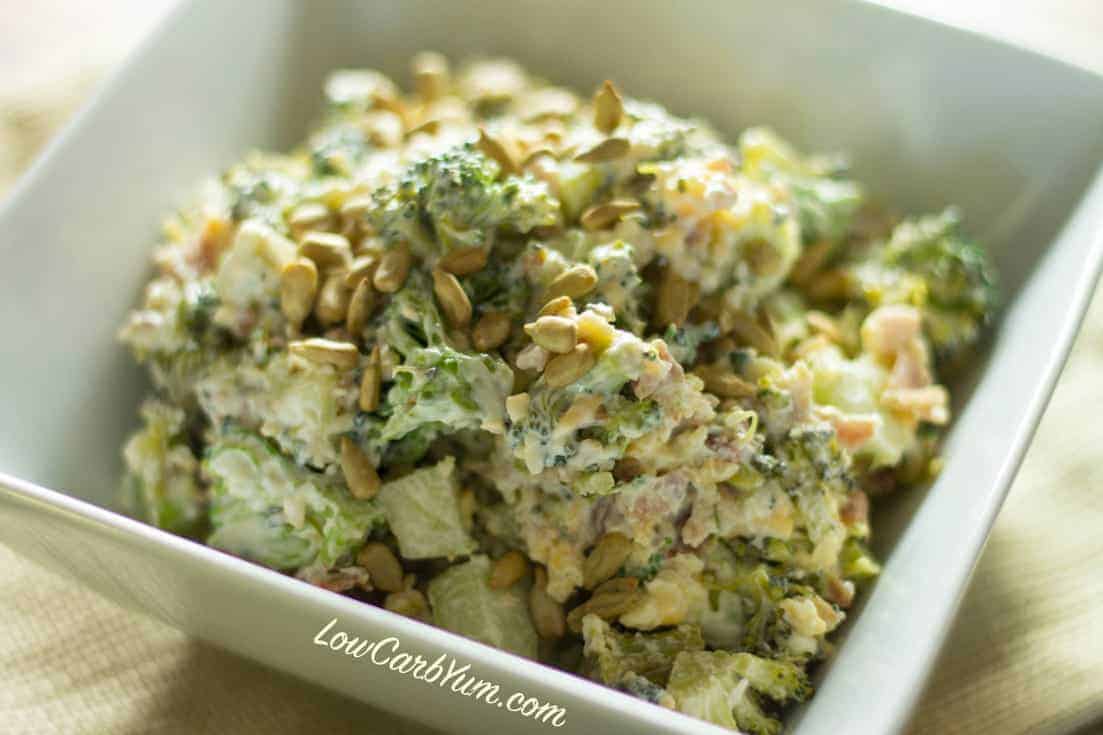 I usually don't mix the sunflower seeds into the salad if I add them. Instead, I like to sprinkle them on each individual serving so they are nice and crunchy.
Some of my other favorite low carb salad recipes are a mock potato salad and basic cabbage coleslaw.
Bacon Cheddar Broccoli Salad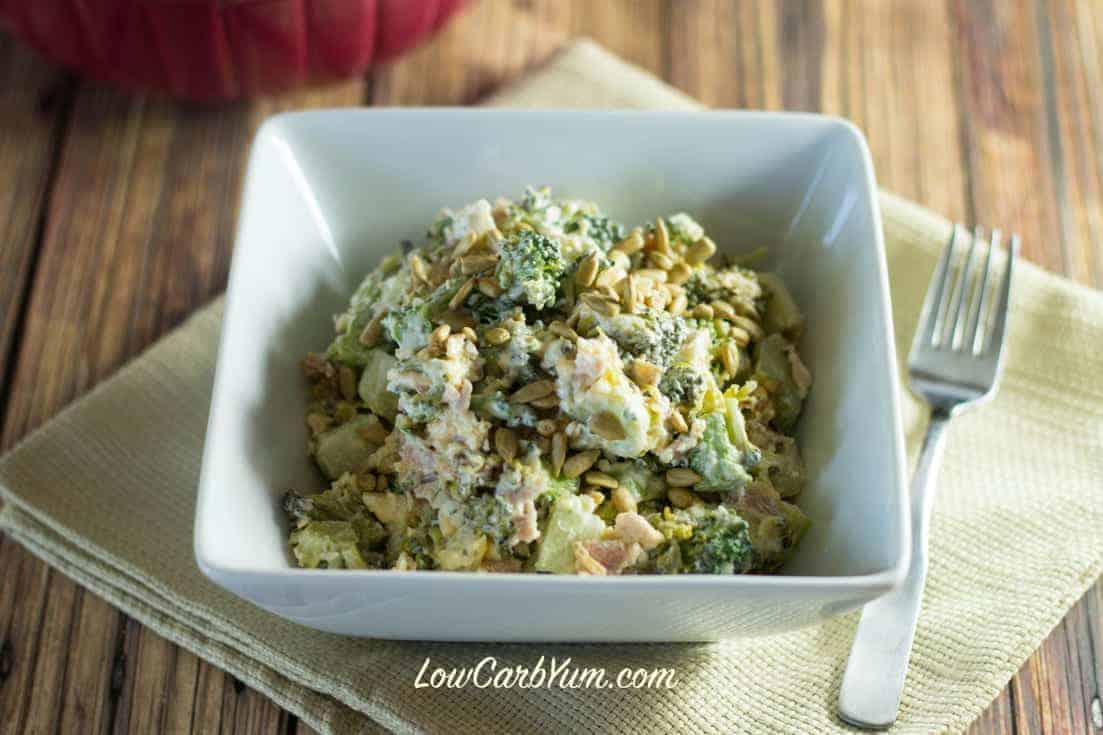 Bacon Cheddar Broccoli Salad
Author:
Lisa | Low Carb Yum
Nutrition Information
Serving size:

156

Calories:

231
Fat:

15.3g

Saturated fat:

5.9g

Carbohydrates:

8.1g

Sugar:

2.0g

Sodium:

751mg

Fiber:

3.0g

Protein:

16.0g

Cholesterol:

41mg
This simple low carb bacon cheddar broccoli salad is great for a picnic or potluck. The creamy dressing is sweetened with all natural stevia.
Ingredients
1 bunch fresh broccoli, cut in small pieces
3/4 cup mayonnaise
2 Tablespoons apple cider vinegar
3 packets stevia or other sugar substitute
6 slices bacon, cooked crisp then chopped
1/2 cup cheddar cheese, grated
1/4 cup onion, chopped (optional)
1/4 cup roasted sunflower seeds (optional)
Instructions
Lightly steam broccoli for a minute or two. Drain and cool.
In a large bowl, mix the mayonnaise, vinegar and stevia with a whisk.
Toss the broccoli and cheddar cheese into the dressing.
Related Posts