Want to make a yummy, healthy salad in a flash? This recipe for baby kale avocado salad with parmesan takes only minutes to have prepare!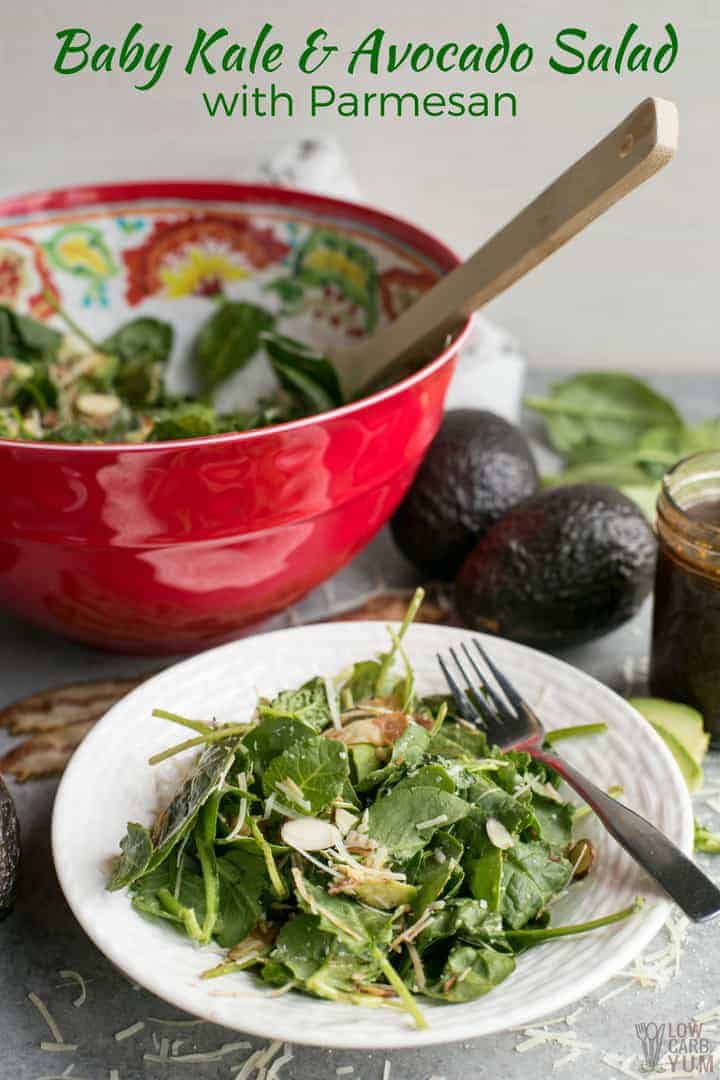 Crazy for Kale?
The popularity of kale really blew up. Who would have ever thought it's be a staple ingredient for healthy smoothies.
But come on, seriously … kale popsicles? I'm ok with kale chips. Some green leafy veggies had to replace conventional, artery-clogging potato chips.
And when I roast you in the oven, you do indeed turn into a pleasing crunchy satisfying treat that I don't have to feel guilty about.
However, it seems a bit much. My favorite spot for this leafy green is still in soups and salads.
Actually, I think it's great that this healthy veggie has been featured in so many creative recipes. But I think raw kale, in its most stripped-down element is sublime just the way it is.
Especially when you're making a baby kale avocado salad with parmesan cheese. So let's dig in and see how easy this recipe is.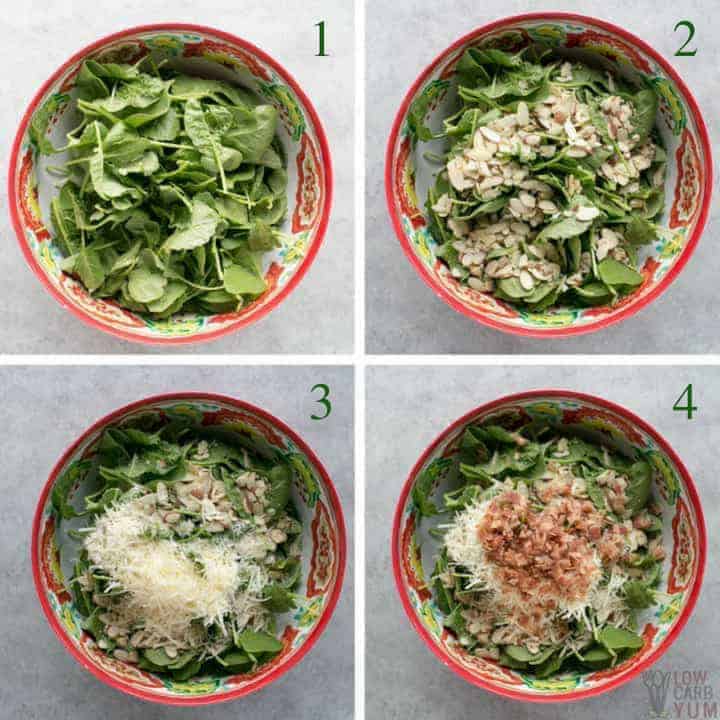 How to make a baby kale avocado salad
It couldn't be easier to make this tasty low carb salad recipe. All you do is toss together baby kale, sliced almonds, avocado, bacon, and parmesan cheese in a big bowl. (photos 1-6)
Then I like to top is off with my olive oil and balsamic vinegar salad dressing. (photo 7) Of course, you can use any vinaigrette that you like or choose another favorite low carb salad dressing.
I also like to dress up the top with some additional grated parmesan cheese and bacon. (photo 8)
K is for Kale
But before we break down the other ingredients in this salad, let's remind ourselves why it's kale is so good for your health.
For starters, the veggie contains a huge amount of vitamins A and C, both of which are antioxidants.
One cup of kale has about 200% of the daily value of A and 130% of C. In addition, there's a decent amount of calcium (roughly 10 percent).
But the one nutrient kale is loaded with is vitamin K.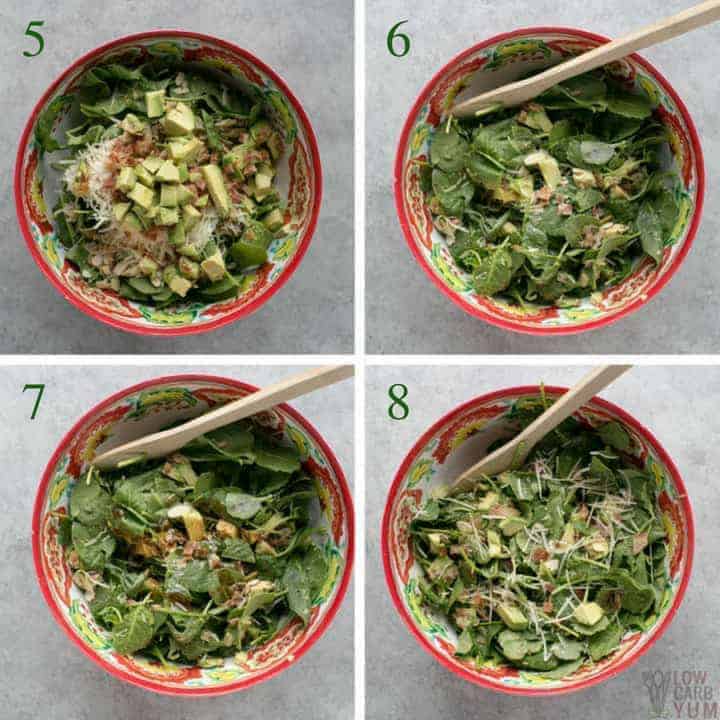 There's almost 700% daily value of K. Now do you see why K is for kale … or, is it kale is for K?
Anyways, point being that many people know the health benefits of vitamins A and C and even E for skin and hair care.
Fewer people, however, think about vitamin K (or perhaps even realize it's a nutrient).
If you've ever bled from getting cut, you can thank vitamin K for playing a big role in clotting your blood.
(The downside to this action is that if you're taking blood-thinning medication or following a Coumadin diet, you should limit your kale intake.)
In addition, vitamin K, assists the transport of calcium throughout the body. Thus, it plays a part in bone development and health.
If you eat enough of my baby kale avocado salad with parmesan, you can reduce your chances of bone loss and fractures. Moreover, the K in kale can help clean out your arteries.
More Kale Nutrition Facts
A few more fun kale nutrition facts to leave you with before you start prepping the salad, which only takes a couple minutes….
Kale also contains over a quarter of your supply of manganese. Like vitamin K, manganese plays a role in bone health.
But according to this source, the mineral plays several other important sources. If you're counting your net grams of carbs, you'll be glad that manganese helps normalize blood sugar levels.
You might also be happy to learn that it may help ease symptoms of PMS.
Pound for pound, kale is one of the most nutrient-dense foods on the planet. It also contains essential fatty acids and a decent amount of copper.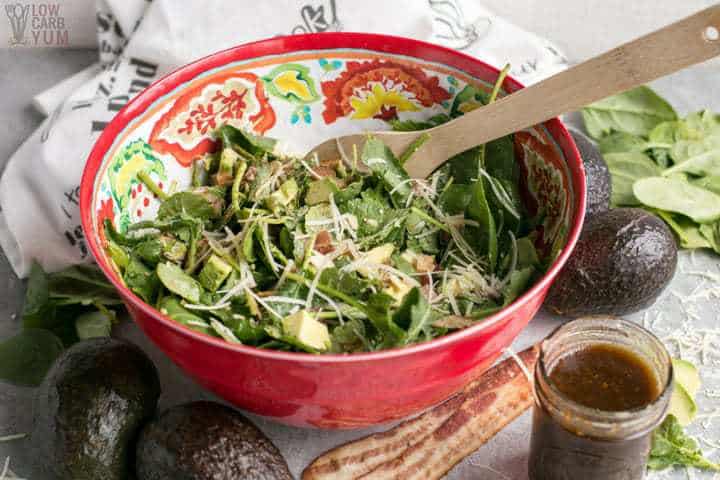 Is Cheese and Bacon Healthy On a Salad?
This baby kale avocado salad with Parmesan cheese is not any less nutritious due to the fact that it contains dairy.
In fact, the cheese plays an important part in helping curb cravings.But, you can certainly replace the Parmesan with a dairy-free alternative if desired.
You want your salads to have a decent amount of natural dietary fat. Otherwise, you could end up overeating the main entree and be unable to resist snacking on high-carb foods later.
That's why I include a few healthy fats in this recipe: the Parmesan, bacon, avocado and olive oil.
Now, I know what you might be thinking: bacon is healthy?
Yes, it's true that industrial bacon is one of the worst things for you. But if the bacon is nitrate-free and organic, a little bit of it is good for you.
Your cardiologist might not agree with this sentiment. However, a little bit of natural, minimally-processed fat is the best thing for avoiding high-sugar, high-starch foods.
In fact, there's only one macronutrient that does not raise blood sugar levels at all and that's fat.
Even eating too much protein can raise your blood sugar levels. That's why it's not a good idea to eat a lot of animal protein.
However, when it comes to olive oil and avocado, you don't have to feel guilty about the fat content. Think of fat as your friend.
It's amazing that despite all the health information available online, there's still a lot of misconceptions about dietary fat.
No, eating fat doesn't make you fat. Eating too many grains and other carbs (not including fruits and vegetables) does.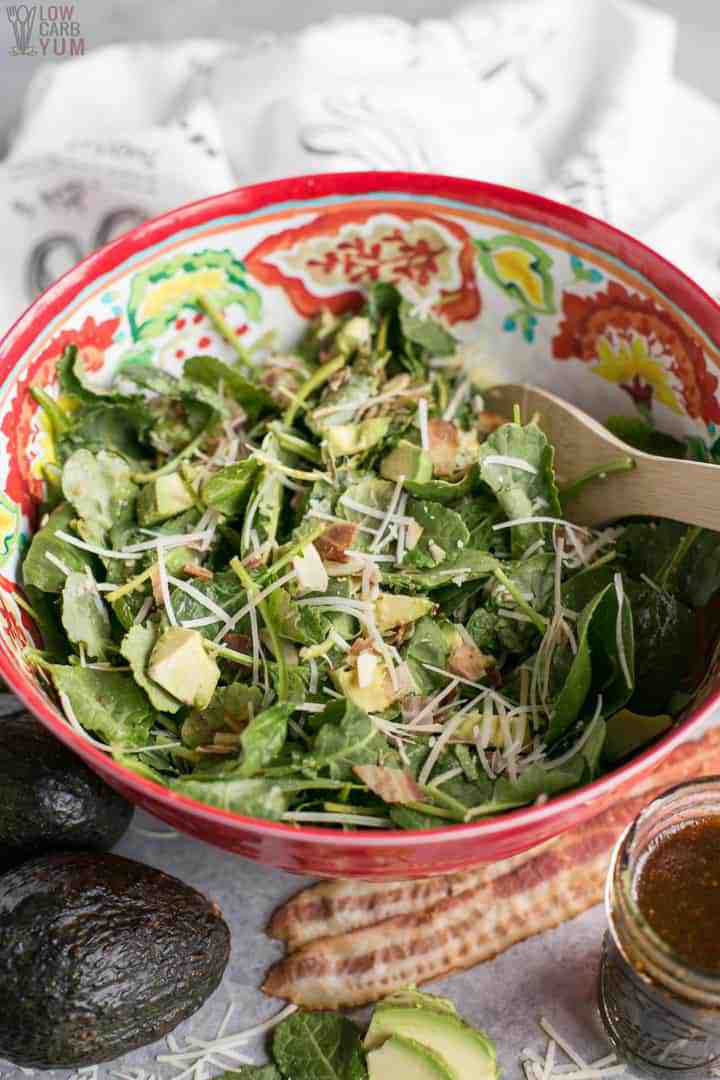 Baby kale avocado salad with parmesan cheese: don't forget the crunch!
I don't know about you, but I gotta have some crunch in my salads. For this recipe, I use sliced almonds.
And not only do almonds provide a pleasing, crunchy and hearty texture, they're no nutritional slouch either.
Almonds also have natural fat, protein and fiber. One cup of them sliced contains over 60% of the daily value for magnesium. They are also high in calcium and iron.
This salad is so easy to make. And because it contains a lot of good fats, you really can eat it as if it were an entree.
I think one of the best ways to slim down is to eat a dense salad for lunch and for dinner at least a few days a week.
But if nothing else, this recipe is perfect for those times when you're making something quick for your family. Or for when you're hosting another couple.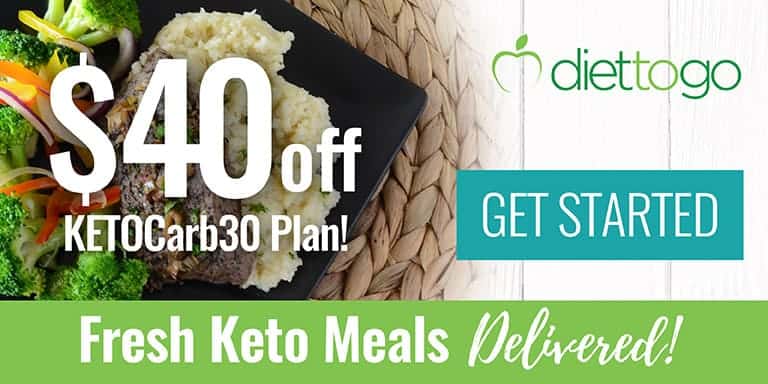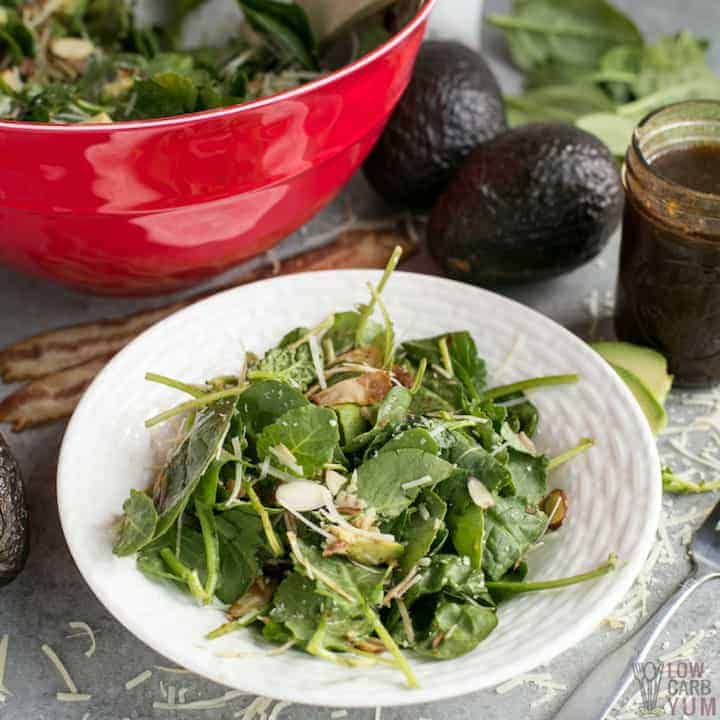 Enjoy this super simple salad!
Baby Kale Avocado Salad with Parmesan
Need to make a yummy, healthy salad in a flash? Give this for baby kale and avocado salad a try. It whips up super quick.
Ingredients
5

ounces

baby kale

and or baby spinach

1/2

cup

sliced almonds

1

medium

avocado

diced

8

slices

bacon

cooked and chopped

1/2

cup

Parmesan cheese

1/2

cup

Olive Oil and Balsamic Vinegar Salad Dressing
Low Carb Sweeteners | Keto Sweetener Conversion Chart
Instructions
In large bowl, combine baby kale, sliced almonds, avocado, bacon and Parmesan cheese.

Blend in salad dressing and serve.

Notes
It's best to reserve some bacon and parmesan cheese to sprinkle on top. Nutritional data is calculated served with dressing.
Nutrition
Nutrition Facts
Baby Kale Avocado Salad with Parmesan
Amount Per Serving (2 cups)
Calories 468
Calories from Fat 387
% Daily Value*
Total Fat 43g 66%
Cholesterol 37mg 12%
Sodium 505mg 21%
Potassium 367mg 10%
Total Carbohydrates 7g 2%
Protein 14g 28%
* Percent Daily Values are based on a 2000 calorie diet.
Additional Info
Net Carbs

6g

% Carbs:

5.1%

% Protein:

12%

% Fat:

82.9%
Need Support?
Get a FREE 3-Day Keto Meal Plan or join the Low Carb Yum Facebook Group for help with recipes and weight loss support!
Note on Nutritional Information
Nutritional information for the recipe is provided as a courtesy and is approximate only. We cannot guarantee the accuracy of the nutritional information given for any recipe on this site. Erythritol carbs are not included in carb counts as it has been shown not to impact blood sugar. Net carbs are the total carbs minus fiber.
© LowCarbYum.com
Unauthorized use and/or duplication of this material without written permission from this site's owner, Lisa MarcAurele, is strictly prohibited unless for personal offline purposes.
Excerpts, single photos, and links may be used, provided that full and clear credit is given to LowCarbYum.com with appropriate and specific link back to the original content.