This post may be sponsored or contain affiliate links, but all opinions are my own. I may earn money if purchases are made through links (at no additional cost to you) which helps support this site and keep the content free.
This low carb blue cheese dressing has plenty of cheese and a touch of sweetness. It's great for dipping low carb hot wings or topping a tossed garden salad.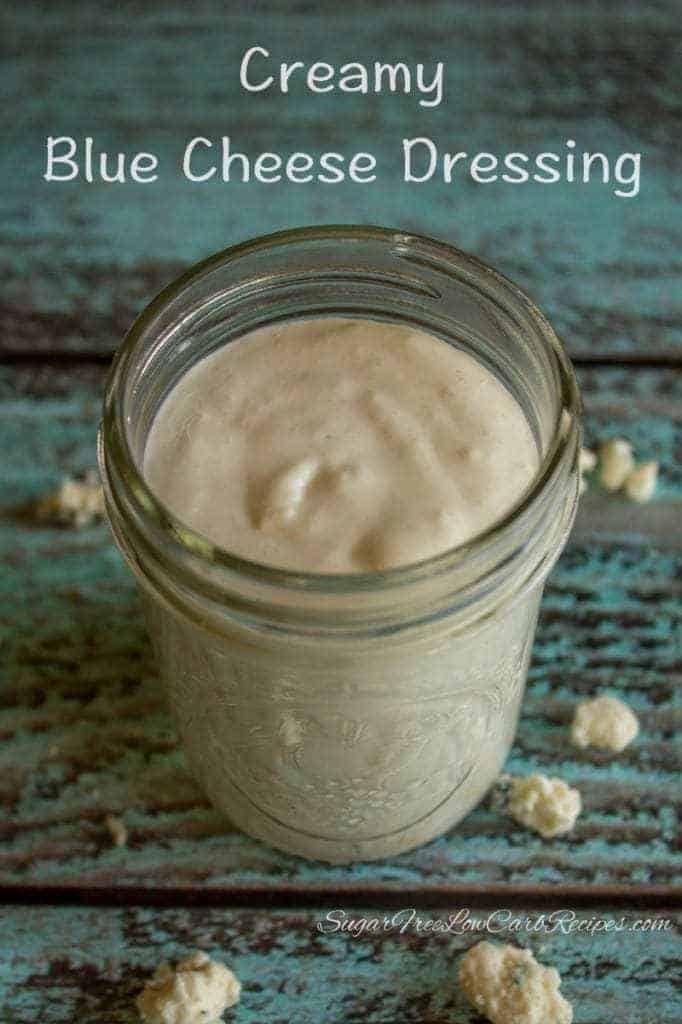 The great thing about eating low carb is that you can indulge in delicious cheese. I eat a lot of tossed salads often like to use a creamy high fat dressing on top.
It's rare that I'll have a salad without any cheese. It's just one of those flavor combinations that go together. Kind of like chocolate and peanut butter.
Although it's quite easy to make your own low carb salad dressings, I often buy bottled dressings. I'm not really sure why. It isn't like it takes a lot of work to make your own.
FREE eBook!
​LOW CARB TIPS and TRICKS
Subscribe now to receive your free copy of Low Carb Tips and Tricks which includes 20 easy to prepare recipes. Plus, get access to the weekly newsletter and special offers only for subscribers!
One of my goals for this new year is to use more homemade foods. That's why I finally made my own low carb blue cheese dressing. And, you know what? It tastes a lot better than the one in a bottle.
Have you looked at the ingredient list on bottled salad dressing? The ones that aren't in the refrigerated section of the grocery store usually have added preservatives. The refrigerated ones are better, but more expensive. Why not just make your own?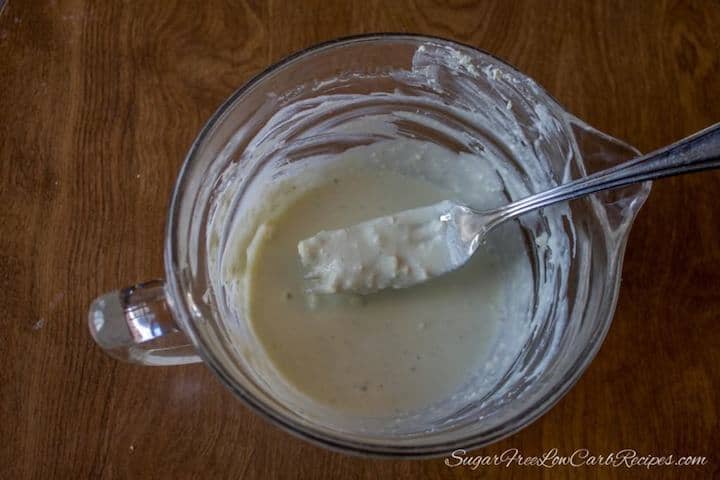 I like to mash the cheese up a bit to get rid of any large chunks. You can leave big chunks in, though, if you prefer. I just find that the dressing flows better with the smaller pieces.
I don't bother mashing the cheese crumbles when making my vinaigrette dressing recipe. The carbs in this low carb blue cheese dressing are lower. But, sometimes I prefer the balsamic vinaigrette dressing for my salad.
I also love dry rub chicken wings. This creamy low carb salad dressing is perfect for that. It's also a favorite dip for low carb vegetables.
If you haven't made your own dressing, you are definitely missing out on the benefits. With minimal work, you'll get less carbs and more taste. And, if you want to see more great recipes for homemade dressing, take a look at this collection.
Low Carb Blue Cheese Dressing Recipe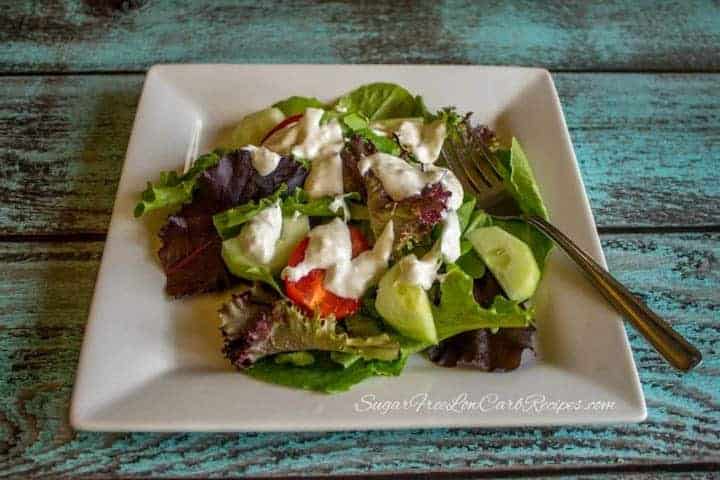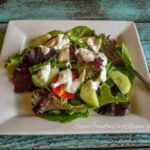 Low Carb Blue Cheese Dressing
This creamy dressing has plenty of cheese and a touch of sweetness. It's great for dipping low carb hot wings or topping a tossed garden salad.
Ingredients
5

ounces

blue cheese

1/3

cup

buttermilk

1/3

cup

sour cream

1/4

cup

mayonnaise

2

tablespoons

lemon juice

1/2

teaspoon

sugar equivalent

I used Natvia

1/4

teaspoon

garlic powder

1/4

teaspoon

salt

dash fresh ground black pepper
Instructions
In medium bowl, mash blue cheese into buttermilk with a fork until desired consistency is reached.

Stir in sour cream, mayonnaise, lemon juice, sweetener, garlic powder, salt, and pepper.

Adjust seasoning to taste if needed.
Recipe Notes
Makes 1 pint, 16 servings at 2 tablespoons each

Nutrition per serving: 68 calories, 6.2g fat, 188mg sodium, 0.9g carb, 2.2g protein
Nutrition Facts
Low Carb Blue Cheese Dressing
Amount Per Serving (2 g)
Calories 68
Calories from Fat 56
% Daily Value*
Total Fat 6.2g 10%
Sodium 188mg 8%
Total Carbohydrates 0.9g 0%
Protein 2.2g 4%
* Percent Daily Values are based on a 2000 calorie diet.
Related Posts