A delicious low carb gluten free hamburger pie casserole featuring eggplant. This hamburger pie has a pizza like topping that your family will love.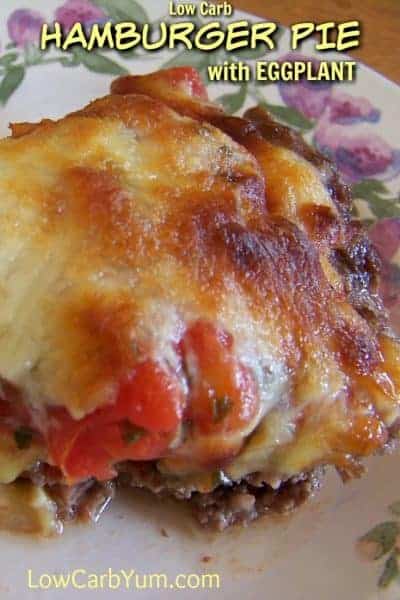 We had our first eggplant ripen in the garden the other day. And, I was so excited to use it in a new low carb recipe.
I saw a hamburger pie recipe that I wanted to try so I modified it to add eggplant. The result was delicious. It reminded me of a moussaka pizza that I used to love eating as a child.
You'll love that this low carb hamburger pie uses seasoned ground beef as the crust. This makes it a super easy dish to prepare.
FREE eBook!
​LOW CARB TIPS and TRICKS
Subscribe now to receive your free copy of Low Carb Tips and Tricks which includes 20 easy to prepare recipes. Plus, get access to the weekly newsletter and special offers only for subscribers!
There's no fiddling with any special low carb crust. It's a meal made with every day ingredients so you won't have to worry about any low carb specialty items.
It's very similar to a casserole in that it's a layered dish. And, it uses pizza like toppings that the whole family is sure to love.
If you want to make this low carb hamburger pie with eggplant in the middle of the summer, you may not want to turn on the oven. No worries! I've also made this dish successfully in the crock pot. You can see that version here.
Low Carb Gluten Free Hamburger Pie with Eggplant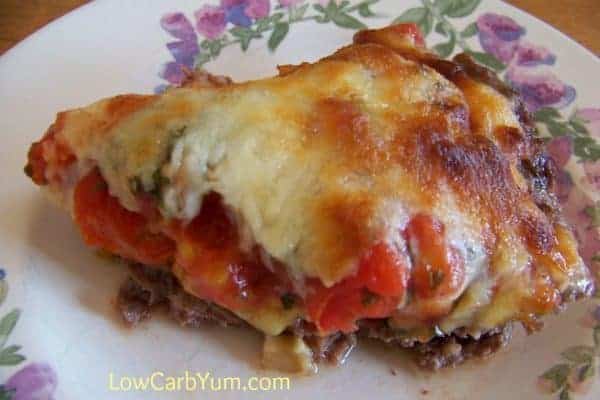 Hamburger Pie with Eggplant
Author:
Lisa | Low Carb Yum
A delicious low carb hamburger pie casserole featuring eggplant. This hamburger pie has a pizza like topping.
Ingredients
1 pound ground beef
1 ½ tsp salt
¼ tsp pepper
1 tsp Worcestershire sauce
1 tsp mustard
1 cup eggplant, cubed
1 can tomatoes, 14.5 ounce, drained
1 can tomato sauce, 8 ounce
1 cup mozzarella cheese, grated
1 Tablespoon parsley
½ tsp oregano
Instructions
Sprinkle cut eggplant with salt and let sit in a colander for about 30 minutes. Rinse and then fry until browned.
Combine ground beef, salt, pepper, Worcestershire sauce and mustard. Press on bottom and sides of a 9-inch pie plate. Top meat with cooked eggplant. Spread tomatoes and sauce over eggplant and sprinkle with remaining ingredients.
Bake at 375 degrees for 30 to 40 minutes.
Notes
Servings: 6

Carbs per serving: 7 g
Related Posts