This high fat low carb egg salad is made with a homemade coconut oil mayonnaise. The high fat content is perfect for an egg fast to keep you full longer.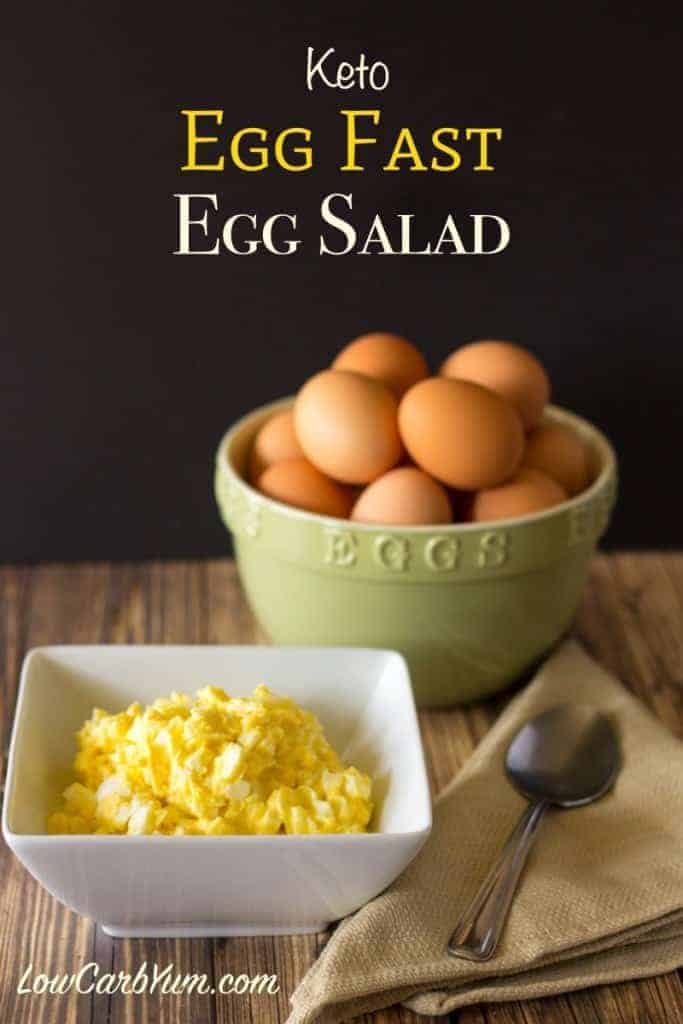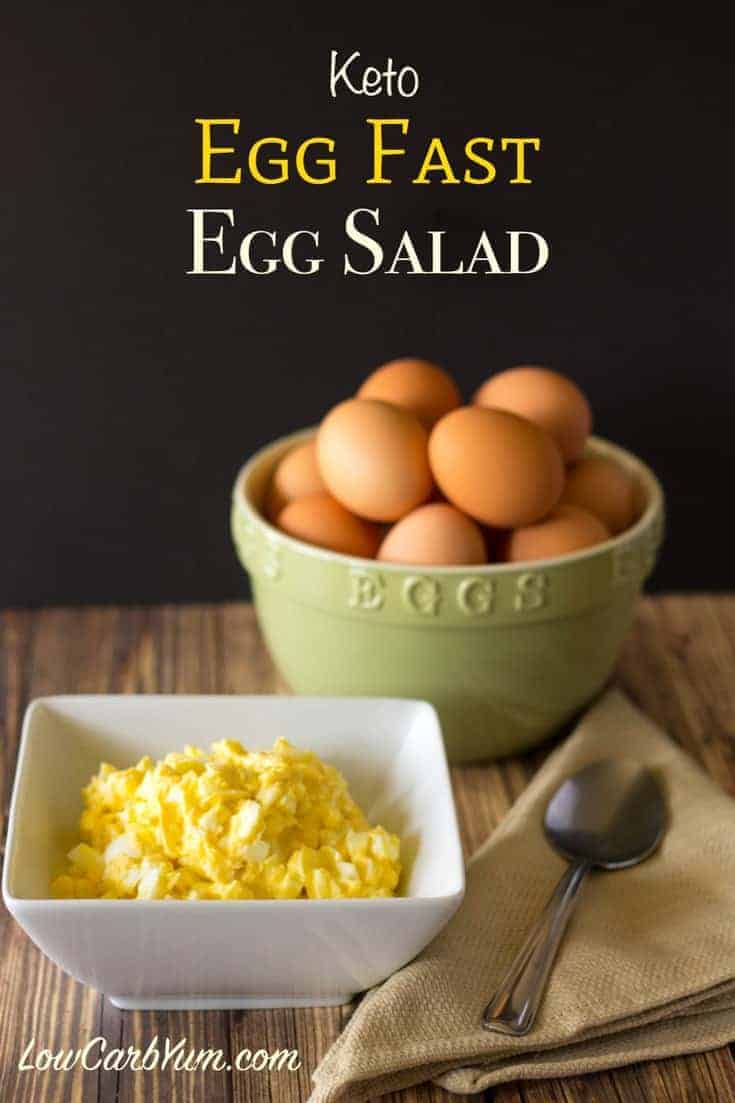 Have you ever tried a ketogenic egg fast to kick start weight loss? This is my third day on a five week low carb high fat egg fast and I am starting to lose the extra fat I gained over the long New England winter.
Ever since I was treated for Graves' Disease with radioactive iodine, I have had to keep an eye on what and how much I eat. A low carb lifestyle has always worked well in losing and maintaining my weight.
Now that I am in my mid forties, losing weight is more of a struggle. Some of the problem could be my inactive thyroid. I do take NP Thyroid, a prescription containing desiccated thyroid from animals because natural glandular thyroid medications have always worked best at maintaining my thyroid hormone levels.
Lately, I feel like my thyroid levels may be a little low. I get my blood tested every six months so I'll just wait until my next regular check.
At 5'3″, the ideal weight for me is between 120-125 pounds. I'm usually on the higher end of the range which is normal for me.
Last week, while on a vacation from work, I got on the scale late in the day and it read over 130. I've been avoiding weighing myself as I knew I had been gaining weight so it wasn't much of a shock.
Now that it's warm enough to be wearing shorts, I've got to lose that extra weight! The egg fast seemed like the way to go since I'm already a low carb eater and I love eggs.
Here's a review of what I ate the last two days on the egg fast and my early morning weight. I lost 1.4 pounds after the first day, but I'm a small person so I wouldn't expect to see a lot of weight drop. After the second day, I was down another 0.8 pound. That's a 2.2 pound weight loss after 2 days!
Day 1
Morning weight – 127.8 pounds
Breakfast: 3 eggs, Bulletproof Coffee
Morning Snack: 1 hard boiled egg, 1 organic string cheese
Lunch: egg salad
Dinner: 3 fried eggs in 1 tablespoon coconut oil, Bulletproof Coffee, 3 Meringue Cookies
Day 2
Morning weight – 126.4 pounds
Breakfast: 3 eggs, Bulletproof Coffee
Snack: 1 hard boiled egg, 1 organic string cheese
Lunch: Keto Egg Salad, Black Cherry Zevia soda
Snack: 1 hard boiled egg, 1 organic string cheese
Dinner: 3 egg omelette with 2 ounces sharp cheddar in 1 T olive oil, 3 Meringue Cookies
Day 3
Morning weight – 125.6 pounds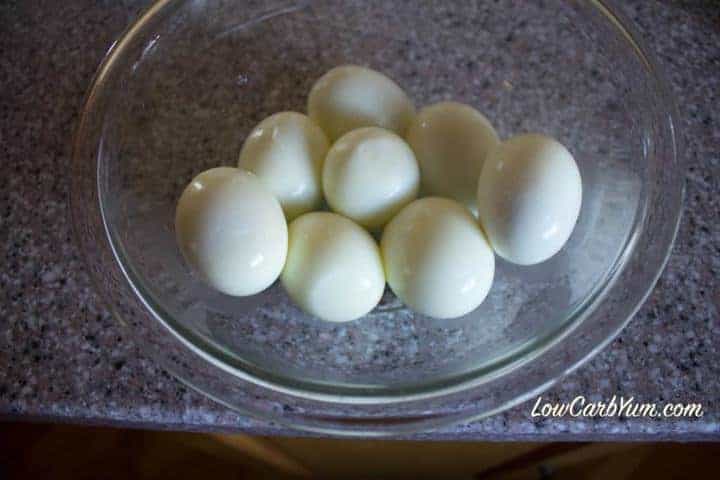 In my last post, I provided a recipe for coconut oil mayonnaise which was created specifically for an egg fast. In this post, I'm providing the recipe that I used for my high fat low carb egg salad.
Last weekend I made the egg fast meringue cookies so I'd have a pre-made treat. I'll provide that recipe in a future post. I did give in and have a stevia sweetened Zevia Black Cherry soda for lunch the second day. A ketone strip test confirmed the soda did not affect my state of ketosis.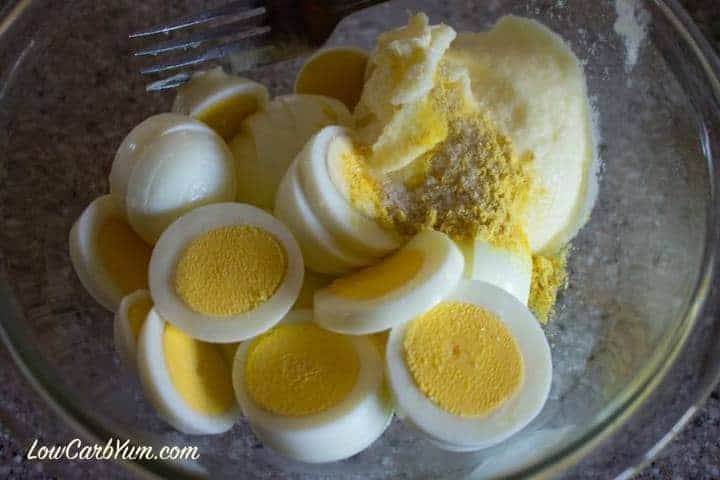 This is a basic egg salad recipe that I modified slightly for the egg fast. The only significant changes are that I used ground mustard instead of prepared and the homemade coconut oil mayonnaise. I kept it simple and did not add any additional seasonings other than salt and pepper.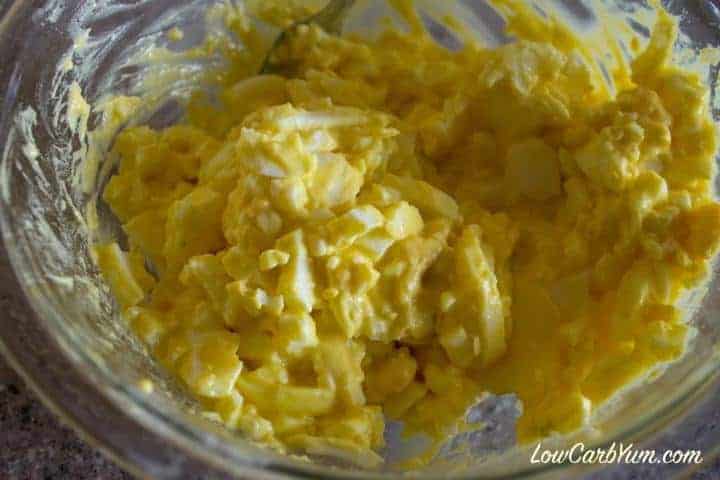 In the egg fast, you refrain from meat and vegetables. All your meals are eggs and fat. I did allow some cheese on my egg fast, but didn't add any to this high fast low carb egg salad. I've got three more days on the egg fast so I may try something a bit more exciting like cream cheese pancakes or muffins.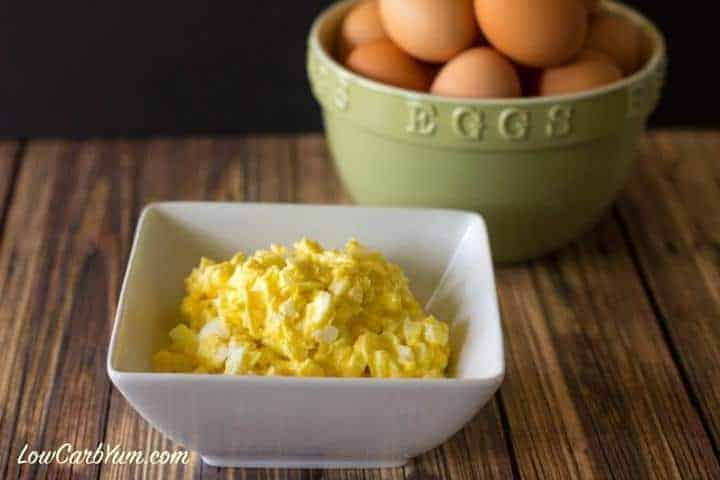 High Fat Low Carb Egg Salad for Egg Fast
This high fat low carb egg salad is made with a homemade coconut oil mayonnaise. The high fat content is perfect for an egg fast to keep you full longer.
Instructions
Slice eggs, then mix in mayonnaise and mustard until well combined, breaking up eggs as needed.

Season with salt & pepper to taste.

Store leftovers in refrigerator.
Need Support?
Join the Low Carb Yum Facebook Group for help with recipes and weight loss support!

You can also sign up for our FREE weekly newsletter by entering your information in the form below. The free subscription gives you access to the Low Carb Tips and Tricks eBook which includes 20 easy recipes. Plus, you'll get notified of new recipes along with access to special deals only offered to subscribers!
NOTE: Be sure to 'add' Low Carb Yum (lowcarbyum @ lowcarbyum.com) to your contacts so the emails don't end up in your spam box. If you are using Gmail, the newsletter email may end up in your "Promotional" tab. Just click on "Not Promotions" so you won't miss out.
Notes
Makes 3 servings Nutrition per serving: 1.8g net carbs
Nutrition
Nutrition Facts
High Fat Low Carb Egg Salad for Egg Fast
Amount Per Serving
Calories 521
Calories from Fat 469
% Daily Value*
Total Fat 52.1g 80%
Sodium 425mg 18%
Total Carbohydrates 2g 1%
Protein 23.3g 47%
* Percent Daily Values are based on a 2000 calorie diet.
Note on Nutritional Information
Nutritional information for the recipe is provided as a courtesy and is approximate only. We cannot guarantee the accuracy of the nutritional information given for any recipe on this site. Erythritol carbs are not included in carb counts as it has been shown not to impact blood sugar. Net carbs are the total carbs minus fiber.
© LowCarbYum.com
Unauthorized use and/or duplication of this material without express and written permission from this site's owner, Lisa MarcAurele, is strictly prohibited.
Excerpts, single photos, and links may be used, provided that full and clear credit is given to LowCarbYum.com with appropriate and specific link back to the original content.
Related Posts