This is the best collection of keto shrimp recipes you will ever find! Discover all of the answers to low-carb shrimp questions and cooking tips.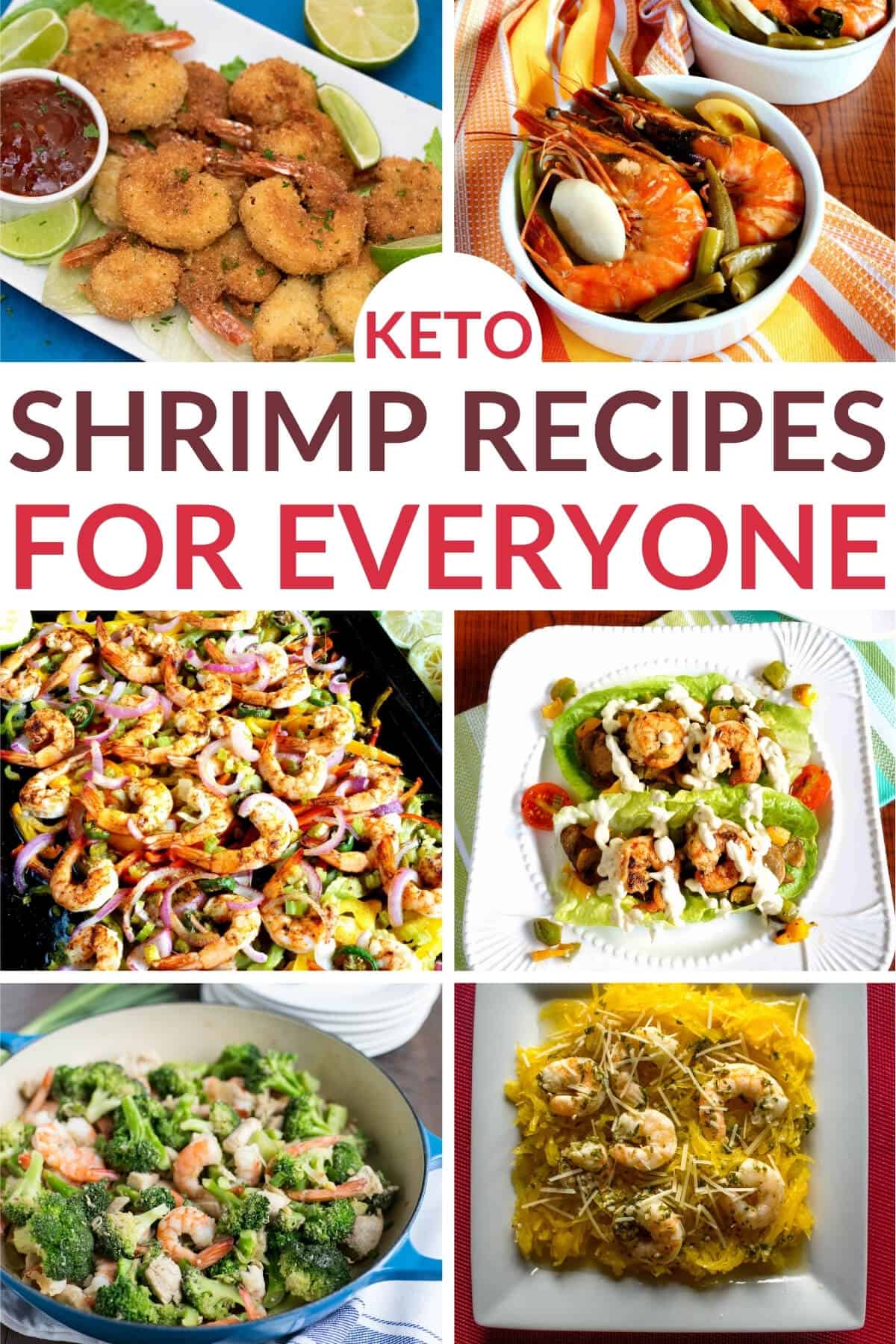 Jump to:
Even people who don't think they like seafood say they enjoy shrimp once in a while. It has a mild flavor that doesn't taste too fishy.
Plus, this is very light and versatile meat!
It takes on the flavors of whatever spices you use or the other ingredients around it. That's why there are so many wild and different ways to prepare it.
All of the recipes on this list are completely different. You'll find Asian recipes and even BBQ and Mexican recipes – and more.
Have fun and find a new recipe to try!
15 Keto Shrimp Recipes For Everyone
Whether you enjoy them grilled, roasted, fried, or wrapped in bacon, there is something for everyone on this list. There are recipes that you can eat for lunch and others that make yummy appetizers or side dishes.
Check out these 15 recipes I've put together for you. There's something for everyone!
1. Gluten-Free Coconut Shrimp
This keto coconut shrimp recipe is wonderful for snacks or party food. They have the perfect crunch and taste like food you'd find in paradise.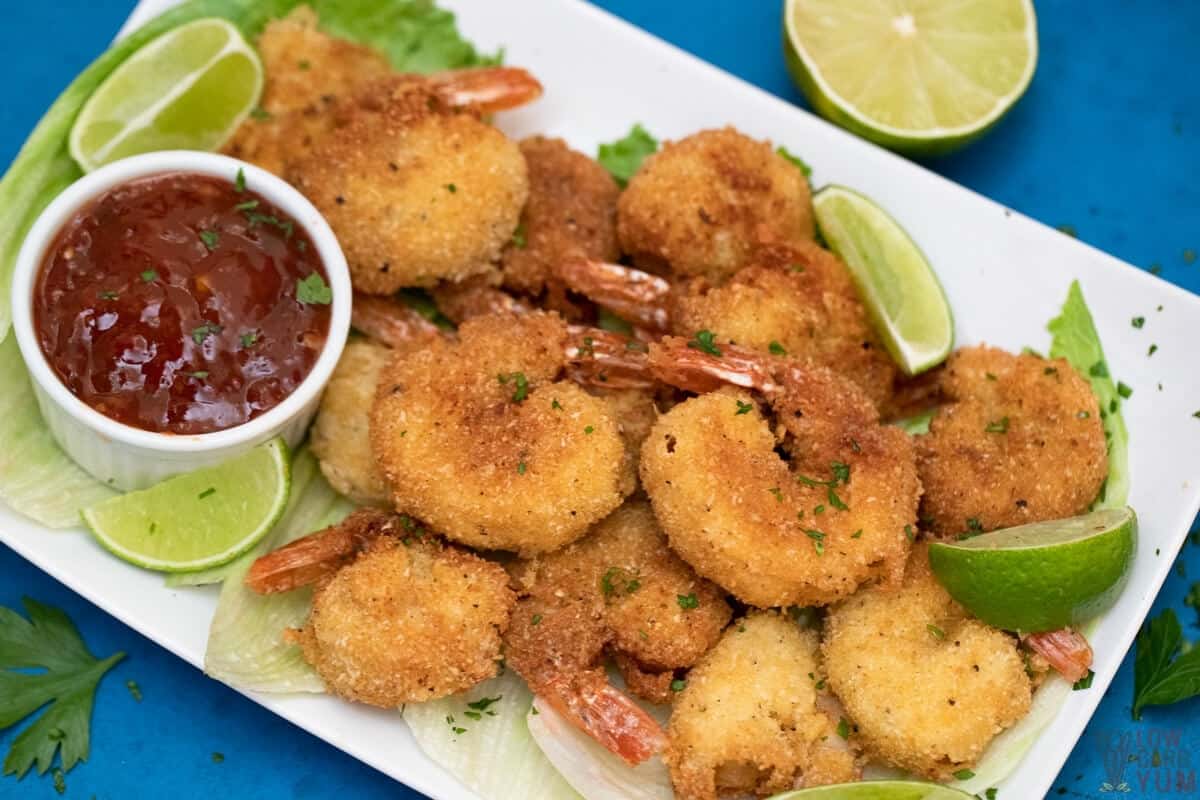 2. Chicken and Shrimp Stir Fry
Add some Asian flair to your table with this chicken and shrimp stir fry. It is a one-pan meal that is packed with protein and veggies. You can use your favorite veggies so I just used broccoli.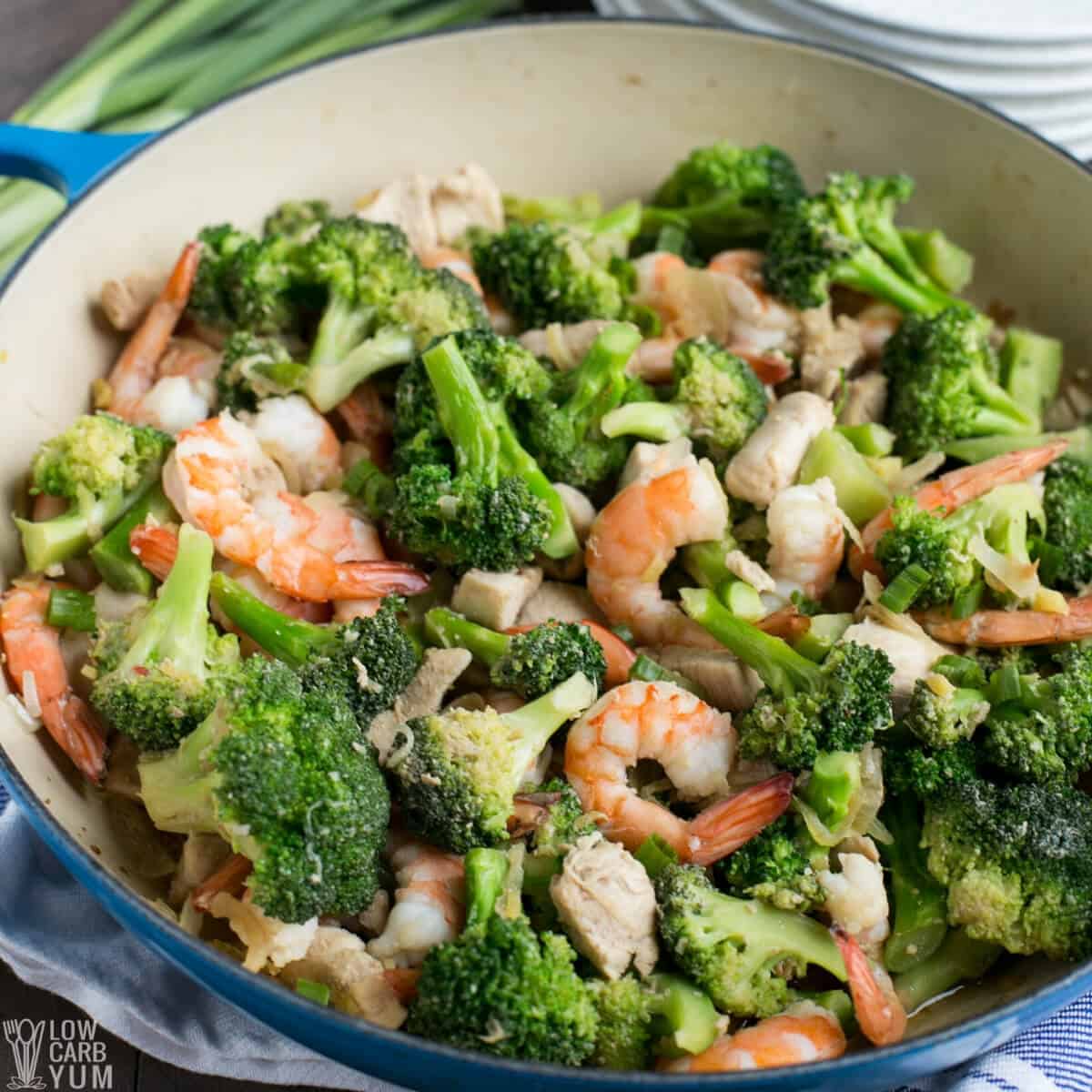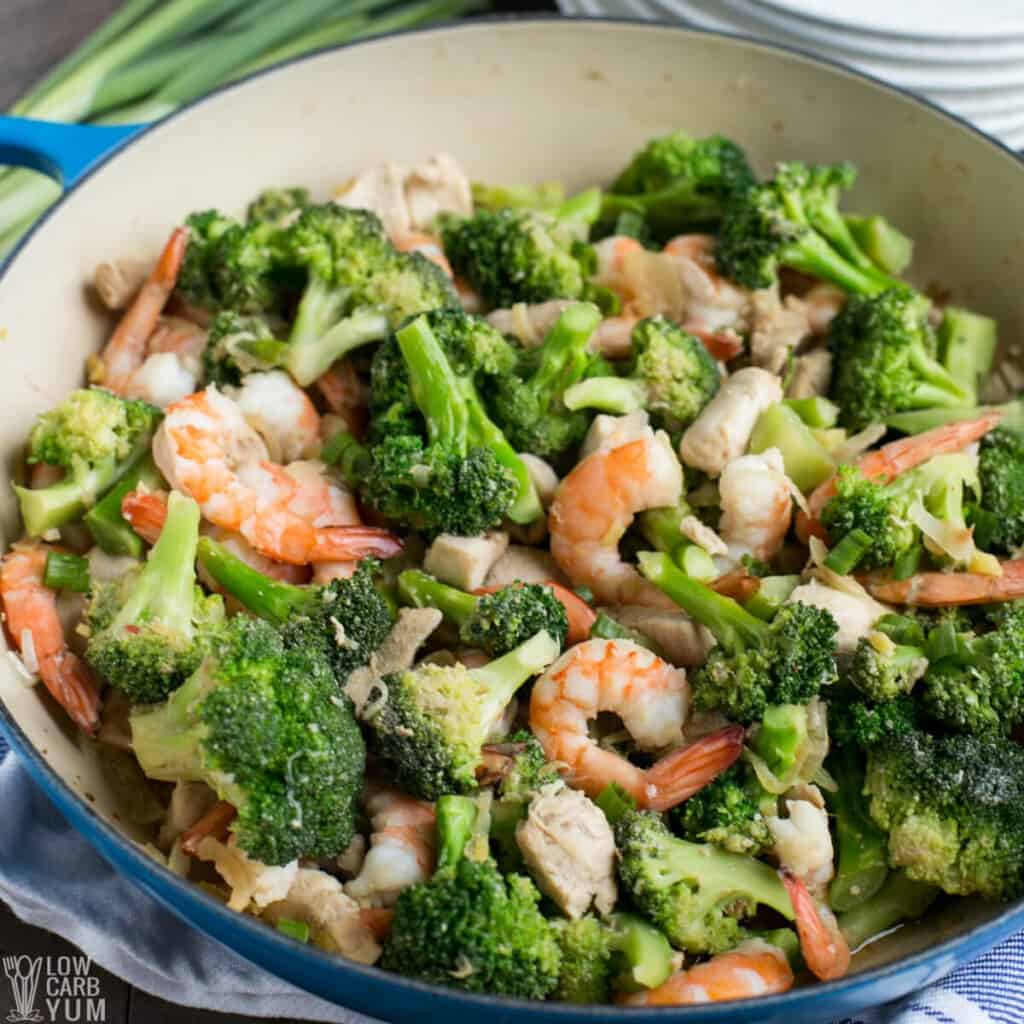 3. Shrimp Lettuce Wraps
If you like spicy foods, then you should make some shrimp lettuce wraps. They are made with a spicy cajun sauce that will light your mouth up, so use it sparingly if you don't like spicy food!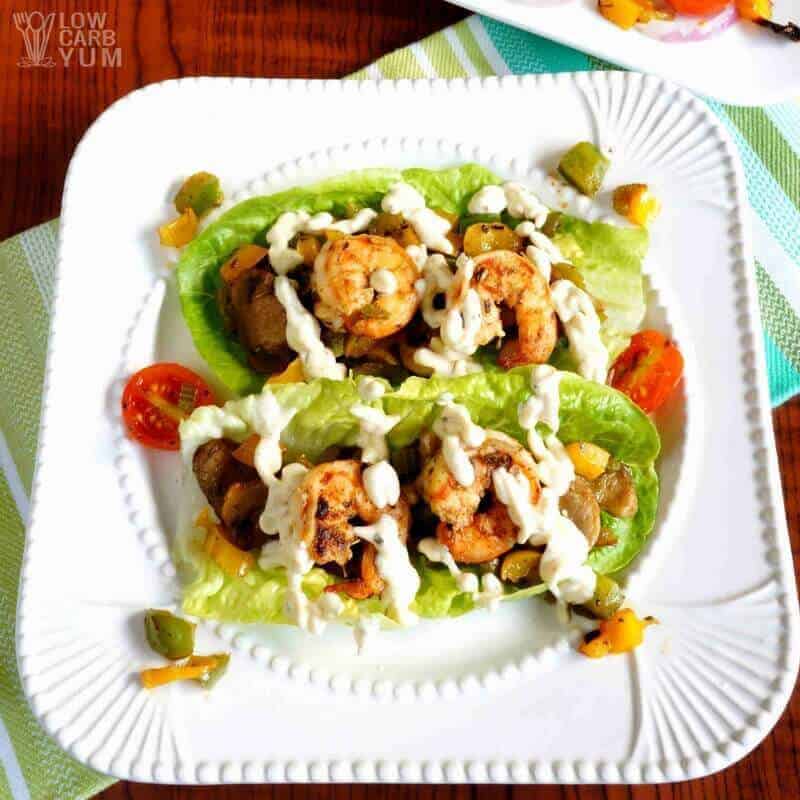 4. Spaghetti Squash Alfredo
Enjoy some spaghetti with a seafood twist with this creamy shrimp spaghetti squash alfredo. It is a complete dinner in one pan! I personally love this dish.
It tastes as creamy and delicious as your favorite seafood spaghetti.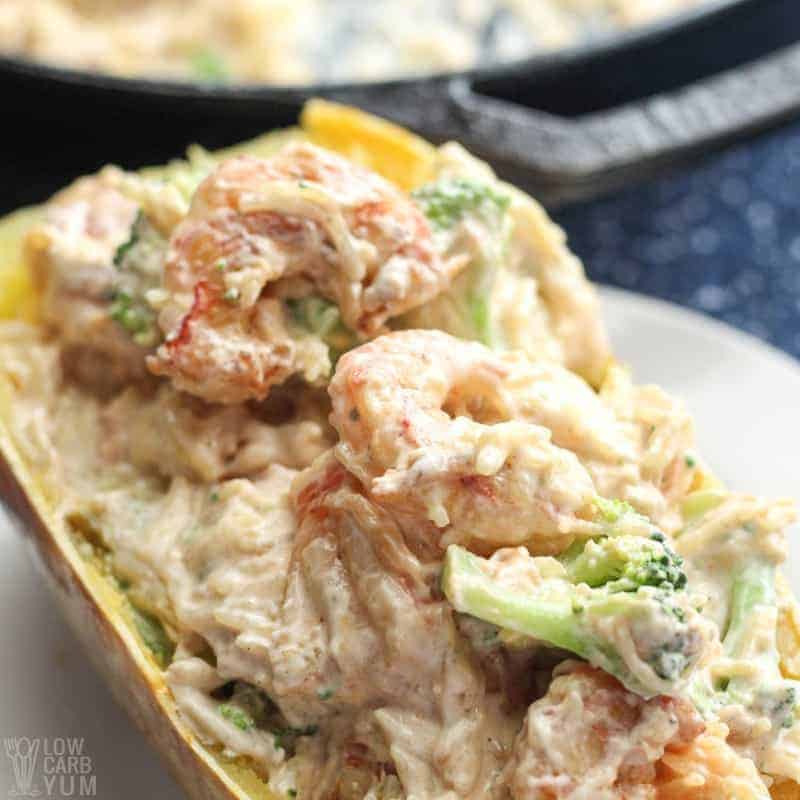 5. Sheet Pan Shrimp Fajitas
Instead of tacos, fill your plate with some sheet pan shrimp fajitas. This is the perfect dish for parties or when you want something different for Taco Tuesday.
Tip: Try adding some peppers for a little more spice.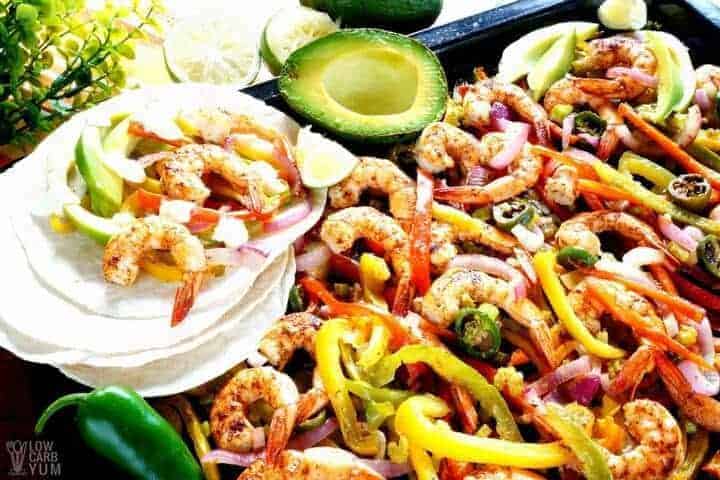 6. Slow Cooker Shrimp Scampi
Another classic seafood dish is shrimp scampi. This shrimp scampi recipe cooks all day in your slow cooker. It's one of the easiest and tastiest slow cooker meals I have had in a very long time!
Serve it with cauliflower rice to keep this dinner recipe low carb.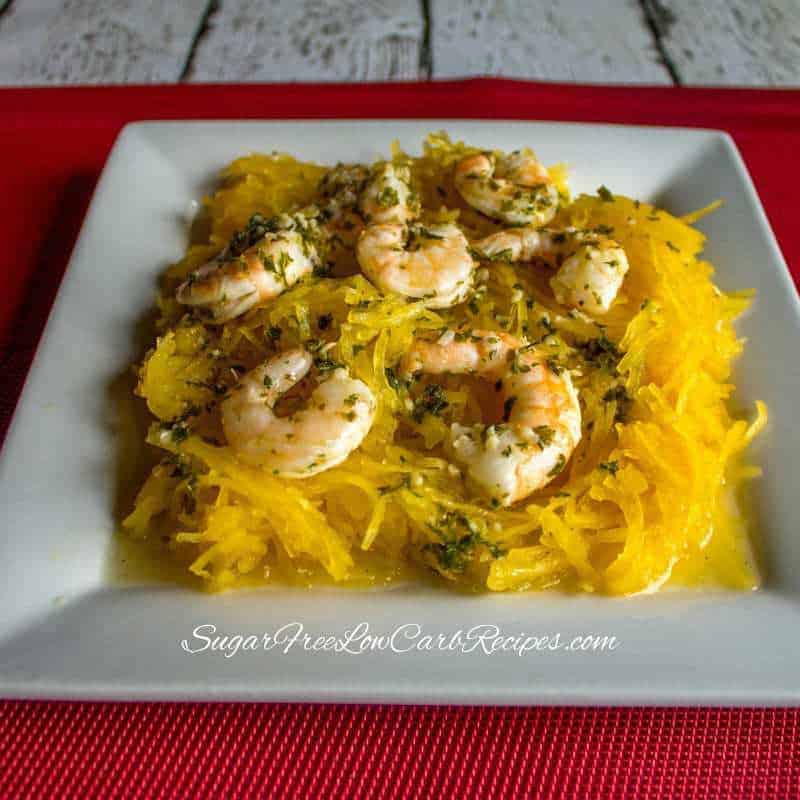 7. Sriracha Lime Shrimp
Photo Credit: Carmyy.com
This sriracha lime shrimp is zesty with a kick. This is delicious on top of cauliflower rice or with your favorite combination of sauteed peppers.
Tip: Use more lime if you want it to taste sweeter without the carbs.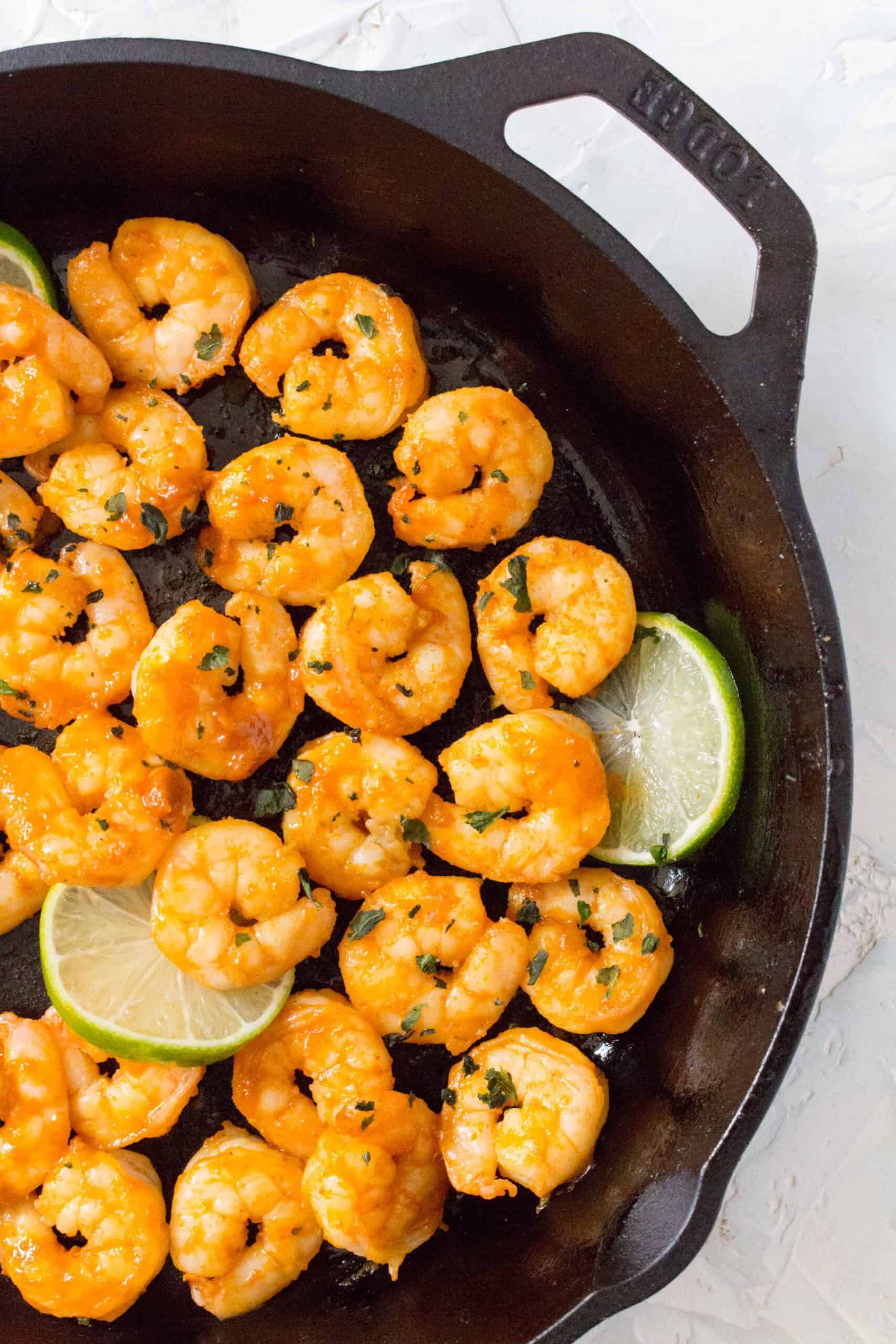 8. Blacked Shrimp And Asparagus
Photo Credit: EverydayKetogenic.com
This blackened shrimp and asparagus is a really easy recipe that you can make in minutes. The light asparagus tastes perfect with the crispy shrimp.
It doesn't need anything else in my opinion!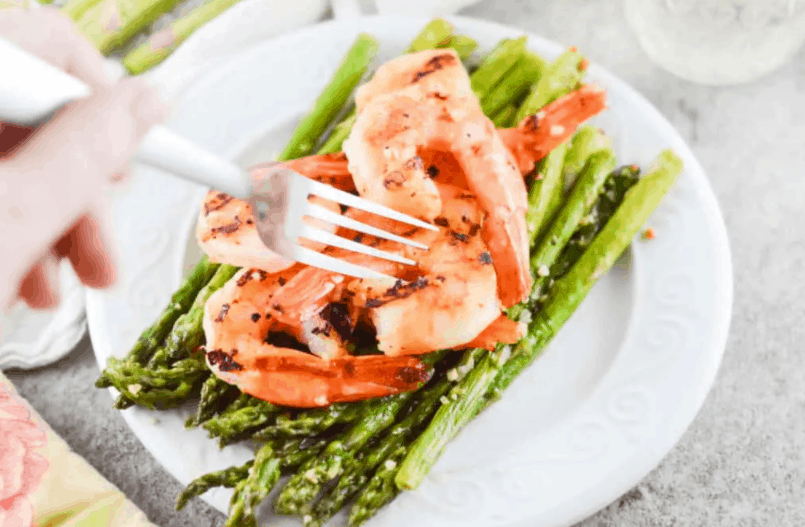 9. Air Fryer Breaded Shrimp
Photo Credit: LowCarbInspirations.com
These air fryer breaded shrimp are crunchy with a bit of heat! The best thing about them is that you can make them in your air fryer – no deep-frying in oil.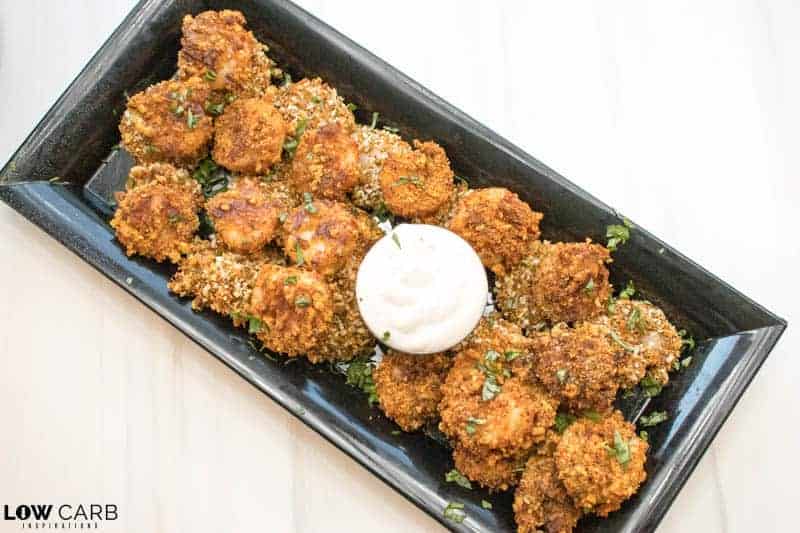 10. Low-Carb Sweet and Sour Shrimp
Photo Credit: DrDavinahsEats.com
Another fun takeout-inspired recipe is low-carb sweet and sour shrimp. It tastes just like the sweet and sour sauce from your favorite restaurant. Serve this on top of some cauliflower rice for a filling dinner.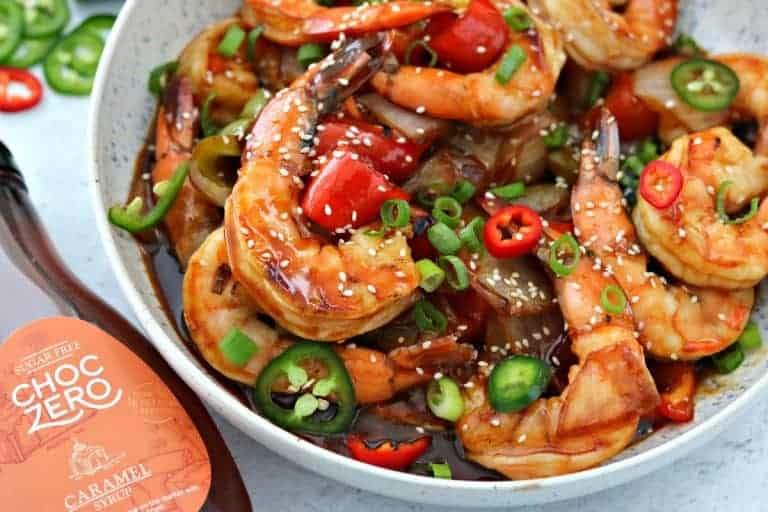 11. Air Fryer Bacon-Wrapped Shrimp
Photo Credit: FindingZest.com
Bacon-lovers, this one is for you! This air fryer bacon-wrapped shrimp is crispy and incredibly satiating. It makes the best appetizer or party food. Serve it at your next cookout too.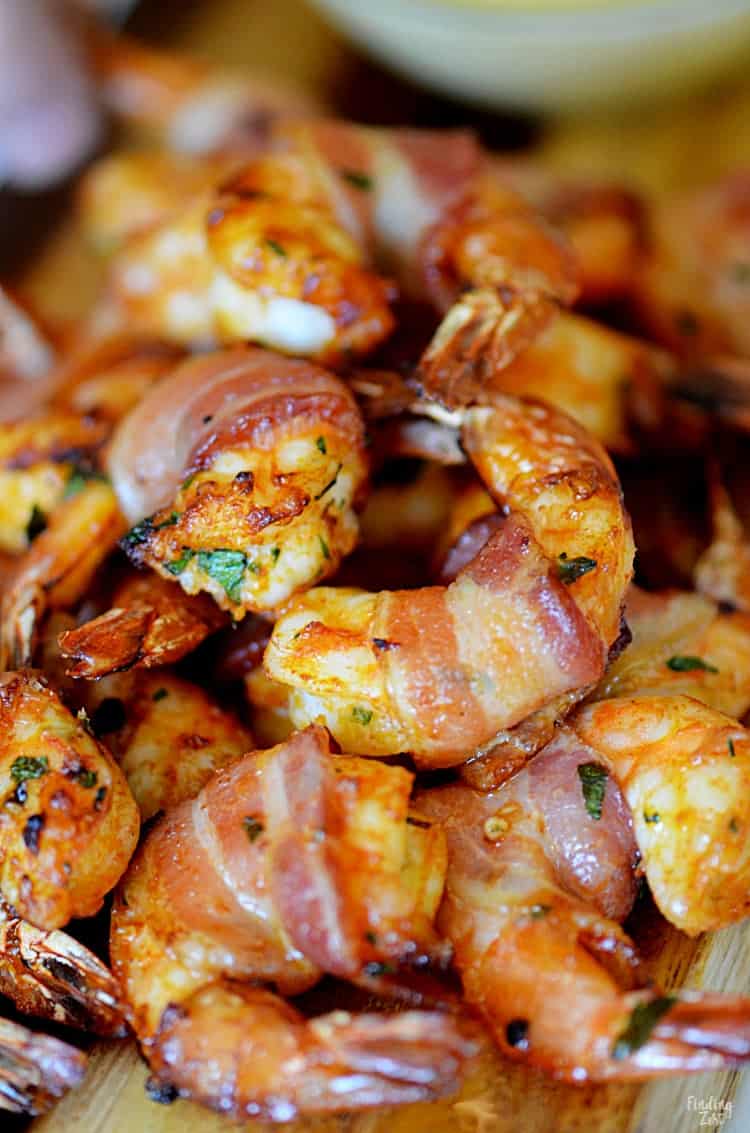 12. Keto Shrimp Fried Rice
Photo Credit: KetoFocus.com
If you don't have much time, then make this 10-minute shrimp fried rice recipe. That really is how long it will take you to make this filling meal!
This is the perfect recipe for lunch or meal prep.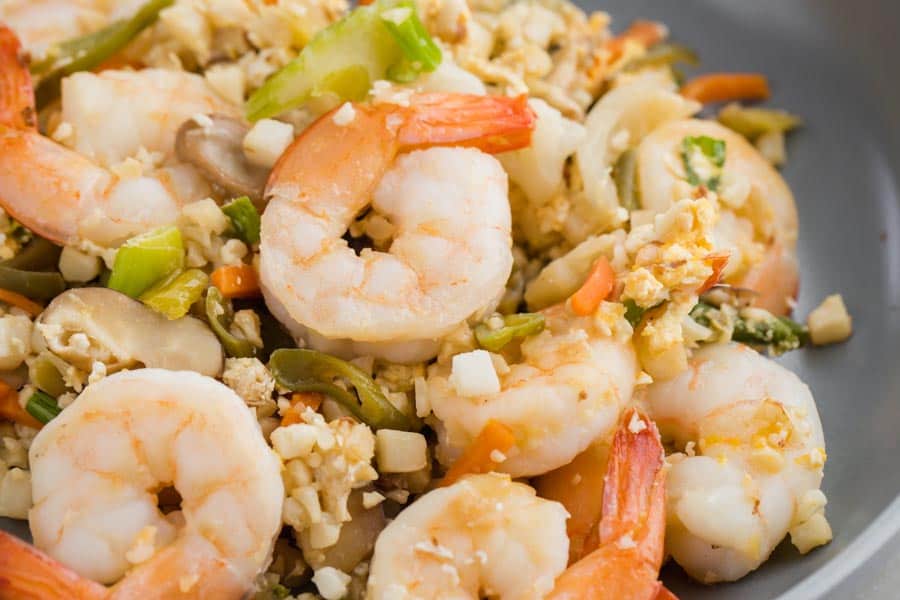 13. Shrimp Chowder
Photo Credit: KetoCookingWins.com
Warm up on cold days with this keto shrimp chowder! The shrimp is the perfect texture to complement the thick and creamy broth. Add your favorite low-carb veggies to make it heartier and more filling.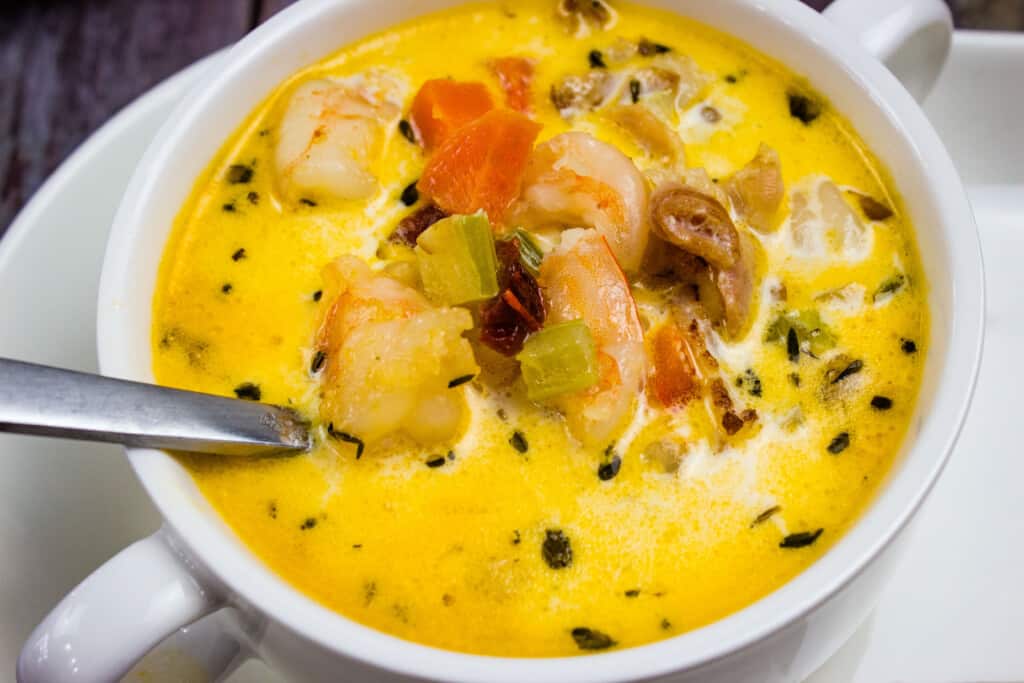 14. Zucchini Shrimp Fra Diavolo
Photo Credit: CookAtHomeMom.com
This rich and spicy zucchini shrimp fra diavolo is packed with Italian flavors. Instead of pasta, use zucchini to make this an entire meal in one pan. It's all in a rich tomato sauce.
Yum!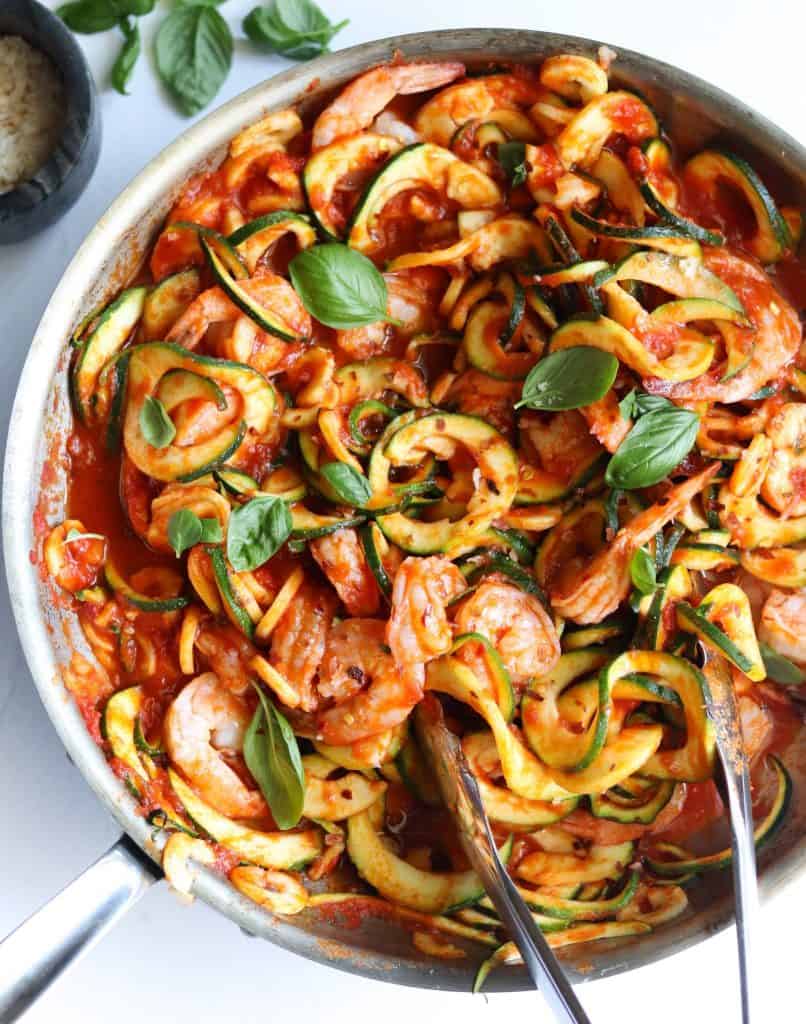 15. Shrimp Ceviche
Photo Credit: TheForkedSpoon.com
This shrimp ceviche is oozing with juicy flavors. The secret is the marinated shrimp and the fresh, crispy veggies.
Tip: Use red onions for the boldest flavors.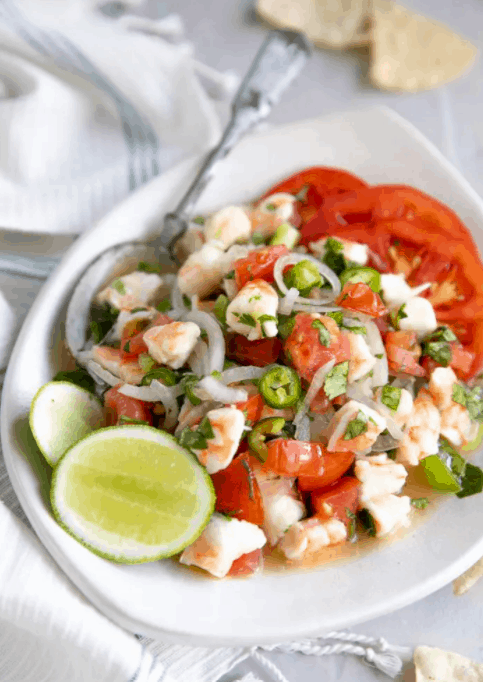 Frequently Asked Questions About Shrimp
What do you think? Are you craving shrimp now? I know I am! Here are some questions people often ask about shrimp and the keto diet.
Is Shrimp Good For A Keto Diet?
Yes, shrimp is fantastic on the keto diet. Shrimp actually contains so few carbs, it's basically a no-carb food. Plus, it's packed with healthy fats and an excellent source of protein.
When you need more protein on keto, it's always a good idea to eat more shrimp.
What Should You Season Shrimp With?
As you can see from this round-up of ideas, you can season shrimp with almost any seasonings you can think of! The most popular spices are garlic and Italian seasonings.
Shrimp also tastes amazing with hot and spicy sauces with lots of zesty pepper sauces.
A spruce of lemon juice works too!
How Do You Devein A Shrimp?
The vein isn't really a vein but the shrimp's digestive tract. It looks like a thin dark string that runs along the back of the shrimp. It's safe to eat them but, once in awhile, you might taste the grittiness from it.
It's really easy to remove the vein. All you do is pull it out with the tip of your knife!
Should I Peel Shrimp Before Cooking It?
The shells actually add lots of flavor when you cook with them, so you don't have to shell them before you cook. Some recipes call for the shrimp to be peeled, so just follow the instructions each time.
If it is easier, you can always buy peeled shrimp to save yourself time and worry.
I hope you enjoy this round-up of keto shrimp recipes and find one that you love. If you do, let me know in the comments down below!
★ FOLLOW ME ON FACEBOOK, PINTEREST, AND INSTAGRAM FOR MORE EASY KETO RECIPES.