Green vegetables are one of the healthiest foods to include in your diet; asparagus is no exception! It holds several important micronutrients, has incredible health benefits, and makes a delicious addition to your favorite recipes. But is asparagus keto? Let's find out!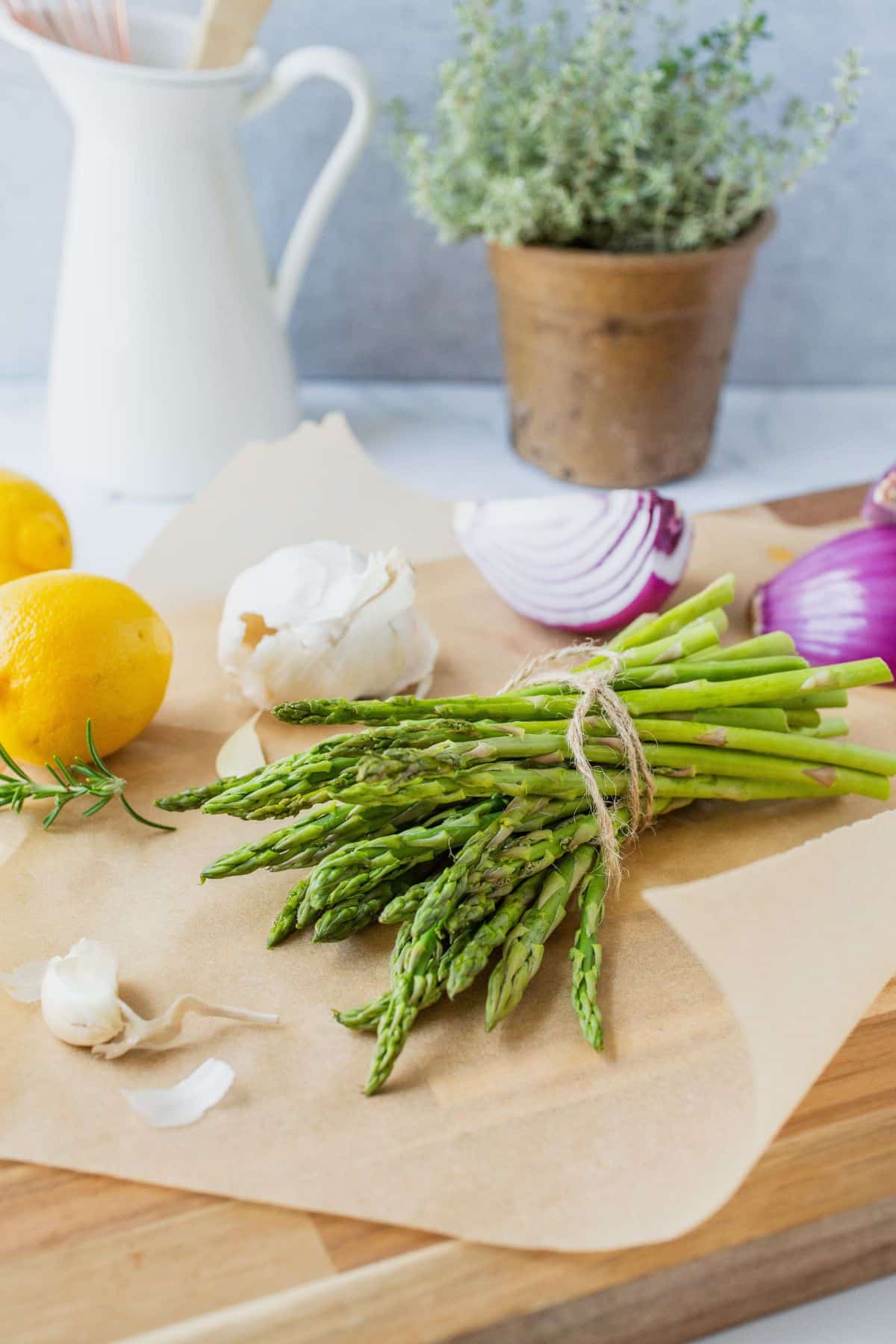 I make it no secret that I love asparagus. Its perfectly crunchy texture and unique flavor make it a welcome substitution for your run-of-the-mill broccoli and cauliflower meals.
It's also extremely healthy as it includes several vital nutrients that would benefit your overall health.
But when eating keto, even the most healthy of foods could sacrifice your ketosis. While all vegetables are beneficial, certain varieties contain high-carb counts that aren't suitable for a ketogenic meal plan.
In this post, I'll share asparagus nutrition facts, health benefits, and low-carb recipes to help guide your low-carb meal planning.
I'll also answer whether or not this prolific vegetable can be enjoyed as part of a healthy keto diet.
Note: Check out the best keto vegetables for more low-carb veggie ideas. And for even more food groups, this keto food list is perfect for anyone starting the keto diet.
Is asparagus keto diet approved?
So, is asparagus keto? It sure is!
With approximately 2g net carbs per serving size (about 6 spears), this vegetable can be eaten on your low-carb diet.
So if you enjoy it, I encourage you to include asparagus in your keto meal rotations! It is wonderful to eat with healthy fats for a nutritious and tasty dish.
Make simple roasted asparagus side dishes with sea salt and pepper, add it to a stir fry, or blend it into a creamy soup.
Asparagus nutritional information
Asparagus is a great food to include in your low-carb diet to strengthen your immune system and provide a nutrient-dense vegetable without the high carb count.
The nutrition information for ½ cup of cooked asparagus looks like the following:
Total carbs: 3.7g
Net carbs: 1.9g
Protein: 2.2g
Fat: 0.2g
Fiber: 1.8g
Asparagus also boasts several health benefits!
It is a good source of both vitamin k and folate. It also includes smaller amounts of vitamin C, vitamin A, iron, and zinc.
The reported health benefits of eating asparagus include:
Improved digestion
Lowered blood pressure
High amounts of antioxidants
Antioxidants are shown to aid in lowering the risks of heart disease, act as an anti-inflammatory, lower high blood pressure, and promote general good health.
Keto recipes with asparagus
If you're ready to learn how to cook asparagus to your keto meal plan, try any delicious recipes that will satisfy the whole family!
All of these recipes are low-carb and super satisfying.
Prosciutto-Wrapped Asparagus with Cream Cheese
My prosciutto-wrapped asparagus makes an awesome side dish or appetizer with only three ingredients.
Wrap thick asparagus spears with cream-cheese-spread prosciutto for a cheesy asparagus dish that is perfect for sharing!
I love including vegetable dishes like this in a party spread because it provides a welcomed reprieve from the usual fried food.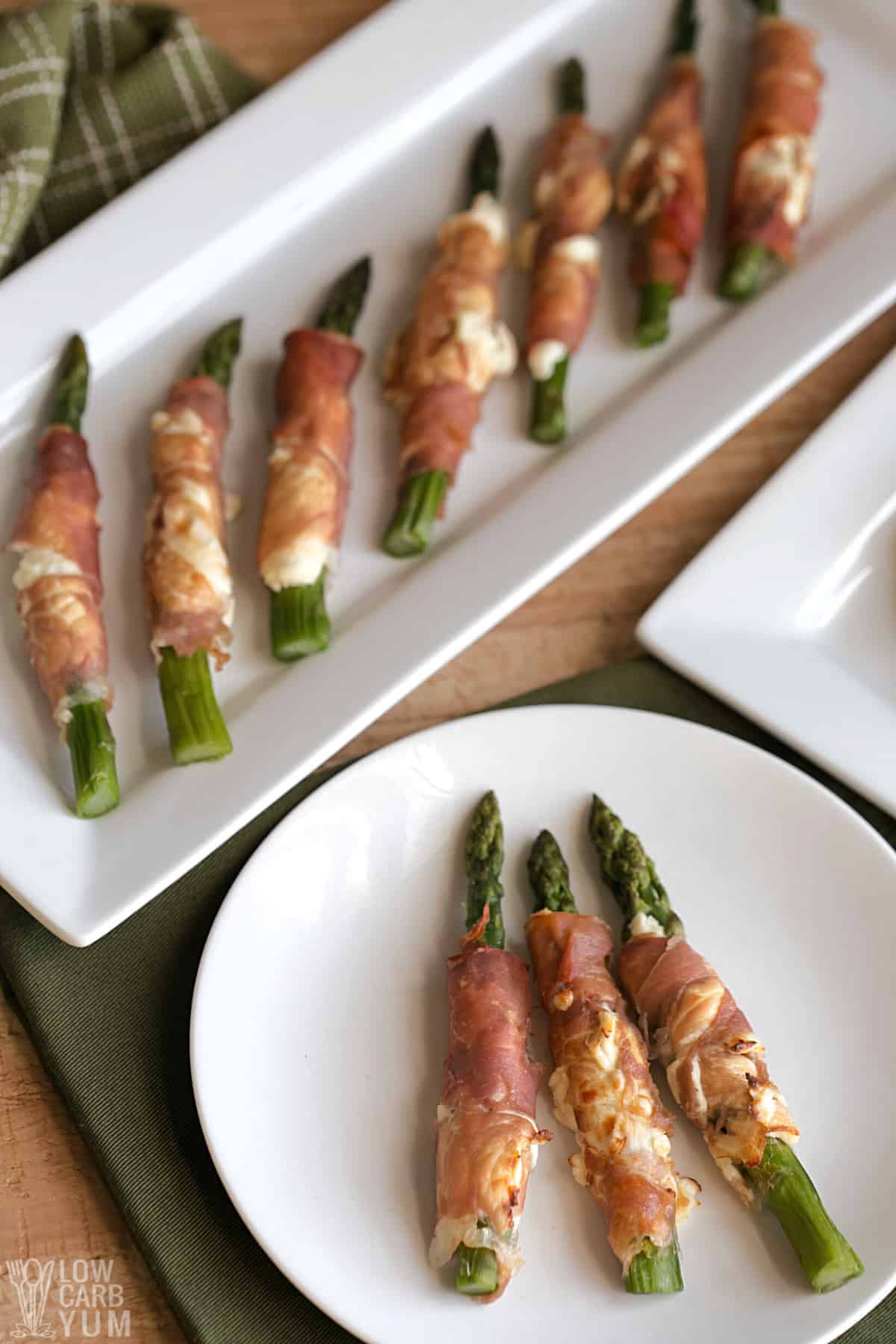 Keto Cream of Asparagus Soup
My low carb cream of asparagus soup is a dish that the entire family will love.
This is one of my favorite keto asparagus meals because it's blended until silky smooth; so even veggie haters can be convinced to try this yummy soup.
Garlic, heavy whipping cream, and chives make this recipe super flavorful and indulgent-tasting.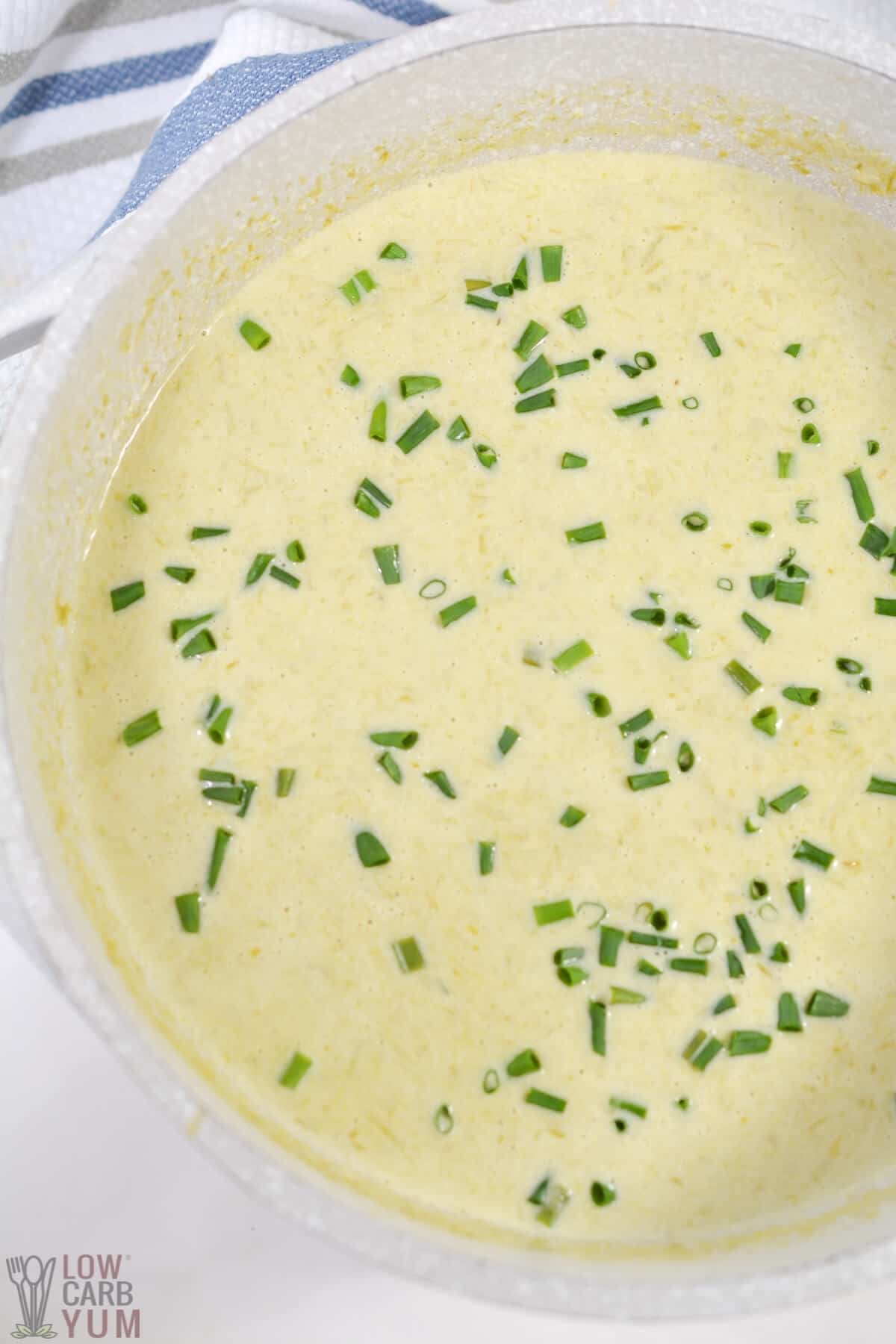 Oven Roasted Asparagus Recipe (Fresh or Frozen)
This roasted asparagus recipe is ridiculously easy to prepare! Simply add dressed, thin asparagus spears to a baking sheet in a single layer. Then, roast them to perfection.
It's low-carb, dairy-free, and makes an awesome side dish.
My roasted asparagus recipe includes the simplest of ingredients for easy prep – just olive oil, minced garlic, salt and pepper, and a squeeze of fresh lemon juice.
You can, however, dress this recipe up to suit your preferences. Add some grated parmesan cheese, red chili flakes, a drizzle of balsamic vinegar, or a sprinkle of extra garlic powder.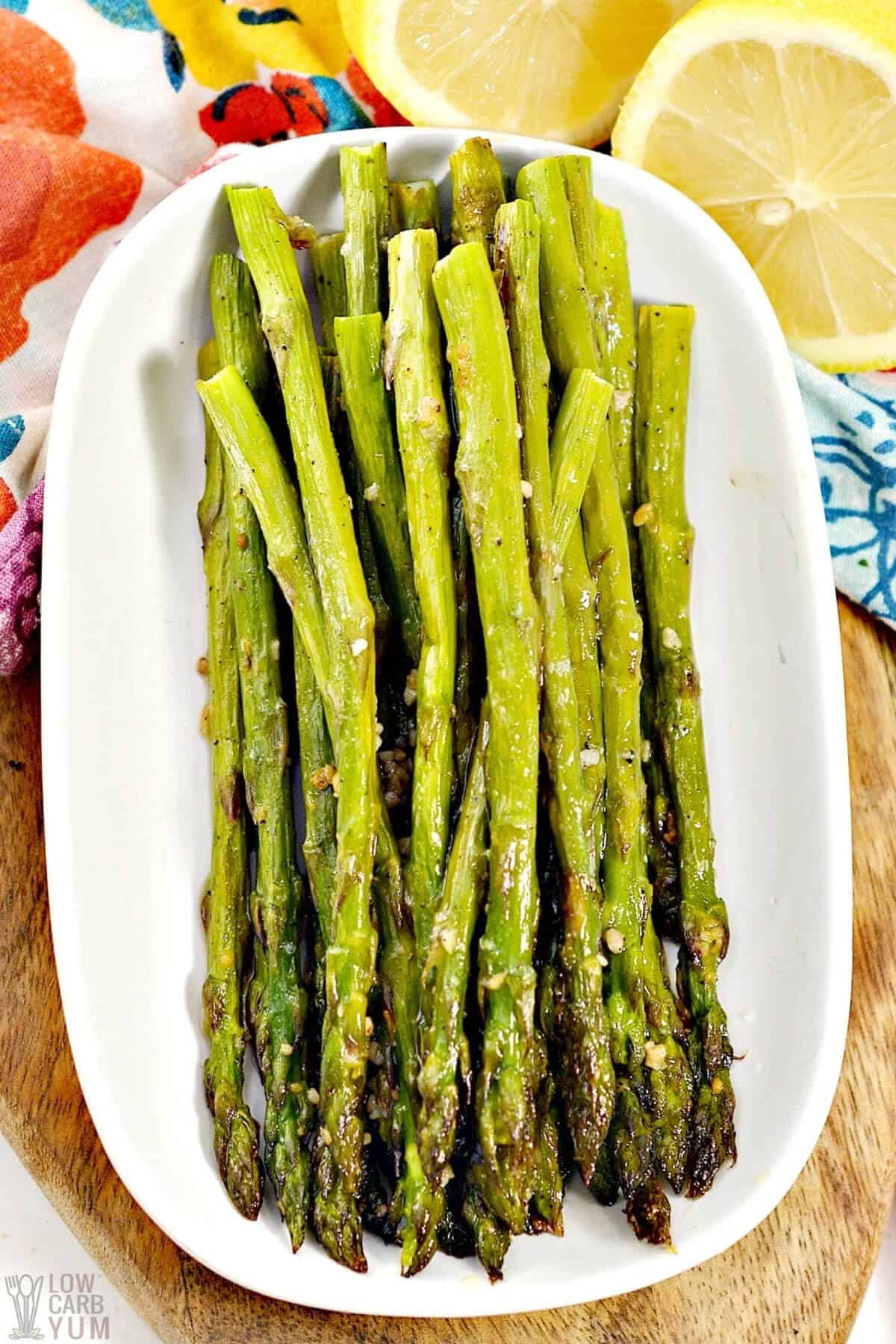 Healthy Asparagus Stuffed Chicken Breasts
My asparagus-stuffed chicken breasts are easy to make and look super impressive.
This recipe is flavored with fresh thyme, garlic, olive oil, and balsamic vinegar for a fresh and fragrant result.
It's great for a weekday meal or serving.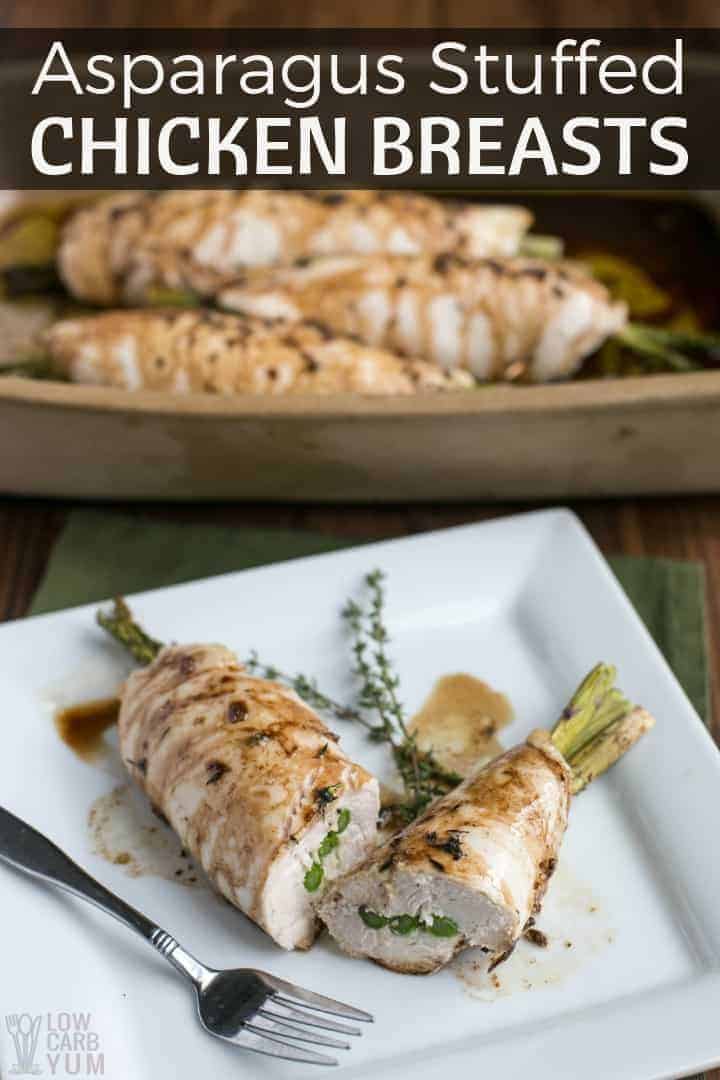 Crustless Asparagus Quiche
This crustless asparagus quiche takes all the goodness from a traditional quiche and makes it totally keto-friendly.
It includes baby spinach for extra nutrition, eggs for protein, and a cheese blend for a boost of fat.
In other words, this keto quiche has it all!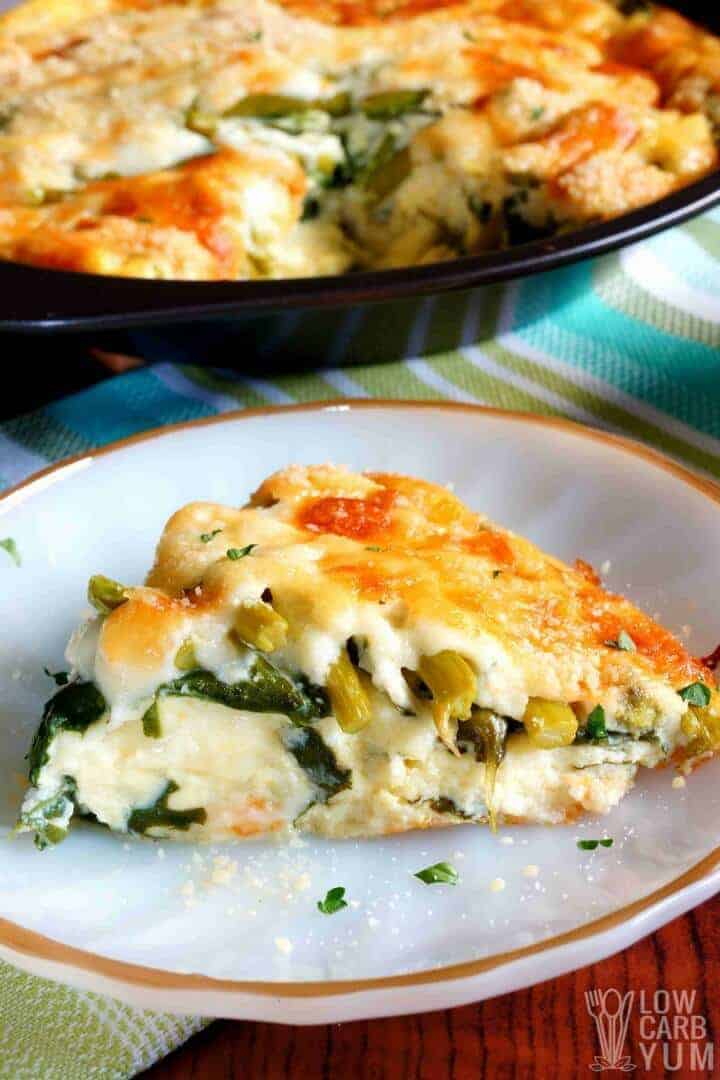 FAQs
Here are some questions people often ask about eating asparagus on the keto diet. If you don't see your question in this list, please leave it in the comments.
Is asparagus keto?
Asparagus is, without a doubt, a wonderful keto vegetable. It is low in carbs, high in nutrition, and a great vehicle to hold some extra healthy fats.
Is asparagus a low-carb food?
Asparagus is considered a low-carb food, with around 2g net carbs per ½ cup serving size.
Will asparagus kick me out of ketosis?
It is extremely doubtful that asparagus could kick you out of ketosis. In other words, you'd need to eat a bucket full!
Its low carb count makes asparagus a safe bet for inclusion in a keto diet and for maintaining ketosis.
What veggies are keto-friendly?
There are several low-carb vegetables other than asparagus that are suitable for a keto diet. Some of the best keto vegetables include:
Broccoli
Cauliflower
Celery
Tomatoes
Spinach
Zucchini
Lettuce
Cucumber
Related content
Now that we've answered "is asparagus keto?", you may want to check out some other keto-approved veggies.
Start with these related posts:
Follow us on FACEBOOK, PINTEREST, and INSTAGRAM for even more tasty keto-friendly recipes!