Green beans are a superb plant-based protein with tons of essential nutrients and health benefits associated with adding them to your diet. But are these healthy green beans keto-approved? Read on to find out!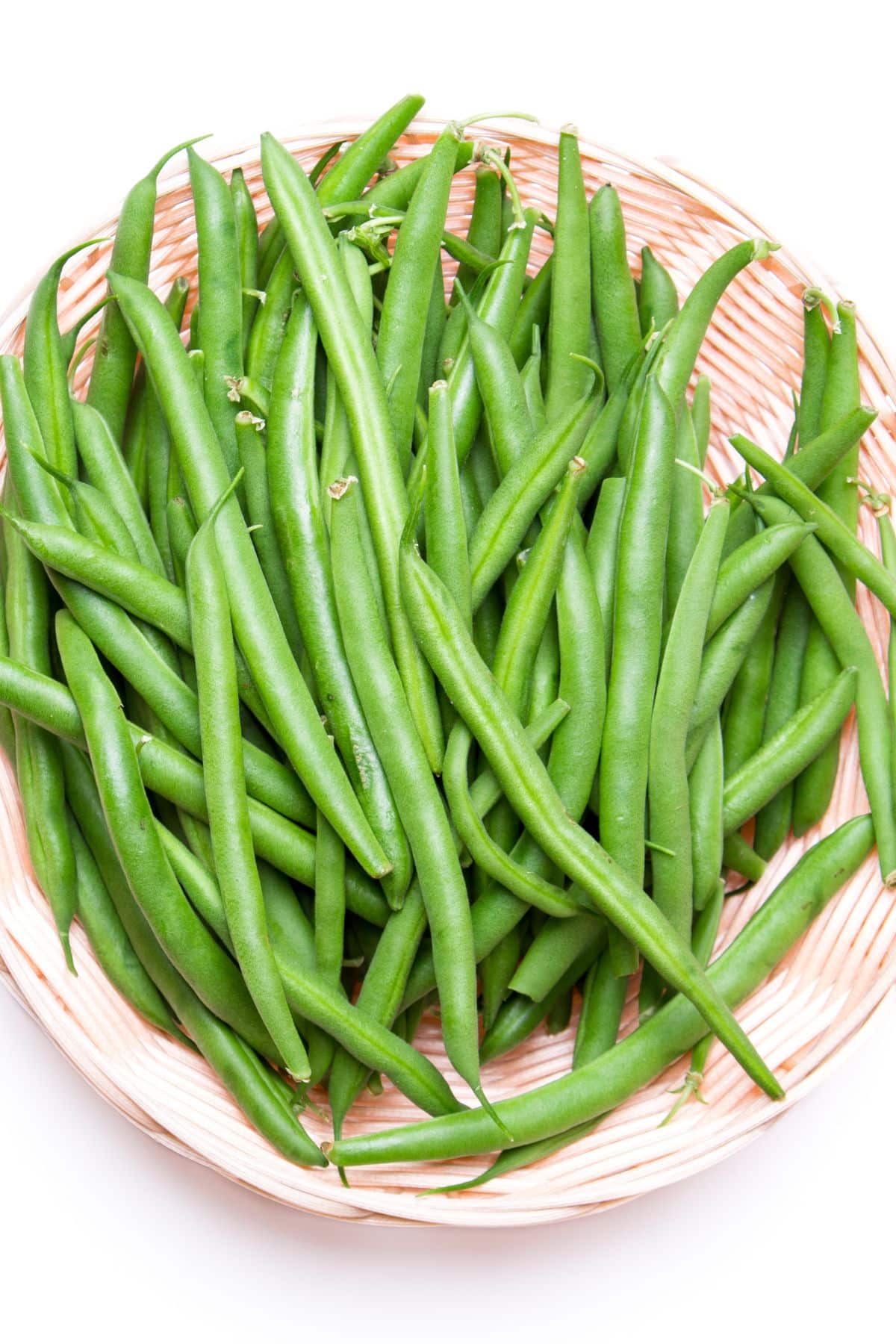 A rather mysterious food, green beans are often referred to as vegetables, fruits, AND also legumes!
But regardless of how you would classify this particular produce, one thing is for sure – green beans pack a major punch in the nutrition department.
They're a low FODMAP, heart-healthy food that is full of protein and micronutrients.
But is this healthy side dish keto-friendly?
We know that beans are often keto-don'ts because of their high carb counts. But do green beans defy the odds?
In this post, I'll cover all you need to know about eating green beans on a keto diet including nutritional information, health benefits, and low-carb meal ideas.
Note: Check out the best keto vegetables for more low-carb veggie ideas. And for even more food groups, the keto food list is perfect for anyone starting the keto diet.
Are green beans keto-friendly?
I'm happy to share that you can eat green beans on a keto diet! In fact, you can eat quite a few of them.
Most low-carb diets limit your daily carb intake to under 50g per day.
Green beans have 3.6g net carbs per 100g serving making them easy to fit into your daily carb allowance.
Green beans nutrition facts
String beans are a nutritious powerhouse with keto-friendly macronutrients as well as micronutrients that support overall good health.
The nutritional information per 100g cooked green beans includes:
Total carbs: 7g
Net carbs: 3.6g
Protein: 1.8g
Fat: 0.1g
Fiber: 3.4g
Green beans also have several reported health benefits. The health benefits associated with including green beans in your diet include:
Aids in maintaining a healthy weight
Improves heart health
Reduces inflammation
Lowers blood pressure
Is easily metabolized
Maintains healthy bones, organs, muscles, and hair
Green beans are also an excellent source of various vitamins and minerals; they are particularly high in vitamin C, vitamin A, potassium, and calcium.
These combined benefits make green beans the perfect addition to your ketogenic diet.
Keto green beans recipes
If you're looking to include more green beans into your low-carb diet, look no further!
I have 9 delicious green bean recipes for you to try out and include in your weekly meal prep. They're so tasty, they'll have your entire family eating their greens.
Roasted Jicama With Green Beans
My roasted jicama with green beans is an awesome way to use frozen green beans for quick and easy weeknight dinners.
This recipe makes a simple and delicious side dish with roasted green beans and jicama with dried herbs.
My version of this recipe includes fresh garlic, olive oil, rosemary, and thyme, though you can adjust the seasonings for what you have on hand,
Feel free to add lemon juice, garlic powder, or black pepper for additional flavor.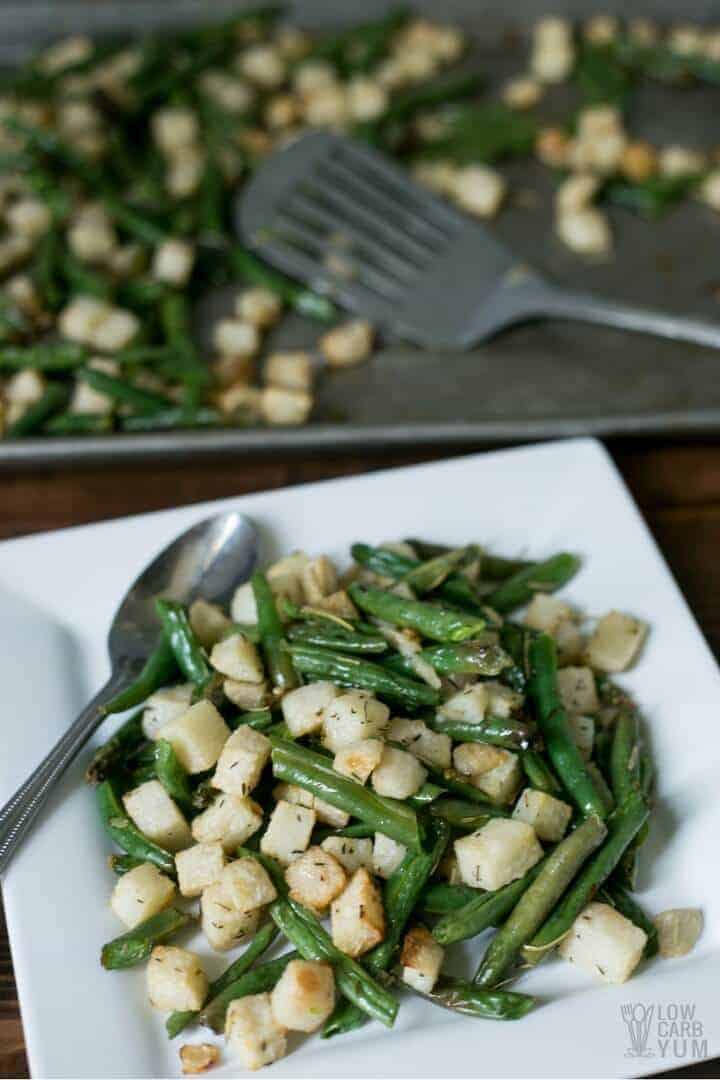 Green Beans Almondine
This green beans almondine dish is ready in under 15 minutes for a quick veggie boost, anytime!
It is one of my favorite keto green bean recipes with buttery, sauteed green beans, slivered almonds, and fresh lemon juice.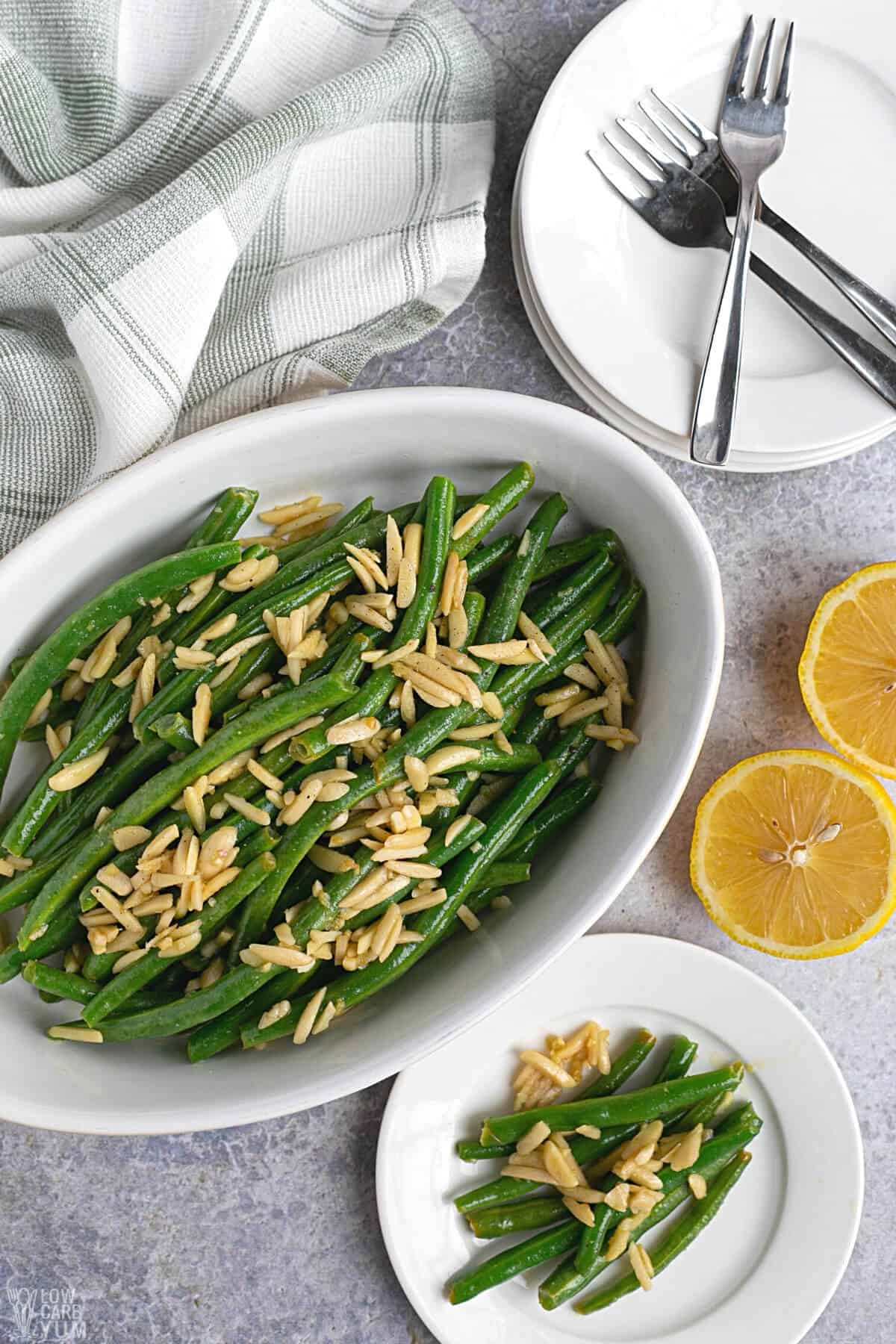 Southern Green Beans With Bacon
My southern green beans have just 4g net carbs per serving and are ready to serve in minutes.
I season this recipe with garlic, butter, onion, and chicken broth for a side dish with incredible flavor.
The added bacon gives additional protein, fat content, and yumminess.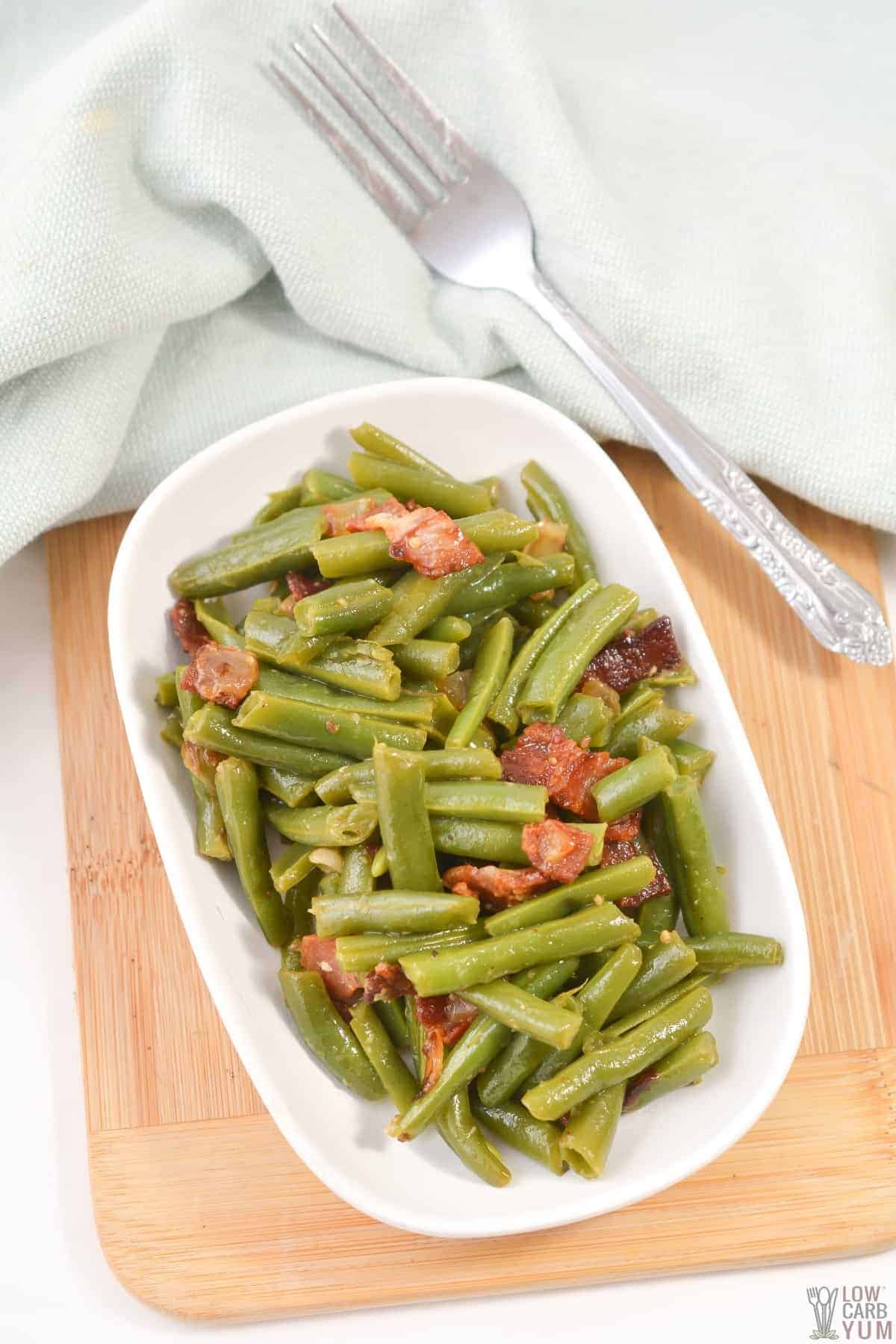 Ground Beef and Green Beans Stir Fry
This beef and green beans stir fry includes just 5 ingredients for a fabulous weeknight meal.
The recipe calls for trimmed green beans, water chestnuts, ground beef, and seasonings for a nutritionally-complete meal.
It requires very little prep time and is really tasty – every time.
I like this recipe because it's super versatile and can be varied based on whatever spices or sauces you have on hand.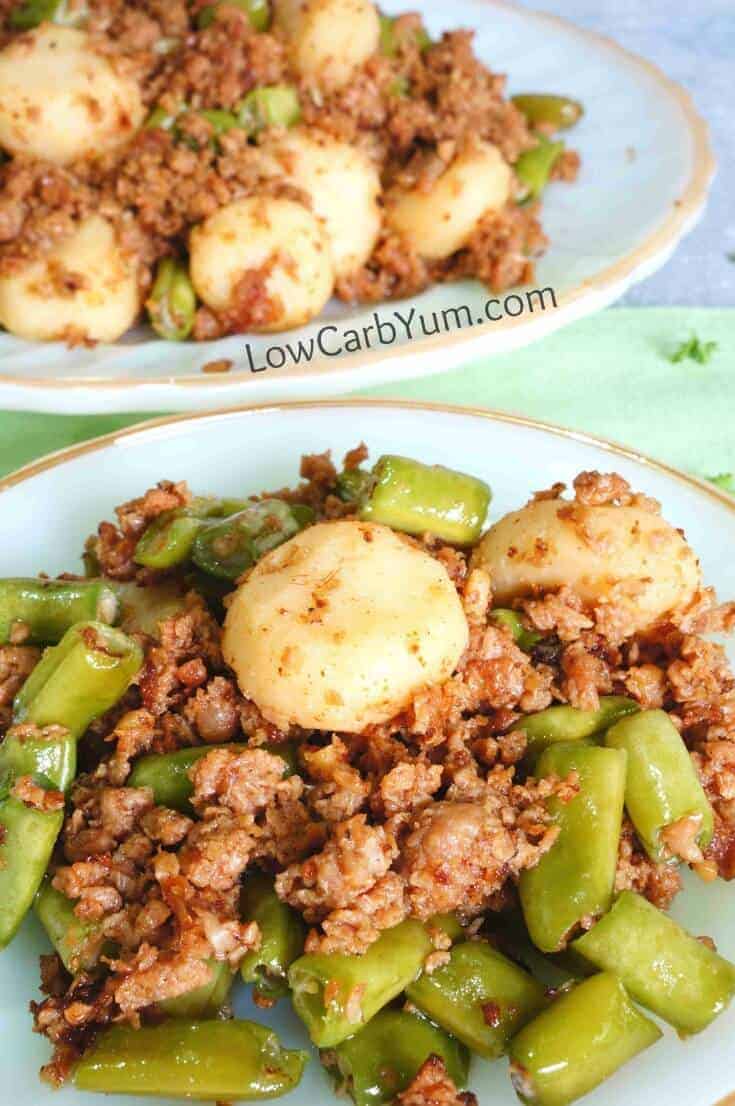 Sauteed Green Beans and Mushrooms Recipe
These sauteed green beans and mushrooms are a must-try! The combination of skillet green beans, mushrooms, and white wine makes for incredible flavor.
Sun-dried tomatoes give an extra special touch.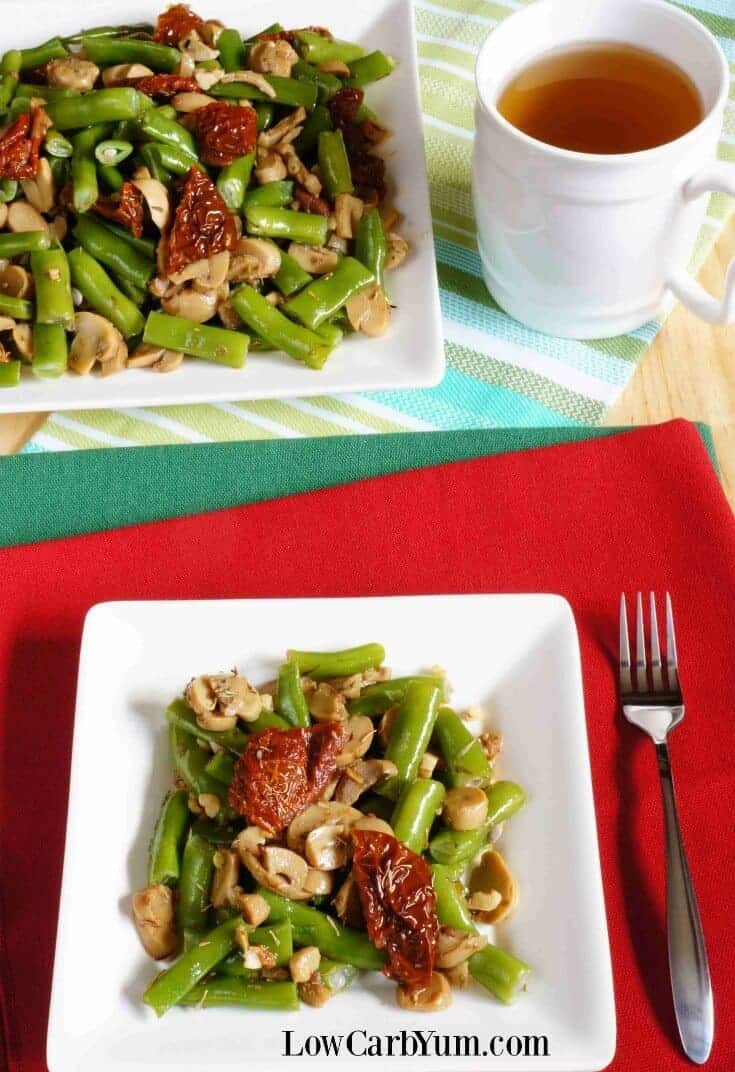 Crispy Gluten-Free Green Bean Fries
My crispy green bean fries are so good, they're even tastier than their potato original!
Made from string beans, parmesan cheese, and almond flour, this is one side dish that is guaranteed to go fast.
Eat them with a tasty keto dipping sauce like my cheese sauce or bang bang sauce for extra yum.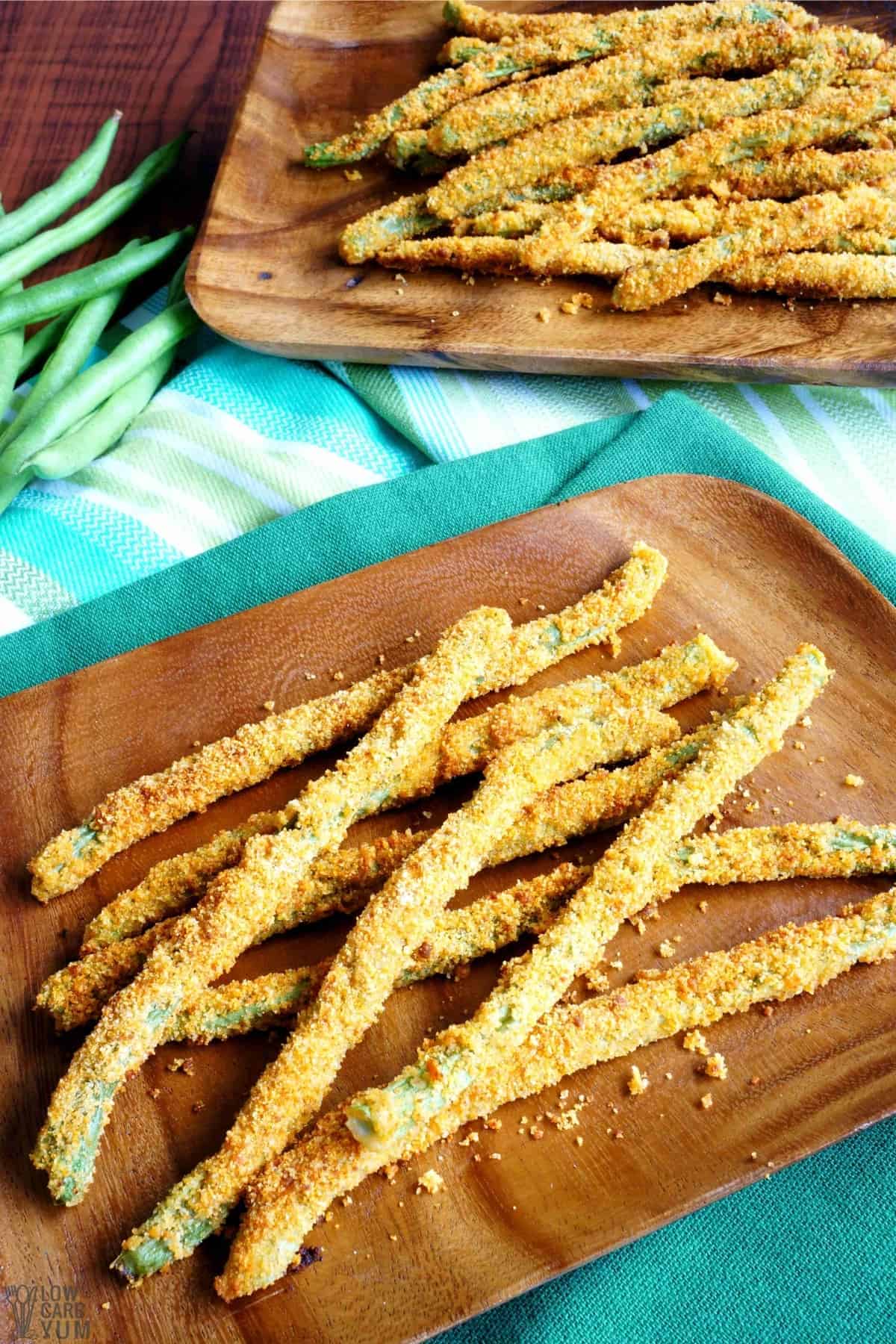 Chicken Green Bean Casserole
My chicken green bean casserole can be thrown together at a moment's notice – great for when you have no time or energy to cook.
This keto green bean recipe includes cooked green beans, shredded chicken, and creamy cream cheese sauce.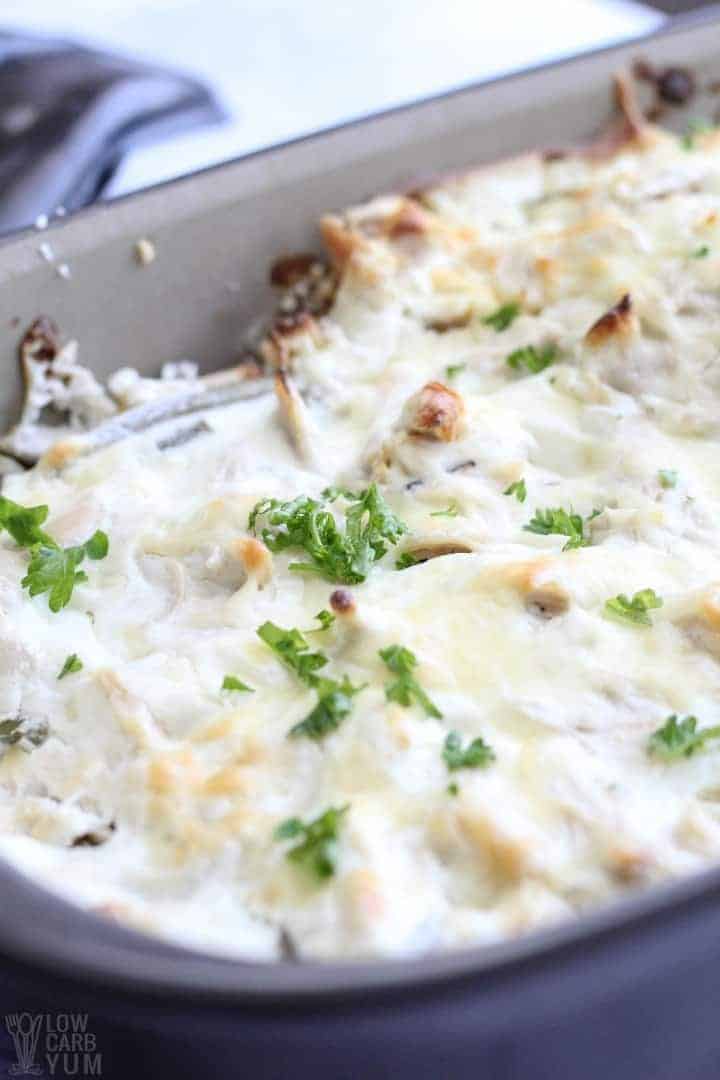 Chicken Green Bean Stir Fry with Tomatoes
This chicken and green bean stir fry can be made with fresh green beans or frozen and is great for busy nights.
It's a one-skillet dish meaning it is ready in no time and requires minimal cleanup.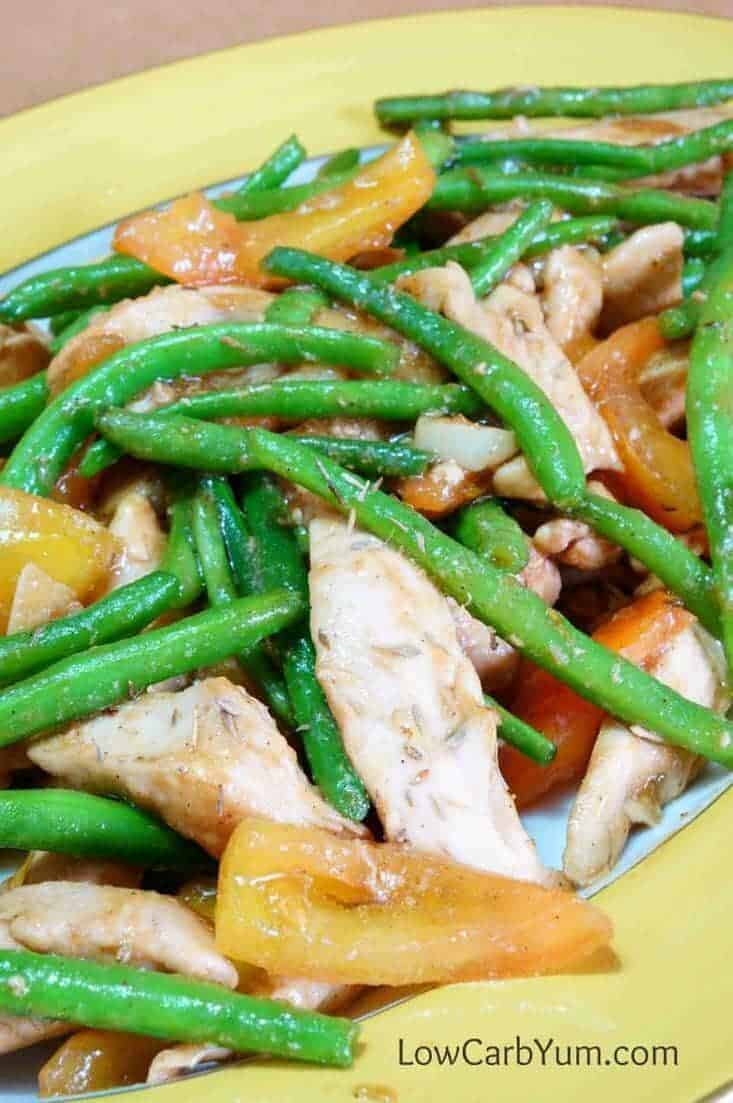 Gluten-Free Keto Green Bean Casserole Recipe
My keto green bean casserole recipe is super flavorful with added bacon and cheese.
I love its naturally gluten-free topping – made from crispy pork rinds.
Prep this casserole dish ahead of time and bake just before serving for the ultimate, easy meal.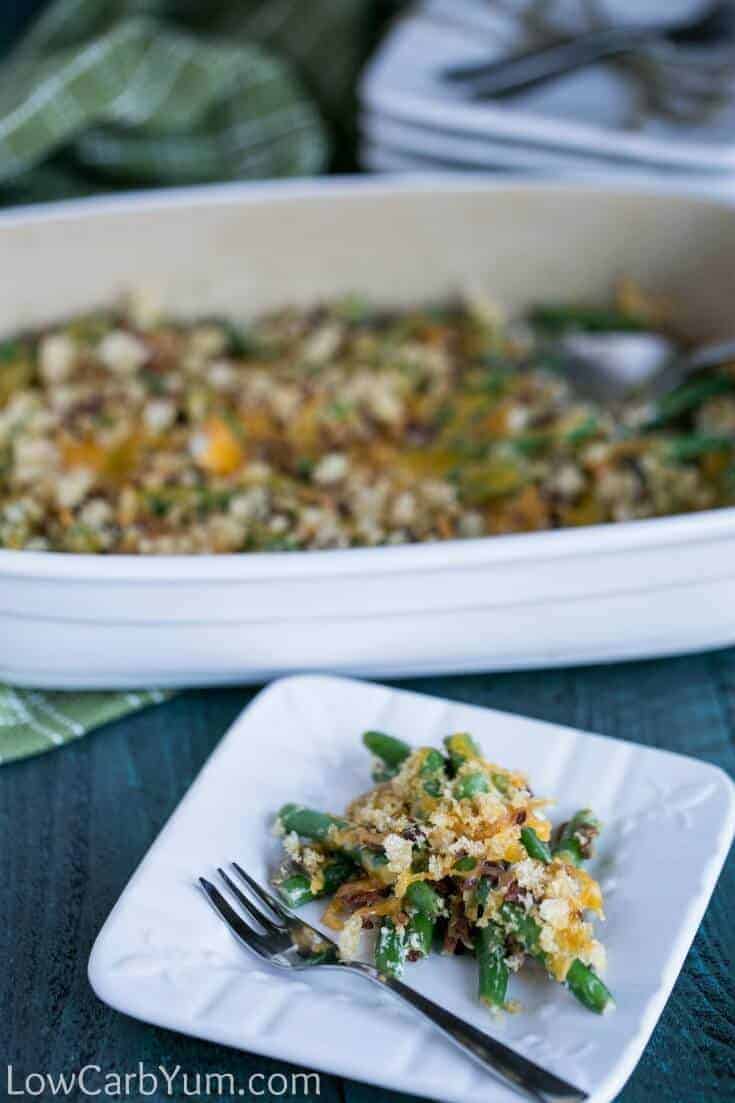 FAQs
Here are some questions people often ask about eating green beans on the keto diet. If you don't see your question in this list, please leave it in the comments.
Are green beans low-carb?
Green beans contain just 3.6g net carbs per 100g portion making them a low-carb food.
Net carbohydrates refer to the number of total carbs in a food minus the dietary fiber. Because green beans are so fiber-rich, this lowers their net carbs.
Which beans are ok on keto?
While beans are often avoided on a keto diet, some varieties can be enjoyed!
Beans are a great plant-based protein option, making it possible for vegetarians to follow a keto diet.
Beans recommended on the keto diet include green beans, mung bean sprouts, edamame, black soybeans, and tofu (made from soybeans). Some beans that should be avoided on the keto diet include lima beans, black beans, chickpeas, and kidney beans.
Why are canned green beans not keto?
Most canned green beans are absolutely keto-approved.
When buying canned foods, however, always check the ingredients list for unexpected additives. Some canned goods add unwanted extras like sugar that could affect your ketosis.
What is the lowest-carb bean?
Green beans are the lowest-carb bean available – enjoy them freely!
Related recipes
Now that we've answered "are green beans keto?", you may want to check out some other keto-approved foods.
Start with these related recipes:
Follow us on FACEBOOK, PINTEREST, and INSTAGRAM for even more tasty keto-friendly recipes!