Pumpkin is a delicious addition to both sweet and savory recipes. But is pumpkin keto? Discover if you can eat this winter squash on a keto diet, along with nutritional information, health benefits, and low-carb recipes.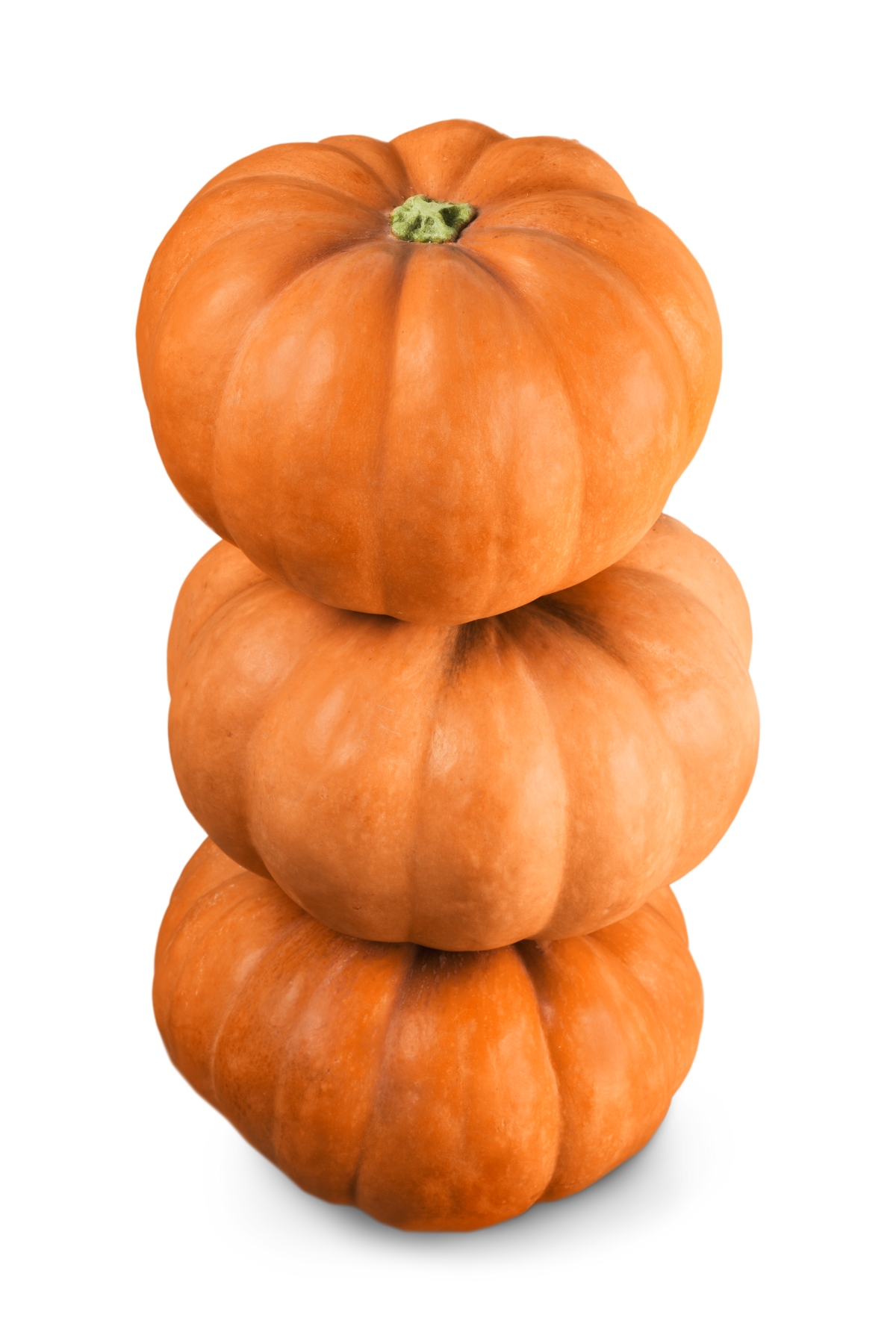 Pumpkin season is full steam ahead, and I couldn't be more excited!
Seasonal favorites like roasted pumpkin seeds, pumpkin bread, and pumpkin pie make the colder weather something to celebrate!
Unfortunately, when you're on a keto diet, sacrifices must be made. And your go-to pumpkin spice latte is suddenly a no-go.
But does this mean that all pumpkin is off-limits?
In this post, I'm sharing all you need to know about eating pumpkin on a keto diet, with macro and micronutrients listed for your convenience.
I'm also including tons of delicious low-carb pumpkin recipes for you to eat year-round!
Note: Interested in more keto-friendly foods? Check out my post on the Best Keto Foods List For Low-Carb Diet Recipes.
Is pumpkin keto?
Good news, folks – pumpkin is 100% keto-friendly!
You can eat both fresh and canned pumpkin in tons of yummy ways, from canned pumpkin puree to pumpkin seeds, to seasoned cooked pumpkin.
While pumpkin doesn't have the lowest net carb count, it can still be moderately enjoyed as part of a balanced low-carb diet.
There are only 6 grams of net carbs per 100g serving of raw pumpkin.
Pumpkin puree has approximately 12 grams of net carbs per cup, and pumpkin seeds contain 1 gram of net carbs per quarter cup.
These numbers can all easily fit into your daily carb allotment.
Pumpkin nutrition facts
Let's take a closer look at what makes pumpkin such a great food for keto diets. Macronutrients for 100g of raw pumpkin include:
Total carbs – 6.5g
Net carbs – 6g
Fiber – 0.5g
Protein – 1g
Fat – 0.1g
Calories – 26
Beyond these favorable macros, there are also health benefits associated with eating this tasty squash. Reported health advantages include:
Filled with beta-carotene, which can help your body fight infections and strengthen immune health
Contains key vitamins that help support good eye, skin, and heart health
Improves metabolic health, managing blood sugar level and fat distribution
11 Must-try keto pumpkin recipes
Ready to add pumpkin to your keto diet? Check out these delicious pumpkin recipes filled with whole foods and low-carb ingredients.
1. Keto pumpkin bread with cream cheese filling
My keto pumpkin bread is one of my favorite dessert recipes – ever!
It's so simple to make, includes an incredible pumpkin pie spice blend, and is filled with decadent cream cheese frosting. What more could you ask for?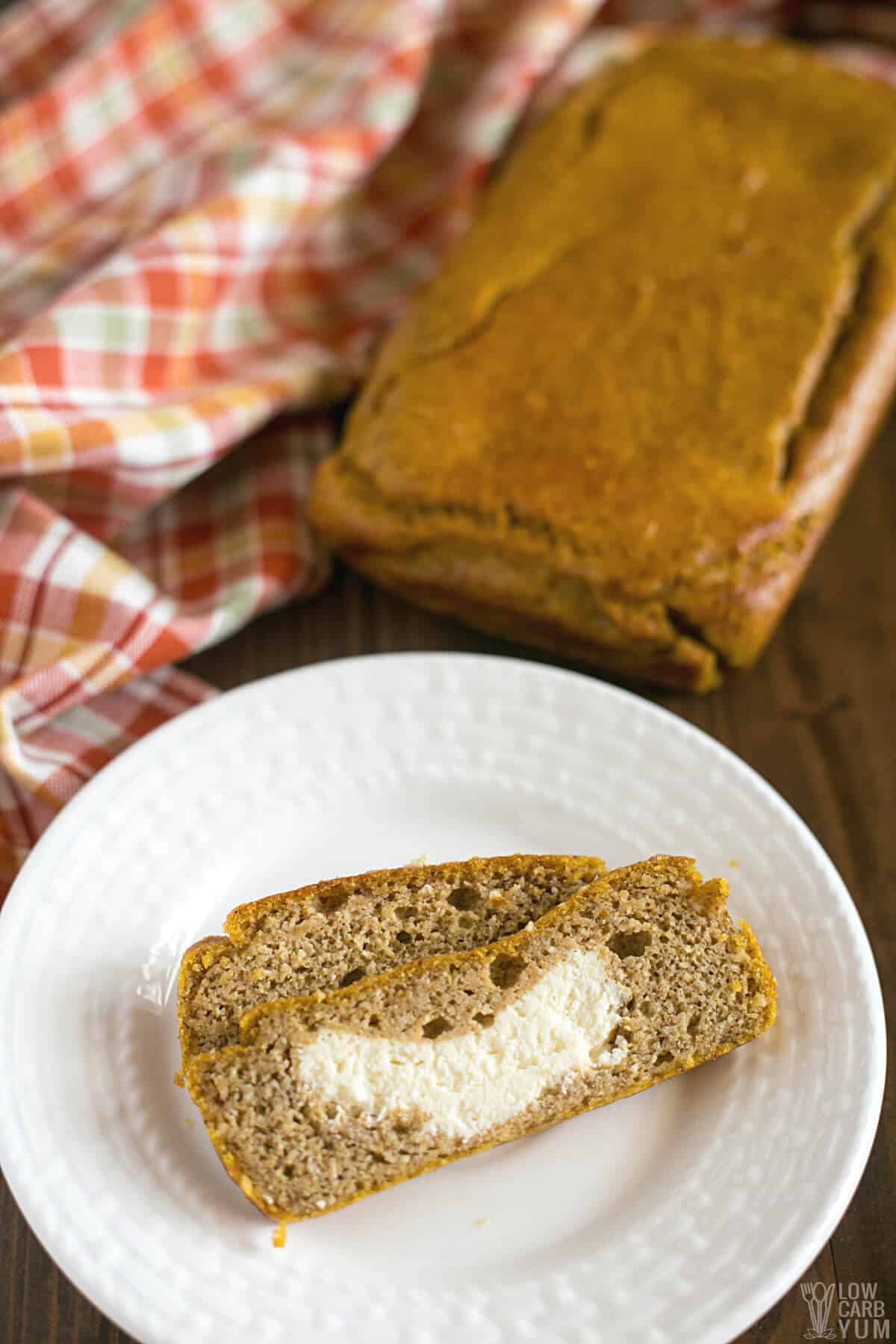 2. Creamy pumpkin soup with bacon
This creamy pumpkin soup is low-carb, dairy-free, and super hearty on a cold autumn day.
The bacon topping adds a little something extra to this well-seasoned blend.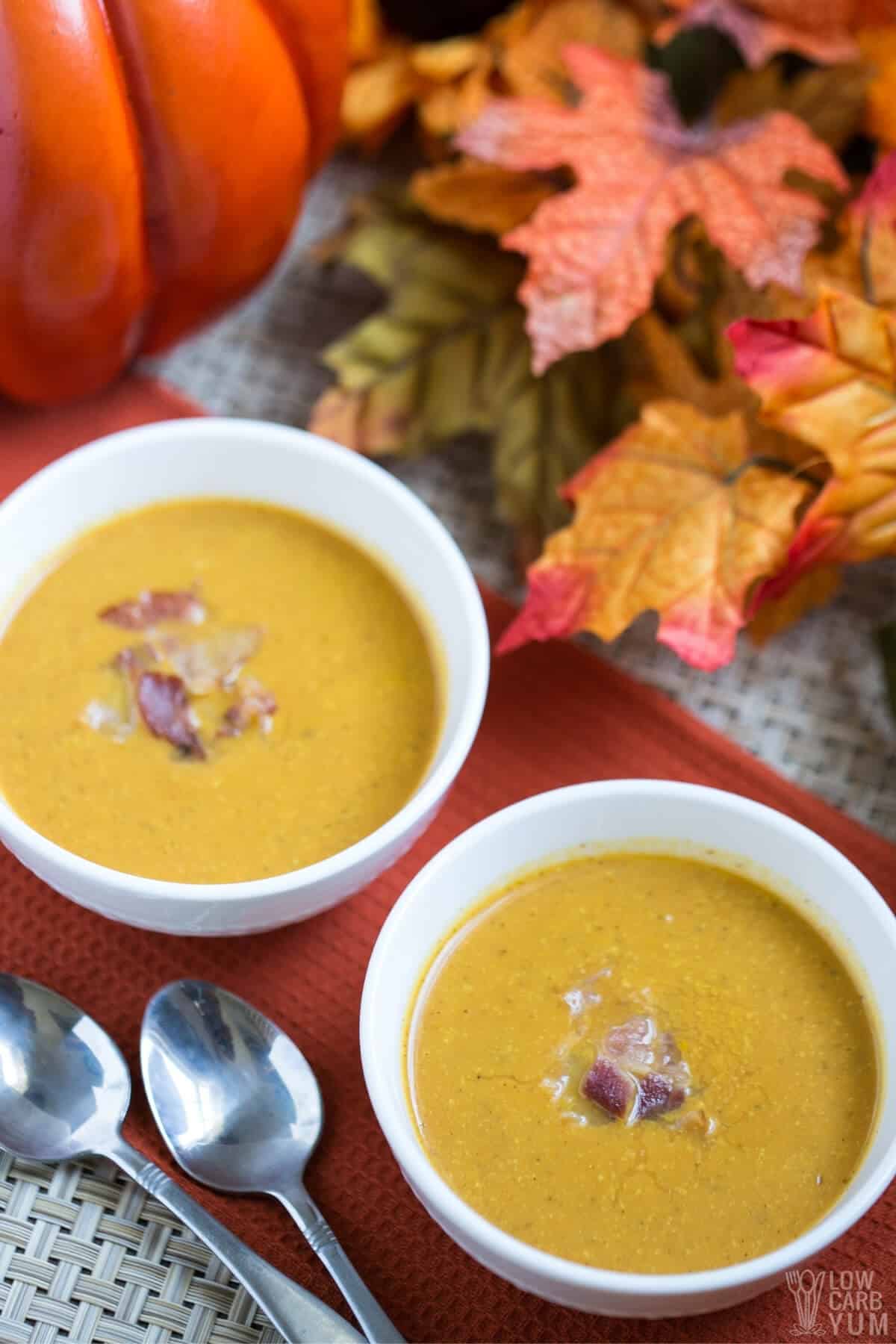 3. Keto pumpkin mousse
My low carb pumpkin mousse is light and fluffy, made with cream cheese, pumpkin puree, and whipping cream.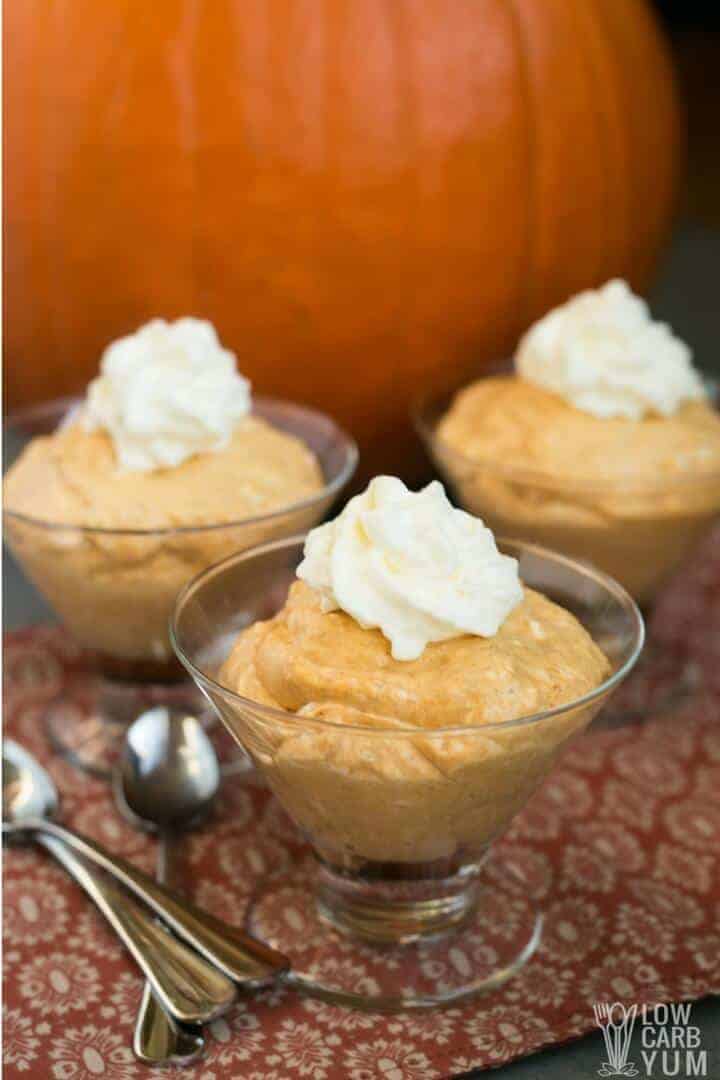 4. Turkey pumpkin chili
This turkey pumpkin chili is a great "stick to your bones" meal, filled with ground turkey, pumpkin, and low-carb bell peppers.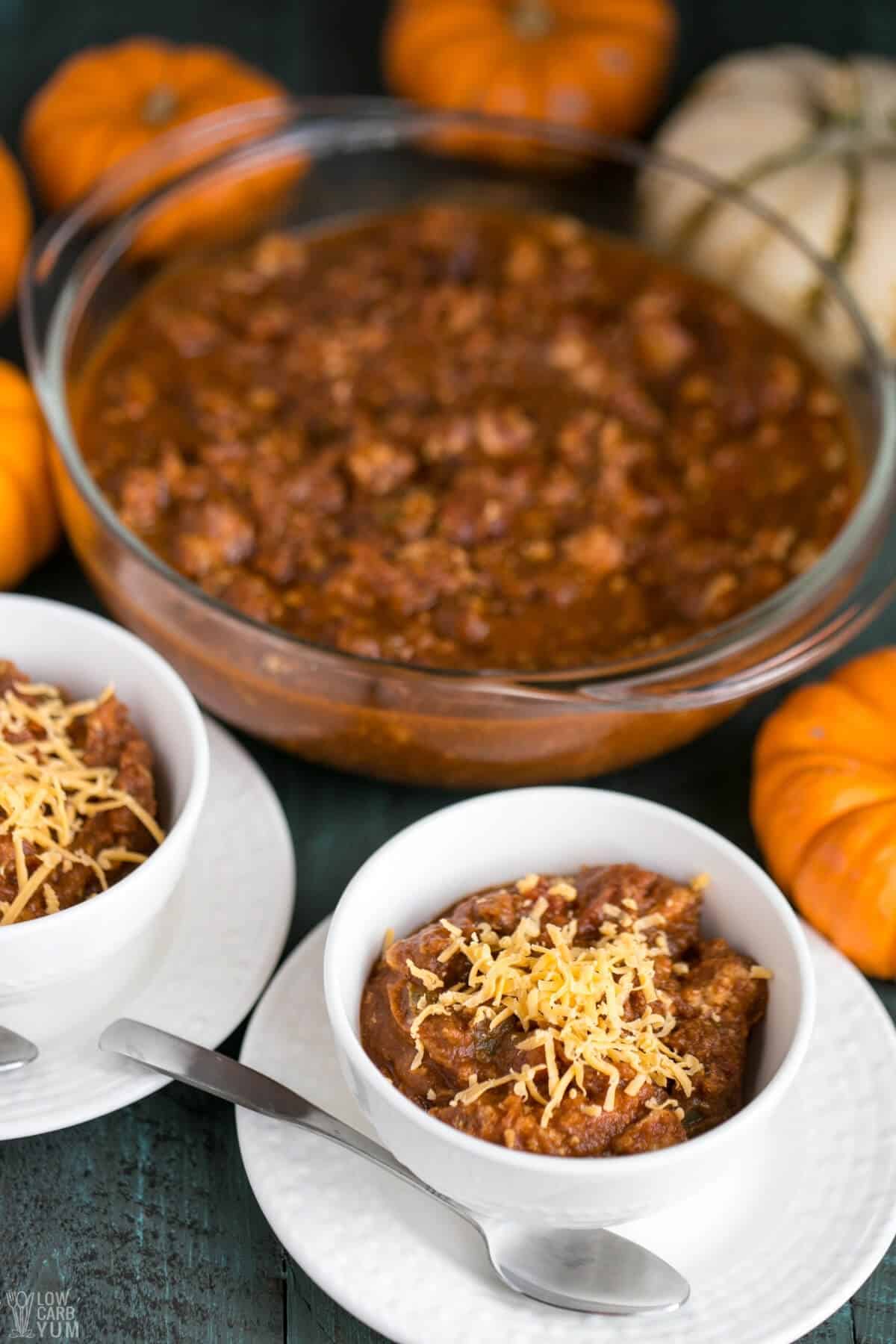 5. Coconut flour pumpkin mug cake
My pumpkin mug cake uses a coconut flour base for an easy low-carb dessert.
Add a dollop of whipping cream on top for a creamy addition!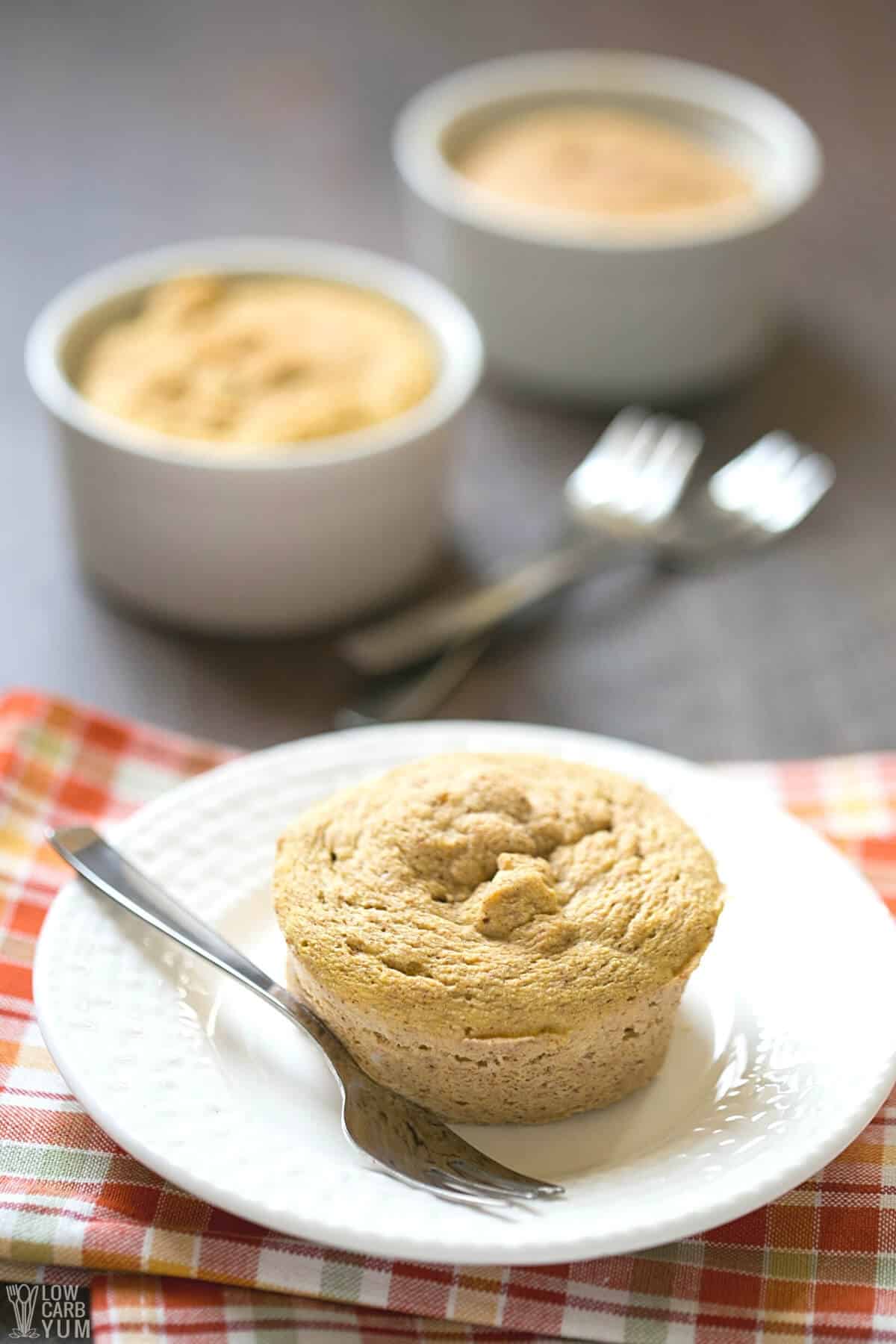 6. Pumpkin seed bread with psyllium and pumpkin seeds
My pumpkin seed bread is filled with great fiber content and tons of seeds, including chia seeds, psyllium husks, and flax seeds. It's my favorite pumpkin seeds keto recipe!
Use it as tasty sandwich bread, or serve buttered slices with a big pot of homemade chili.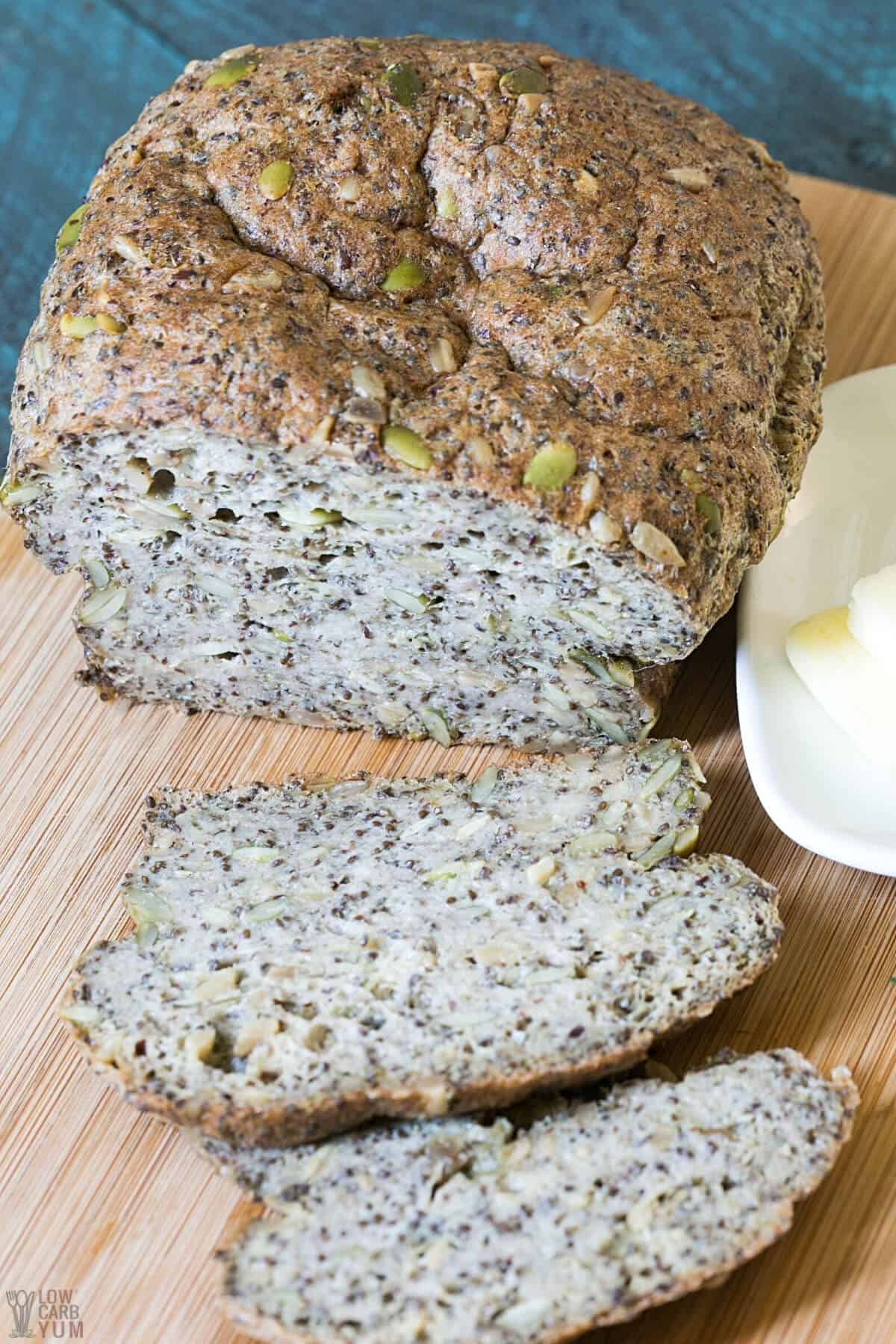 7. Keto pumpkin spice latte
My keto pumpkin spice latte is just as delicious as the Starbucks version. And my recipe doesn't have any added sugar.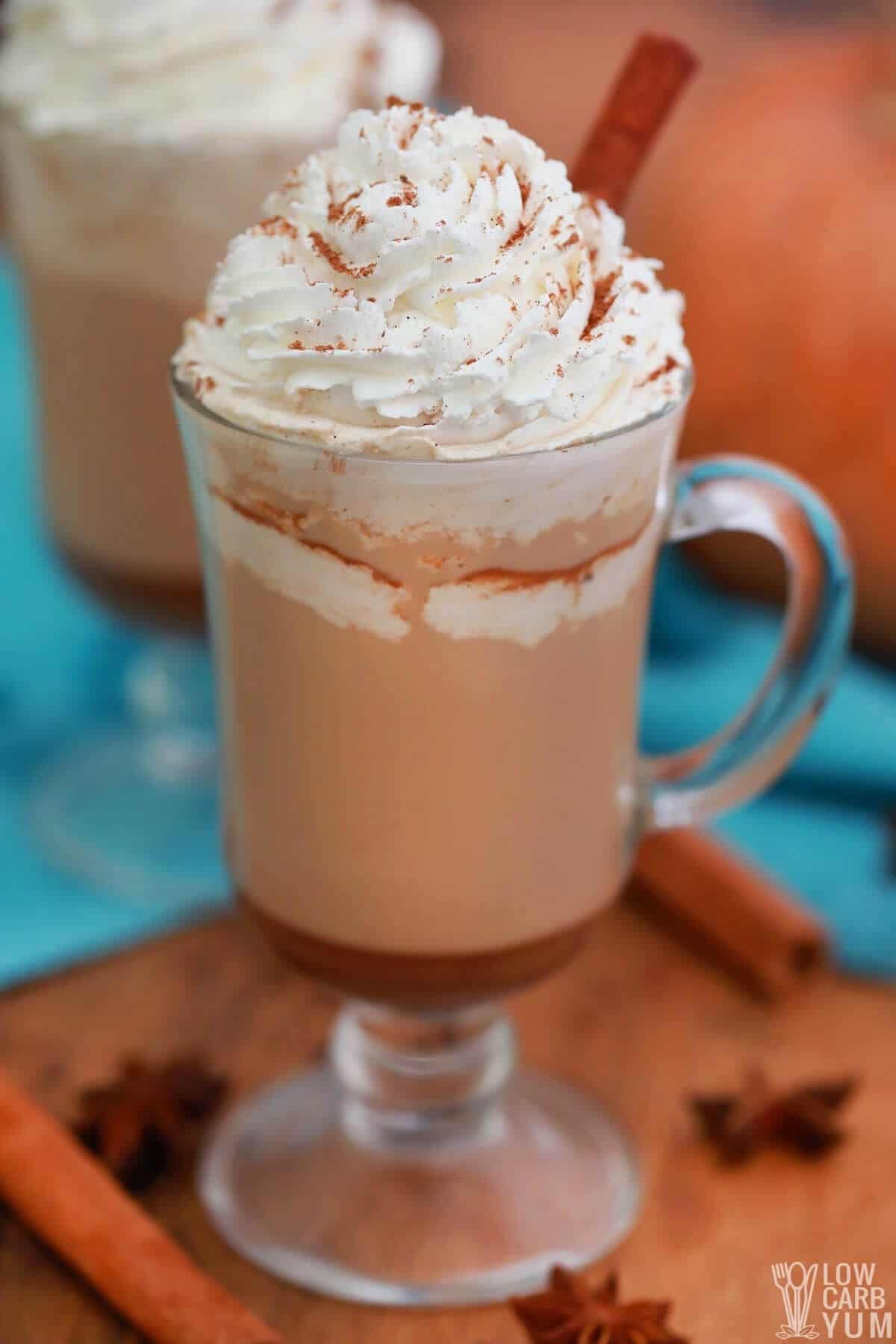 8. Keto pumpkin pie
This low carb, gluten free pumpkin pie is made with pumpkin puree and heavy cream for the best pumpkin pie filling ever!
Serve it up at all of your holiday dinners this year.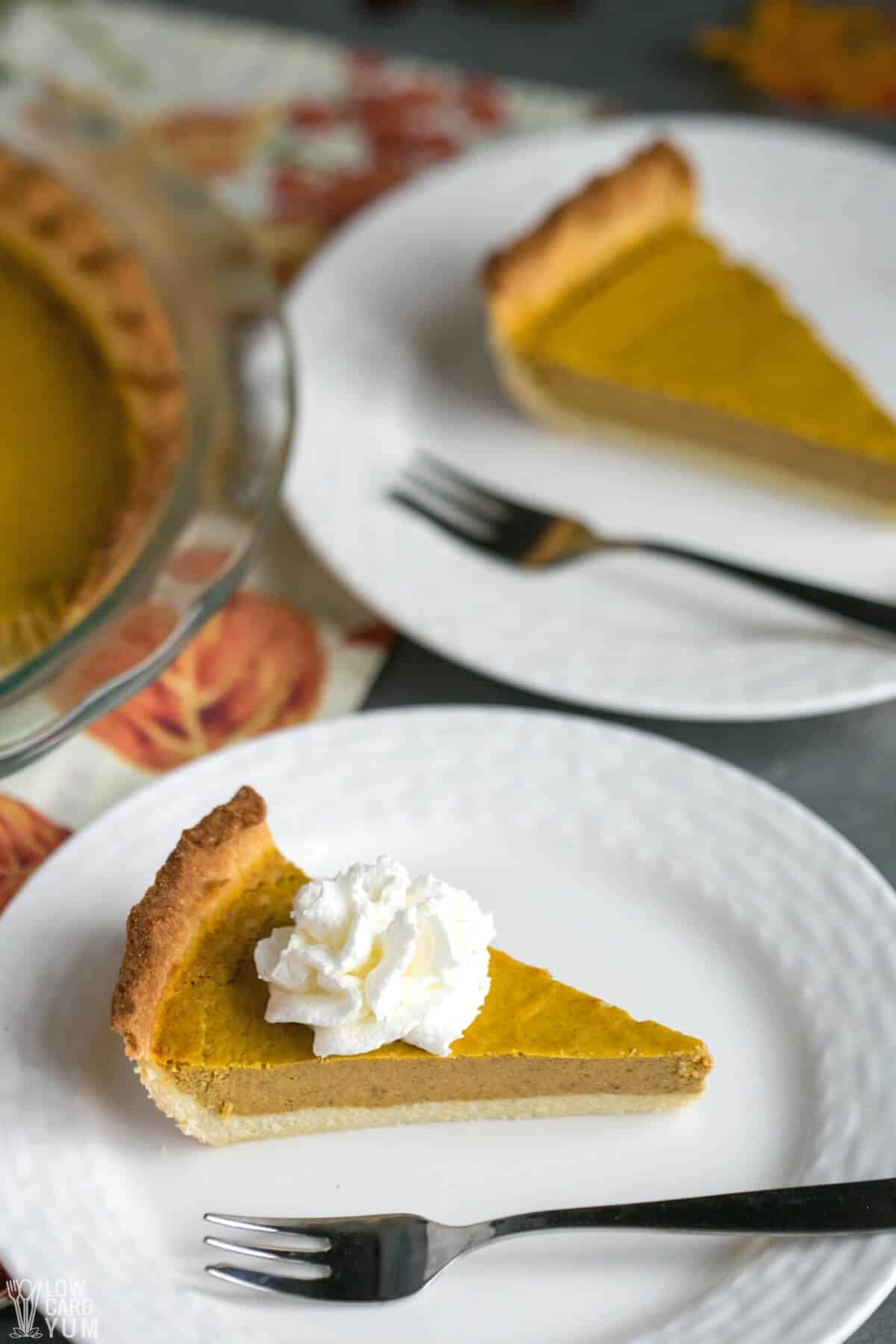 9. Easy pumpkin cheesecake
This keto pumpkin cheesecake is just like pumpkin pie – but better!
The added cream cheese cuts the sweetness, making it bold and creamy.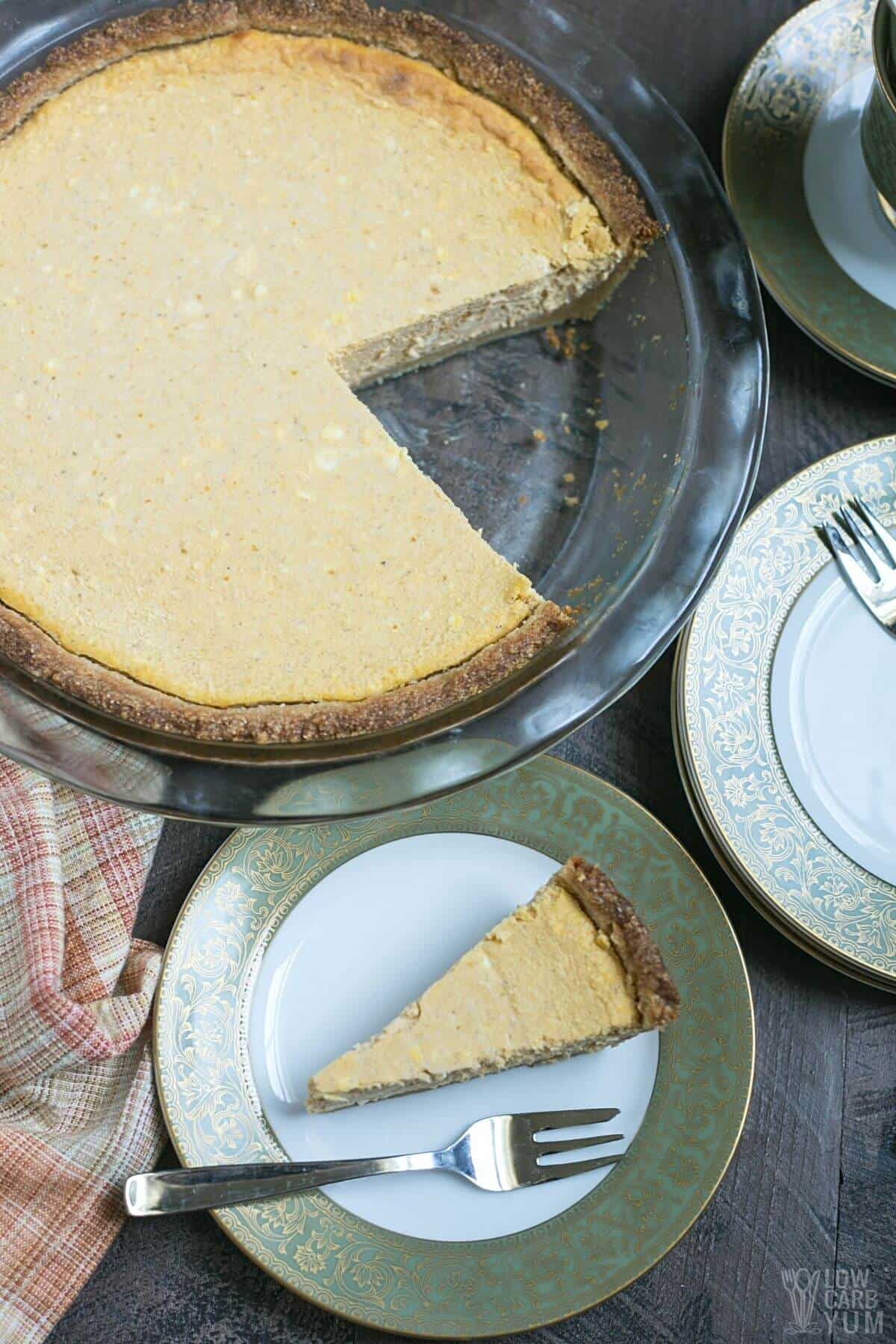 10. Low-carb pumpkin truffles
My keto pumpkin truffles are made with sugar-free pumpkin ganache and a dark chocolate coating. In other words, HEAVEN in a recipe.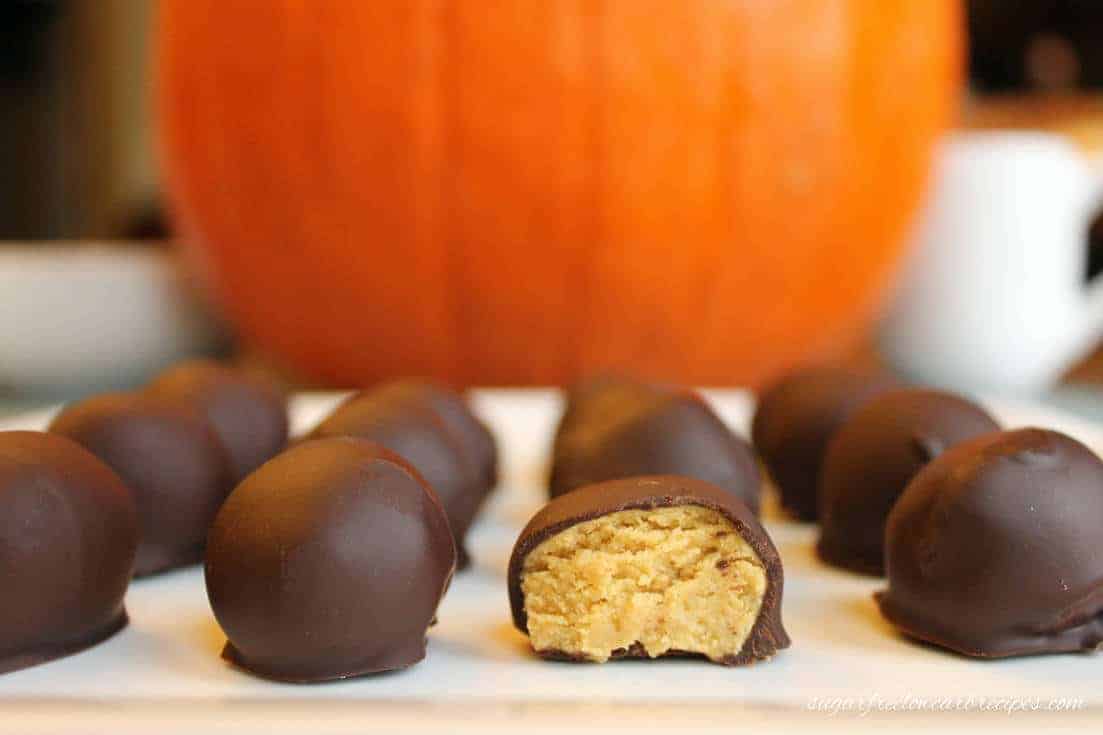 11. Pumpkin lasagna with spinach
This pumpkin lasagna with spinach is meaty, cheesy, and packed with hidden veggies for a super yummy meal.
Layers of ricotta, mozzarella, and parmesan cheese make it a true standout. And the pumpkin enhances this creamy dish to new levels!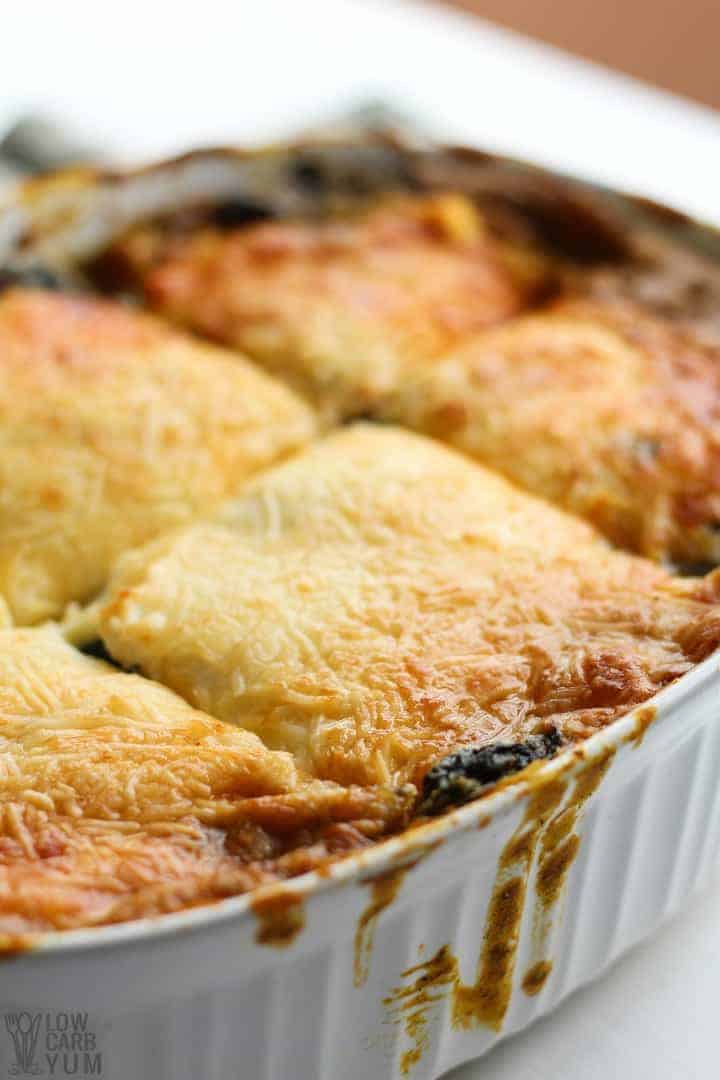 FAQs
These are the questions I'm most asked about eating pumpkin on a low-carb diet. If I don't answer your question here, please drop it for me in the comments below!
Is pumpkin good for a low-carb diet?
In my opinion, pumpkin is a great ingredient for low-carb diets because it's versatile for both cooking and baking, filled with nutritious vitamins and minerals, and is relatively low in carbs.

While you can't eat unlimited amounts of pumpkin on a low-carb diet, a moderate amount is a-ok! Stick to about a cup of pumpkin, and you'll be well under your daily carb count.
Which vegetables are off-limits on keto?
The vegetables you'll want to avoid on a keto diet include high-carb, starchy vegetables like potatoes, sweet potatoes, and butternut squash.

Sweet vegetables like beets, corn, and carrots should also be avoided, especially in excess. These vegetables will spike your blood sugar and could break your ketosis if you eat enough of them.

With that said, you can consume small amounts of these veggies. Just remember to be extra careful with your serving size!
Want more keto pumpkin recipes? Try these!
I have tons of pumpkin-inspired recipes for you to try. Start with these:
Follow us on FACEBOOK, PINTEREST, and INSTAGRAM for even more tasty keto-friendly recipes!