Are you looking for low-carb & keto gifts to give to family and friends? Take a look at our favorite picks for the kitchen, for snacking, and more!
Article Index
Although I love the holidays, I always struggle shopping for gifts.
This year, I'm sharing my favorite kitchen items, a few things I have on my wish list, as well as gifts I've purchased for others. Hopefully, this list can help give you some ideas you may not have thought of.
Since moving to a low-carb diet and blogging about it, I spend a lot more time in the kitchen than I used to. And, I've discovered many tools to make life easier.
My friends and family know I love food, so I typically receive a lot of cooking essentials or tableware for Christmas.
You really can't go wrong with giving kitchen essentials or keto-friendly snacks. So, here are my picks for low-carb keto gifts for everyone on your list!
It's a big list of over 50 items, so grab a cup of coffee and get ready for some shopping.
Kitchen Essentials
Having the right kind of tools in your kitchen is not only helpful for cooking low-carb, but it can make your keto journey even more enjoyable. From cookware to fun gadgets, here are some must-have kitchen items that would make the perfect keto gift this Christmas.
1. Instant Pot
The electric pressure cooker can be a bit intimidating at first, but once you give it a try, it may never leave your counter. It's my go-to appliance for making homemade dairy-free coconut yogurt.
If you don't have the room for the 6-quart model, be sure to check out the Instant Pot Mini!
2. Air Fryer
I've heard only good things about the air fryer, and I'm hoping to snag one for myself this year. I hate wasting loads of oil to fry, so air frying saves quality oil (and calories) by frying your food with air.
I'm already planning to do some air fryer recipes this year, so if I don't get one with my low-carb keto gifts from others, I'll be buying one after the holidays.
Keto air fryer pork chops is a great recipe to try - they turn out perfectly!
3. Crock-Pot
The oval-shaped slow cooker is a classic. Mine is over 20 years old and finally broke, so I've replaced it with a new programmable Crock-Pot. The great thing about a programmable one is that it automatically switches to a warm setting after the cooking time is up.
If you get a brand new slow cooker for Christmas, check out these keto slow cooker recipes. They are all so effortless.
4. Electric Kettle
I've moved away from the whistling stove-top kettles and prefer using an electric one now. It controls temperature better and makes sure you brew your coffee or tea at just the right temperature.
I love that this one has no plastic inside to touch the water, and water boils quickly inside. That's why the electric kettle is at the top of my keto gifts list.
5. Enameled Cast Iron Pan
I've had my eye on LeCreuset cookware for a long time. This year, I've started to treat myself to a few premium pans like this enameled cast-iron buffet casserole. There's an outlet store nearby, so I hit the sales and keep an eye out on coupons.
For the ultimate enameled cast iron cookware, you need to check out the high-quality LeCreuset line.
6. Espresso Maker
I've always preferred a strong shot of espresso to a cup of coffee. However, the quality of the espresso depends on the quality of beans used, which can vary greatly.
With Nespresso, the capsules used to ensure a perfect shot of espresso is brewed every time, so you don't need to hit that expensive coffee shop anymore. If you're buying keto gifts for anyone who loves a good shot of strong coffee, look no further than a Nespresso Maker.
7. Cream Whipper
The whipped cream sold in the can has unnecessary added ingredients that should be avoided, especially the added sugars. That's why everyone who loves whipped cream needs their own cream whipper!
Simply pour heavy cream (or heavy whipping cream) into the canister, screw on the lid, and then charge it with an N2O gas cartridge.
8. Stoneware Muffin Pan
I've been baking in stoneware like this muffin pan for over twenty years. I was first introduced to it at a cooking party. Once the pans are seasoned, they become non-stick, making clean-up a breeze. I just scrape and rinse them in warm water. And, it saves having to buy paper liners.
I always use the stoneware for my low-carb blueberry muffins and frittata muffins.
9. Spiralizer
Zucchini is my favorite vegetable to spiralize, but most other firm low-carb vegetables work as well. My son bought me a spiralizer a couple of years ago, and it's one of the best keto gifts I've ever received. It makes it so easy to make my own low-carb pasta alternative!
10. Kitchen Scale
Old habits are hard to break, but I'm slowly switching over to measuring my low-carb flours when I use them. The American cup system is very inaccurate, so I like to grab my kitchen scale to determine the exact weight of certain ingredients that I use in my recipes.
11. Waffle Maker
My older waffle iron had the traditional non-stick surface, but I decided to replace it with one that comes with a natural ceramic coating that's non-stick and easy to clean. The ceramic plates also cook up to 20% faster to save you time and energy.
If you're looking for keto gifts that will impress, this Oster DuraCeramic Belgian Waffle Maker is definitely one.
12. Food Processor
If you're a rice lover, you need to invest in a good quality food processor to make cauliflower rice quickly and easily. I also use my 14 cup Cuisinart processor to grate cheese fresh from a block, so there's no anti-caking agent going into it.
A food processor is a great alternative for a stand mixer to blend up various dough and batters. It's one of my favorite keto gifts that's sure to get regular use in the kitchen.
13. Blender
I don't own a Vitamix blender yet, but since my current blender is old and not very powerful, I'm in the market. The cost is a bit overwhelming, so I've held off on buying a top-of-the-line blender. However, it's tough to beat the Vitamix quality and power, so I'm looking to buy one soon.
I've been eyeing the Vitamix Pro Series 750, but the Vitamix 5200 is another popular model that's less expensive.
14. Tea Infuser Mug
If you know anyone who loves tea, they'll appreciate this awesome tea infusion mug. I have one that I keep at work with my electric kettle, so a great cup of tea is only minutes away.
I've been drinking a lot more herbal loose leaf tea, so I'm looking to buy another one of these cups for home.
15. Enameled Cast Iron Dutch Oven
I bought myself an enameled cast iron dutch oven last year for Christmas. My husband doesn't cook, so he lets me pick out my own kitchen items. This dutch oven is one of the most used low-carb keto gifts from last year.
It's great for baking or roasting in the oven, as well as slow-cooking soups and stews on the cooktop. And, the porcelain enamel is a breeze to clean. It's my preferred pot for making low-carb chicken noodle soup.
16. Silicone Baking Mats
I hate wasting parchment paper when baking, so I like to use reusable silicone baking liners when I can. You never have to worry about sticking, and they are easy to wash.
I've been using them for years to make my low-carb cookies and biscuits. I do own the more expensive Silpat mats, but the cheaper brands are just as good.
17. Salad Spinner
I eat a lot of salads, but I don't have a salad spinner. I've had my eye on them for a while, and this year I'm hoping to finally get one. I always wash my greens before eating, so it would be nice to have a way to dry them out quickly. Instead, I'm always blotting everything with paper towels which isn't that efficient or quick.
18. Indoor Herb Garden
Fresh herbs add so much flavor to your cooking that you'll want to keep them stocked in your kitchen. The problem is I always seem to kill the potted ones as the light is never right in my kitchen window. And, they don't stay fresh very long in the refrigerator.
I love the idea of a hydroponic garden and would love to try one of the AeroGarden herb kits to see if I can keep the herbs alive.
19. Mandoline Slicer
I've got two old mandoline slicers and am ready for a new one. One has several different blades, and the other has one main blade that can slide into different heights with a rotating dial for various cuts.
I prefer using the mandoline with the rotating dial as there are fewer pieces, and I always get a better cut. The slicer above is pretty close to that design, and I just love the red color. A mandoline slicer will ensure low-carb fries are evenly cut.
20. All Glass Storage Container
I avoid storing foods in plastic - there are just too many chemicals that could get into the food. That's why I have a lot of different sizes of glass storage containers.
My favorite ones are square and rectangular glass containers because they stack nicely in the refrigerator. And, there are no plastic lids, so the only glass will ever touch the food.
21. Milk Frother
If you make keto coffee, bulletproof tea, or a coconut oil coffee creamer alternative, having a milk frother is invaluable. The reason is that you simply add all the ingredients into a tall mug and then whip it up into a creamy drink using the frother.
This way, there's no need to dirty a blender. I love that this frother comes with two whisks, a stand, a cleaning brush. And, it's totally portable to take with you on trips.
22. Coffee Grinder
I actually rarely use my coffee grinder for grinding up fresh ground coffee. Instead, it's what I use to make my own low-carb flour from nuts and seeds. The food processor tends to turn nuts and seeds into kinds of butter, but the coffee grinder makes a fine grind without releasing all the oils.
If you haven't tried making your own sunflower seed flour, you need to give it a try. All you do is add the seeds into the coffee grinder to make the flour. You may want to use a mesh sieve to ensure you have a fine grind. You can re-grind any of the larger pieces collected in the sieve as needed.
23. Electric Warming Tray
When I was browsing products on Amazon, I came across this cool electric warming tray, so I added it to the list of low-carb keto gifts. If you hate putting food out on the counter just to have it get cold quickly, you'll love this idea.
Candles and open flames always make me nervous if not attended, so I love that this warming system is completely electric.
24. Multi-Function Hand Blender
I know a lot of people don't have the space for too many kitchen tools. That's why I love multi-function appliances that don't take up a lot of space. This 4-in-1 Hand Blender is a stick blender, hand mixer, food processor, and smoothie blender. And, the price is very affordable.
25. Stand Mixer
My KitchenAid 4.5-quart stand mixer is the mixer that gets the most use. It's a little smaller and lighter than the Professional series mixers but large enough to handle heavy-duty jobs.
Even though I have a larger KitchenAid mixer, this one is my favorite.
26. Knife Set
I like to have a variety of knives at my disposal. And, if you've seen any of my prep photos, you've likely seen one of my Chicago Cutlery knives in the image. I've had this knife set for a long time, and the blades have kept up well.
And, I just love the wooden holder that comes with the set. It sits nicely on my kitchen counter.
27. Utensil Crock Set
I like to keep my utensils handy in the kitchen. If stored in a drawer, I find myself wasting a lot of time shuffling through things to find a particular spoon or spatula. That's why I keep a couple of kitchen utensil crocks on the counter, so everything is easy to find.
28. Kitchen Utensils
As long as you have some space, you can never have enough utensils in the kitchen. Although I love my stainless steel ones, I find that they tend to scratch my ceramic enameled cast iron cookware. That's why I've started to use more silicone-tipped tools.
This set is the most popular one on Amazon, which is why it made the list of low-carb keto gifts!
29. Cast Iron Skillets
My Lodge cast iron skillets are the most used pans in my kitchen. They are simple to care for and last forever. Even tough messes scrape right off if you simmer water in the dirty pan on the stove. My father has been cooking out of the same cast iron pan for over fifty years, and I'm sure I'll be using mine just as long.
Low Carb Snacks
Any of these healthy keto snacks to buy would be great gifts for your friends and family living a low-carb lifestyle.
30. Good Chocolate
Good Chocolate have quickly become my favorite low-carb chocolate brand. Sweetened with stevia or erythritol, they have just the right sweetness without any aftertaste.
Even my friends and family who don't do low carb love them. That's why I always stock up on these treats for the holidays to give as a gift to myself and others.
31. Gourmet Drinking Chocolate
I've tried a lot of different low-carb recipes and mixes for hot cocoa. But, none of them have been as rich and decadent as the Diabetic Kitchen Gourmet Drinking Chocolate.
Although the directions call for making it with almond milk, I use canned coconut milk, and it always comes out heavenly. You can use it to flavor either hot or cold low-carb milk.
32. Keto Carne
Meat snacks shouldn't contain any unnecessary sugars. That's why I love Keto Carne, which is a zero-carb dried meat snack made with simple ingredients like beef, water, and seasonings.
33. ChocoPerfection
Keto-friendly ChocoPerfection chocolate bars are sure to be loved by all. If you put this chocolate out without the wrapper, no one would know it's sugar-free. The 39% Cocoa Milk Chocolate bar has a silky smooth texture with just the right amount of hormone-free milk added.
If you've never tried this gourmet chocolate, you're in for a real treat.
34. Catalina Crunch Cookies
No matter what recipe you follow, it's nearly impossible to make copycat keto Oreo cookies. But Catalina Crunch has managed to do it. These chocolate sandwich cookies with vanilla creme are just like the real thing. It makes perfect keto gifts for the person who has everything.
35. Keto Bars
No worries about getting knocked out of ketosis with the Keto Bar made by perfect keto! Each bar contains 19g of fat, 10g of protein, and 3g of net carbs, which fit the keto macros ratios perfectly!
Plus, if you use code YUM15 at checkout, you'll save 15%.
36. Keto Krate
If you want to give the gift that keeps giving, send them a short-term subscription to Keto Krate. It's easy to sign up, and the boxes always contain the best keto snacks on the market.
You can sign up for as many months as you'd like. And, when you are ready to stop the shipments, canceling is as easy as clicking a button in your online account. It doesn't get much easier when it comes to low-carb keto gifts! You'll also save 25% on your first box using the link above.
37. LC Foods Snack Packs
These low-carb and keto-friendly snack packs and snack mixes are convenient and ready to eat! These portable mixed snacks are perfect for home, at the office, on the go, and as you travel.
38. Good Dee's Baking Mixes
Low baking mixes are great to have on hand. And, they make wonderful gifts that last a lot longer than baked goods. I've tried many of the Good Dee's mixes, and the Chocolate Brownie mix is my favorite.
Sure, you can make your own from scratch, but if you want the convenience of a mix, this is one of the best. And, it's made with sunflower seed flour which usually isn't readily available, so you'd have to make your own.
39. Meat Sticks
It's tough to find meat sticks without any added sugar. But with these Mission Meat Beef Sticks, there are no nitrates, and no sugar added. The Tasty Original flavor does have a bit of a kick from red pepper, but I love having a little heat.
There's also turkey meat sticks available if you want to change up the meat. If you need some low-carb keto gifts to use as stocking stuffers, meat sticks are a great choice.
40. Fat Snax
Cookies are great snacks to go, so I'm including another one of my favorite low-carb cookies in the keto gift list. If you like a good soft-baked cookie, you'll love Fat Snax.
They are made with ingredients I'd use at home, like grass-fed butter and pasture-raised eggs, as well as a blend of almond and coconut flour.
41. Ayobo-Yo Biltong
After sampling various dried beef products, I've discovered the best beef jerky is South African Biltong. It's got a softer texture that's easier to chew than standard jerky that's cooked faster at a low temperature. The difference is that biltong is made using an air-drying method that takes days, resulting in a more tender dried beef.
42. Front Porch Pecans
Pecans are my favorite nut snack, and my favorite brand is Front Porch Pecans. They come in three flavors: Sea Salt, Habanero BBQ, and Unsalted. The high-quality pecans are roasted to have a fresh, crisp texture. The sea salt flavor is my favorite, but I also enjoy the spiciness of the habanero ones as well.
You can go wrong giving nuts out as low-carb keto gifts this year!
43. The Guilded Nut Pistachios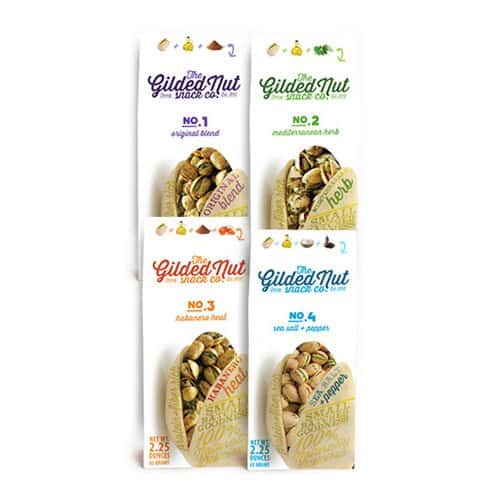 I've always loved pistachios, and eating ones with the shell intact slows me down, so I don't eat them too fast. The Gilded Nut tumbles these pistachios in extra virgin olive oil along with natural herbs and spices.
And the small pouches are a nice size to keep your portion under control.
44. SuperSeeds Pumpkin Seeds
Pumpkin seeds are a great alternative to nuts if you have an allergy or sensitivity. The SuperSeeds gourmet flavored pumpkin seeds are a fantastic keto snack. I like the Somewhat Spicy flavor, but the regular sea salt is another great choice.
45. Loose Leaf Tea
This year, I cut out my daily cup of coffee and moved to drink herbal loose leaf tea instead. I still enjoy a good cup of coffee every now and then, but it's not a regular thing for me anymore.
I believe caffeine-free tea is a much better option, and one of the best loose leaf tea brands I've found is Plum Deluxe.
46. Flavored Nuts And Butter
Get the flavor of tasty high-carb foods in keto-friendly nut butters and seasoned nuts. We love the taste of Legendary Foods Buffalo Blue Wing flavored almonds. The single-serving packs make awesome stocking stuffers!
Keto-Friendly Bundles
Make your Christmas shopping even easier and shop these handy little gift bundles that are already packaged for you. They're easy, yet quality keto gifts!
47. ThinSlim Foods
Give them a sample of some of the best low-carb foods with a sampler pack of ThinSlim Foods products. Only the highest quality ingredients are used in every item. This gift is sure to be well received.
48. Keto Mojo
Get the ultimate blood meter to measure ketone and glucose levels! For real-time testing of ketones to determine the state of ketosis, a blood meter is essential. The Keto Mojo meter is FDA approved and comes in discounted product kits.
There's even a blue tooth connector available to track results on your smartphone.
49. Highkey Cookies
Sure, you can make your own low-carb cookies. But sometimes, it's nice to just pull out something that's pre-made. That's what's great about having Highkey mini cookies and other convenience foods on hand.
Cookbooks
50. Low Carb Yum 5-Ingredient Keto
My very own cookbook is here, and it's received many rave reviews!
Low Carb Yum 5-Ingredient Keto: 120+ Easy Recipes is perfect for anyone new to cooking, and it's designed to get you in and out of the kitchen fast. Grocery shopping is also a breeze since each recipe has 5 ingredients or less!
51. Low Carb Yum Simple Keto For Beginners
My second cookbook brings even more easy recipes to the table!
Low Carb Yum Simple Keto Meals For Beginners: 125+ Low Carb Recipes For Two Or More is the perfect gift for anyone who wants to start cooking low carb but only needs to cook for one or two.
All the recipes are small batches, so you won't overeat or have a need to deal with tons of leftovers. But the dishes can easily be scaled up when you need more servings for family dinners or to share!
52. Keto Friendly Recipes
Jennifer Marie Garza hit it out of the park with her first cookbook, Keto-Friendly Recipes: Easy Keto for Busy People. You'll find simple recipes that taste amazing.
53. Keto Fat Bombs, Sweets & Treats
Keto Fat Bombs, Sweets, and Treats: Over 100 Recipes and Ideas for Low-Carb Breads, Cakes, Cookies, and More - A book loaded with delicious recipes to satisfy a sweet tooth.
54. Keto In An Instant
Anyone new to cooking with an electric pressure cooker will love Keto In An Instant: 100 Ketogenic Recipes For Your Instant Pot! You'll find all kinds of recipes, including easy desserts.
55. Low-Carbing Among Friends Cookbooks
Low-Carbing Among Friends Cookbooks is a collection of more than 2,100 keto-friendly recipes by top authors. Recipes include Appetizers, Beverages, Salads, Soups, Breakfasts, Main Courses, Sides, Baking, Desserts, and more!
56. Keto: A Woman's Guide
If you've often wondered why men tend to be more successful in losing weight than women, Keto: A Woman's Guide: The Groundbreaking Program for Effective Fat-Burning, Weight Loss & Hormonal Balance is for you.
It explains why women may need a different approach when it comes to the keto diet and how to make the program work for their bodies.
57. Keto Sweet Tooth Cookbook
Need to control that sweet tooth to make the transition to keto easier? Keto Sweet Tooth Cookbook: 80 Low-carb Ketogenic Dessert Recipes for Cakes, Cookies, Pies, Fat Bombs, Ice Cream, and More is filled with easy treats that you can easily make at home.
FAQS
I hope you enjoyed this list of things to buy someone that's on a low-carb diet. Maybe you even found a few keto gifts to add to your wish list!
Here are some questions people often ask about low-carb gifts. If you don't see your question in this list, please leave it in the comments.
Are these gifts good for beginning dieters?
Yes, people who have been on keto for a long time or people just starting will all appreciate these gifts. Even people who aren't on the keto diet will enjoy things like an Instant Pot or a new blender.
What is forbidden on the keto diet?
I don't like thinking of it as a "you must not have this" type of diet. Keto is a lifestyle, and if you stay within your macros, you can eat almost anything you like.
This quick guide tells you everything you want to know about starting the keto diet. Basically, when you go into ketosis, your body burns fat for fuel instead of carbs.
The way to go into ketosis is to eat a low-carb and high-fat, high-protein diet.
What are some keto must-haves?
People on the keto diet tend to cook a lot of their food at home. This is the best way to make sure that the food doesn't have hidden sugars or carbs. I think the biggest must-haves on a keto diet is anything that can help people cook and bake!
That is why I put small kitchen appliances at the top of the list. When you have the tools you need, it's so much easier and more fun to cook your own food!
Follow us on FACEBOOK, PINTEREST, and INSTAGRAM for even more tasty keto-friendly recipes!