If you don't know how to shop keto at Costco, then you're in luck. This guide should help you to understand the ins and outs of shopping (plus some of my go-to products) for a low-carb diet at Costco!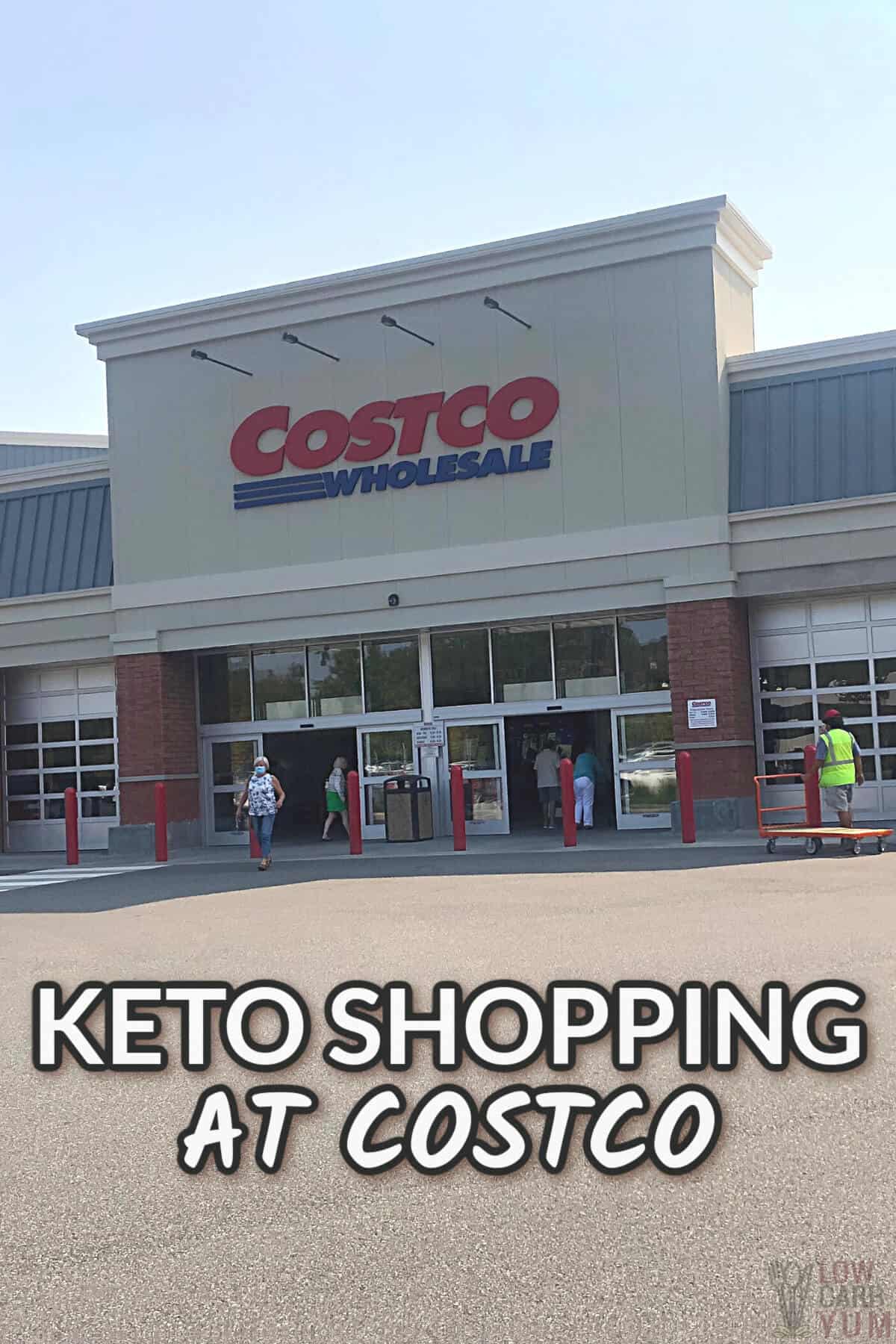 Article Index
Costco is an awesome (I mean... legendary!) wholesale store that offers amazing prices for the bulk of goods that you can buy. This makes it a great place to purchase keto friendly foods as they can often get pricy in small quantities.
I often buy my family's favorite snacks and food staples here because I can buy multiples AND it's affordable (my husband's favorite part).
Here is a simple guide to help you find some of the available keto foods at Costco, as well as a few shopping tips to help you along the way!
How to Shop Costco
When you are going on a Costco shopping trip, it is important to do your research beforehand. You will have much more luck if you research available low-carb items before heading to the store.
This rule applies to any shopping trip, as it can feel overwhelming to walk into a large store looking for a few select items. If you are just stocking up on a few basic items or ingredients, this rule isn't as important - especially if you are familiar with the store.
Being familiar with what brands make keto friendly foods and if Costco carries them (and the area they may be stocked) will make your shopping trip go smoother and reduce the chances of accidentally purchasing a non-keto item.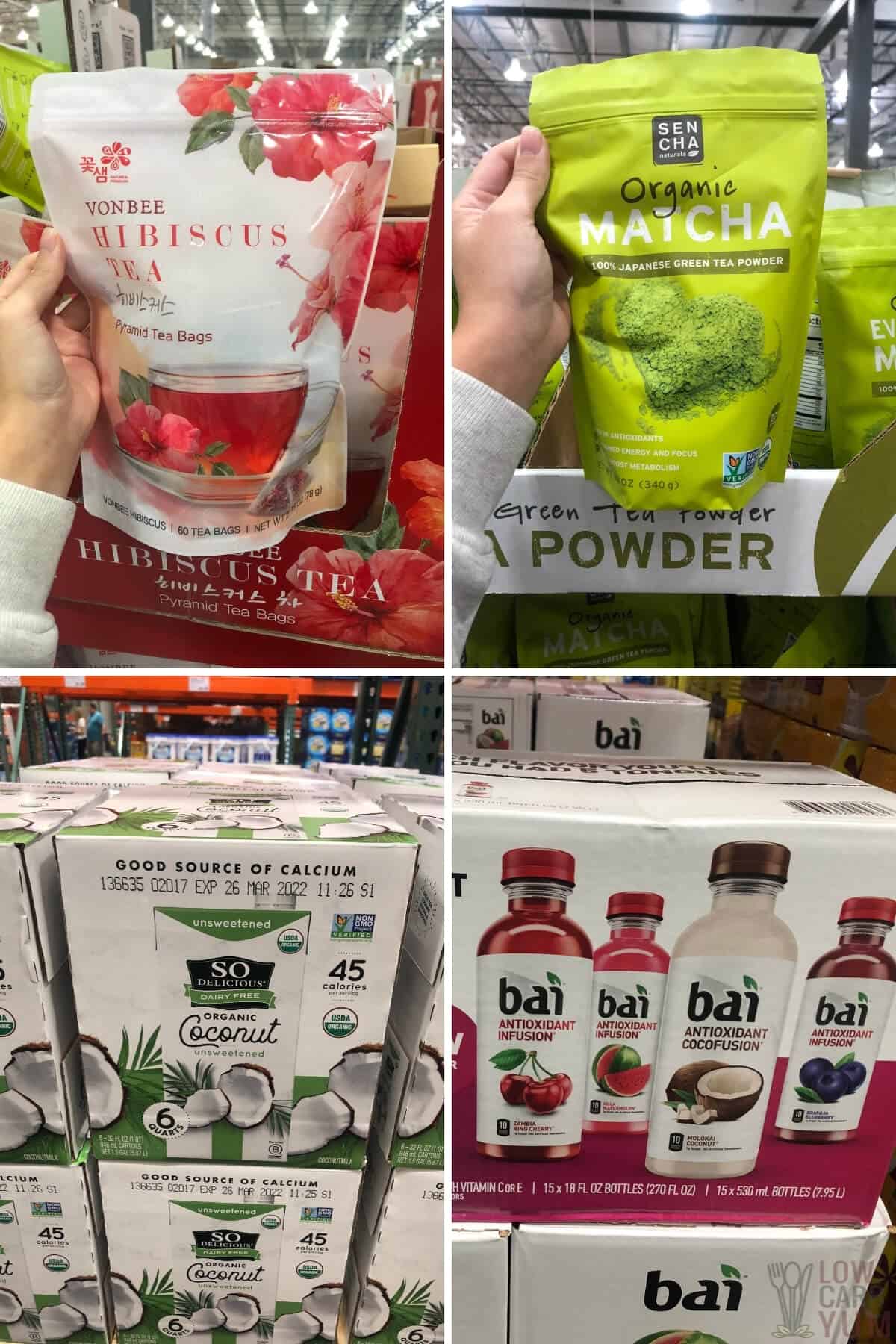 My Top Picks
Finding Costco keto foods is surprisingly easy, especially now that they offer many exclusive keto brands.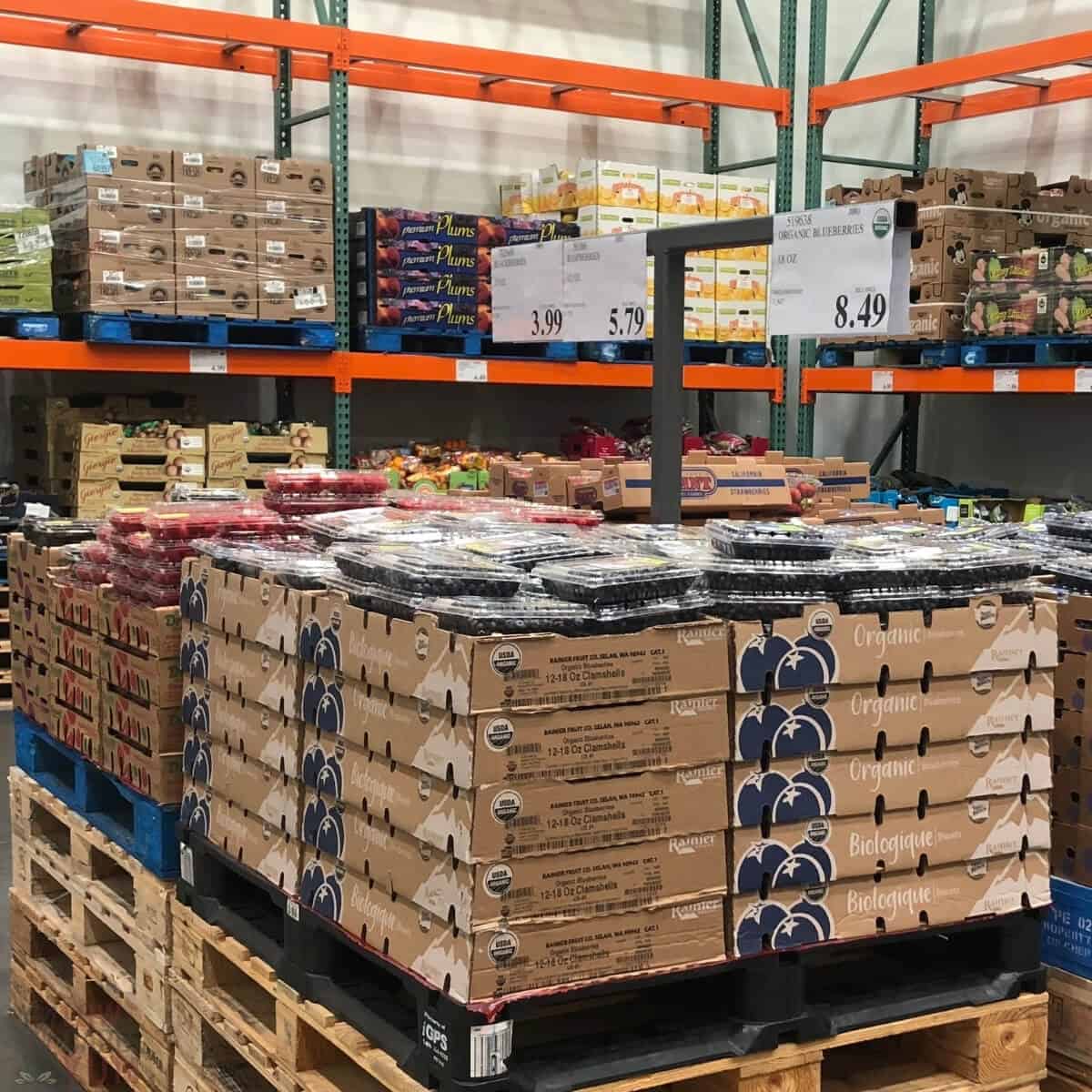 Here is a list of some of the best low-carb items to pick up the next time you're there:
Keto Snacks at Costco
My family and I are BIG snackers! Being on a keto diet, it can be a bit hard to find keto-friendly snacks to buy that have no sugar and minimal carbs.
Here are some of our favorites from Costco:
Nature's Garden Keto Snack Mix
Ocean's Halo Seaweed Snacks
Old Trapper Jerky
Jack Link's Meat Snacks
Kirkland Signature Turkey Jerky
Whisps Cheese Crisps
Kirkland Signature Protein Bars
Since a lot of it is in big bags, I like to portion them out in some reusable snack bags so I can easily grab and go!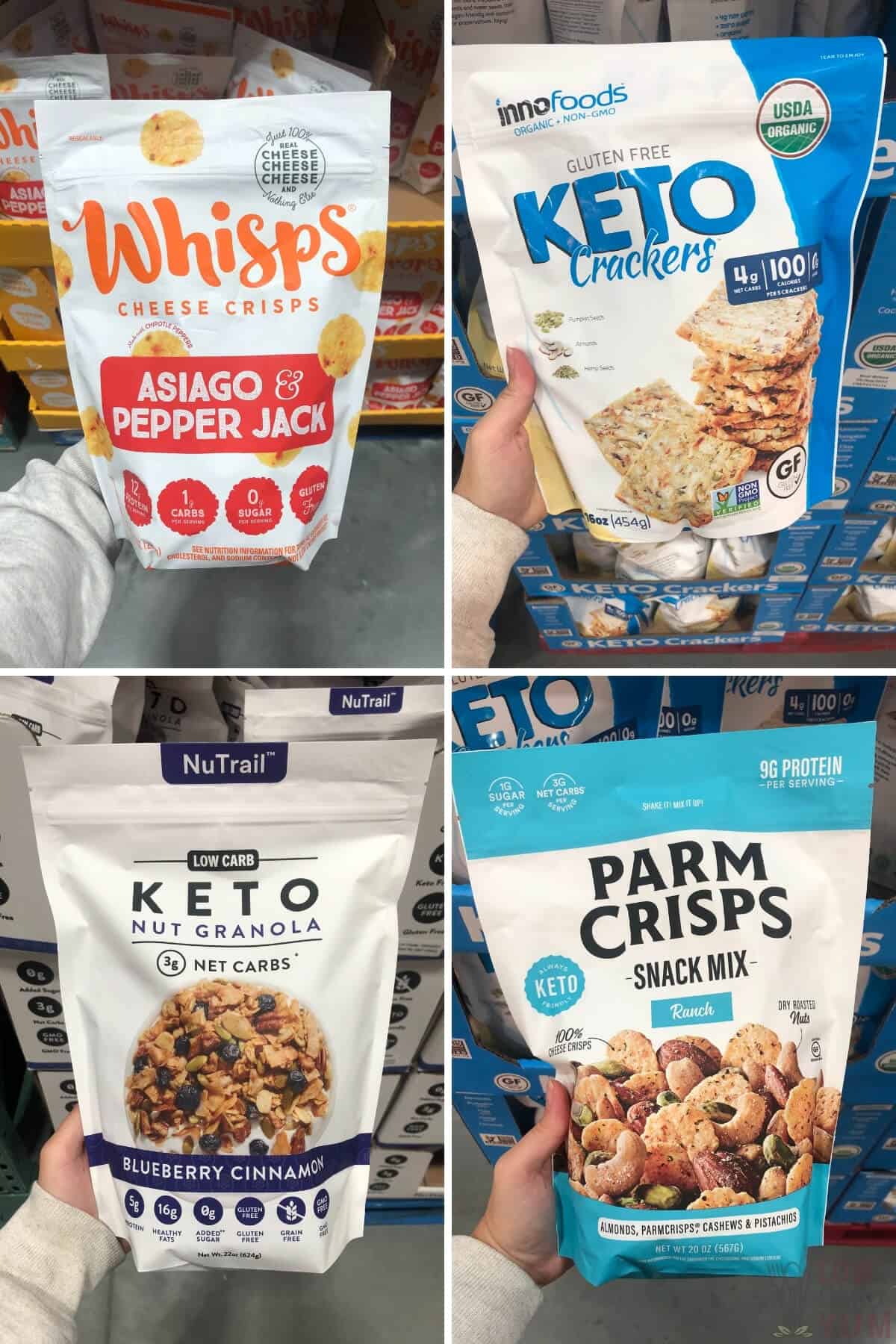 Coconut Keto Clusters
Keto Blueberry Cinnamon Granola
Simple Mills Almond Flour Crackers
King Cheese Spirella Minis
Babybel Mini Snack Cheese
Oven-Baked Parm Crisps Everything
Moon Cheese Cheddar Believe It
You can't forget these yummy chocolate keto bars and fat bombs!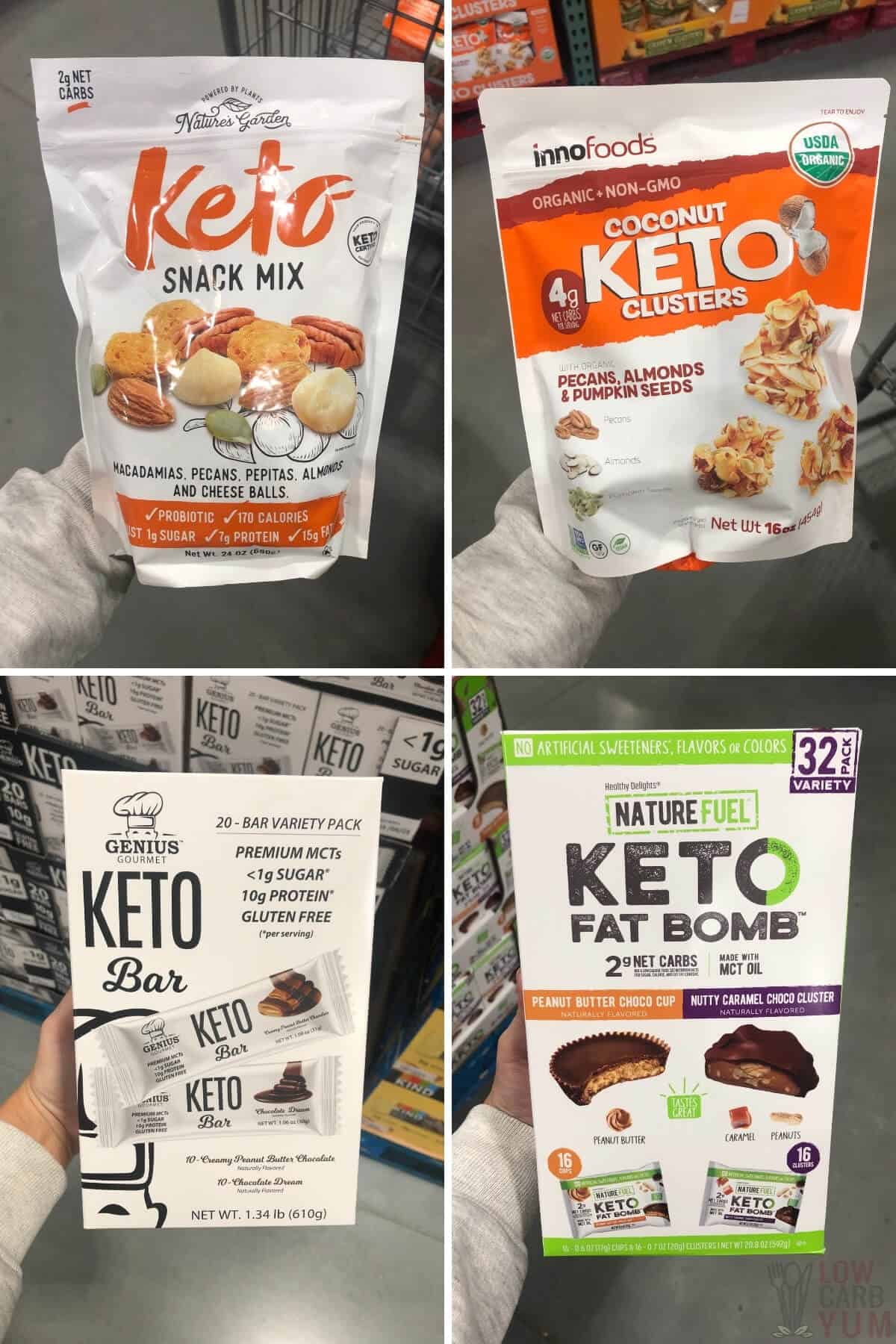 Frozen Keto Food at Costco
I try to make as much from scratch as possible but there are a few things I like to buy frozen such as:
Keto Bread at Costco
Whether you are looking to make yourself a sandwich or use with your breakfast, here are some great options for keto bread: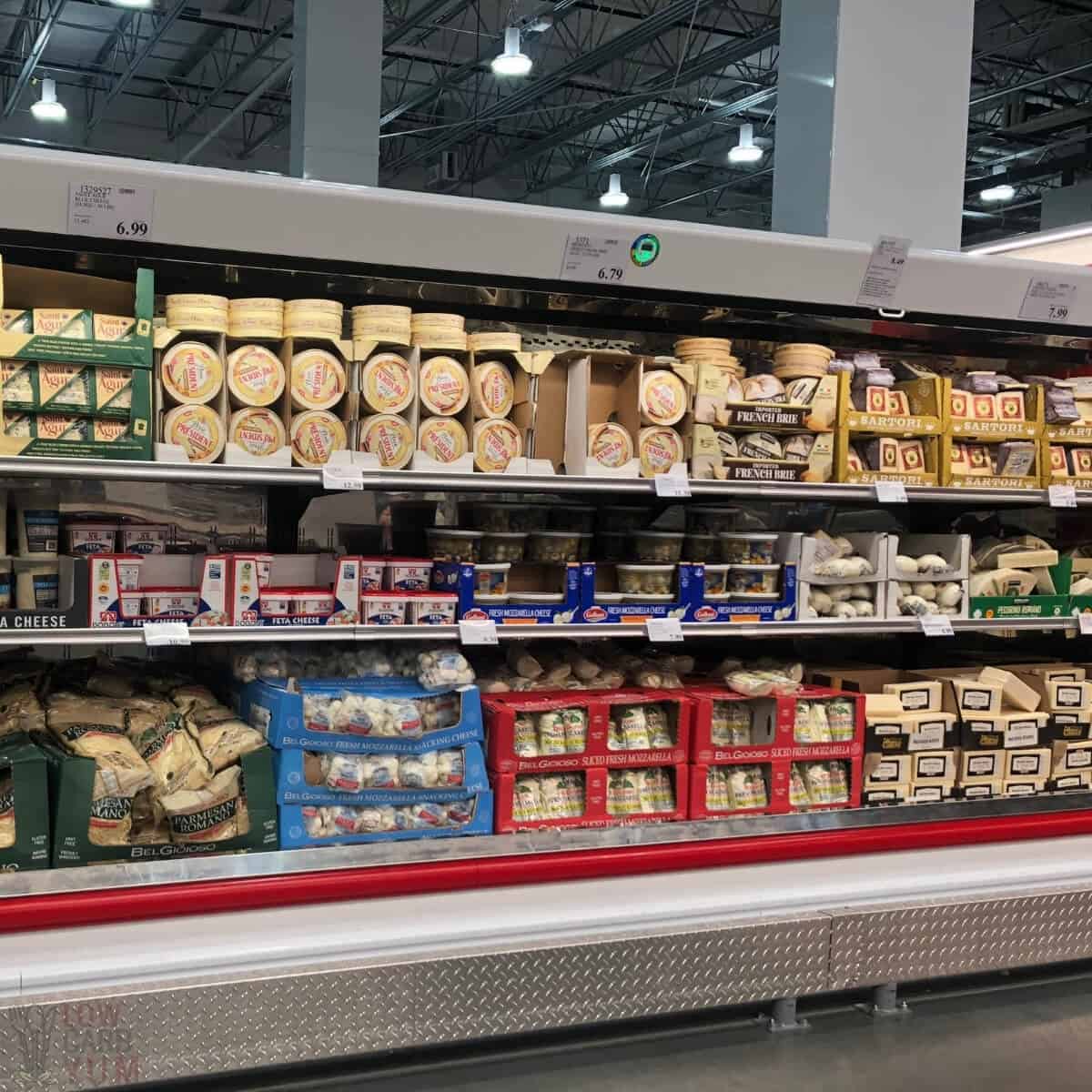 Low-Carb Basics
When it comes to starting a low carb diet, it really helps to shop and have the basic fundamental ingredients like gluten free flour options and healthy fats on hand. These are some of the keto-friendly staples I recommend having in your pantry:
Almond Flour - Learn more about how to bake with almond flour
Coconut Flour
Olive Oil
Coconut Oil
Avocado Oil
Ocean's White Tuna
Kirkland Signature Light Tuna in Water
Kirkland Signature Bacon Crumbles
Rao's Homemade Marinara Sauce
Canned Meats, Fruit, and Vegetables
Herbs and Spices
Pickles
Nuts (peanuts, macadamia, almonds)
Seeds (sunflower, pumpkin, flax)
Almond Butter
Eggs
Truvia
Swerve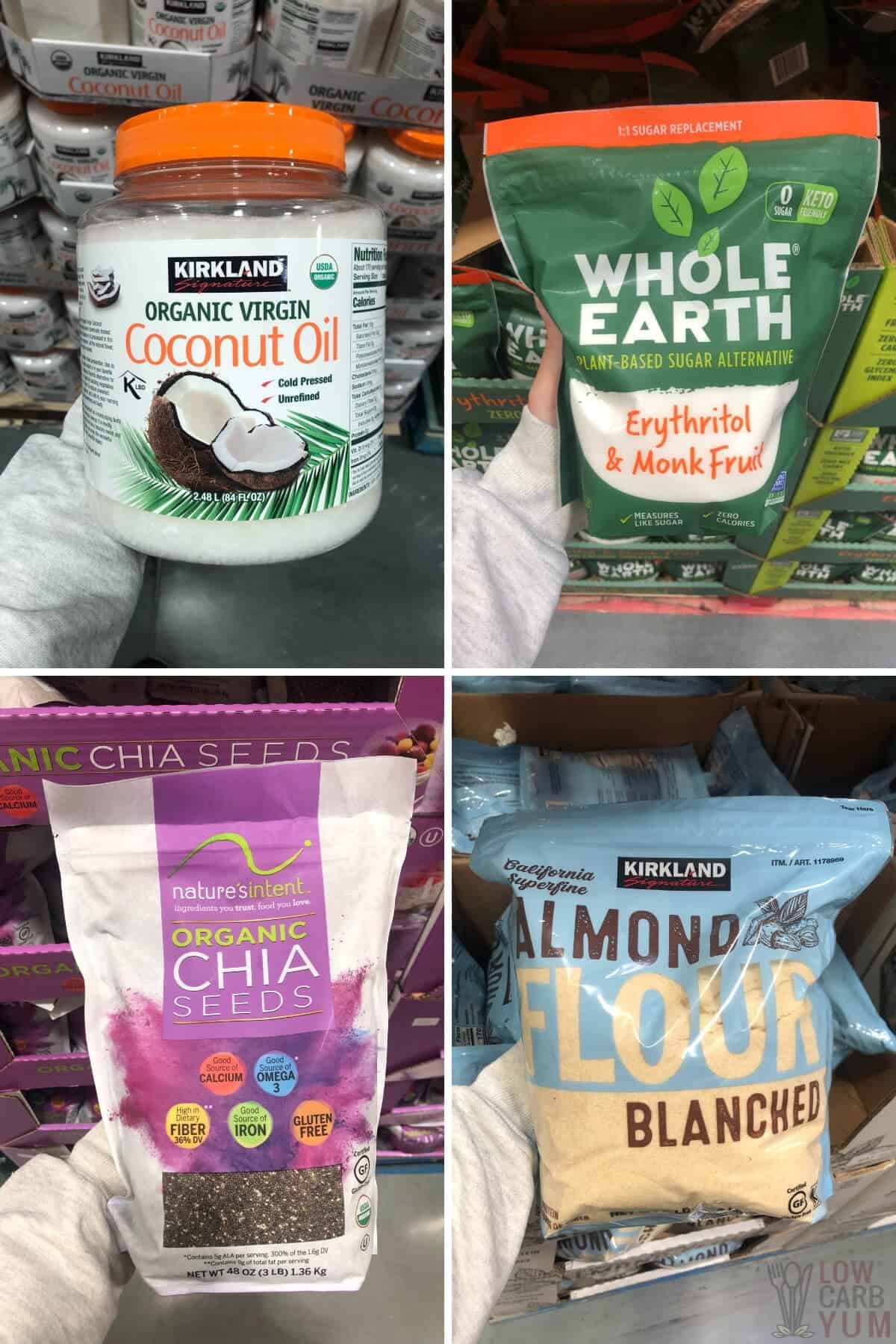 Keto Sweets at Costco
My daughter had a huge sweet tooth and loves it when I find some sugar-free sweets! When I don't have time to make some of our favorite keto desserts, these are delicious to eat when craving something sweet:
Keto Pint Bars
Highkey Mini Cookies
Catalina Crunch Sandwich Cookies
ChocXo ChoKeto Snaps
Real Ketones Keto Chocolate Flavor Drink Mix
Kiss My Keto Gummies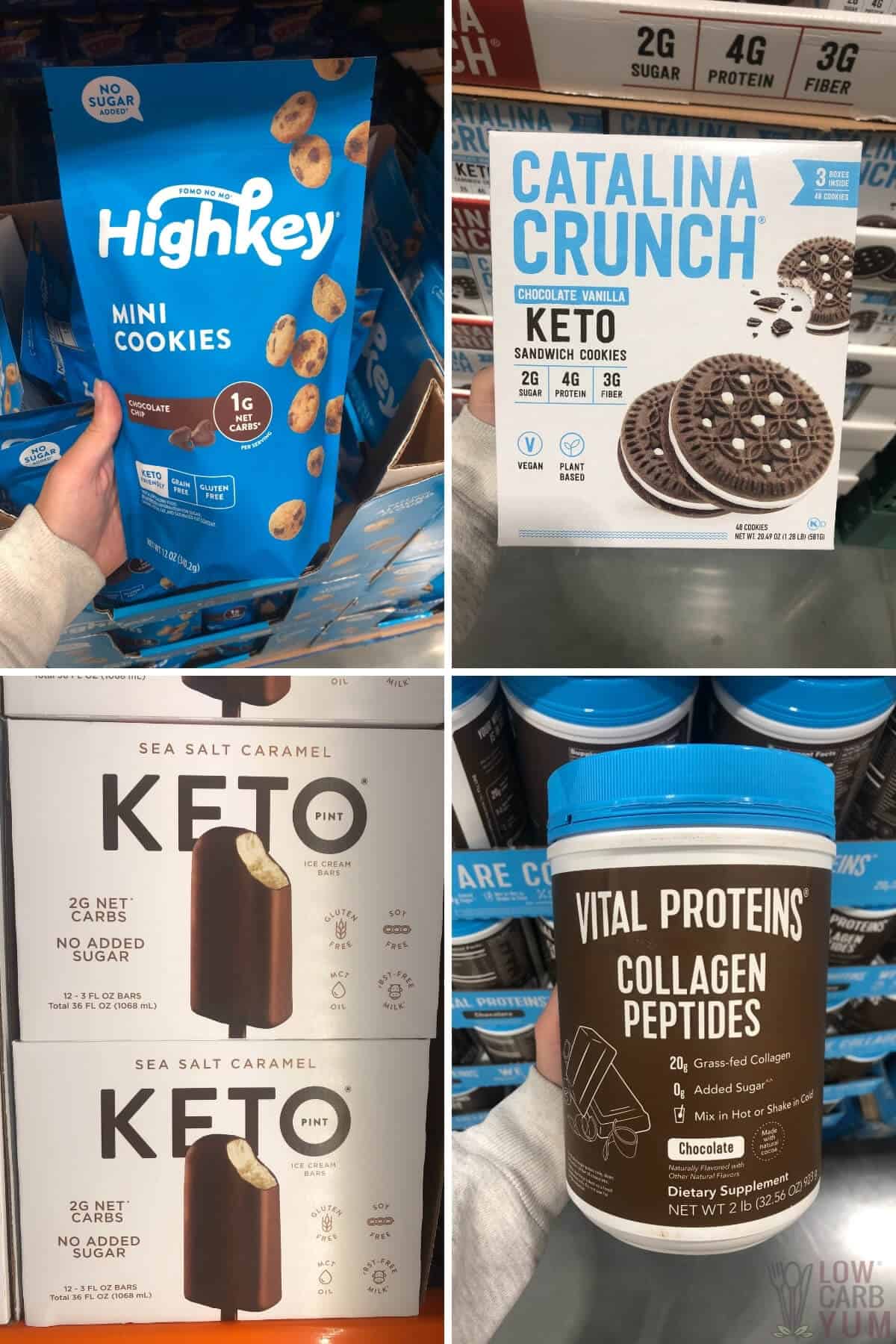 Costco Specialty Items
Okay, this is what I was excited to show you! There are a few hidden treasures you can find at Costco that are so amazing and maybe a bit surprising!
Crepini Egg Thins
Folios Parmesan Cheese Wraps
Amylu Roasted Garlic and Asiago Chicken Sausages
Real Good Foods Bacon Wrapped Stuffed Chicken
Three Bridges Spinach and Bell Pepper Egg Bites
Artisan Wraps (With Pepperoni, Salami, and Prosciutto)
Sabatino's Basil and Cracked Pepper Chicken Sausage
Don Lee Farms Green Chili Shredded Chicken and Riced Cauliflower Bowl
Sous Vide Sliced Grass-FedBeef Sirloin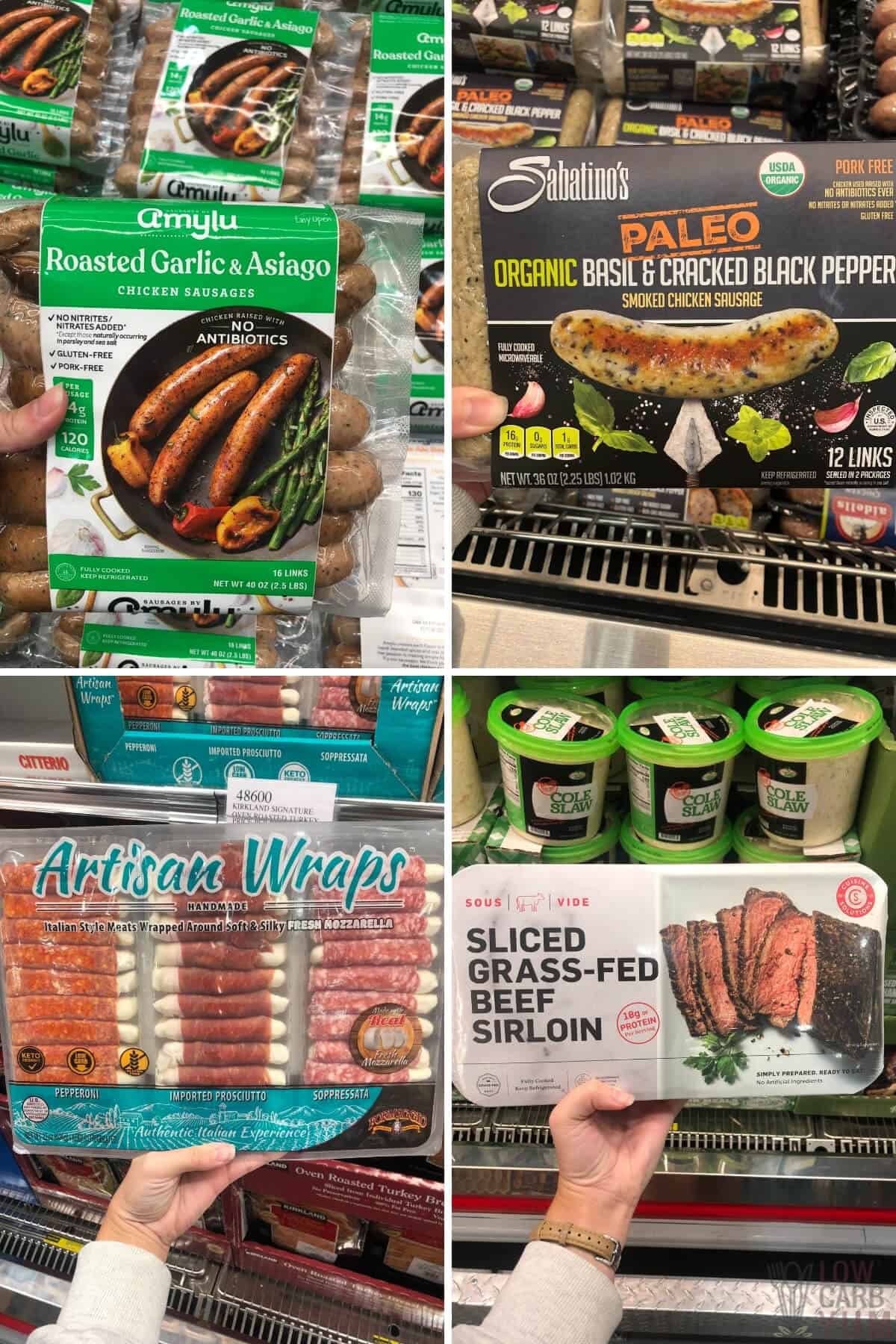 Costco Tips
Here are a few helpful tips to keep in mind while shopping at Costco. These apply to every shopper in this amazing store - not just those looking for keto foods!
Items that have a price ending in $.97 are always on clearance.
You will need to get a membership to shop at Costco. There are different ones that you can choose, each coming with its own perks.
For a less frantic experience, shop on weekdays when most people are working. And, avoid shopping at Costco during the holidays!
Costco does not supply bags, so you will need to either do without or bring your own. You can sometimes grab boxes for free on the way out.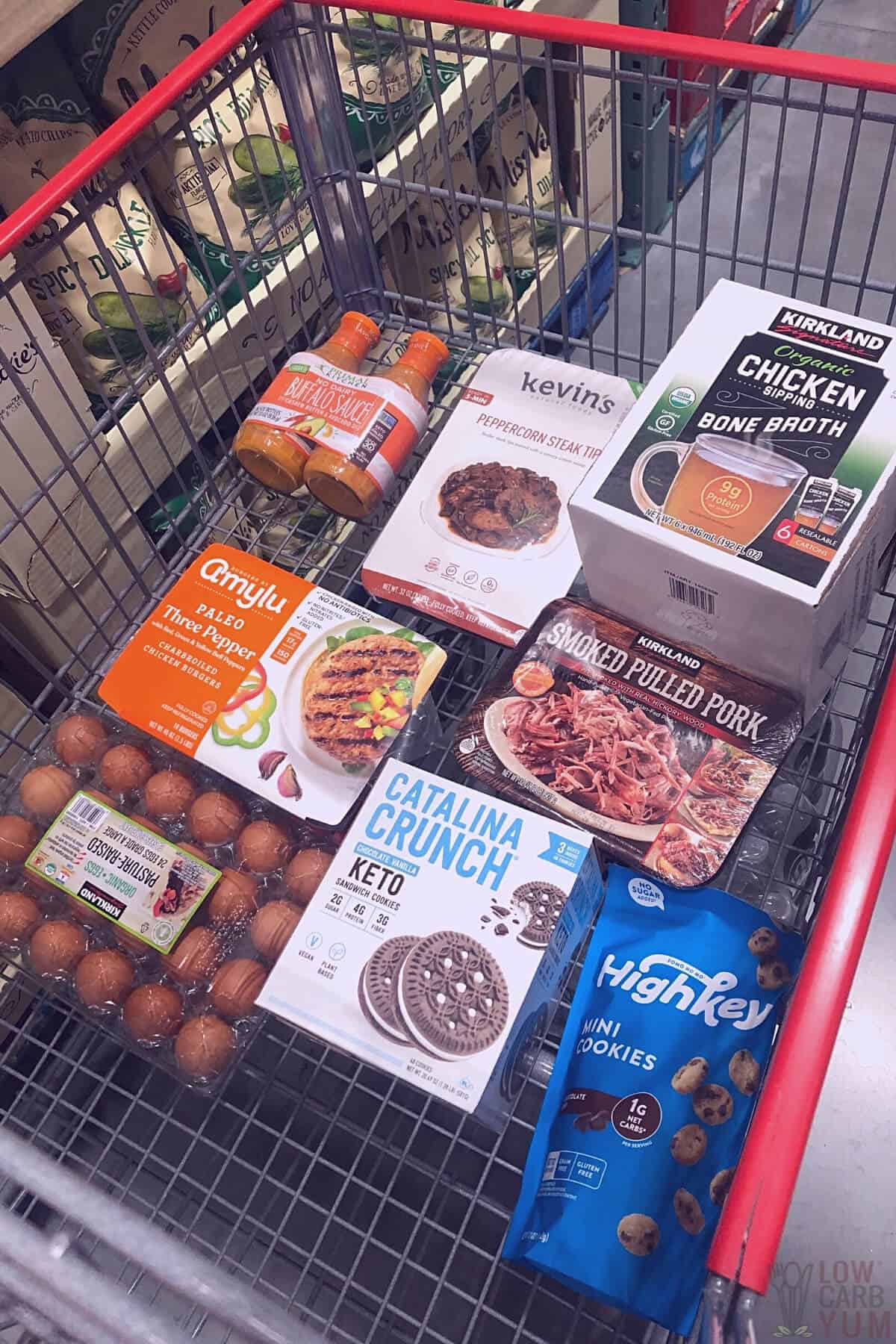 FAQs
Here are the answers to some of the most common questions I get about shopping for keto items at Costco. Hopefully, these will help you to shop more confidently on your next trip.
What does Costco have that is keto?
Costco stores carry a wide variety of gluten-free flours, baking supplies, seasonings, and sugar substitutes. You'll find most, if not all, of the basic necessities that you need on a keto diet.
They also have a large selection of keto-friendly meats such as bacon, pork belly, lamb, and poultry.
The thing that makes Costco such a great place to shop for keto groceries is that you can buy larger quantities while only spending a fraction of the price that you would at a regular grocery store. This is great for keeping all things keto on hand!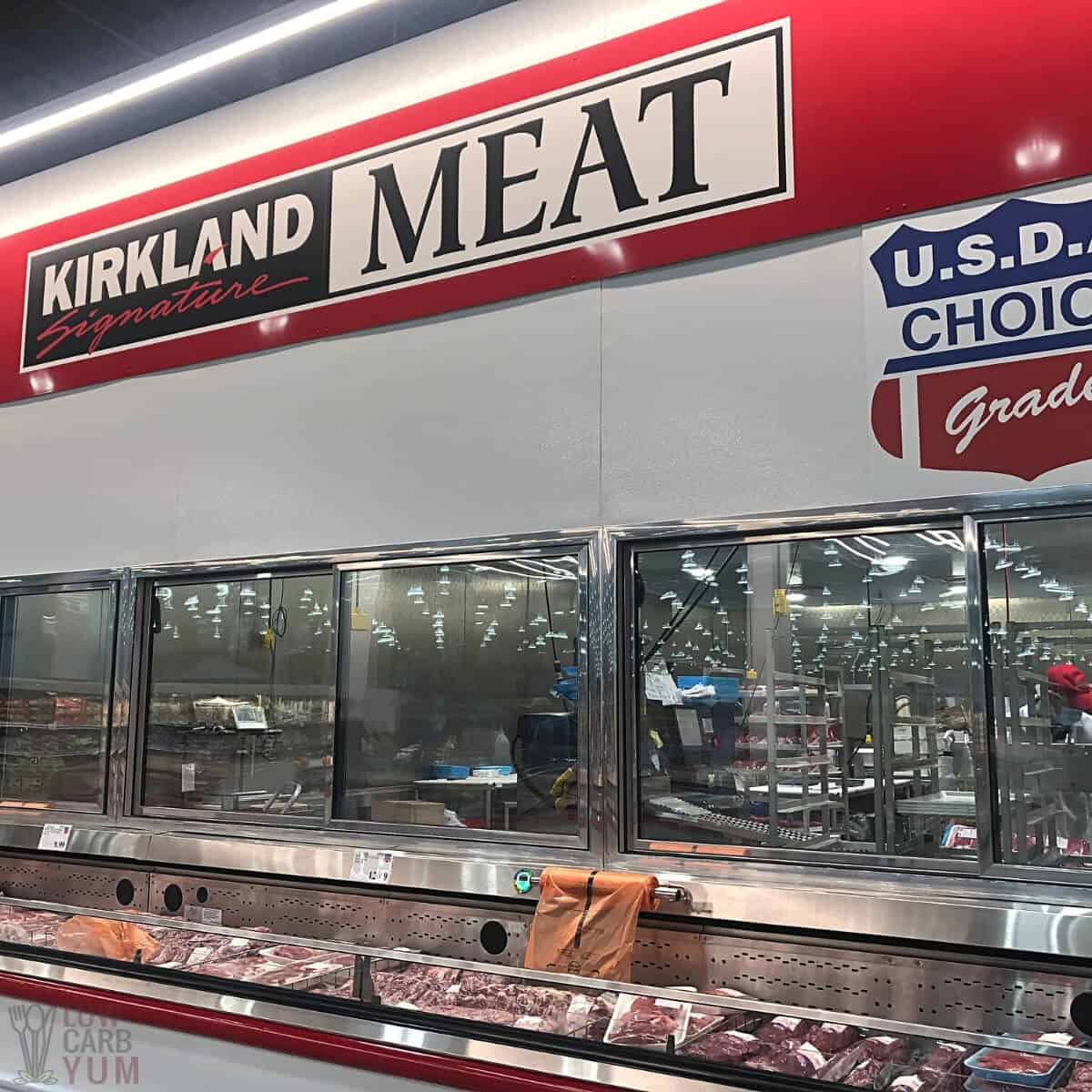 Does Costco have keto wraps?
There are a couple of items that are guaranteed to be keto-friendly at Costco - Folio's Cheese Wraps and Crepini Egg Wraps.
The store is constantly adding new items to their stock, so there is a very good chance that they might have even more keto wrap options in the future.
Plus, it is always a good idea to have a look around and see if you can find any sneaky keto items that might be hiding in plain sight.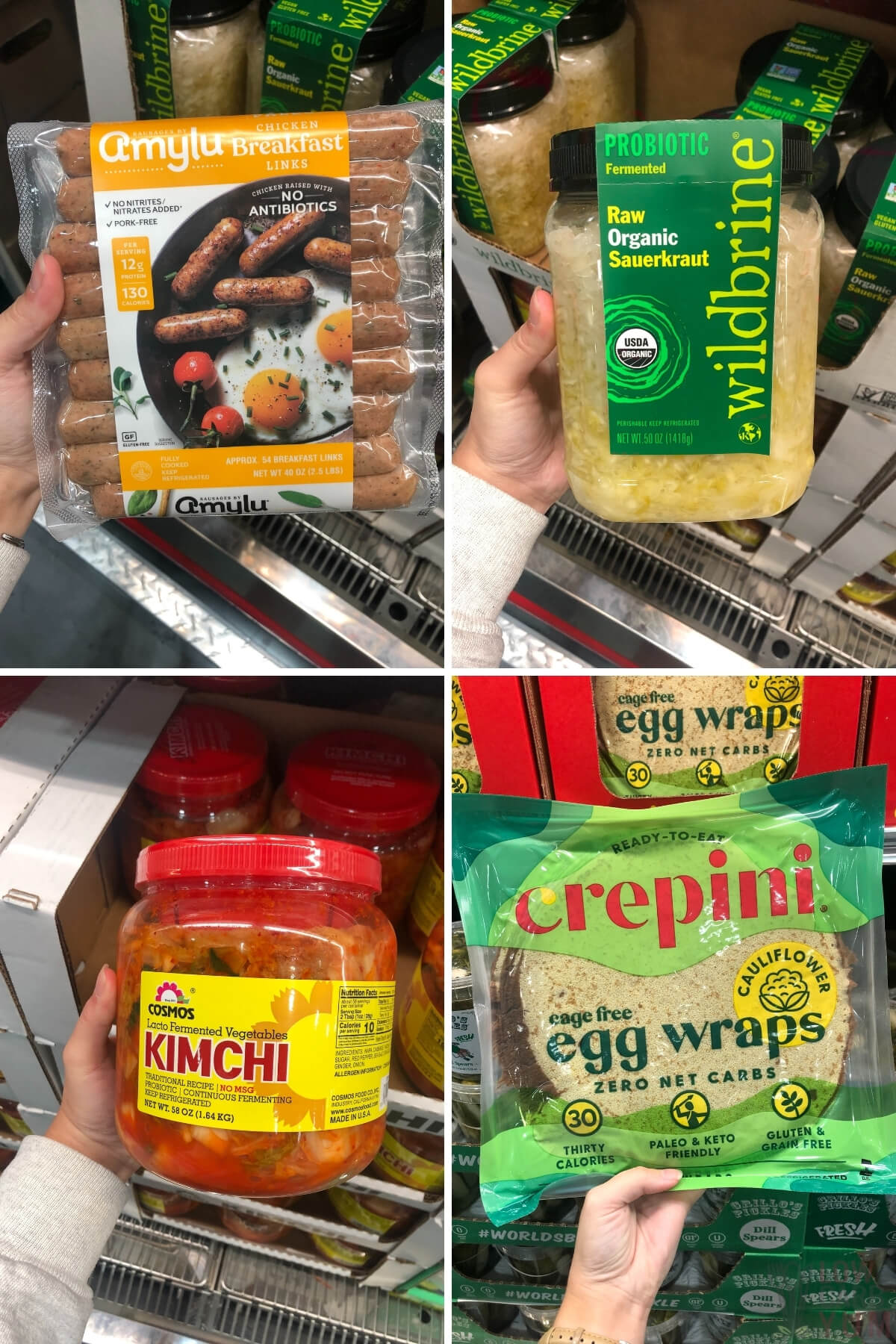 Do they have keto substitutes?
Costco does offer a very wide selection of common keto substitutes such as gluten-free flours, sugar substitutes, and other kinds of baking alternatives.
This is great since these items can be quite expensive in other stores. You'll save a great deal of money by buying these items in bulk at Costco.
Does Costco sell keto bread?
You definitely can get keto bread at Costco. There are a few brands to choose from that make low-carb bread, buns, tortillas, and more.
Just be sure to read the product's nutritional information on the packaging to be certain that they really are keto-friendly.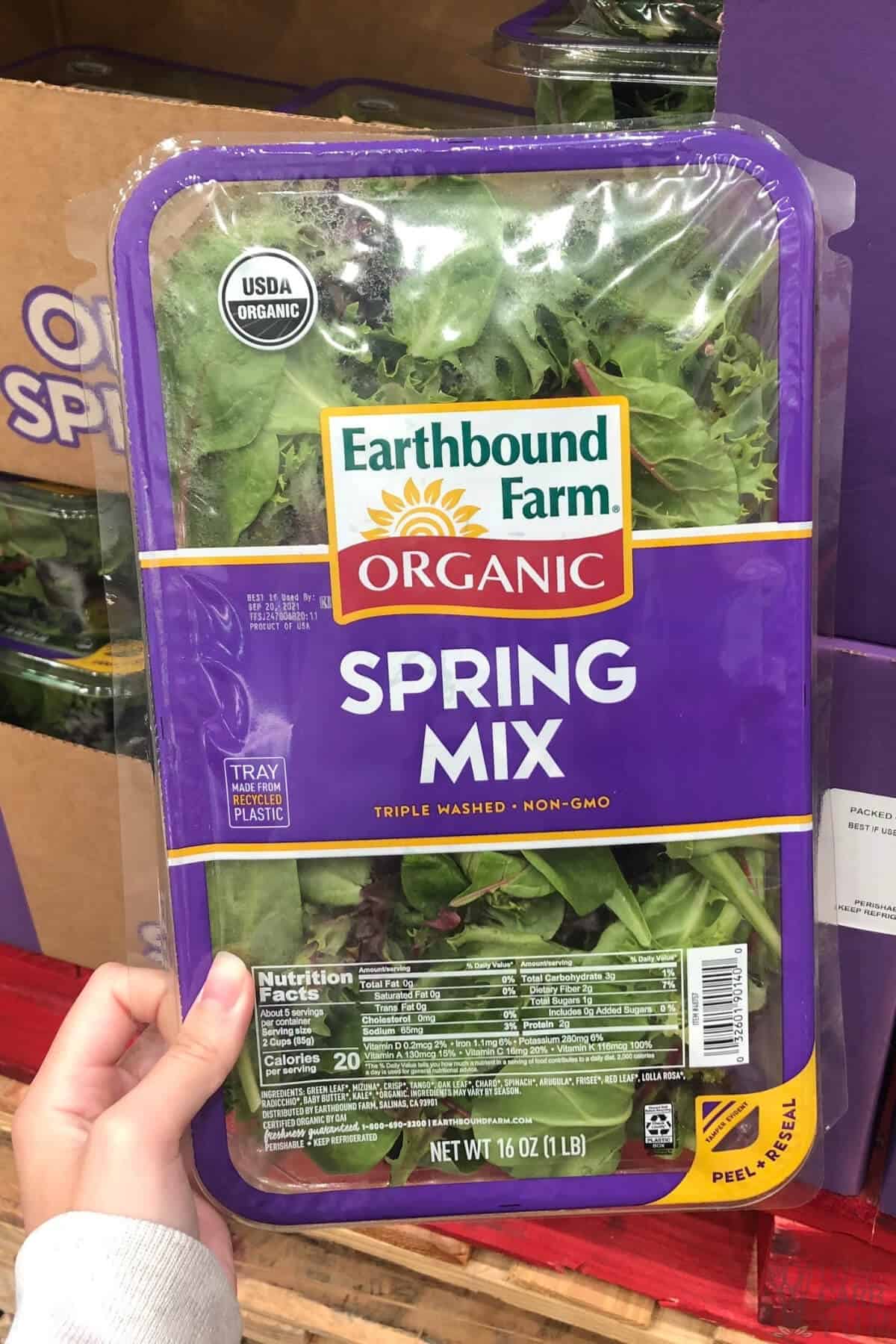 Is the rotisserie chicken keto-friendly?
You can enjoy Costco's rotisserie chicken on a keto diet. In fact, this is a perfect keto meal for many keto dieters. Please note that they do have some added seasoning, so check the label for the carb count.
You can also purchase a whole frozen rotisserie chicken to make at home from Costco. This way, you can control the amount of net carbs added to your diet.
Final Notes
I hope this guide is helpful for stocking up your pantry full of keto diet foods during your next Costco shopping trip! If you aren't into buying in bulk, you may want to do your keto shopping at ALDI instead.
Let me know in the comments if you have any tips you'd like to add.
★ FOLLOW ME ON FACEBOOK, PINTEREST, AND INSTAGRAM FOR MORE EASY KETO RECIPES.