Make breakfast fun with some easy and imaginative pancake art! This is how to make fun shapes with pancake batter, including the best low-carb pancake recipes.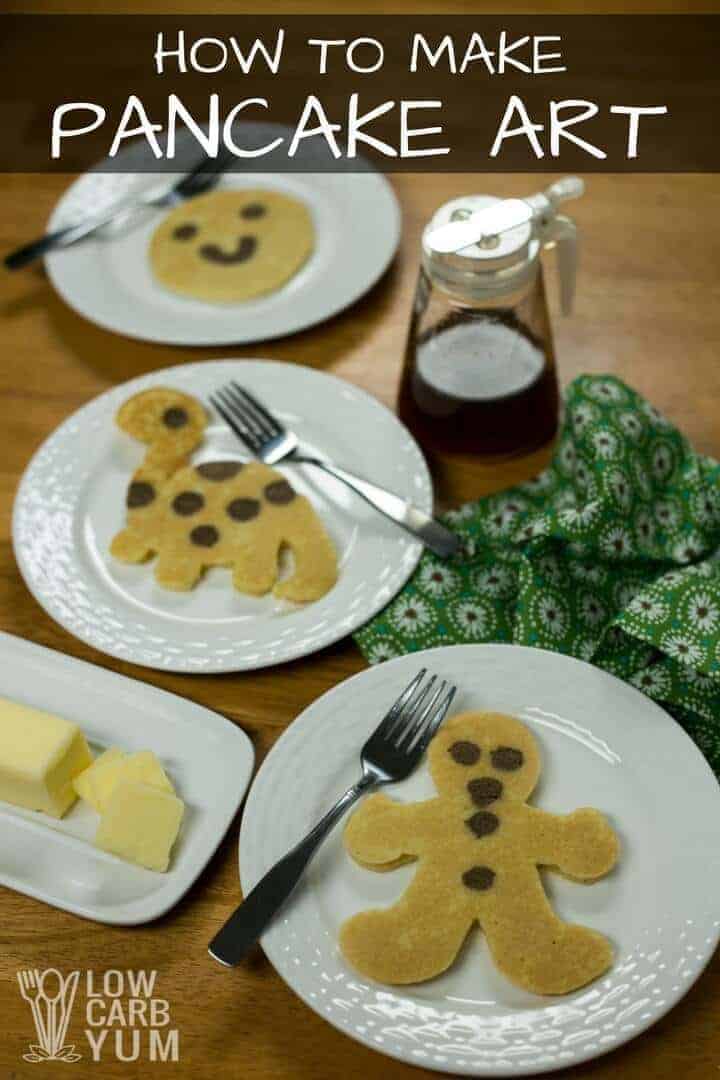 Article Index
Why you'll love it
My daughter loves eating low-carb pancakes. So, I thought I'd change them up a little with some fun shapes!
If you are wondering how to create pancake art, you have come to the right place! Making pancake shapes is really simple and so much fun.
It's super easy to make all kinds of fun shapes by just squeezing the batter onto a hot griddle with a squeeze bottle.
In this guide, I'll show you how to make easy pancake shapes. You'll have a blast creating memories with your kiddos.
Keto pancake recipes
Pancake batter is the most important part of making pancake shapes. You can use any keto-boxed pancake mix that you want. They will all work for any pancake art recipe you want to make.
You can also make your own pancake batter at home. Making pancakes of different flavors is a fun way to mix things up.
Here are my favorite ones:
Low-carb rainbow pancakes
This rainbow pancake recipe shows you how to use food coloring to create vibrant colors. Use these colors in your pancake art.
Peanut butter pancakes
For a thicker, nuttier pancake recipe, make some peanut butter pancakes. They are higher in fat, so they keep you feeling full for longer.
Keto coconut flour pancakes
Coconut flour has such a mild flavor that you don't even notice it. Keto coconut flour pancakes make a fantastic base recipe for people who love to add toppings.
Fluffy almond flour pancakes
Make some almond flour pancakes if you want your pancake art to be fluffier!
If you want even more ideas, check out these 15 perfect low-carb pancake recipes and make your favorites.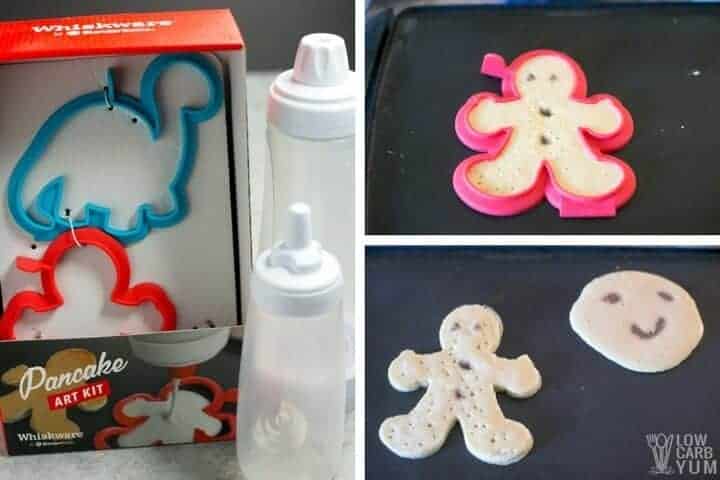 Tips
Use darker batter for the outline. Then you just fill in the shape with the lighter batter for your pancake art.
Use a large spatula for flipping. For the molds, it may be best to have a larger-sized pancake turner. The one I used is somewhat narrow, so I wasn't supporting the whole shape when lifting.
Add food coloring to really make fun pancake art. Use one squeeze bottle for each color.
Make sure you are using a non-stick pan over medium heat.
If the pancakes are fragile, use two spatulas to flip them over to give yourself more control.
Instructions
The easiest way to make pancake art is to buy a pancake art kit. It will come with everything you need - the squeeze bottles and maybe some molds.
Follow these steps, and you'll have easy pancake shapes for breakfast (or dinner or snacks).
Make the pancake batter
The very first step is to mix your pancake batter. If you are using different colors, mix them in separate bowls.
Prep the bottle or molds
Next, decide how you are going to make the shapes. Will you use a squeeze bottle? Or will you use a pancake mold?
Fill the squeeze bottle with your batter. Or, place the mold on a greased skillet or griddle.
Add batter to the griddle
Add the batter to your griddle. Either draw it by hand with the squeeze bottle or place the batter inside the cutout shape.
Flip the pancakes over
After you notice the edges starting to brown and the batter bubbling all over the tops, carefully flip them over. Some shapes are more delicate than others.
Let them cook completely. Then, serve and enjoy!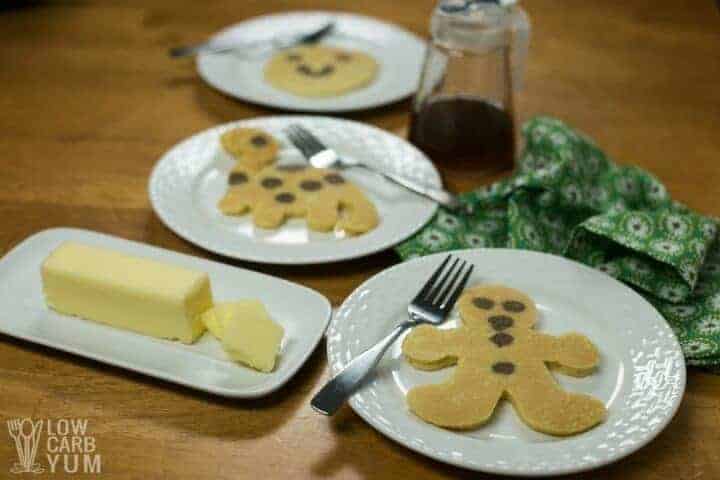 Serving suggestions
Pancake art recipes are the perfect things to cook for holidays, birthdays, or any day that you want to make special!
Top with keto whipped cream, sprinkle them with a confectioner's sugar substitute, or add a few pieces of low-carb fruit as decoration.
There are so many different delicious ideas you can try out. Add some crispy bacon to the side with some scrumptious scrambled eggs.
Kiddos won't be able to wait for their pancakes to cook! It's so much fun!
Variations
There are a lot of different ways to decorate and enhance this edible art. Kids love these pancakes because of all the room for creativity they have!
Here are a few ideas you should try:
Make chocolate chip pancakes. Keto dieters can use sugar-free chocolate chips.
Decorate them after they are done. Let kiddos use fruit (like strawberries and blueberries) to decorate their pancakes.
Create a scene on a serving platter. If you make shapes that tell a story, set up the scene on a large platter.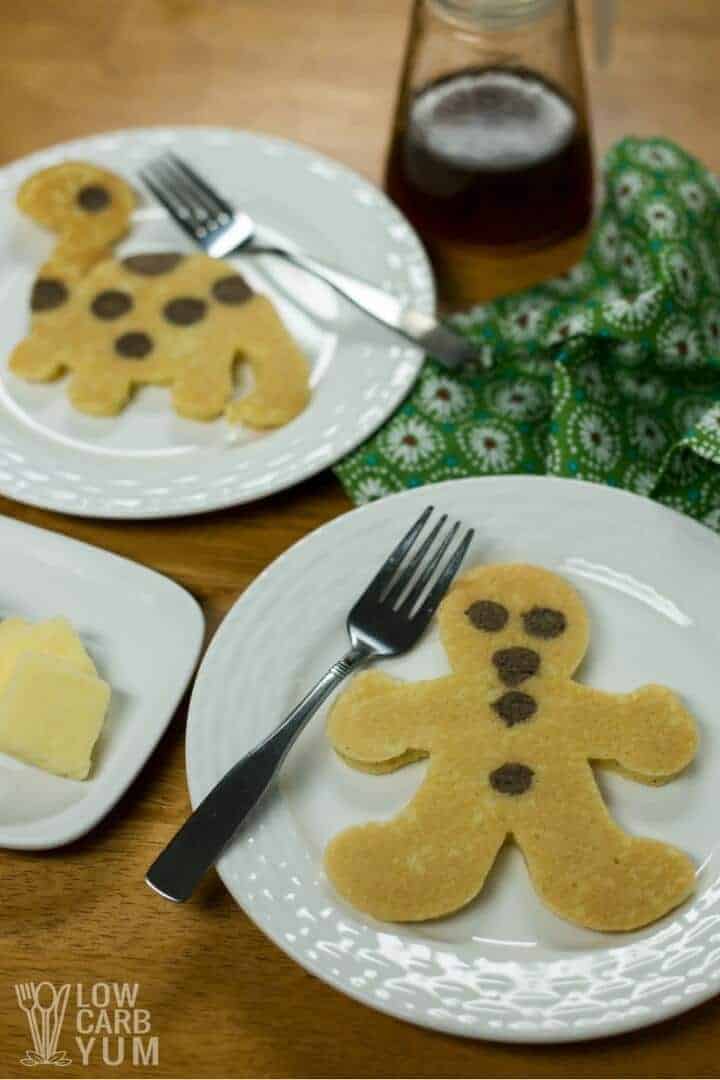 FAQs
Here are some questions people usually ask about making pancake art for the whole family. If you don't see your question in this list, please leave it in the comments.
Is there a kit that comes with everything I need to make pancake art?
I stumbled upon a cool pancake art kit made by Whiskware. It's the same company that makes the BlenderBottle which has a blender ball inside.

The great thing about the kit is it has all the tools you need to cook up cute pancake shapes. It comes with two molds and two batter bottles with blender balls inside.

The large bottle is used to mix up your batter. You just pour all the ingredients in and then give it a good shake to blend everything together.
For pancake art, do you use a bottle or molds?
The easier way is to use molds. I like drawing in eyes, a mouth, and spots with the darker batter, then filling the rest of the shape with the lighter batter.
How many different shapes can I make out of pancakes?
The options are limitless! Browse fun pancake shape molds online or practice freehand drawing with a fine-tipped squeeze bottle.
Is a pan or griddle better for cooking creative pancakes?
You'll have more room to flip the pancakes on a griddle. With that extra room, you will have less of a chance to break the pancakes.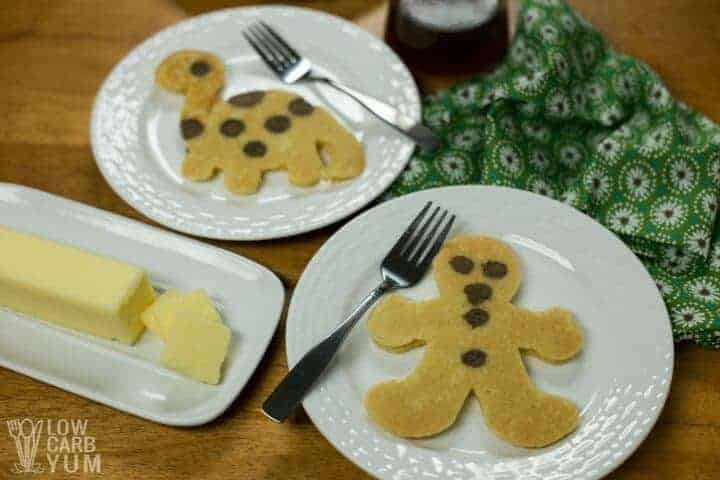 Try this pancake art kit
I decided to make a video to show you how easy it is to make pancake art with this kit from Whiskware. You can see me making the gingerbread man shape pancake by playing the video below.
Related recipes
If you enjoyed this guide to making pancake art, here are some more breakfast recipes you should make next! They are all low-carb and so healthy.
Follow us on FACEBOOK, PINTEREST, and INSTAGRAM for even more tasty keto-friendly recipes!
First published July 19, 2017. Last updated September 29, 2022, with new images and additional recipe information.