Wondering how to order a Popeyes keto meal? You've come to the right place! I have the best low-carb menu options, including main meals, dipping sauces, and drink options for you to peruse.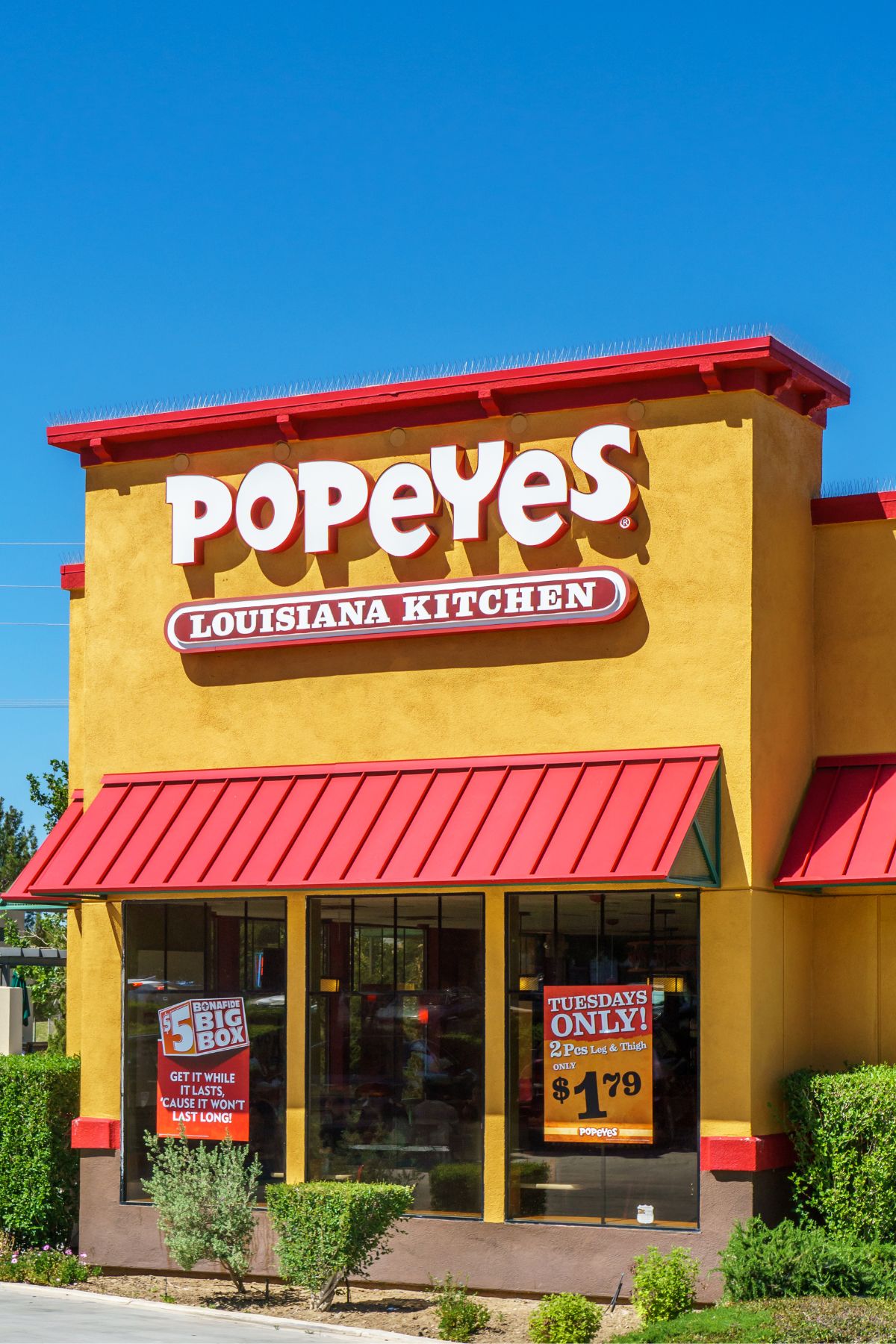 While a fried chicken joint may not be the first thing you think of when you're looking for a keto meal, finding a low-carb option at Popeye's is possible.
And while you can't enjoy a fried chicken sandwich on a strict keto diet, you can eat an entire meal – complete with a side and beverage!
In this post, I'll teach you how to eat keto at Popeyes with ordering tips, low-carb menu items, and options to avoid by any means necessary.
Looking for more keto fast food restaurants? I have a bunch of keto tips for eating on the go, including how to eat fast food at Wendy's, Wingstop, Starbucks, and Dunkin' Donuts.
Best Popeyes keto options
Eating fast food on a low-carb keto diet isn't the easiest task. That's why I've created this keto Popeyes menu sharing all the best (and worst) low-carb options at Popeyes.
If you're interested in further information, check out the nutrition and allergen guides on the Popeyes website.
Popeyes keto foods
First, the bad news: the low-carb options that Popeyes offers are slim indeed. This is because their biggest draw, fried chicken, is battered, breaded, and high in carbohydrates.
With this being said, all hope is not lost!
You can still enjoy a complete meal at Popeyes in a pinch if you know what to order.
Blackened chicken tenders
Previously called the naked chicken tenders, the blackened chicken tenders are the keto meal option that Popeyes has to offer.
Unlike the traditional fried chicken offerings, these tenders are not breaded, making them better suited for a low-carb diet.
The macros for blackened chicken tenders are:
3 pieces (2 grams of carbs, 2 grams of fat, 26 grams of protein)
5 pieces (3 grams of carbs, 3 grams of fat, 43 grams of protein)
10 pieces (6 grams of carbs, 6 grams of fat, 86 grams of protein)
Based on these numbers, you could definitely fit any sized order of blackened tenders into your daily carb intake.
Green beans and bacon
When it comes to side dishes, green beans are the only option suitable for a low-carb diet.
Other Popeyes side dishes are either full of starches or hidden sugar contents.
Macros for green beans and bacon:
Regular order (4 grams of net carbs, 1.5 grams of fat, 2 grams of protein)
Order a side of green beans along with your blackened tenders for a well-rounded Popeyes meal.
Popeyes keto drinks
Wash your Popeyes keto meal down with a low-carb beverage.
While their options aren't extensive, each of these menu items contains zero net carbs toward your daily allotment.
Diet soda
For a sweet drink without sugars, order a diet soda like Diet Pepsi or Diet Coke.
Unsweetened iced tea
If you're conscious about your diet drink consumption, but want something a little more interesting than plain old water, opt for an unsweetened iced tea.
Bottled water
When in doubt, bottled water never goes out of style. It's the healthy choice that is guaranteed to quench your thirst – every time.
Coffee
Enjoy a Popeyes coffee along with your meal; just make sure to use stevia instead of refined sugars to sweeten your drink.
Popeyes keto sauces
Sauces can be one of the most deceiving menu items. While their high-fat content may look desirable for a keto diet, their added sugar content makes them a high-carb haven!
When choosing your dipping sauce, make sure you pay attention to the net carb count.
Keto-approved Popeyes sauces include:
Blackened ranch dressing (2 grams of net carbs, 13 grams of fat, 1 gram of protein)
Buttermilk ranch (3 grams of net carbs, 15 grams of fat, 0 grams of protein)
Mardi Gras mustard (4 grams of net carbs, 9 grams of fat, 1 gram of protein)
Tartar sauce (1 gram of net carbs, 15 grams of fat, 0 grams of protein)
Items to avoid at Popeyes
Don't sacrifice your low-carb eating for a single meal at Popeyes!
These menu items are all to be avoided so as not to affect your ketosis.
High-carb sauces
These sauces all include added sugars that make them super sweet and super NOT keto:
Bayou buffalo
Sweet heat sauce
Creole cocktail
Breaded chicken
When ordering a Popeyes keto meal, avoid all forms of breaded chicken, including:
Fried chicken legs
Fried chicken thighs
Breaded chicken breasts
Breaded chicken tenders
Classic chicken sandwich
Spicy chicken sandwich
High-carb side dishes
These starchy sides will kick you out of ketosis quicker than you can say 1-2-3:
Mashed potatoes
Biscuits
Cajun fries
Cole slaw
Cajun rice
Popcorn shrimp
Onion rings
Sugary sodas
Avoid adding any sweetened drinks to your meal, including sugary sodas, juices, and sweet tea.
Drinks with added sugars are sure to contain high-carb counts.
High-carb desserts
Unfortunately, dessert isn't an option for keto dieters at Popeyes. Specific desserts to avoid include:
Mardi Gras Cheesecake
Mississippi Mud Cake
Pies (all)
If you're craving something sweet after your Popeyes meal, I have tons of low-carb dessert recipes that you can enjoy at home.
Breakfast foods
Besides a nice cup of coffee, Popeyes breakfast foods aren't kind to keto dieters. Avoid breakfast foods, including:
Bacon biscuits
Sausage biscuits
Hashbrowns
Grits
How to order keto at Popeyes
Because you're so limited in options at Popeyes, you need to come prepared with a foolproof order!
Here are a few guiding principles to help you order the perfect low-carb Popeyes meal:
1. Go for the basics
Don't get too fancy with your ordering. While you could try removing the bun from a sandwich or asking for your shrimp to be unbreaded, these requests don't result in the best meal.
Keep it safe and guaranteed keto with an order of blackened chicken tenders.
You can choose between 3, 5, and 10 pieces based on your hunger level.
Best of all, they don't require any substitutions, so you can enjoy the ease of order.
2. Ask to remove the biscuit
Most Popeye's meals come with a biscuit. Kindly ask that they leave the biscuit out of your order so that you're not tempted to sneak a bite!
3. Choose a low-carb sauce
You can up the flavor and fat content of your Popeyes keto meal by including a low-carb dipping sauce for your blackened tenders.
Blackened ranch dressing, buttermilk ranch, Mardi Gras mustard, and tartar sauce would all make delicious additions to your meal.
4. Add a low-carb side
Side dishes are a bit of a danger zone at Popeyes – the carb counts are super high!
With that being said, you can still enjoy a tasty side of green beans and bacon along with your main. You can even ask for additional butter on top of your beans for a boost in fat.
5. Pick an unsweetened beverage
Put the finishing touches on your low-carb meal with an unsweetened beverage.
Choose between diet soda, unsweetened tea, coffee, or a classic bottle of water.
FAQs
Here are a few answers to the most frequently asked questions about eating keto at Popeyes. If you don't see your question in this list, please leave it for me in the comments.
Is Popeyes non-breaded chicken keto?
Popeyes non-breaded chicken can definitely fit into a ketogenic diet.
As long as you make a low-carb dipping sauce choice, you should be able to easily fit Popeyes non-breaded chicken into your daily macros.
How many carbs are in 1 Popeyes chicken leg?
There are 5 grams of carbs and 4 grams of net carbs in 1 Popeyes chicken leg.

At first glance, this menu item may seem keto-friendly. It is unlikely, however, that your meal will stop at a single chicken leg; the carb count will rise fast!

Also, note that Popeyes chicken legs are both battered and breaded with high-carb ingredients, so even if the carb count for one piece is relatively low, this breaded addition keeps it from being keto.
Are Popeyes blackened tenders keto?
Popeyes handcrafted blackened chicken tenders can absolutely be part of a low-carb meal; they contain just 2 grams of carbs per 3-piece serving.

Pair them with a side dish of green beans for a more well-rounded and filling choice.
Is Popeyes biscuit keto-friendly?
The Popeyes biscuit is decidedly not keto-approved. At 19 grams of net carbs per serving, this side item is to be avoided at all costs!
If You Like This Post, Check These Out!
If reading all about eating keto at Popeyes has you craving fast food, here are some low-carb recipes you can make at home! All of them will effectively replace anything you can order at the chain.
Follow us on FACEBOOK, PINTEREST, and INSTAGRAM for even more tasty keto-friendly recipes!
First Published: February 3, 2023... Last Updated: September 18, 2023, with additional recipe information.